The Official COVID-19 Dictionary to Help You Plan Your Wedding in 2021
Here are 30 terms you should know.
As you're planning a wedding, you'll be introduced to various terminology and wedding lingo that may not be part of your everyday vocabulary. Due to ever-evolving changes in events, The Knot Editors have created the official wedding glossary to help you navigate conversations with vendors. That way, you can spend less time worrying about what you don't know about weddings, and instead, dazzle everyone with your dictionary-level understanding of the process; therefore, leaving you with more time for the cake tasting.
See the official dictionary for wedding lingo below.
Anniversary Reception (n.) A soiree that occurs on or close to the anniversary of a couple's original elopement or minimony.
Change-the-Date (n.) Similar to a save-the-date, the change-the-date is synonymous with a wedding postponement card or announcement. The change-the-date applies once save-the-dates and/or invitations have gone out to guests, and a particular wedding (and/or related event) is postponed. You can send a change-the-date via a digital announcement or through a paper card.
Black Tie (n.) A type of attire; a standard formal wedding dress code that typically applies to ceremonies that begin after 5 pm local time. The black-tie description is the second, most-formal dress code following white-tie, which is used by dignitaries at state dinners and formal evening affairs. Typically, a black-tie dress code requires a formal-length gown and/or tuxes for guests.
Cocktail Attire (n.) A type of attire for weddings and events; a standard-but-less-formal dress code for weddings than black tie and black-tie optional. The cocktail attire dress code requires more formal wear (knee-length dresses, elevated jumpsuits and/or a suit with a tie).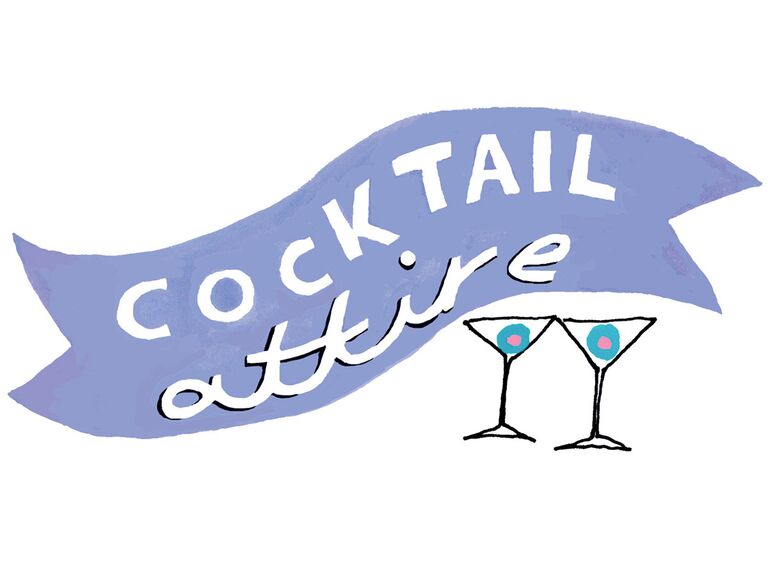 Day-Of Coordinator (n.) A designated pro who ensures everything goes according to plan on the day of the wedding. Other types of event plannersinclude a full-service planner, a part-time planner and a month-of coordinator. Talk to your vendors about options as many are flexible.
Elope (v.) The act of secretly marrying; the decision to elope is often perceived as a romantic gesture between spouses alone with very few witnesses with one goal: to solidify their union.
First Look (n.) A moment held before the wedding ceremony where the couple sees each other in their wedding attire; often encouraged by photographers.
Force Majeure (n.) Literally translated to a "great force" or an "act of God," most often this clause appears in contracts for any unforeseen events related to the day of the wedding. More often than not, this clause previously applied to weather-related events and other liabilities; with COVID, however, this term is continuously used by couples drafting new contracts.
Homeymoon (n.) A honeymoon at home to honor original honeymoon plans; the homeymoon is a special way to celebrate a couple's getaway during lockdown and quarantine restrictions with the intent to travel in a grand way down the line.
Invitation Suite (n.) A grouping of invitation items, including the formal invitation, an RSVP card, as well as any additional resources, such as accommodations, directions and wedding website information.
Joint Bach Party (n.) A nontraditional prewedding event format; a bach party combining the guest lists of both partners.
Latermoon (n.) A honeymoon reserved for a later date; often, this type of honeymoon is preceded by a minimoon.
Marriage License (n.) An official document obtained from the registrar's office in the precinct where a couple plans to marry; this document grants a couple permission to legally wed with the signature of the officiant (and often, a witness); once the license is signed and filed, the couple will then receive a marriage certificate.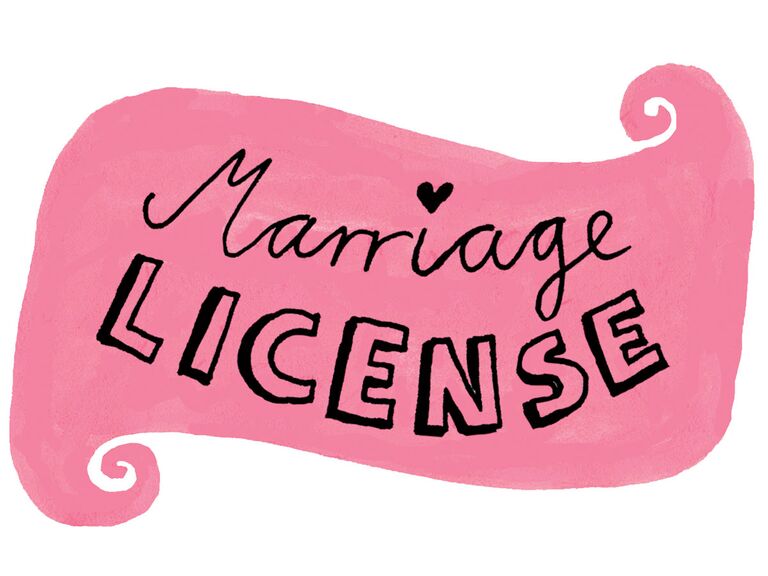 Microwedding (n.) a wedding comprised of 20 to 50 guests closest to the couple; the beauty is in the details in a microwedding.
Minimoon (n.) a small honeymoon held before a latermoon.
Minimony (n.) short for "mini ceremony," a minimony is an event format comprised only of the couple and direct loved ones for a truly intimate experience.
Multi Wedding (n.) an event format of hosting multiple weddings in one weekend for cultural reasons and/or to mitigate risk with various groups of guests.
Nanomoon (n.) a very small honeymoon often to a locale a stone's throw away.
Per Person (adj.) The "PP" that appears next to the pricing you see on your contracts indicates cost per guest (or per person). Couples should look for this type of pricing structure as it relates back to catering, liquor and/or additional experiential choices.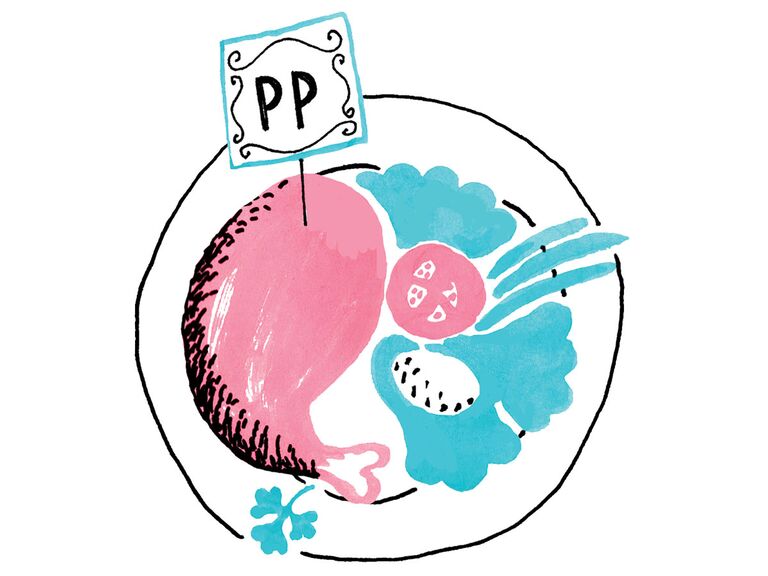 Postpone (v.) The act of pushing or delaying your original event.
Processional (n.) The entry of the wedding party into the ceremony, including the officiant, groom(s), attendants and/or finally the bride(s).
Receiving Line (n.) The area of a wedding where the newlyweds stand to greet and graciously host their guests.
Recessional (n.) The recessional is the exit after the couple marries; this portion of a ceremony highlights newlyweds celebrating their union with guests, who often toss petals and shower the couple with love.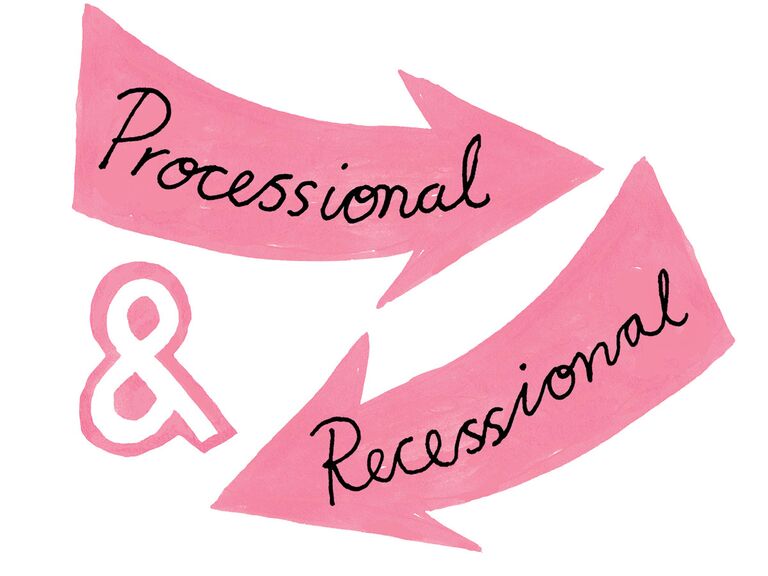 Registry (n.) A service provided by retailers and brands to help couples (and future parents) share their desired gifts with loved ones; a tool used to aggregate products, experiences, even charity funds; a personalized shopping experience for to-be-weds as they build their new lives together.
Sequel Wedding (n.) A second wedding or reception hosted by a couple after their first event. Many couples in 2020 who've decided to legally marry will move forward with a sequel wedding in the year ahead to execute on their original wedding plans.
Shift Wedding (n.) An event format where guests are invited in "shifts" to witness the various elements of a wedding day; groups for a shift wedding are largely broken out according to life stages and lifestyles.
Virtual Wedding (n.) An event format hosted digitally where guests join the occasion via a digital platform. Often, couples will send favors and even meals to invited loved ones to commemorate their day virtually.
Wedding FAQ Page (n.) An informational section on a couple's wedding website that allows guests to review frequently asked questions; a highly-encouraged etiquette component for couples to have during COVID-19.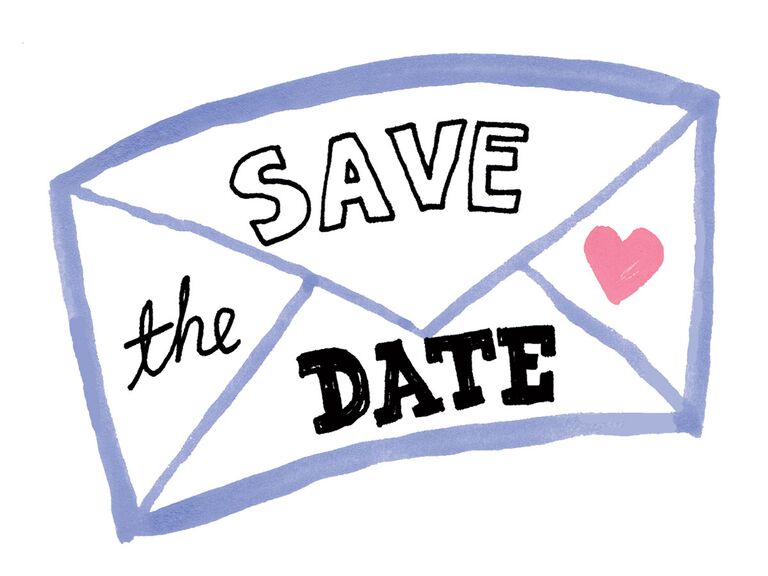 Wedding Masks (n.) Face masks worn at weddings and events by guests to protect the health and safety of others to mitigate risks during a pandemic.
Wedding Website (n.) An all-in-one resource for guests as it relates back to a couple's wedding plans; a wedding website often includes key dates, local information, important links, their wedding registry, photos of the couple, their story, and any other pertinent details; a necessity for couples marrying in the tech age.