Exclusive: How HBO's 'Father of the Bride' Remake Highlights a Fresh Take on Wedding Traditions
Gloria Estefan, Chloe Fineman and more of the film's stars reveal their thoughts on love, marriage, and why the film is breaking barriers.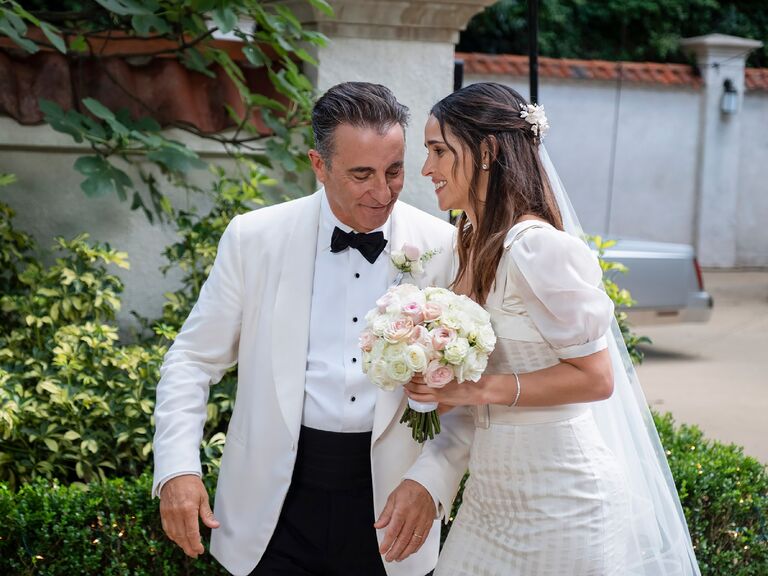 Claudette Barius,Warner Bros. Pictures,HBO Max
When it comes to wedding rom-coms, the classics are hard to top—but this summer, something old is becoming something new. The beloved film Father of the Bride is getting a fresh adaptation, this time through a modern lens… and it's anything but a simple affair.
The movie, which originally premiered in 1950 and was later adapted by Nancy Meyers in 1991, has been remade once again, this time by Warner Bros. and HBO Max. And while the charm of the original films is still very much present, the plot has been flipped upside down to highlight a fresh take on weddings, family, love, and much more.
Andy Garcia and Gloria Estefan head up the all-star cast, which also includes Saturday Night Live's Chloe Fineman in the role of the eccentric wedding planner made famous by Martin Short. Themes of feminism, independence and blended family dynamics are woven throughout the remake, which centers on Latin and Cuban families coming together in a hilarious (and, frankly, relatable) modern love story.
Ahead of the film's release on June 16, The Knot interviewed a few stars of the Father of the Bride remake cast to uncover how the movie champions love and the importance of revamping wedding traditions. Don't worry, no spoilers here! Get an exclusive look inside the film below, and head to HBO Max to watch the movie when it begins streaming on June 16.
The remake highlights a women-led proposal.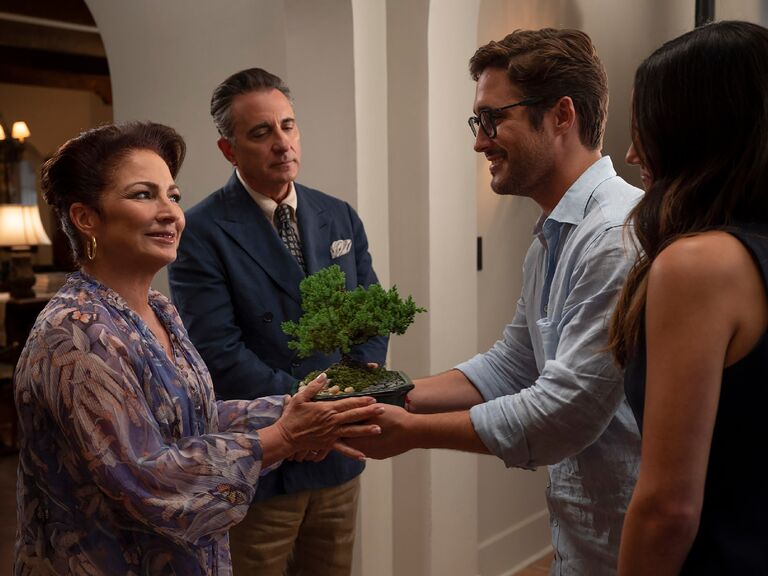 Notably, the first two Father of the Bride films featured male-led proposals—but not this time around. In the film's trailer, it's quickly revealed that Sofia (Adria Arjona), a successful New York City lawyer, is engaged to her boyfriend, Adan (Diego Boneta). The catch? She popped the question. This, of course, sends her traditional Cuban father Billy (Garcia) into a tailspin: "You proposed?" he asks in the trailer. "You proposed to him? He didn't propose to you? Can you do that? Does anyone do that?"
The decision to have Sofia propose to Adan highlights a rising trend of women-led and joint proposals in the United States. In fact, it was one of The Knot's top predicted proposal trends for 2022. As couples continue to modernize wedding traditions, they're becoming more empowered to rewrite the "rules" that feel outdated, or that don't represent their relationship… even if their parents don't completely understand.
But even with this plot modernization, the film still features the essence viewers have come to love. "This version stays true to the original premise of the baby bird leaving the nest and all of the angst that entails," Estefan tells us. "We also explore the theme of the difficulties and challenges of throwing together such a milestone event in a short amount of time, and the complicated nature of the father-daughter relationship."
The parents of the bride pursue a divorce amid the wedding.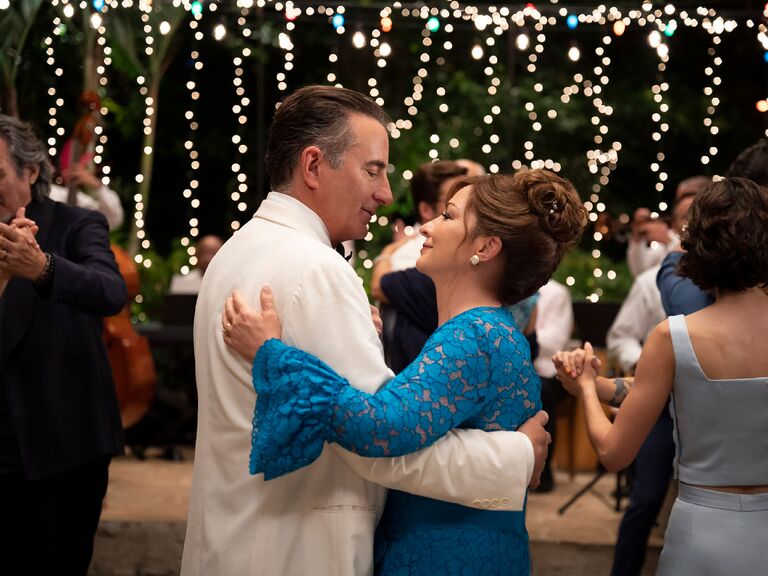 The Father of the Bride remake isn't only about the beginning of a love story. Amid Sofia and Adan's wedding planning journey, it's revealed that her parents, Billy and Ingrid (Estefan), are hiding a secret of their own: despite months of therapy, they're getting divorced. While couple's counseling is somewhat taboo in wedding rom-coms, the Father of the Bride remake sheds light on what it's actually like to plan a wedding with a non-traditional family dynamic. As conversations about relationship wellness become more mainstream, the film explores the challenges couples face while wedding planning with estranged parents.
The to-be-weds want to pay for the wedding themselves.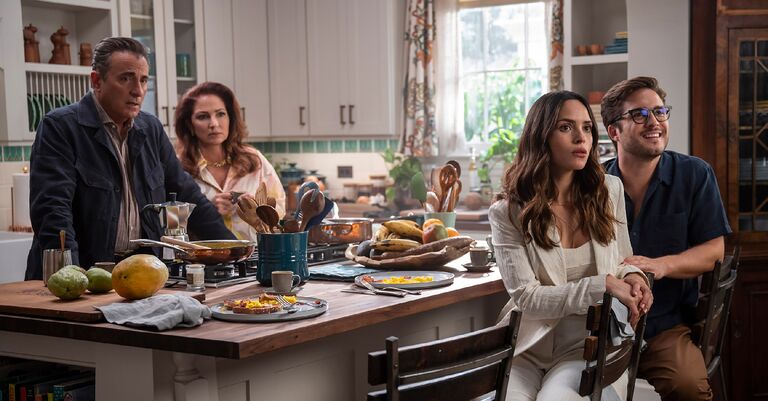 It's no secret that weddings are expensive. In fact, according to The Knot Real Weddings Study, the average cost of a wedding is $28,000. The same study also found that couples generally split the cost of the wedding with their parents. Plus, as the average age of marriage increases, couples who are more financially stable may opt to take on more of the budget to get the dream wedding they want.
These themes are certainly reflected in the Father of the Bride remake—but when Sofia tells her dad that they don't want a "big fancy wedding" and will instead be footing the bill themselves, it's not received quite as well as expected, tapping into the aforementioned complicated father-daughter relationship.
Arjona tells us that she hopes this progressive representation of couples will encourage other to-be-weds to go after their own dream wedding visions, despite what others may say. "While it's important to conserve culture, some traditions can be a little archaic and should evolve," she reflects. "I think couples should do what they want to do for their wedding. It's their one night to have everyone they love in one room. The wedding is meant to be a symbol of their love."
The film explores modern in-law dynamics.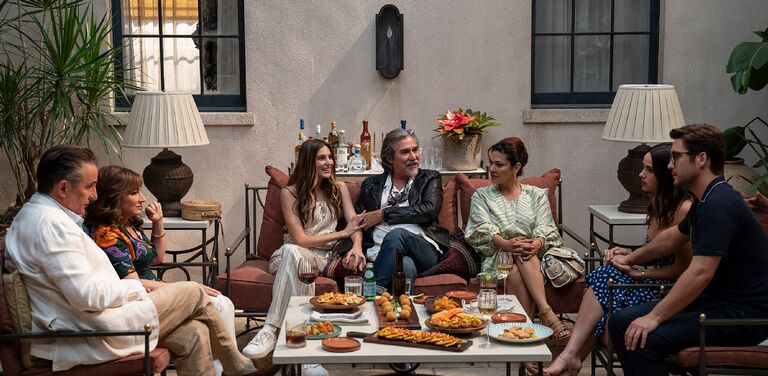 What's wedding planning without a little family drama? While Sofia and Adan plan their wedding, conflict arises as they attempt to blend their Cuban and Latin cultures—and Billy can't help but face off against his future son-in-law's father. According to Estefan, the passion shared between both fathers (along with their families) was crucial, especially given their cultures. "In Cuban weddings, it's important to make sure that extended family is included," she tells us. "Extended family also means people that aren't blood, but those we call cousins, aunts or uncles. In our version of the movie, the opinions and presence of extended family are crucial."
It highlights the digital-age wedding planning experience.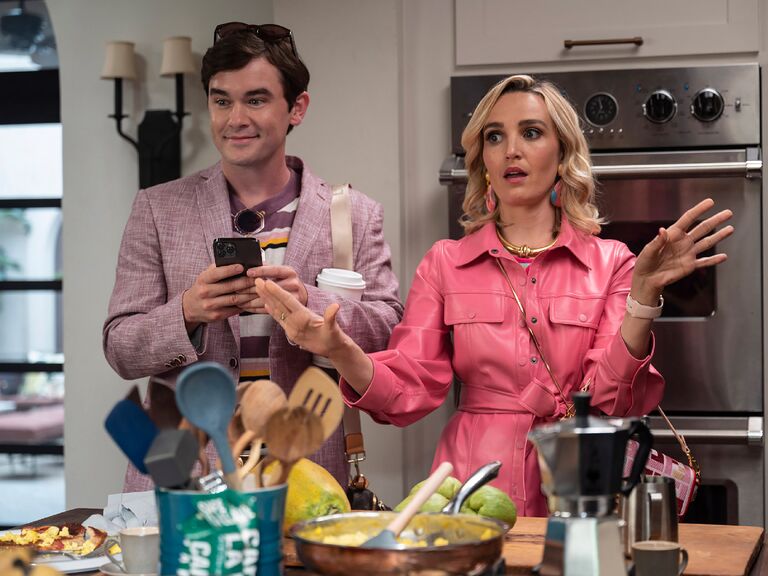 Of course, Sofia and Adan don't face these wedding planning struggles alone. They're helped by Fineman's Natalie, an unconventional digital-age wedding planner who threatens to add more chaos to the day, rather than eliminate it. Fineman tells us her tongue-in-cheek character was inspired by her love of The Home Edit, influencer weddings, and Instagram. "The world is changing and so are weddings, and I found that really informative," she tells us, noting that she even watched a wedding on Instagram Live to prepare for the role. And, as it turns out, she also learned a few planning tips along the way. "The extravaganza of a wedding is wonderful and special but nothing is more important than time spent with family," she adds. "You could have an expensive wedding, but just laughing and dancing with loved ones is priceless." And, she adds jokingly, be prepared with the real essentials on your wedding day: "Have a toolbox! And by toolbox, I mean a cooler with snacks. And by snacks, I mean Jell-O shots."
As for Estefan, who's been married to her husband Emilio for over 40 years, she's picked up quite a few sage pieces of wedding advice for couples both through making this film and in her own experience. "Stand your ground and make sure that the celebration of your love is what you want, regardless of all the opinions that will be thrown at you," she says. "If both people are focusing on the other, then both are taken care of."
Watch Father of the Bride on HBO Max on June 16, 2022.