Bring a Fresh Twist to Old-Fashioned Wedding Traditions With These Unique Ideas
Traditions don't need to be followed to the letter—feel free to mix it up!
Nothing is set in stone, even when it comes to wedding traditions that have been included in nuptials for years and years. Everything can be tweaked and reimagined to suit your wedding day. From what you wear to how you format your wedding ceremony and reception, every single element of your big day can, and should, be customized to you and your partner. Here are a few of our favorite ways to remix the tried and true to better suit you.
In this story:
Traditions the Couple Can Update
There's a good chance you've been fielding wedding-planning advice since you announced your engagement—these new wedding traditions offer you a chance to go your own way!
Tradition: You can't see each other on the wedding day before saying "I do"
Twist: It's not bad luck to see each other before the wedding ceremony. Get ready for the big day together—really. Or, if you like the idea of a grand reveal, opt for a first look with your photographer in tow. This first-look concept works for any and everyone, from grandparents to The One.
Tradition: The bride wears white
Twist: Wear whatever color you want—red, blue, gold. And if a white wedding gown isn't your vibe, skip it. Jumpsuits, shorts à la Olivia Palermo or separates are fair game. So are multiple outfits.
Tradition: Jet off on your honeymoon immediately following the reception
Twist: Take your honeymoon when it works for you. With travel restrictions in place, couples with a wedding date in 2020 and 2021 embraced alternatives. Escape for a mini-moon at a local hotel or celebrate your first anniversary with a bucket-list trip. Remember, there's no one way to moon.
Wedding Party Traditions to Update
Traditional wedding practices for bridesmaids and groomsmen have been cast aside in favor of more inclusive customs—hello wedding party—and we're here for it.
Tradition: Everyone in the wedding party must match
Twist: Mismatched fashion is all the rage (and beloved by your VIPs). Choose a palette, a fabric, or a series of styles (long gowns, jumpsuits) and let your friends infuse their own style into their look. This goes for shoes and other accessories too.
Tradition: Bridesmaids stand on the left, groomsmen stand on the right
Twist: Today's wedding parties are comprised of all kinds of loved ones who mean something to each half of the duo. Stand where it makes the most sense—i.e. your brother will look stellar in a suit sandwiched between your best girls.
Tradition: Flower girls and ring bearers are honors given to children
Twist: Positions of honor should go to the people who have championed you and your love story. Maybe that's a bow-tie-clad nephew, close pals from college or maybe it's your grandparents who have spent decades together.
Wedding Ceremony Traditions to Update
Vows must be exchanged for it to be official, but everything else when it comes to tying the knot—from a unity ceremony to the music—is completely up to you.
Tradition: A minister or clergy member must officiate
Twist: Your best friend, your uncle or a nondenominational officiant can preside over your wedding ceremony. You can include religious readings or poems, a ring blessing, or you can make guacamole in lieu of lighting candles. Bottom line: you do you.
Tradition: You have to walk down the aisle
Twist: Ask guests to process to you or enter from the sides of a ceremony in the round. You can also consider taking the aisle together. There are so many right ways to enter and exit your wedding venue. Same is true for your escort—choose the person or people most important to you and this moment.
Tradition: The ceremony comes before cocktail hour
Twist: Keep wedding guests and family members guessing with cocktail hour before your vow exchange. Invite everyone to gather early for spritzers and light bites, exchange vows and then hit the dance floor to celebrate!
Wedding Reception Traditions to Update
Perhaps the best part of the wedding day, the wedding reception holds endless possibilities for personalization and fun. Lean into your vibe!
Tradition: You must hire a band or DJ for entertainment
Twist: We love a packed dance floor as much as the next guy, but unexpected entertainment is the best kind of wedding surprise. Opt for a roving magician during cocktail hour, a single electric guitarist or a Broadway dance number. There are plenty of ways to delight guests—like photo booths, tarot card readers or synchronized swimmers.
Tradition: Every wedding needs a cake
Twist: We're partial to wedding cake, but stand firm on a grand finish to the night, whatever that is. Cupcakes, doughnut walls, help-yourself cookie bars and handheld pies are all excellent sweet alternatives to a tiered confection. If you love cake but don't want to cut it in front of everyone, skip this ritual, or cut the cake in secret while your guests are enjoying cocktail hour.
Tradition: The first dance is sacred
Twist: Invite all your guests to open the dance floor and forgo the spotlight. Instead of parent dances, ask all married couples to take the floor for an anniversary dance (as the song plays, the DJ asks couples to leave the floor based on wedded years). If you like the idea of the ritual but don't want to dance, opt for a duet, a lightsaber duel or a hula-hooping contest instead.
Wedding Registry Traditions to Update
Registering for gifts is the to-be-weds' ultimate perk. This is your chance to get exactly what you want and need for your new life together—act accordingly.
Tradition: You have to register for wedding china
Twist: You can register for whatever you want. If you want china, add it to your wish list. But if not, ask for a new record player or a robotic vacuum instead.
Tradition: You can't ask for cash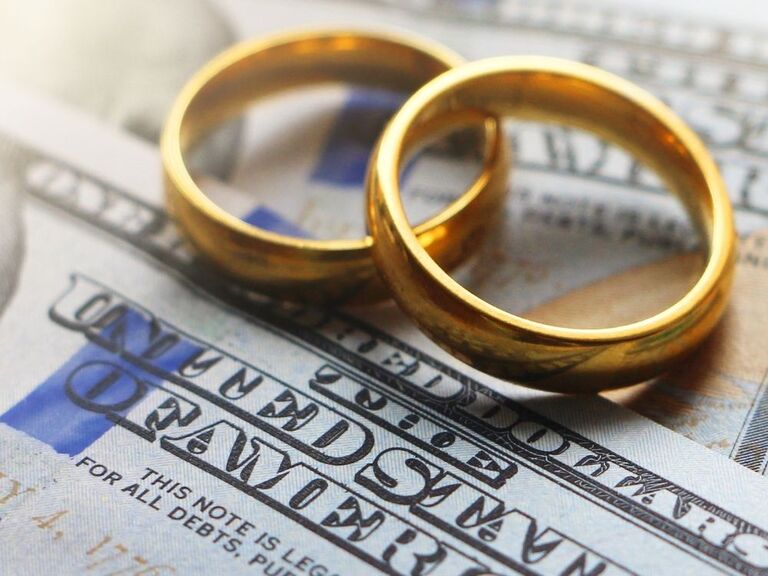 Twist: Yes, you can! And you should if it will help fulfill your newlywed dreams. If you're hoping to take an epic trip or buy a new home, cash can make these dreams a reality. The Knot Registry makes it easy to ask for money.
Tradition: You shouldn't ask for anything expensive
Twist: Group gifting is a win-win for guests and the couple of honor. If you're in the market for something pricey, like a Big Green Egg cooker for the backyard, add it to your registry. You may have a very generous relative or, better yet, your college pals can band together to make your BBQ fantasies a reality.
Traditions You Can Skip Altogether
It's totally okay to pass on the things that don't feel right to you and your nuptials. If you're not in favor of these age-old rituals, you don't have to come up with an alternative—just leave them out altogether.
A Walk Down the Aisle
A First Dance
Toasts at the Reception
A Spotlit Cake Cutting
The Garter Toss and Bridal Bouquet Toss
A Flashy Exit