What You Need to Know About Microblading
Everyone's talking about it, but what exactly is it? Brittany Lo of Beautini, New York City–based beauty service company, talks pros and cons of microblading.
by Brittany Lo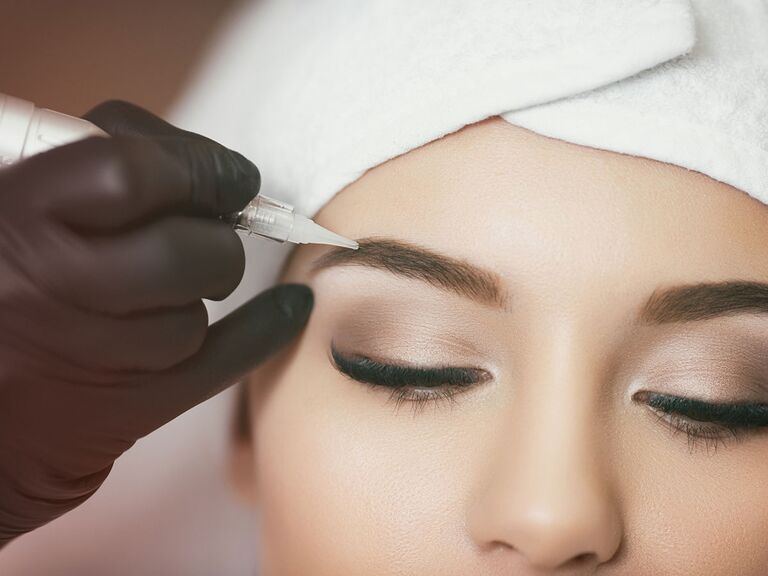 You may have heard all about microblading, the latest craze in eyebrow filling. While the process of microblading might sound intimidating, I promise, it's not as intense as you think. Here's everything you need to know.
What is microblading?
Microblading is the process of using a special pen to essentially tattoo individual strokes, one by one, in the effect of eyebrow hairs. The artist uses a pen tipped with tiny needles, which inject the superficial layers of the skin with ink. The artist will dip their pen into the ink, draw on the "hairs," and typically ask you to lie on your back for a few minutes after they're done while the ink soaks in. When they wipe the extra ink away, the the brows that have been drawn in will remain. Although it may not sound like it, the process isn't too painful—with the help of a topical numbing cream, the feeling has been compared to getting your eyebrows threaded. Microblading often involves a follow-up visit four to six weeks after the initial appointment, during which the artist will fill in your brows with thinner or thicker pieces to add shape and definition.
What are the pros?
Each microblading session usually takes about an hour (depending on your individual needs), and can last anywhere from two to five years. It's no more painful than getting your eyebrows threaded, and your brows look ready to rock the minute you leave your appointment. The effect of microblading is also much more subtle than that of micropigmentation, where your entire eyebrow is tattooed on, permanently. And, like most eyebrow trends, microblading will eventually fade, leaving the door open for you to go thinner or thicker with your brows in the future. Plus, you don't have to worry about applying an eyebrow pencil to fill your brows in everyday, saving you time and money spent on product.
What are the cons?
Microblading can be on the pricey side and, because it does involve getting a bunch of tiny cuts on your face, there is some healing time involved. Most artists recommend avoiding sweating profusely or getting your brows wet for at least a week after your session. Like with normal tattoos, it's also recommended to use antibacterial ointment on your brows until they're fully healed to avoid infection.
All things considered, if it's within your budget and you can stand a little bit of discomfort (in the name of beauty, of course), microblading is a great way to achieve natural-looking, long-lasting brows for your wedding day and honeymoon.


Brittany Lo is the founder and CEO of the New York City–based beauty services company Beautini and an ultimate beauty junkie. She's been obsessed with makeup her entire life and knew she'd end up dedicating her professional life to making women feel beautiful for the most important day of their lives.