The Average Cost of Wedding Day Hair and Makeup
Bridal glam will cost you—but it's definitely worth it.
by Sophie Ross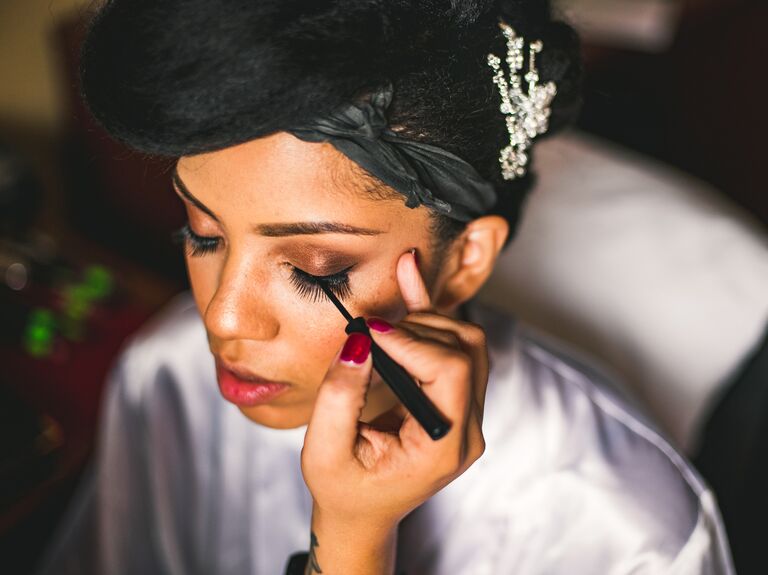 Porsha Michael Villa Borghese Wedding
We'll never tell you what to do on your wedding day—and if you want to do your own glam, who are we to say "no"? That said, we do recommend hiring a professional hairstylist and makeup artist on your wedding day for the sole fact that they're the experts (they have "professional" in their job titles for a reason). Even if you think you're a guru with a curling iron and a master with an eye shadow palette, your pros will make sure your makeup stays put all day (no matter how much you sweat at your outdoor ceremony) and every strand is in place (no matter how many twirls you do on the dance floor).
Now for the nitty-gritty: According to our 2017 Real Weddings Study, the average costs of hiring a hairstylist and makeup artist were $119 and $102, respectively. We know, we know, that might seem like a lot for that "no-makeup makeup look" on your vision board, especially if you're paying for bridesmaid hair and makeup too.
But you have to keep in mind that with these particular vendors, you're paying for a product and a service. Your glam team will be using the best palettes, sprays and tools the market has to offer, and they're there to accommodate and accomplish exactly what you're envisioning for your wedding day.
And of course, if you consider the fact that your wedding photos will last forever—and you won't have to think twice about your foundation melting or updo falling when you're breaking it down on the dance floor—it definitely seems like a worthy expense.
Still haven't found your dream hairstylist or makeup artist yet? Start searching here.