How Much Does Wedding Day Hair and Makeup Cost?
Hiring a pro comes with extra charges, but it's definitely worth it.
We'll never tell you what to do on your wedding day. That said, we do recommend hiring a professional hairstylist and makeup artist because they're the experts. Professional wedding hair and makeup may cost extra, but we think it's absolutely worth it. (So did most to-be-weds last year, as 74% of them reported hiring a wedding beauty pro.) Even if you think you're a guru with a curling iron and a master with an eye shadow palette, your pros will make sure that your makeup stays put all day (no matter how much you sweat at your outdoor ceremony) and that every strand is in place (no matter how many twirls you do on the dance floor).
But professional glam comes at a price, and we have the best estimated cost. After surveying over 15,000 couples in America who married in 2021, we determined everything from emerging trends to average cost of wedding hair and makeup. Psst: it's also important to consider the cost of bridesmaid hair and makeup services. If you're planning on covering the expense of bridesmaid makeup and hair, you'll want to factor that into your budget as well.
Wedding Makeup Cost On Average
According to our data, the average cost of wedding makeup in 2021 was $115. We know that may seem like a lot for that no-makeup, makeup look you've added to your wedding vision board, but it's worth it. A professional makeup artist can make any beauty look happen—and they can make it last. As they've likely worked many weddings before, they know all the best beauty tricks. They'll ensure your red lipstick doesn't flake off mid-ceremony or that your mascara doesn't streak down your face as you tearfully recite your vows.
Keep in mind that makeup artists generally bring their own high-end cosmetics with them, so you're paying for quality products as well. Their kit contains tried-and-true items that will give you the look you've been dreaming of. They can expertly prep your skin for airbrush makeup application or give you a natural, subtle contour with the tools in their kit.
And, of course, it's important to consider that having someone do your makeup for you will save both time and stress on your big day. You definitely don't want to be running late to the ceremony because your eyeliner wings are uneven or you're struggling with those false eyelashes. You deserve to be pampered on your wedding day, and hiring a professional makeup artist is a great way to make that happen.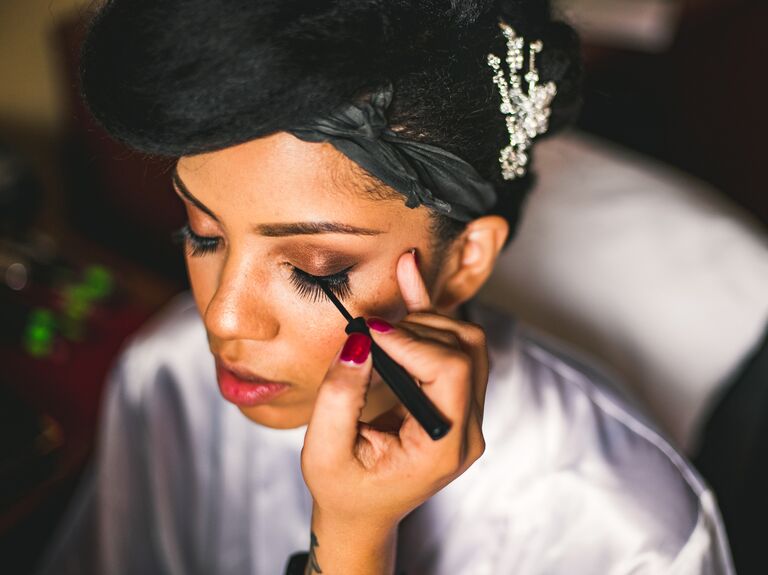 Wedding Hair Cost On Average
Similarly, professionally-done wedding hair costs more than your average blow-out or dry styling. According to our study, wedding hair cost $130 for brides last year. While that may seem steep for a hair appointment, consider that a professional hair stylist—much like a professional makeup artist—has experience helping to-be-weds feel their most confident on their wedding day. They can masterfully make your hair look exactly how you envisioned it, and they can make sure it stays that way for all of your pictures throughout the day (and night).
Be sure to factor into the cost the salon-level styling tools and products these pros will use to make your hair look its absolute best. Whether you're dreaming of an intricate braid, a classic chignon or loose waves, a pro stylist will ensure that your wedding hairstyle looks absolutely perfect.
And again, consider the amount of time and stress you'll be saving on the day of your wedding by hiring a professional hair stylist. While they work on giving you the 'do of your dreams, you can sit back, relax and sip a mimosa. How great does that sound?
The wedding hair and makeup cost typically includes the beauty professional's time and travel fees (if they'll be traveling to your wedding location or hotel) too. Occasionally, the bill will include a wedding hair and makeup trial run (a step we highly recommend taking), but sometimes a trial will incur an additional cost, so make sure you ask ahead of time before you book the vendor if you're tight on budget. Hair and makeup pros tend to bill hourly, so the longer they need to be there, the more expensive it's going to be. (For those with a larger bridal party or who would like touch-ups throughout the event, this may be important to consider.)
Yes, having a professional do your hair is an added expense, but it's important to think big picture when it comes to your special day. If you consider the fact that your wedding photos will last forever—and you won't have to think twice about your foundation melting or updo falling when you're breaking it down on the dance floor—it definitely seems like a worthy expense.
Now that you have the info on total wedding hair and makeup cost, check out these other important things to know before getting your glam done. Your beauty pro will thank you later.