Here's How to Not Mess up Your Spray Tan for Your Wedding
Orange spray tan on your wedding day? Couldn't be you.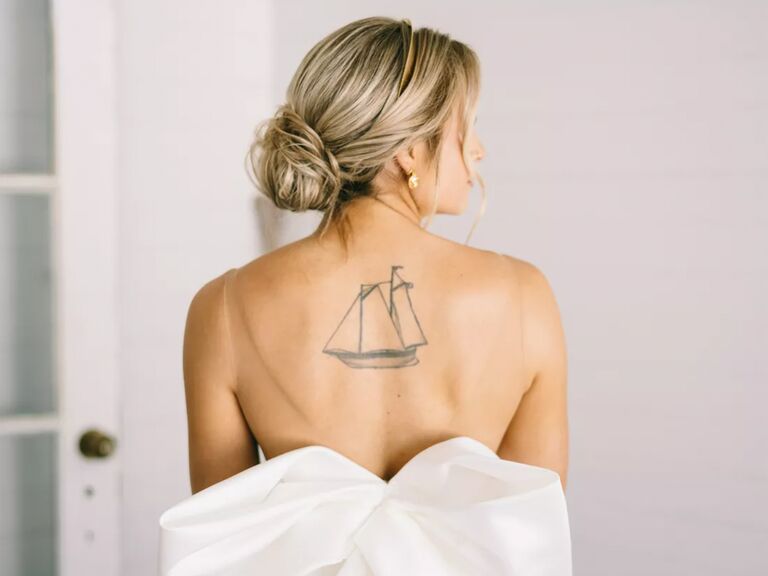 Photo: Jaimee Morse
Let's be real: The one time you do not want to mess up a spray tan is on your wedding day. It's the perfect pre-wedding beauty treatment if you want a bronzy, sun-kissed glow on your skin—that is, if you do it right. Luckily, you've come to the right place. I have naturally light features and have been visiting the salon for a spray tan once a week for the past ten years (I know, I'm really exposing myself here). Needless to say, if there's one thing I know how to do properly, it's spray tan. A bridal spray tan can be a little intimidating at first, but I have the spray tan prep down to a literal science. And since friends don't let friends get blotchy or uneven spray tans, I'm sharing my experience and spray tanning tips with you. Get ready to take some notes because Spray Tan 101 is in session.
In this article:
Should I Get a Spray Tan For My Wedding?
If you're considering a spray tan for your wedding, there are a few things to think about. First and foremost, is it something you really want? It's important to feel confident and beautiful on the big day, so make sure a spray tan is something that will make you feel that way. Here are a few other pros and cons that might help you decide:
Pros:
Can give you a bronzy, sun-kissed glow.
A quick and convenient way to tan without exposure to harmful UV rays.
Can be a major confidence booster.
Cons:
Depending on where you live and where you go, it could be expensive.
Improper technique and application can lead to blotchy results.
When to Get a Spray Tan Before a Wedding
Ideally, you'll want to get your spray tan 2-3 days before your wedding. This will give the tan enough time to fully develop and settle into your skin for that bronzy finish. Getting it too close to your big day can result in unwanted streaks and little time for correction. If this is your first time getting a spray tan, I highly recommend a few test runs with your spray tan tech prior to the big day. Plus, it gives you some time to make any adjustments to the color and application level if needed.
The key to achieving a flawless spray tan for your wedding is to do your research, choose a reputable salon and communicate your desired outcome clearly. Remember, it's your special day, and you should feel like the main character!
How to Prep for a Spray Tan in Five Steps
The spray tan will give you the color, but it's the prep work that will give you a flawless finish. If you're wondering how to prep for a spray tan, follow these steps:
Exfoliate Your Skin
If you only do one thing before your spray tan, it should be exfoliating your skin in the shower to help remove dead skin cells and ensure an even tan (I try to make it a fun, self-care moment by calling my pre-tan shower my "hot girl shower"!) Use a gentle exfoliating scrub or mitt (I use these exfoliating mitts from Amazon!) to exfoliate your entire body in the shower the day before your appointment. Pay attention to rough areas like elbows, knees, and ankles.
Remove Any Makeup or Jewelry
Before your spray tan session, it's best to avoid wearing makeup or remove it prior to your appointment. Going into the session with a clean, bare face allows for an even tan application. Remember to remove any jewelry or accessories that may leave you with unwanted tan lines on your wedding day.
Skip the Moisturizer
On the day of your spray tan appointment, avoid applying any moisturizers, body oils or lotions. These products can create a barrier on the skin and affect the absorption of the spray tan solution. Also, take a break from the face serums and toners. Some prefer a slightly lighter color on the face, and in that case, you can apply a light layer of your favorite moisturizer.
Consider Hair Removal
If you plan on removing unwanted hair, make sure to shave or wax 24 hours before your spray tan appointment. Shaving, waxing or any hair removal method can open up pores or cause skin sensitivity. Giving your skin time to recover will ensure a more comfortable and flawless spray tan application.
What to Wear After Your Spray Tan
To avoid smudging or rubbing off your fresh spray tan, opt for loose-fitting clothing to wear after your appointment. Tight or restrictive clothing can create friction, rub off the solution and leave an unwanted finish. Flowy dresses or loose pants are ideal for ensuring your tan stays intact.
Spray Tan Mistakes to Avoid
Don't:
Skip the exfoliation process prior to your appointment. This can lead to uneven color and patchiness.
Moisturize after your spray tan (or even after the first shower). This can cause the tan to get blotchy or fade quickly.
Wear tight clothing immediately after your spray. This can leave unwanted marks and rub off some of the tan.
Shower or swim too soon after your spray tan. This can also lead to color fading or streaking.
Showering After a Spray Tan
Timing is key when it comes to showering after your spray tan, bestie. Let's get into that after spray tan care:
When to Shower After Your Spray Tan
For most spray tans, you'll want to wait eight to ten hours before taking your first shower. This will give the spray tan enough time to fully develop and set into your skin. However, some tanning salons offer rapid solutions that take less time to develop and only require two to three hours before you need to shower them off. Ultimately, you should check with your spray tan technician for specific instructions to avoid any unwanted surprises.
What to Do During Your First Shower After a Spray Tan
During your first shower after a spray tan, it's important to keep things gentle and avoid any harsh scrubbing or exfoliating. Use lukewarm water instead of hot water, as hot water can cause the tan to fade more quickly. Stick to a mild, sulfate-free body wash, like this Gentle Foaming Moisturizing Wash from La Roche-Posa, and avoid using any abrasive loofahs or exfoliating brushes. The results will speak for themselves.
Does the Spray Tan Keep Developing After Showering?
Yes, your spray tan will slowly continue to develop for 12 to 24 hours after your shower, like magic. Once you shower, the excess bronzer will rinse off, and you'll be left with a developed tan.
What to Do After Spray Tan Care
After your first post-spray tan shower, it's important to take care of your spray tan to ensure it lasts as long as possible. Here are some key tips for aftercare:
Applying Lotion After a Spray Tan
Moisturizing regularly is essential for maintaining your spray tan. Just don't do it the same day you rinse off your tan. Opt for a moisturizer that is paraben- and fragrance-free. Some of the best lotions to use after a spray tan include St. Tropez Self Tan Classic Bronzing Lotion, Cetaphil Moisturizing Lotion and Nécessaire The Body Lotion.
Can you was your face after a spray tan?
Yes, you can wash your face after a spray tan. However, it's advisable to use a gentle cleanser and pat your face dry with a towel instead of rubbing.
Can you shave after a spray tan?
Shaving is best done before your spray tan appointment. However, if you need to shave afterward, be sure to use a sharp razor and moisturizing shaving cream or gel. Shave gently to avoid removing the tan prematurely.
Can you work out after a spray tan?
It's best to avoid intense workouts or excessive sweating (you don't have to ask me twice) for at least 24 hours after your spray tan. Sweat can cause the tan to fade unevenly or streak, so take it easy for the first day.
Can you put makeup on after a spray tan?
Yes, you can apply makeup after your spray tan. Just be gentle when applying and removing makeup to avoid rubbing off the tan. Use a soft brush or sponge instead of harsh brushes or towels.
Can you swim after a spray tan?
It's recommended to wait at least 24 hours before swimming or using any type of sauna. Chlorine and salt water can affect the longevity and appearance of your tan, so it's best to give it time to fully develop and set.
What happens if you cry after a spray tan?
We all know weddings can be emotional, and shedding a few happy tears is bound to happen. If you do cry after your spray tan, gently pat your tears away with a tissue instead of rubbing or wiping. This will help minimize any streaking or patchiness.
Wedding Spray Tan: Final Thoughts
So, should you get a spray tan for your wedding? Ultimately, it's up to you. By following the above tips and considering all your options, you'll be able to make a decision that makes you feel like the main character on your wedding day.