Everything You Need to Know About Laser Hair Removal—and If It's Worth It For Your Wedding
Stubble be gone.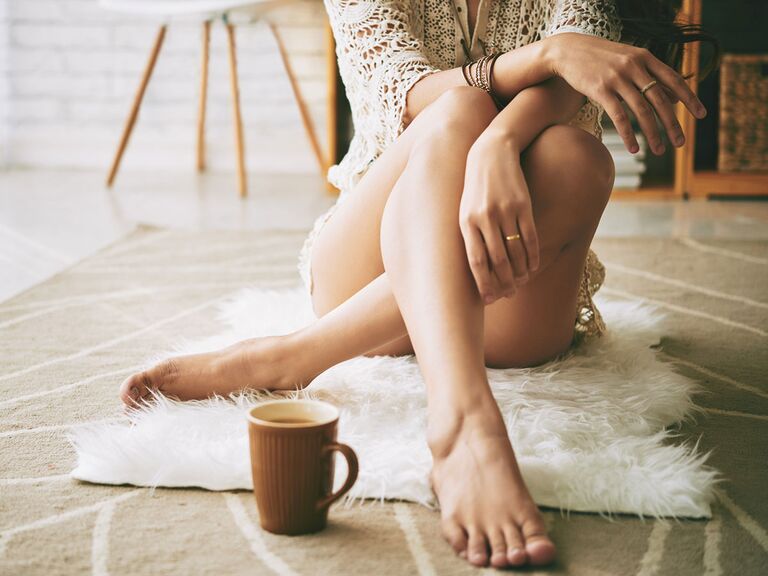 iStock
After months of contemplating getting laser hair removal, I took the plunge—and bought a deal for an "unlimited" package for one small area and one large area for a year for $199. It seemed too good to be true—and it turns out it was. After a year of treatments (six to be exact) I still had hair growth, which they claimed could be fixed with touch-up sessions at $200 a pop. And I started to dread going—the treatments were so painful. I decided to do my research and look for a reputable salon (one without crazy "deals") and I was lucky enough to find Flash Lab Laser in New York City. When I spoke to owner and laser specialist Kelly Rheel before making my appointment, I could tell I picked the right place—and she had a lot of good info to share. So whether you want to get laser hair removal for your wedding, bachelorette party, honeymoon or just do it for yourself (like I did), here's what to know on your journey to hairless skin.
Find a reputable salon.
This piece of advice may be the most important one. "Do a little research before you visit a laser provider," Rheel says. "Do they have good reviews? Have they taken the time to explain their technology or philosophy on their website? Are they charging a reasonable amount for their services or doing bargain-basement-style deals? As with anything, you get what you pay for—and we're not talking about a handbag here. Someone will be shooting a laser at some of your most delicate areas. You want to make sure the quality of the services they provide is evident." As for Rheel and her partner Jennifer Nemeth, they've been in the laser business for about 10 years—back when the "deals" first started. "The cost dropped by 90 percent, decimating the quality of the laser treatments," Rheel says. "Jenny and I worked at a number of locations and we saw up to 60 patients a day. At the end of the day, the laser would be breaking down, and the technician would be exhausted." That's when they decided to open their own salon where they can really dedicate time and care to each client (they only see 20 people a day) and offer quality services at a reasonable price. Before moving into the procedure room, they get to know their clients, talking with them about their skin and the areas they'd like to have lasered. And while their treatments are obviously more expensive than that $199 deal, the cost is definitely worth it. "We charge what laser costs up front and give you safe and effective treatments the whole way through. In fact, most clients end up saving money with us in the long run because we offer complimentary touch-ups at the end of our packages," Rheel says.
Make sure you're getting "laser" and not "lazer" treatments.
A lot of salons out there (especially ones that offer those "deals") are using "lazer" technology—not "laser." And there is a major difference. If the salon incorporates gel in your treatments, it's an old system, Rheen says. "That's an intense pulse light (IPL). You'll get temporary results—maybe five years at best—then the hair will start to grow back." And no one wants that. Look for a salon, like Flash Lab Laser, that uses the ultimate in laser treatments: the Candela GentleMax Pro. When I went for my first follow-up treatment, I was bracing myself from the poor experience I had in the past, but I was very pleasantly surprised. The laser is practically painless, as the machine blasts a numbing solution while treating specific areas. It felt like a quick rubber band snap against your skin, and the whole procedure took about half the time than the other, and you could tell it was much more precise. Oh, and did I mention I was sipping champagne while they lasered my bikini area? Doesn't get more relaxed than that.
Follow the instructions—and get ready to strip.
Your salon will likely give instructions (if they don't, ask for them) so you can be prepared and know what to do before your appointment, like when you should stop tweezing or waxing before beginning laser treatments, or what medications can cause side effects. But pretty much all you have to do to prep for your laser hair removal appointment is shave, and don't wear any kind of lotion, deodorant or makeup on the area. While this all sounds simple enough, there are some things to consider. Make sure you use a new razor, so you're getting every little, fine hair you might not even see. But even if you miss a spot, the technician will shave it for you. And depending on the area (I had a Brazilian and underarms done), you'll have to strip down (don't be shy—they do this every day, all day) and put on a pair of goggles. Then the aesthetician works her magic and you're done in just a couple minutes. After-care instructions included no shaving for seven days (but it's likely won't even need to) and avoiding sun exposure (this goes for pre-treatment too). You may experience some swollen hair follicles, redness, itchiness or a stinging sensation after your treatment—it's totally normal and can last for a few hours up to two days, depending on how sensitive your skin is. Rheel recommends cortizone cream or Benadryl gel to help alleviate these after-effects.
Manage expectations...
Rheel notes that some body parts do take longer than others to see results. "Your face is an area that is heavily governed by hormonal fluctuations, so lip, chin and sideburns can take more than six sessions to complete," she says. "Also, the hair on different areas of the body will grow at different rates. Typically your hair growth slows down the further down your body you move so whereas you can treat your face every five to six weeks, sessions on your legs may be spaced out every 8 to 10 weeks and sometimes more." This means you may need some touch-up sessions down the road. When choosing a salon, look to see if it offers complimentary touch-ups after you purchase a package, like Flash Lab Laser does. Long-term results will usually come after about six sessions or so—that will get most people to about 85 to 95 percent reduction depending on the hair type and color, according to Rheel. But most people will need a few touch-ups to get to as close to 100 percent reduction as possible.
...but expect results.
"Your hair will fall out anywhere from immediately to a week post-treatment," Rheel says. If the hair gets "stuck" in the follicle, she recommends exfoliating in the shower with a washcloth. And once the hair falls out, it shouldn't grow back anywhere from 6 to 12 weeks. So while long-term results do take several sessions, you can start seeing less hair growth right away 90 percent of the time—as was the case for me. "Honestly you can start laser hair removal two weeks before the big day and still be hair free—that's the best thing about this treatment. You don't have to complete all six sessions to see results," she adds. "If you want to be hair free for good by the time your wedding comes around, I would start a year in advance." And if you're thinking about lasering a more sensitive area (say your face) you may want to start treatments well in advance of the wedding day, in case for some reason you have a reaction.
So, is it worth it?
Without a doubt, laser hair removal is worth it. I don't need to shave my underarms anymore, and I no longer have to pay to get my Brazilian wax every few weeks. My only regret is not going to a reputable salon like Flash Lab Laser from the beginning. My advice? Visit the salon and talk to the consultants before you buy any packages or book the laser appointment. Getting it done right the first time is worth the extra cash.