7 Holiday and New Year's Eve Marriage Proposal Ideas
The holidays provide the perfect backdrop for popping the question, so here are some festive marriage proposal ideas we love.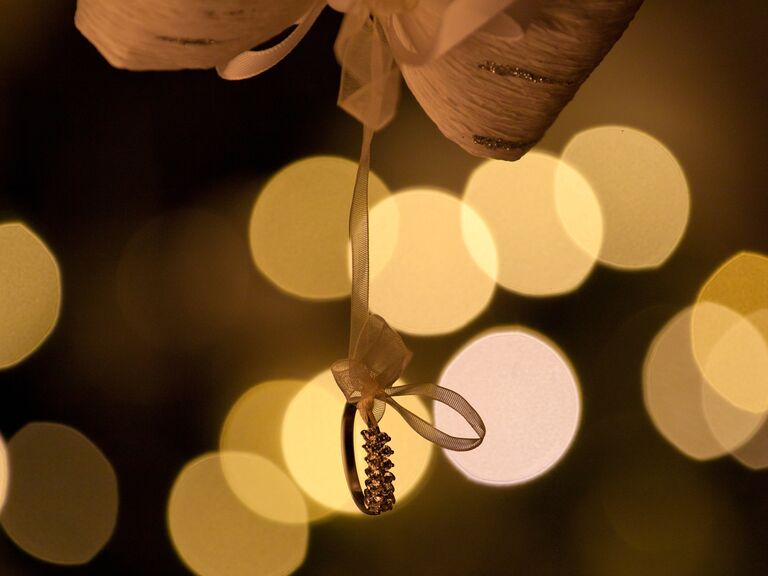 With twinkling lights, cheery music and a festive chill in the air, plus tons of friends and family gathered together, there's nothing quite like the holidays to finally pop the question. Here are seven of our favorite, spirited marriage proposal ideas to make your holiday season the most spectacular ever!
Let It Snow

Buried under a blanket of snow? Write your proposal big and bold in the snow where your partner won't miss it. Use a shovel to carve out your big question, or better yet, use Christmas lights, poinsettias or red roses!

And for those who are up for a little design challenge, build a snowman. Find strong branches (or other sturdy materials) for arms, then attach the ring. Try placing a tray across each of the snowman's arms, then setting the ring on top (write a note and add flowers for further romance). Or, simply tie the ring to a ribbon and attach it to the snowman's arm. In the other arm, place flowers, a cute sign or a note.

Deck the Halls

Write or illustrate meaningful moments from your relationship on plain ornaments with paint pens or Sharpies, then adorn your Christmas tree with the personalized ornaments. On the tree topper or star, write "Will you marry me?" as the final touch. Either wait to put it in place once your loved one sees the decorated tree, or set it all up and wow him or her all at once!
Make Every Day Count
Try a similar concept, but revealed more gradually. If you celebrate Christmas, create a personalized Advent calendar with each little window revealing another important relationship marker or memory, and/or reasons why you love your partner. Save the proposal window for December 25, and, if you can swing it, hide the ring inside (we recommend putting the ring in the calendar on the morning of, so you know where it is until then). If you celebrate Hanukkah, use the same idea, but have each day of gifts build up to the most special gift of all—the ring and the question.
Secret Santa
It's best if your partner has a good sense of humor or a true Santa obsession for this lighthearted proposal idea. Ask a local department store if you can dress up as Santa for part of the day. Enlist your partner's friends to take him or her shopping there, then convince them to sit on Santa's lap. Your partner will be totally surprised when Santa is suddenly asking for his or her hand—think of the amazing photos!
Send in the Carolers
If you know of a local group of singers, contact them and plan for them to come caroling to your door while you and your loved one are enjoying a cozy, romantic night in (we're thinking spiced cider, cheese, chocolate and a blazing fire). The carolers can hold signs saying "Happy holidays," and when they're finished singing, they can flip them over to reveal "Will you marry me?" spelled out across the group.
Party for Two
If you want to skip the noise and crowds, create an at-home winter wonderland and throw yourselves an intimate New Year's Eve celebration. Choose the best of the best for this private night—don't just opt for wine and cheese, splurge on caviar and champagne. Light a fire and choose your all-time favorite movies, or simply snuggle up together. When the clock strikes midnight—or whenever the moment's right—ask!
New Year's Eve Countdown
If you're attending a large New Year's Eve party, work your proposal into the crowd's big countdown to the New Year. Inform the other guests of your plan and make sure it's okay with everyone (they'll be sacrificing a universal moment of revelry for your big moment, so it's polite to double-check that all are on board). Once the group's chanted the countdown and reaches "Three, two, one…" have the room go quiet and turn toward your partner and ask away. Once you get the "yes!" let the shouts and cheers of celebration begin.
Happy holidays!