How to Pull Off the Perfect Restaurant Proposal
You made the reservation—now what? Here's what you need to know.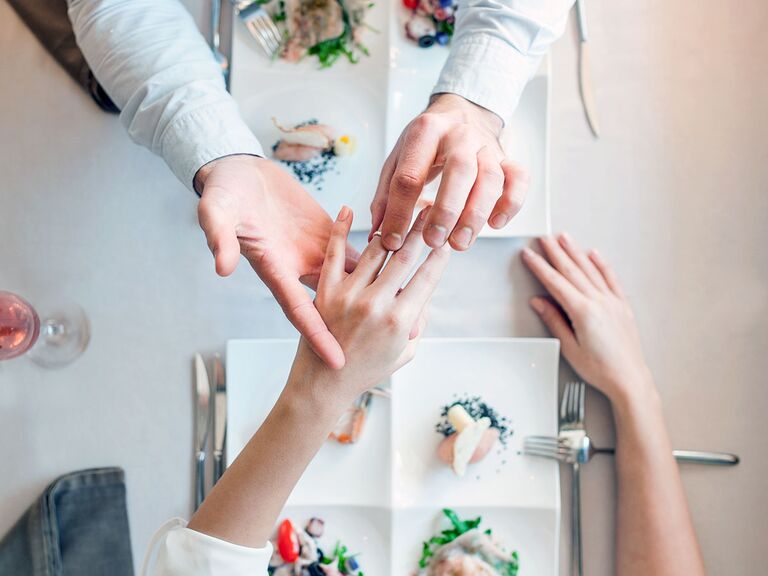 iStock
Here at The Knot, we've seen more than a few amazing proposals, but there's something about a restaurant proposal that gets us every time. Whether it's a romantic dinner date at your favorite local eatery or a special reservation at the five-star restaurant you've always dreamed about going to, nothing is sweeter than sharing a meal together before the big moment. We turned to Wesley Conger, general manager of The Signature Room in Chicago, for advice. From calling ahead to knowing the right moment to pop the question, Conger has all the tips and tricks you need to plan a flawless restaurant proposal.
Call Ahead
Consult with the restaurant to see what services it provides. Many restaurants have reservations departments that can help with pre-arranging and coordinating extra flourishes, from flowers and champagne to a special dessert. According to Conger, roses are the flower of choice for proposals at The Signature Room, but many people request an arrangement of their partner's favorite bloom.
Consider a Weeknight Reservation
Weeknights are generally less busy than weekends. Planning your engagement on a less popular evening will make the atmosphere of the restaurant feel more intimate, allowing "more opportunities to make it special," Conger says.
Wait Until Dessert
"Waiting until dessert provides a sweet ending to a perfect dinner date," Conger says. And if you're coordinating a romantic table setting, make sure it doesn't give too much away. If the restaurant has windows and—better yet—a view, schedule your reservation around sunset for the ideal ambience leading up to the surprise.
Include Family
In one of the most memorable restaurant proposals of Conger's career, the couple's loved ones were hidden throughout the restaurant the whole time. "A gentleman surprised his girlfriend and had friends and family hidden all around the restaurant," she said. "All at once they started to come out from their hiding spots and they were all singing, 'I Say a Little Prayer.'"