Should I Propose Before or After Dinner? How to Plan the Perfect Restaurant Proposal
You made the reservation—now what? Here are expert tips and ideas to pull off a romantic restaurant proposal.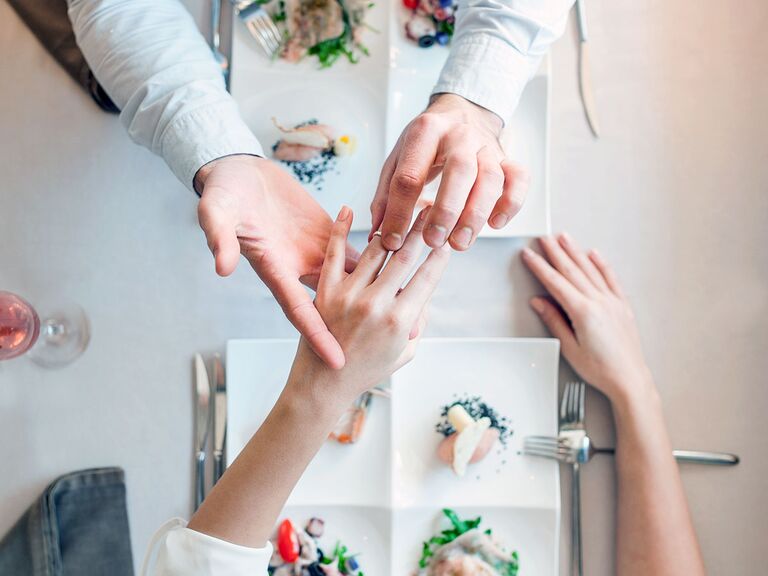 iStock
Here at The Knot, we've seen more than a few amazing marriage proposals, but there's something about a restaurant proposal that gets us every time. Whether it's a romantic dinner date at your favorite eatery where you had your first date or a special reservation at the five-star restaurant you've always dreamed about going to, nothing is sweeter than sharing a meal together to celebrate the big moment. But many wonder, "Should I Propose Before or After Dinner?" It's a very important question and there's no right or wrong answer, so we're here to help you decide.
We turned to Wesley Conger, general manager of BOKA Restaurant Group in Chicago, for expert advice. From knowing the right moment to present the engagement ring to notifying the restaurant staff, Conger has all the tips and tricks you need to plan the perfect dinner proposal.
Restaurant proposal tips in this article:
Should I Propose Before or After Dinner?
When it comes to timing your restaurant proposal, there are pros and cons of proposing before and after dinner. You will both want to treasure this moment for the rest of your life, so think about what will make this the most enjoyable proposal experience for you and your partner. For example, will you both get pleasure from a grand public gesture or do you prefer private and intimate moments? To get a grasp on what's best for you and your partner, we've summarized all the best reasons for each scenario to help you choose.
5 Reasons to Propose Before Dinner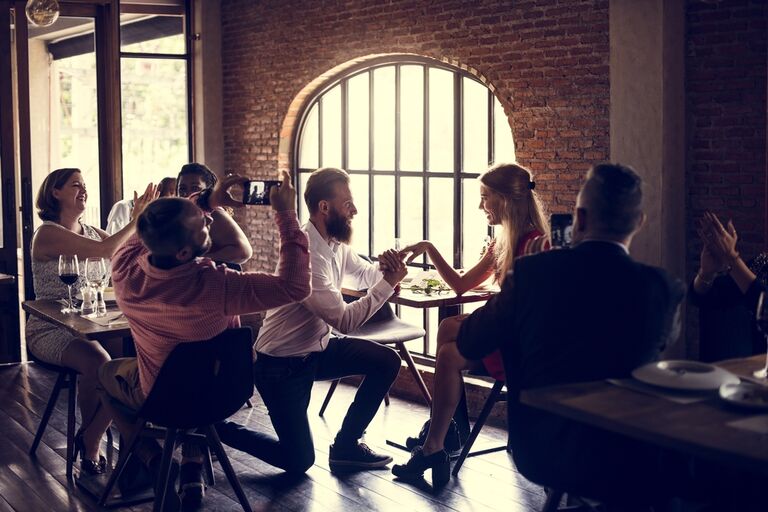 Here are some scenarios where we recommend proposing before dinner.
Enjoy a Celebratory Meal
If you've chosen a restaurant for your proposal location, then you probably really enjoy dining out. This would be a good reason to propose before dinner, so you'll get to enjoy a very special multi-course meal together to celebrate your engagement. This also means that the restaurant staff can be extra attentive and, who knows, you might even get a few extra perks throughout the evening.
Manage Your Nerves
If you're concerned that your nerves will get the better of you and that you won't be able to relax and enjoy dinner, kick off the evening with your proposal. You don't want to seem distracted throughout the dinner which will likely make your partner wonder why you are acting strangely. Furthermore, if you think you'll feel awkward getting down on one knee at the restaurant, you could propose in a nearby park or at home before arriving for dinner to celebrate.
Make it a Family Engagement Dinner
Proposing before dinner means that you can invite family members and close friends to join you for dinner—allowing you to enjoy your wedding proposal and a surprise engagement party all at once. In one of the most memorable restaurant proposals of Conger's career, "A gentleman surprised his girlfriend and had friends and family hidden all around the restaurant," she explains. "All at once they started to come out from their hiding spots and they were all singing, 'I Say a Little Prayer.'"
Be the Center of Attention
If you think that your partner will enjoy being the center of attention with a public display of affection, then proposing before dinner in the restaurant will likely be noticed by fellow patrons—you might even get some cheers and congratulations from them throughout the evening.
You've Got Privacy
On the other hand, if you'd prefer some privacy, there are other options for keeping a pre-dinner proposal more low-key. Choose a restaurant with a private dining area or a secluded patio where it can be set up for you to pop the big question before dinner in privacy before enjoying a romantic candlelit dinner.
5 Reasons to Propose After Dinner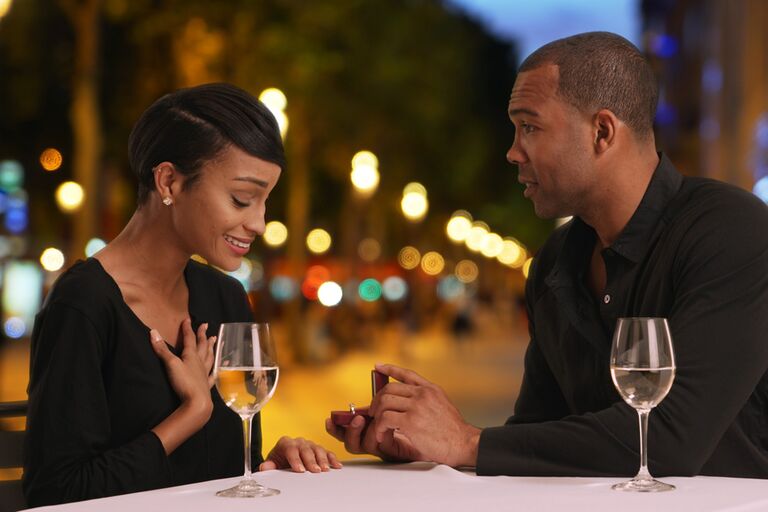 If any of the following reasons make sense for your relationship, then an after-dinner proposal is for you.
Allows You Time to Relax
You don't want to propose when you're 'hangry'. If eating a delicious meal together will help you feel more relaxed and make the moment enjoyable for you. then propose after dinner. "If you're coordinating a romantic table setting, make sure it doesn't give too much away," advises Conger. Also, the restaurant might be less busy at this point making the atmosphere more intimate. Be sure you time it right and clue in the restaurant ahead of time, so that you're not feeling rushed to leave immediately after you propose.
Revel in the Excitement
Speaking of leaving the restaurant, once you propose, that might be exactly what you and your new fiancé(e) will want to do. If you're all giddy with excitement, then sitting through a meal after the proposal may not be the vibe you want after such a big moment. If this sounds like you and your S.O., then propose after dinner so you can take off to celebrate.
Wait Until Dessert
Here's a good compromise if you don't want to propose then dash off (or propose upon arrival). "Waiting until dessert provides a sweet ending to a perfect dinner date," Conger says. Another bonus is that you won't be filled to the brim when you get down on one knee.
Share the News
Right after your proposal, you and your S.O. may be eager to capture your excitement and take some engagement photos to post on social media (only after you've let your family and friends know, of course). After dinner, you could arrange to meet up with family and close friends to tell them the good news in person.
If Outcome is Uncertain
Sorry to be a downer but the outcome needs to be considered. Is your marriage proposal coming out of the blue and could catch your partner completely off guard? In other words, is there a possibility that they might need to think about it or even say "Not now", or in the worst-case scenario, "No"? If you're not sure how they will respond, proposing after dinner will let you leave the restaurant and discuss your situation further in privacy versus sitting through an awkward dinner or making a dramatic exit if you're both upset. If it is a "Yes", then you can celebrate with some after-dinner drinks and revelry. P.S. You may even want to consider one of these other proposal ideas instead to give yourself a little more breathing room.
Expert Tips for Planning a Restaurant Proposal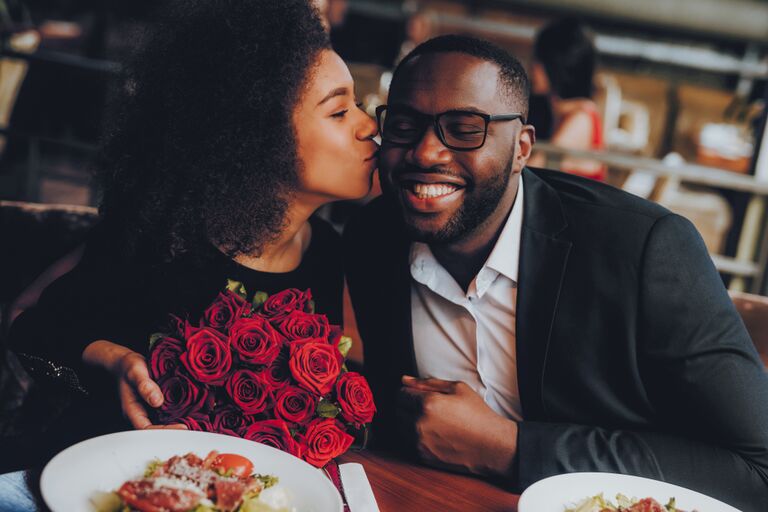 Call Ahead
"Consult with the restaurant to see what services it provides. Many restaurants have reservations departments that can help with pre-arranging and coordinating extra flourishes, from flowers and champagne to a special dessert to help you to present the engagement ring," advises Conger.
Consider a Weeknight Reservation
"Weeknights are generally less busy than weekends. Planning your engagement on a less popular evening will make the atmosphere of the restaurant feel more intimate, allowing "more opportunities to make it special," Conger says.
Schedule it at Sunset
"If the restaurant has windows and—better yet—a view, schedule your reservation around sunset for the ideal ambiance leading up to the surprise," suggest Conger.
How to Choose a Dinner Proposal Location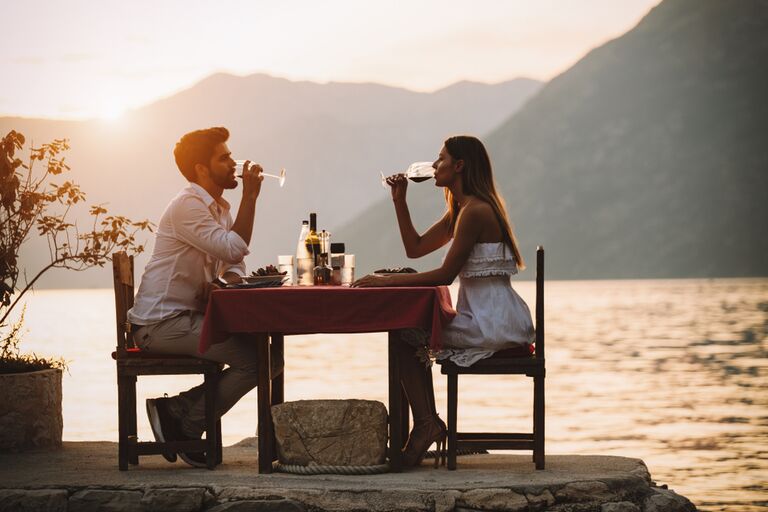 When it comes to choosing the right restaurant, there are a few ways to approach this. You could choose a spot with sentimental value, like a restaurant where you had your first date. Alternatively, if you have a favorite restaurant where you dine regularly, this would also be a good choice, especially if the staff know you and you'd enjoy getting them in on your plans. Plus, your partner might not suspect that you are planning to propose, making it a bigger surprise.
Of course, you may want to splash out and make a reservation at an extra special place—a restaurant with a spectacular view, a Michelin-star menu, dazzling decor, a formal dress code, a private dining room or musicians to serenade you.
Geographic location can also play a role in your decision. If you plan to propose at a nearby landmark before dinner or meet up with family after, a nearby restaurant would be convenient. You also won't want to be late, so think about traffic, parking and how you'll get there, so you're not feeling stressed out upon arrival.
What's most important, is that whatever restaurant you choose, you work with their staff to come up with the perfect way for you to pull out that ring with confidence, so you and your S.O. have a positive and memorable experience.
P.S. A restaurant isn't the only option for your dinner proposal location. You could make a romantic dinner (or hire a chef) for an at-home proposal or put together a gourmet picnic and take to the great outdoors to propose at sunset on a beach or mountaintop.
Romantic Restaurant Proposal Ideas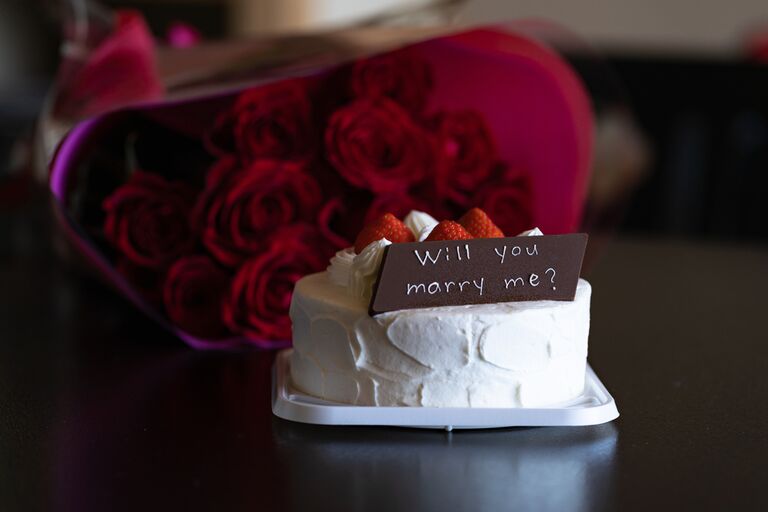 Spell it Out
Ask the chef to spell out "Will You Marry Me" on the plate while you drop to one knee. This could be a great way to start the meal with an appetizer plate or finish off with dessert.
Serve Up the Perfect Engagement Ring
Depending on the type of restaurant, you could present the ring as part of the food service. For example, if the restaurant uses plate covers, the waiter could lift the cover to reveal a ring box. If you propose after dinner, you could hide the ring inside a box of truffles.
Add Some Sparkle
This restaurant proposal idea works well before or after dinner. Order up some bubbly and slip a diamond engagement ring into a champagne glass for your S.O to find just before your drop to one knee to propose then make a celebratory toast.
Special Menu
If you'd like to propose before dinner, you could set it up with a custom-printed menu card titled "[Insert Your Names] Engagement Dinner". You could even work with the chef to plan the meal and name the courses after various milestones in your relationship to make the whole thing a personalized dining experience (and you'll even have an adorable keepsake).
Leave the Table
You don't need to spend the whole time at your table. If the eatery has a beautiful garden, gorgeous wine cellar or rooftop terrace with a spectacular view, make the special moment even more magical and intimate by suggesting to your S.O. that you leave your table to check it out. You could work with the restaurant to amp up the area with some extra decor such as candles, rose petals, 'Marry Me' marquee lights and champagne.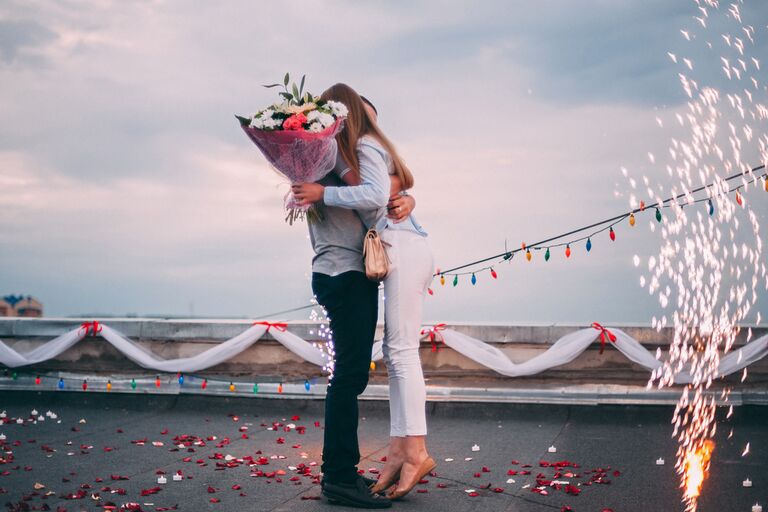 Request a Special Song
This can be subtle or a grander gesture. Arrange ahead of time for the restaurant to play 'your song' in the background at the moment you've chosen to propose. Or, if there's live entertainment, make a special request for musicians to serenade you at the table when you propose or take to the dance floor to drop to one knee.
Hire Entertainment
To make a really big splash, you could bring in your own entertainment—but only if your S.O. will appreciate being in the spotlight and the restaurant approves. Hire an Elvis impersonator, mariachi band, flash mob or favorite local artist to set up your proposal with a performance.
Order Flowers
According to Conger, roses are the flower of choice for proposals, but many people request an arrangement of their partner's favorite bloom.
Disguise with a Special Date
If you are planning to go to a very special place and want to make certain your restaurant proposal is a big surprise, plan to propose on Valentine's Day, a seasonal holiday, vacation or an anniversary that you typically celebrate in order to better conceal your plans.
Make an After-Dinner Plan
Yes, your restaurant proposal is the main event, but be sure to give some thought as to what you'll do after dinner. Whether you take a stroll, head home for a romantic night or celebrate with loved ones, have some ideas up your sleeve to make the entire evening one for the books.