Photoshoot Proposals Are Having a Moment
Here's how to plan yours.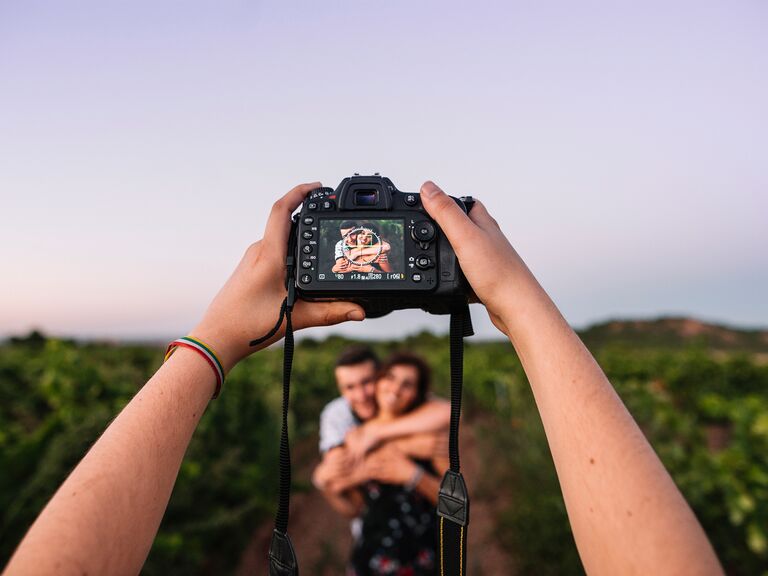 Photo: Mario Guti | Getty Images
Thinking about getting engaged? Congratulations! You might find yourself wondering how to do it, when to do it, who to invite (if anyone), and all the little things in between. One thing's for sure, no matter what your proposal looks like, you're going to want to capture the moment—and you may even want to create your entire proposal around a photoshoot. This works especially well if your partner loves to be in the spotlight and would enjoy a couple's photo session. But if planning a photoshoot proposal and hiring a proposal photographer feels stressful, we're here to help.
We spoke to a few industry experts to get their advice on how to pull off the ultimate photoshoot proposal. From a step-by-step guide to FAQs, read on to get all your burning questions answered.
5 Steps to Plan A Photoshoot Proposal
From deciding when and where to propose to actually asking the question, follow these steps to pull off the most epic photoshoot proposal.
1. Decide when and where to propose.
First things first, where and when do you want to pop the question? You might want to consider a meaningful location that's significant in your relationship. "Places like where you first met, went on your first date, and fell in love hold soft nostalgic memories," says Lisette Gatliff, owner of Lisette Gatliff Photography. "These places evoke strong, natural emotions that play out beautifully in the photographs." The location could also be somewhere you've vacationed together or a local restaurant you always go to.
2. Hire an engagement photographer.
This is a once-in-a-lifetime moment you'll want to capture on camera. In this case, they'll help you do more than just take memorable photos. "The right photographer will help you orchestrate this moment by helping you choose suitable locations, coordinating with vendors like florists and videographers, and the timing for the shoot—whether sunrise, sunset or afternoon," explains Gatliff. Need help choose the perfect photographer? Check out The Knot Vendor Marketplace to find one near you.
3. Add props.
A photoshoot wouldn't be complete without props, and adding in items that represent you as a couple will make it all the more special. "If you want to add that extra dash of 'you-ness' to your proposal, you can add props or decorations that reflect your relationship. While choosing the right props for the shoot, consider your and your partner's personalities," advises Gatliff. "Are either of you the romantic type? Only then will having a heart-shaped balloon with a bouquet of roses make sense. You can also consider the theme of your proposal. For instance, if you choose a winter wonderland theme, snow globes and Christmas lights add the extra oomph."
4. Practice before proposing.
Just like anything, practice makes perfect. You don't want to over rehearse it, but running through the order of operations will be helpful to you and your photographer. "This boosts your confidence so you're prepared for this special moment," says Gatliff.
5. Figure out a ruse.
If you tell your partner that you're planning a couple's photoshoot, they'll likely think something is up (unless they're into that sort of thing)—not ideal if you're hoping for a surprise proposal. Instead, ask them to get ready for a special date, whether it's a fancy dinner with family or friends or a night at the theater so they'll get dressed up.
6. Be flexible.
Life doesn't always go as planned, and the same is true of proposals. "Things happen! Don't stress out if your proposal plans need to adjust based on weather, timing or general life," advises Becca Davis, owner of Becca and Adam Photography and Videography. "Regroup, adjust the plan as needed, and keep moving forward. They will still love it."
FAQs About Photoshoot Proposals
Still have questions? We asked a few wedding planning pros to answer some of the most common questions about photoshoot proposals.
How do you know if a photoshoot proposal is right for you?
Feeling overwhelmed by planning? "If you found yourself nodding to this, consider a photoshoot proposal, where your photographer can help you plan out the details and capture the special moments to take some of the pressure off your plate," recommends Gatliff. You might also consider hiring a proposal planner to ensure everything goes off without a hitch.
Why should you hire an engagement photographer?
The short answer: so you can reminisce on these cherished memories for years to come and have help with the planning. "A professional photographer can ease a lot of the (expected!) stress that comes with planning a proposal," explains Davis. "They can handle arriving early to scope out the area a bit, capturing all of the photos (so that you can focus on soaking up the moment together), and even capturing a mini engagement session of the two of you after the proposal happens!"
What are the benefits of having a photoshoot proposal?
"If you want to create lasting memories from your proposal, having a photoshoot is the way to go. Apart from being able to preserve this once-in-a-lifetime moment forever, it's also the best way to share this moment with your loved ones," says Gatliff. But that's not the only perk. "These photos can also be great to incorporate into the wedding itself, through your save-the-dates or even as décor at the wedding itself," advises Davis.
Should you invite friends and family to the photoshoot proposal?
There's no right or wrong answer to this question, it's simply about personal preference. "Think about what would make you and your partner most comfortable, either soaking this moment in privately or celebrating with your friends and family. You can't go wrong either way, as long as you do what's right for you," says Davis.
What are the major "don'ts" when it comes to planning a photoshoot proposal?
"Don't be afraid to play around with the concepts. Your creativity makes your proposal even more special," says Gatliff.
"Don't forget to advocate for what you want! Speak up about your preferences in terms of location, how many people (if any!) will be present, the time of day, etc. Your proposal is such a personal moment that it should feel right for you and not be about what others suggest, want or prefer," advises Davis.
"Don't forget to have fun! It's about you, your partner, and your shared love," recommends Gatliff. "So, relish the moment fully!"