Our Definitive List of the Best Outdoor Proposal Ideas
So you want nature to be the background of your proposal? You've come to the right place.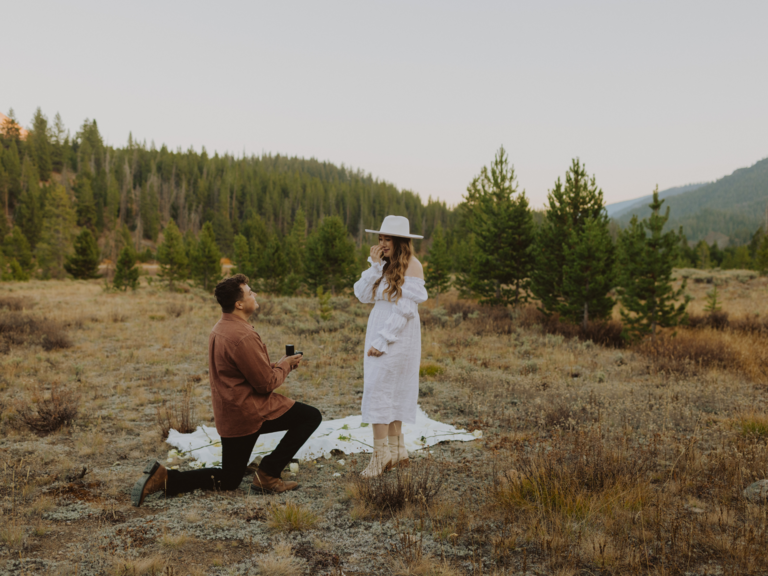 Whether you met while in the great outdoors or a love of nature brought you two together, you're clearly looking for some inspiration when it comes to outdoor proposal ideas. So, we've rounded up lots of different ways to ask the question while out and about. Maybe you're hoping to pull off a grand adventure while rock climbing or on an epic hike or just looking for a laidback weekend in the woods. Either way, we are sure one of these incredible outdoor proposals will inspire the perfect moment to ask one of life's biggest questions.
In this story:
The 20 Best Outdoor Proposal Ideas
Whether you're wondering how to propose on a hike or the best spot to drop to one knee with a stunning view, we've put together our favorite ideas for an outdoor proposal. Depending on the time of year, comfort level with outdoor activities and simply what you like, there is certainly something here for you.
1. Hide Behind a Bridal Veil Waterfall
While any hike to a waterfall seems special enough to pop the big question, try taking this outdoor adventure up just a notch by finding a waterfall you can actually walk behind. This type of feature on a waterfall earns the name "bridal veil," as people can hide behind the cascading water as some brides tuck behind a veil on their wedding day. When proposing here, though, ensure everyone is ready to get wet safely, with grippy shoes and maybe a bathing suit. The uniqueness of this idea makes it one of our favorite hiking proposal ideas.
2. Set Up a Proposal Scavenger Hunt
If you have an outdoor path or hike where you're able to leave little hints without them being disturbed, try setting up a proposal scavenger hunt. Write clues for your loved one, sending them around the location (maybe a house with lots of good memories for you two) until they find you at the end, down on one knee. This idea clearly needs a bit of setup, creativity and cooperation, but the gesture is a wonderful way to show how much you care.
3. Go Horseback Riding and Have a Picnic
Many times, people want their proposal to be memorable because of a unique activity or special setting where it took place. Horseback riding is ideal as most people don't have access to these beautiful, strong animals too often. To truly make this magical, bring along a picnic and have a photographer ready to capture the moment they say "yes."
4. Pop the Question at an Outdoor Mall
Not every outdoor proposal idea has to be on some grand adventure. Sometimes, the best proposals are actually the simplest. Many small towns and cities have outdoor walking malls near downtown, often with cute signs or murals. Research spots like this near you to ask your partner to marry you after having brunch on an easygoing morning.
5. Get Some Help at Your Local Farmers Market
From the beginning of summer till early fall, many places have bustling farmer's markets. Here, vendors sell everything from freshly roasted coffee beans to buttery croissants and colorful flowers. If you have a favorite small business, ask them to hide the ring in whatever product you plan to buy. Then, when you and your significant other come to the booth, purchase the bouquet or fresh bagel sandwich with the ring hidden within. This should go without saying, but make sure your love doesn't swallow the ring if you hide it in food.
6. Take an ATV or 4WD Vehicle Off Roading
If you'd like a little adrenaline rush before the thrill of asking someone to marry you, consider going off-roading in a Jeep or Land Rover or renting an ATV for a delightful backcountry excursion. Not only will this be a unique way to take the path less traveled, but these machines also allow you to find places far away from anyone else without breaking too much of a sweat, something your partner may thank you for if photos are taken of the engagement.
7. Set Up a Rooftop Terrace Proposal
If there's a rooftop pool, bar or terrace nearby, make that the venue of your outdoor proposal. These spots are just the right mix of chic and outdoorsy, and if attached to a restaurant you can sneak in a drink or meal before or after the big question too.
8. Find a Secluded Spot on a Local Lake
If you're looking for a one-of-a-kind view in a serene spot when brainstorming outdoor marriage proposal ideas, keep local lakes at the top of your list. Typically, you can rent a human-powered boat, such as a paddleboat, canoe or tandem kayak to get you out and about. Just make sure it's a stable craft so you don't go for a swim when you celebrate them hearing them say, "Yes!"
9. Ask the Big Question Over Morning Coffee While Camping
Some of the most scenic hidden gems of the US can be found at campgrounds. Whether you're tucked in an old-growth forest or by a rushing river, camping provides a tried-and-true romantic experience for any outdoorsy pair. Try asking the question over morning coffee (maybe in a mug that asks the question for you once all the coffee is gone?) on a slow morning in the woods and dream about all the mornings in the future that can be just like this one.
10. Go For a Walk on the Beach
There's something truly captivating about the sound of ocean waves lapping on the beach, which is why many people put this at the top of their list of proposal ideas outdoors. While you can choose a spontaneous moment for the occasion, the beach is also a great spot to have a special picnic or campfire set up with decorations or a sign making the moment truly special. Always make sure to check that any props you might use comply with local rules and regulations.
11. Propose at a Christmas Tree Farm or Light Show
Did you know that most wedding proposals happen during the holidays? Part of that is because family and friends are already gathered, but there's also something about the spirit of the season that makes getting down on one knee just seem right. If you plan to go Christmas tree shopping or see a holiday light show, use the jolly atmosphere already created to set the mood for you.
12. Go Rock Climbing
Want to give a rock while on a rock? Then pop the questions while climbing them! You can hire a guide to make sure you have a great time while rock climbing so all you need to do is focus on picking the right time to ask.
13. Book a Secluded Treehouse Getaway
With the rise of companies like Airbnb and Vrbo, there are so many unique accommodations, such as treehouses, to make the best outdoor proposal ideas come to life. If you want to escape for a weekend before you ask your love to marry you, book a night or two somewhere with unique outdoor space. This also gives you the opportunity to get creative with your outdoor proposal set up and decoration ideas!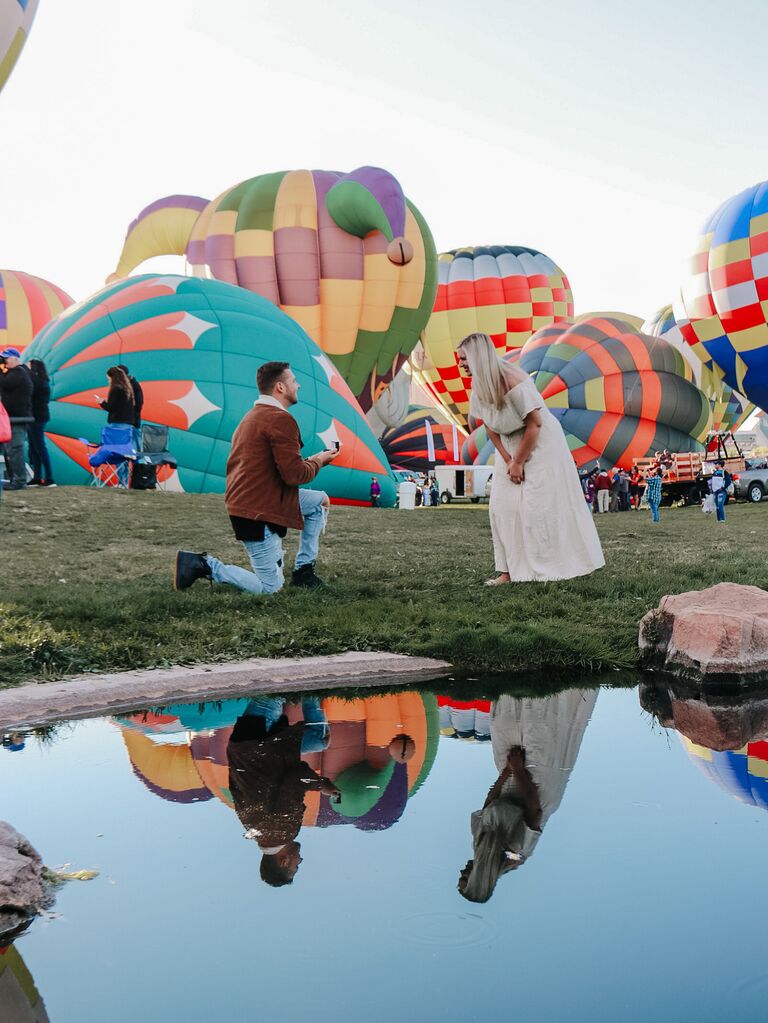 14. Float Above the World in a Hot Air Balloon
The best outdoor proposal ideas will combine the beauty of nature with a unique experience, and we think taking a hot air balloon ride does just that. While climbing aboard these fire-powered balloons is not for the faint of heart, they do provide a one-of-a-kind view for the once-in-a-lifetime question.
15. Find a Beautiful Drive With a Scenic Overview at Sunset
While burning a CD or lining up the perfect mix tape is a thing of the past, you can still throw together the perfect Spotify playlist for a scenic drive to set the proposal mood. Across the country, there are plenty of spots to ride along with the windows down while stopping at scenic overlooks to take in the sights. Time it right and you can be down on one knee at sunset, starting the life of your dreams in a gorgeous place. This idea also allows for you to have someone set up special decorations for the moment ahead of time.
16. Enlist a Local Musician to Help Set the Mood
Sometimes finding the right words to say is difficult, although you will have to think of a few when you ask someone to marry you. To help with this task, though, ask a favorite local musician to get involved in your outdoor proposal. Whether you want to go for a walk at a local park and stumble upon a gazebo with the artist singing a love song or attend a concert where they set you up just right, this is one of our favorite park proposal ideas.
17. Charter a Private Plane
When considering marriage proposal ideas outdoors, it is critical to find something within your comfort zone. For those willing to take to the skies, see if you can charter a small plane to take you on a scenic tour of the countryside. Not only will you get breathtaking views, but the shared experience will be a perfect starting point for the rest of your lives.
18. Bring a SUP to the Lake
Standup paddleboarding has gotten quite popular in recent years, and we understand why! The simple but fun sport allows almost anyone to get out on the water, even with furry companions. If you're really up for an adventure, get a SUP you can carry in a backpack and hike to a more secluded body of water for a more intimate experience.
19. Surprise Your Partner During an Outdoor Photo Shoot
If you know your significant other would love professional photos of the actual proposal, ask them to do an outdoor photoshoot with you! Let the pro in on your secret so they're ready to capture the moment forever. This way, the photographer can also help you dream up some outdoor proposal decoration ideas to make the scene extra special.
20. Use the Ride Picture On a Roller Coaster
If you and your person love riding roller coasters, ask a few friends to come along and help turn the ride photograph into a marriage proposal. If everyone lifts their sign at just the right moment, when you show up at the photo viewing booth, the sentence, "Will you marry me?" can be spelled out for all to see. If you know your partner is fine with a public proposal, this is a unique and exciting way to go.
Five Tips For Planning An Outdoor Proposal
From getting the ring to alerting friends and family, there's a lot to do before you ask someone to marry you. Doing so outside adds an extra element to the occasion, which is why we put together a few top tips for making your outdoor proposal the best it can be.
Hire a Photographer or Videographer to Capture the Special Moment
Asking someone to spend the rest of their life with you is no small moment, which is one of the many reasons you should remember it. Use The Knot Vendor Marketplace to find a photographer or videographer that can capture the scene with professionalism, courtesy and creativity.
Ensure Your Significant Other is Dressed for the Occasion
Make sure your partner is dressed for the weather and activity, whether that be with extra layers for a hike or grippy shoes for rock climbing. Keep in mind that they may also want to be in a cute outfit or have their nails done ahead of time if photos are being taken of the proposal, so consider letting a friend in on the secret that can ensure those things fall into place without giving away the events of the big day.
Ask a Professional to Help Make it Perfect
Planning out all the big and small details to make a proposal perfect can be a little stressful, which is why we highly recommend heading to The Knot Vendor Marketplace to find a proposal planner. To find proposal/engagement planners there, look under Wedding Planners and filter expertise by "Getting Engaged."
Consider a Silicone Ring if You're Out and About
If you're hoping to propose out on the water or simply somewhere you don't want to bring an expensive ring to, grab a budget-friendly silicone ring ahead of time to use. If you're an adventurous couple, your partner will probably like having an adventure-friendly ring option in the future.
Have a Backup Plan for Bad Weather
If you're outside, there is always a chance of bad weather. Make sure you have an alternative plan if it gets too windy, cold or rainy so your plans don't fall apart.
How Do You Make An Outdoor Proposal Special?
First and foremost, your proposal will be special simply because it is the single question that begins the rest of your life. But, to ensure it is everything you want, think of personal ways to make the moment stand out. This could be having friends and family participate, setting up decorations to show how much time and effort you put in or make the outdoor excursion something you don't typically do. You can always peruse our list of romantic proposal ideas to help set the mood. Remember that in the end, it is the act of love and commitment that will make this moment special for years to come.