Our Favorite Proposal Ideas With Family That Make the Moment Truly Special
Wholesome ideas to inspire the perfect moment.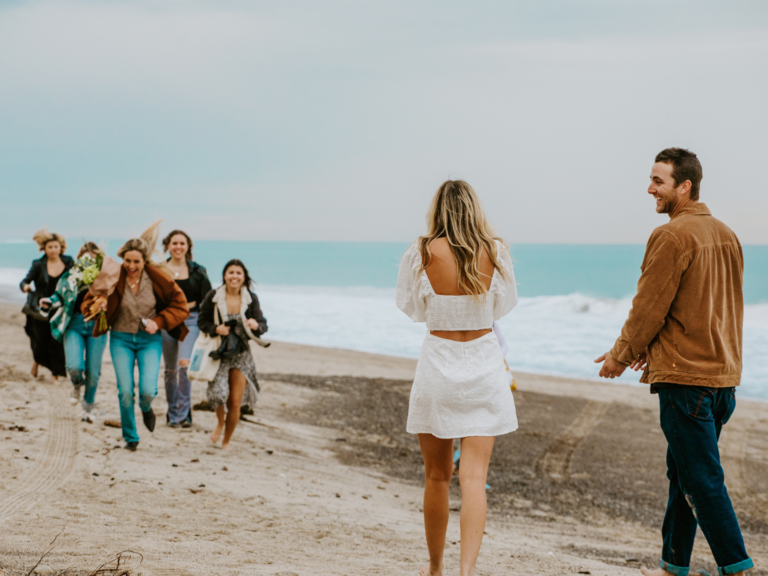 Photo: Tori Hernandez
As you prepare to ask your partner to marry you, you're likely running through a hundred different ideas about how best to pull it off. We gathered our favorite creative proposal ideas with family around because so often, life's big moments are better with people we love nearby. Of course, it is probably worth checking ahead of time that your significant other is okay with having such a major event take place in front of others so that everything doesn't go awry when you drop to one knee.
Whether you want just a few close family members present or plan on roping in all of your friends to help ask the big question, we have put together plenty of fun ways to get others involved in your engagement. We've also collected a few tips for ensuring your proposal goes out without a hitch.
In this article:
Eight Wholesome Proposal Ideas With Family & Friends
Events typically get harder to plan as more people plan to attend. This is the same for proposals, which is why we have gathered some of the best proposal ideas with family to make sure everyone knows what to do and where to be when you pop the question.
Ask the Question on a Family Vacation
If you're hoping to ask the question in front of family, it's tricky to get everyone together without giving the plan away. That's why we highly recommend using a family vacation to propose. First off, it avoids sharing the spotlight with a major holiday or Aunt Julie's birthday party and allows you two and your engagement to be the center of attention. Secondly, your partner won't see it coming if it's a trip you've already planned for. You can choose to propose at dinner, during the family photo shoot or even over morning coffee so each family member can congratulate you as they wake up.
Propose During a Game Night
If you're thinking up engagement proposal ideas with family, you're probably quite close with their parents, siblings and extended family. If you already have a standing game night or can get away with hosting a party without suspicion, use that to your advantage. Incorporate some of our creative proposal ideas as well, especially if you have friends and family ready and willing to help you out! Use your game choice, such as charades or 20 questions, to help set the mood and steer the conversation towards the big question.
Create a Video Montage of Family and Friends
Sometimes lining up people's schedules can be tricky, and often it simply doesn't work. If you're having trouble coordinating some of your marriage proposal ideas with family, maybe you don't need everyone there at the same time! Instead, ask people to create a 20 or 30-second video sharing what they love about the couple. Watch the video montage together before you propose. This way, you can incorporate family into the proposal but still have a private moment for the big question.
Head to a Local Bar or House for Trivia
When dreaming up proposal ideas with friends, there are so many options. We think an exciting way to have a public proposal with friends and family is to invite everyone to a trivia night. If you're up for it, ask the host to have a wedding or engagement category that ends with a proposal-related question. When the time is right, you can ask the question in front of family and friends and keep then on celebrating.
Drop to One Knee While Decorating for the Holidays
When families gather together for a holiday, there can sometimes be a bit of tension over various things. Knowing this, we recommend having a family activity happening to give everyone a common goal during the proposal in order to limit any controversial topics or areas of concern. So, if your family has holiday traditions, such as baking cookies, decorating the front porch with lights or serving others while out and about, use that joyful time to get down on one knee.
Host a Blow-Out Celebration After a Private Proposal
If you're wondering what the best proposal ideas with family are, this one should certainly be in the running. We think it ensures the proposal will be both intimate and shared, sacred and celebratory. When you have a few minutes during a family get-together, steal away to ask the big question as just the two of you. After they say "yes," head back to the family gathering to share the good news. You'll still get the cheering and excitement, but you'll also have a quiet moment to remember when just the two of you promised to be by each other's side forever.
Ask Friends and Family to Be a Part of the Perfect Scavenger Hunt
If you have many people, whether family or friends, to join in your engagement scheme, then take advantage of that. Have them create a scavenger hunt under the guise of having fun and have everyone play along. This is an especially good option if there are little kids in the mix. Of course, you're going to have to let the fiance-to-be win, as you will be waiting on one knee at the end as the prize. Having more people participate will allow you to get more creative with the clues for a truly memorable affair.
Have Family and Friends Waiting at the Top of a Hike
So many proposals take place outdoors, as nature is often the perfect background for such a moment. If you and yours like to get outside, go for a hike and have your family or friends waiting at the top. This is one of our favorite surprise proposal ideas with family as not many people expect dozens of friends and relations to be at the end of a hike. While those waiting for you at the top can simply cheer and shout when you make it to the top, you can also have them lined up with signs asking the big question for you. Make sure to check the weather ahead of time and ensure that everyone going for the hike can make it up to the top—and back.
Five Tips For Including Family And Friends In Your Proposal
Allowing family and friends to attend your proposal can be a beautiful thing that turns the moment from ordinary to extrodinary. But, it is key to provide lots of structure and guidance so that things don't get out of hand. Here are a few tips to ensure your proposal is the best it can be.
1. Set Expectations With Friends and Family Ahead of Time
So you've decided to implement one of your favorite proposal ideas with family and friends? Well, it's important to lay down some ground rules so the moment is everything you want it to be. First, set expectations on cell phone use. If you have a professional photographer there, you don't want everyone in the background also taking photos or trying to video chat someone who couldn't be there. Secondly, ask people to dress up or at least coordinate outfits a little if there will be professional photos. Lastly, ask everyone to give you all a minute or two of space after they say "yes" to celebrate before they all come storming in for hugs and high-fives.
2. Hire a Photographer or Videographer
A marriage proposal only happens once, so it is important to capture it to remember it. Head to The Knot Vendor Marketplace to find a photographer or videographer to help snap the perfect photos of the moment.
3. Double Check Your Partner Is Okay With It Ahead of Time
Proposing in front of a large group of people, even if its ones you love like your closest family and friends, can be a bit nerve wracking. We highly recommend double checking with your partner ahead of time that they're okay with having the big question asked in front of an audience. If they're on the fence about it, perhaps ask the question privately first then celebrate with family after or ask it twice!
4. Have a Plan B
Whether you need a rain plan or a different way to pull things off should a dispute arrise, it's always important to have a back up plan if things start to fall apart. This way, you're not stressed if you need to adjust the proposal just a bit.
5. Give Them a Job During the Proposal
When you ask people to get involved in your propsoal, most people will follow directions to a T. But, there may be some people who need a particular job in order to not cause chaos. So, assign specific jobs such as picture taker, clue giver, confetti thrower or balloon holder so that people, especially the more rambunctious family members, don't interfere with your plans.
FAQs About Planning Your Proposal With Family & Friends
When dreaming up marriage proposal ideas with family, many questions come to mind about just who should be there and if its even worth it. Here are a few frequently asked questions about this topic and how best to navigate the situation.
Should you propose alone or with family around?
You should propose in the setting where you and your partner will feel most loved. If your families have been incredibly supportive and involved in your relationship, having them around as you start your journey towards marriage can be a huge blessing. On the other hand, it is a special moment for the two of you, and if having family around would add stress to the situation, keep the proposal a private affair.
Should you include your family, your partner's family, or both?
It can be tricky deciding who to invite to a marriage proposal with family. We recommend inviting the family members who have invested in you as a couple during your dating years, as they will likely remain the most involved ones in the future. Consider inviting more family members if you think not inviting them would damage the future relationship and it is not too much of a burden.