The Ultimate Guide to Italian Wedding Traditions and Customs
A look at what sets Italian weddings apart—from Tuscany to Sicily.
Given that Italy's history dates back to the Ancient Roman empire, it's no surprise that weddings in Italy are steeped in age-old traditions that've been passed down for many generations.
Victoria Delgado of Tori Del Photography and Kelly Hayes, The Italian Wedding Planner, share their first-hand insights into Italian wedding traditions and customs to know. So whether you're eyeing a destination wedding in Italy or may be attending an Italian wedding for the first time, consider this your ultimate guide to traditional Italian weddings.
"Stunning backdrops of sweeping vineyards and olive groves, refined elegance married with unrestrained joy that defines the Italian 'Bella vita,' or good life, and a culture where the pleasure of sharing a great meal could almost qualify as an Olympic sport. Both luxury and whimsy, a wedding in Italy is nothing less than stepping out of reality into timeless romance," says Hayes. "Italian hospitality still has a sense of being in the golden era. Enormous villas and terraces that feel straight out of a Fellini film. White glove service. On the other side of that you find romantic farmhouses attached to centuries-old vineyards. Mountains, and seasides and island retreats. Italy has a bit of everything which lends itself perfectly to creating unique, customized once in a lifetime experiences for couples and their guests."
In this story:
7 Italian Wedding Traditions to Know
"The wonderful thing about Italian destinations is you can pick and choose the traditions you wish to include in your dream day," notes Hayes. To help you better understand the beauty of the weddings celebrated in this Mediterranean country, we're taking a look at the Italian traditions you should know.
1. Italian Engagement and Prewedding Traditions
In addition to fun traditions that are simply included for sentimental reasons, there are also a few logistical prewedding considerations couples need to make. This is especially important for foreigners getting married in Italy—you'll want to ensure you're adhering to local customs with regard to documentation and legal requirements for a wedding in Italy.
Delgado recently said "I do" in Italy and shares what her prewedding journey looked like. "When we first researched where in Italy we wanted to get married in, we noticed the popular places required a 'foreigner' fee to get married there. For example, Rome you have to pay money to get married there if you are not native of Italy. We found a wonderful location outside of Rome that charged a much smaller fee to get married no matter if you are from Italy or not." Delgado also explains that couples have to "ask permission to get married in the town you would like to get married in. The whole process (documentations, approvals etc) has to happen six months prior to the wedding. On the day of the wedding, there is a notice in front of the town hall indicating your wedding date and time." There are also a few customs and regulations around marriage in Italy for people who've been divorced. In Italy, women have to wait one year after a divorce to get married.
In addition to gathering all documentation and notifying the authorities, it's common for Italian weddings to have a rehearsal dinner that's packed with meaningful toasts. "Normally for destination weddings we like to organize a welcome party and a post-party," says Hayes. "We try really hard to choose local trattorias and experiences that will give guests an intimate sense of Italian life."
Often, a toast saying "Per Cent'anni," which means "for a hundred years," will be offered to the to-be-weds at a rehearsal dinner. Another popular prewedding toast is "Evviva gli sposi," which means "hooray for the newlywed couple." For the rehearsal dinner, it's generally traditional for the Italian bride-to-be to wear green as a sign of good luck and good fortune for a long life ahead.
The serenade, also known as La Serenata, is another prewedding tradition wherein the bride is serenaded beneath her window on the night before the wedding. Typically this tradition involves friends and family, but the details are kept secret from the bride so as to surprise her.
2. Traditional Italian Wedding Gifts
Wedding registries are typically common with couples tying the knot in Italy. Hayes notes that many of the couples whose weddings she plans have guests coming from far away so physical gifts aren't brought to the wedding, but attendees generally order a gift from a couple's registry.
3. Traditional Italian Wedding Dress and Attire
"An Italian wedding is an opportunity to dress up and show your personality," says Hayes. "One of my most recent brides just rocked a lace Dolce & Gabbana suit. Most events have elegant cocktail attire. It's all about showing off your best self and having a great time!"
Gold jewelry, beyond a wedding ring, is often avoided at Italian weddings because there's a superstition that posits gold jewelry will bring bad luck to the couple tying the knot. Historically, it's also said that grooms would carry a small piece of iron in the pocket of their wedding suit as a way of warding off evil spirits. Meanwhile, a rip in an Italian bride's veil was historically said to bring good luck. While couples may not always practice these customs at modern Italian weddings, many to-be-weds still prioritize making their big day outfit feel special and memorable.
4. Italian Wedding Ceremony Traditions
Many Italian marriage ceremonies will happen in a church, but for couples who aren't religious, they can instead opt to be married at town hall, as Delgado did for her own wedding. "As we were not local citizens or practicing Catholics, with our Italian wedding, we had to go to the town hall and get married by the town's consulate," explains Delgado. "The ceremony was all in Italian and our wedding planner had to translate the ceremony for us. Because the ceremony was done in a town hall, it was more so an agreement than anything. A few of the things we 'agreed to' were 'you agree to have children and raise them together,' 'you agree that this is your first marriage,' 'you agree that if this is not your first marriage, that you are legally divorced from your previous spouse.' After all of this, we and our two witnesses had to sign the marriage certificate as well as the ledger indicating you were married on this day."
Italian weddings are not only notable for their marriage ceremony proceedings, but also for their postceremony fanfare. In Ancient Rome, rice was thrown at newlyweds to wish them wealth and prosperity in their fledgling marriage. That tradition continues today both in Italy and across the globe. There's also said to be symbolism tied to the type of rice that's thrown at the couple. Tradition holds that Carnaroli rice is for sharing and compromise, Basmati rice is for fertility and passion, Arborio rice for eternal live and Roma rice for prosperity.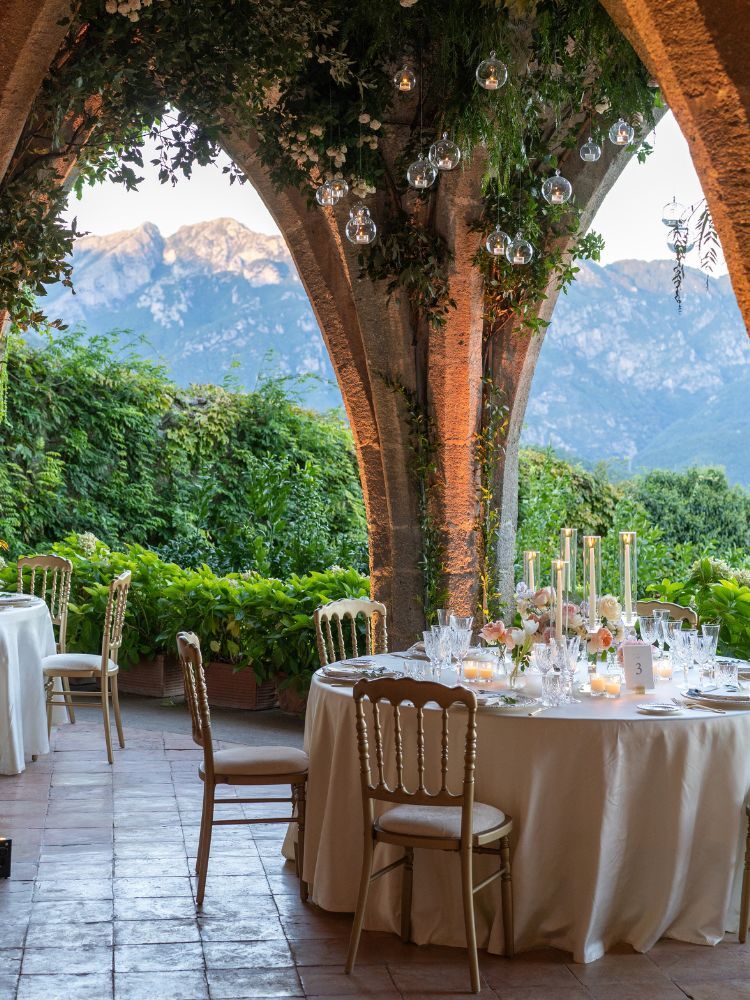 5. Italian Wedding Reception Traditions
As couples in Italy go from the ceremony location to the reception, they're generally met with lots of cheering from passersby. Delgado recalls that as she and her new husband "were walking through the town of Tivoli, people in the town were shouting 'Auguri' (which is the Italian word for best wishes) and walking up and giving us hugs. There were a few people that wanted to take pictures with us as well. Apparently, it's good luck for single women to take pictures with a bride!"
Wedding favors are traditionally given out at Italian wedding receptions. Historically, these favors were known as confetti and Bomboniere. In this case, confetti isn't the shredded paper you may be thinking of, but rather candied almonds. And Bomboniere refers to packaging up a collection of sugared almonds in a small organza satchel or small satin bag for guests to take home.
While confetti, or candied almonds, are a traditional wedding favor in Italy, Hayes shares that she tries to "encourage couples to choose favors which reflect their own personality and a sense of location. Be that mini bottles of olive oil produced on an estate where they're celebrating their big day, or bottles of limoncello from family-owned lemon groves. Italy is known for it's amazing wines, olive oils, sweets, coffee, Murano glass handmade papers, leather…the list goes on and on."
Another unique Italian wedding tradition is for everyone to dance to La Tarantella. La Tarantella is a popular Italian folk dance where the new couple and their wedding guests hold hands and dances in a circle. Historically, this dance was said to be a cure for a condition called tarantism, which people believed to be caused by a spider bite from a tarantula. While the dance isn't necessarily tied to supersition any longer, it's still very popular for couples to dance to La Tarantella at their Italian weddings.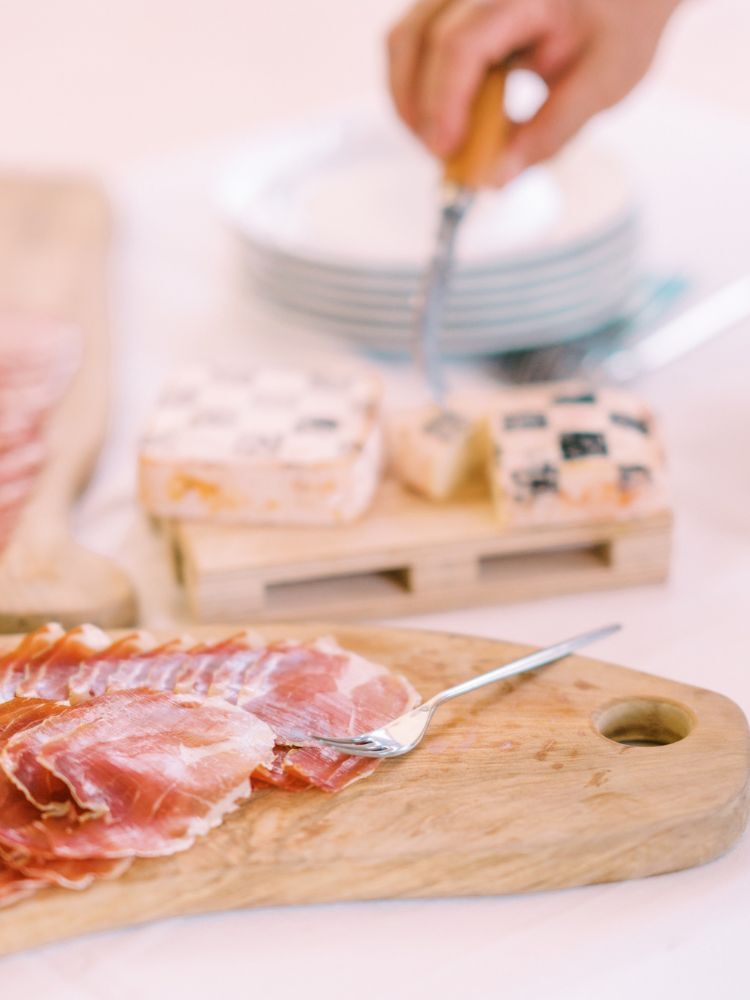 6. Traditional Italian Wedding Food
Italy is known for it's delicious food so it's no surprise that Italian wedding menus are top-notch. For example, Delgado recalls that at her wedding they dined on grilled focaccia, prosecco, caprese, roast suckling pig and Charlotte cake from Ristorante Sibilla.
"At the center of any great Italian wedding is an amazing meal," shares Hayes. "Contemporary destination weddings now focus on throwing an amazing party, but traditionally the most important part of the wedding celebration used to be built around a shared meal at the table. Today most couples will start with an outdoor appetitivo with several antipasti in the afternoon followed by dinner that would have at least a couple of first courses followed by mains, pre/dessert, cake or millifoglie, and then an evening snack."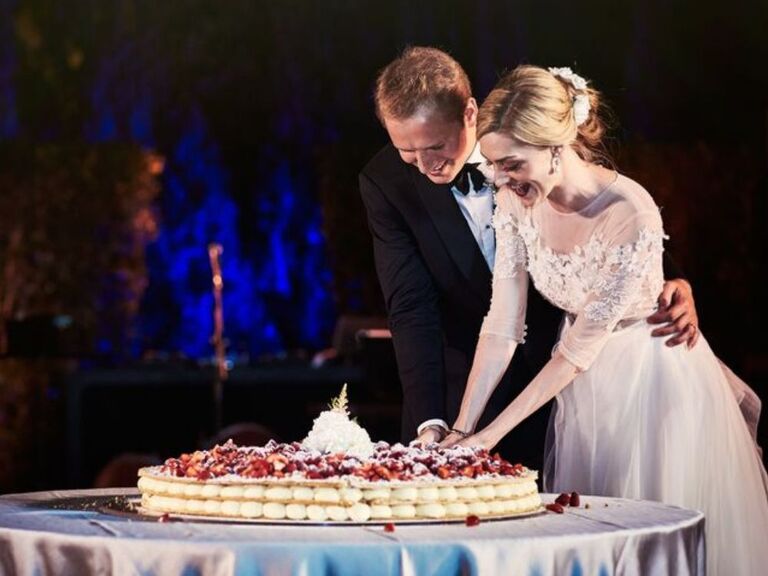 7. Millefoglie Italian Wedding Cake
The classic Italian wedding cake is called millefogle, or melle-feuille in French. This Italian wedding dessert is made of layers of puff pastry filled with cream.
Hayes explains, however, that "Italy traditionally never had an official wedding cake. The millefoglie was served as a dessert at Italian weddings but never given more importance than being the end of the meal, the main focus was the dinner. When destination weddings became more accessible, international couples began asking for a wedding cake. Since there was no tradition of the wedding cake in Italy, there really wasn't the knowledge base to produce the designs that couples wanted, so planners and caterers started proposing the milliefoglie as the wedding cake. Today, there are many chefs trained on the creation of amazing and memorable wedding cakes. We usually propose a millefoglie for the welcome party or post-party and a more memorable wedding cake and sweet table for the main event."
For her own wedding, Delgado "opted into a traditional Italian wedding cake which was a Charlotte Cake. Charlotte cake has a dow spongy or savoyardi basement and cream/ chocolate mousse structure and savoiardi biscuits on the border. (Savoiardi biscuits are the same used for Tiramisu). It was one layer and enough to provide a piece for all of our 20 guests."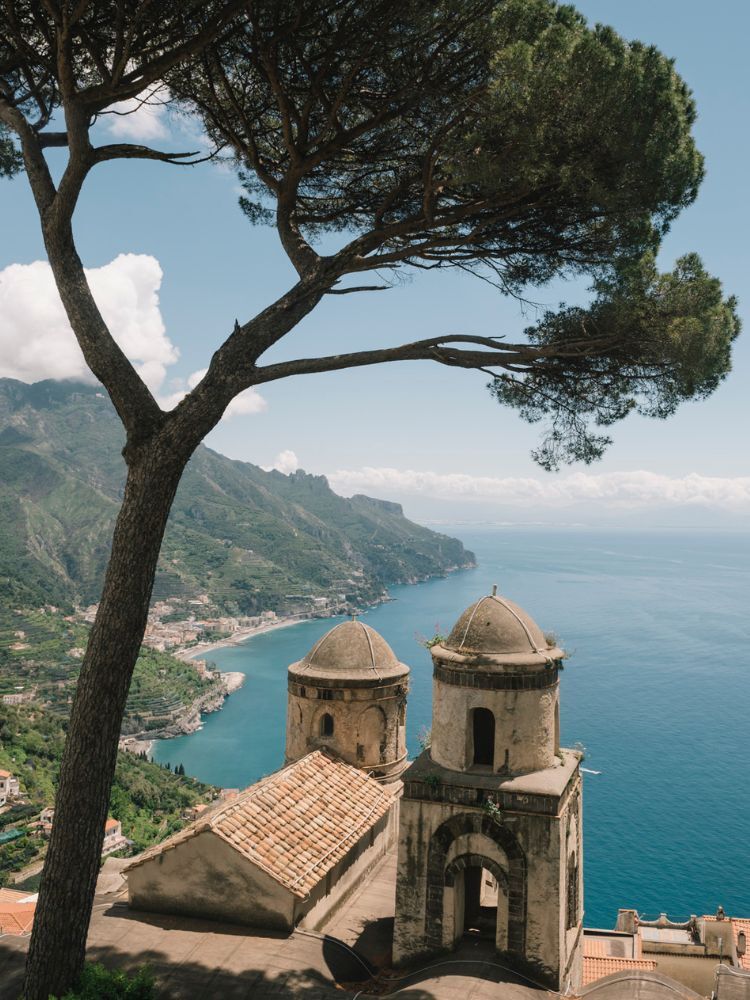 Regional Differences in Italian Weddings
While many of the traditions discussed above can be seen all throughout Italy, from Tuscany to Venice, there are some customs that are more characteristic of specific regions of Italy.
Sicilian Wedding Traditions
Rice throwing is historically common at Italian weddings, however, many Sicilian weddings opt instead for wheat. Experts also say that, historically, orange flowers were sometimes be included in the bridal bouquets in Sicily as a way of wishing fertility blessings to the couple. And it's also said that brides sometimes wore blue dresses instead of white as a celebration of the rich blue hues seen in the sky and water surrounding Sicily. While many of these traditions aren't necessarily strictly adhered to today, it's no surprise that the regional differences in Italian weddings are beautiful and diverse, much like Italian culture and the country itself.
The Evolution of Modern Italian Weddings
Many old Italian wedding traditions are still practiced at contemporary Italian weddings, but over the years couples have adapted their nuptials, and the modern Italian wedding traditions they include, to better fit the vision they have for their nuptials.
As Hayes explains, the increase in destination weddings in Italy has also caused the landscape of Italian weddings to further evolve. "Italy is a dream destination for a wedding day both for the couples and the event planners," she shares. "The natural features and culture give endless opportunities to create unforgettable experiences, while the high standards and infrastructure of the Italian service industry mean that couples can expect to have their expectations exceeded."
Additional sources: www.italyirl.com; www.sicilianweddingandevent.com; www.lavolio.com; www.iamla.org