The Ultimate Guide to Planning a Destination Wedding in Italy
Say your "I do"s amidst delicious food and breathtaking views.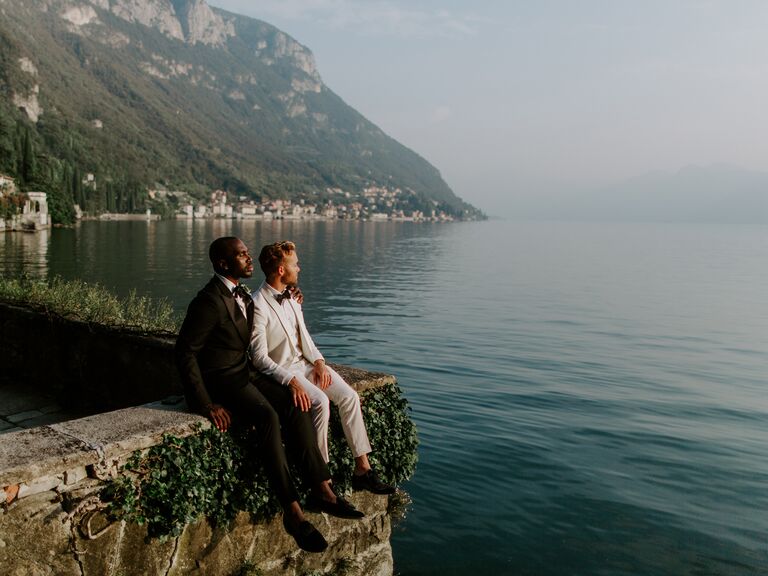 From luxury hotels in Venice and beachfront spots on the Amalfi Coast to private villas in Lake Como and castles in Florence, Italy sure sets the scene for a fairytale destination wedding.
However, as amazing as destination weddings in Italy are, there is a lot of legwork that goes into planning, and countless questions come up during the process. Where are the best places to get married in Italy? Should you have a legal or a symbolic ceremony? How can you save money on your dream wedding reception?
Below, we chatted with Eva Clark, owner and creative director of Eva Clark Events, a full-service boutique planning firm, to give us the scoop on Italy destination weddings.
Why Couples and Guests Love Italy
Clark says one of the many reasons couples opt to have their destination wedding in Italy is because they've visited the country before and are excited to return with their loved ones.
It's easy to see why this happens—the country has so much to offer. "Italy is known for amazing cuisine, world-class wine, and Renaissance art and architecture," Clark says. "There is no shortage of beauty to behold, from majestic ancient cities to breathtaking coastlines. But what really sets Italy apart from its European neighbors is its friendly people."
The Best Places to Get Married in Italy
While you can't go wrong when choosing a wedding location for your special day, here are some of the most popular picks, whether you're having an intimate wedding, an all-out luxury wedding or a small elopement.
Tuscany
Tuscany is among the most popular places to have a destination wedding in Italy. Not only is the Tuscan scenery stunning, Clark says, but the area is also easy to navigate, with major airports nearby and private transfers widely available for those who don't want to drive.
The Amalfi Coast
The same goes for the Amalfi Coast. Clark says it's an area that's easy to get around in (unlike other wedding destinations like Venice, where it can be tricky to get guests from one place to another via water taxis). And the scenery the Amalfi Coast delivers is truly spectacular. The cliffside village of Positano is a favorite for an unforgettable wedding experience.
Venice
Although Venice can be tricky in terms of transportation, it's still a gorgeous place to say your "I do"s. Romance and charm are definitely in the air there, which provides the perfect ambiance for a small wedding or elopement. The historic, romantic vibes here are truly everything.
Italy Wedding Legal Requirements
Legal vs. Symbolic Weddings
Italy has complex governmental requirements. Most couples who are US citizens opt to have their legal civil ceremony in their home state before jetting off to Italy, Clark says. On their official wedding date, they have a symbolic ceremony. This option is a much easier and less costly route. In addition, she adds that Italy is a predominantly Catholic country and doesn't recognize all religions.
Required Legal Documents
If couples opt to get legally married in Italy, Clark notes that American citizens must present proof of identity. They'll also need a "Nulla Osta," also referred to as an affidavit, released by the American Consulate in Italy, which is legalized with an Apostille "Atto Notorio" released by the Italian Consulate in the US or by an Italian court.
Legal Marriage Timeline
Clark says it can take up to two months to complete all the steps required for a legal wedding. Plus, she says, "you must arrive in Italy at least one week prior to the ceremony in order to ensure that you can be seen in the court in selected major cities, as they only offer this on specific days."
Legal Marriage Cost
If you get legally married in your home country, the cost will depend on your city. To get legally married in Italy, Clark says the cost is roughly €70, which is payable by tax seals.
Italy Wedding Planning Tips
Below, we cover everything you need to know about transportation, weather, choosing venues and vendors, and ways to save money.
How to Get There
Several major cities in the United States have direct flights to Milan and Rome. Clark recommends booking tickets at least eight weeks in advance to get the best price. Once you're there, know that public transportation is safe, affordable and easy to use.
Trains are a good option, but Clark says they are busy and can take some getting used to. "Allow yourself a 30- to 45-minute arrival window so you don't miss your train," Clark says. "In peak travel months such as the summertime, allow more time for transit." Uber is also available as another transportation option.
Italy Weather
As you're deciding on your wedding date, Italy's weather is another thing to keep in mind. Clark says it gets hot in the summer and cooler in the winter, but she notes that Italy's definition of cool is often warmer than what we're accustomed to in the US.
"Many parts of Italy are somewhat closed down around the months of November to February," Clark adds. "So even though you may find a desirable Airbnb in a charming town, you could be hard-pressed to find a restaurant open nearby to feed you."
Choosing Your Venue and Vendors
The Knot Marketplace is a great resource for finding experts who specialize in destination weddings. Clark recommends selecting your wedding planner first, as this can make the planning process easier. Do your research to ensure they're a good fit and respect your wishes and budget.
Clark says it's very tricky to find Italian wedding venues that can accommodate more than 150 guests. If you have a big guest list, it may be wise to do some guest list trimming in advance.
Budgeting Tips
As with all weddings, costs for a destination wedding in Italy will vary depending on where the ceremony and reception are held. For instance, a wedding in a rustic estate in Tuscany will cost far less than one hosted at a five-star luxury hotel in Ravello, Clark says. In her experience, however, a wedding budget can stretch further in Italy than in the US.
Also, keep exchange rates in mind. "In general, the euro is stronger than the dollar, meaning your costs will be higher," Clark says. "It's best to track exchange rates every few months if it's a real concern for you."
There may also be some fees you'll need to pay that are not typical for events in the US. "For live entertainment like a band, there is a VAT tax assessed with variable fees," Clark says.
If you need to save some money, Clark recommends limiting your number of guests; not covering lodging for your wedding party or guests; and skipping events outside of the wedding ceremony and wedding reception, such as a welcome party or post-wedding brunch.