13 First Lady Wedding Dresses We Still Think About Today
See their style before they lived in the White House.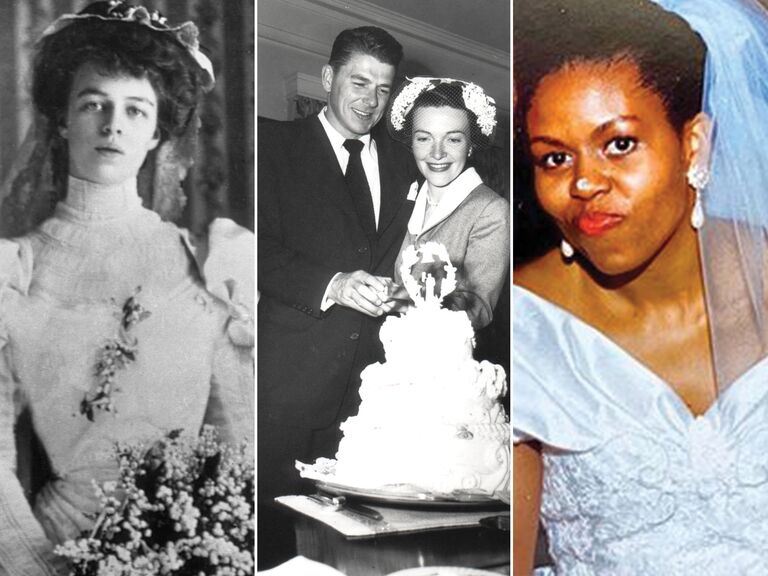 Bettmann/Getty Images; The LIFE Images Collection via Getty Images; MichelleObama/Instagram
Forty-five U.S. presidents have held the role of Commander in Chief throughout the nation's history—and the majority, with the exception of two, were accompanied by their wives. While most of these weddings were held before the days of social media, the archival photos of presidential weddings and first lady wedding dresses that still exist are simply unforgettable.
Here, we share 13 first lady wedding dresses that go down in history. From simple frocks to statement gowns, these photos show off the memorable styles of first ladies before they made it to the White House. Keep scrolling to see the wedding dresses of Eleanor Roosevelt, Jackie Kennedy, Michelle Obama and many more, along with little-known facts about their respective wedding days.
Martha Washington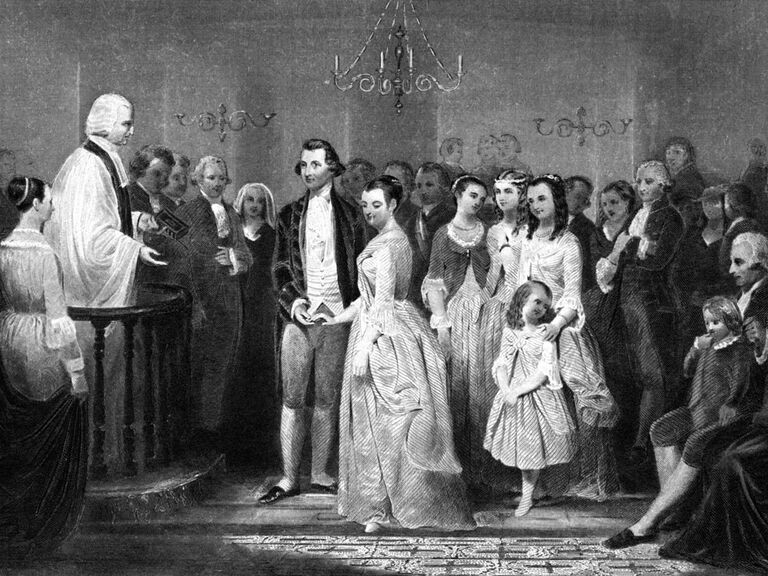 There were no cameras when George Washington married Martha Dandrige on January 6, 1759, but an onsite artist depicted the wedding day. The lavish nuptials took place at a church in Washington, D.C. Martha was known for her exquisite taste in fashion, allegedly only wearing clothing of the "best" variety. The 27-year-old bride, who was previously married and widowed, wore an elegant gown made of yellow silk damask fabric and an ivory petticoat. The future first lady accented her wedding look with purple satin slippers that were covered in silver sequins. According to historians, the combination of yellow and purple silks, as well as silver and gold accents, would have created a "regal appearance" that highlighted her social status. The groom wore a blue and silver suit with red trim and gold hardware accents.
A replica of Martha Washington's wedding dress is on display at the Washington family estate in Mount Vernon, Virginia. Also on display are her sequined shoes, as well as a few pieces of lace from the dress that have been preserved.
Lou Hoover
Before he became the 31st president in 1929, Herbert Hoover married Lou Henry on February 10, 1899. According to the Herbert Hoover Presidential Library and Museum, the couple hosted a small ceremony in the living room of Lou's parent's home in Monterey, California. Despite its limited size, the wedding wasn't without scandal. Herbert and Lou were set to be married by Methodist minister Dr. William Thoburn, but he died shortly before their wedding date. Instead, the future president and first lady were married by Father Ramon Mestres, a Catholic priest. When news broke, the validity of the marriage was questioned because Herbert was a Quaker and Lou was Episcopalian. At the time, couples were expected to be married by ministers of the same faith—the Hoover's choice to be married by a Catholic priest raised questions about the legality and validity of their union. Lou later clarified that their marriage was, in fact, legal, and Father Mestres was a longtime family friend, putting to rest any rumors about their marriage.
In a photo from the wedding day, the newlyweds are pictured on steps outside Lou's family home. Herbert is seen in a black suit and top hat on the lower left, while his bride is beside him in a dark, long sleeve dress with a high ruffled neckline and tophat.
Eleanor Roosevelt
It was a Saint Patrick's Day celebration for Franklin D. Roosevelt and Eleanor Roosevelt. The pair, who were born with the same last name, got married on March 17, 1905 in New York City. The young couple first met in 1902 when he was 21 and she was 19, and Franklin quickly told his mother he wanted to marry Eleanor. She told the future president that he was too young to marry, but a year later their engagement was formally announced. The wedding took place at Eleanor's grandmother's house on 76th Street, and the bride was given away by her uncle, President Theodore Roosevelt.
The bride wore a lavish gown for her nuptials. In an official wedding portrait, Eleanor donned a long sleeve gown with puffed shoulders, a high ruffled neckline and what appears to be a long train. Her headpiece included a lace veil that cascaded down her back, and she carried a lush bouquet of flowers.
Bess Truman
Despite knowing each other as classmates for years, Harry Truman and Bess Wallace didn't get romantically involved until 1910. (When Harry returned a borrowed cake plate to the Wallace home, Bess greeted him at the door, thus beginning their relationship.) When Harry returned to the U.S. after serving in World War I, he and Bess were married on June 28, 1919 in their hometown of Independence, Missouri. A family friend wrote a detailed recap of the day for The Examiner. Described as a "a wedding of unusual beauty and interest," the nuptials took place at Trinity Episcopal Church. The venue was decorated with "a mass of daisies, pink hollyhock and pale blue larkspur" and "tall cathedral candles." The bride was given away by her brother, Frank Gates Wallace.
Bess Truman's wedding dress was an elegant choice. She wore a white Georgette gown with faille fabric, which she accented with a bouquet of "Aaron Ward roses." A notorious fan of headwear, she completed her look with a white wide-brimmed bridal hat.
Mamie Eisenhower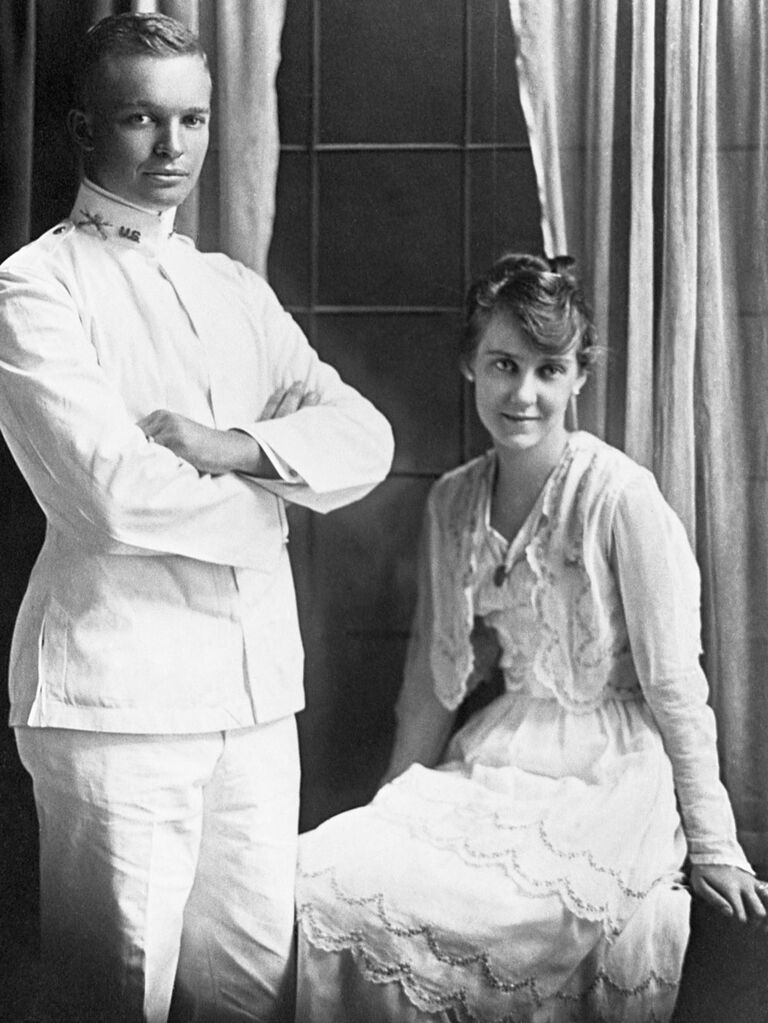 Shortly after finishing her education in 1915, Mamie Doud was introduced to Dwight Eisenhower while he was on his first tour of duty at Fort Sam Houston in San Antonio, Texas. (Mamie's family was on vacation in the same town.) The future president was immediately smitten, and the two dated for less than a year. Dwight proposed on Valentine's Day in 1916 with a miniature version of his West Point class ring. Later that year, they got married at Mamie's family home in Denver, Colorado on July 1.
On their wedding day, Dwight wore his military uniform while the bride opted for a lace dress with a tiered skirt and scallop edges. She appeared to wear a coordinating coverup with long sleeves and matching scalloped edges. The couple's official wedding portrait later graced the cover of Life Magazine on April 28, 1952 shortly before Dwight's tenure as the 34th president.
Jackie Kennedy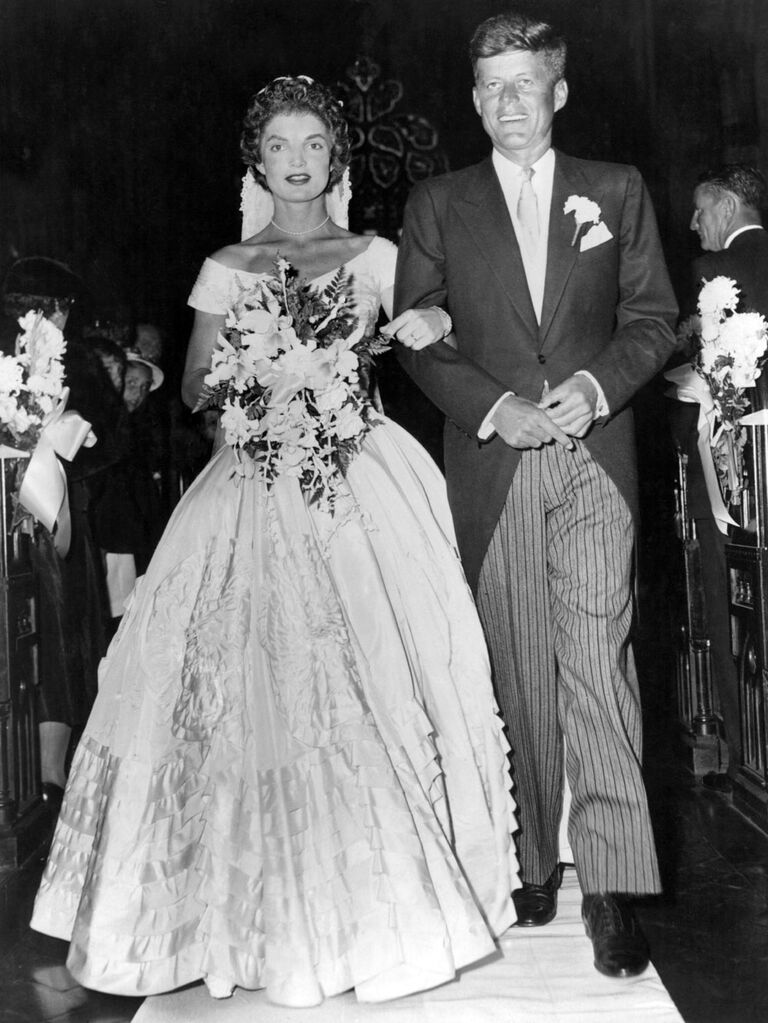 One of the most recognizable first lady wedding dresses was worn by Jacqueline Kennedy (née Bouvier). Jackie married John F. Kennedy on September 12, 1953 at St. Mary's Roman Catholic Church in Newport, Rhode Island. The high-profile ceremony was attended by over 800 guests, followed by an outdoor reception.
Jackie Kennedy's wedding dress was designed by Ann Lowe—but her iconic ball gown wasn't the original design. When the designer's studio flooded 10 days before the wedding, a new dress had to be made from scratch. The bride ultimately wore a portrait neckline dress with 50 yards of ivory silk taffeta. Jackie's "something borrowed" was a rosepoint lace veil worn by her grandmother, Lee, which she accented with a lace-and-orange blossom tiara. She also carried a bouquet of white and pink gardenia and orchids.
Lady Bird Johnson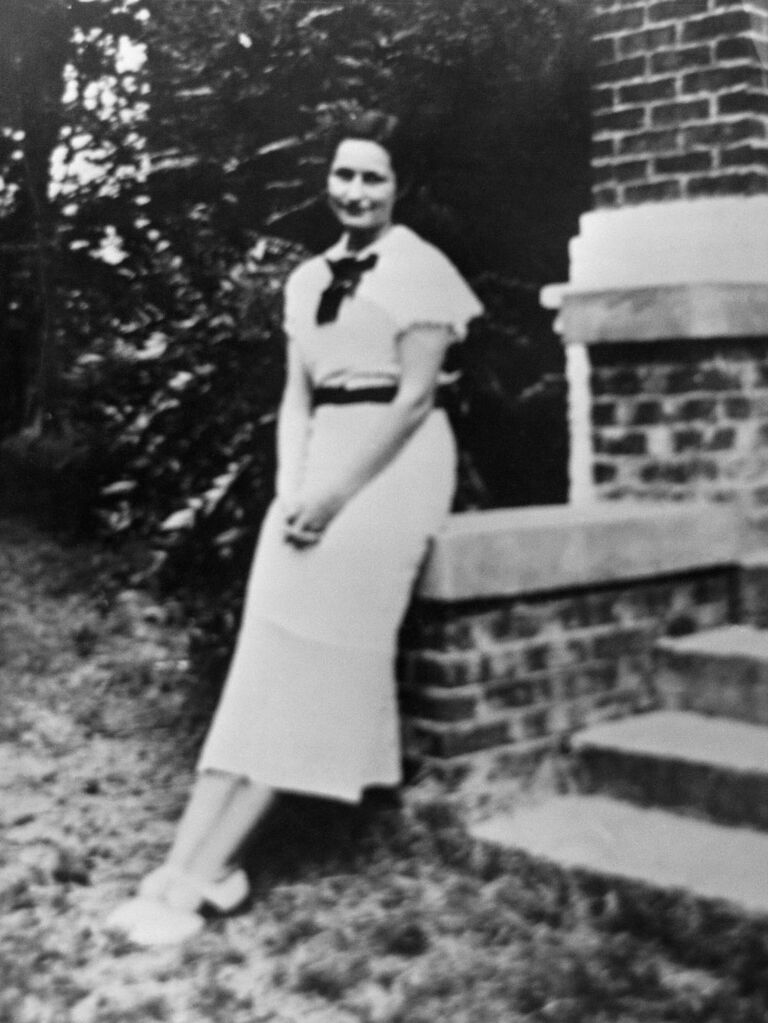 It was nearly love at first sight for Lyndon B. Johnson and Claudia "Lady Bird" Alta, though the future president was on his way to a date with another woman when they crossed paths in 1934. He invited her to breakfast the moment they met, and their first date took place the next day. Lyndon even proposed on their first date (which Lady Bird denied) and multiple times again in the following weeks. He proposed a final time on November 16, 1934, and they got married the next day.
It's unclear if a photo of Lady Bird Johnson's wedding dress exists. While reports allege that no photos were taken of the couple's wedding, an archived image depicts Lady Bird wearing a white dress with a black belt and black necktie "prior to her wedding." While the midi short-sleeve gown could be her wedding dress, it was never officially confirmed.
Elizabeth Ford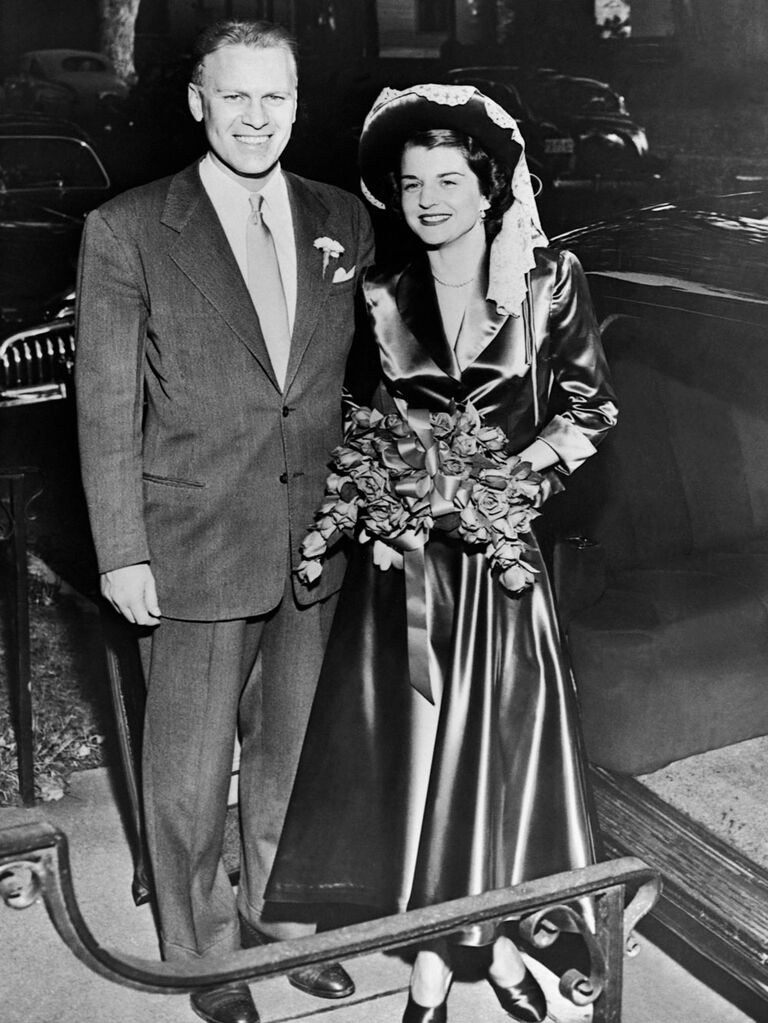 Before Gerald Ford became the 38th president, the Grand Rapids, Michigan native had a number of small side jobs like coaching football and modeling. It was during a modeling gig that Gerald met his future wife, Elizabeth Anne "Betty" Bloomer, who was also from Grand Rapids. The couple returned to their hometown to get married on October 15, 1948 at Grace Episcopal Church.
Elizabeth Ford's wedding dress wasn't a traditional white gown. Instead, the future first lady wore a dark structured satin dress with long sleeves and a lapel collar. She carried a bouquet of dark flowers and completed her look with a hat, which appeared to be draped in white lace.
Rosalynn Carter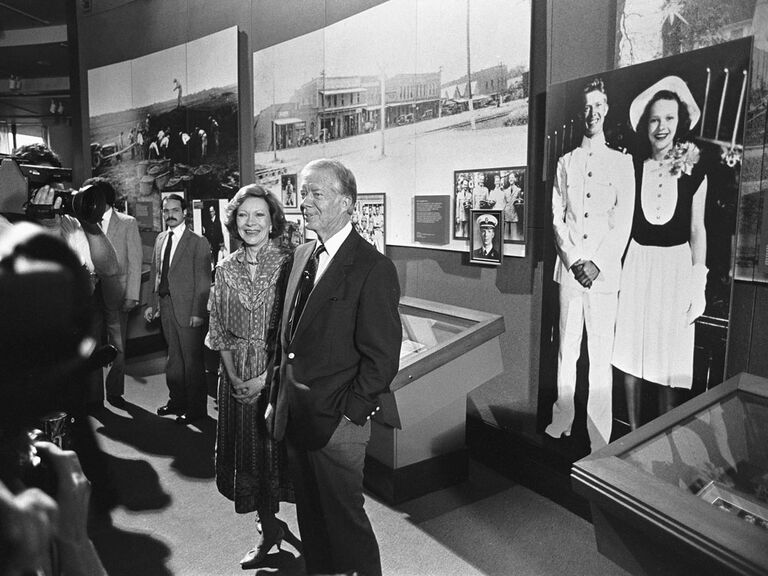 Jimmy and Rosalynn Carter (née Smith) are the longest married presidential couple. The two have known each other for the majority of their lives, as Jimmy's sister Ruth was Rosalynn's best friend. In an interview, Rosalynn recounted the start of their romance, saying, "I fell in love with a photograph of him on [Ruth's] bedroom wall." They got married on July 7, 1946, at a Methodist church in Plains, Georgia (their hometown), marking their 74th anniversary in 2020.
Photos of Rosalynn Carter's wedding dress are rare. The couple posed with a photo of their wedding portrait ahead of the opening of the Carter Presidential Center in 1986. In the image, Rosalynn can be seen wearing a white mid-length dress with gold buttons under a black top with a low scoop neckline. The bride completed her look with a large white bridal hat, white gloves and a small boutonniere of flowers pinned to her top.
Nancy Reagan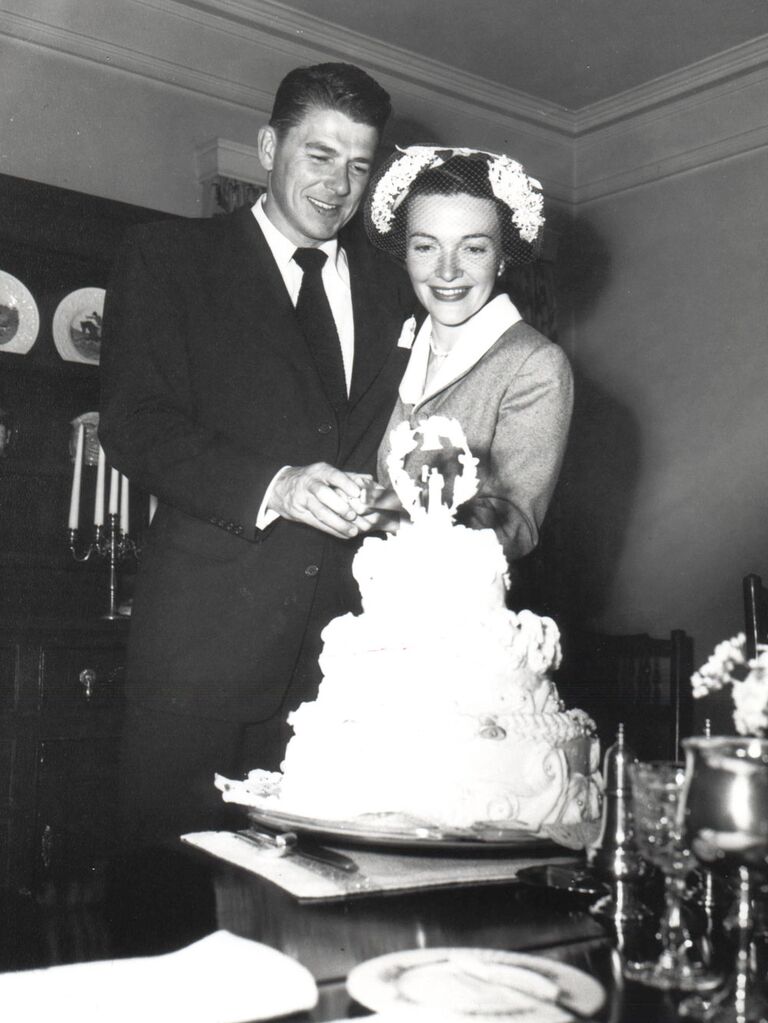 Before they both cultivated political careers, Ronald Reagan and Nancy Davis got their start in the acting industry. Ronald was president of the Screen Actors Guild, while Nancy (who changed her birth name from Ann Frances Robbins) starred in a number of Hollywood films. They met when Nancy sought out Ronald's help after her name was mistakenly put on the Hollywood blacklist. Romance blossomed, and they got married on March 4, 1952 in Los Angeles, California.
Nancy traded her lavish Hollywood style for a demure wedding look. She donned a dark wool skirt suit with white lapels, while her hair was tied up and accented with two pieces of white lace fabric. Instead of a traditional veil, she opted for a chic birdcage covering.
Barbara Bush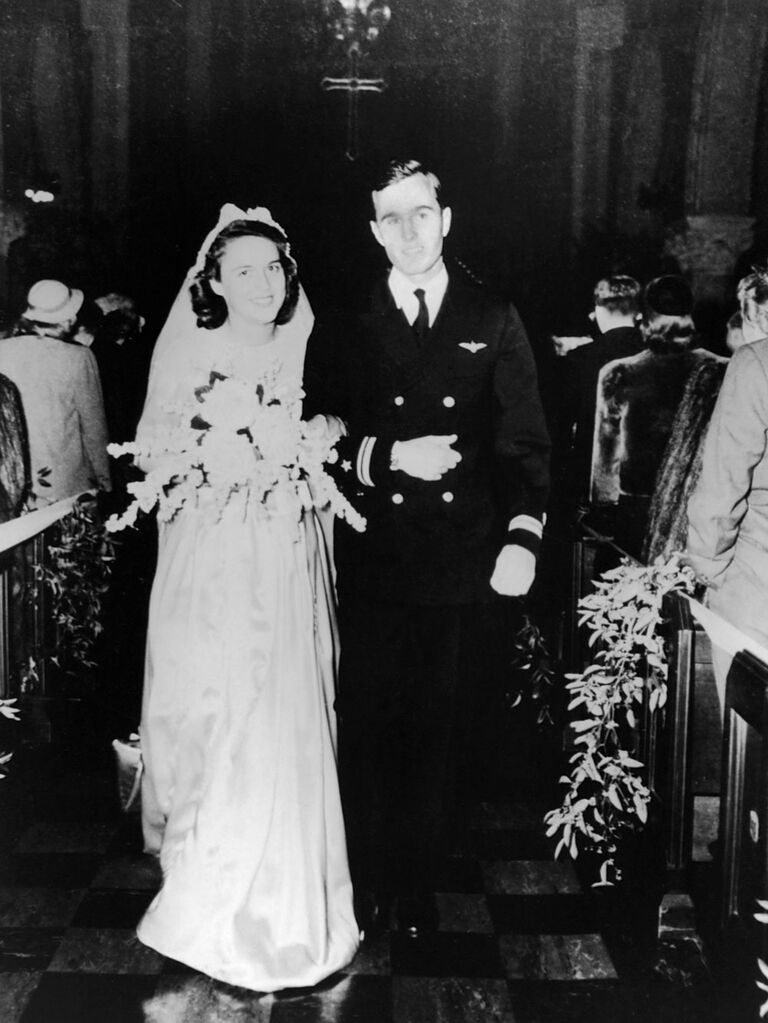 After 73 years together, George H.W. Bush and Barbara (Pierce) Bush have the second longest marriage of all presidential couples. While on Christmas vacation with her family in 1941, Barbara met George at a dance party when she was 16 years old. They got engaged just 18 months later, right before George was deployed for World War II. He came back on leave in 1945, and the couple got married on January 6 in Rye, New York.
While the details of Barbara Bush's wedding dress are hard to decipher in photos, it's clear the bride wore a white dress with a round neckline. She accented her look with a traditional veil and a lush bouquet of white flowers.
Hillary Clinton
Bill Clinton and Hillary Rodham Clinton hosted a microwedding long before it became a buzzword. The political power couple first met at Yale Law School and began dating in 1971. Bill reportedly proposed multiple times, and Hillary repeatedly said no—not because she didn't love him, but because she wasn't sure where their career paths would lead. They eventually moved to Arkansas for Bill's political career, and after purchasing a house together Hillary accepted his marriage proposal. The couple married in front of 15 people on October 11, 1975 in the living room of their new house. After the ceremony, they celebrated with more guests in their backyard.
Hillary Clinton wore a simple wedding dress to marry the future president. Her long sleeve gown puffed at the elbows and featured an accordion ruffle V-neckline and a shirred skirt. The bride carried a small bouquet of pink flowers.
Michelle Obama
As fate would have it, Michelle Robinson was assigned to be Barack Obama's adviser when he landed a job as a summer associate at a Chicago law firm after his first year of law school in 1989. In an interview, she admittedly said she expected him to be "nerdy, strange, and off-putting." But upon meeting, she was "pleasantly surprised by who he turned out to be," saying she was "charmed." To keep things professional, Michelle tried to set Barack up with friends—but the future president asked her out shortly after meeting. Their relationship turned romantic, and Barack proposed in 1991. The next year, they got married on October 3, 1992 at Trinity United Church of Christ in Chicago.
Michelle Obama's wedding dress was well fit for the times. She wore a structured ivory gown with a portrait neckline and puff shoulders, as well as a full veil. The former first lady opened up about her wedding on social media in 2018. "You can't tell it from this photo, but Barack woke up on our wedding day in October, 1992 with a nasty head cold," she wrote on Instagram. "Somehow, by the time I met him at the altar, it had miraculously disappeared and we ended up dancing almost all night."
Melania Trump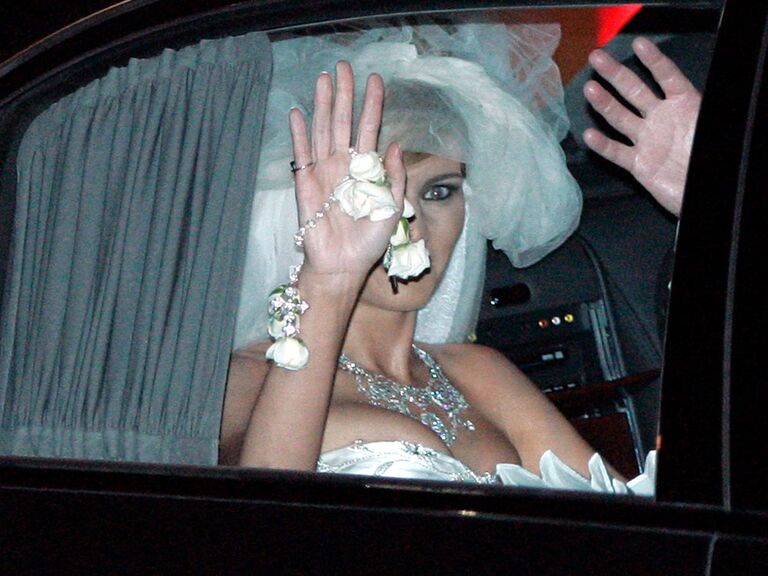 In September 1988, Slovenian model Melania Knauss met Donald Trump at a party. They began dating shortly after, while Donald was in the process of divorcing his second wife, Marla Maples. The couple got engaged in 2004, and they married on January 22, 2005. They hosted an extravagant wedding, which was attended by over 350 guests, first held at the Episcopal Church of Bethesda by-the-Sea in Palm Beach, Florida, and followed by a reception at the groom's Mar-a-Lago estate.
Photos of Melania Trump's wedding dress are rare. (Her bridal look was featured on a now-archived cover of Vogue.) She wore a strapless satin Dior gown, which was embellished with hand-sewn beads. She completed her look with a 16-foot veil, and she carried a strand of rosary beads in lieu of a bouquet. Because her gown was so tight, she changed into a Vera Wang slip dress for the reception.