Inside Kevin and Danielle Jonas' Sweet Love Story
They've had the lovebug since 2007.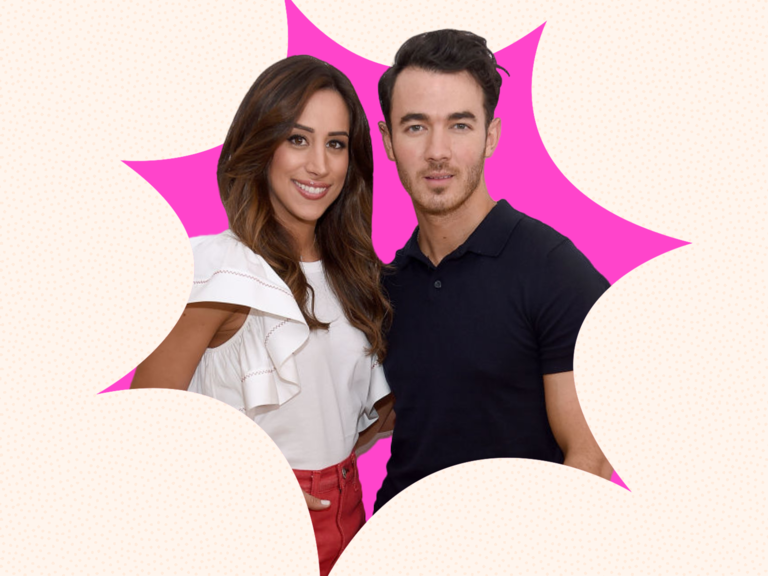 Photo: Getty Images,Design: Natalie Romine
We have included third party products to help you navigate and enjoy life's biggest moments. Purchases made through links on this page may earn us a commission.
Meeting your soul mate on vacation in the Caribbean? That kind of fairytale meet-cute is worthy of a movie—but that's exactly how Kevin Jonas met his wife, Danielle. The oldest Jonas Brother has been with his wife for well over a decade, and their love story is one of our favorites in Hollywood. Since meeting on those sandy shores, Kevin and Danielle Jonas have been unstoppable. They got married at a Long Island estate in 2009, they've welcomed two daughters together, and Danielle has pursued a career in entrepreneurship while Kevin continues to top the music charts with his brothers, Nick and Joe. They also had a short stint on a reality TV show too. (Remember Married to Jonas? @ E!, please bring it back…)
Amid their life in the public eye, Kevin and Danielle Jonas' marriage continues to thrive. Here, we look inside their lasting love story, breaking down their fateful meeting, their complete relationship timeline, and little-known details from their wedding day.
Kevin Jonas met his wife Danielle (Deleasa) Jonas while they were both on family vacations in the Caribbean in 2007.
After they got engaged in July 2009, Danielle and Kevin Jonas got married on December 19, 2009.
Kevin and Danielle Jonas share two daughters: Alena, born in February 2014, and Valentina, born in October 2016.
Following the Jonas Brothers' reunion in 2019, Danielle has often appeared in the band's music videos and in the crowd at their tours.
Who is Kevin Jonas' Wife, Danielle Jonas?
Kevin Jonas' wife, Danielle, is a New Jersey native just like him. The 36-year-old was born and raised in Denville Township—but, interestingly enough, the two didn't cross paths until they met in the Caribbean. Danielle was working as a hairdresser when she began dating Kevin, but she went on to pursue a career in entrepreneurship. After a brief stint on reality TV, Danielle Jonas founded the jewelry company Danielle Jonas Co. in 2018, inspired by her daughters. She's also a published author, as she and her husband have teamed up to write two children's books together: There's a Rock Concert in My Bedroom and There's a Beach in My Bedroom.
Kevin and Danielle Jonas' Relationship Timeline
Kevin and Danielle Jonas have a beautiful love story—but where did it all begin? We break down the couple's complete relationship timeline.
May 23, 2007: Kevin Jonas and Danielle Deleasa Meet in the Caribbean
Let's go back to 2007, when fate (read: the lovebug) would bring Kevin Jonas and his future wife together. The two were on separate family vacations in the Caribbean at the same resort. Based on an anniversary post Kevin shared in 2020, we know that they crossed paths at their resort's pay phones. "I'm so happy you had to make that call 11 years ago," he captioned a photo of them in the same location over a decade later. "This is the spot we met and I thank God everyday for the gift he gave me."
At the time, the Jonas Brothers were already huge in pop music, but Danielle maintains that she had never heard of them when they met.
July 2, 2009: Kevin Jonas Proposes to Danielle
It didn't take long for Kevin and Danielle to hit it off. In fact, in the Jonas Brothers' 2019 Amazon Prime documentary Chasing Happiness, old home movie footage revealed that Kevin's brothers were already calling Danielle his "wife" in 2007. (After Kevin interrupted his brothers as they were giving dating advice, Nick joked, "Sorry, we're just really excited because she's your wife.")
Kevin proposed to Danielle on her New Jersey doorstep in July 2009. He presented her with a cushion-cut engagement ring he designed with Jacob & Co. In a January 2023 radio interview with Ryan Seacrest, the singer recalled the intensity of his nerves in that moment: "I couldn't get the ring out of my pocket in my jacket," he told the host. "It was really bad."
December 19, 2009: Danielle and Kevin Jonas Get Married
The couple didn't waste any time when it came to planning their nuptials, and they formally swapped vows before the year was over. Danielle and Kevin Jonas' wedding took place on December 19, 2009, on Long Island, New York—and we have all the details on their day below.
August 19, 2012: Kevin and Danielle Jonas Star on Married to Jonas
As they settled into newlywed bliss, Kevin and Danielle Jonas allowed cameras into their New Jersey home for the E! Entertainment show Married to Jonas. The reality series, which premiered on August 19, 2012, followed the couple as they navigated the early days of marriage, along with the pressure of growing their family. "People are like, 'All right guys, what's your plan? When are you going to have those grandkids?'" Kevin said in one clip. "I'm starting to feel that pressure a little bit." Danielle added: "My mom wants a grandkid bad. It's getting boring now." The show ran for two seasons, from 2012 to 2013.
February 2, 2014: Kevin and Danielle Jonas Welcome Their First Daughter
In the summer of 2013, Kevin Jonas confirmed the exciting news that he and his wife were expecting their first child together. "It's true — Danielle is pregnant! Can't even imagine how excited we are," he tweeted. "I can't wait to share this with my best friend. I love you baby."
Kevin and Danielle Jonas' first daughter, Alena Rose, was born on February 2, 2014. "We are overjoyed at the birth of Alena Rose Jonas," the new parents announced in a statement. "She is precious! We could not be more excited to start building our family together. We want to thank our family and friends for their love and support, and our fans for all of their well wishes."
October 27, 2016: Kevin and Danielle Jonas Welcome Their Second Daughter
The Jonas family grew once again in the fall of 2016 with the birth of the couple's second daughter on October 27. "We are so excited to welcome our new baby girl, Valentina Angelina Jonas to the world today," they announced. "She is healthy and beautiful and we couldn't be happier!" The parents added that Alena was ready "for Valentina to come home and [to] start being a big sister."
March 2019: Danielle Jonas Appears in Jonas Brothers' "Sucker" Music Video
Amid the Jonas Brothers' highly anticipated reunion in 2019, they released the song "Sucker," inspired by their wives (affectionately known as the J-Sisters). In the music video, Danielle Jonas appeared alongside Nick Jonas' wife, Priyanka Chopra, and Joe Jonas' former wife, Sophie Turner.
December 19, 2019: Kevin and Danielle Jonas Celebrate Their 10th Anniversary
On December 19, 2019, Kevin Jonas and his wife celebrated a major milestone: their 10th wedding anniversary! In a lengthy tribute on Instagram, Kevin honored his wife with a touching message. "It is traditional for a husband to forget the anniversary of his marriage and how many years he's been married," he wrote. "As you can tell today, that is not the case here. I remember the date we met May 23rd. The date we got engaged July 2nd, And of course the date we were married December 19th."
He continued, "I remember these not because I'm good with numbers. (I'm a musician, after all.) I remember them because they are the three most important days of my life. I guess not counting my birthday, since if I wasn't born, I never would have met Dani. ... This is just the beginning, we haven't even started our journey and I can not wait for the next 10 and then the next. I love you to the moon and back."
In her own post, Danielle echoed similar sentiments: "These ten years have been the most amazing adventure and I can honestly say I love you more know then I ever thought I could ever love someone and i'm going to continue to remind you of it in every way I can every chance I get."
March 2022: Kevin and Danielle Jonas Publish a Children's Book
In the spring of 2022, Kevin Jonas and his wife ventured into the world of publishing with the release of their children's book There's a Rock Concert in My Bedroom, inspired by their daughters. "Music has always been a foundational creative outlet in our family," the couple told People ahead of the release. "Now our daughters, Alena and Valentina, enrich our lives in ways we could have never anticipated. The love and care they show each other on a daily basis inspired this story and we are so proud to share how these girls not only uplift us and each other, but are creative, caring rock stars in their own right."
The second iteration of the series, There's a Beach in My Bedroom, was released in July 2023.
Summer 2023: Danielle Jonas Supports Kevin Jonas' World Tour
Following the 2023 release of their fifth studio album, The Album, the Jonas Brothers embarked on a world tour (aptly titled "The Tour"). Kevin Jonas' wife was spotted in the crowds at a handful of shows, including the opening night in New York. "Best weekend kicking off The Tour at Yankee Stadium!!" she captioned a slideshow of photos. "Congrats @jonasbrothers on such an incredible show. Love watching you all live out your dream & kill it on stage 👏"
Inside Danielle and Kevin Jonas' Wedding
Danielle and Kevin Jonas' wedding took place on December 19, 2009, at Oheka Castle. You might recognize the French chateau-inspired estate, located in the town of Huntington on Long Island, New York, as it was the setting for Taylor Swift's wildly-popular music video "Blank Space." The couple enlisted the help of celebrity wedding planner Mikie Russo to plan their winter wonderland-themed nuptials.
Kevin and Danielle Jonas returned to their wedding venue on their 13th wedding anniversary in 2022 and shared a sweet photo recreation on Instagram. "Then and now 13 years later. And I still feel like we just fell in love," Danielle wrote. "I am so blessed to have someone like you to love everyday. And 13 years later I still can't get enough of you. ❤️"
When speaking to People Magazine in 2023, the couple recalled their favorite moment from the big day all those years ago. "Through the craziness of the wedding day and all the planning, during our reception we found ourselves tucked in the corner only focusing on each other," they reminisced. "The quiet of finding each other in that moment showed that no matter how insane our lives will be, as long as we have one another we are happy."