13 Caribbean Honeymoon Destinations That Will Take Your Breath Away
A tropical paradise is the recipe for the best honeymoon ever.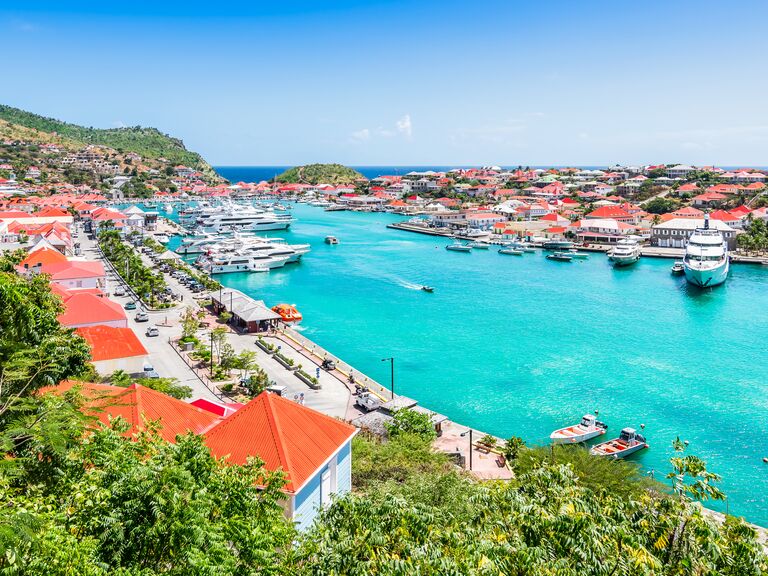 NAPA / Shutterstock,Location: St. Barthelemy, Caribbean
Is there anything better than white sand between your toes, warm sun on your face and a cocktail in your hand? For those interested in planning the perfect getaway, look no further than a Caribbean honeymoon. Not only will you be able to catch some rays and play in turquoise waters, but you can experience some of the most gorgeous tropical scenery, trek through lush landscapes and vibrant cities, and try your hand at snorkeling or scuba diving.
Depending on whether you're hoping to spend your nights out on the town or laze away on a private corner of a relaxing beach, the Caribbean is the perfect destination for your romantic getaway. Home to luxurious five-star beach resorts, world-renowned golf courses and exciting honeymoon packages, you certainly won't spend a single day bored.
Pack your swimsuit and a pair of sandals: Here are the 13 best places to visit in the Caribbean for your dream honeymoon.
1. Aruba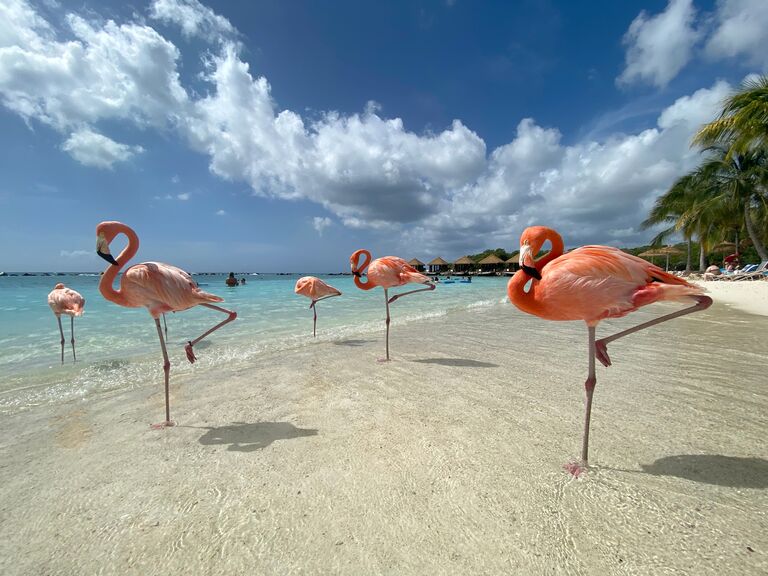 If you're thinking about honeymooning in the Caribbean, your brain might immediately jump to Aruba. This island does romance well, and even has a honeymoon-specific program called One Happy Honeymoon. This popular destination is known for its gorgeous weather year-round, so you don't have to worry about getting rained out or experiencing hurricane weather. Featuring tasty food, a vibrant nightlife scene, fun shopping and gorgeous beaches, you can't go wrong visiting this tiny (but exciting) island. Take a tour of the famous Guadirikiri Cave to explore its sunlit chambers, or visit the Fontein Cave, which features drawings of the Arawak Indians.
2. Anguilla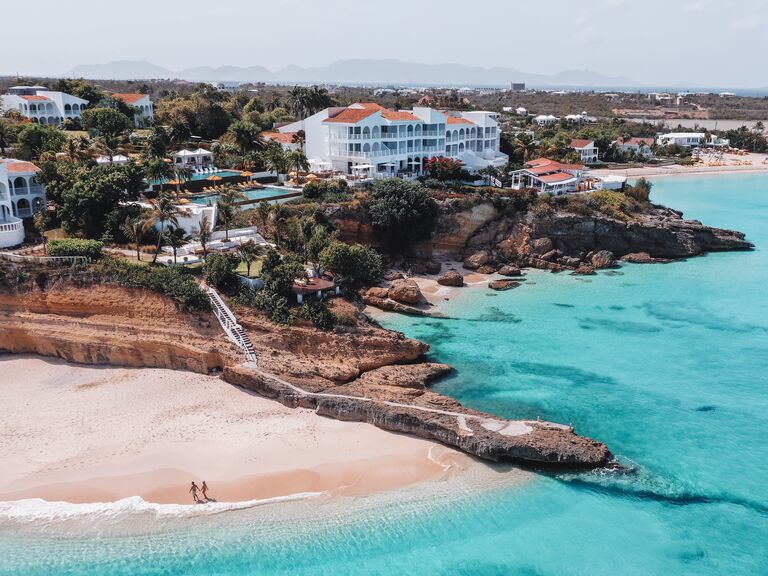 With over 30 gorgeous beaches, Anguilla has countless spots to explore. Spend the day hiking, horseback riding or cycling, and keep your nights busy by dancing and drinking at one of their lounges or jazz clubs. Relax in one of their excellent spas or attend a yoga retreat. Anguilla is the perfect place for a high-end beachfront vacation, and to take a step back from your hectic life and experience the natural wonders of the Caribbean. Be sure to catch a view of Anguilla's national sport, boat racing, while there.
3. Barbados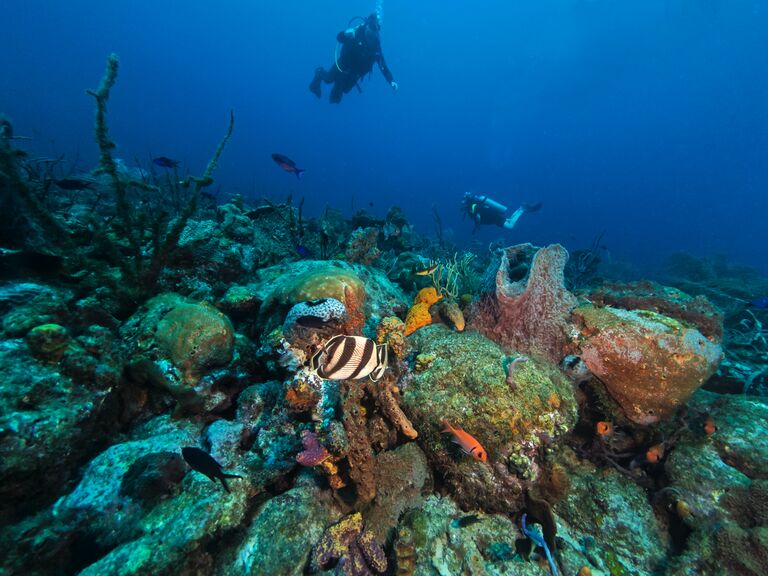 Head to Barbados to get an authentic Caribbean experience. As the birthplace of rum, you can bet this island has some delicious drinks. Barbados also features unique eco-tourism opportunities, so you can take a beautiful trip while keeping your ecological footprint top of mind. Spend your days deep-sea fishing and surfing, and fill your nights with some of the most high-energy clubs in the world. Don't forget to sign up for a wreck or reef dive if you're adventurous.
4. Jamaica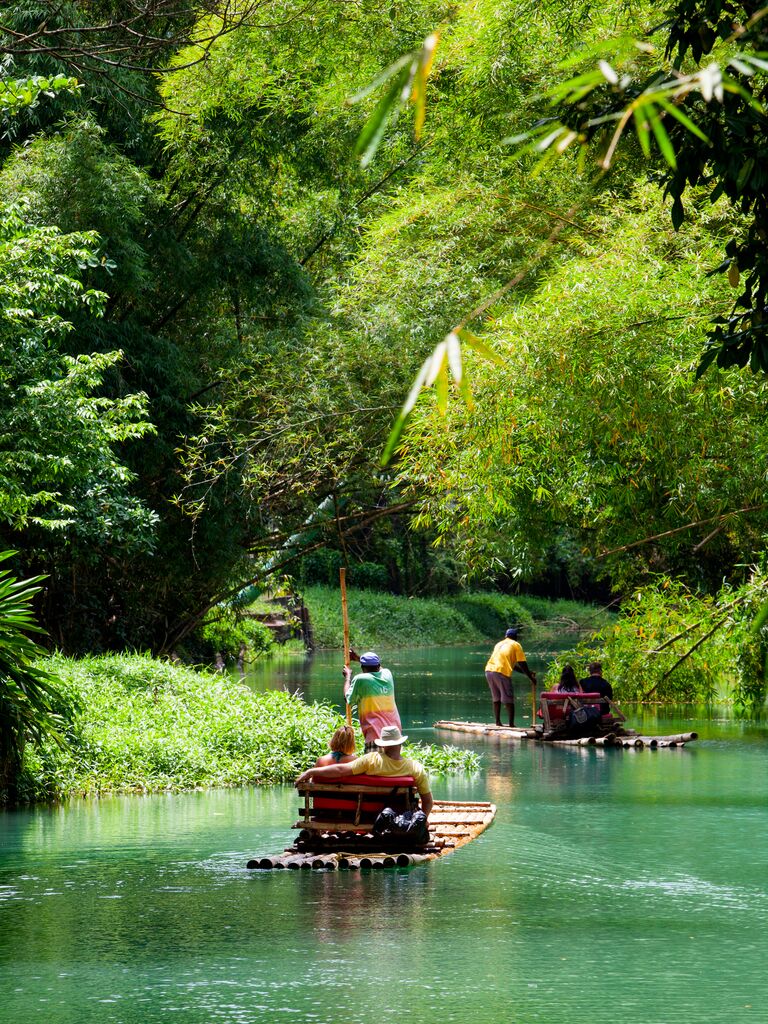 Enjoy the culture and beauty of Jamaica, one of the largest Caribbean islands. Jamaica is great for foodie couples who want to taste the flavor-filled cuisine that calls this tropical getaway home (jerk chicken, anyone?). Hitch a ride on a bamboo raft to see some of the island's natural beauty, or visit the museum and zoo at Konoko Falls. Check out some of the best beach resorts in Montego Bay, and don't forget to take a Bob Marley tour to truly get a feel for the island's sound.
5. Dominican Republic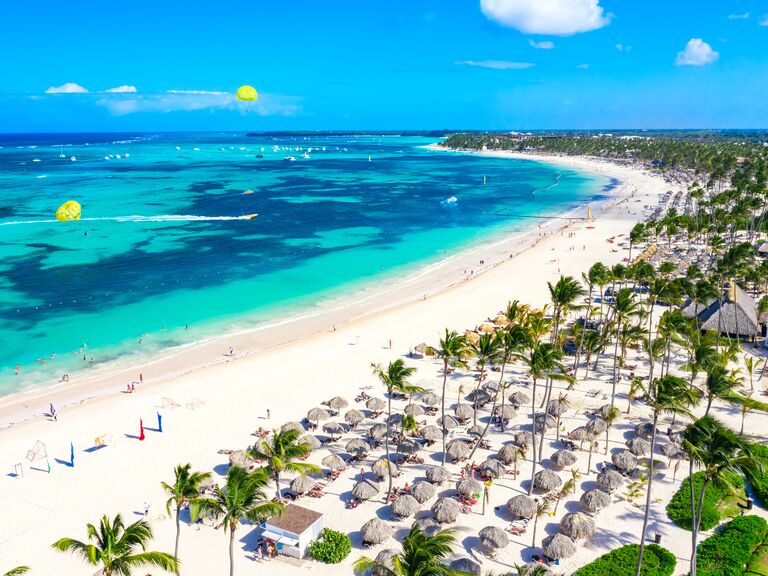 Home to beautiful beaches, world-class luxury resorts and jaw-dropping ocean views, the Dominican Republic is a great place for newlyweds to enjoy their honeymoon without worrying about creating a complicated itinerary. Enjoy exciting water sports, hop on an ATV and tour Punta Cana, or sit on the beach and eat your way through the bottomless buffet, all from the comfort of your all-inclusive resort. The colonial-era architecture will be the perfect backdrop for your Insta posts, and you can hopefully practice a few of those Spanish phrases you spent all of high school learning.
6. St. Lucia
As the only sovereign nation named after a woman, St. Lucia's beauty is truly unique. For honeymooners interested in getting their adventure on, this island is home to some gorgeous views. Spend your days zip-lining through the rainforest, lazing away in the volcanic mud baths of Soufrière, hiking through historic ruins or dipping your toes into the gorgeous crystal waters of the many beautiful beaches. During the evenings, dine at high-end restaurants and relax at award-winning resorts.
7. US Virgin Islands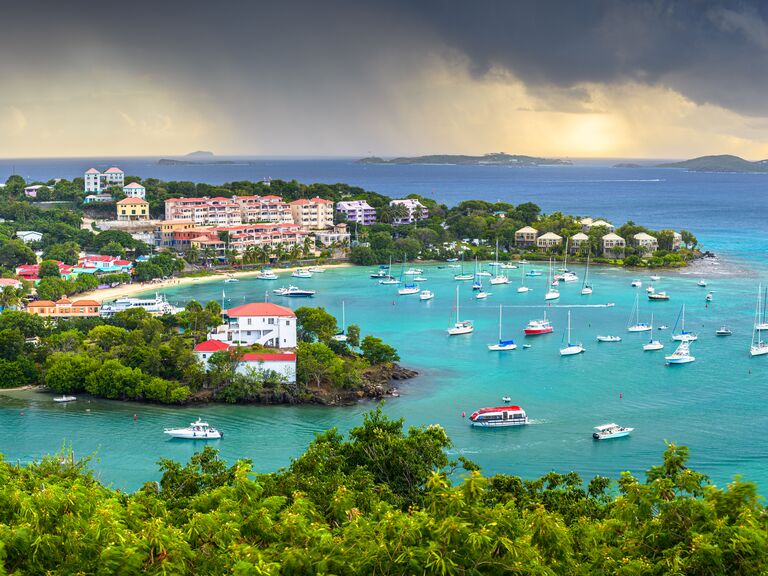 Leave your passport at home and take a trip to St. Croix, St. John and St. Thomas, a collection of three islands in the Caribbean that will host the beach vacation of your dreams all without ever having to go through customs. St. John is home to a gorgeous national park that makes up over 60 percent of the island's terrain and will certainly wow nature lovers, while St. Thomas' five-star dining and resorts will impress even the most meticulous travelers. Whether you're interested in hiking and biking or hanging out at luxurious lounges and resorts, you can plan your perfect vacation on these islands.
8. Puerto Rico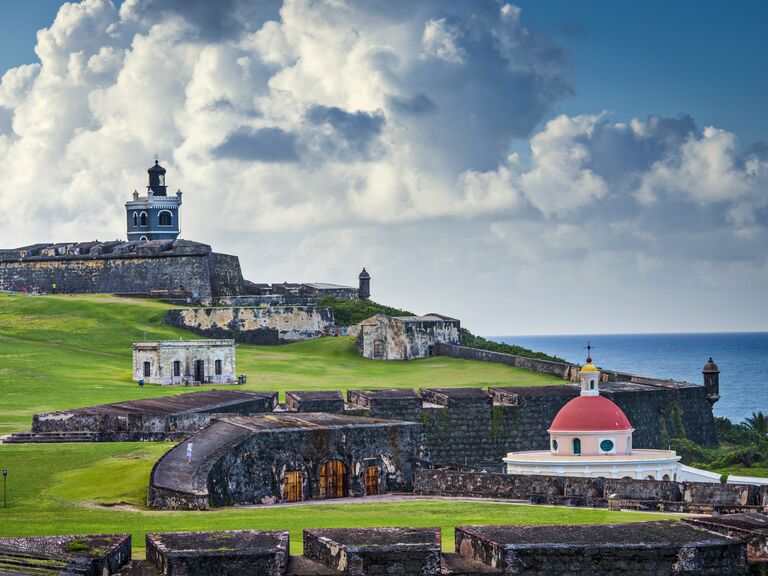 Take your time to truly explore Puerto Rico and experience some of what the culturally rich island has to offer. Hit up Puerto Rico's Flamenco Beach, walk around San Juan marveling at the culture and history of the old city, or take a kayak through the island's bioluminescent bays. You can choose between spending your trip on the sandy beaches or taking your time exploring the island's cities and natural wonders. Puerto Rico is home to North America's only tropical rainforest and an exciting nightlife environment, so there's a little bit of something for everyone.
9. St. Barths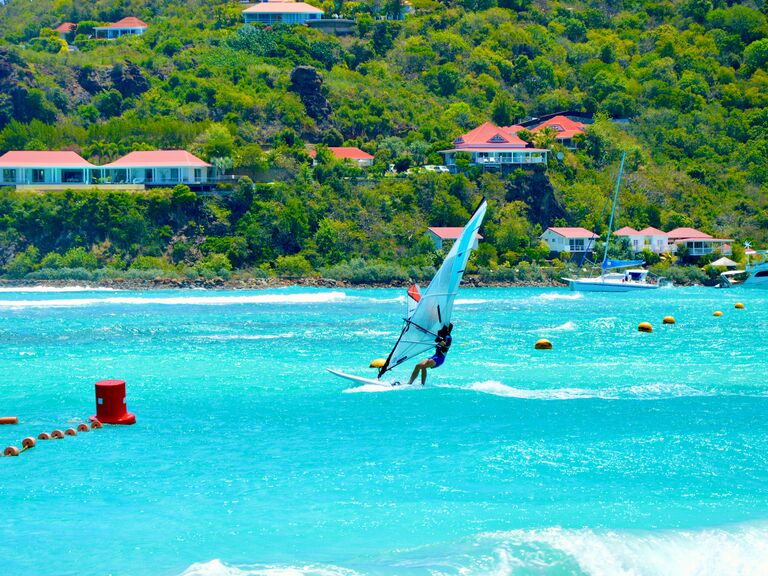 The unique French island of St. Barths combines a laid-back vibe with a luxurious atmosphere. Spend your days picking from a wide variety of spa treatments, exploring designer boutiques and tasting high-end cuisine. Go kayaking, windsurfing or swimming at the Anse de Grand Cul de Sac, and taste the delicious Creole and French flavors that make up the tasty island cuisine. Keep your eyes peeled, as this island is known to host some of the rich and famous.
10. Grenada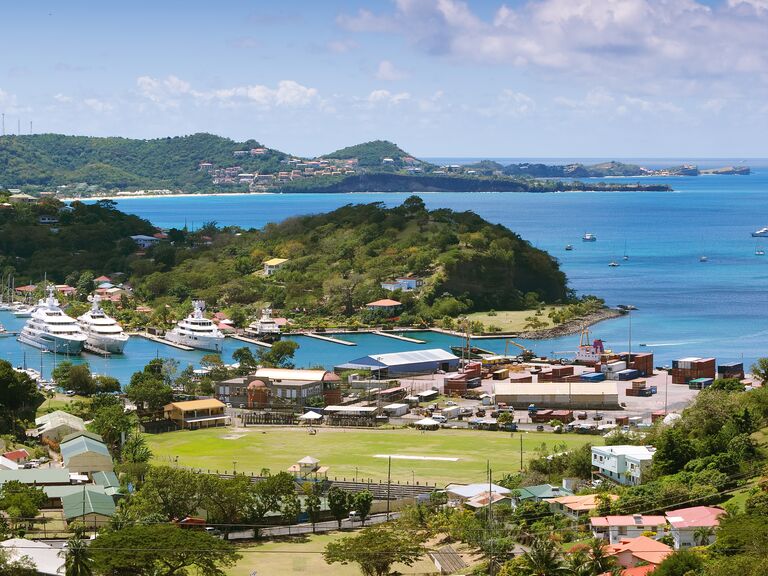 When considering the best Caribbean destinations, don't overlook the island of Grenada. Known for its delicious spices and chocolate, you can spend your time touring spice plantations and rum distilleries. Wander the unique streets of St. George's harbor, one of the most awe-inspiring places in the entire Caribbean, or hike at Grand Etang National Park. For those with an adventurous spirit, dive or snorkel to explore Grenada's underwater sculpture museum, which is the first of its kind in the world.
11. Bermuda
Achieve your middle school dream of visiting the Bermuda Triangle and living to tell the tale. Make sure to spend some time at Elbow Beach, which is home to unique pink sand that will wow even the most seasoned beachgoers. Bermuda's Front Street will give you a wonderful view of historic colonial buildings and is a great spot to snag a cute pic for your travel Insta. Choose between boutique hotels and luxurious resorts, and spend your days and nights being pampered with an island view.
12. Antigua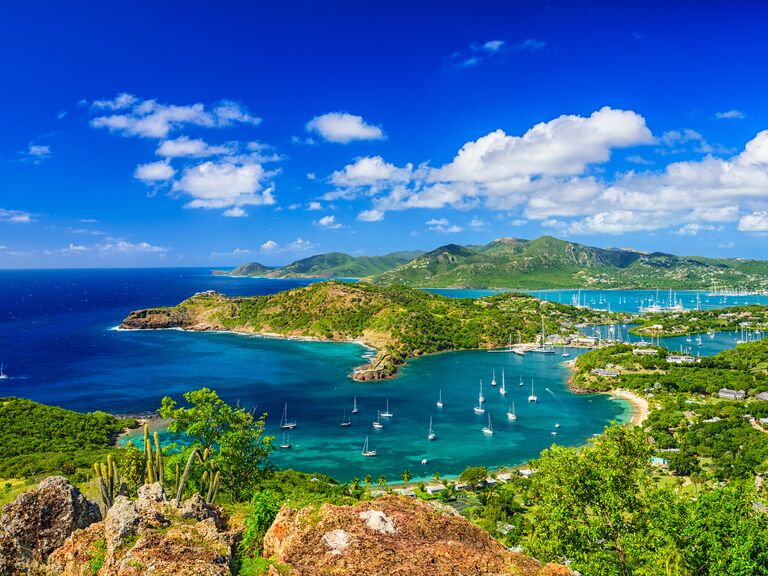 Antigua has over 300 beaches, so you don't have to worry about visiting the same one twice. Wake up early and take the hike up to Shirley Heights to get a one-of-a-kind view of the island and the turquoise waters that surround it. Or, head there at night and catch a sunset you're sure to not soon forget. If you're not much of a hiker, the palm-tree-lined beaches will keep you entertained for days. Dickenson Bay is widely known as one of the most gorgeous beaches to visit, and it's home to some tasty restaurants, fun water activities and cool bars. This island is perfect to take that quintessential walk on the beach that screams romantic honeymoon.
13. Cayman Islands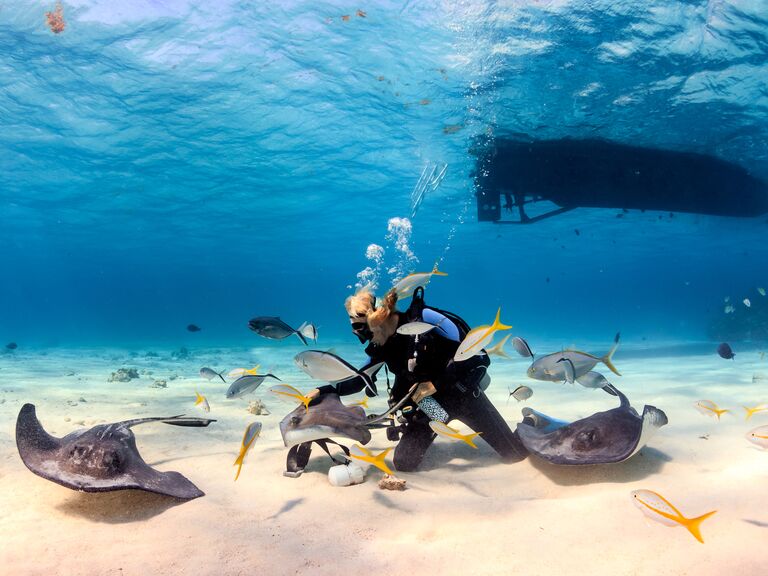 Whether you're planning an adventure-packed trip or a relaxing oceanfront getaway where you sit on the beach and sip cocktails, the Cayman Islands will certainly not disappoint. Make sure to walk along the iconic Seven Mile Beach, which is known to be one of the best beaches in the entire Caribbean. If you're interested in water sports, take a trip to Stingray City, where you can snorkel with tons of wild stingray, or go scuba diving near the Kittiwake Shipwreck and spot a variety of colorful sea life. The blue waters, coral reefs and luxe beaches will make you never want to leave.