Vanessa Bryant Shares Wedding Photo on Her 20th Anniversary With Kobe
Kobe Bryant passed away in January 2020.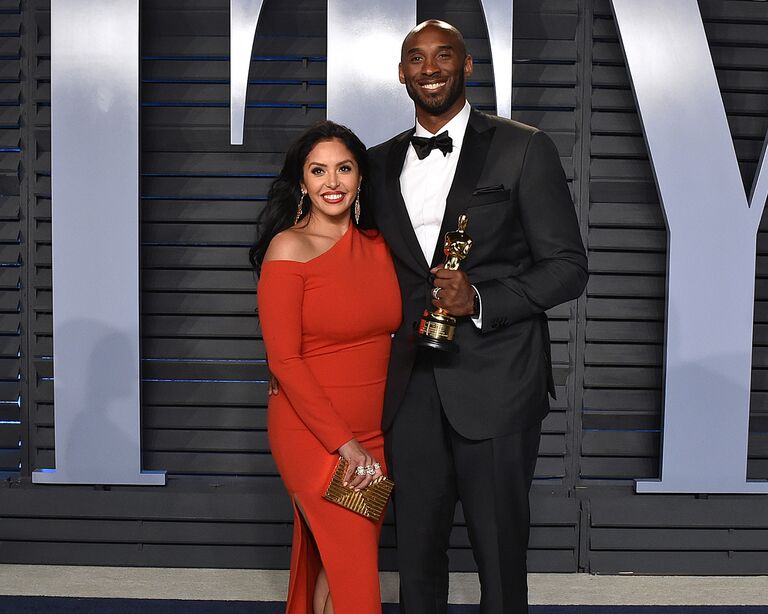 John Shearer / Getty Images
We have included third party products to help you navigate and enjoy life's biggest moments. Purchases made through links on this page may earn us a commission.
Kobe and Vanessa Bryant were married nearly 20 years before his tragic death at age 41 on January 26, 2020. While en route to a junior basketball game, the NBA legend and his 13-year-old daughter, Gianna "Gigi" Bryant, along with seven other passengers, perished in a helicopter crash over Calabasas, California. Prior to his passing, Kobe spoke often about his marriage to Vanessa and especially, his duties as a father. The date of April 18, 2021, would have been the couple's 20th wedding anniversary.
On Instagram, Vanessa posted a rare photo from their wedding to commemorate the occasion. "Happy Anniversary, baby," she wrote alongside a kissing photo with her late husband. "I love you. 20 years." Though she was unable to mark the anniversary physically with her husband, florists like celeb designer Jeff Leatham and others showered Vanessa with roses and floral installations to bring beauty and life into her home. Particularly pensive on the milestone wedding anniversary, Vanessa also followed up with footage of Bryant discussing their relationship. "I love you for now, forever and for always @kobebryant," she added.
Kobe and Vanessa Bryant's high-profile marriage weathered numerous storms and eventually served as an example of how a couple's vows are personal, and no matter what, it requires work and effort. Below, we take a look back at their love story, including how they met, how he proposed, and their wedding details.
How Did Kobe and Vanessa Meet?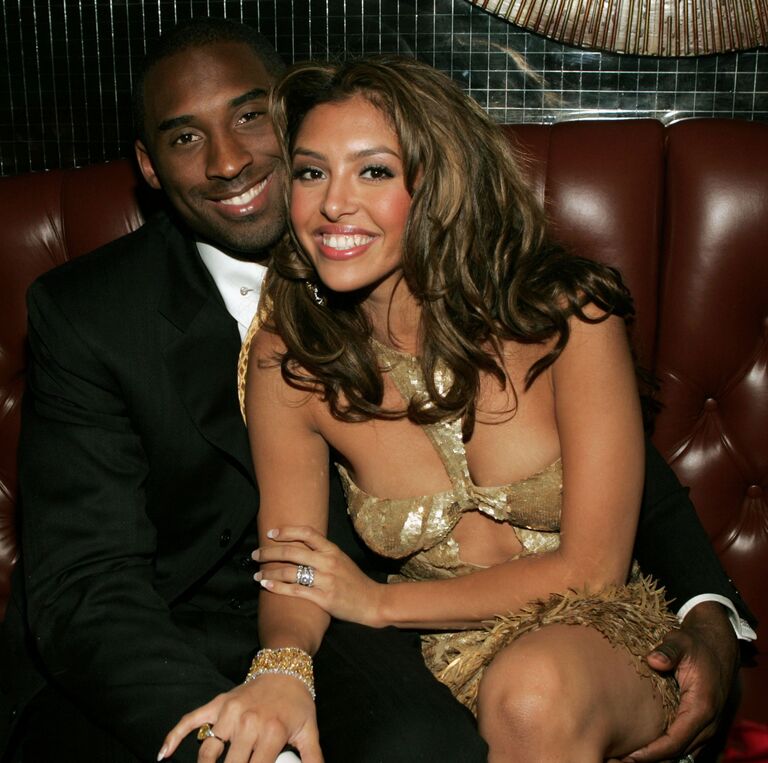 At age 20, Kobe was already playing with the Los Angeles Lakers, his lifetime team, when he met Vanessa who was 17 years old. The two met on the set of the music video for Tha Eastsidaz's "G'd up" in 1999. (At the time, Vanessa, nee Vanessa Urbieta Cornejo Laine, and Kobe claimed it was love at first sight.) "It's hard to pinpoint exactly what makes a person the one for you, but you just know," the late Bryant told MTV News. "I mean, love is a funny thing. I can't explain it and I don't understand it. But all I know is…she caught my heart and I just knew she was the one."
Thankfully, Kobe and Vanessa had relics from their meet-cute, which the athlete posted to Instagram in April 2013. In the film Kobe Bryant's Muse, the NBA superstar looked back on his love story; at the time, Bryant was three years in with Lakers. "For those that don't know, yes, I had a budding music career as a rapper," he recalled. "It didn't last long, but I did make a video. On the video set is where I first met Vanessa… It was a two-day video shoot, and I was always looking for her, like I wanted to know where she was. I would finish a take and go to my trailer but I would wonder where she was the entire time. Then I would come out of the trailer and just wanted to talk to her some more, in between takes and stuff like that." Once Vanessa turned 18, the pair got engaged.
How They Fell In Love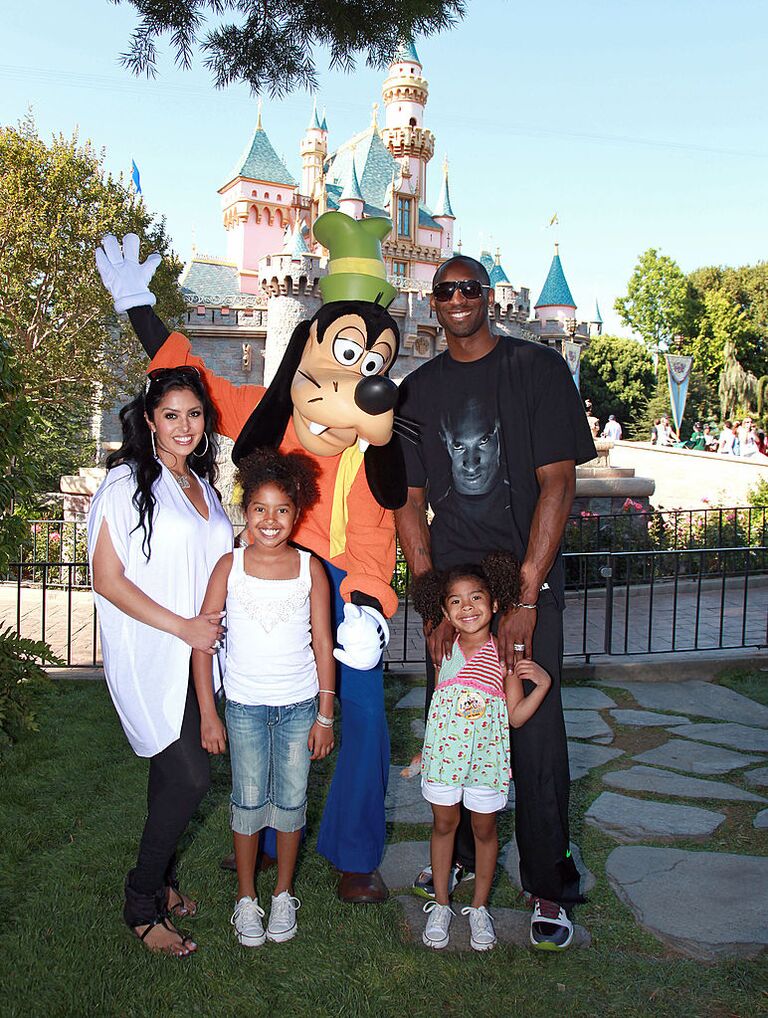 "She was just beautiful. We literally did everything together. Everything together. And I thought I was a big dork because I loved Disneyland," the athlete added in Kobe Bryant's Muse. "I loved the Disney movies and things like that, but I never really had a chance to go to the park much. She was a big Disney fan, too, and we used to hang out as Disneyland, we used to go to Magic Mountain, she became my best friend."
The native of Lower Merion, Pennsylvania, had found someone who was willing to stick beside him like glue. "For me, it was very different to have somebody that I was so close to, because I had been so used to growing up in isolation, really," Bryant said. "Moving around from place to place, making new friends all the time, so I never really opened up to anybody because I knew I was just going to inevitably move… But now, being in Los Angeles and feeling like I'm going to be a Laker for the rest of my life, I just met this beautiful woman that I just see the world the same way with."
Kobe and Vanessa Bryant Wedding Details
On April 18, 2001, the couple married in an intimate wedding at St. Edward the Confessor Catholic Church in Dana Point, California. Neither the groom's parents nor his Lakers teammates were present to witness the nuptials. Reports claimed Kobe's parents, Joe and Pam, did not support the marriage due to several factors, alleging the couple's ages and Vanessa's background (she is a mix of Mexican, German, Irish and English) were supposed issues.
Other than that, not too many details are known about the couple's wedding day. Months after Bryant passed, however, Vanessa commemorated their 19th anniversary with a wedding photo. "Happy 19th wedding anniversary baby. I miss you so much," she wrote. "I wish you were here to hold me in your arms. I love you."
Kobe Bryant & Vanessa's Separation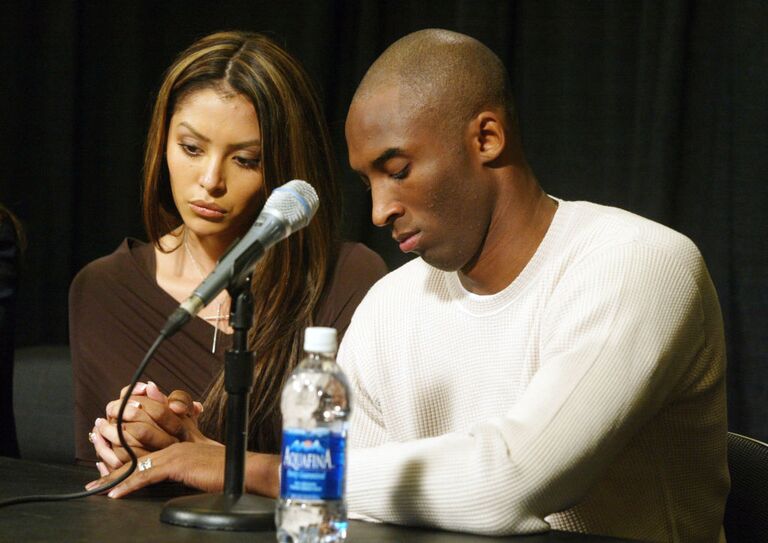 The year 2003 was marked by scandal for Kobe. The NBA superstar was accused of sexual assault, charges on which he was later cleared, but the infidelity issues that faced the couple were still very much a reality.
Kobe vehemently denied the charges from the accuser. "You're my backbone. You're a blessing. You're a piece of my heart. You're the air I breathe. And you're the strongest person I know, and I'm so sorry for having to put you through this and having to put our family through this," he told Vanessa as he cried in one public moment. "I'm innocent. And together my wife and I and our family, we're going to fight these false accusations."
His wife also gave a formal statement and told the press: "He is a loving and kind husband and father. I believe in his innocence. Because I know him to be innocent, I will stand by him and we will face this together."
Days after admitting he had been unfaithful, Kobe reportedly spent millions of dollars on a gift for Vanessa. People reported at the time that the Lakers great had purchased an 8-carat, purple diamond ring for Vanessa, valued at $4 million. "They looked very happy together," said Raffi, who was also the jeweler behind the couple's wedding bands.
In 2011, Vanessa filed for divorce citing irreconcilable differences and claiming her husband had multiple affairs. She was to receive all three of their homes as divorce proceedings seemed highly likely. Ultimately, the couple reconciled in early 2013.
Kobe Bryant & Vanessa's Reconciliation and Marriage
In her tribute at the Staples Center in February 2020, Vanessa Bryant alluded to her marital struggles, which at the time nearly ended in divorce. Unlike many couples who face cheating scandals, their marriage and overall relationship defied the odds in a partnership she referred to as "amazing," and consisting of "two perfectly-imperfect people."
"I am happy to say that Vanessa and I are moving on with our lives together as a family," Kobe wrote at the time on his Facebook page. "When the show ends and the music stops, the journey is made beautiful by having that someone to share it with. Thank you all for your support and prayers! Much luv, Mamba out (sic)."
Following the 2013 reconciliation, Kobe—ever the thoughtful gift-giver—purchased a special relic from The Notebook in time for Valentine's Day: the iconic blue dress. In many ways, the dress was symbolic of Vanessa's return to their relationship despite the hurdles faced by the couple. The film, based on Nicholas Sparks' bestselling novel, ends with Allie (Rachel McAdams) and Noah (Ryan Gosling) enjoying a prosperous and happy marriage.
"When I asked him why he chose the blue dress, he said it was because it was the scene when Allie comes back to Noah," Vanessa said in her tribute to Kobe in 2020. "We had hoped to grow old together… like the movie."
The costume designer behind the blue dress, Karyn Wagner, eventually reacted to the sentimental story. "I had zero idea. When I was finished with the movie, I put the dress in a box and it went into storage," Wagner told The Hollywood Reporter. "I'm still drying the tears off my face. What a beautiful eulogy. I'm so honored that I was able to contribute in some small way to the history of this amazing man."
Kobe and Vanessa Bryant Family Details
During the course of their marriage, Kobe and Vanessa welcomed four girls, Natalia, Gianna, Bianka, and Capri. Prior to his passing, the basketball player had retired and was devoted to his daughters. In fact, he was especially focused on his Mamba Sports Academy, which launched in 2018, and his second-oldest daughter's growing basketball career. "They were so full of joy and adventure. God knew they couldn't be on this earth without each other," Vanessa said in her tribute to Kobe. "He had to bring them home to heaven together. Babe, you take care of our Gigi, and I got Nani, BB, and Koko. We're still the best team."
As 2021 was a big year for the Bryant family, the couple's eldest daughter Natalia, turned 18 and was admitted into college. Of course, Vanessa couldn't help but be sentimental about the proud mom moment. "My baby (with makeup) 😁❤️ #grown," she wrote. "Daddy would be so happy that you're pursuing your modeling career now that you're 18. You're beautiful inside and out. Beautiful with makeup and without makeup. We love you."