Colored Engagement Rings That Stand Out on Your Hand
Plus, learn the meanings behind each gemstone.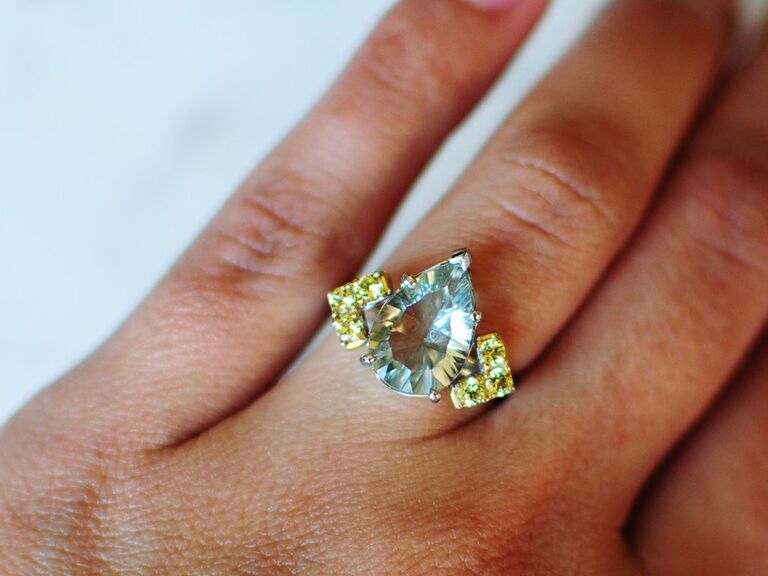 Courtesty of IO Collective
We have included third party products to help you navigate and enjoy life's biggest moments. Purchases made through links on this page may earn us a commission.
Who says you have to go with a white diamond? Put your own spin on your engagement ring with a gorgeous colorful center stone. Here's everything you need to know to choose the right gemstone, colored diamond ring or colored metal setting for you.
Can Engagement Rings Be Colored?
While a white diamond engagement ring is a classic, there are no hard and fast rules where picking a center stone or setting for your engagement ring are concerned. If a gemstone engagement ring or colored metal setting feels more like you, we say go for it. Besides the obvious fact that they're swoon worthy, gemstone engagement rings or colored metal settings are appealing for a few reasons: They stand out from the crowd, they can be less pricey than a white diamond and each precious gemstone has its own unique personality and history. If you're looking for a vintage-inspired engagement ring with an heirloom quality, consider rubies, emeralds and sapphires. If you're looking for bold color that's more budget conscious, gemstones like tourmaline and alexandrite come in vivid shades that won't break the bank. No matter the center stone you choose, a colorful engagement ring will instantly set you apart.
What Do Colored Engagement Rings Mean?
Besides the thrill of new bling on your finger, one of the most exciting things about opting for a gemstone engagement ring is choosing a center stone that has special meaning. Pretty much every gemstone is associated with specific symbolism or properties. Below, some of the most popular gemstones and their deeper meanings:
Diamond: Love, faithfulness, purity
Ruby: Love, passion, desire
Emerald: Wealth, power, new beginnings
Sapphire: Wisdom, virtue, fidelity
Amethyst: Intelligence, purification, psychic ability
Peridot: Strength, protection, friendship
Aquamarine: Courage, mental clarity, health
Opal: Love, hope, prophecy
Garnet: Nobility, love, prosperity
Citrine: Wealth, abundance, energy
Topaz: Spirituality, guidance, affection
Tanzanite: Wisdom, truth, dignity
Morganite: Divine love, compassion, healing
Tourmaline: Spirituality, wisdom, mysticism
Kunzite: Communication, health, openness
Sunstone: Energy, power, freedom
What Are the Different Engagement Ring Metals and Colors?
Know your platinum from your palladium? Find the right fit for you with this ring metals rundown.
Platinum: A rare, natural white metal known for its strength and purity—platinum is usually 95-percent pure. Platinum's density makes it extremely durable, meaning it will keep your diamond or other gemstone protected and secure. It's also naturally hypoallergenic so it won't irritate sensitive skin. When platinum scratches (all metals do), there is very little metal lost, so your ring will withstand years of wear. Also, since it's a pure-white metal, it won't cast any tint onto your center stone.
Yellow Gold and White Gold: This naturally yellow metal gets combined with different metal alloys for added strength—it is usually 70- to 75-percent pure. The result is jewelry available in a rainbow of colors, including white, green, black and pink (see below). Yellow gold is turned into white gold when the surface is plated with rhodium, however, so the coating may eventually wear away and return to its original color. A big plus: It's also more widely available and therefore less expensive than some other metal options, and the various added alloys mean you can personalize your hue.
Rose Gold: This pink-tinted metal is gold with an added copper alloy. The more copper alloy in the metal, the deeper the rosy tones will be. One of rose gold's especially attractive aspects is its underlying meaning. While white gold represents friendship and yellow gold means fidelity, rose gold represents love. Plus, it's durable and has a look that's pleasing against many skin tones.
Green Gold: Less common than rose gold, this metal is gold with a silver or silver plus cadmium or zinc alloy. Though the name may conjure visions of Emerald City, green gold is best described as yellow gold with a slightly green cast.
Black Gold: Perfect for edgier wedding rings, black gold is either yellow gold with an added cobalt alloy, or yellow gold plated with a black finish, usually black rhodium or ruthenium. This dark metal is striking when combined with a black diamond center stone or black diamond pavé. But if dark gemstones aren't your thing, black gold also creates a cool contrast when paired with a traditional white diamond or light colored center stone.
Palladium: A lustrous silver-white metal, this natural ore is also used as an alloy in white gold. Similar to platinum, palladium won't tarnish, is very flexible, and is hypoallergenic, but palladium's lower density makes it less costly. It also has a darker, grayer tone than platinum.
Titanium: This sturdy metal has a cool, gray finish or can be a polished black. The tough name and rugged style of this metal gives it a distinctly industrial vibe. Corrosion-resistant and hypoallergenic, titanium is as strong as steel but as weightless as aluminum, making it perfect for those who don't normally wear any jewelry.
The Trendiest Colored Engagement Rings of 2020
Are you feeling a colored engagement ring now? Get your wish list ready. Check out some of our favorite colorful engagement rings you can buy now, below.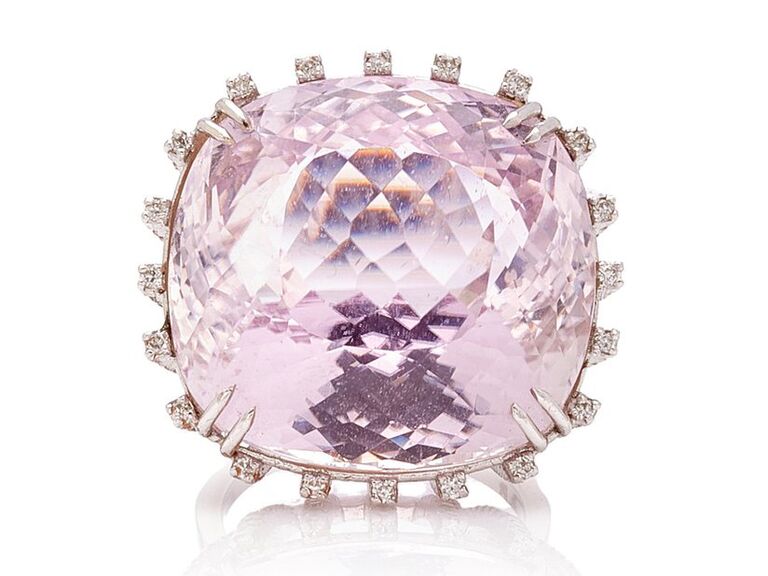 You may not have heard of kunzite before, but this stunning pink-to-violet gemstone is worth remembering. And, since it's usually moderately priced, you can splurge on a larger stone for a fraction of the cost of a diamond engagement ring.
Karma el Khalil cocktail ring in Pink Kunzite, $11,000, ModaOperandi.com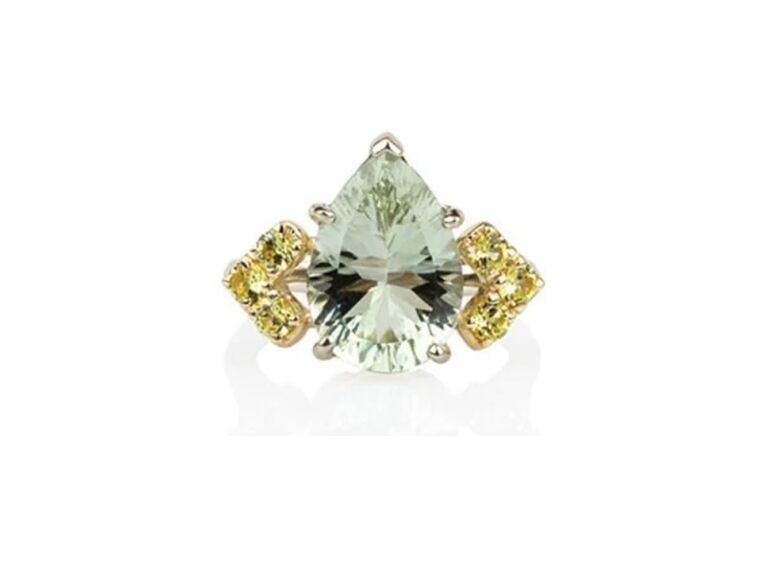 Also known as prasiolite or green quartz, green amethyst comes in a variety of green and yellow hues. This vibrant pear-shaped one flanked by a yellow sapphire side stones is not for the faint of heart.
IO Collective Audree ceremonial ring in 14K White and Yellow Gold, $2,195, IOCollective.com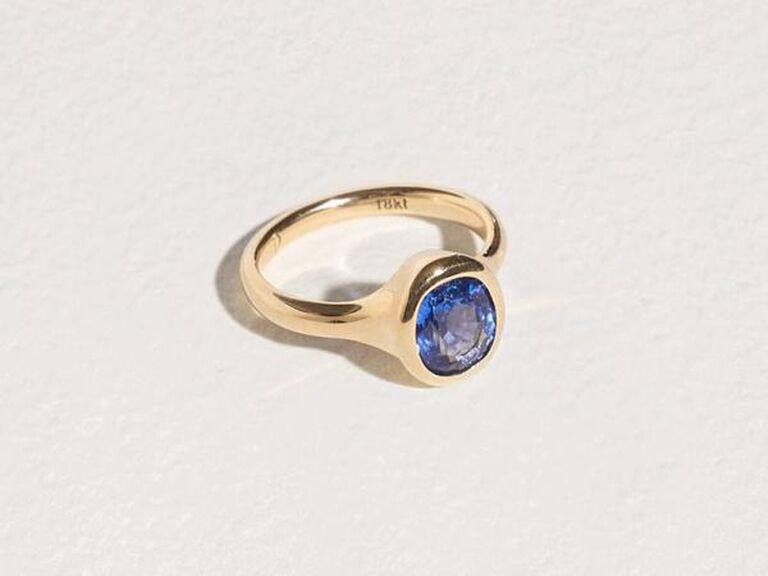 This bezel-set oval sapphire engagement ring has serious '80s vibes—and we'e here for it.
Pamela Love Sapphire ring in 18K Yellow Gold, $3,600, PamelaLove.com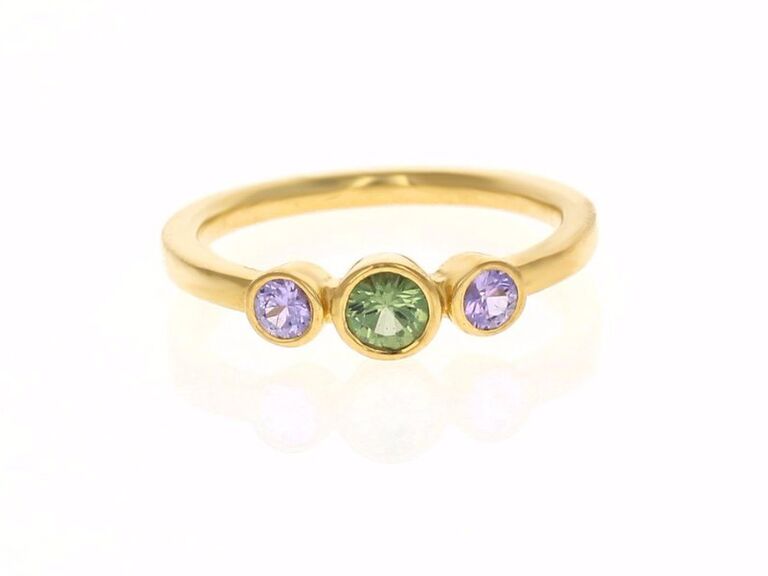 A pastel vision, this dainty three-stone ring of mint and purple sapphires is all about dreamy vibes.
IO Collective Alice mint and purple sapphire ring in 18K Yellow Gold, $990, IOCollective.com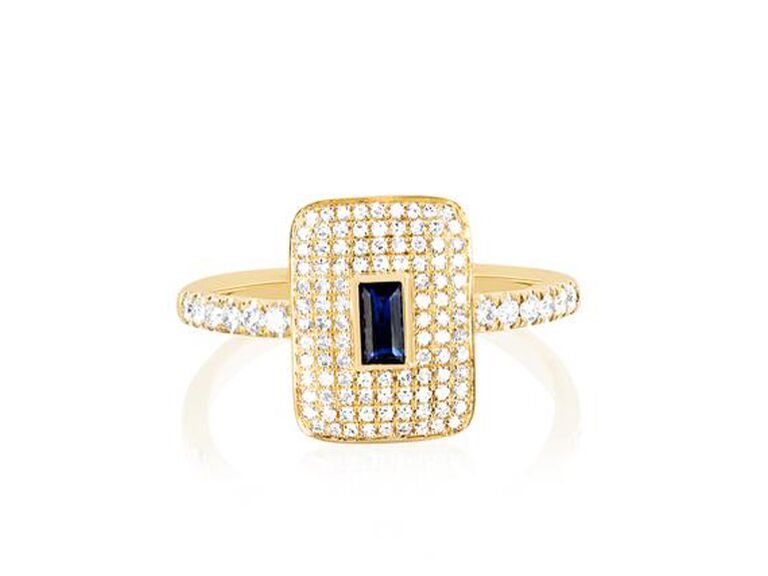 Bring on the bling. A diamond pavé setting gives a petite blue sapphire center stone extra oomph.
EF Collection diamond and blue sapphire center rectangle ring in 14K Yellow Gold, $1,550, EFCollection.com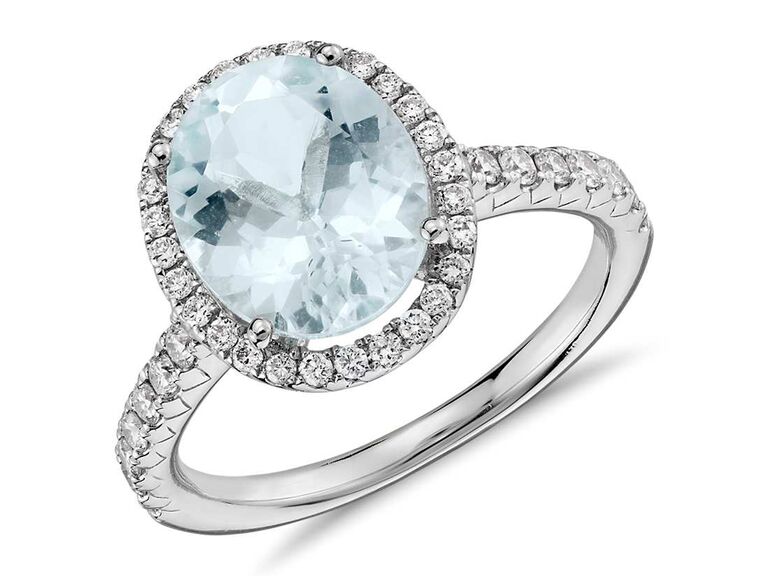 We love this aquamarine engagement ring for two reasons: It's large and in charge and—thanks to a budget-friendly center stone—a total steal.
Blue Nile aquamarine and diamond halo ring in 18K White Gold, $1,560, BlueNile.com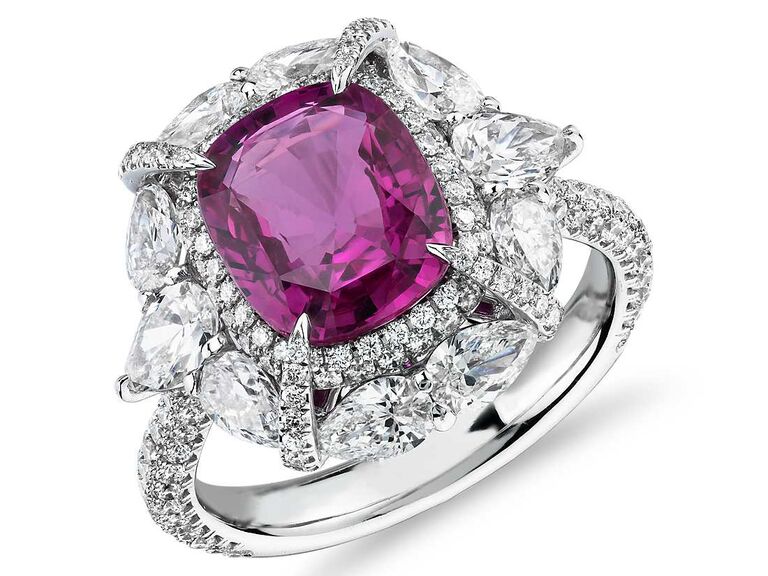 Give a nod to the opulence of a bygone era with this sizable radiant-cut pink sapphire surrounded by an ornate floral halo.
Blue Nile radiant-cut pink sapphire ring with pear-shaped diamond halo in 18K White Gold, $34,000, BlueNile.com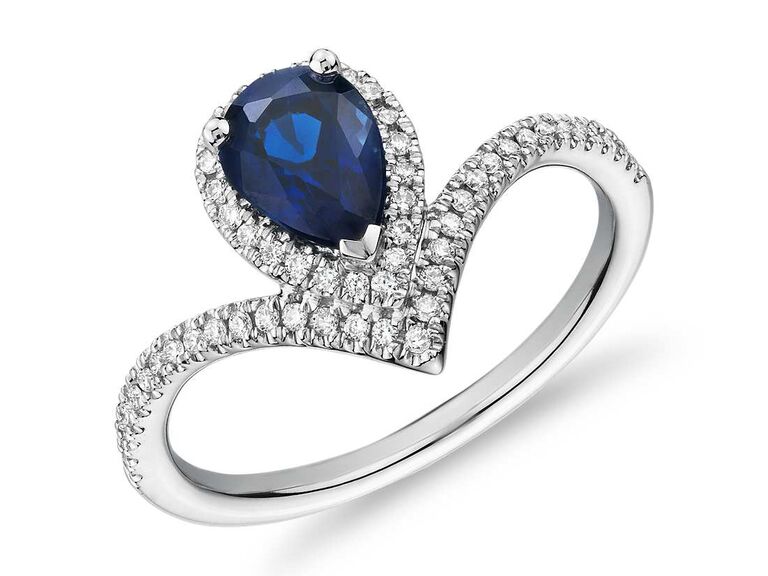 It's classic, but with a twist: The standout setting on this sapphire engagement ring creates a unique chevron pattern on the hand.
Blue Nile pear-shaped sapphire and diamond halo chevron ring in 14k White Gold, $1,990, BlueNile.com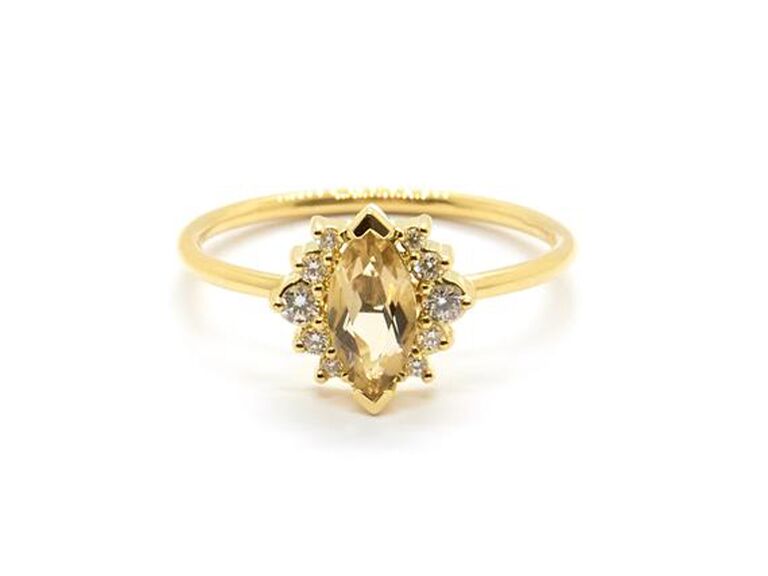 A marquise-cut champagne quartz, diamond sidestones and an ornate yellow gold setting make for a one-of-a-kind sparkler.
Natalie Marie Jewellery Amelie champagne quartz and diamond ring in 18K Yellow Gold, $1,710, NatalieMarieJewellery.com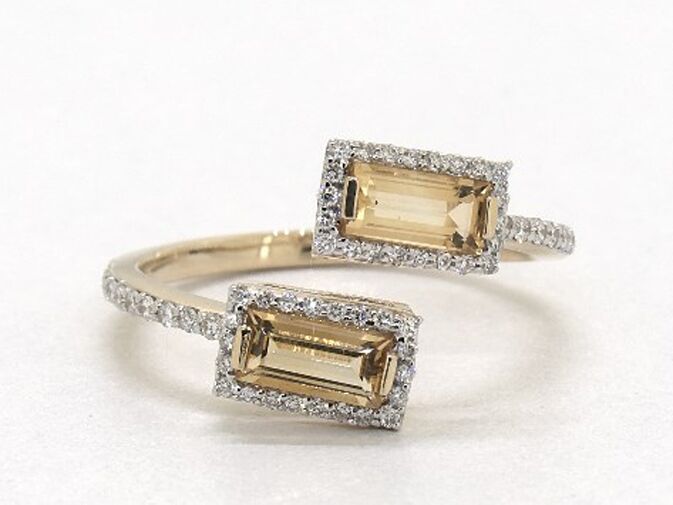 Two emerald-cut citrines stones in a toi et moi setting (that's French for you and me) just is all about effortless glamour.
James Allen emerald cut citrine and diamond halo bypass ring in 14K Yellow Gold, $820, JamesAllen.com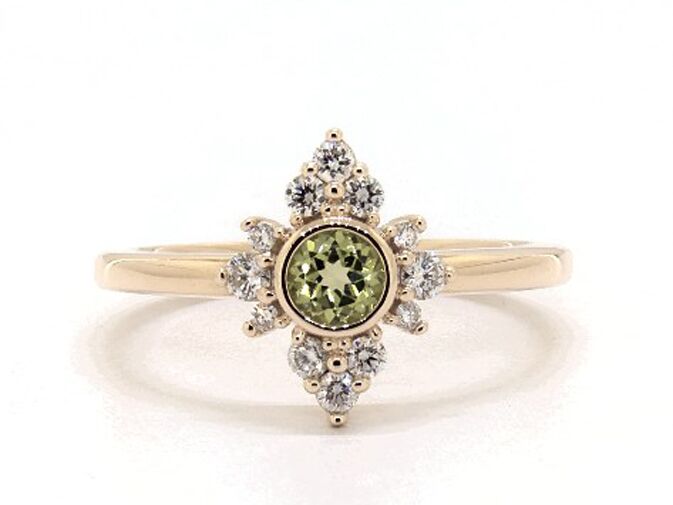 An antique-inspired yellow gold setting plays up the vivid green hue of this peridot center stone.
James Allen lace peridot and diamond ring in 14K Yellow Gold, $890, JamesAllen.com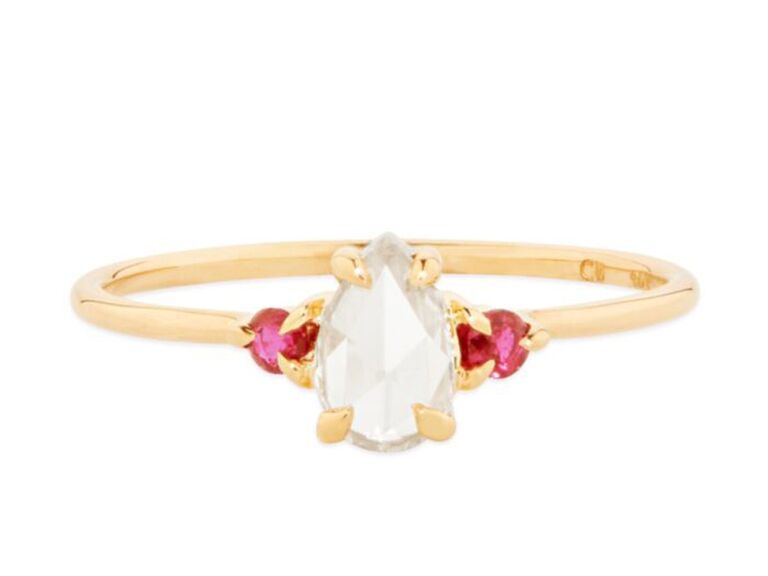 If you want a colored engagement ring but aren't ready to commit to a full-on colored stone, consider a diamond center stone with colored side stones or a colored halo. This pear-shaped diamond ring with brilliant cut rubies is still striking.
Catbird Wedding Leda the Swan ruby ring in Yellow Gold, $3,200, CatbirdNYC.com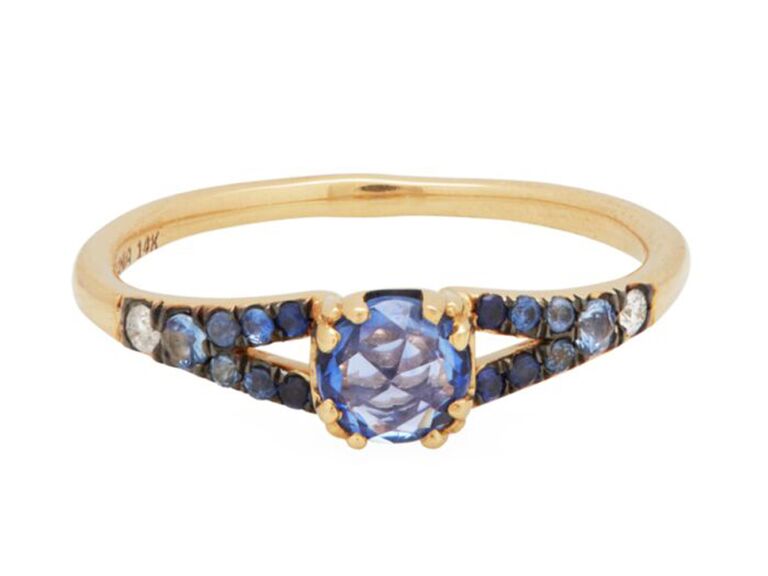 Look to the stars to find the inspo for this stunner. A rustic cut sapphire center stone surrounded by ombre blue sapphires and diamonds mimics the sparkle of the night sky.
ManiaMania Midnight Devotion sapphire ring in 14K Yellow Gold, $1,800, CatbirdNYC.com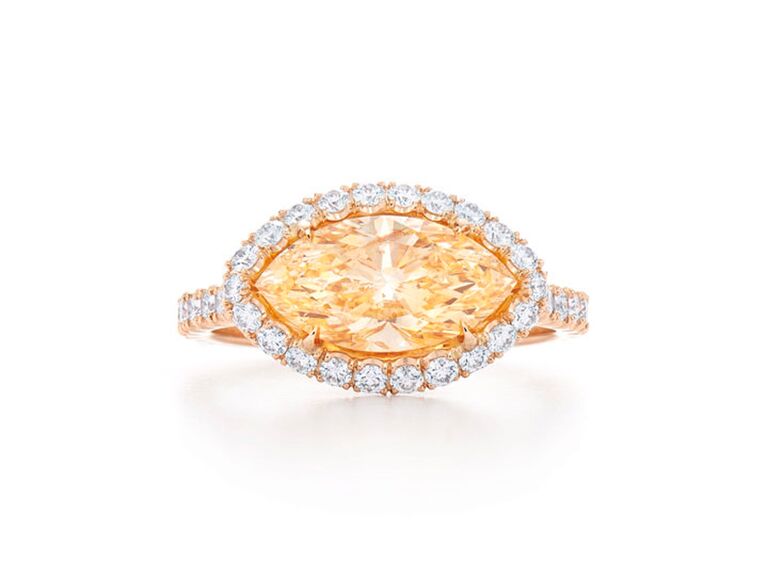 There's nothing mellow about this bold yellow-orange marquise-cut diamond set in rose gold.
Kwiat marquise yellow-orange diamond engagement ring in 18K Rose Gold, Inquire for Details, Kwiat.com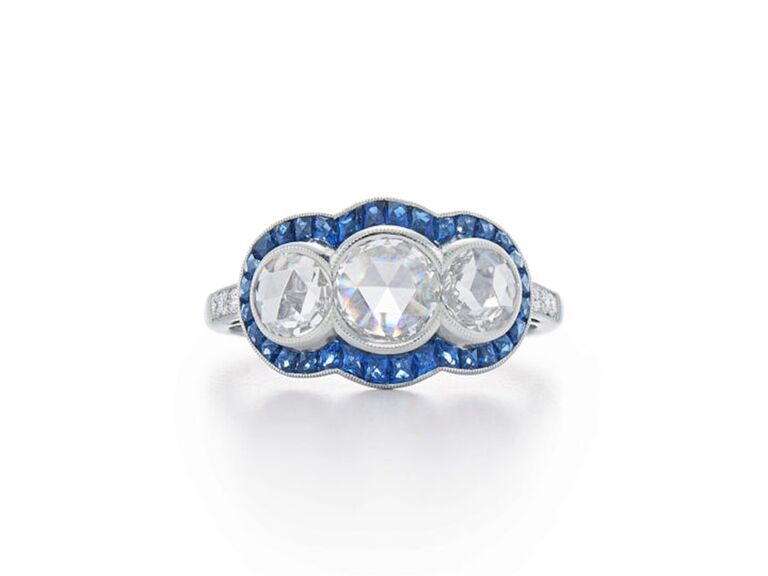 A halo of blue sapphires plays up the vintage vibe of this three-stone diamond ring.
Kwiat round diamond engagement ring in Platinum, Inquire for Details, Kwiat.com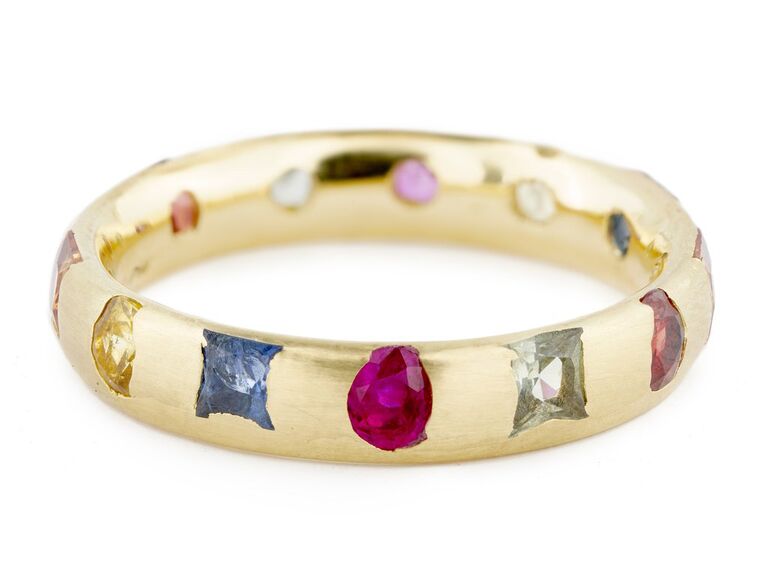 We've established you don't have to opt for a traditional diamond engagement ring, but you also don't have to opt for a ring with a center stone or elaborate setting in general. This low-key wedding band with rainbow sapphires is totally on trend.
Polly Wales Harlequin Celeste ring in 18K Yellow Gold, $4,620, PollyWales.com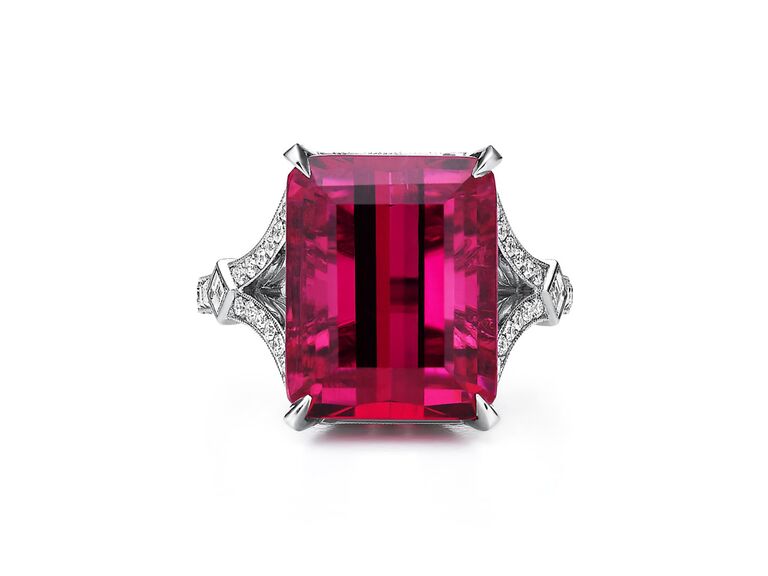 If subtlety isn't your thing—we've got you covered. A 9-carat plus rubellite in diamond-encrusted platinum setting is sure to turn heads.
Tiffany & Co. rubellite and diamond ring in Platinum, $36,000, Tiffany.com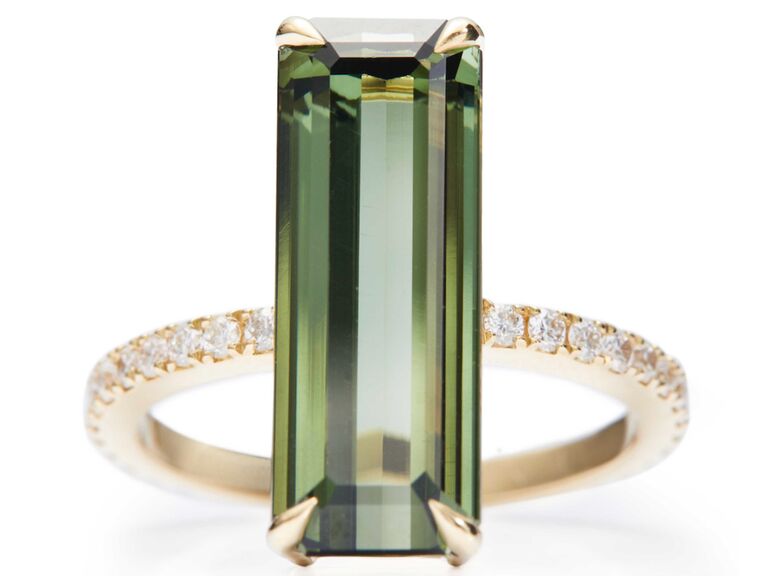 This unique green tourmaline is fresh to death. Another plus? The elongated emerald-cut will make your fingers appear longer and slimmer.
Yi Collection green tourmaline and diamond supreme deco ring in 18K Yellow Gold, $3,575, YiCollection.com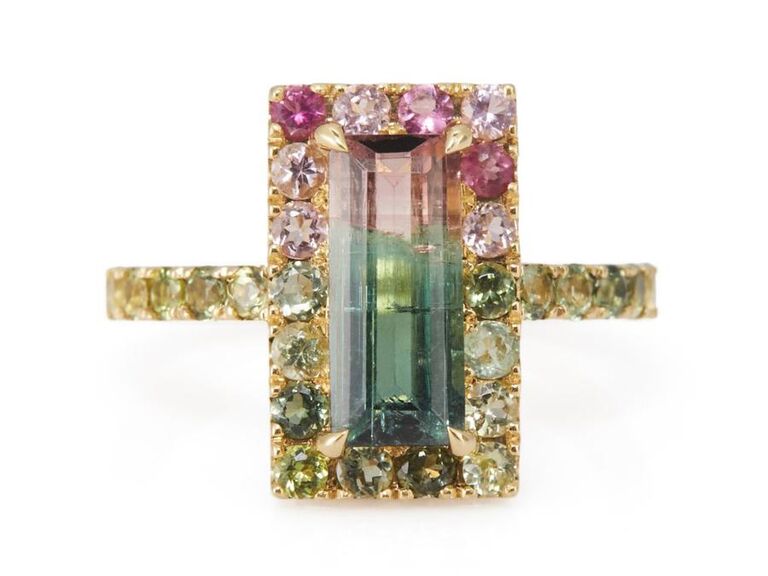 Talk about a watermelon sugar high (sorry, we had to). If you can't decide on a colorful gemstone, consider a watermelon tourmaline. This rare stone changes from green to pink.
Yi Collection tourmaline watermelon ring in 18K Yellow Gold, $1,995, YiCollection.com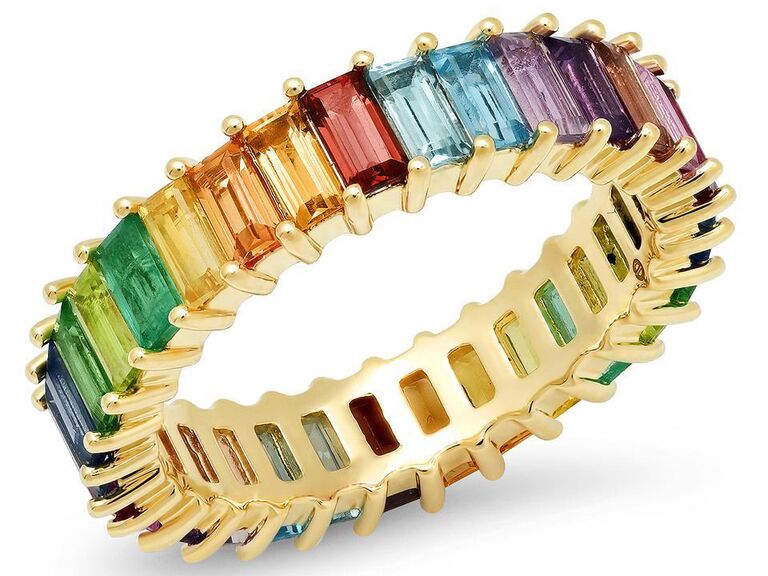 Whether you're looking to give a shoutout to Pride or you just really love rainbow, this wedding band featuring a mix of rubies, amethysts, sapphires and emeralds is all about celebrating color.
Eriness Jewelry multi colored gemstone vertical baguette eternity band ring in 14K Yellow Gold, $1,595, AshleighBergman.com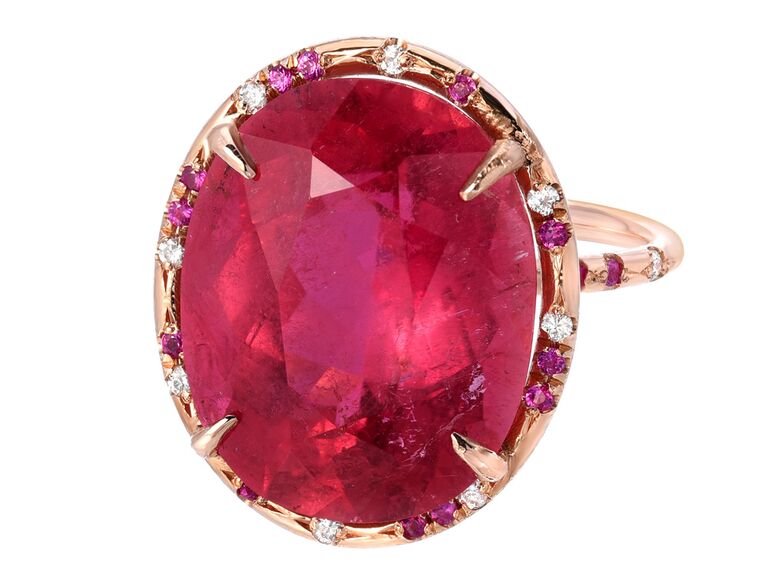 There's one just word for this cocktail-inspired sparkler with a megawatt hot pink sapphire center stone: juicy.
Dajhan Gems and Jewelry hot pink sapphire cocktail ring in 14K Rose Gold, $4,400, AshleighBergman.com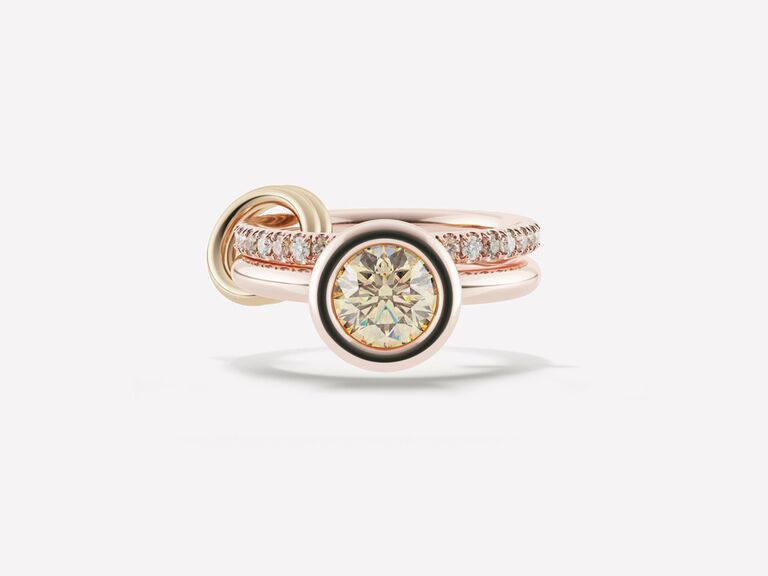 In the market for a truly alternative engagement ring? A colorful metal setting of rose gold and yellow gold sets off a gorgeous champagne diamond center stone.
Spinelli Kilcollin Freyja ring in 18K Rose Gold and Yellow Gold, Inquire for Details, SpinelliKilcollin.com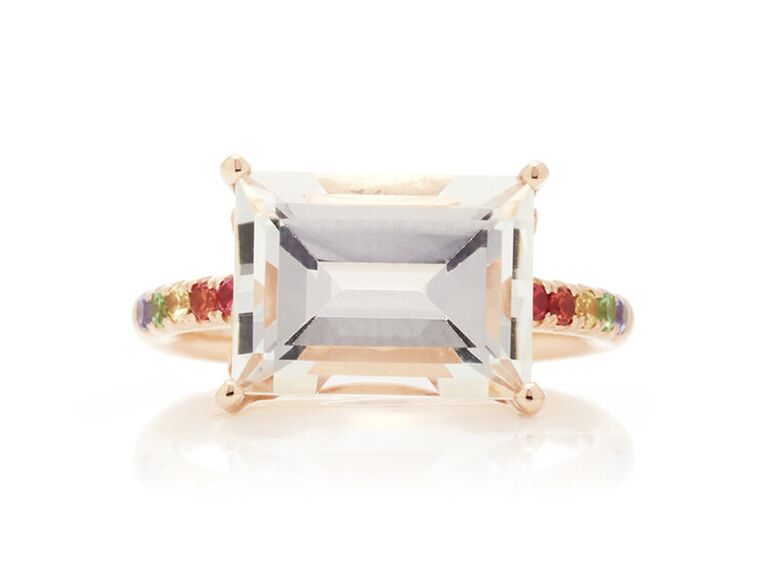 It's all in the details. A rainbow band of pink sapphire, orange sapphire, yellow sapphire, tsavorite garnet, and tanzanite jazzes up a white topaz baguette center stone.
Jane Taylor Fine Jewelry cirque baguette solitaire pavé band ring with white topaz & rainbow pavé in 14K Rose Gold, $1,520, JaneTaylor.com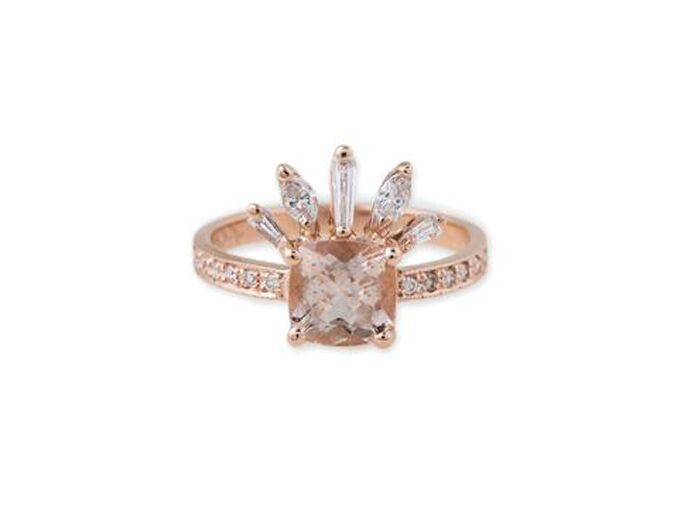 Morganite engagement rings are trending for a few reasons: Their blush color is naturally romantic, they mimic the look of a pink diamond but tend to cost significantly less and they flatter most skin tones.
Jacquie Aiche square morganite diamond lash ring, $4,815, JacquieAiche.com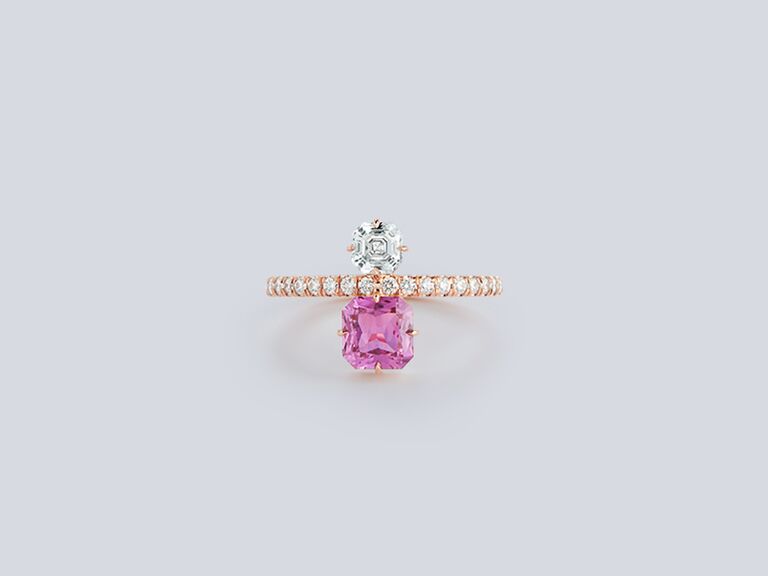 Get the best of both worlds with this unique engagement ring that features a classic asscher-cut diamond a super fun, radiant-cut pink sapphire.
Jemma Wynne Prive pink sapphire and asscher cut diamond ring in 18K Rose Gold, $12,390, JemmaWynne.com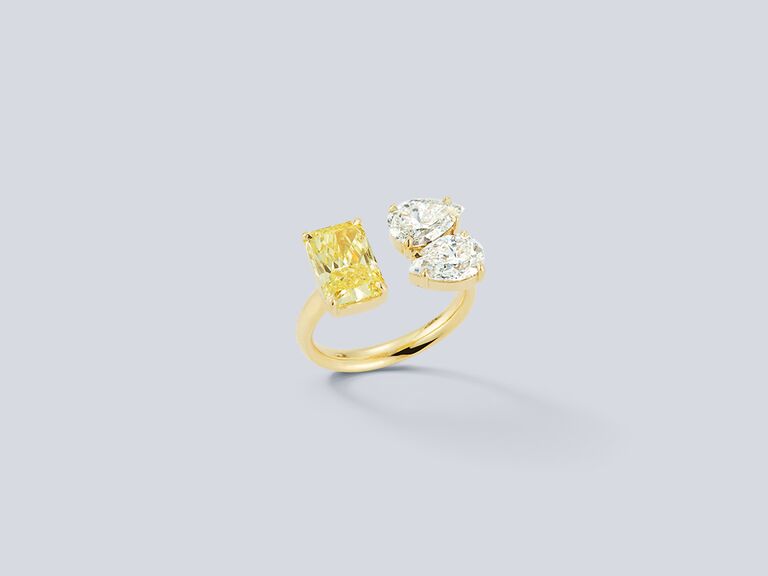 What's better than one striking center stone? Three. This deconstructed three-stone setting features a swoon-worthy radiant-cut canary diamond and two pear-cut white diamonds.
Jemma Wynne bespoke radiant canary and double diamond pear open ring in 18K Yellow Gold, Inquire for Details, JemmaWynne.com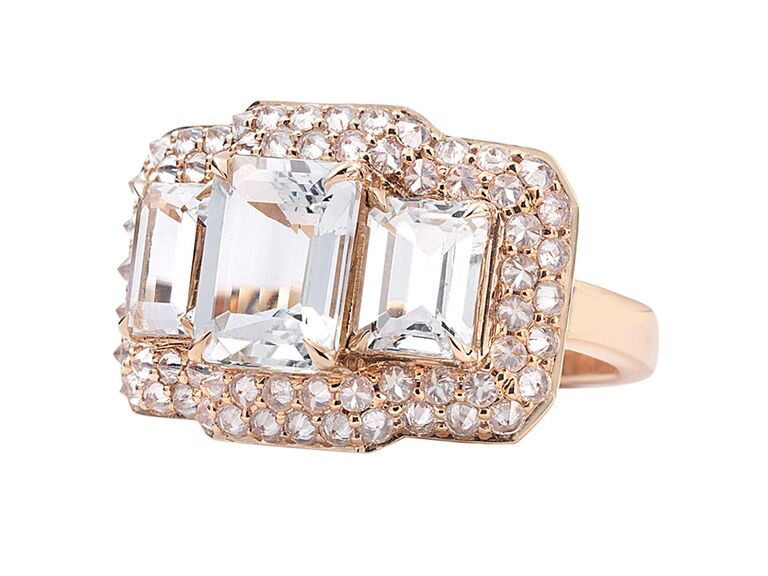 Sometimes more is more. Large and in charge aquamarines plus a halo setting makes an impact.
Nam Cho aquamarine spike ring in 18K Rose Gold, $6,710, MitchellStores.com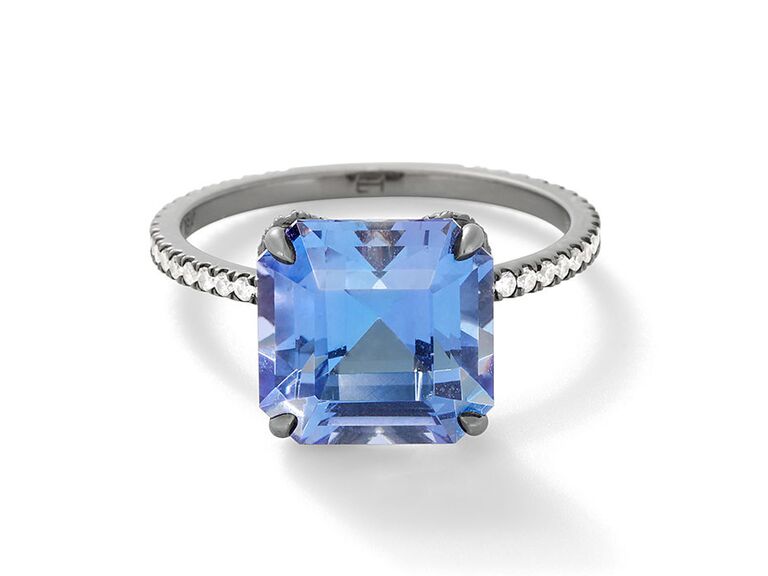 This vibrant tanzanite in an edgy black gold setting is a chic "something blue."
Eva Fehren The Tanzanite Infinity ring in 18K Blackened White Gold, Inquire for Details, EvaFehren.com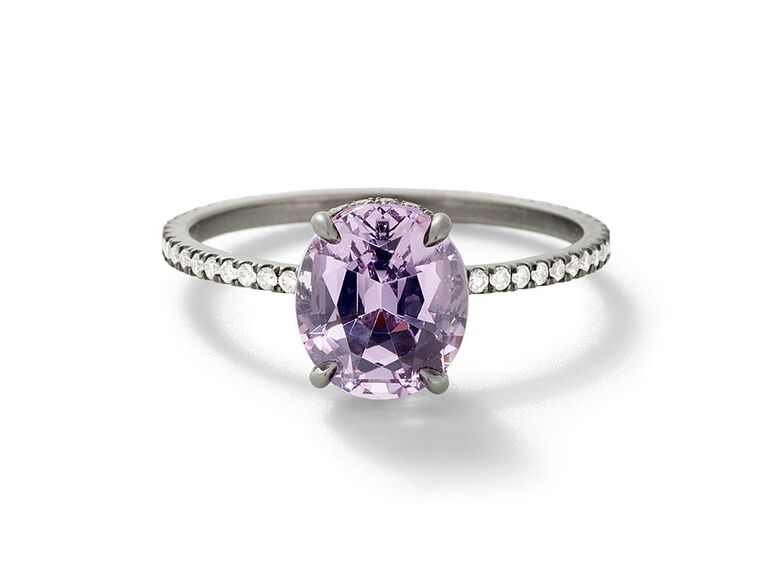 This cool toned engagement ring with a pale lavender spinel set in frosty black gold has serious cool girl appeal.
Eva Fehren The Infinity lavender ring in 18K Blackened White Gold, $12,575, EvaFehren.com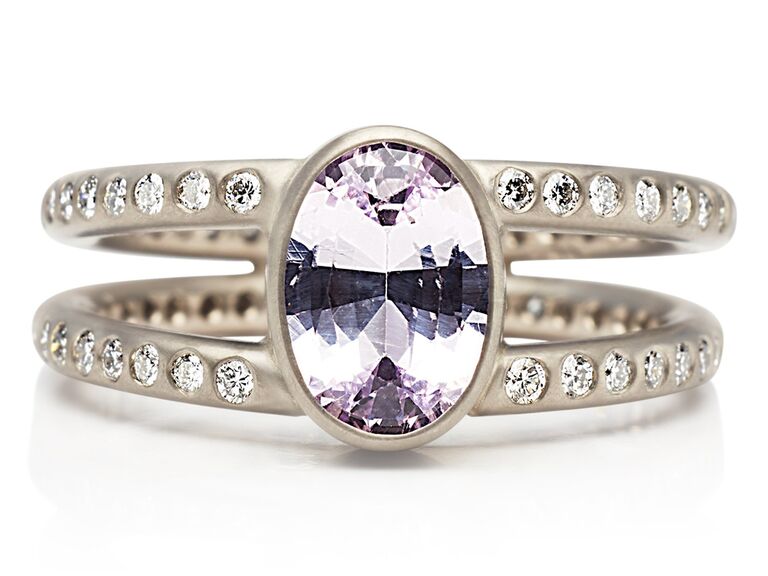 Bold color not your vibe? A lavender sapphire in a diamond encrusted setting brings the subtle shimmer.
Reinstein Ross Lightdance ring with lavender sapphire, $7,800, ReinsteinRoss.com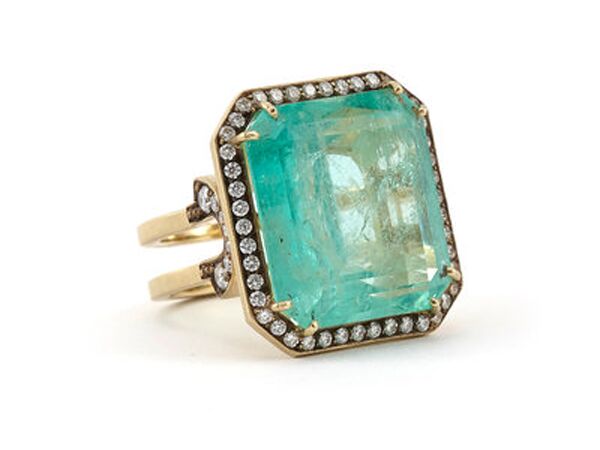 Dark green emeralds may be all the rage, but lighter colored ones are just as magical—especially when they're the size of your knuckle.
Sylva & Cie Colombian emerald ring in 18K Yellow Gold, Inquire for Details, MitchellStores.com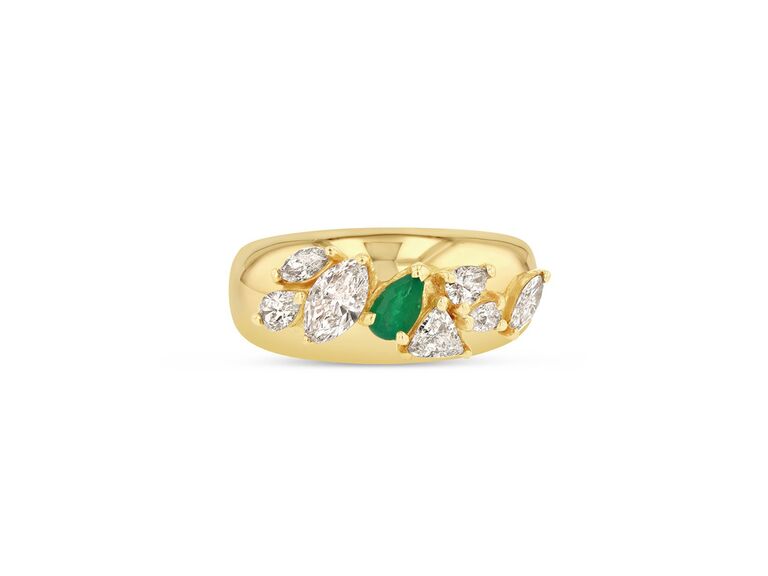 One pear-shaped emerald gives this reto-inspired engagement ring a pretty pop of color.
Grace Lee Demi Demi Plus 8 emerald ring in 14K Yellow Gold, $2,880, GraceLee.com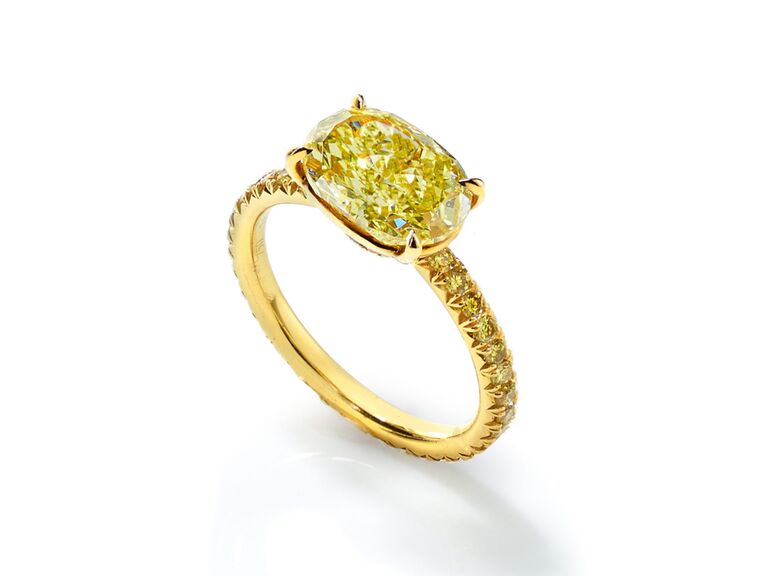 An east-west setting plus an oval-shaped vivid yellow diamond makes for one standout sparkle.
Lauren Addison oval-shaped yellow diamond engagement ring in 18K Yellow Gold, Inquire for Details, LaurenAddison.com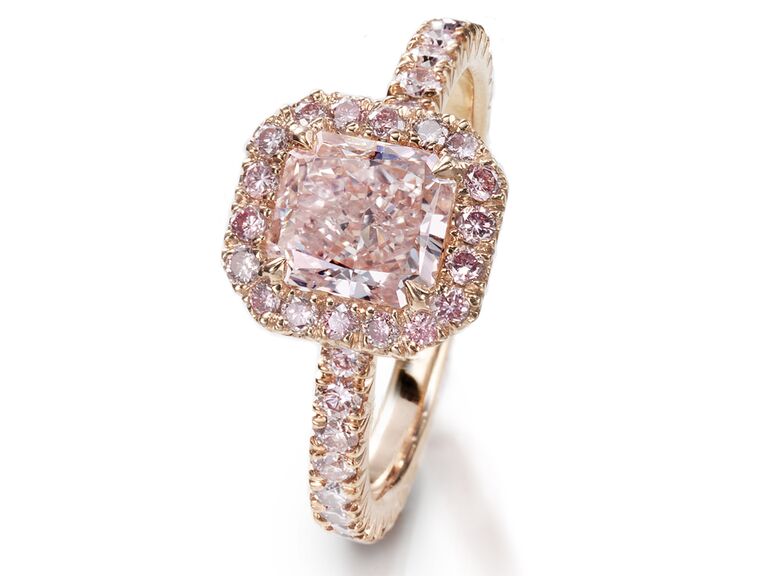 It does not get more feminine—and indulgent—than pink diamonds surrounded by more pink diamonds in a pink gold setting.
Lauren Addison radiant-cut pink diamond engagement ring in 18K Rose Gold, Inquire for Details, LaurenAddison.com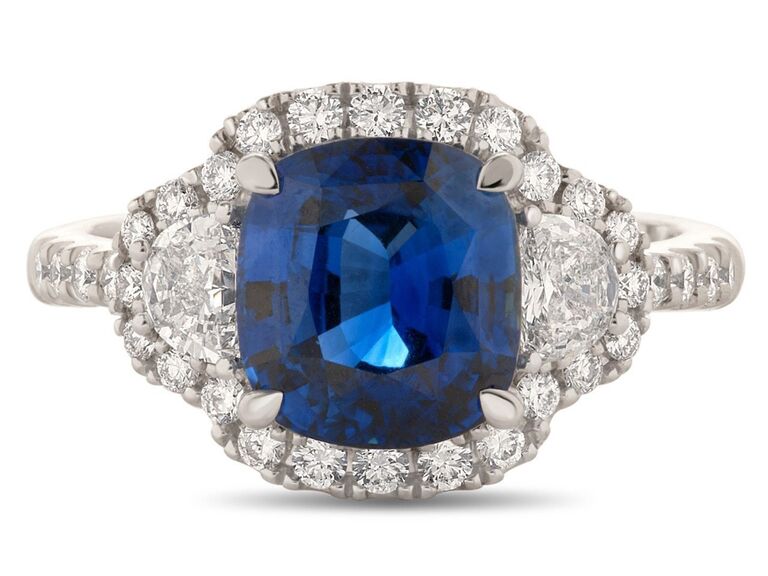 This megawatt gemstone ring with a stunning sapphire center stone has serious Kate Middleton vibes—and we're into it.
Nicole Rose Fine Jewelry sapphire and diamond ring 18K White Gold, $12,500, NicoleRoseJewelry.com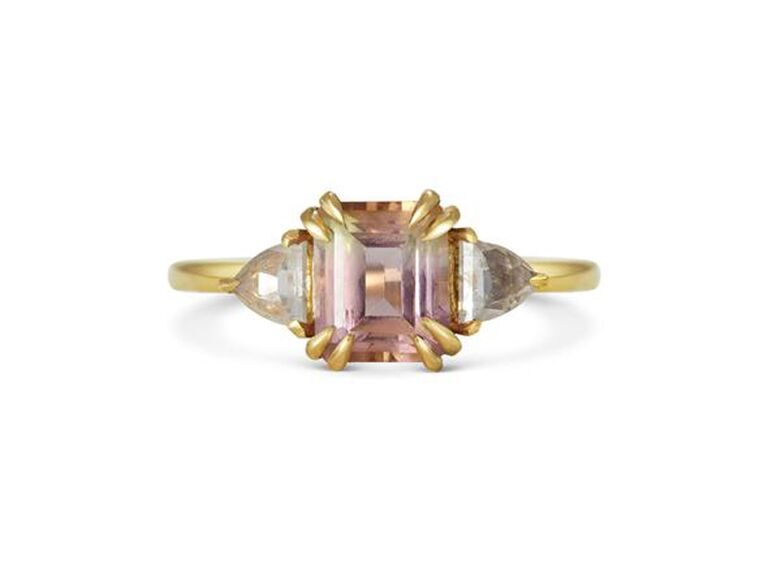 Calling all hopeless romantics. This pretty pastel ring has features an octagonal bi-colour Tourmaline with peachy pink to yellow hues and gives us all the rosy feels.
Michelle Oh Rosa peach tourmaline and diamond ring in 14K Yellow Gold, $3,431, Michelle-Oh.com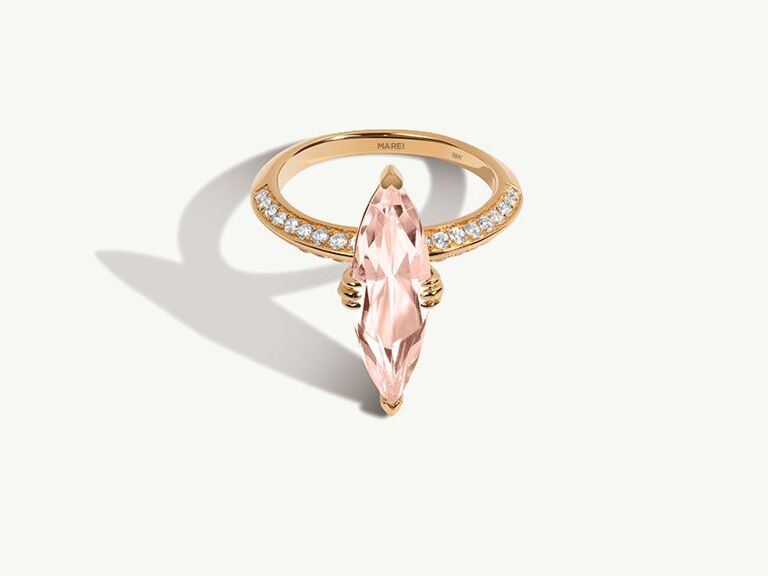 The perfect combo of delicate and dynamic , this marquise-cut morganite is totally on trend.
Angie Marei marquise-cut morganite and diamond engagement ring in 18K Yellow Gold, $4,000, DiaboliKill.com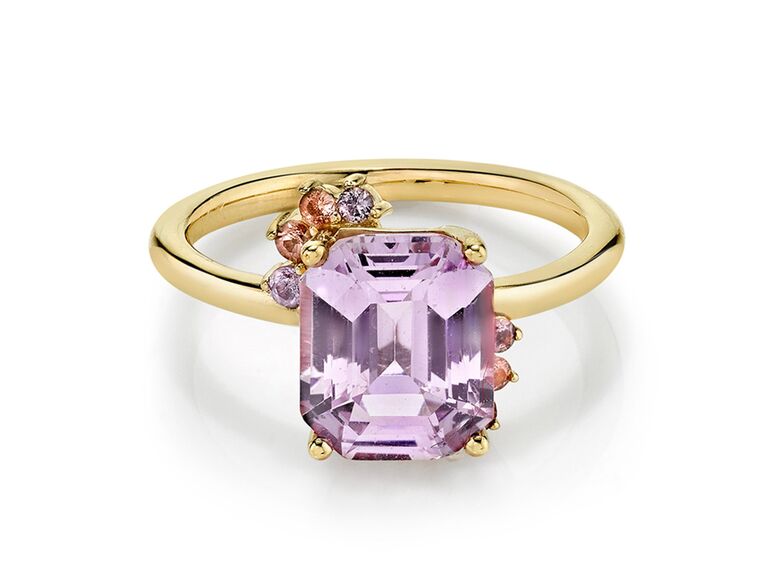 Channel your inner unicorn with a whimsical combo of a lavender sapphire plus a delicate spray of multicolor padparadscha sapphires.
Marrow Fine Jewelry lavender pink sapphire spray ring in 14K Yellow Gold, from $7,500, MarrowFine.com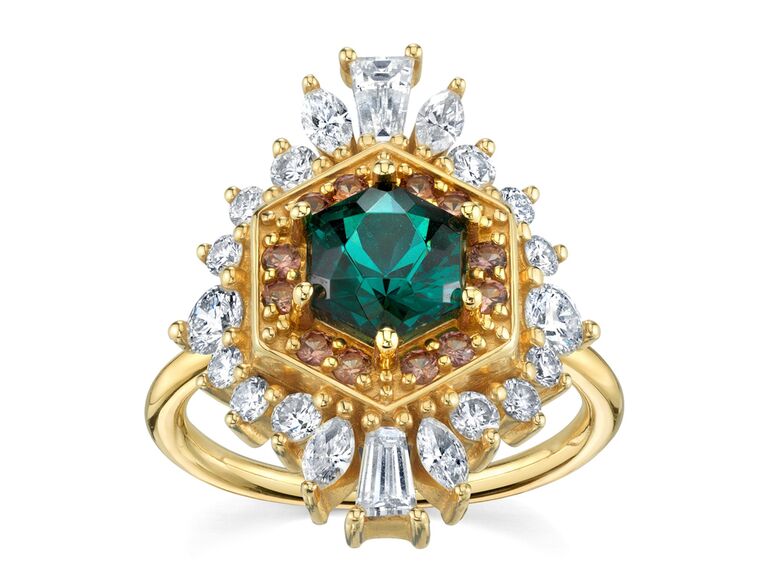 Art deco rings are all about geometric details, and this ring does not disappoint. A blue-green tourmaline center stone is surrounded by a spray of diamond baguettes, rounds and marquises, creating an ornate effect.
Marrow Fine Jewelry tourmaline hex ballerina ring in 14K Yellow Gold, from $8,500, MarrowFine.com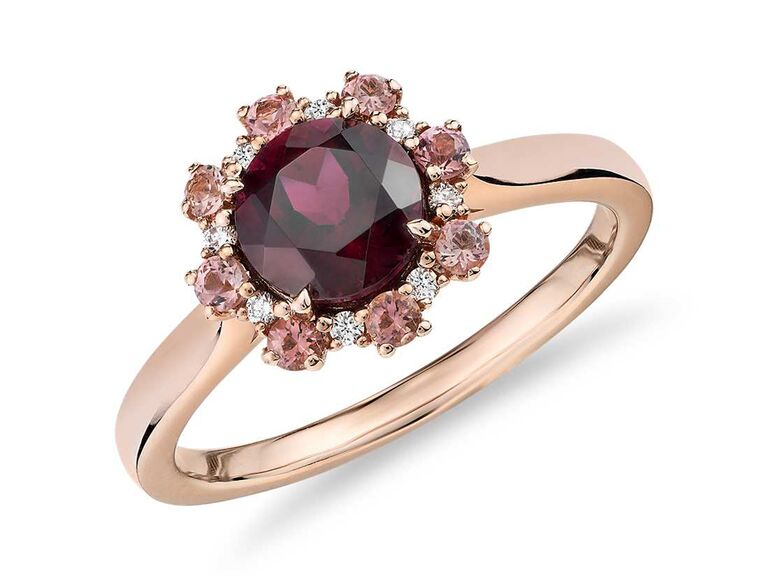 Similar to rubies, garnets are all about fire. This splashy, vintage-inspired ring is all about a bold red and pink combo.
Blue Nile garnet ring with pink tourmaline and diamond halo in 14k Rose Gold, $550, BlueNile.com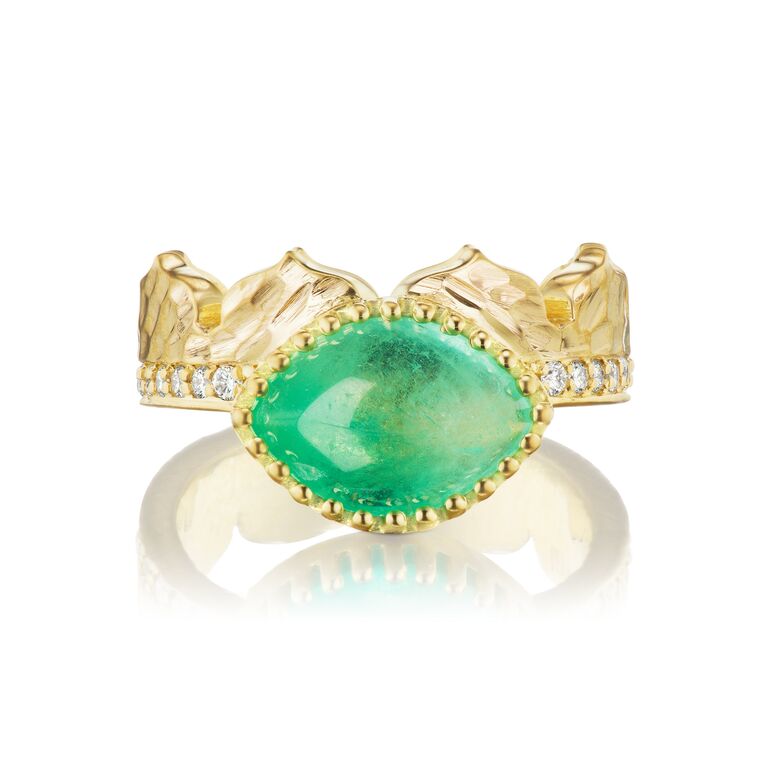 Inspired by an ancient crown, this bright emerald in an ornate yellow gold setting is fit for a queen.
Dana Bronfman X Muzo Emeralds east-west marquise agra crown ring in 18K Yellow Gold, $4,700, DanaBronfman.com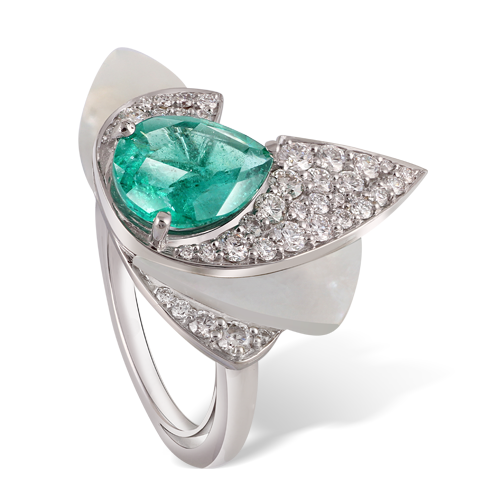 Part alternative engagement ring, part work of art, this unique piece combines a layered setting with an emerald center stone for an architectural effect.
Anaya mogra layered emerald ring in 18K White Gold, $5,076, Anaya.com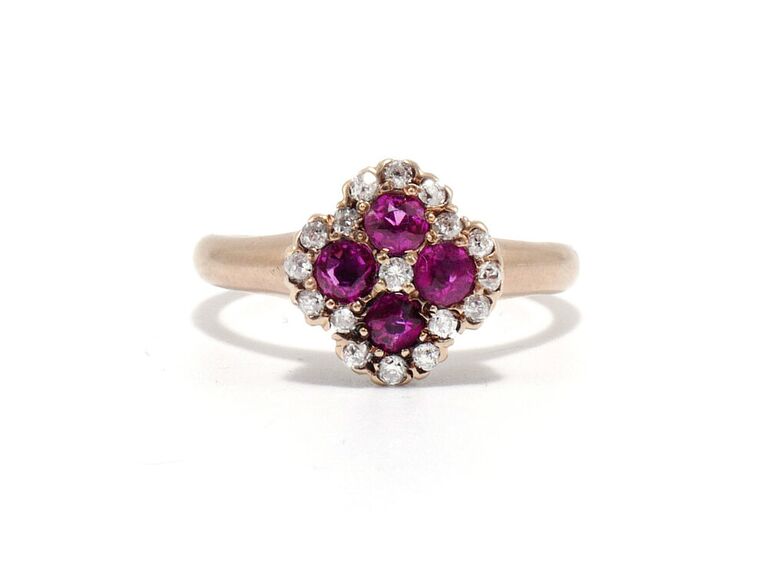 This vintage Edwardian ring is all about old world glamour. Four rubies plus a single cut diamond creates a gorgeous combo of color and sparkle.
Ashley Zhang rosemary ruby and diamond engagement ring, $1,150, AshleyZhangJewelry.com