Everything We Know About Margot Robbie's Ultra-Private Marriage to Tom Ackerley
It's true: this Barbie has a Ken IRL!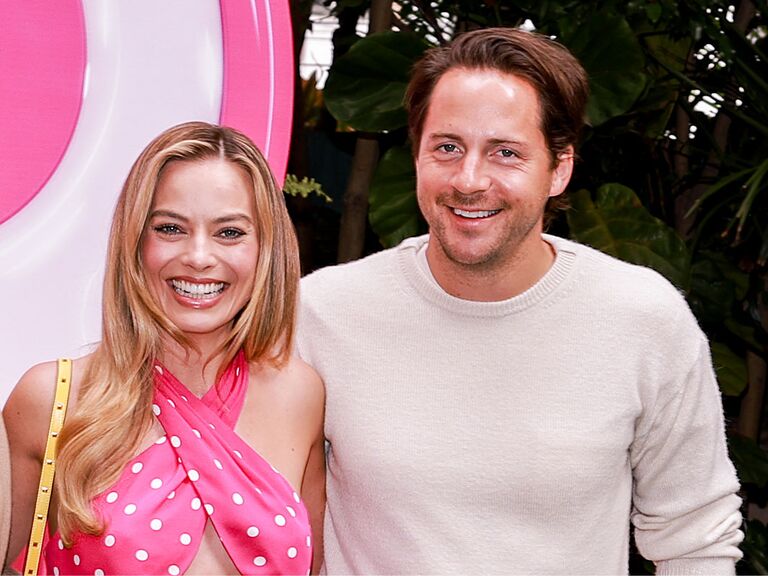 Photo: Matt Winkelmeyer | WireImage
Unless you've quite literally been living under a rock, you'll know that Margot Robbie and the crew of Barbie have *actually* taken over the entire world. Off the heels of the highly-anticipated film's success—including a record-breaking $1 billion made at the box office so far (Barbillion, if you will)—it's impossible to scroll through your phone or have a conversation without a Barbie quote or reference popping up. With so much hype surrounding the flick, there's also a renewed interest in the private life of its star-studded cast, especially Barbie herself. So, does Margot Robbie have a husband (read: Ken) in real life? The answer is yes!
Although the Aussie actress has a tendency to keep her relationship out of the spotlight, we do know that Margot Robbie is married to British producer Tom Ackerley. And, interestingly enough, he's worked alongside her on some of her most popular films. Here, we break down everything to know about Margot Robbie and her husband's ultra-private romance, including how they met and rare details from their secret wedding in 2016.
Does Margot Robbie have a husband? Yes! She's married to producer Tom Ackerley.
Margot Robbie and Tom Ackerley met on a film set in 2013 and began dating the following year.
In 2016, Tom Ackerley and Margot Robbie's wedding took place in her native Australia.
Margot Robbie was joined by her husband on the 2023 Barbie press tour, sparking curiosity about their private romance.
Who is Margot Robbie's Husband, Tom Ackerley?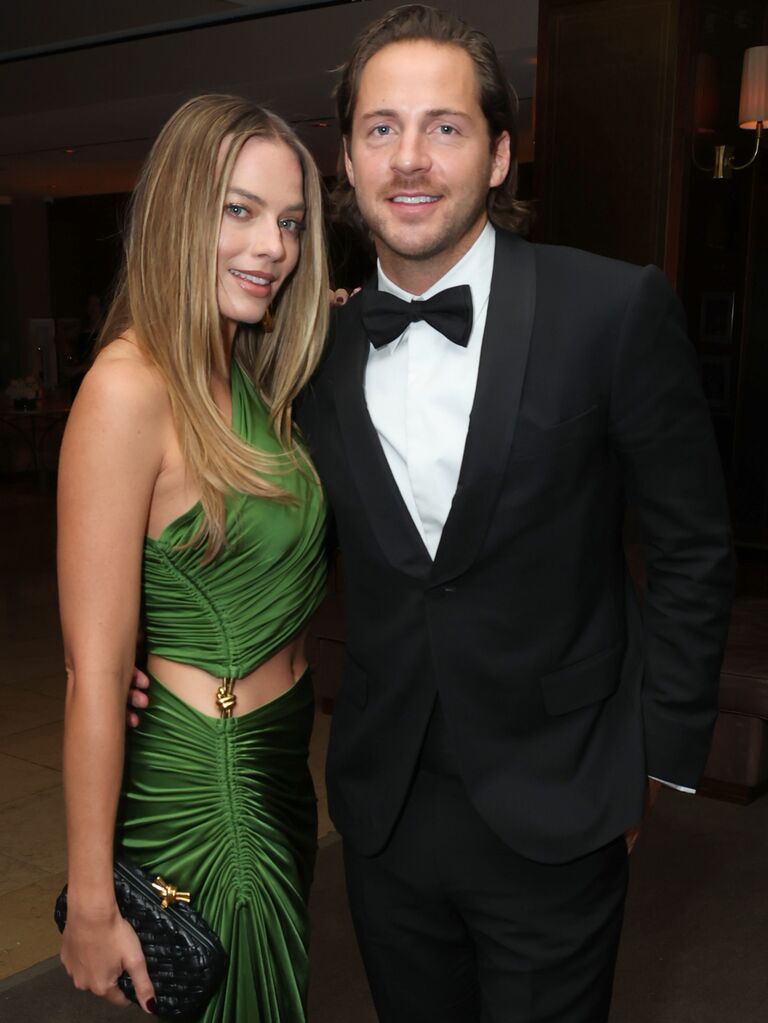 Margot Robbie is married to Tom Ackerley. The British filmmaker got his big break in the entertainment industry working as an extra for the first three Harry Potter films. After his short time as an actor, he enrolled in school at Godalming College in the U.K. before landing jobs behind the camera. He served as a floor runner and set production assistant before becoming an assistant director. He now works as a producer—in fact, he even produced I, Tonya and Barbie, two of the biggest films in his wife's career.
Margot Robbie and Tom Ackerley's Complete Relationship Timeline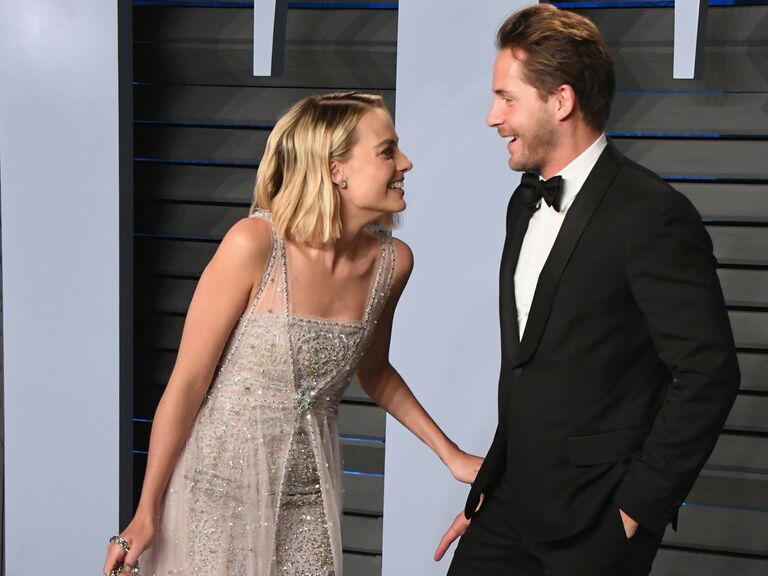 2013: Margot Robbie and Tom Ackerley Meet on a Film Set
How did Margot Robbie meet her husband? Given their careers, it'll come as no surprise that these two first crossed paths on the set of Suite Française in 2013, where Ackerley was working as an assistant director and Robbie was starring alongside Michelle Williams.
The actress reminisced on their first meeting in an interview with Vogue, saying she wasn't interested in starting up a romance—but she couldn't help but be drawn to "the best-looking guy in London."
2014: Margot Robbie and Tom Ackerley Begin Dating
The following year, Margot Robbie and Tom Ackerley quietly began dating. In a 2016 interview with Vogue, she looked back on the early stages of their romance, noting that she wasn't looking for commitment at the time. "I was the ultimate single gal," she said to the publication. "The idea of relationships made me want to vomit. And then this crept up on me. We were friends for so long. I was always in love with him, but I thought, 'Oh, he would never love me back. Don't make it weird, Margot. Don't be stupid and tell him that you like him.' And then it happened, and I was like, Of course, we're together. This makes so much sense, the way nothing has ever made sense before."
Not only was 2014 the year Margot Robbie and Tom Ackerley began dating, it was also when they launched their production company, LuckyChap Entertainment. Alongside their close friends and industry colleagues Sophia Kerr and Josey McNamara, the group co-founded the organization in a mission to support "female-focused film and television productions." The company has since gone on to produce blockbusters like I, Tona, Barbie, Birds of Prey and Promising Young Woman. In a 2020 interview with MovieMaker Magazine, Robbie said, "It's nice to be in business with people where I already know we're going to do life together anyway."
2016: Margot Robbie and Tom Ackerley Get Married in Australia
Margot Robbie's wedding to Tom Ackerley took place in December 2016—but other than the location, we don't know much else about the ultra-private nuptials. Since Robbie isn't on social media and Ackerley rarely posts, we haven't yet been blessed with any photos of the big day...not even on their anniversary. The only photo of Margot Robbie's wedding was a since-deleted snap shared on her now-defunct Instagram profile showing her kissing her husband with a ring on *that* left finger.
One fact we do know is that the wedding took place in Australia, which we break down in more detail below.
2017: Tom Ackerley and Margot Robbie Postpone Their Honeymoon for I, Tonya
Unfortunately for the newlyweds, Margot Robbie and Tom Ackerley's plans for a tropical honeymoon were put on pause because of their roles in the film I, Tonya, which she revealed in a 2017 interview with Extra. "We did this film instead of our honeymoon," Robbie told the outlet. "There were times we were sitting in a car parked in Atlanta freezing cold being like, 'We should be on a beach right now. We should be on a honeymoon. What are we doing?!' Following our dream."
Luckily, the spouses were able to take a trip to Tahiti once the film wrapped—but it didn't happen without a funny encounter! In a 2018 interview on The Ellen DeGeneres Show, Robbie recalled an awkward moment in which her husband wore extra-short shorts on the way to the gym…only to run into DeGeneres, her wife Portia de Rossi, and President Barack Obama. "I was like, 'You cannot wear those shorts! They're like… you know, I can see everything,'" Robbie remembered.
He wore them anyway and had to play it cool when they crossed paths with the fellow A-listers. "We then had to do this whole stretching class, but Tom meanwhile is trying to like, not reveal anything, and he's dying," Robbie laughed. "The gym instructor keeps saying to Tom, 'Tom, lunge! Lunge! You're not lunging!' and Tom's trying to lunge cross-legged."
2021: Margot Robbie Opens Up About Her Supportive Husband
Although Margot Robbie and her husband tend to prioritize their privacy, she did open up about him in a 2021 interview with the Daily Mirror, speaking about how he supports her in moments of self-doubt. "I'm always nervous to start any job. I have this complete crisis of faith and think, 'Oh my gosh, I'm not even good at acting and I can't do this,'" she shared. "Every time I do a movie, I turn to my husband and I'm like, 'I don't think I can do this'. He says something like, 'You do this every time. You'll be fine.'"
2023: Tom Ackerley Joins Margot Robbie on the Barbie Press Tour
In a rare move, Margot Robbie and her husband Tom Ackerley walked a handful of red carpets together during the global press tour for Barbie in 2023. The couple appeared alongside each other in Korea, Australia and Los Angeles. For the film's premiere, Robbie dressed in an homage to 1960s Barbie, wearing a strapless black gown with a tulle hem and shoulder-length black gloves. Her husband, meanwhile, looked like Ken in a sleek black tuxedo.
Tom Ackerley and Margot Robbie's Wedding Details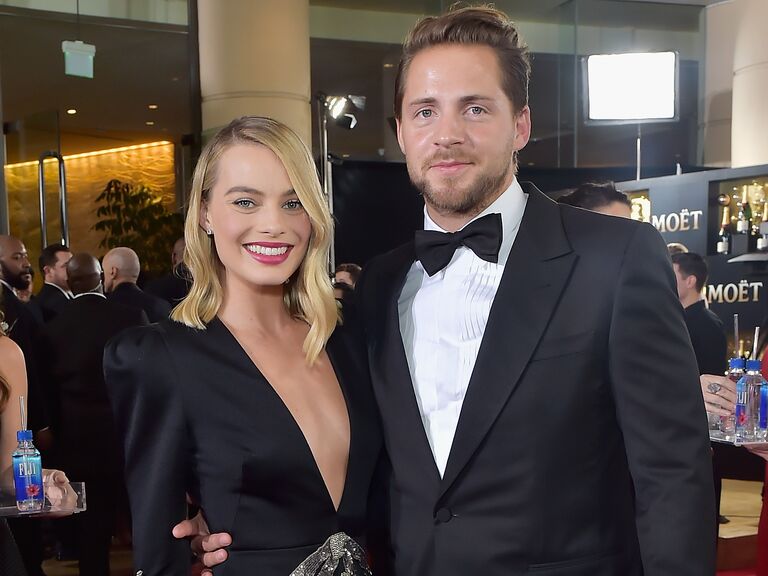 In 2018, Margot Robbie offered up a rare (and adorable!) tidbit about married life in an interview with NET-A-PORTER. "Being married is actually the most fun ever, life got way more fun somehow," she told the fashion retailer's blog. "I have a responsibility being someone's wife, I want to be better."
So, we know Margot Robbie loves being married—but what exactly happened on their wedding day? If you, like us, are desperate to know more about Margot Robbie's wedding, we're sad to say that details from the celebration are few and far between. According to People, Margot Robbie and Tom Ackerley got married in Coorabell, a bucolic farming town in Australia's Byron Bay, in December 2016. Ahead of the vow swap, the bride-to-be was photographed arriving at the destination wearing a shirt that said "Say 'I Do' Down Under," which tipped off fans that a wedding was even happening at all.
The outlet reported that Margot Robbie's wedding dress was a cream-colored gown with an off-the-shoulder neckline, a lace ruffle across the bust, and a bone-colored ribbon cinched at the waist. She reportedly wore a simple gold pendant necklace while her hair was pulled back into a loose French braid.
A few days after the private wedding, Margot Robbie shared a photo with her husband on her since-deleted Instagram page. The snap showed the couple kissing with a clear shot of her left ring finger, which was sporting a pear-shaped diamond engagement ring with a thin diamond band next to it.