Everything You Need for Planning the Ultimate Barbie Bachelorette
Come on Barbie, let's go bach party!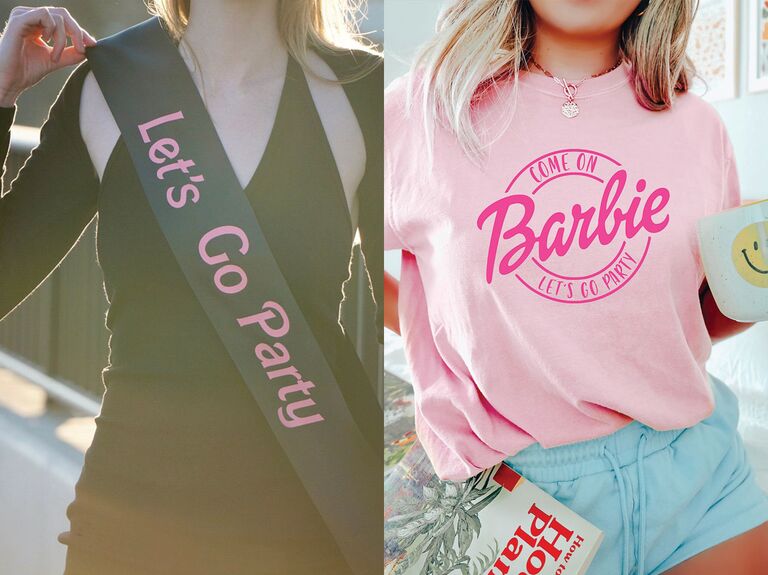 Photos: VonHartVinyl, YourSistersRoom
We have included third party products to help you navigate and enjoy life's biggest moments. Purchases made through links on this page may earn us a commission.
With the upcoming Barbie movie, many brides-to-be are feeling nostalgic for their doll-playing days. After all, the movie poster said it best: "She's everything. He's just Ken." Thankfully, Barbie spans across ages and generations. So if you're considering planning a Barbie bachelorette, you'll wanna totally immerse yourself into her world. This trendy bachelorette party theme will have you feeling like Greta Gerwig directed your entire weekend. So grab your party-planning checklist, and let's take a look at some of our favorite party supplies inspired by this fashion doll.
In this story:
Barbie Bachelorette Shirts
Barbie said it best herself, "Friendship is the true treasure." You and your crew can dazzle during your bachelorette with these matching tees that just scream Barbiecore.
Come On Barbie, Let's Bach Party Shirt
This bachelorette party shirt is as versatile as Barbie herself, coming in a variety of colors in either tee or tank form. Match with your wedding party in Barbie pink font that says you're ready for that "life in plastic."
Malibu Barbie Tank Top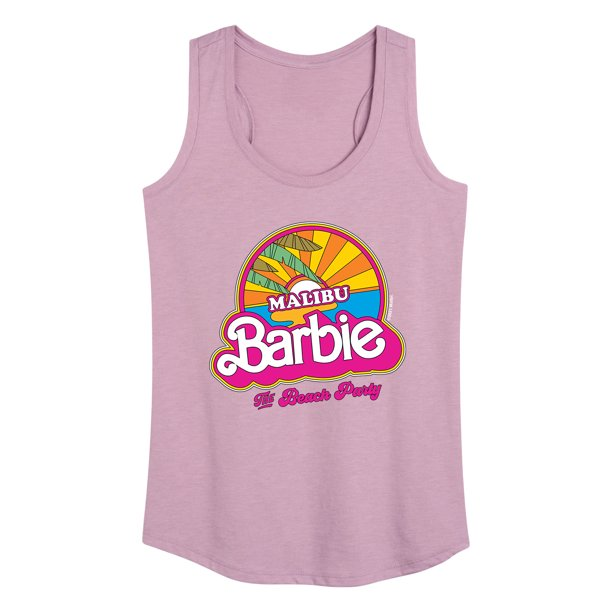 Make it a Malibu Barbie bachelorette beach party, no matter where you are. This tank is perfect for lounging by the pool or the sea, making you feel like you're in your own Barbie dream vacation house during your bach weekend.
Barbie Bride and Bridesmaids Tees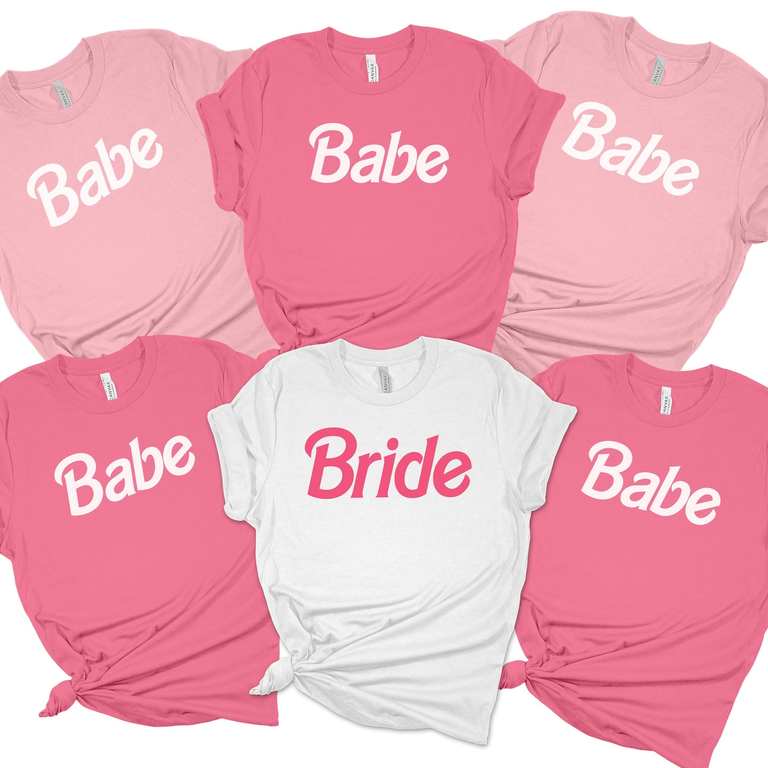 These tees are anything but basic, with the choice between "bride" and "babe" in the classic, bubbly Barbie font style. Show the world that you're a Barbie bride who's ready to live it up with her favorite gals at her Barbie-theme bachelorette.
"Think Pink" Getting Married T-Shirt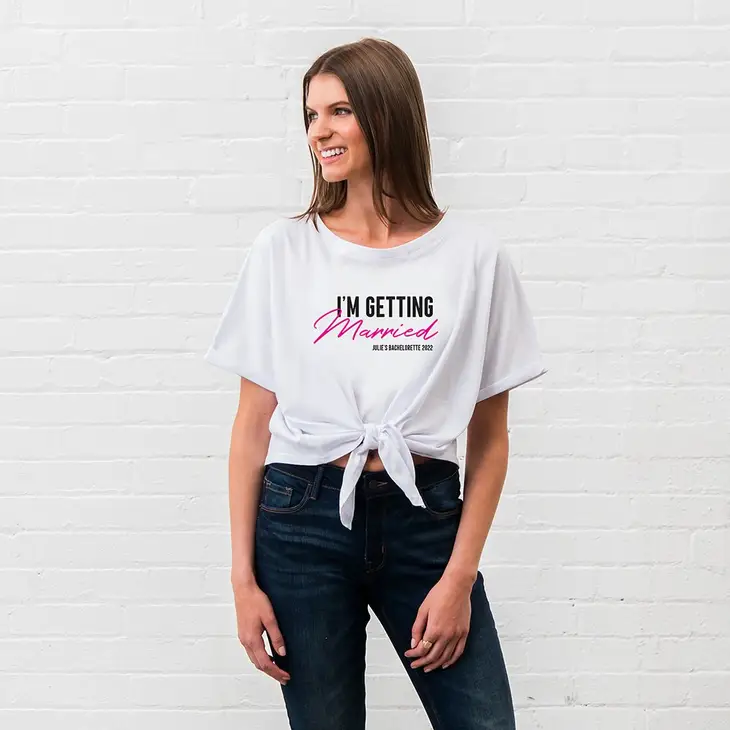 Real Barbie girls will remember her "Think Pink" song and inevitably have it stuck in their heads when they see this fabulous pink tie-up tee. Plus, there are other fun options to choose from for your bridesmaids to wear for your Barbie-themed bachelorette party.
Fashionable Barbie Silhouette Shirt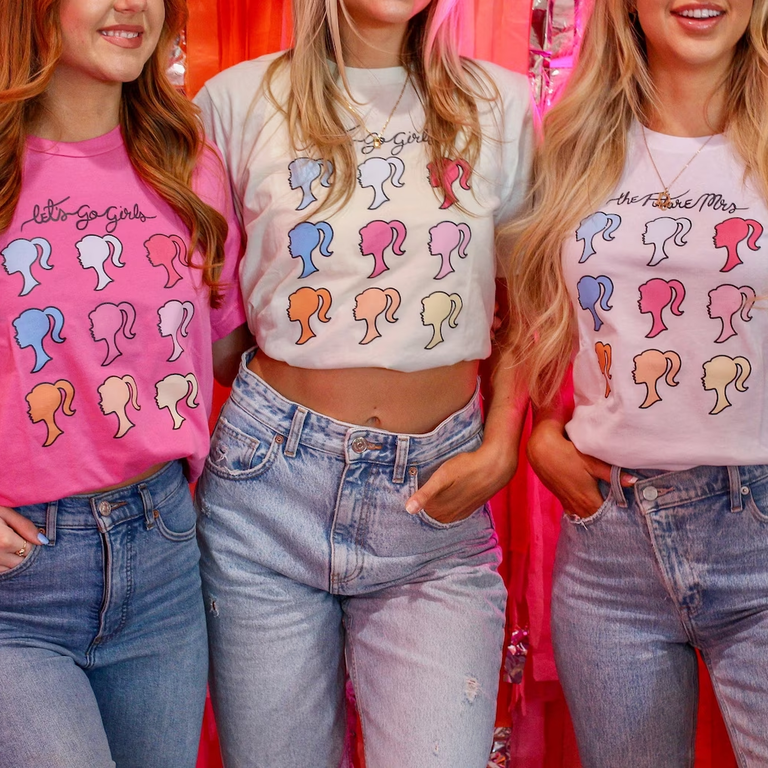 Give it a retro-Barbie feel with these silhouette t-shirts. And for a fun twist, let each of your bridesmaids choose their own favorite color to wear.
Barbie Bachelorette Cake Decorations
You can always go the classic Barbie cake route for some nostalgia, or you can choose one of these cake and cupcake toppers for your bachelorette treats. Other fun ideas include incorporating Barbie pink and beachy decorations for a Malibu theme.
Bling and Barbie Cake Toppers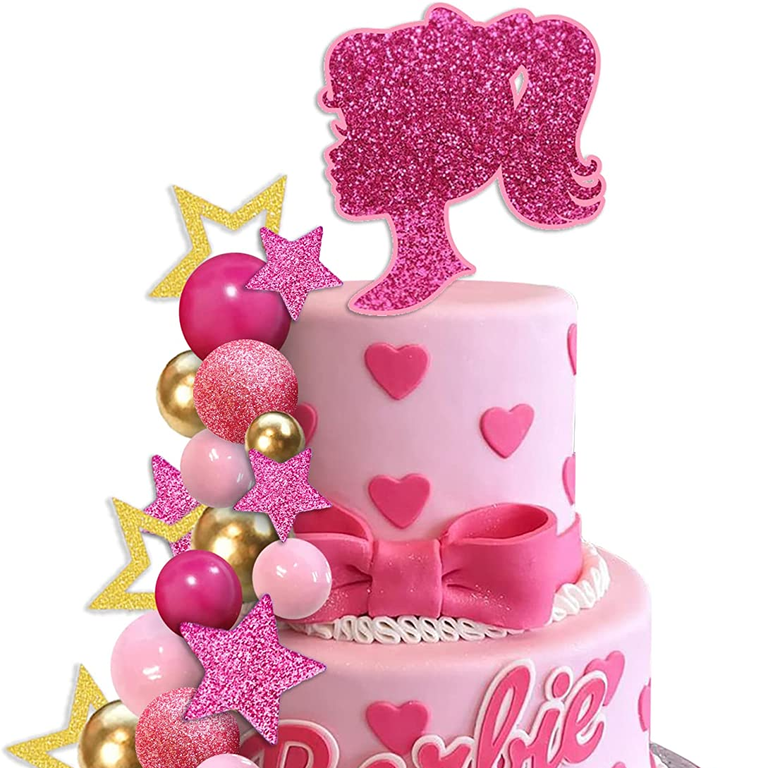 Sure, you're an adult now, but who says big girls can't have fun, too? This sparkly pink topper will bring out the inner child in you while also adding a bit of flair to any bachelorette Barbie cake.
Barbie Vibes Bride Squad Cake Decorations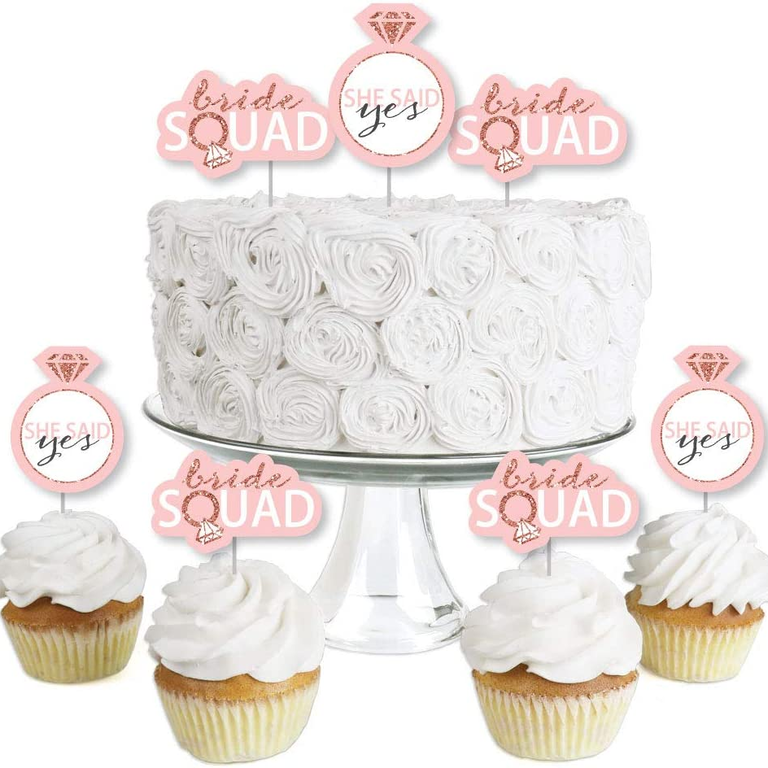 These cake toppers give off major Barbie vibes while still putting focus on the big event: your upcoming wedding. Pro tip: These decorations are also perfect for cupcakes, too.
Barbie Bride Sticks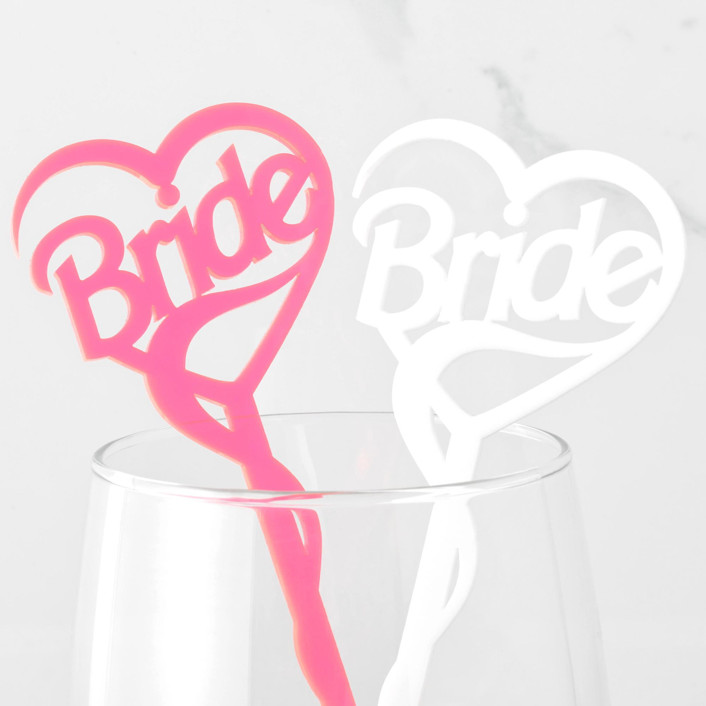 The great thing about these Barbie-style "bride" sticks? You can use them as cocktail stirrers and a unique cake topper. And they come in both pink and white.
Personalized Barbie Font Cake Topper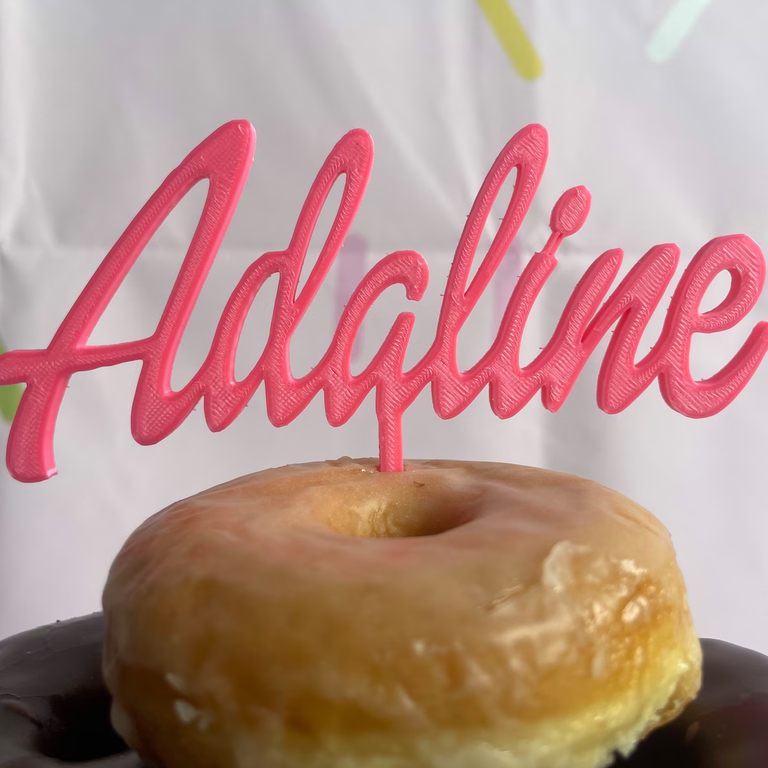 If you're looking for something a bit more customized, this cake topper lets you choose a name or phrase in Barbie's signature font and color. Consider using your future new last name for this one.
Barbie Bachelorette Party Decorations
You're just a Barbie girl, living in a Barbie world… so you need the Barbie bachelorette decor to match. These Barbie bachelorette party decorations are perfect for making you feel like Ryan Gosling's Ken will show up at any moment. (Hey, a Barbie girl can dream, right?)
Festive Pink Barbie Balloons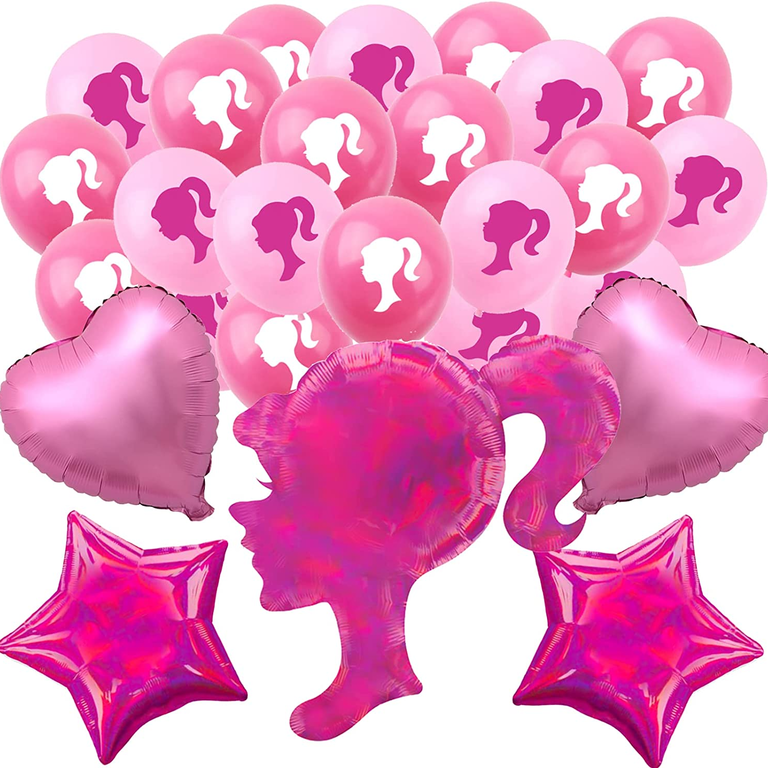 "I can be your fantasy. I can tell…" you're ready to party. These festive balloons will truly kick off your bach party weekend and let the girls know this isn't your typical Barbie party.
Barbie Pink Balloon Arch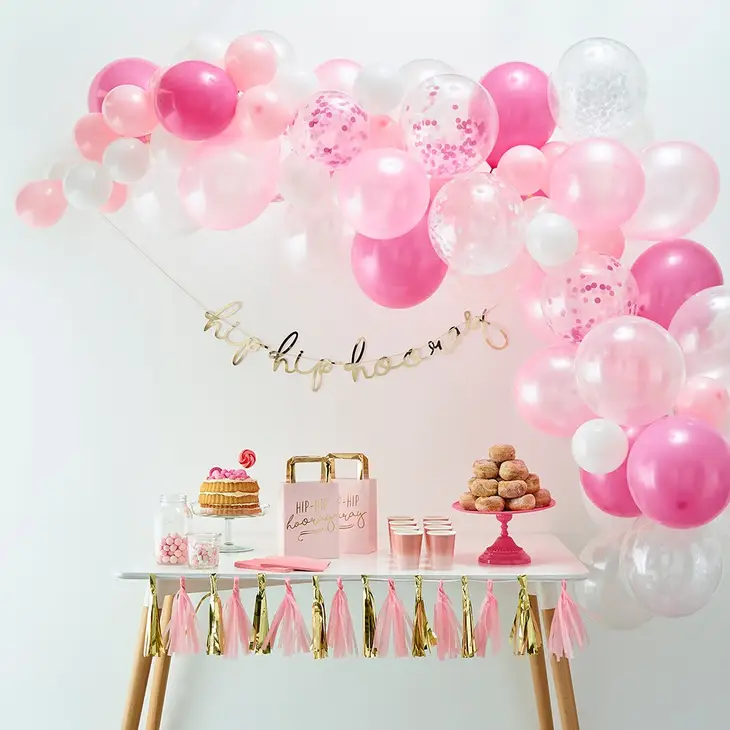 "Wake up and see the sparkle," as your favorite doll says. Create the perfect Barbie backdrop or photo area with this pretty-in-pink balloon arch.
"Color Magic" Barbie Bouquet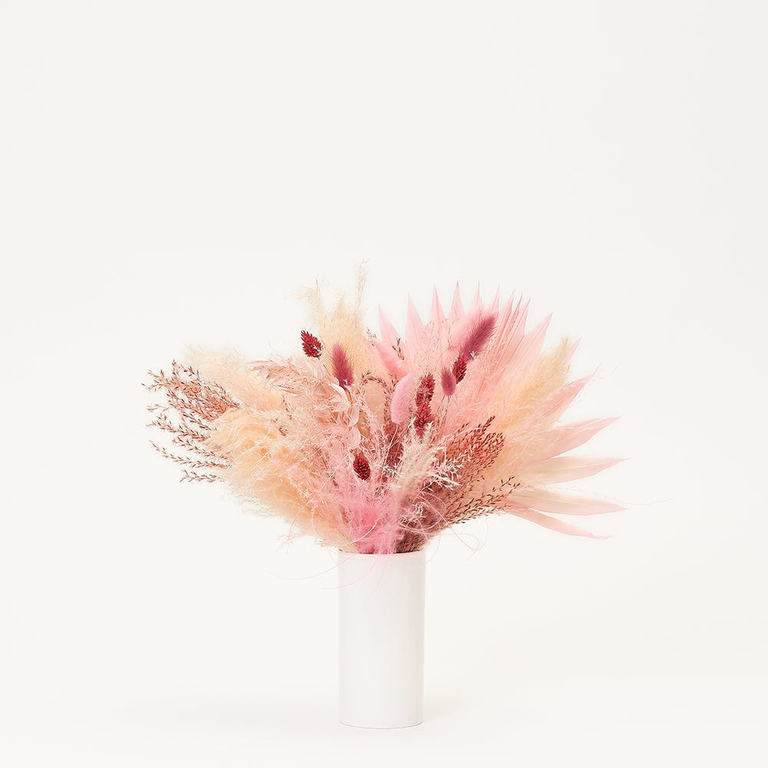 No wedding event is complete without some flowers, and these pinks will perfectly match your other Barbie decor. Plus, it'll inject some "color magic," just like the vintage Barbie herself.
Barbie's "Beach House" Fringe Decor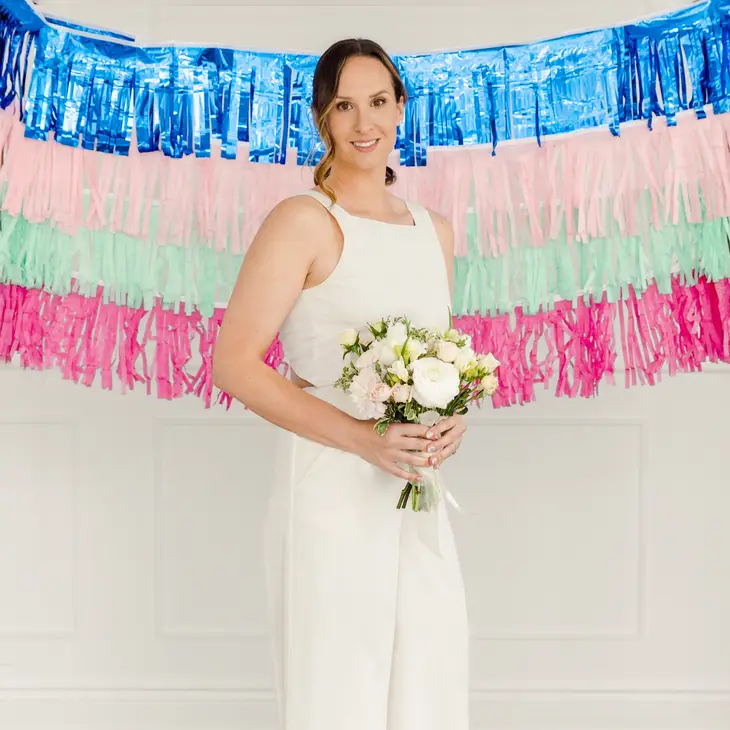 Barbie's beach house was full of fun, tropical colors, meaning your bachelorette party should be, too. After all, "Imagination, life is your creation."
Malibu Beach Table Runner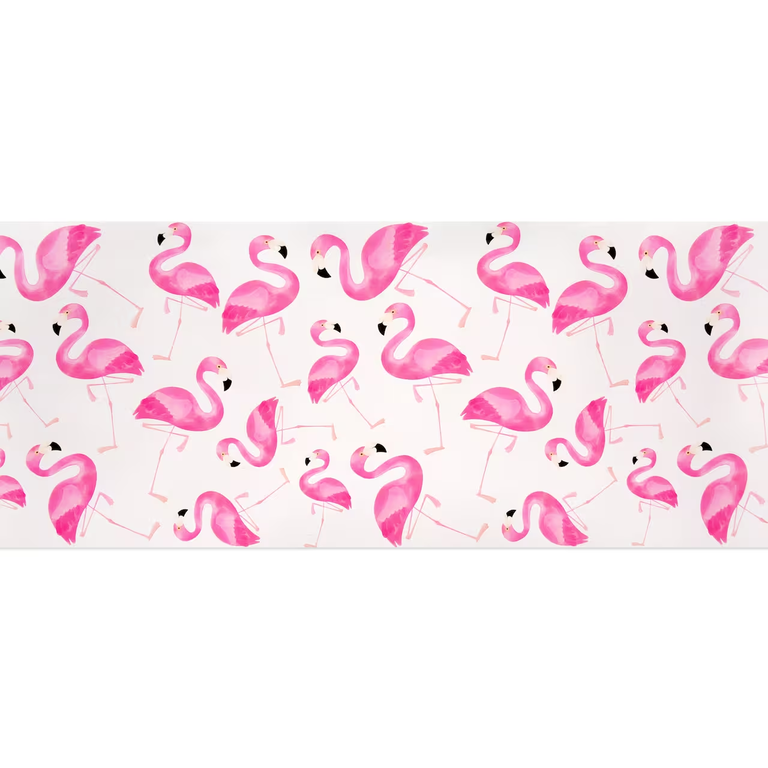 Who else remembers the Flamingo Barbie, part of the Birds of Paradise collection? Well, this table runner is a subtle nod while also keeping with the Malibu/beachy theme perfect for your event.
Barbie Bachelorette Welcome Bag Accessories
Say "Hiya, Barbie" to each of your bridesmaids with a welcome bag that is truly fantastic. Plus, these party favors will help get everyone in the Barbie mindset for your party.
Customizable Let's Bach Party Totes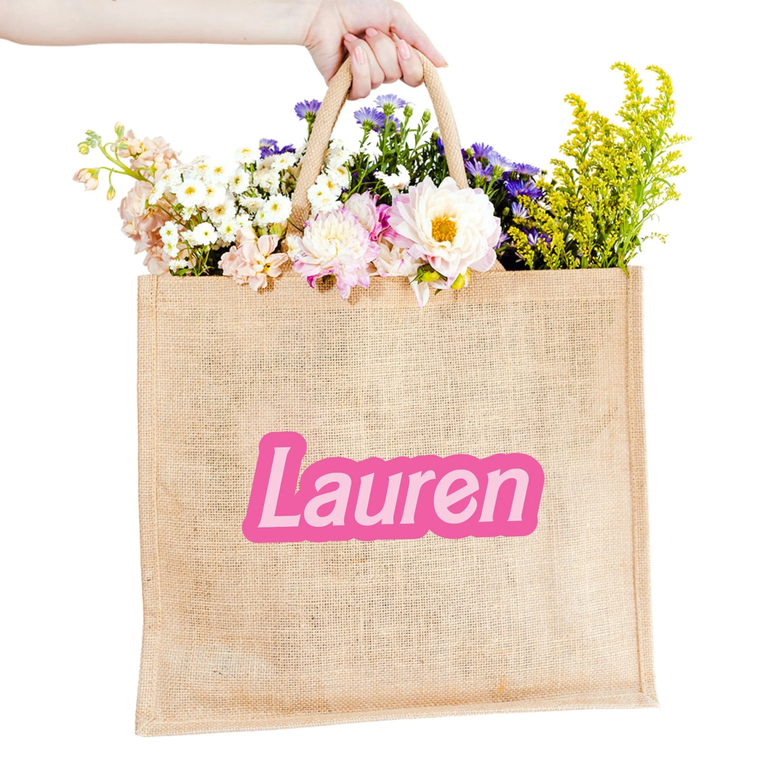 While we love the idea of a Barbie fanny pack a la Margot Robbie, this tote is slightly more practical for your weekend due to its size. This carryall is one your bridesmaids will want to use well after the bachelorette party since it's customizable with their names and in the quintessential Barbie typeface. It's perfect for tons of goodies and "thank you" gifts.
Superstar Barbie Silky Robe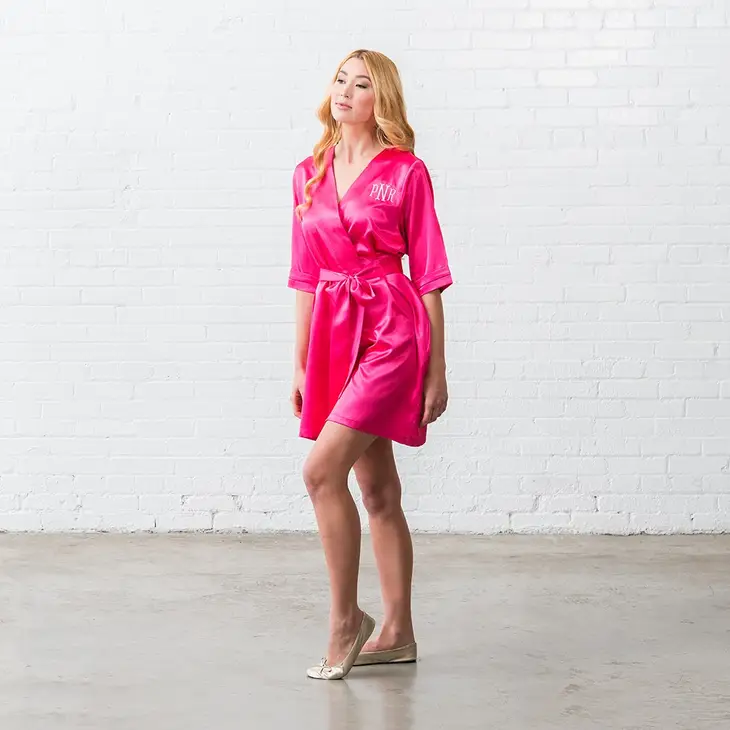 Live in luxury like Superstar Barbie with these pink, silky robes. You can even personalize them with each of your wedding party's initials or names.
"See the Sparkle" Custom Bridesmaid Bracelet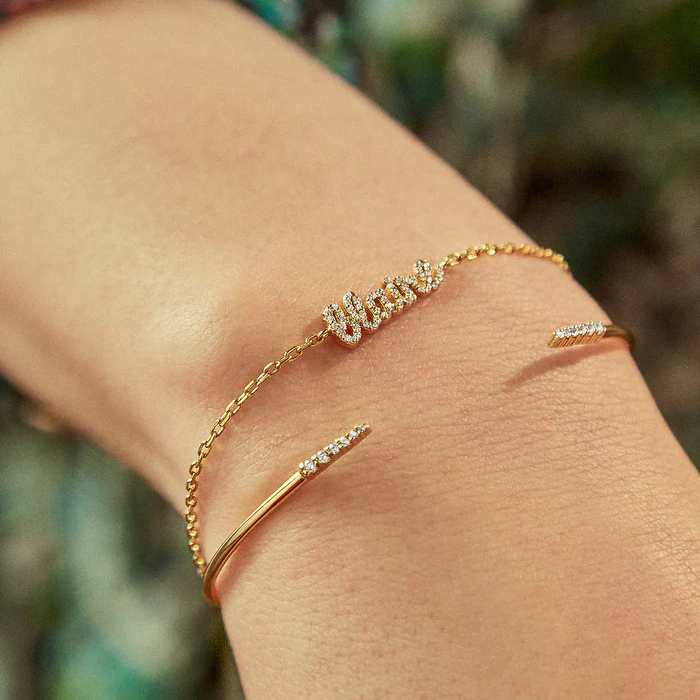 This is one gift your wedding party will love, with its fun Barbie font that is still perfect for special occasions or everyday wear. "See the sparkle" with this gold bracelet, and say thanks to your besties for standing beside you on your big day.
Mod Barbie Sunglasses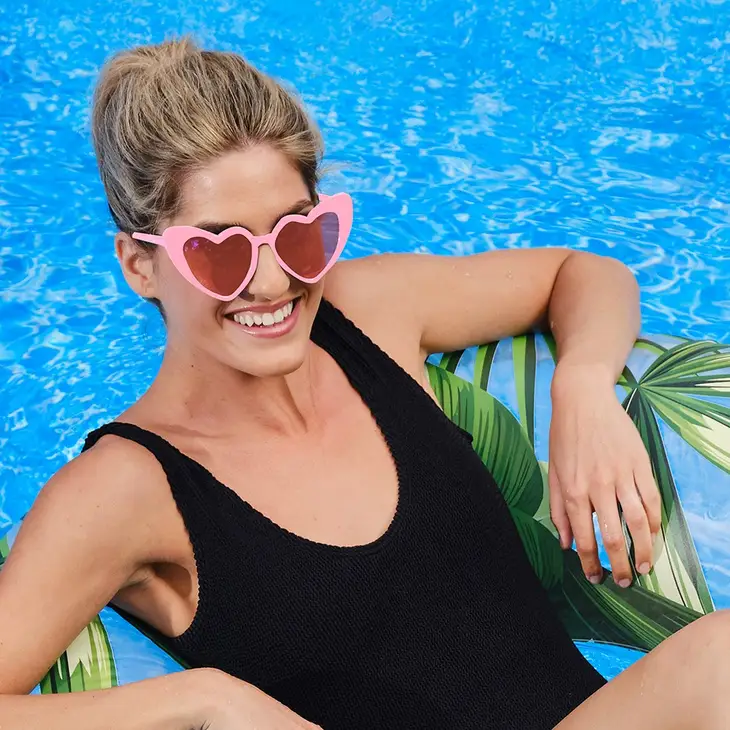 If these sunglasses don't simply scream Barbie, then what does? Lounge in your best Barbie-inspired swimwear to complete the look.
Custom M&M Favor Tubes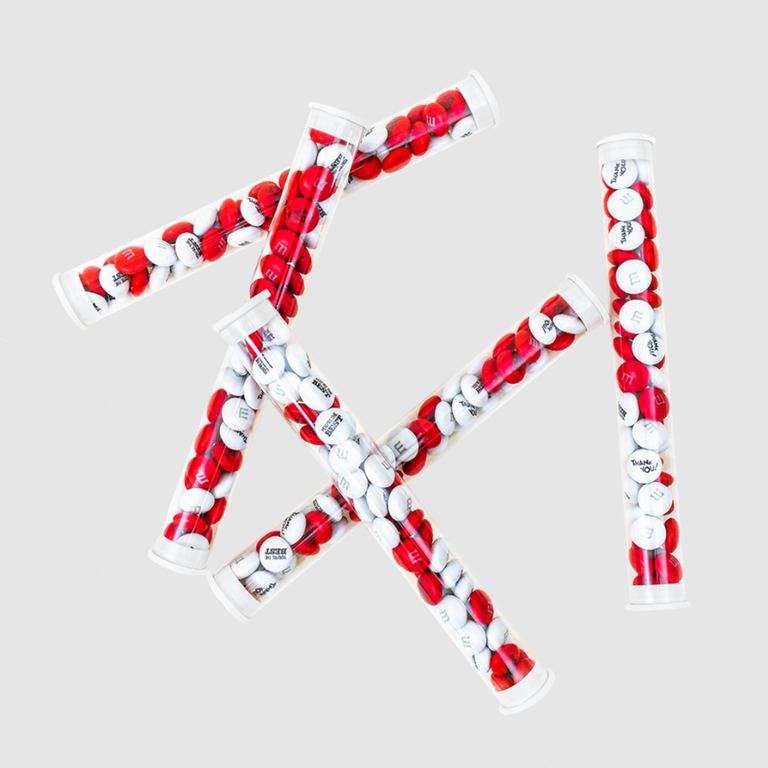 Pack a little sweetness in your welcome bags that can be customized with Barbie's name, photo, and/or colors. You'll feel like you just stepped out of Barbie's candy shop with this Barbie bachelorette party idea.
"Barbie Hair, Don't Care" Scrunchies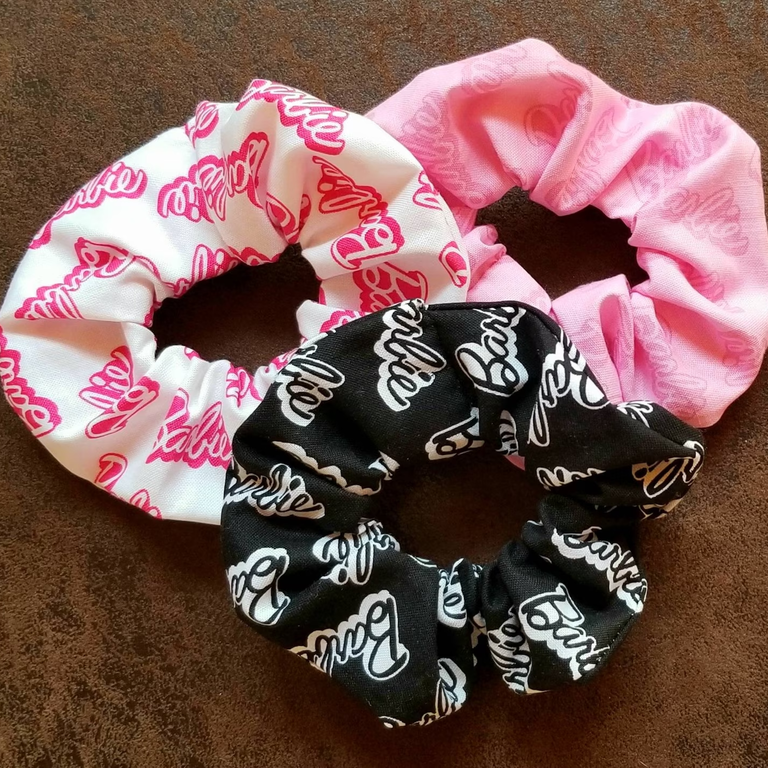 When it's "Barbie hair, don't care"-o'clock, these scrunchies will come in handy. And the very first Barbie had the classic ponytail updo, so you can recreate the look yourselves.
Additional Barbie Bachelorette Supplies
Before you send out your invites, do you need more Barbie-themed goodies and ideas? We're here to provide. Here are some other truly awesome party supplies that'll have you "living the dream."
Malibu Barbie's Dream Pool Float Set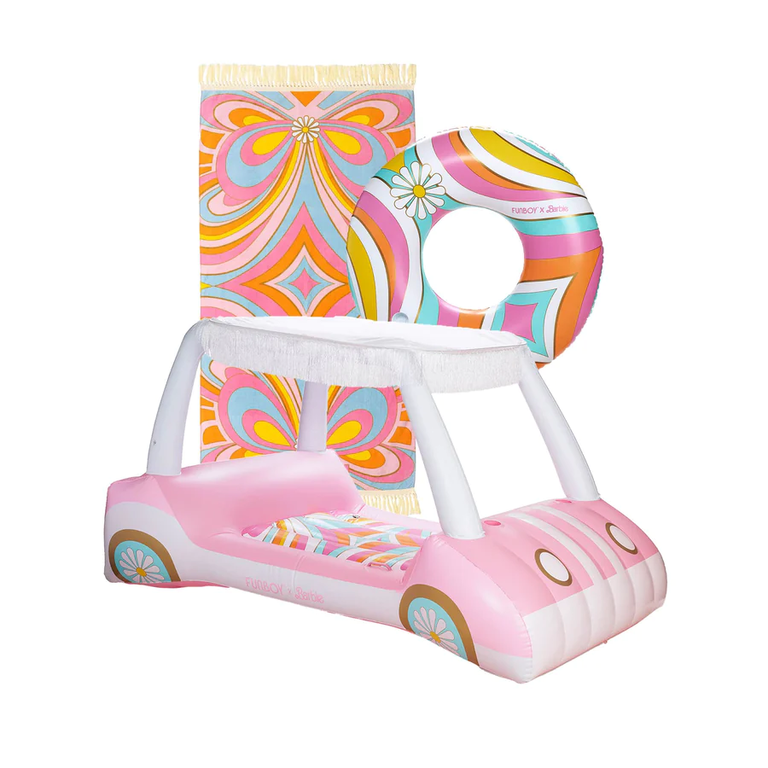 This pool float set celebrates 50 years of Malibu Barbie, but it's also perfect for celebrating your bachelorette weekend. You'll feel totally retro and relaxed at the pool with these floats.
Barbie Girl Bachelorette Sashes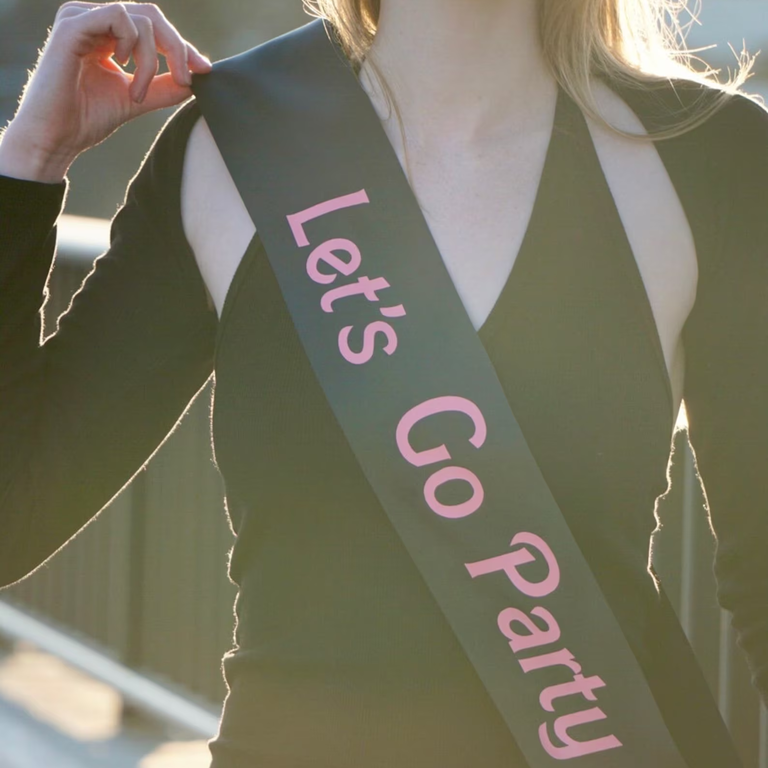 Sashay into your bachelorette party with these sashes. "Come on, Barbie. Let's go party," in either black or white with the classic pink script.
Personalized Bach Party Can Cooler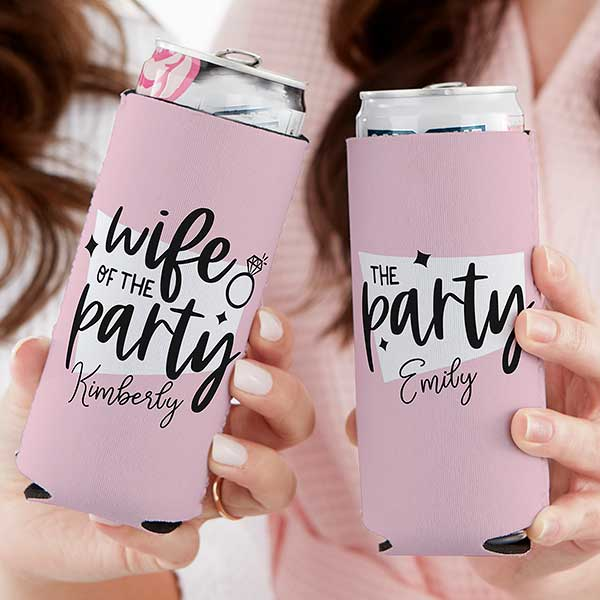 Let everyone know who the "wife of the party" and "the party" are with these pastel can coolers. Barbie herself would love the sparkle and bling, and you can personalize these for your bridesmaids.
Retro Barbie Stemless Wine Glass
For the Barbie bride and babes by her side, these stemless wine glasses give that vintage feel. And this is one party favor your guests will be using for a long time after the festivities.
"It's Fantastic" Bachelorette Game Bundle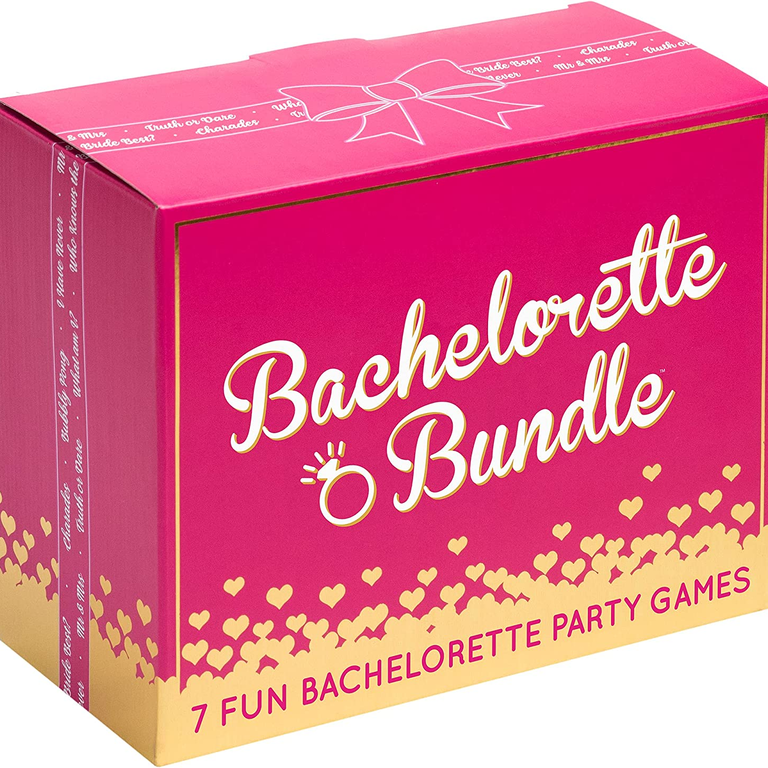 You might not be playing with your Barbies at your bachelorette party, but you'll definitely want to play this game. This bundle comes with all the best party quizzes and more so your wedding party can truly bond.