This Trendy Bride Wears Barbiecore Outfits—And She's Everything In Them.
Hi, Barbie! Check out these aesthetic pink outfits for your wedding events.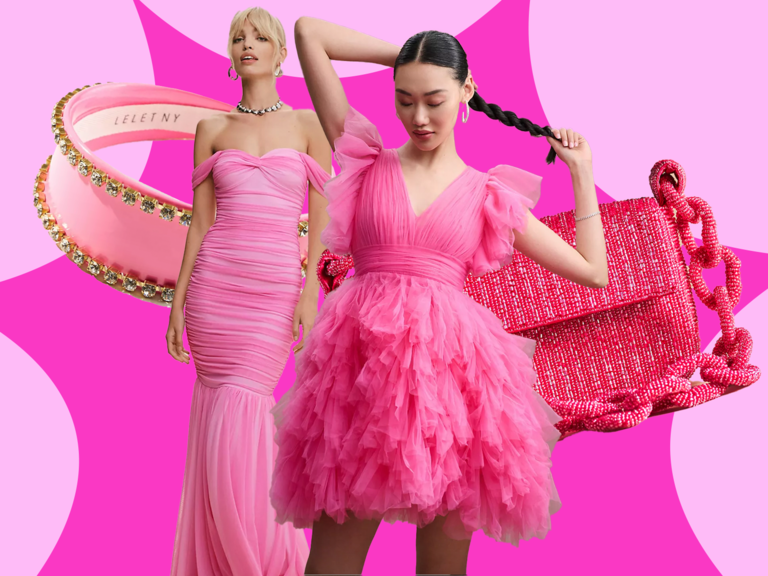 Photo: Anthropologie,Design: Tiana Crispino
We have included third party products to help you navigate and enjoy life's biggest moments. Purchases made through links on this page may earn us a commission.
Barbie has been an OG fashion icon for generations, and the highly anticipated release of Greta Gerwig's Barbie movie has brought Barbiecore outfits back into the spotlight. And it seems like the whole world has Barbie fever. From celebs like Hailey Bieber, Lizzo, Megan Fox, Jennifer Lopez and Julia Roberts who have stepped out in chic hot pink hits to the everyday fashionista looking for asesthetic pink clothes to Margot Robbie, the film's star, who has been dressing in recreations of Barbie's most iconic outfits, from "Enchanted Evening" Barbie to "Totally Hair Barbie" to the red carpet premieres and press events.
So, whether you're a bride-to-be, bridesmaid or wedding guest looking to infuse some Barbiecore fashion into your wedding look, you're in luck! From glamorous hot pink Barbiecore dresses and sexy two-pieces to statement-making accessories, here are some Barbiecore outfits to inspire your wedding wardrobe that you can shop right now.
What is Barbiecore?
Barbiecore is a fashion trend that pays homage to Mattel's infamous Barbie Doll style, encouraging others to wear fun, flirty and most importantly, vibrant pink elements (think: glittery embellishments, flirty fringe and extravagant feathers). Whatever the occasion, you can incorporate some Barbie style into your wedding events with these fabulous Barbiecore outfit ideas. Don't be afraid to channel your inner Barbie and embrace your femininity, playfulness, and signature style.
10 Barbiecore Outfits for Every Wedding Moment
Now that you know what the Barbiecore trend is, here comes the fun part: choosing your dream bridal pieces. These Barbiecore hot pink outfits are guaranteed to spruce up your bridal attire. Whether you're searching for a flirty style for your bachelorette or a whimsical number for your rehearsal dinner, we've pulled dresses, skirts, blazer sets and much more—just for you. Let's go party!
1. This Barbie is Taking Engagement Pictures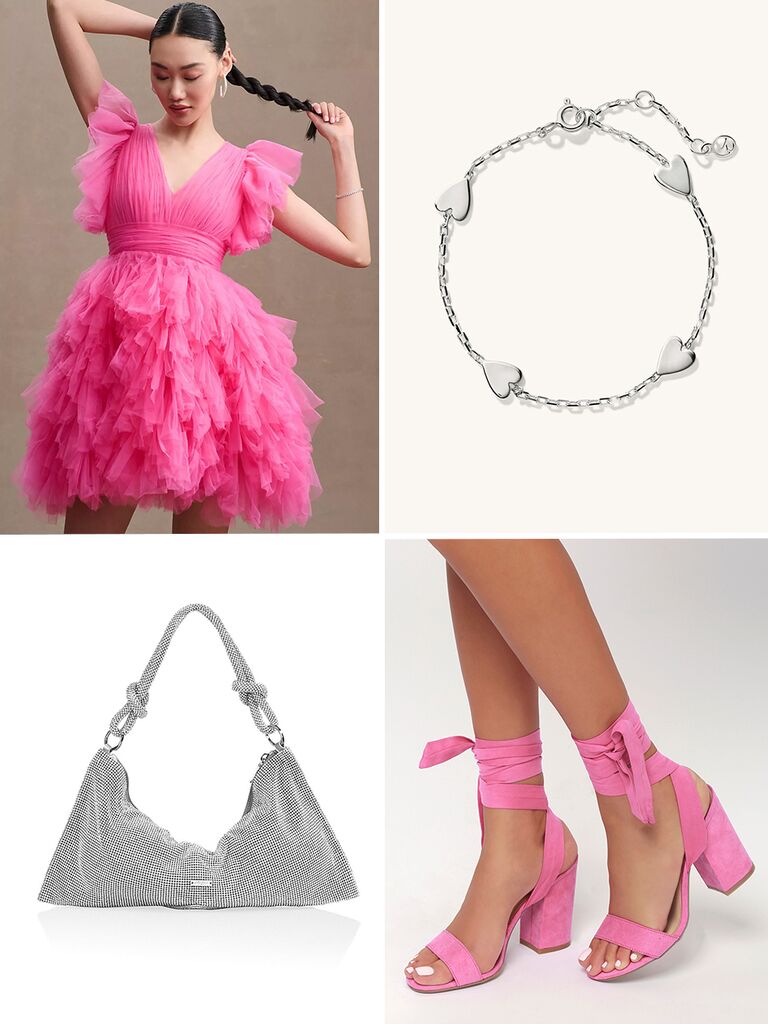 If white isn't for your engagement photos, go for a Barbiecore dress with this fun and flirty all-over tulle mini. Pair them with these lace-up pink heels for less than $45 at Lulus. Then complete the look with a sweet silver heart bracelet from Mejuri and a Cult Gaia purse. Talk about being ready for your close-up.
2. This Barbie is a Wedding Guest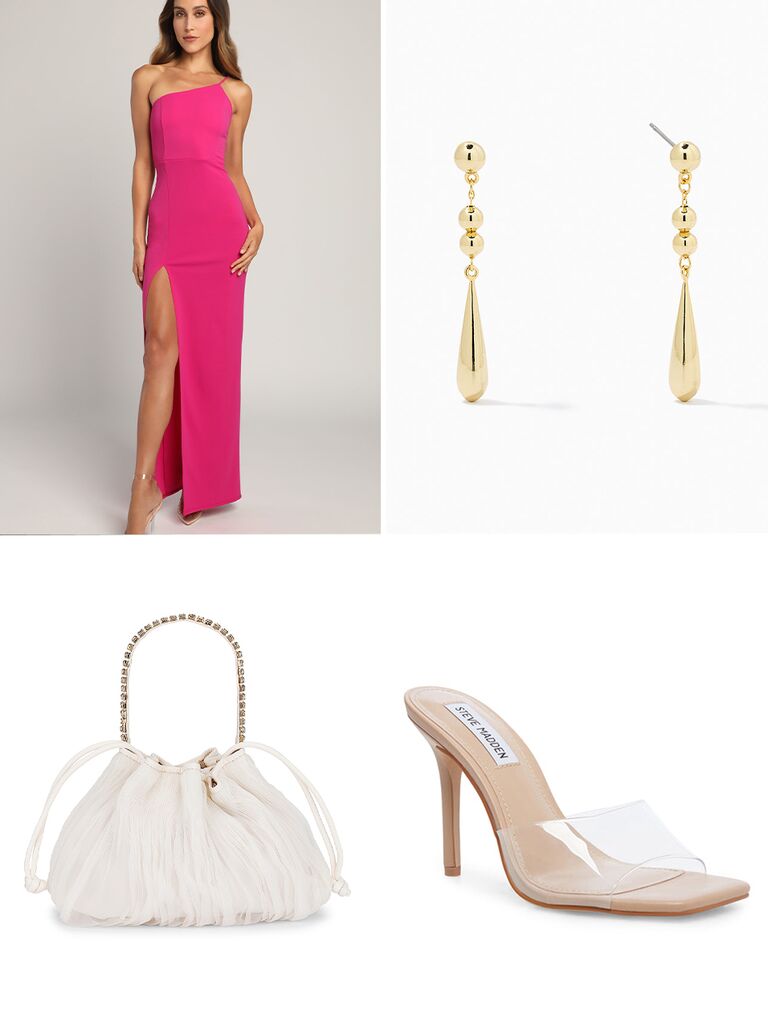 Looking to make a Barbie fashion statement as a wedding guest? This Lulus dress looks full-on designer without breaking the bank (Psst: This is also a great option if you're looking for Barbie pink bridesmaid dresses.) Keep the accessories simple and let the dress pack the punch with drop earrings from Uncommon James and trendy clear heels. Oh, and don't forget to grab your Loeffler Randall clutch before you walk out the door.
3. This Barbie is Going to a Bridal Shower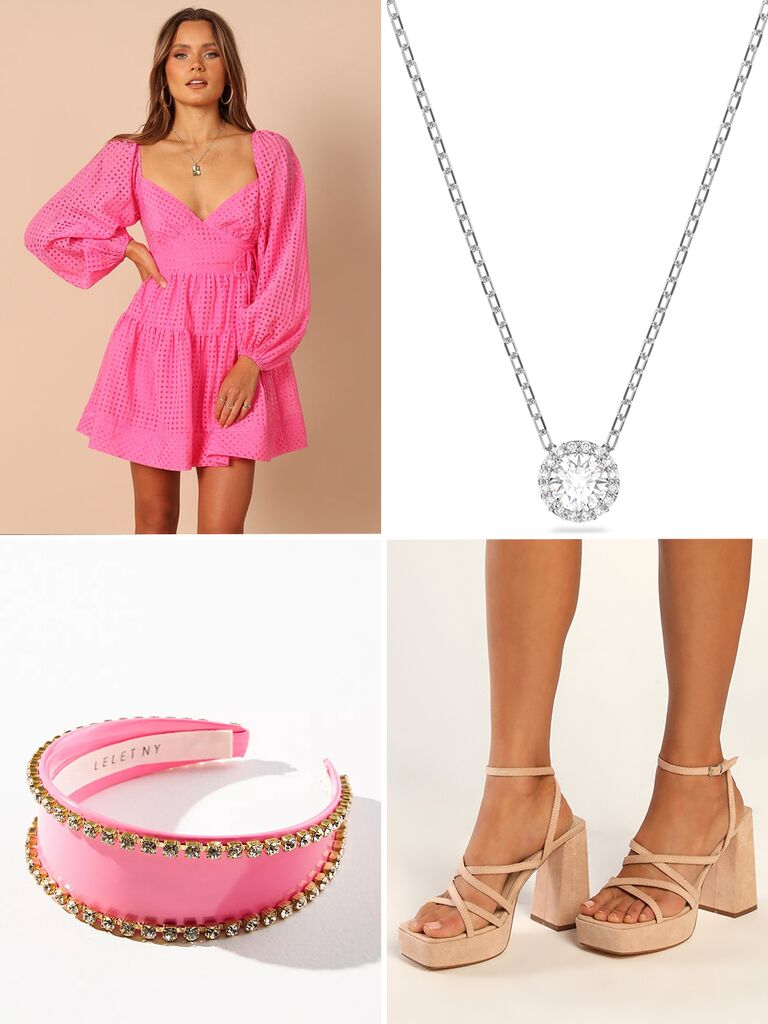 A dress this cute is a solid choice for a bridal shower, whether you're a guest or a bride looking to embrace Barbie style. This hot pink Lelet NY headband is adorable, and can easily be styled with a simple sparkly necklace, like the one above from Swarovski. I'm also obsessed with platform heels, and this nude pair lets your dress shine while still being trendy.
4. This Barbie is Headed to a Bachelorette Night Out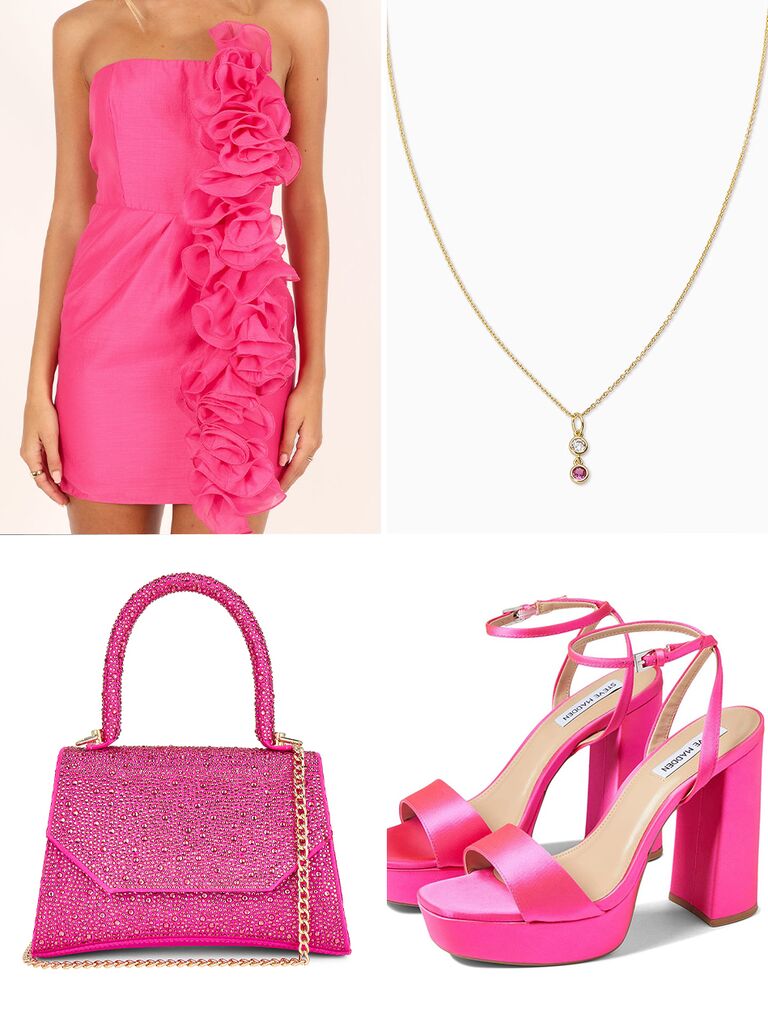 Picture it now: a Barbie-themed bachelorette party. With this strapless mini from Petal and Pup paired with these sexy Steve Madden platforms, you'll be hot (pink) and ready for a bachelorette night out on the town. What more could you ask for? Oh yeah, a totally Barbie aesthetic purse and a dainty necklace to top it off.
5. This Barbie is Going to a Rehearsal Dinner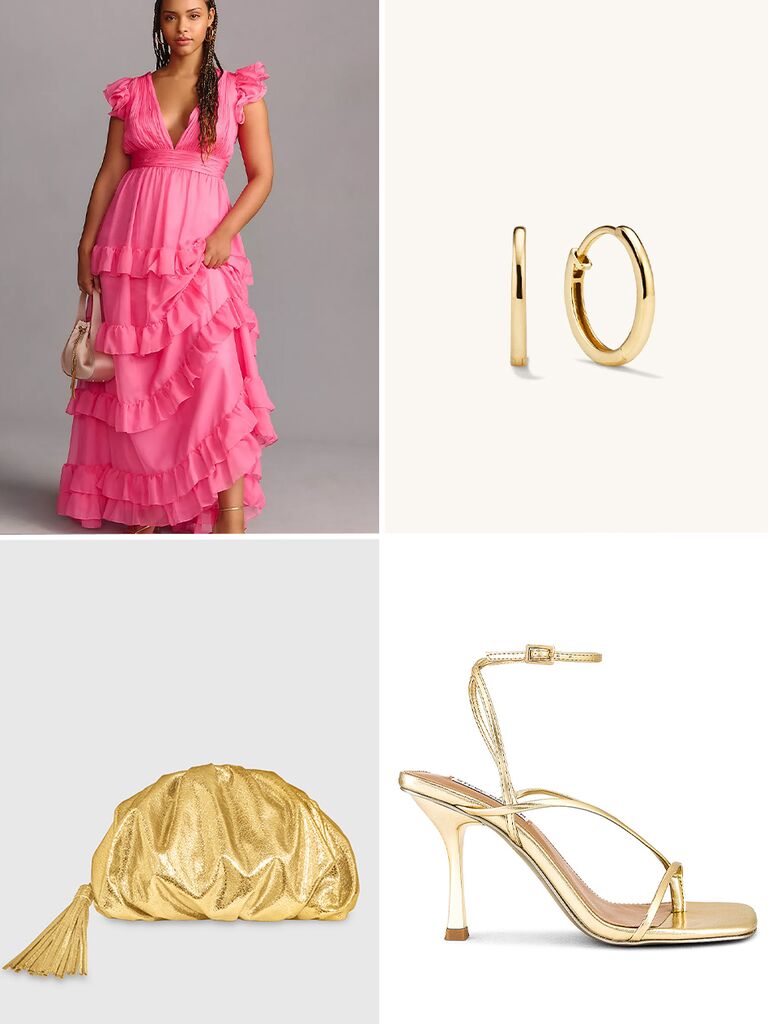 Headed to a classy rehearsal dinner or maybe just a formal vineyard wedding? Why not embrace hot pink and wear a Barbiecore dress with a pair of strappy gold heels? Since the dress has plenty of detail, keep your jewelry simple with dainty gold hoops and a matching gold clutch. You'll be the definition of pretty in pink.
6. This Barbie is On Her Honeymoon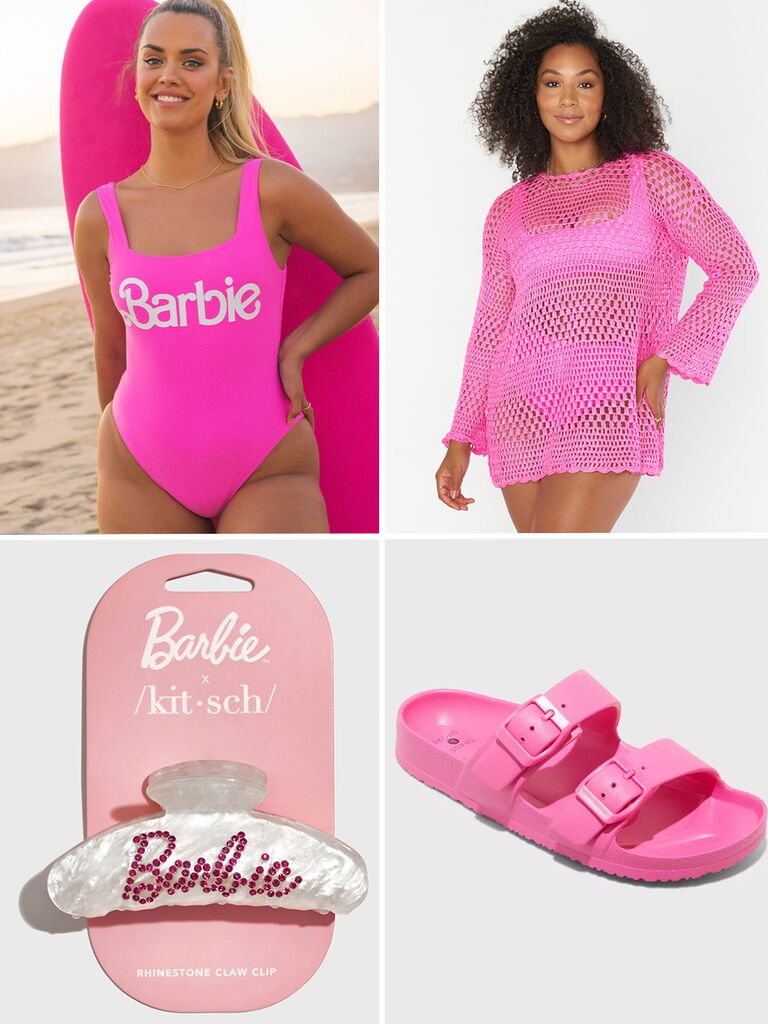 It's giving Malibu Barbie energy. We all know that Barbie loves to spend some time by the pool, and I have no doubt she'd love a one-piece like this. Easily style it with a matching hot pink cover-up and sandals. Oh, and don't forget the iconic Barbie x Kitsch rhinestone claw clip to put your hair up while you soak up the sun.
7. This Barbie is Attending a Black Tie Wedding
Now this is the Barbie dress of my dreams. The Norma Kamali Walter Off-The-Shoulder Sweetheart Shirred Fishtail Gown is flirty, fun, sexy and yet totally sophisticated enough for a black-tie or formal wedding. Amp up the glam with silver accessories like this Lagos beaded pendent and Lulus heels that Barbie herself would wear. And the heart bag is just chef's kiss.
8. This Barbie is Headed to a Beach Wedding
You don't need to wear a pink dress to fit the Barbie movie aesthetic! For a beach wedding, keep it breezy with a white linen shirt from Alex Mill and pair it with pink shorts (or chino pants, depending on your preference). Stay away from flip-flops and instead opt for an easy-to-wear slip-on shoe in a soft pink or white. Don't forget to protect your eyes from harsh rays with a pair of cool sunglasses, in a coppery pink hue, of course.
9. This Barbie is On Her Honeymoon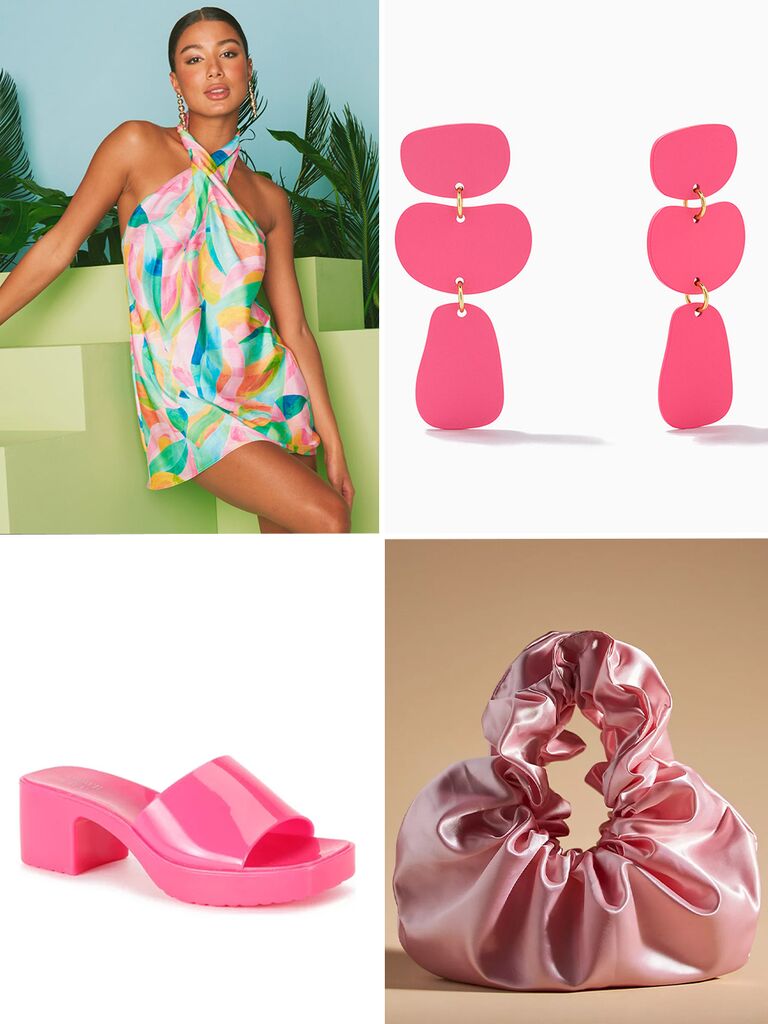 Channel your inner "Totally Hair" Barbie Doll with this colorful silky number from Show Me Your Mumu for your honeymoon. The silky bag from Room Shop and the hot pink jelly platform sandals look like Barbie shoes that were actually brought to life. And those Uncommon James pink statement earrings, will make you the best looking Barbie on your romantic getaway.
10. This Barbie is Attending an Engagement Party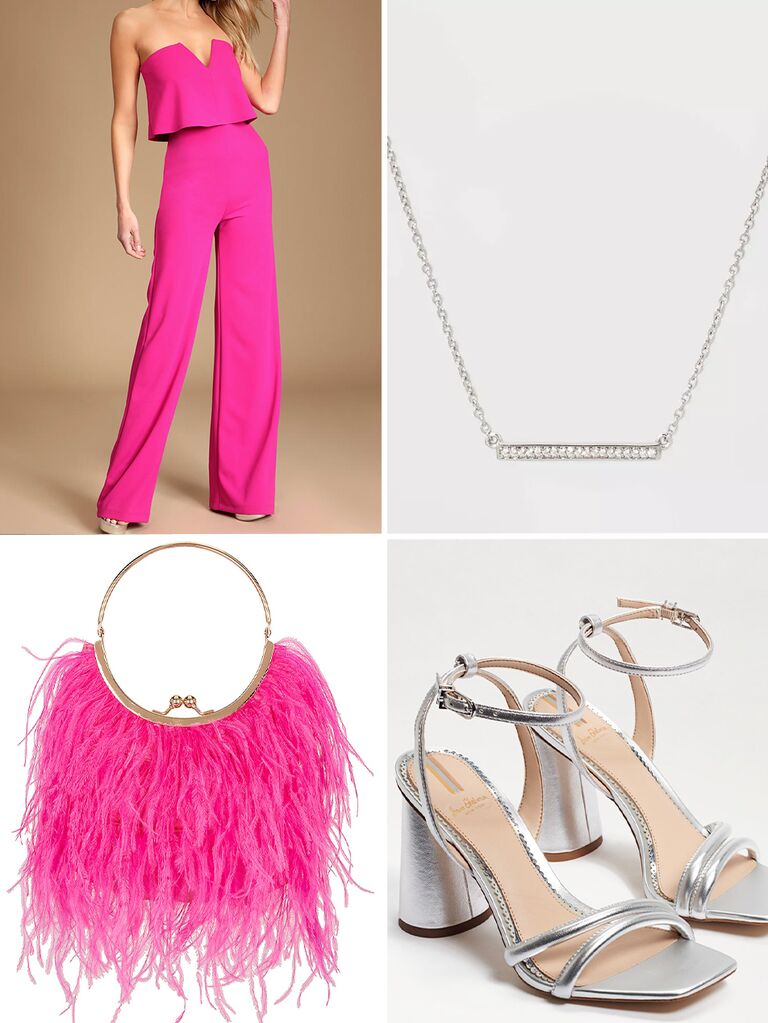 Enter any engagement party in Barbiecore style with this hot pink jumpsuit from Lulus. As you may have noticed, silver looks great with pink, so accessories like shoes and jewelry will look ultra-complementary. The ASOS clutch has silver elements on the handle but gives a monochromatic moment with its hot pink base. You'll definitely want to wear this fit to events again and again.
5 Signs of a Totally Fab Barbie Aesthetic Outfit
Are you ready to infuse some Barbie fashion into your wardrobe? If you're looking to embrace the charm and glamour of Barbie Land, I've got you covered.
1. Embrace Different Shades of Pink
Pink comes in a plethora of shades, just like Barbie's magical universe! From bubblegum pink to soft pastels, experiment with different tones to find your perfect match. Mix and match various shades for a mesmerizing effect that reflects your individuality.
2. Mix Pink with Neutrals
Barbie pink doesn't have to take over your entire wardrobe. Pair pink pieces with neutral colors like white, beige, or black to create a balanced and sophisticated look. A pink blouse with white jeans or a pink blazer over a black dress will ensure you strike the perfect Barbie-approved balance.
3. Incorporate Patterns and Prints
Don't limit yourself to solid-colored pink pieces alone. Explore patterns and prints to add some excitement to your wardrobe. Floral prints, polka dots, or even pink leopard prints can inject a touch of playfulness while keeping the Barbie magic alive.
4. Accessorize in Pink
Accessories can be a game-changer when it comes to transforming your outfit into a Barbie dream. Experiment with pink accessories like handbags, shoes, belts, and statement jewelry. These little pops of pink will tie your ensemble together and take your fashion game to the next level.
5. Be Daring with Makeup

To complete your Barbie-inspired look, play around with makeup! Experiment with pink blush, bold lipstick, and shimmery eyeshadows to achieve that ethereal Barbie glow. Go all out with glamorous lashes and perfectly shaped eyebrows for a polished finish.