Tahiti Honeymoon: Weather and Travel Guide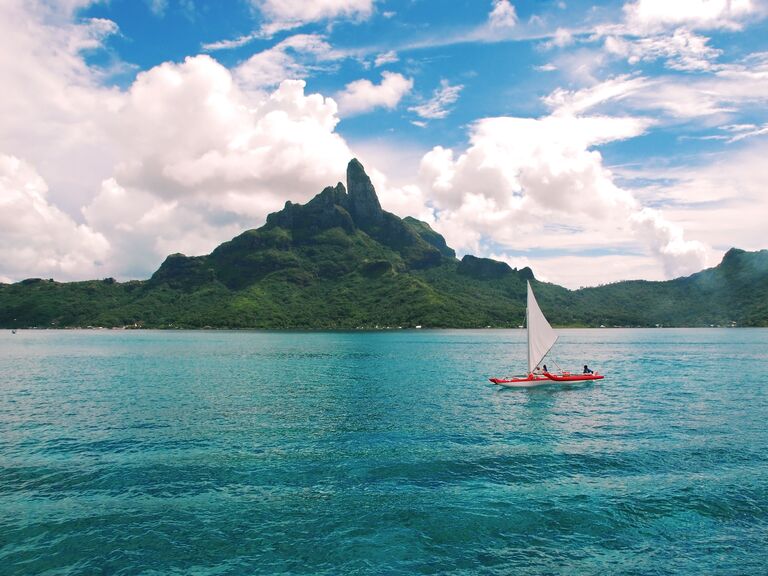 Shutterstock
French painter Paul Gauguin created his most famous works in the South Pacific, known for its picturesque landscapes. The postcard-worthy scenery is filled with palms, fragrant vanilla farms, colorful blooms, citrus trees and relatively few tourists. The big island's interior is a deep green valley covered in rainforest, waterfalls, lava tubes and fields of flowers. Put a fragrant white tiare, Tahiti's national bloom, behind your left ear (that means you're taken!) and explore by foot or jeep.

Before You Go: Need-to-know info
Languages: French, Tahitian and English
Currency: French Pacific franc
Entry requirements: Passport valid for six months post-departure
Flight time: 16 hours from New York City; 8.5 hours from LA; 15 hours from Chicago
Getting around: L'Truck (the public bus service), taxis (very expensive), rental cars, scooters, bikes, inter-island boats, catamarans and charter flights

When to Go: Tahiti at its best
Best weather: Dry season runs May to October; evenings are sometimes cool enough to need a light sweater.
Best prices: Rates are consistent year-round

What to Do
Tour the capital: At the capital city of Papeete ("pa-pee-AY-tee"), don't miss the Le Marche (central market) to browse for black pearls, wood carvings, pareus (sarongs), mother-of-pearl shells, vanilla, coconut oil, coffee and French perfume. (Note: Haggling is considered rude, but you should politely ask for a discount on big-ticket items, like pearls.) At night, take in a Polynesian show, featuring traditional music and dance, plus manly majorettes twirling flaming torches.
Surf: Hail the surfing gods in Tahiti -- the sport was born in Polynesia. Popular spots include Papeno, Teahupoo and Taharaa. Huahine and Moorea offer clockwork swells and fewer crowds.
Swim with the fishes: In the multiple lagoons of Polynesia, you can swim with dolphins, sleek moray eels, sea turtles and docile manta rays that practically glide into your arms looking for treats. Feeling brave? Feed the sharks (don't worry -- they're only small reef sharks).
Listen to local music: Traditional Polynesian instruments include ukuleles, pahu and toere drums, conch shells, nose flutes and guitars. The lilting island-country tunes are happy and relaxing.