'Married at First Sight: The First Year' Stars Jamie Otis and Doug Hehner Told Us All About Life After Their Wedding!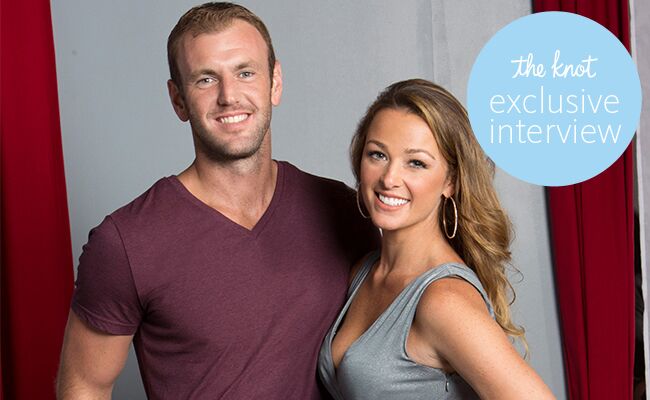 Married at First Sight and The Bachelor alum Jamie Otis is back on TV with a new show — except this time, she knows her husband, Doug Hehner, a little better! After getting married literally at first sight during the show's massive premiere in July 2014, the newlyweds (who've been married for 10 months) are starring again alongside fellow MAFS alums Cortney Hendrix and Jason Carrion in Married at First Sight: The First Year.
Premiering tonight, the spin-off series follows both couples from their six month marriage mark to their first anniversaries in March 2015 — and Jamie and Doug gave The Knot the exclusive scoop on what they've been up to since we saw them last!
The Knot: What's the most common remark people make to you after finding out you got married at first sight?
Jamie Otis: People say "An arranged marriage in America??"; "You knew nothing about him?!?"; and "Why??" Very valid questions!
Doug Hehner: For anyone that I don't know, the comments and questions have been surprisingly supportive and curious. It starts out with a bunch of questions about what the process was, and then a bunch of questions about how things are going now, and what a cool story it is. Then it's usually followed by them telling me that they would never do something like that and "Wow, that's so crazy," which I totally agree with.
For people that do know me, like when I told my friends about what was happening, the response was usually, "Yeah that doesn't surprise us!"
TK: Do you keep in touch with the four specialists from the show?
JO: Absolutely — they're like family! Not only did the experts find someone who I could fall in love with, but they helped guide me along the process. Going into this marriage, I had struggled with commitment. My first two relationships were with men who were quite jealous. They were mentally and emotionally abusive. Since I came from a family with domestic violence issues, it took me going to nursing school and learning about different forms of abuse before I recognized that I was being treated poorly. Since then I've been "protecting" myself from unhealthy relationships by running away at the slightest red flag. I'd date a guy, but the moment I saw the glimpse of a problem, I'd end the relationship. After a couple years of dating and not committing, I knew I needed guidance. Being that I don't have parents to ask for help, I really went into MAFS relying on the experts's help. There was an incident with Doug where he lied to me. In the past, that would have usually been a red flag and I would have ended it. But the experts (especially Dr. Cilona) showed me how to work through obstacles. I am so thankful to all of the experts for their guidance and support. I've claimed them as family!
DH: I can't imagine how much pressure the experts felt, knowing that they were going to be part of a life-changing decision for six people they didn't know. For me, it was the experts that sold me on the idea. I believed in them as professionals, and I trusted that they were taking this experiment seriously and wanted to find a real scientific match, not just two people that were going to make good TV. Jamie and I met with Dr. Cilona and Dr. Logan for brunch not too long ago, and if Dr. Pepper and Greg Epstein were closer to us, we would absolutely hope to see them every once in a while. Even after the show, they've all reached out to us and let us know that they hope to always stay in touch. We have every intention on having them in our lives.
TK: Tell us about what we can expect on Married at First Sight: The First Year.
JO: It's a show documenting all of our "firsts." It's capturing everything as newlyweds, from how we deal with our finances and holiday planning to when we want to begin having children.
TK: Looking back at your wedding day, how have your feelings for one another changed?
JO: On our wedding day, I was certain I made the biggest mistake of my life. I was trying my best to be pleasant and friendly, meanwhile I was wondering why on earth I ever thought it'd be a good idea to marry a complete stranger. Now we both look back laughing because it was absolutely insane to marry a stranger, but it was the best insane decision I ever made! We went from strangers to friends to lovers. It's been a great progression.
DH: I think there was a lot of doubt in the beginning, and whether or not we were right for each other. Over that time, we've both fallen in love with one another, and the thought process changed from whether or not I could see myself spending the rest of my life with Jamie, to not being able to imagine spending the rest of my life with anyone other than Jamie and Lady (Jamie's dog).
TK: What can you tell us about your present-day life together? How have your living situation and careers changed?
JO: We decided to move out of New York City and into New Jersey after six months. We're hoping to begin settling down closer to his family and his job. I'm still working at Columbia Presbyterian Hospital in Manhattan, but it's only an hour commute so it's worked out perfectly.
TK: What was the biggest adjustment to living with one another?
DH: The biggest adjustment, in my opinion, was getting used to the fact that each decision that gets made is now a family decision.
TK: Jamie, did you change your name to Doug's last name?
JO: I haven't yet, but I definitely want to change my last name to Hehner. Being that I don't know who my father is, I've never felt a bond or connection with my last name. I can't wait until the day I can really be part of the Hehner family — last name and all!
TK: Do you see Jason and Cortney often?
JO: I adore Jason and Cortney! I also grew very close with Monet. I don't hear from Vaughn too often, but I wish I could see them all more. We share a unique experience and will stick together because of it! Speaking of how often we see each other, Cortney, Monet and I are due for a wives night — I'm calling them and planning this ASAP!
TK: Experts often say the first year of marriage is the hardest. Do you find this to be true?
JO: The first year of marriage has definitely had its fair share of challenges. Especially since I felt completely uncomfortable even being around my husband for the first couple days. I wouldn't let him hold my hand! I don't know what year two or three will look like, but here's to hoping if we master year one we will enjoy many more!
TK: Doug, how has your family embraced Jamie's family?
DH: We both had the opportunity to spend quality time with each other's families, and it couldn't have been any more welcoming and understanding. Family is something that we both have strong feelings about, and it has been incredible how seemless that transition has been into each other's world.
TK: Do you think you'd do a vow renewal ceremony one day to get married again off-camera?
JO: Doug and I have definitely entertained the idea of renewing our vows. Any details regarding that, we're keeping close to our hearts. We'd want it to be more intimate the next time. We weren't in love when we said "I do" the first time.
DH: We definitely discussed whether or not we would want to go through another ceremony, whether it's a renewal of vows, or another wedding that's on our terms. You'll have to wait and see. All I'll say is that I always wanted to get down on one knee and propose to the person that I want to spend the rest of my life with, and I haven't had that chance — yet!
Watch a sneak peek of the first episode below, and watch Married at First Sight: The First Year tonight, January 13, at 9 p.m. EST!
Want more? Right here!
> Event planner Michael Russo planned his own wedding while filming new show "Mikie Saves The Date!"
> "The Bachelor" alum Jamie Otis got "Married at First Sight" (and told us all about it!)