15 Wedding Color Combos You've Never Seen
Try one of these fresh wedding color combinations for a style that's all your own.
by Andrea Fowler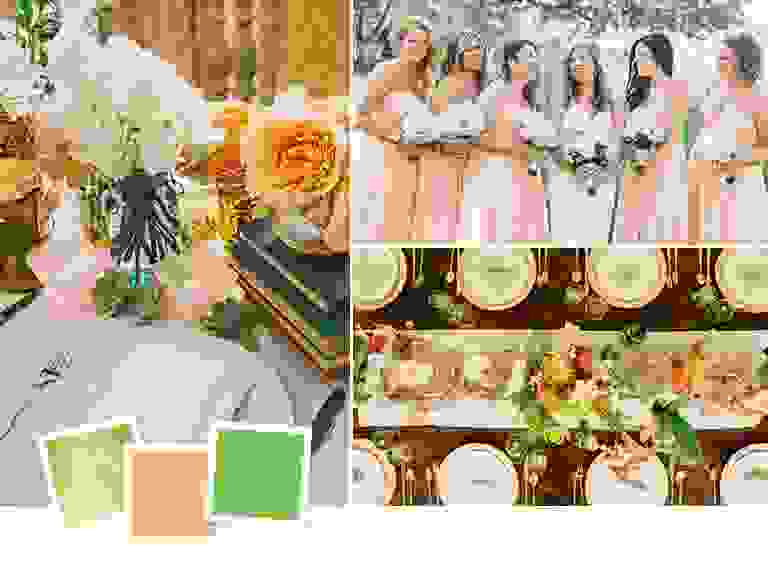 Looking to make your wedding stand out? Start with a unique color palette. Draw inspiration from the big details, like the venue and season, then think about the mood you're trying to set. Do you want playful and fun (bright and vibrant hues)? Or lavish and intimate (moody jewel tones and luxe textures)? Keep in mind that your color combo will inform other design elements down the road, like bridesmaid dresses and flowers. See our favorite unexpected wedding color combinations below. And don't forget to take our Style Quiz to discover your dream wedding vision—from the perfect color palette to your day-of timeline—and find the right vendors to bring it to life.
1. Magenta + Poppy + Yellow

Clockwise from top left: Lux Events And Design; D. Park Photography; Mel Barlow & Co.; Photography DuJour

2. Emerald + Cream + Gold

Clockwise from top left: Eli Turner Studios; Loreto Caceres Photography; Melanie Duerkopp; Abby Jiu Photography

3. Purple + Burgundy + Orange

Clockwise from top left: Jesse Leake Photographer; Anna Delores Photography; Anna Delores Photography; Stephanie N. Baker Photography

Are you into...

Rustic Weddings

Down-to-earth with organic elements and personal touches

Modern Weddings

Simple-yet-sophisticated with playful nods and unique accents

4. Tangerine + Orange + Yellow

Clockwise from top left: Jenn Hopkins Photography; Tess Pace Photography; Laura Goldenberger Photography; Gabriel Ryan Photographers

5. Black + Pale Green + White

Clockwise from top left: Luminaire Images Photography; Lennon Photo; Gonzalo Nunez; Off Beet Photography

Clockwise from top left: Mary Wyar Photography; Photography by Mallory; Sebastian Photography Studio; Mike Reed Photo

7. Cinnamon + Yellow + Beige

Clockwise from top left: Graddy Photography; Heather Waraksa; Abby Jiu Photography; Abby Jiu Photography; Lori Gail Photography

8. Chartreuse + Powder Blue + Cornflower Blue

Clockwise from top left: Shannon Michele Photography; La Vie Photography; Shannon Michele Photography; L Photographie

Clockwise from top left: Caroline Ghetes Photography; Elizabeth Anne Photography; Betsy Blue Photography; VUE Photography

Clockwise from top left: Two One Photography; Mae Small Photography; Tara Liebeck Photography; Connection Photography

11. Navy + Eggplant + Gold

Clockwise from top left: Carla Ten Eyck Photography; Jasmine Star Photography; T & S Hughes Photography; Kristen Weaver Photography; One Love Photography

12. Poppy + Celadon + White

Clockwise from top left: Meg Matyia Photographer; Suzanne Rothmeyer Photography; The Nichols; Michelle March Photography

Clockwise from top left: Our Labor of Love; Micah J Photography; Vitaly M Photography; Vitaly M Photography; Jose Villa

14. Aqua + Cherry Red + Khaki

Clockwise from top left: Mademoiselle Fiona Photography; Jenny Haas Photography; Mademoiselle Fiona Photography; Mademoiselle Fiona Photography; Sarah Pudlo & Co. Photography; Mademoiselle Fiona Photography

15. Yellow + Gray + Silver

Clockwise from top left: Kimberly Salem Photography; Mandy Paige Photography; Brittany & Devin Photo Co.; Cass Imaging; L Photographie; Ely Brothers Photography