Should Your Mom or Mother-in-Law Be Invited to Your Bachelorette Party?
Find out if Mom should make the guest list—or not.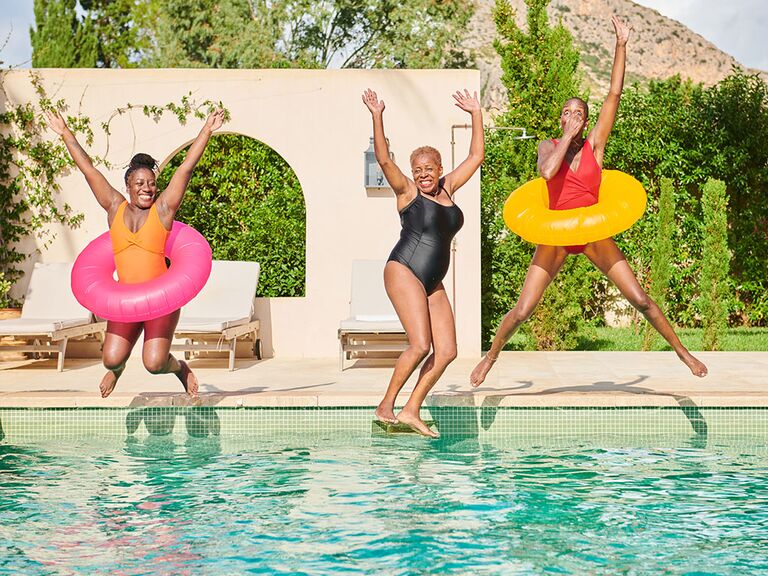 Flashpop/Getty Images
Marrying the absolute love of your life? A once-in-a-lifetime experience. But being surrounded by your best friends on the big day—and for a fun party beforehand? Also, priceless. As you brainstorm your guest list, you may pause and think, 'Wait, do moms go to a bachelorette party?" As with many wedding events, the etiquette surrounding bachelorette parties is tricky—particularly if you feel pressured to invite your mom, future mother-in-law or another parental figure. There may not be a perfect way to navigate this sticky situation, but we chatted with wedding professionals on their best advice, so you have the bachelorette party you want, minus the family drama.
Do I Have to Invite My Mom or Future Mother-in-Law to My Bachelorette Party?
Here's the honest-to-goodness truth: As the bride, you don't have to do anything you don't want to do. And, ultimately, your wedding—and all of the festivities leading up to it—are yours to plan as you wish. Historically speaking, neither the mother nor the mother-in-law was invited to the bachelorette party since the event was reserved for the wedding party and a few select close friends and family members (like cousins), explains Deliece Knights, the founder and CEO of Dhalia Events in New York.
There has recently been a trend where mothers, mothers-in-law and other parental figures are extended an invitation, but only in unique circumstances. Most notably, you may feel more inclined to invite your mom if you have an extremely tight-knit bond. "If the bride and their mothers have a very strong relationship that borders on being 'besties,' then it is likely that they will invite them to their bachelorette," Knights explains. "These brides typically do everything with their mom that they would with one of their other bridesmaids, and in most cases, there aren't any secrets or information kept from their moms. In those cases, moms become a true part of the bridal party and are more than welcome to attend."
However, even if you consider your mom your very best friend in the whole wide world, if you want a bachelorette celebration that focuses on nighttime activities and drinking (say in Las Vegas, Nashville or Miami)—you may not want your mom along for the shenanigans.
So, are you supposed to invite your mom? Do you typically invite a mother-in-law? That answer is 100 percent up to you.
What To Do if Your Mom or Mother-in-Law Expects To Be Invited
One of the more difficult situations for a bride is figuring out how to tell her mom or mother-in-law they aren't invited to the bachelorette party. Remember, though, just because they expect an invitation doesn't make it so, says Julianne Smith, the owner of The Garter Girl. As with any challenging conversation, Smith says you can't go wrong with open and clear communication when it comes to wedding planning. "As long as you tell them from the start that it is a friends-only bachelorette party, they will have time to understand," she adds. "The worst thing you can do is wait until the last minute to let them know you'd rather they not be there."
Can I Invite My Mom but Not My Future Mother-in-Law?
Maybe you aren't asking if you should invite your mom (you know you want to!), but your anxiety is more: "Am I supposed to invite my mother-in-law to my bachelorette party? Can I just invite my mom?"
You can invite only your mom—but it is a tricky situation, warns Diane Kolanović-Šolaja, the creative director and owner of Dee Kay Events in New Jersey. To navigate the decision with care and consideration, she recommends weighing the pros and cons of the relationship on both sides by asking yourself these questions:
Will your mother-in-law have hurt feelings if not invited?

Will this cause tension with your fiance?

Is it worth the fight?

Will she hold a grudge forever?
"Sometimes parents of the children getting married have a lot of big feelings that may not surface right away," she says. "Their reaction may not be as emotionally available as it once was. Getting married is emotional for many people involved, not only the couple. Tread lightly in your decisions and the words you use to let them down."
How to Tell Your Mom or Mother-in-Law They Are Not Invited
Once you have decided not to invite your mom, your mother-in-law or either of them, you need to devise your communication approach. First and foremost, choose a time when you can be with them in a private setting. If you feel more comfortable with your spouse-to-be in the room, ask them to join you. And try your best to limit distractions. The focus should be on the family.
Be honest and respectful.
It is essential to be honest and respectful when explaining why you don't think it would be a good idea for your mother or mother-in-law to join the festivities, says Jacqueline Vizcaino, the owner of Tinted Events Design and Planning in Atlanta, Georgia. Try not to devise many rose-colored excuses or justifications that leave you rambling. Instead, be kind and straightforward by saying: "I understand you may want to come, but I want this time dedicated to my closest friends. I appreciate your understanding."
Be firm and confident.
Once you've decided not to invite your mom or mother-in-law, it is crucial to stick to it and be firm in your decision, Vizcaino says. And if they continue to push you on the issue, try saying something like, "I understand that this may be difficult for you, but I've made my decision, and I would appreciate it if you could respect that."
"It is important to be honest and respectful during this conversation to maintain a healthy relationship with both of them," she adds.
Offer an alternative.
Part of why your mom or mother-in-law may feel disappointed not attending the bachelorette party is their desire to celebrate this special time. And while they probably won't enjoy a booze cruise (or you wouldn't feel comfortable being tipsy around them)—you could soften the blow by offering an alternative. After all, it's a big milestone for them as well, so giving them a chance to be part of the fun is a thoughtful gesture, says Nikki Golden, the owner of Nikki Golden Photography in Jacksonville, Florida.
She recommends saying: "Since plans for my bachelorette party are coming together, I wanted to reach out to you and see if you'd like to spend some time with me that day before I go off and celebrate with friends. I would love to spend some time together getting our nails done to celebrate and spend time with the two of you."
Give the task to your maid of honor.
If you're not a fan of confrontation, or you tend to cave when expressing yourself, you could pass the task over to your maid of honor. While this may bubble up some drama, Knights says this may be the easiest way for the bride to handle the situation. "The bride can have their designated person of honor call or connect with their mother/mother-in-law and explain that they have planned the bachelorette and have a very specific list of invitees due to the nature of the event," she says.
Alternative Ways to Celebrate With Your Mom or Mother-in-Law
To create a memorable and meaningful experience with your mom and mother-in-law that doesn't involve them attending the bachelorette party, get creative. Plenty of options will make these two special people feel included and able to celebrate this unique time with you.
Go for high tea.
Vizcaino says fancy high tea is a great way to spend quality time with your mother or mother-in-law. "You could make it a small, intimate gathering with just the three of you where you can enjoy some tea and snacks and have meaningful conversations," she says.
Have a spa day.
Wedding planning is stressful and probably a bit taxing for your mom and mother-in-law, too. Take a load off, find your zen and book a spa day for the three of you to enjoy together. Vizcaino says if it's within your budget, go for it all: a manicure, a pedicure, a massage and a facial!
Go out for a nice dinner.
If your mom and mother-in-law aren't big into activities and would prefer a fine dining experience, go out to a nice multi-course tasting menu, perhaps with a wine pairing. "No matter what activity you choose, ensuring your mom or mother-in-law feels appreciated and loved is essential," Vizcaino says. "A simple gesture like this can go a long way in strengthening your relationship with them."