In Charge of the Bachelorette Party? Follow This Planning Checklist
Bridesmaids, get your calendars out! Follow this bachelorette party planning guide for a seamless bridal bash.
by Amy Elliott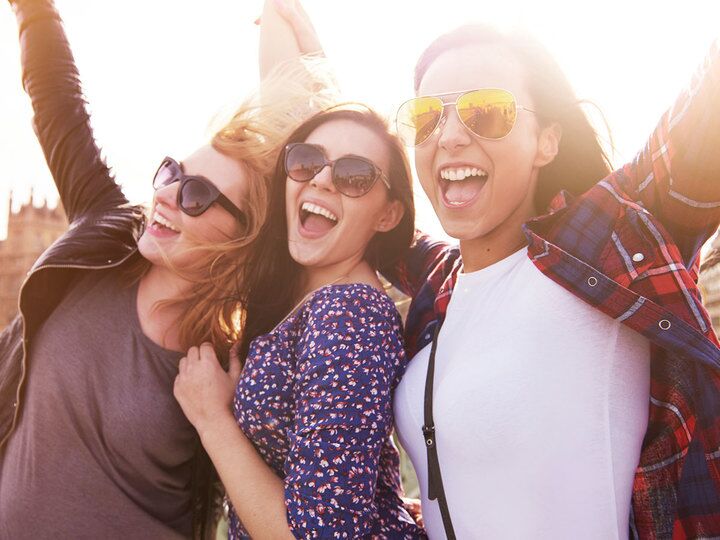 Calling all bridesmaids! Whether you're planning a laid-back night out or an action-packed weekend trip, below is your go-to checklist to help you organize an unforgettable bachelorette party. Feel free to adjust the time frames and personalize the details according to your bachelorette party style.
Three (or More) Months Before
Ask the bride what she wants—and wants to avoid—for her bachelorette party. Will it be cocktails, karaoke and scantily clad dancers? A quiet weekend getaway? A living room lingerie exchange? Get the scoop from the guest of honor and go from there.
Establish her comfort levels. If she's envisioning a calmer gathering, go over all of your options together, from a winery trip to a luxe spa day. If she can't wait to break the rules a bit, get her to define exactly what that means. Remember, while you want her to let loose, you don't want to embarrass her or freak her out.
Set the date. Some groups celebrate a few months prior to the wedding, while others opt for a weekend night about one to two weeks before. If members of the bridal party come from all over and can only convene a few days before, that timing works too. Much of it depends on the schedule and availability of the bridesmaids.
Create the guest list.
Two Months Before
Send a save-the-date email to gauge any major conflicts among invitees. If you're partying far away, include specific details so everyone is on the same page and can plan accordingly.
Brainstorm possible game plans, entertainment and gifts with the group (make it a surprise for the bride, if you want).
If the party will take place at a hot spot or out of town, make reservations, order tickets and deal with lodging and bachelorette party transportation details.
Secure

transportation arrangements

. Alcohol and bachelorette revelry often go hand in hand, so be responsible and plan ahead. Now's the time to start thinking about booking a limo, party bus, van or other car rentals for the evening.
Research and book any talent that might make an appearance at the soiree.
One Month Before
Send invitations—emailing and calling works too. Make sure your invitation politely informs guests that a contribution to the festivities will be expected (and be sure to specify how much).
If you're going with a classic pub crawl, devise the itinerary. Start out with dinner at a fun restaurant (you don't want to drink on an empty stomach) and map out all the establishments you want to hit, plus what time you'll be stopping in. Planning it out this way will help you book your transportation for the proper length of time, and it limits the drinking so you don't overdo it or spend too much money. Make all necessary reservations, even at bars. And don't forget to ask about drink specials, group deals and bachelorette freebies.
Make your transportation reservations. Consider your timing and location: Book reservations earlier if you'll be in a city, celebrating during prom season or in the summer when the number of prewedding parties tends to peak.
If you're celebrating at home, help the divvy up responsibilities for refreshments and activities. Make a shopping list. Divide up to-dos among bridesmaids: games, decorations, food and drinks, music playlists and sleeping arrangements (if necessary).
One Week Before
This is the time to buy any bachelorette party accessories like a novelty veil or tiara, candy jewelry and any additional props, naughty or otherwise.
Make a list of the games you want to play with rules and how-tos (don't leave the game directions for when you're a few cocktails in). Customize and decorate written instructions however you want to, and keep them handy throughout the event.
If you're plotting a scavenger hunt, conspire with the group to make a list of tasks for the bride to complete .
Confirm RSVPs.
Confirm transportation arrangements.
Confirm any entertainment.
One Day Before
Debrief the bride (but it's definitely okay to keep some of the details a surprise).
Remind guests of the meeting place and time, reiterating the address. If there are several stops planned, name the second address too, for latecomers.
Reconfirm all reservations.
Get plenty of sleep.