A Step-by-Step Checklist for Planning a Bachelorette Party
Here's how to pull it off like a pro.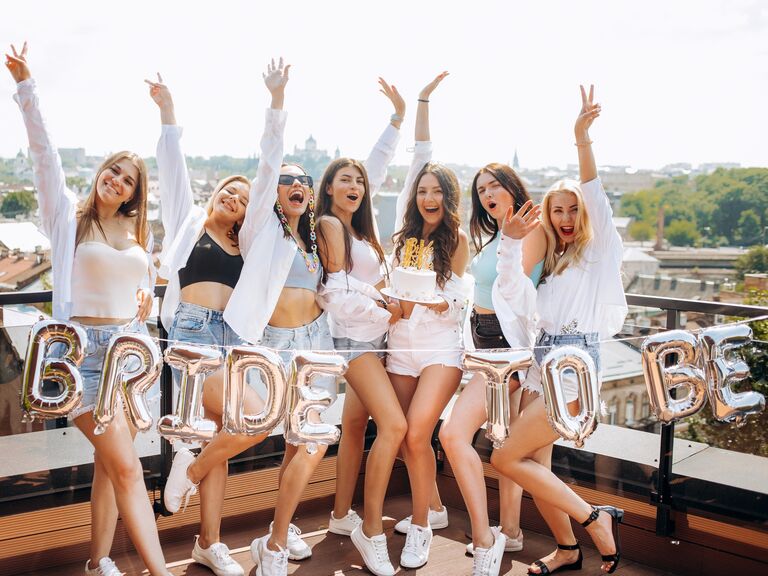 Leojuli/Shutterstock
Planning a bachelorette party can sometimes feel like a full-time job, but when your crew has a blast celebrating the bride-to-be, it's all worth it in the end. The point of the bachelorette party is to gather the bride's closest friends and commemorate her upcoming wedding with a night—or weekend—of fun. Our bachelorette party checklist outlines everything you need to do step-by-step, from finalizing the guest list to choosing a theme that the bride will love. Plus, we're answering some of the most common questions about how to plan a bachelorette party to make sure you've got all the know-how upfront.
In this article:
Planning a Bachelorette Party Frequently Asked Questions
If you've never planned a bachelorette party before, it can feel overwhelming to figure out the logistics of who, what, and when. We're answering some of the top questions to clear everything up.
Who Plans a Bachelorette Party?
The bachelorette party is typically planned by the maid or matron of honor, with additional help from bridesmaids or other members of the wedding party as needed. It helps if this person is fairly organized—i.e. they love spreadsheets and coordinating travel timelines—but the bachelorette party planning can be a group effort that pulls from everyone's strengths. Maybe one person handles the fundamental party logistics (booking accommodations and tracking down everyone's Venmo payments) while someone else takes care of the creative details, such as the theme or favors. When you're making the final decision about who plans the bachelorette party, consider how many people are attending and how each person is interested in helping out.
When to Plan a Bachelorette Party
Even if you're not ready to start planning the bachelorette party right away, we recommend that you start thinking about it shortly after the couple finalizes their wedding date and location. The length of the couple's engagement will help you determine exactly when to plan the bachelorette party—for example, if they're getting married in less than a year, the bachelorette party will need to take place sooner rather than later. Similarly, it's best to start planning early if you want to throw a destination bachelorette party that requires everyone to travel.
You don't need to have all of the bach details set in stone right away, but it's important to at least get a timeframe that works best for the bride and most (if not all) of the bridesmaids. The sooner that you start planning the bachelorette party, the more likely you are to find a date that works for everyone's calendars, especially if the party is a multi-day event. Plus, you'll avoid overpaying for last-minute travel fees or other party-related costs if you allow more time to spread out the payments.
When to Host a Bachelorette Party
Finding the sweet spot for when to host the bachelorette party depends on a few factors, but ideally, the party should take place between one and three months before the wedding. We don't recommend hosting the party any less than a month out, since the final few weeks are usually crunchtime for the couple. And despite what wedding rom-coms and television shows might imply, it's best to avoid throwing the bachelorette party the night before the wedding—you don't want to regret a night of fun when the early wake-up call rolls around the next morning.
How Long Is a Bachelorette Party?
On average, a bachelorette party ranges from one to three days. The bach party originally started out as a celebration that lasted a single night, but two- and three-day bachelorette parties are more popular than ever, especially for groups who are heading out of town. Destination bachelorette parties usually last for an entire weekend, with arrivals on Thursday or Friday and departures on Sunday.
Find your kind of venue
From barns to ballrooms, discover reception venues that feel like you.
When you're deciding how long the bachelorette party will be, consult the bride and the other guests before finalizing your plans. Keep in mind that some guests may not be able to join multi-day events due to work or personal obligations, or they might need to arrive late or leave early depending on the details.
What to Bring to a Bachelorette Party
If you're the host, you'll be responsible for bringing several things to the bachelorette party in addition to your personal belongings. The bachelorette favors, bachelorette decor and a gift or surprise for the bride should be at the top of your packing list, but you can divide and conquer these with anyone else who's helping you plan the festivities. Wondering what to bring to a bachelorette party as a guest? Confirm with the host if you need to bring any special outfits, such as a little black dress or colorful swimsuit, depending on the theme of the party. It's taboo to wear white during the party unless you're the bride, but there are plenty of other cute bachelorette outfit options and ways to match with the rest of your crew.
How to Plan a Bachelorette Party
Not sure where to start? This bachelorette party checklist outlines everything you need to do in chronological order to help you pull off a fun-filled event. Download and print it out to cross off important to-dos as you go.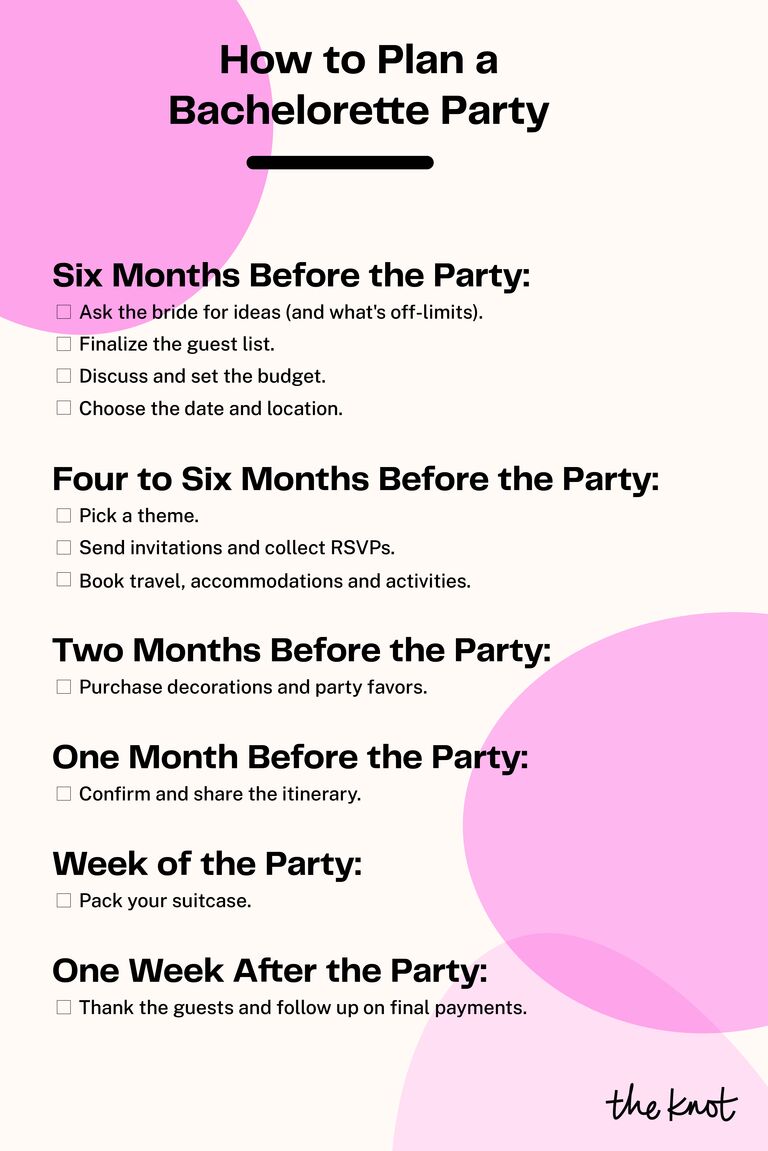 1. Have a brainstorm convo.
Timing: Six months (or more) before the party
Before you dive into planning, talk to the bride about the type of party she wants. Listen to her ideas about possible themes and destinations, and discuss timing along with a general list of who should attend. You should also talk about anything that's off the table—for example, she might want to skip the wild night of partying in favor of a chilled-out weekend instead. You can start the conversation shortly after the couple finalizes their wedding date and has decided who's in the wedding party.
2. Finalize the guest list.
Timing: Six months before the party
Generally, the maid of honor and bridesmaids are invited to the bachelorette party, but the bride might want to expand the guest list by one or two additional people. Some brides choose to invite their mom or mother-in-law, or she may want to include someone who's not in the wedding but is otherwise a close friend. Most importantly, remember that if they're not invited to the wedding, they shouldn't be invited to the bachelorette party (or any other prewedding event). Get the bride's final stamp of approval on the guest list before moving forward with any other party details.
3. Discuss the budget.
Timing: Six months before the party
Once you have your list of invitees, you can get a sense of everyone's budget along with their availability and willingness to help plan the bachelorette party. We recommend sending out a Google form (or other survey) to gather everyone's thoughts in one place. Ask questions like, 'Would you be willing to spend money on travel and accommodations for the party?' or 'What's your maximum personal budget for the bachelorette party?'. Keep in mind that a doable budget will be different for everyone—and don't forget that they're probably budgeting for other prewedding costs too, such as attire, beauty treatments and a wedding gift. It may not be realistic for some people in your crew to spend hundreds (or thousands) of dollars to attend the bachelorette party, so try to find a compromise that feels comfortable for everyone.
4. Choose a date and location.
Timing: Six months before the party
In your bach party survey, you can also include questions to find out where people would be willing to travel and propose a few potential party dates. The sooner you do this, the better—you're more likely to find a time that works for everyone before their calendars fill up. Finalizing the location as early as possible is also important so that attendees can start planning and booking travel as needed.
5. Pick a theme.
Timing: Four to six months before the party
You might already have a theme in mind, especially if the bride has a specific request, but the location and timing can inspire your bachelorette party theme as well. Most importantly, you should pick a theme that speaks to her own personal style. If she loves all things glitter and dancing, a disco bachelorette theme is a perfect fit. Is she a lifelong Swiftie? Plan a Taylor Swift bachelorette party inspired by every era. The theme also gives guests an idea of what to expect from the party—a spa-themed bachelorette party in Ojai alludes to a calm vibe, while a flamingo-themed bachelorette party in Miami is all about partying and letting loose.
6. Send save-the-dates and collect RSVPs.
Timing: Four to six months before the party
Even if you've already been in touch with most of the guests, it's important to send official bachelorette party invites (either virtual or hardcopy) and confirm who's attending. Allow more time for this if you're planning a destination bachelorette party so that you can get a final count before moving forward with travel-related logistics.
7. Book travel, accommodations and activities.
Timing: Four to six months before the party
Once you've confirmed your guest count and RSVPs, it's time to finalize the major details such as flights, hotels and activities. Even if you're staying local, we recommend getting the logistics out of the way, especially if you're hoping to score a reservation at a popular downtown restaurant or book a private tasting room at a nearby winery.
8. Purchase decorations and swag.
Timing: Two months before the party
With the major details taken care of, you can turn your attention to things like decor, favors, games and party swag. Matching bachelorette T-shirts, decorative banners, customized drink cups, photo props and hangover recovery kits are just a few popular ideas. And although you might not have a ton of downtime during the party, we recommend having at least one or two bachelorette party games on hand as icebreakers.
9. Confirm and share the itinerary.
Timing: One month before the party
In the home stretch leading up to the party, make sure that everyone is on the same page and is aware of where and when to arrive. Send an itinerary along with other important info, such as the hotel/rental home address, transportation details (will anyone be traveling together?) and if there's anything specific that guests need to pack. If you haven't already started a group chat, create one so that people can keep in touch before arriving.
10. Pack your suitcase.
Timing: Week of the party
This one is pretty self-explanatory—the party is coming up, so it's time to pack your suitcase! (Or if you're staying local, start organizing everything you'll need for the day of the party.) If you have a lot of decor and party-related items to transport, consider asking one or two other people to help you lighten the load by bringing stuff in their luggage, but be sure to pack anything you'll need right away in your own suitcase.
11. Travel and celebrate.
Timing: Day of the party
As the host, you should aim to arrive a couple of hours before the bride and the rest of the guests. This will give you time to check out the party space and make sure there are no last-minute surprises before you start decorating and setting up.
12. Regroup and say thanks.
Timing: One week after the party
You made it through to the other side, so pat yourself on the back for a job well done. Take a moment to thank anyone who helped you plan the party (a handwritten note or coffee gift card is a sweet gesture if you want to go the extra mile), and then send a general thanks to the rest of the group for attending. This is also the time to follow up on any outstanding expenses and payments that you're waiting on. Lastly, focus on resting before it's time to gear up for the wedding in a few weeks!