Pop the Big Question in the Big Apple—The Best Places to Propose in NYC
Want to propose in The Big Apple? Here are the best places to ask for their hand.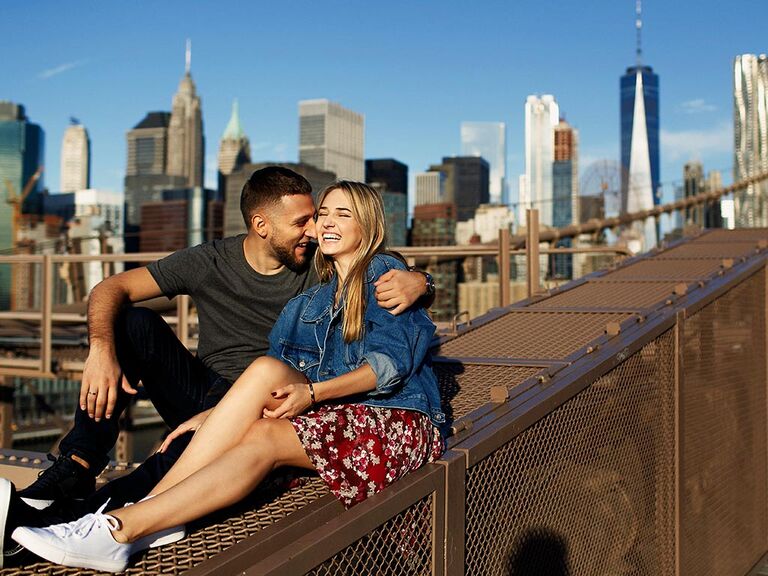 Photo: IVASHstudio / Shutterstock
Are you looking for the best places to propose in NYC? If so, we can help. Finding the perfect location to pop the question in New York City is not an easy task and there is much to consider to ensure the proposal goes as smoothly as possible. When thinking about where you want to propose to the love of your life, you should think about the kind of proposal you want in addition to other factors including the season, weather, crowd level and any special parts you want to ensure are included.
Although we recommend the 30 NYC proposal spots below, The Knot Marketplace is a great resource for organizing and gathering information about additional NYC proposal spots, venues and other vendors that can help you throughout the wedding planning process. A marriage proposal at any of these NYC proposal spots would be hard to turn down.
In this story:
Is New York City Good for a Wedding Proposal?
To learn more about the pros and cons of wedding proposals in NYC, we chatted with four wedding planners. Wedding expert Amy Lynn Parmar is the founder and lead planner of Poppy + Lynn based in the New York area. Lindsay Landman is the president and creative director of Lindsay Landman Events and has more than 20 years of wedding knowledge. Mattie Engleby is the assistant planner of BLB Events and brings with her a wealth of knowledge about social media as well. Lastly, Carol Guedes is the creative director of Flying Little Birds which she founded in 2012.
Pros of a New York City Proposal
There are many benefits to proposing in New York City. "You are surrounded by tons of creatives who can help make anything you want come to life. It's an iconic city with countless options for backdrops," says Parmar. Since NYC is such a big city, the possibilities are essentially endless. "It is also easy to get just about any service or service provider here with pretty short notice, so there's an ease in that amount of access," adds Landman. Plus, "We love the fact that NYC offers secret spots and hidden gems tucked away in beautiful cobblestone streets," says Guedes.
Cons of a New York City Proposal
Although many pros come with an NYC proposal, there are a couple of cons to consider. If you're looking to have a private event, it's unlikely that will happen without having to pay a premium. "There are people everywhere, so unless you rent out a private space, it won't be a private event," explains Engleby.
How to Decide Where to Propose in New York City
When you begin brainstorming ideas for the best place to propose in NYC, think about whether you want a public or more private moment. "If you want a splashy, public moment there are countless opportunities for this and it requires less planning, but if you want something private and intimate, you'll have to be more crafty and measured. And you need a bigger budget," explains Landman.
If having a professional photographer at the place of your proposal is a must-have, knowing the venue's photography rules should be a priority, notes Engleby.
The Best Time of Year to Propose in NYC
There is not really one time of year or season that is better than another to propose in NYC as it all depends on what you're looking for and what you think your significant other would enjoy most. "In the Spring, all the flowers are blooming in the parks and gardens and if you time it right in April and May, you can take advantage of the cherry blossoms. Summertime is prime rooftop season and the days are longer so you have a later sunset. Fall foliage in the city is absolutely stunning in addition to great weather. And, even when it is cold in winter, there's nothing quite like the holiday season in NYC. The lights and displays are just magical. For optimal privacy, early morning weekdays will be the best time, but even sunset or nighttime proposals can be beautiful, too," explains Parmar. Engleby reiterates the importance of having a rain plan for outdoor proposals and checking with your photographer about the most optimal proposal time to capture the best photographs.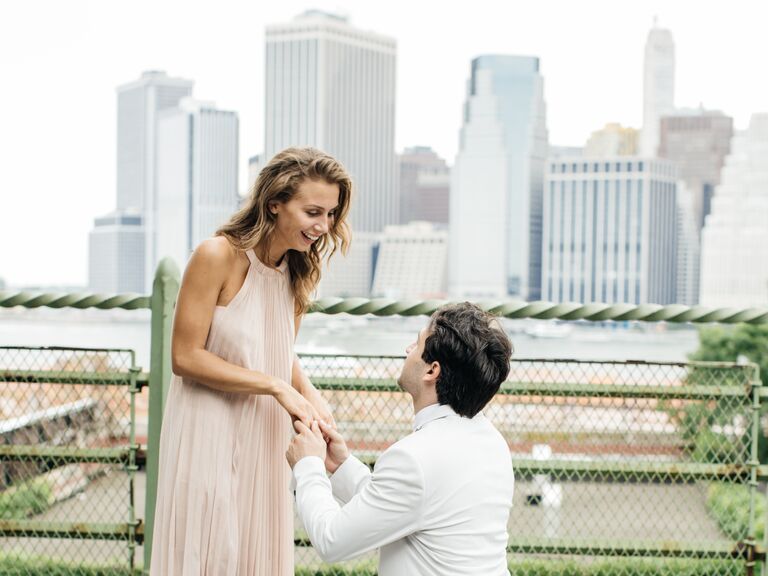 Private Places to Propose in NYC
Although almost every place in New York City is filled with tons of people, there are a couple of spots where you can have a private proposal with just your significant other or only a couple of other people nearby. However, "​​if you want something private and intimate, you'll have to be more crafty and measured. And you need a bigger budget," explains Landman.
On a Yacht
As long as you and your loved one aren't prone to seasickness, a private ride on a yacht around NYC is a romantic place to propose. Yachts for All Seasons can accommodate a more private dinner rental cruise so that you can enjoy panoramic views of the city and each other's company without the distractions of other passengers on board making it one of the best private places to propose in NYC.
620 Loft and Garden
620 Loft and Garden overlooking New York City's fifth avenue is one of the most romantic places to propose in NYC. It's elegant and contains a historic garden, fountain and reflective pool. If you plan your proposal around the holidays, you'll have a beautiful view of the Rockefeller Christmas Tree and ice skating rink. "If you can really splurge, 620 Loft and Garden is a beautiful private event space roof garden with unique city views," says Landman.
The William Vale
Book a staycation at The William Vale Hotel in Williamsburg. This 22-level hotel offers impressive views of the city and rooms with wraparound balconies making them perfect for stargazing with your hand wrapped around your loved one before asking them to be yours forever. If you'd rather ask the question with some food in your stomach, this hotel has got you covered with several restaurants including Leuca and Westlight. Parmar says this hotel has one of the best rooftops for proposing, too.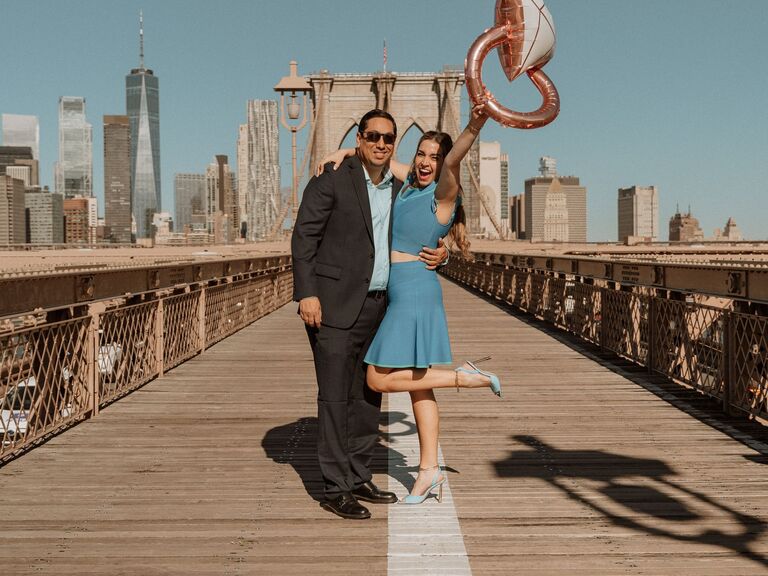 Best Restaurants to Propose in NYC
If you and your partner are foodies, you can't go wrong with popping the question at one of New York City's thousands of restaurants. Whether you're looking for a five-star restaurant or a more casual eatery, you'll create a memorable proposal for you and your partner when you fire the question.
Serendipity 3
The recently renovated and world-famous Serendipity 3 located on the Upper East Side of Manhattan is a great place to pop the question. We recommend proposing over a cup of the restaurant's famous Frrrozen Hot Chocolate for a sweet moment you'll both remember alongside its eccentric decor and hanging chandeliers. It can be difficult to snag a reservation if you don't do so in advance, so make sure to search for one as soon as you have a date in mind.
Carmine's Upper West Side
Is your partner a lover of all things Italian cuisine? If so, you should pop the question at Carmine's. This Upper West Side location serves chicken parmigiana, penne alla vodka and baked clams in addition to many other classic Italian favorites. There's also another location in Times Square if you're looking for a restaurant in Midtown. The food is served family-style, so make sure to order a couple of dishes if you want to impress your date.
The Smith
The Smith is a wonderful restaurant for a romantic proposal, especially a nighttime one with its candlelit tables and beautiful light fixtures. And, its cuisine made with some ingredients from local farmers makes it all the better. What makes this restaurant stand out is its wide-ranging menu with offerings including skillet roasted macaroni & cheese, Flounder Milanese and The Smith Burger.
Gair
Looking for a local go-to for your proposal? Consider Gair, a restaurant and bar in Dumbo with high ceilings, large windows overlooking the area's historic homes and an overall industrial atmosphere. Since this restaurant doesn't take reservations, we recommend arriving as soon as it opens to secure a table (note that it's closed on Mondays) if you're wanting a more intimate setting for your proposal.
MyMoon
This converted boiler room turned restaurant and event venue in the heart of Williamsburg will provide you with an industrial yet romantic atmosphere when you pop the question. Parmar recommends MyMoon as a proposal location as the restaurant may be a little bit less crowded—just make sure the restaurant is open as its schedule changes frequently.
Gaby Brasserie Française
French boutique hotel Sofitel New York is home to Art Deco-inspired French restaurant Gaby Brasserie Française. If you're an early riser, you can book an early table and profess your love to your partner over breakfast or some small bites during the restaurant's dinnertime hours. If you enjoy alcohol, make sure to try one of the restaurant's classic cocktails. We think you'll like them in addition to the artwork that dresses the restaurant's walls.
Milady's
If you're looking to keep things casual, Milady's is a solid NYC proposal spot. Since this Prince Street neighborhood bar is filled with plenty of delicious cocktails including the Big Apple Martini and Milady's Martini, you can rest assured there will be no shortage of delicious beverages to help calm your nerves before popping the question.
Principe
Principe is beloved by many for its high-quality seafood and seasonal produce. If good food in the heart of SoHo is what you seek for your proposal meal, keep this restaurant at the top of your list.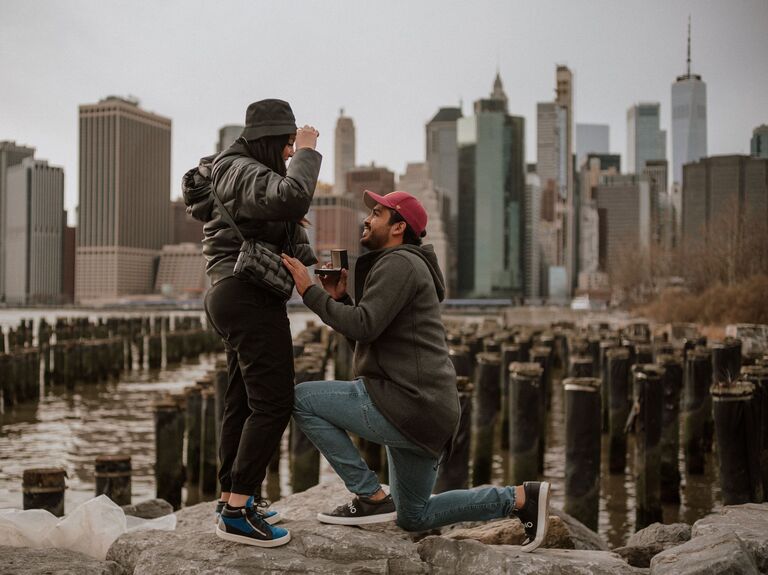 Best Rooftops to Propose in NYC
There's not much else better than a rooftop view of New York City. We've compiled some of our and our expert's favorite NYC rooftop locations for a wedding proposal.
Loopy Doopy at Conrad New York Downtown
Located on the 16th floor of the Conrad New York Downtown Hotel sits the rooftop bar Loopy Doopy. If you and your partner are fans of beautiful views, this is the perfect proposal place for you as this spot offers breathtaking views of the New York Harbor, Statue of Liberty and Jersey City. And, it's known for its famous Poptail cocktail drink—so make sure to order some of those.
The Cantor Roof Garden Bar at The Metropolitan Museum of Art
If you're planning a summer or early fall proposal, The Metropolitan Museum of Art is home to The Cantor Roof Garden Bar located on the museum's fifth floor. "Our favorite hidden rooftop is The Met Roof Garden Bar, with stunning views of the city alongside beautiful artwork," shares Guedes. This is a great option if you're looking for a more intimate proposal location. Plus, if you happen to experience any inclement weather, there are multiple other locations containing beautiful pieces of artwork around the museum that could make for great indoor and alternative locations for your proposal.
Bar 54 at Hyatt Times Square
When you propose at Bar 54 at the Hyatt Times Square you'll be proposing at one of the highest hotel cocktail bars in NYC. It will provide a view that you and your partner will remember forever.
The Skylark
The Skylark is a contemporary rooftop venue located thirty stories above Times Square South. What's great about this upscale cocktail lounge is that there are both outdoor and indoor areas if inclement weather passes through. Either way, you'll experience stunning views of some of The Big Apple's most well-known landmarks including the Empire State Building, Chrysler Building and the Times Square New Year's Eve Ball as the space is equipped with floor-to-ceiling windows. The Skylark is one of Parmar's favorite rooftop NYC proposal spots. Plus, it can be rented out if you want a more private proposal.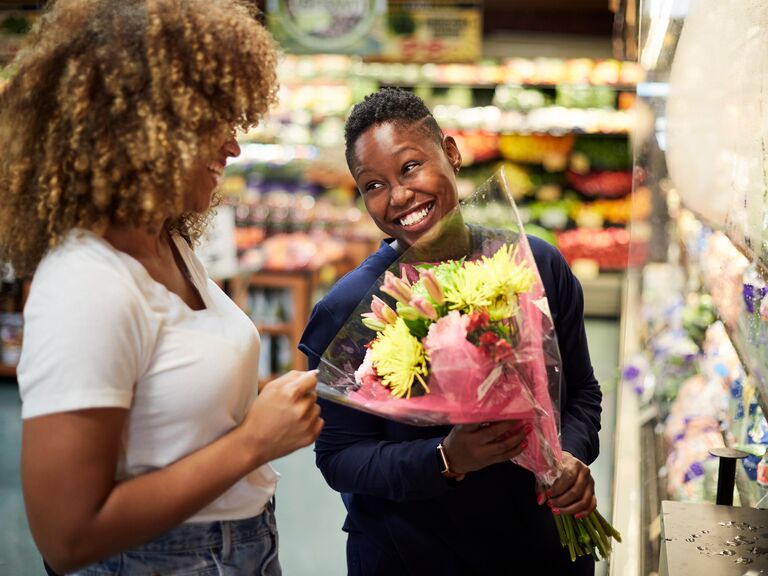 Indoor Proposal Ideas NYC
Although NYC has so much to offer outside, indoor proposals can be just as beautiful. If it's snowing or very hot outside, these locations may create a more comfortable proposal experience.
American Museum of Natural History
Located on 79th Street, the American Museum of Natural History is one of the most iconic museums in the city. Featuring more than 45 exhibition halls, there are plenty of spots to choose from to ask the question. However, we recommend asking in front of The Titanosaur if you want to make the moment extra memorable.
BK Winery
Thinking about popping the question over a glass of wine? BK Winery is the perfect place to do it. Whether you want to go on a winery tour and tasting and pull out the ring after or enjoy a meal at the restaurant first, there are plenty of indoor options here for proposing during any season.
The Paint Place NY
Start your painting class at The Paint Place NY with a picture and end it with a ring. It's not about whether or not you're the best artist, it's about having fun and spending quality time with the one you love. Don't worry, though, there will be someone to help you throughout every step of the painting process—just make sure there's not any paint on your hand when offering the ring.
Lips New York City
Have you ever thought about proposing at a drag show? If so, Lips New York City is the place to go. Whether you attend a drag dinner show or a Sunday brunch, the energy will be high when you ask your loved one for their hand in marriage.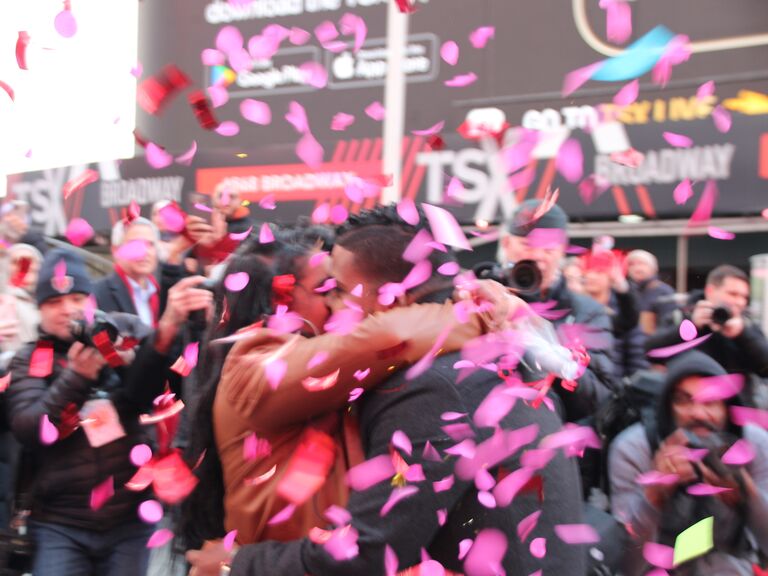 Romantic Places to Propose in NYC
New York City is filled with romantic places to propose. Whether you want a romantic outdoor proposal or a romantic indoor proposal, keep reading to discover some of the best romantic places to propose in New York.
Brooklyn Botanic Garden
What's more romantic than being surrounded by thousands of flowers at Brooklyn Botanic Garden while proposing to the love of your life—we can't think of much else. Although we recommend any spring and summertime proposals here, popping the question while admiring the cherry blossoms during late April and early May is sure to be romantic. Both Engleby and Guedes deem the Brooklyn Botanic Garden one of the best places to propose in NYC.
One If By Land, Two If By Sea
Barrow Street's One If By Land, Two If By Sea is one of the most romantic fine dining restaurants in NYC with its beautiful brick walls, hanging chandeliers and wooden furniture. Whether you want to pop the question before or after you enjoy some Duck confit pappardelle, root vegetable bisque or bluefin tuna tartare verde is up to you—either way, a proposal here will be one you and your partner will never forget. According to Engleby, this is one of the best restaurants to propose in NYC.
Soho Grand Hotel
Even if you live in NYC, you can't go wrong with treating your partner to a luxurious stay at the Soho Grand Hotel. Its Grand Bar and Salon and Club Room are two wonderful locations on the property where you can ask the question with their stunning light fixtures and stunning architecture. If you want to keep the moment intimate with just the both of you, proposing inside your room is a great idea (and, you can order some room service if you want some food or drinks to be present).
Veranda at ModernHaus SoHo
Treat your significant other to a proposal at the newly reopened Veranda at ModernHaus SoHo. What makes this restaurant unique is that it is situated inside of a retractable greenhouse which can create a hybrid dining space—you can have the comfort of being enclosed if there's inclement weather and the benefit of sunshine on those beautiful city days.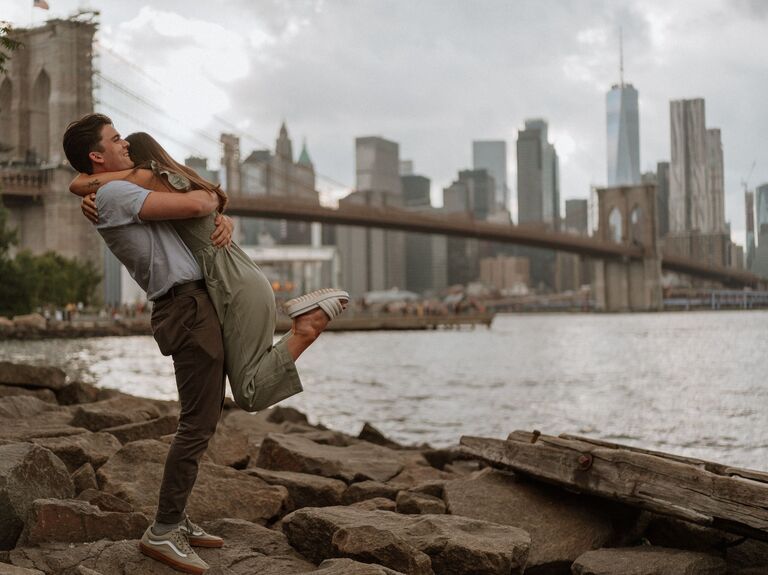 Unique Places to Propose in NYC
New York City is one of the greatest cities in the world and with that comes a lot of great places to propose which may not immediately come to mind when thinking about traditional proposal locations. These NYC destinations will make your proposal stand out.
Steps of The Metropolitan Museum of Art
If you two are both art lovers, a proposal on the steps of The Metropolitan Museum of Art is sure to be a unique one according to Engleby. Whether you choose to ask the question on the bottom or top step is up to you, but rest assured that there'll likely be at least one (but probably multiple) city-goers watching you profess your love for your significant other. After the proposal, you can head inside to check out some artwork or grab a drink at the fifth-floor bar.
Lincoln Center for the Performing Arts
If your significant other is passionate about theater and the performing arts, consider proposing at Lincoln Center for the Performing Arts. Check the show schedule when mapping out your proposal date to see if you can score tickets to a show ahead of time. It would be the perfect way to celebrate a "YES!"
Housing Works Bookstore in Soho
Start the next chapter with your partner with a proposal at Housing Works Bookstore in Soho. Not only is this bookstore filled with countless books, but is filled with spiral staircases and mahogany balconies providing an elevated ambiance. If you decide to make your proposal a party, you can feel good knowing that 100% of the venue's proceeds are put towards assisting homeless individuals who may be experiencing HIV/AIDS.
Museum of the Moving Image
The Museum of the Moving Image is a wonderful place for a wedding proposal if you're looking for something a little bit less chaotic as it's located about half an hour away from Manhattan in Astoria, Queens. Since the museum is filled with multiple interactive experiences, you won't have a dull moment before you ask the question. Plus, its polished white aesthetic will make for a great backdrop in your photos.
Ellis Island & Statue of Liberty
Treat your significant other to a true New York proposal at Ellis Island & Statue of Liberty. You can propose either on the ferry ride or in front of the statue itself, just make sure to enjoy the views of the city skyline together at some point.
Bronx Zoo
Do you love animals? Spend a day looking at the animals at the Bronx Zoo before asking your significant other to be by your side forever. This zoo and aquarium are about a 30-minute drive away from Manhattan, but it is worth it for its display of more than 6,000 species.
Carnegie Hall
Trying to plan a proposal for a music lover? Carnegie Hall in the heart of NYC's theater district is a brilliant choice. Try to plan your proposal around the show of one of your partner's favorite musicians for an added personal touch. After you pop the question, you can take a stroll around Central Park as it's just two blocks away from the theater.