You Need This Prosecco Van at Your Wedding
Okay, this is genius.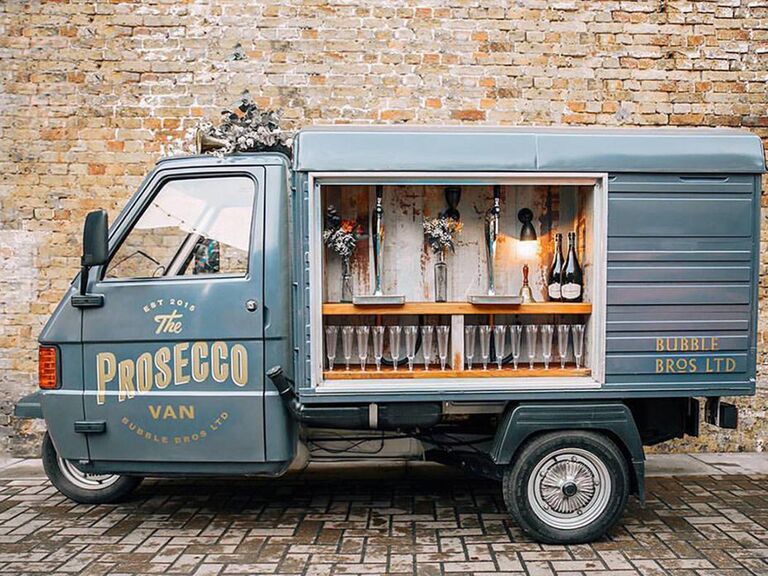 Wedding food trucks are nothing new (and never a bad idea), but we're seeing some seriously cool cocktail trucks lately, like mobile brewpubs, wine tasting stations and even an authentic Irish pub on wheels. And you have to see The Prosecco Van, started by Bubble Bros, that serves glass after glass of prosecco from the tap. Yes, this is real (would we lie about bubbly?).
Bubble Bros. converted a Piaggio Ape (basically a three-wheeled mini-truck) into a vintage-looking, industrial-chic wine and prosecco bar, which carries perfectly chilled cava on tap. The duo and their van have been pouring out prosecco at events all around the UK since 2015. The Syon House in west London, where the truck has served at a number of events, insists their bubbly by the glass is "dangerously delicious"—and we'd really like to try some.
But the wine wagon isn't the Bros.'s only claim to fame. They also transformed a 1969 motorbike and sidecar into a second, smaller wine bar on wheels, dubbed The Bubble Bike. It's the first motorbike wine bar of its kind, and it's fully road legal, by the way. It's the ideal solution for prosecco van fans with event space restrictions. Sign us up!
Now all that's left to do is pray this amazing amenity makes its way across the pond—and soon. Every wedding reception (and engagement, bridal shower, bachelorette, anniversary—or any—party) needs its own private prosecco van.

Obsessed with bubbly? Here are creative ways to serve champagne at your wedding.