10 Celebratory Ways to Serve Champagne at Your Wedding
Just in time for New Year's Eve, here are some festive ways to include bubbly in your day.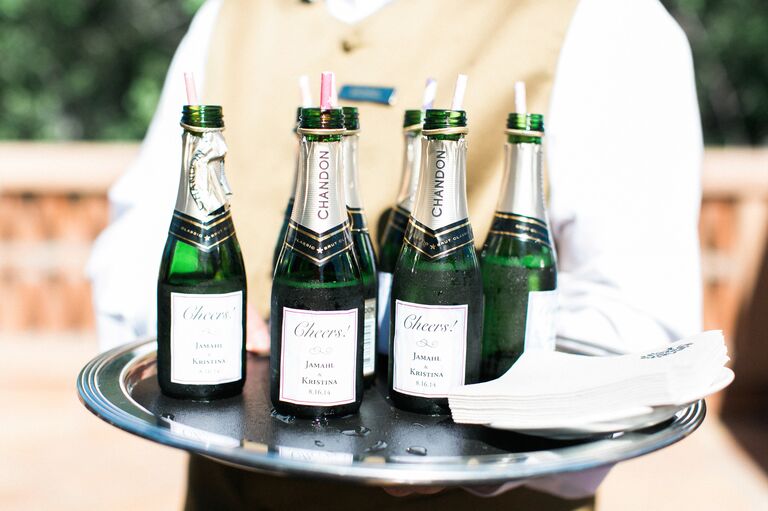 Troy Grover Photographers
Champagne is pretty much the best way to celebrate—period. Whether you're serving it for toasts, handing out splits as favors or including a sparkling signature cocktail, there's no shortage of creative ways to drink bubbles at your reception (or even the ceremony). So pop the bottles and get ready to ring in New Year's Eve with these genius ways to include champagne into your wedding.
1. Champagne Diva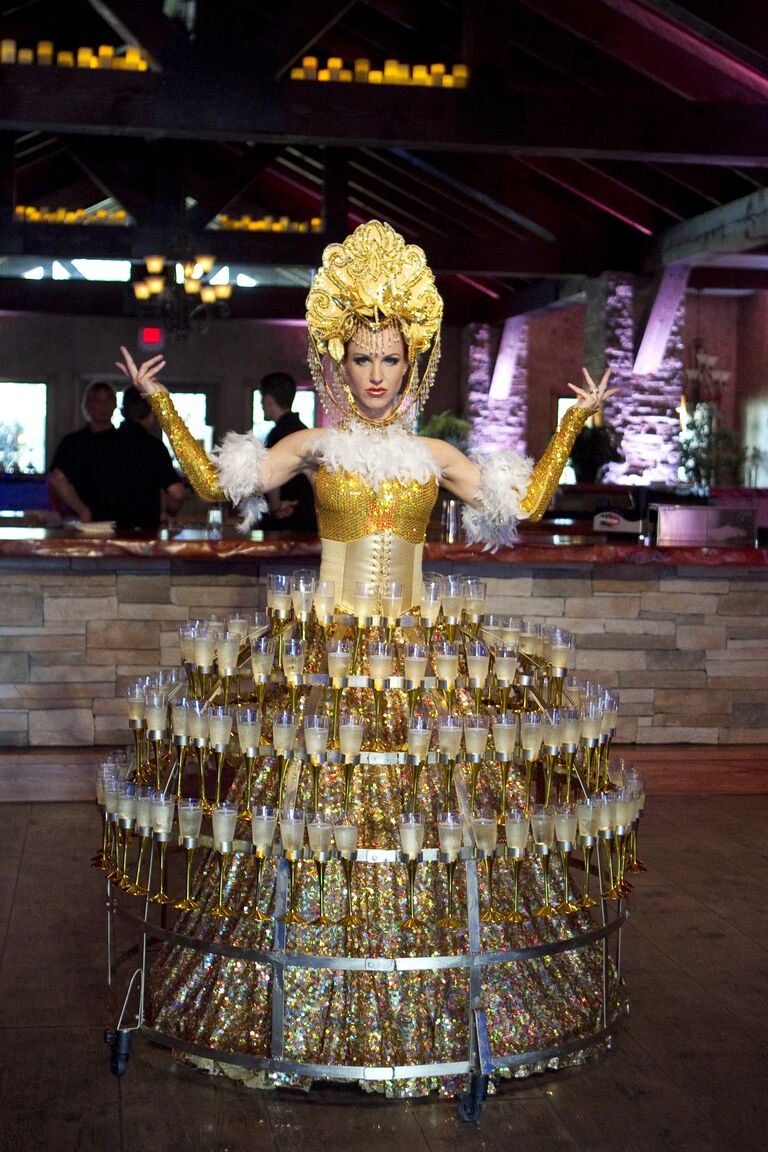 From: A Luxe Country Club Wedding in Jasper, Texas
Greet guests at the reception or keep their glasses filled all night with a strolling champagne diva who doubles as a cocktail waitress and photo-worthy entertainment.
2. Champagne Favors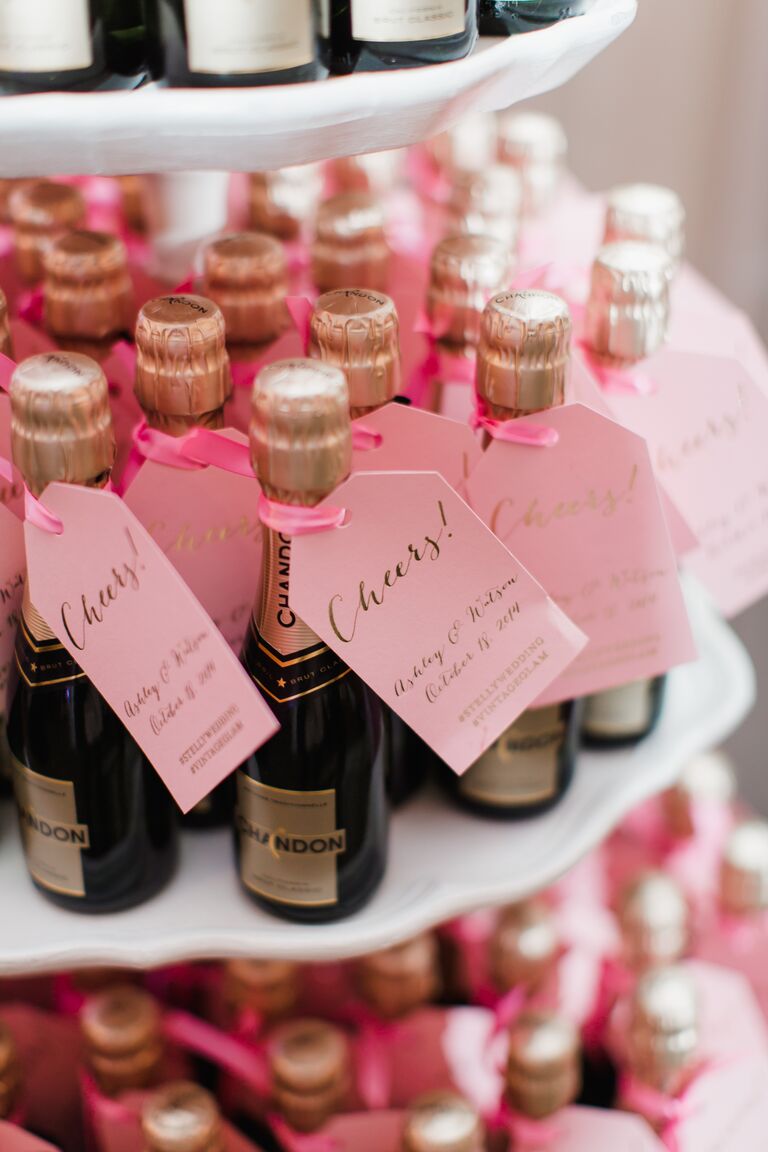 From: A Romantic, Love-Inspired Wedding at the Jefferson in Richmond, Virginia
Want favors that won't get left behind? Serve mini bottles of champagne sporting your wedding hashtag or new monogram.
3. Champagne Escort Cards
From: A Sophisticated, Whimsical Wedding at the Hemingway Home in Key West, Florida
Line the escort card table with flutes right outside the reception so guests can find their seats with something fizzy in hand. If you want to use this as a moment for the champagne toast, set up a sign closeby so guests know to hold on to their drink.
4. Champagne Guest Book
From: A Chateau Nightclub and Gardens Wedding In Las Vegas, Nevada
Have guests sign a bottle of champagne as they enter the reception. Pop it open when you go through your wedding photos together for the first time.
5. Champagne Welcome Baskets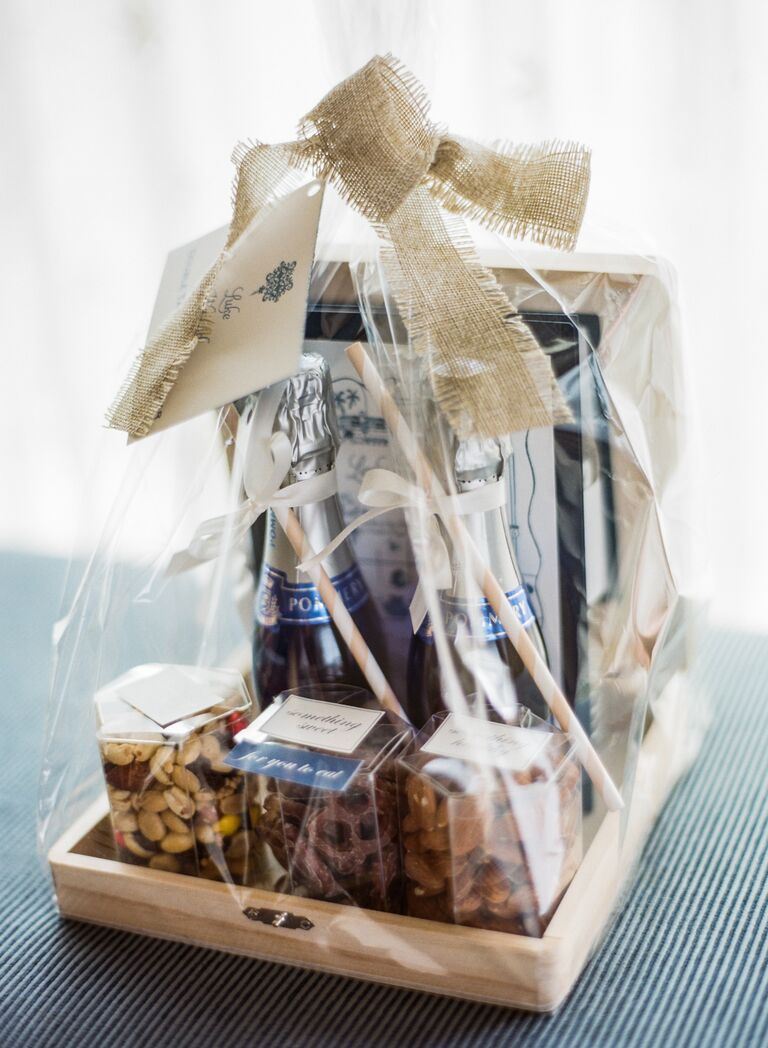 From: A Grand Del Mar Wedding in Del Mar, California
Welcome your guests with baskets of snacks and champagne splits to show them a good time from the start.
6. Champagne Signature Cocktail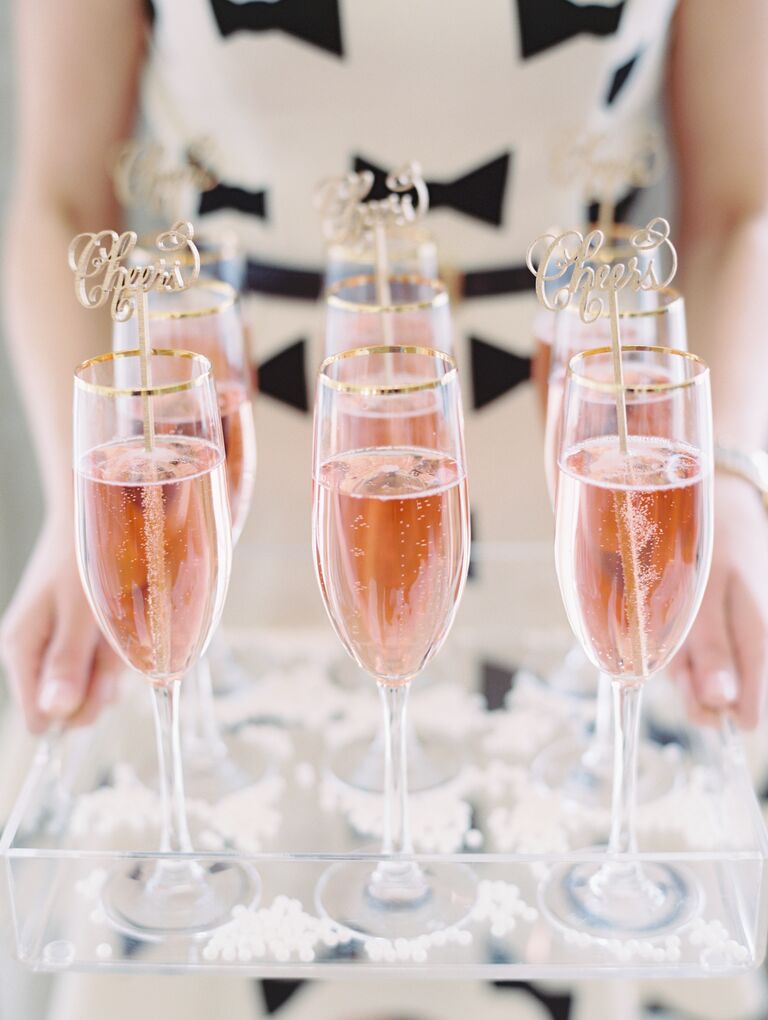 From: A Chic Metallic Wedding at the Hay-Adams in Washington, DC
Serve a signature champagne drink during cocktail hour and add playful stirrers for a festive touch.
7. Champagne Cart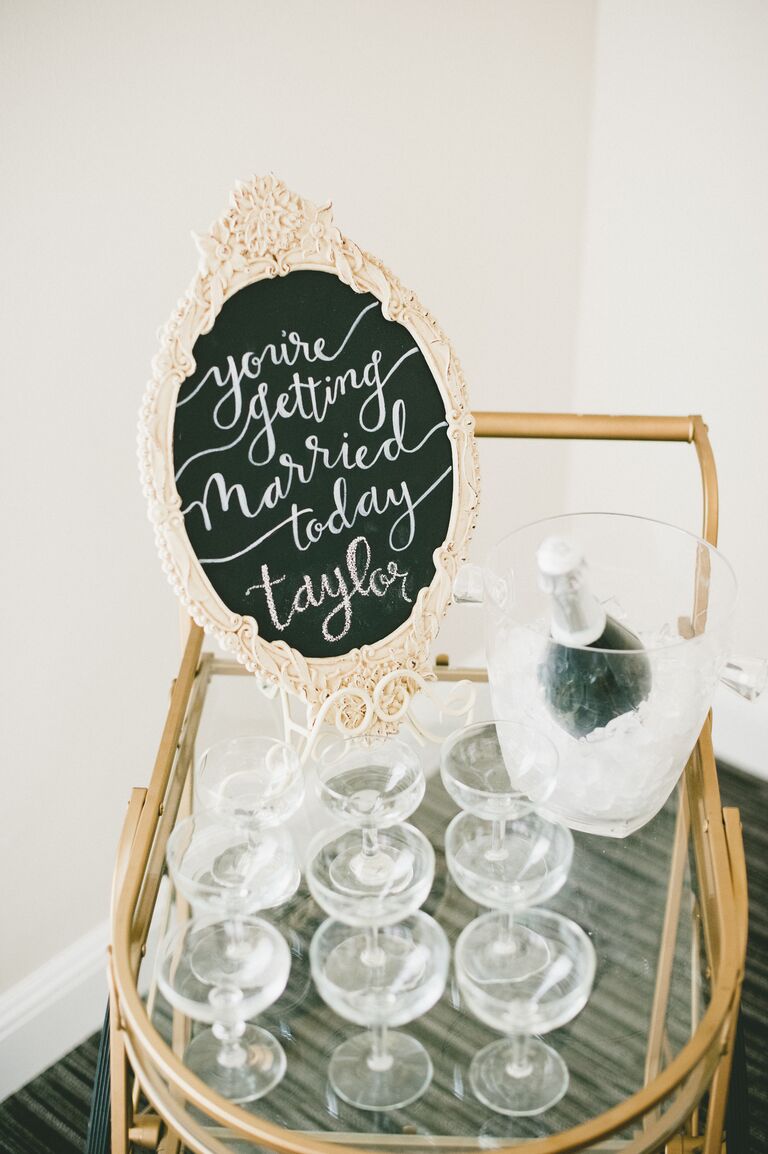 From: A Romantic, Natural Wedding at the Loft on Pine in Long Beach, California
Calm your nerves and initiate a toast with your wedding party while you prep for the day.
8. Champagne Cake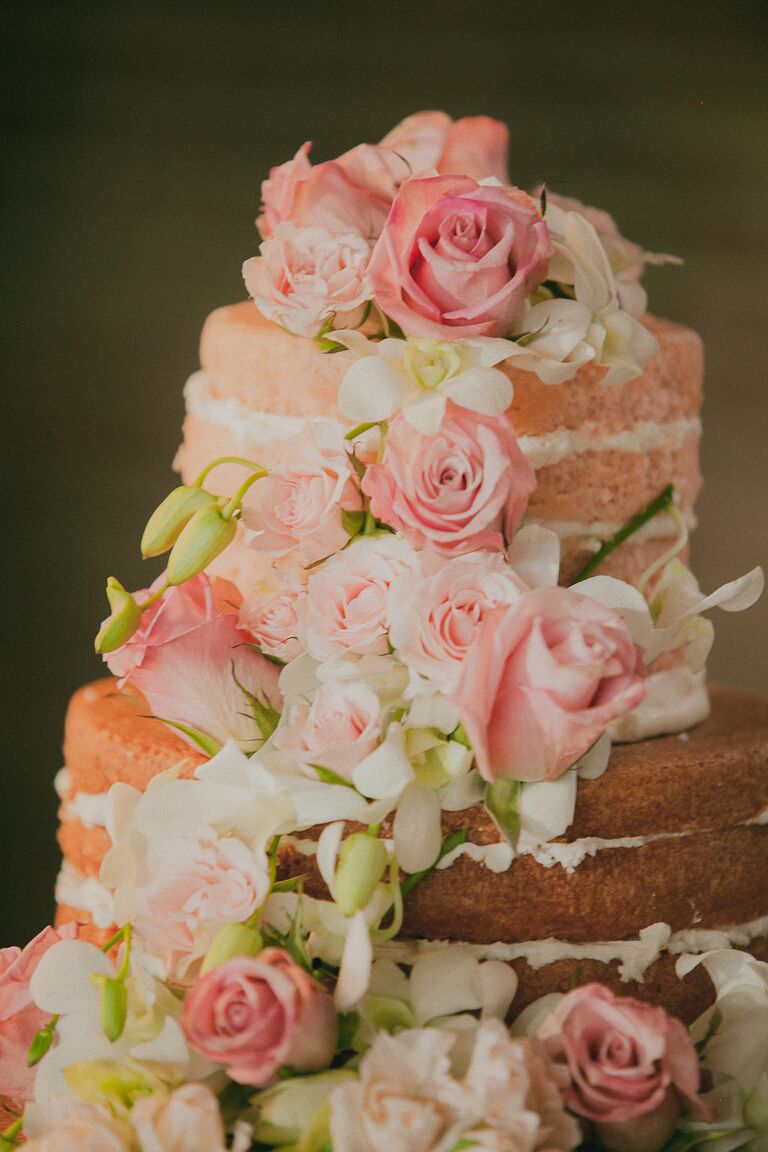 From: A Rustic Chic Wedding at the EPIC Railyard Event Center in El Paso, Texas
For an even more sophisticated inclusion of your favorite beverage, serve champagne-infused cake or cupcakes.
9. Champagne Tower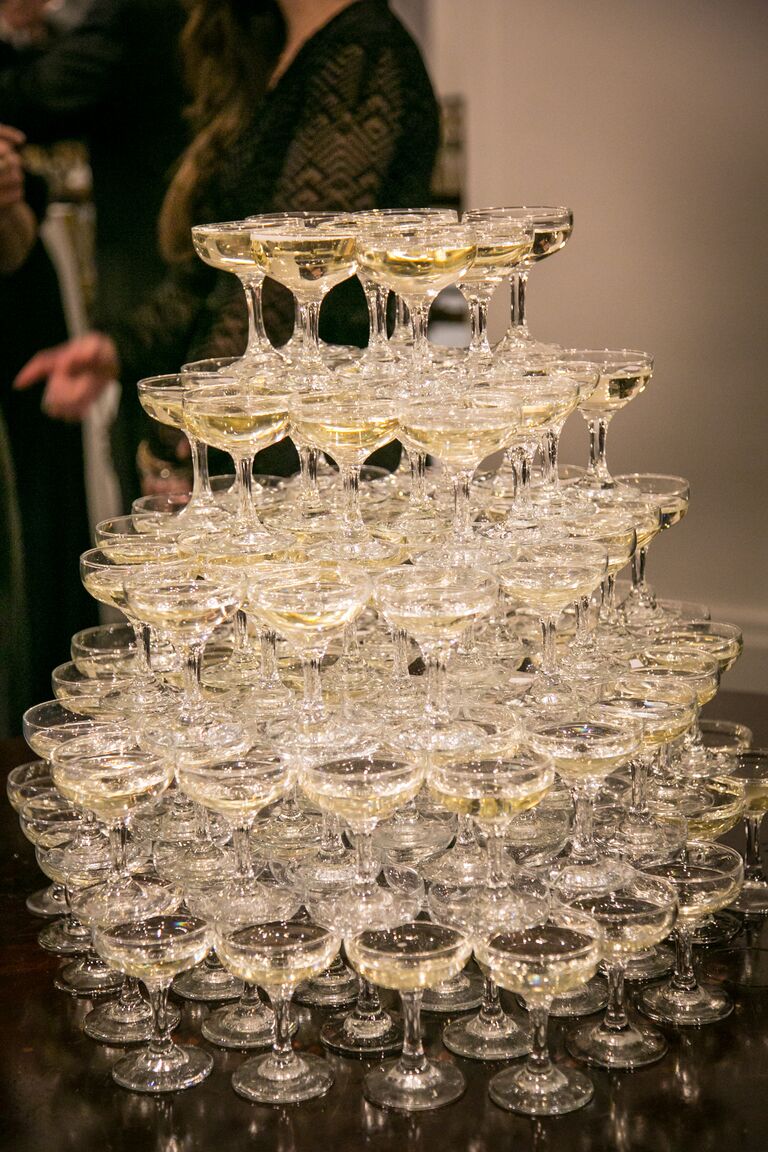 From: A 'Great Gatsby'–Inspired Wedding at The Lord Baltimore Hotel in Baltimore, Maryland
If a champagne diva is too over the top for your celebration, set up a champagne tower to impress your guests. (Even if you're confident in your tower-pouring skills as a couple, have a professional bartender or your caterer properly set up the tower of empty glasses so you know it won't collapse when all eyes are on you and your new spouse.)
10. Champagne Bottle Wedding Décor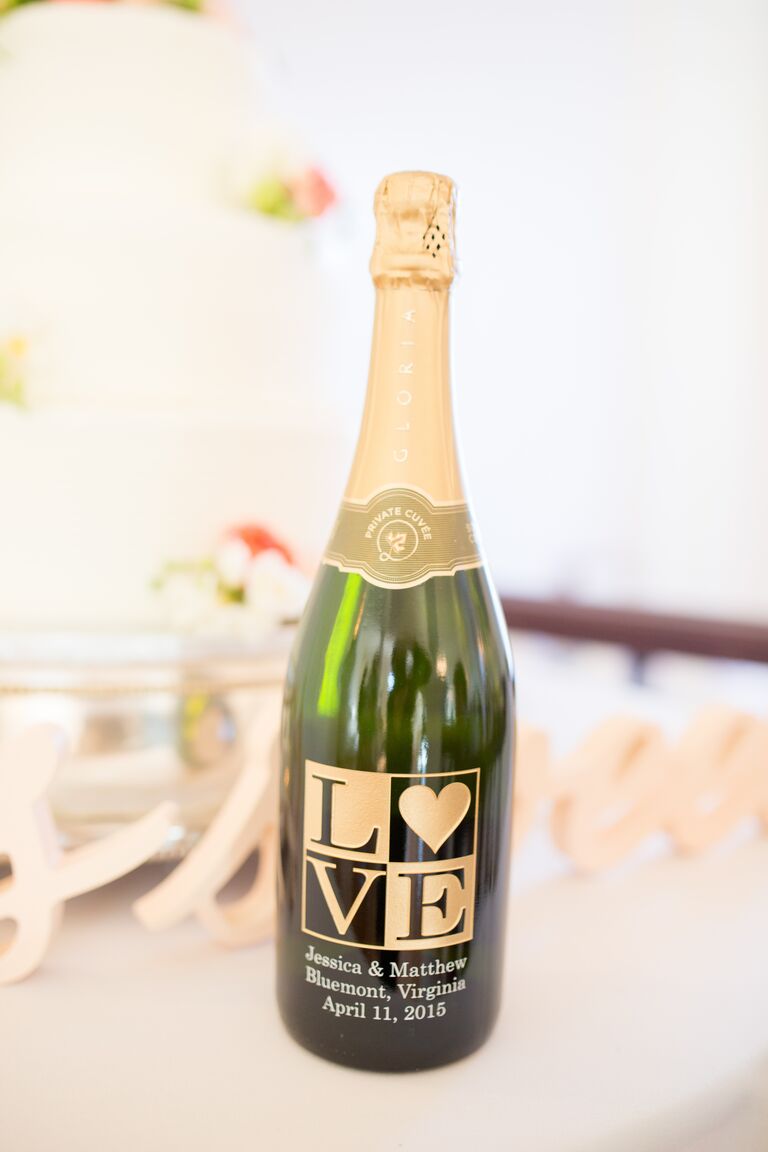 From: A Pretty Wedding at Whitehall Estate in Bluemont, Virginia
Create custom champagne bottles featuring your names and wedding date to add a personalized touch to your centerpieces.