Everything You Need to Know About Food Truck Wedding Catering
This a wedding food trend we love.
Now more than ever, couples are focused on making their weddings an unforgettable experience for their guests. Some to-be-weds choose food truck wedding catering as an interactive station and a unique way to personalize their special day. (According to The Knot 2022 Real Weddings Study, 5% of the nearly 12,000 newlyweds surveyed had a food truck at their celebration.) Not only will these mobile restaurants provide your guests with delicious, authentic food, but it'll also create an Insta-worthy photo opp.
However, there's more to food truck wedding catering than meets the eye. There are a few things to consider before you book your dream Mexican taco stand, grilled cheese mobile bar or ice cream truck. You'll need to work with your wedding planner and coordinate with your venue to ensure everything from parking to dinnerware is taken care of. But trust us, the final result will be totally worth it. See a comprehensive guide about wedding food trucks, below.
In this article:
How Does Food Truck Catering Work At Weddings?
You get to decide how you want to set up your food truck wedding catering. You can hire a food truck for the cocktail hour, dinner, dessert or late-night snacks. However, Jennifer Price, wedding planning expert and CEO of Event Shoppe Chicago, strongly encourages couples to only use food trucks before or after-dinner entertainment. "We always recommend using food trucks for late-night snacks when there's not a huge rush, and people aren't starving," Price says.
When to Rent a Food Truck for a Wedding
Since you want a food truck at your wedding, you'll need to start planning your menu at the same time as your other food service. Typically, couples don't start working with their caterer until about five or six months before their weddings, so we suggest you follow the same schedule for your food truck. This gives you time to customize your menu, go to food tastings and land on a delicious selection everyone will love.
For couples who want to rent ice cream food trucks, don't delay booking your vendor because you think it's a low-maintenance choice. Those types of food trucks are very popular during the warmer seasons, so you'll need to book six months before the wedding rather than later.
Food Truck Wedding Cost
Food truck rentals for weddings are known as a more economical option compared to traditional catering since they can range between $10-$20 per person, while the latter's average price is $75 per person. But many people don't know there can be extra costs involved.
Oftentimes, you have to budget a little bit more because you either have to meet a minimum for food trucks to come out on weekends or use more than one because of a high guest count. Another factor to consider when booking food truck wedding catering is the service. "A food truck cannot replace a full-service caterer, as caterers typically manage rentals and have staff to set up, buss, clean up and break down," Jove Meyer, wedding planning expert, owner and creative director at Jove Meyer Events, says. "A food truck doesn't typically do those things, so be sure to have the staffing to help with the rest." Both of these costs could put you over your wedding budget, so we recommend working with your wedding planner so you can stick to your budget while getting everything you want out of the experience.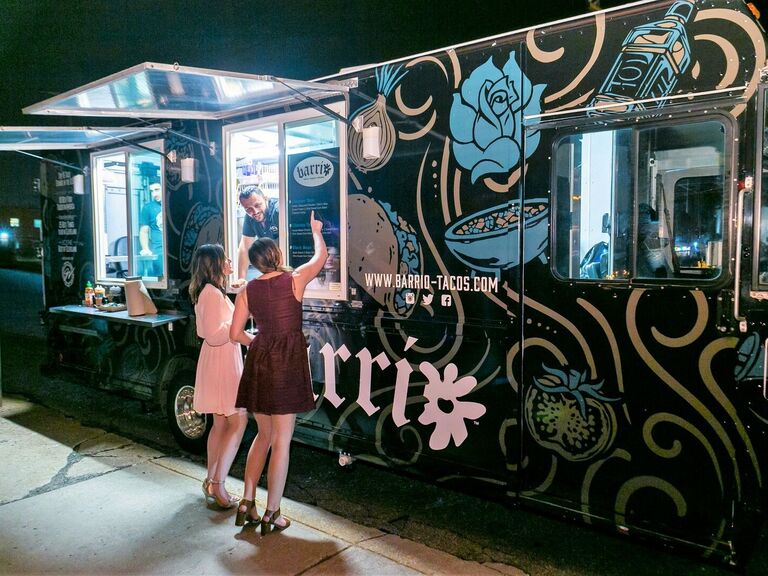 Things to Know About Food Truck Wedding Catering
If a wedding food truck is an absolute must for your nuptials, there are a few things you'll want to keep in mind. We asked wedding industry experts to compile a list of everything you need to know about this fun, interactive experience.
Know the limits of a food truck.
"When exploring food truck options, be sure to know the truck's limits before you book them," Meyer says. Can they prepare full meals or only snacks? If they're preparing full meals for your guests, you'll need to find out how long it will take them to cook the food. "If the food truck is serving your meal, have the staff set up, clean up and break down the party, as food trucks typically don't do anything outside their truck."
Even if your food truck is serving a full-on meal, Meyer says couples need to be realistic about what these vendors can do. "A common mistake couples make is to expect one truck to feed the entire wedding with cocktails, dinner and dessert. Most trucks specialize in one food type or style, not full-service catering. Food trucks roll up, prepare and hand out amazing food and then roll away."
Don't forget other essential details.
Preparing the food is just one aspect of your wedding meal. You'll need to account for serving, bussing and cleaning—not to mention utensils, plates and napkins. Our advice? Ask the food truck what they provide ahead of time so there are no surprises on your special day. "When you book a food truck, book it for all that it is, including its disposable serving ware like plates and cutlery," Meyer says. "If you want to upgrade the food service, ask if you can provide nicer plates and cutlery, as they may not have space for them. They surely will not wash them, so talk through those logistics in advance."
Understand the risks.
Food trucks are mobile, which means they're fluid by nature. Price says couples need to understand that there is a possibility the food truck may not show up on their wedding day. "With the food truck industry being hit so hard with COVID-19, it comes down to where they're going to make the most money that night," Price explains. "If there's a random concert with lots of potential customers, they might not show."
Price cautions that many food trucks may not even sign contracts or will include a clause that gives them the right to skip out on your wedding at the last minute. "All these things come into play when you book your wedding food truck, which is why I suggest working with an established company." Businesses like Chicago Food Truck Hub or New York Food Truck Association connect people to trusted food trucks. Partnering with a trusted source will help ease your mind and mitigate stress around no-shows.
How to Rent a Food Truck for a Wedding
You're set on bringing in a food truck rental for your wedding, but you're unsure how to find one. "One of the best ways to find food trucks is to go taste them when they are open to the public," Meyer says. "Many food trucks have locations they are often at, so plan to try their food out in the wild and make sure you love it." Many trucks are on social media and post where they'll be ahead of time, so make sure to follow a few.
Another way to find amazing wedding food truck catering is to get suggestions from your loved ones. "Ask them if they've tasted delicious menu items from any food trucks during festivals or their travels," says Desireé Dent, founder of Dejanae Events and recipient of the "Best of Weddings by The Knot" award for 12 years. "Also, reach out to catering companies that interest you and ask them if they offer food trucks or if they could recommend some."
We suggest checking out The Knot Marketplace for top-rated wedding catering options as well. We've listed some of the best wedding food trucks on The Knot Marketplace you can have at your celebration.
How to Coordinate With Your Food Truck Vendor After Booking
There are a few more things you should know about food trucks at weddings. Here are some expert tips to ensure your food truck experience goes without a hitch.
Discuss where the food truck will be parked.
The idea of food truck wedding catering is exciting, but don't forget about the logistics. Where the food truck is be parked, for example, is an essential detail you need to nail down before the big day. "A lot of venues already know if they're food truck accessible," Price says. "There are venues with garage doors that invite the food truck right inside, while others require the food truck to part outside on the street." If there isn't a spot inside the venue, Price says having them park on a nearby street works. In fact, she recommends working with your wedding DJ to make announcements about the food truck so your guests can enjoy it. Another ingenious idea? "Make sure guests have wristbands or tickets that identify them as part of the wedding."
The location of your food truck will also depend on its electricity needs. "Food trucks need electrical power to operate: Some can plug in, some have generators and some need to be running their engine," Meyer says. "If you plan to have a food truck, it should be outside and well-ventilated with the fumes pointed away from guests. If you want your food truck inside, be sure they can pull in, and that their exhaust faces out and that they can plug in and that you or they have the right size extension cord and power needs."
Avoid long lines at your wedding.
Nobody likes lines—but especially not at weddings. "The most common mistake I have found when working with food trucks are the lines," Dent says. "If you have a smaller guest count, food trucks work wonderfully and the lines are minimal. But for larger wedding guest counts, I would highly consider mixing food trucks in with passed hors d'oeuvres, snack stations or even a plated meal." Alternatively, Dent recommends using food truck wedding catering during cocktail hour or for an end-of-the-night snack so there isn't a huge rush to the food. Another idea? Book a food truck for your rehearsal dinner or postwedding brunch.
Wondering how many guests your wedding food truck catering can accommodate? Price says a general rule of thumb is to expect a single food truck to serve 100 to 150 people. If you have more guests than that, you'll likely need to bring in a second food truck.
Have a plan for the weather.
If you're hosting an outdoor wedding, creating a rain plan for all aspects of your nuptials is essential. Rain on your wedding day doesn't mean you have to cancel your food truck wedding catering experience, but you need to have a plan of action. Dent suggests finding out how close the trucks can get to the venue's entrance in case of inclement weather.
Price adds that most food trucks have pop-up tents they can set up. If that's unavailable, work with your planner to secure one just in case. "It would be great to add on one of those so people can have a nice walkway to the food truck and enjoy the special food you've brought in," Price says.