15 Facts You Didn't Know About Queen Elizabeth's Wedding to Prince Philip
Plus, our favorite photos from the original royal nuptials.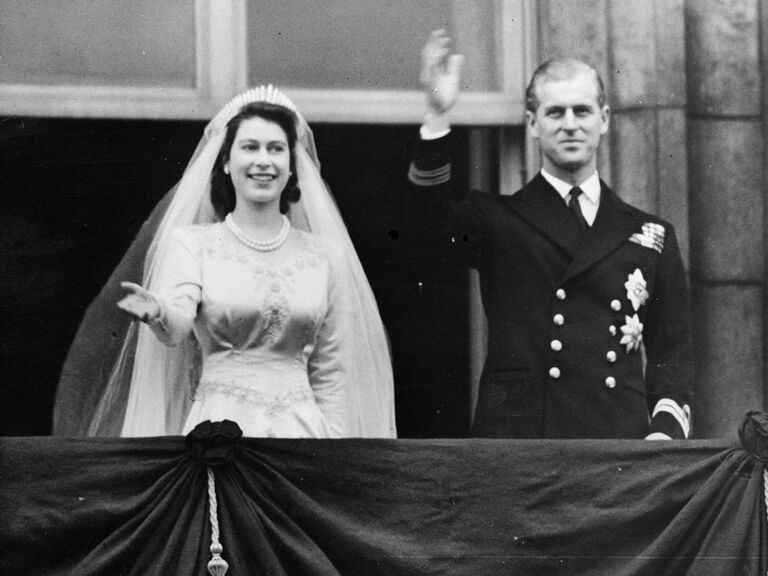 Keystone/Getty Images
Decades before the star-studded nuptials of famous royals like Prince Charles and Diana Spencer, Prince William and Kate Middleton, and Prince Harry and Meghan Markle, Queen Elizabeth II—Britain's longest-reigning monarch—had the original royal wedding of the modern era. On November 20, 1947, when she was 21 years old, Queen Elizabeth married Prince Philip of Greece and Denmark at Westminster Abbey. Now, over 70 years later, Queen Elizabeth's wedding pictures continue to prove that the lavish affair was simply unforgettable.
Here, we look back on Queen Elizabeth's wedding day with 15 surprising facts about the nuptials. (Even if you've already binge-watched The Crown, these tidbits might surprise you.) Plus, we've rounded up all of Queen Elizabeth's wedding pictures to relive the best moments from the iconic day.
Queen Elizabeth Met Prince Philip at a Wedding
While this isn't technically a fact about Queen Elizabeth's wedding day, it's a key element of her love story. According to The Royal Family's website, then-Princess Elizabeth met her future husband at the 1934 wedding of Princess Marina of Greece and Denmark to Prince George, Duke of Kent. At the time, the princess was just eight years old. Their paths crossed once again at Royal Naval College in Dartmouth in 1939 when Elizabeth was 13. They began secretly exchanging letters, and Elizabeth allegedly fell in love shortly into their relationship.
In 1946, Philip asked Elizabeth's father, King George VI, for her hand in marriage. He agreed under the condition that the proposal would remain a secret until Elizabeth's 21st birthday. The couple obliged, and their engagement was formally announced on July 9, 1947. Their wedding was planned in just four months.
Queen Elizabeth's Wedding Dress Designer Was Selected by The Queen Mother
Designing a royal wedding dress is one of the highest honors for fashion designers. Princess Diana wore an iconic ball gown designed by David and Elizabeth Emanuel. Kate Middleton opted for a memorable long-sleeve lace dress by Alexander McQueen, which inspired countless replicas over the years. Meghan Markle chose a demure look, wearing a simple boat-neck A-line dress from Givenchy. But what did Queen Elizabeth's wedding dress look like?
The bride's mother, Queen Elizabeth I (also known as The Queen Mother), selected Sir Norman Hartnell to design the wedding dress. The British designer had worked for the family since 1938, so he was a familiar choice. After news of his assignment broke, Hartnell said he was dedicated to making "the most beautiful dress I had so far made."
Pictures of Queen Elizabeth's wedding dress showcase Harntell's opulent design. The long sleeve gown was made of duchesse satin with a heart-shaped neckline, a V-pointed waist and a paneled skirt. The dress was inspired by Botticelli's famous painting Primavera, as seen through motifs of star lilies and orange blossoms. The luxe fabric was embellished with crystals and 10,000 seed pearls. It also had a 15-foot silk tulle train, which was attached at the shoulders. To complete the look, the bride wore ivory duchesse satin heeled sandals with silver and seed pearl buckles.
The Wedding Dress Was a Symbol of Hope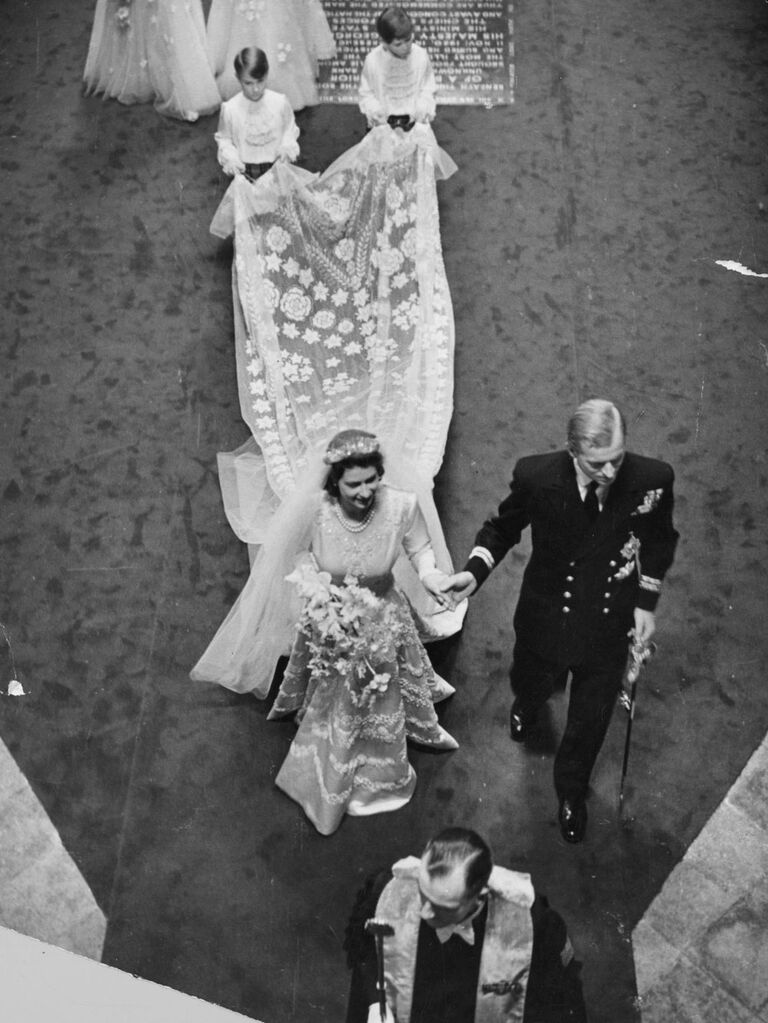 Queen Elizabeth's wedding dress was symbolic for UK citizens. Botticelli's Primavera painting depicts hope and rebirth. While the image was created around 1480, its representation on the future queen's wedding dress served as a sign of hope for those in Britain recovering from post-war austerity.
UK Citizens Attempted to Fund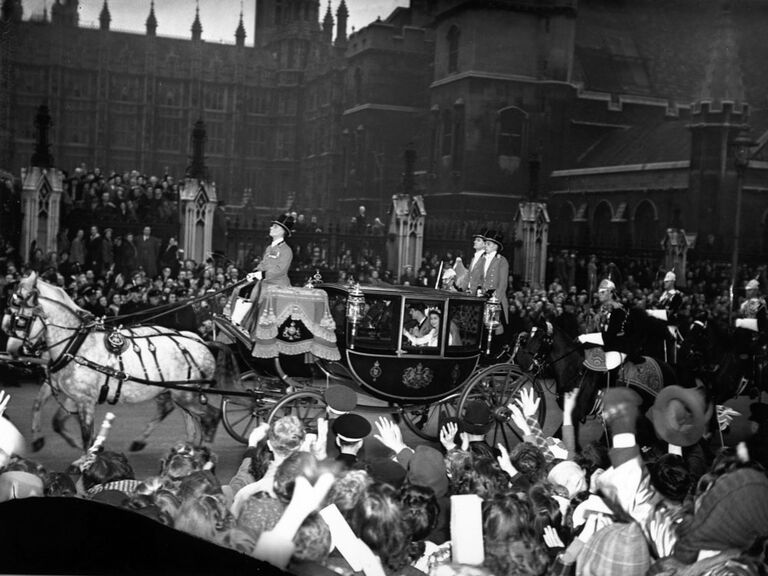 Because Queen Elizabeth and Prince Philip's wedding took place two years after the end of World War II, some post-war restrictions impacted the royal nuptials. Hundreds of citizens sent the bride their own rationing coupons to help pay for the wedding dress. This was deemed illegal, though, and all coupons were returned. Queen Elizabeth ultimately paid for her wedding dress with her own clothing rationing coupons.
Queen Elizabeth's Wedding Rings Have Deep Family Ties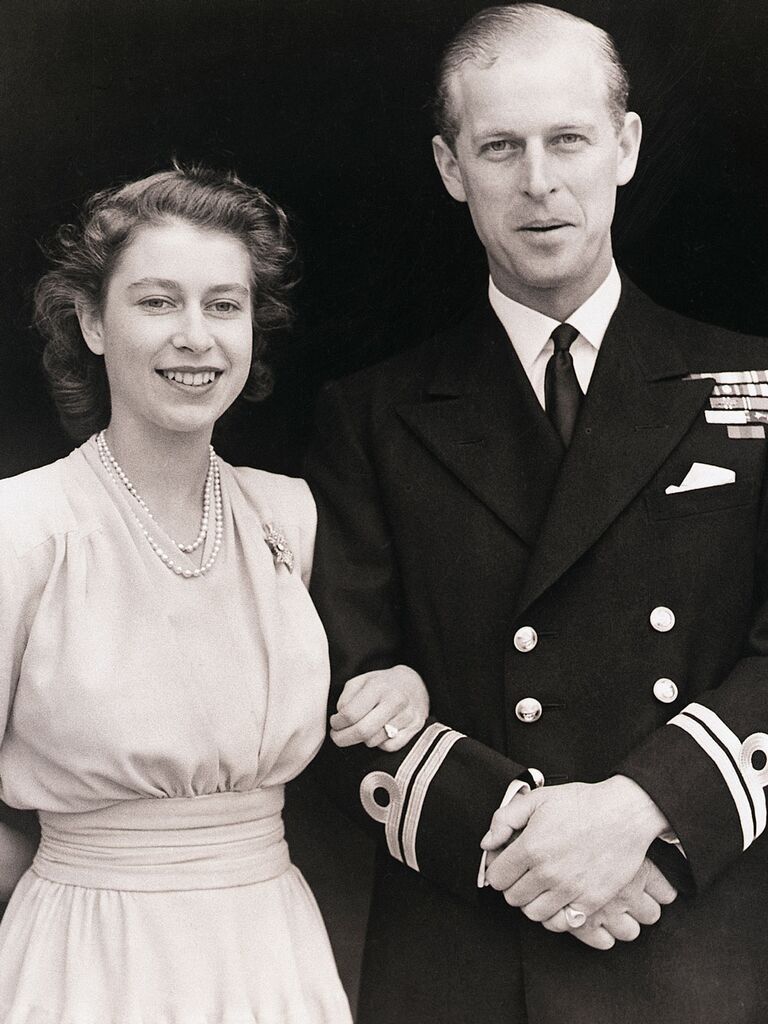 Both of Queen Elizabeth's wedding rings have significant sentimental value. Her platinum-and-diamond engagement ring was made of diamonds sourced from a tiara that belonged to Prince Philip's mother, Princess Alice of Battenberg. Her simple wedding ring was created from a nugget of Welsh gold that was gifted to The Queen Mother. Use of this nugget is an ongoing tradition carried on through the newest generation of royals who've married in recent decades, like Princess Anne, Princess Diana and Kate Middleton.
Prince Philip, for his part, has never worn a wedding ring. This is a common tradition followed by men in the British royal family; Prince William and Jack Brooksbank, husband to Princess Eugenie, don't wear wedding rings. Prince Charles, who is married to Camilla Parker Bowles, Duchess of Cornwall, does wear a wedding ring, though he stacks it underneath a signet ring he wears on his pinky finger.
Queen Elizabeth's Tiara Broke While She Was Getting Ready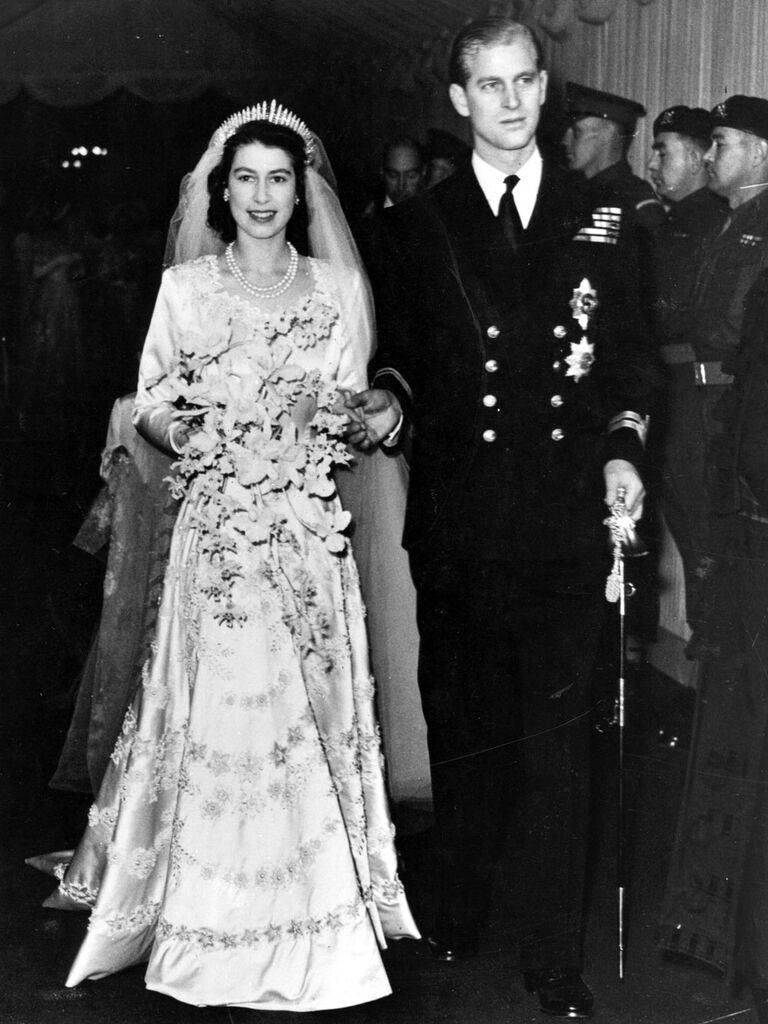 Even the queen wasn't immune to wedding day emergencies. While getting ready at Buckingham Palace on the morning of her wedding, Queen Elizabeth's tiara snapped. She opted to wear the Queen Mary Fringe Tiara, her "something borrowed" gift from The Queen Mother. But, as it was placed on her head, part of it broke. Luckily, the royal jeweler was on standby to fix it. Evidence of the fashion blunder is visible in some of Queen Elizabeth's wedding pictures, where there's a visible space in between the tiara's centerpiece and the diamond to the right.
The Queen Forgot a Strand of Pearls at Home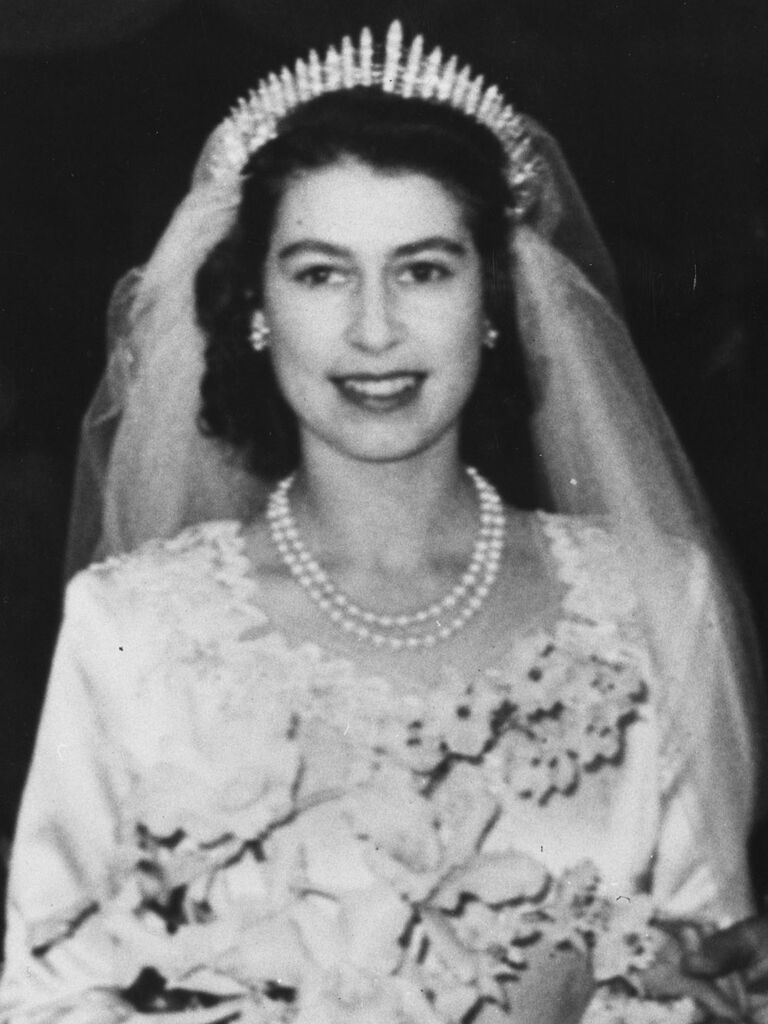 The bride experienced another misstep on the morning of her wedding. Her father gave her a vintage set of pearl necklaces that once belonged to Queen Anne and Queen Caroline as a wedding present. As she was getting ready, Queen Elizabeth realized she left the heirloom jewelry at St. James's Palace, her primary residence at the time. Luckily, the pearl necklaces are seen in Queen Elizabeth's wedding pictures because her private secretary was able to get them in time for her formal portraits.
2,000 Guests Attended the Ceremony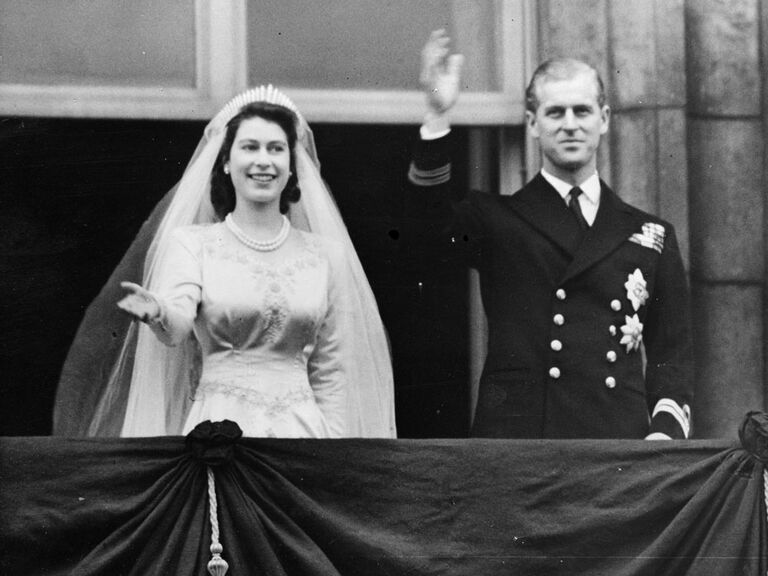 Queen Elizabeth II's wedding to Prince Philip wasn't an intimate affair. Over 2,000 guests attended the nuptials at Westminster Abbey—but the wedding captured the attention of the world. The wedding ceremony was recorded and broadcast by BBC Radio to 200 million people worldwide. Plus, thousands of royal fans lined the streets of London to celebrate the special day. After the ceremony, the royal newlyweds waved to the crowd from the balcony of Buckingham Palace.
The Queen Had 8 Bridesmaids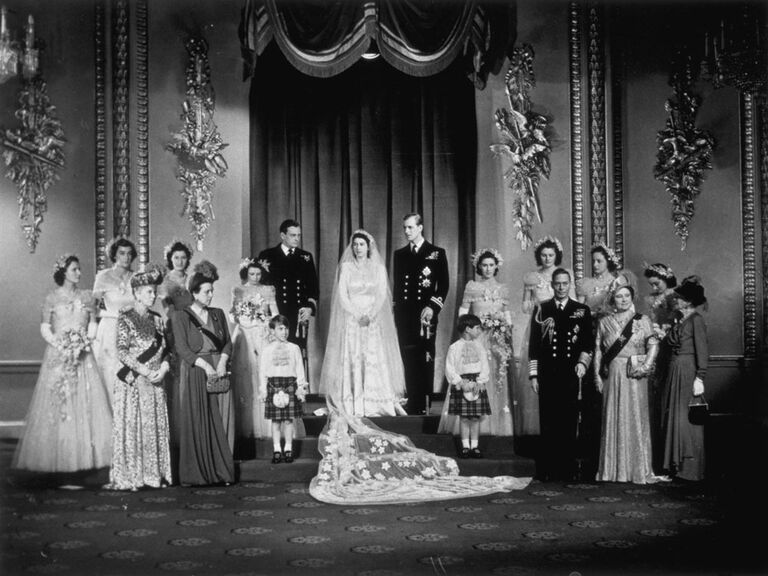 Queen Elizabeth had a distinguished lineup of bridesmaids at her wedding. She was supported by eight women: her sister, HRH Princess Margaret, HRH Princess Alexandra of Kent, Lady Caroline Montagu-Douglas-Scott, Lady Mary Cambridge, Pamela Mountbatten, Margaret Elphinstone and Diana Bowes-Lyon. The groom's best man was David Mountbatten, the Marquess of Milford Haven.
The Cake was 9 Feet Tall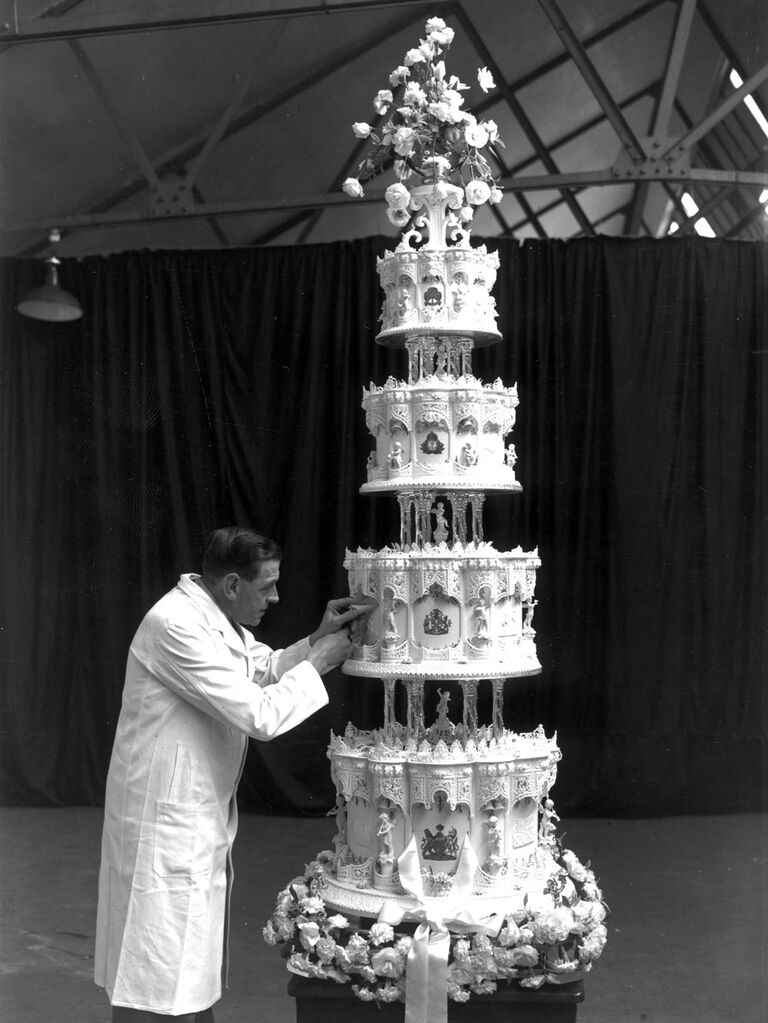 It's only fitting that the future Queen of England enjoyed a grandiose wedding cake on her big day. The newlyweds actually received 11 cakes, but the official dessert was created by McVitie and Price. The lavish confection was baked with ingredients from around the world, like sugar from the Girl Guides in Australia. (This ingredient led to the cake's nickname, "The 10,000 Mile Cake.") The four-foot dessert was decorated with the arms of both families, as well as monograms for the bride and groom. The creators also included sugar figures of the couple's favorite activities, as well as their regimental and naval badges.
The cake-cutting moment was just as grand as the design. The dessert was sliced with Prince Philip's Mountbatten sword—a wedding gift from his father-in-law, King George VI.
The King Wrote a Private Letter In Lieu of a Speech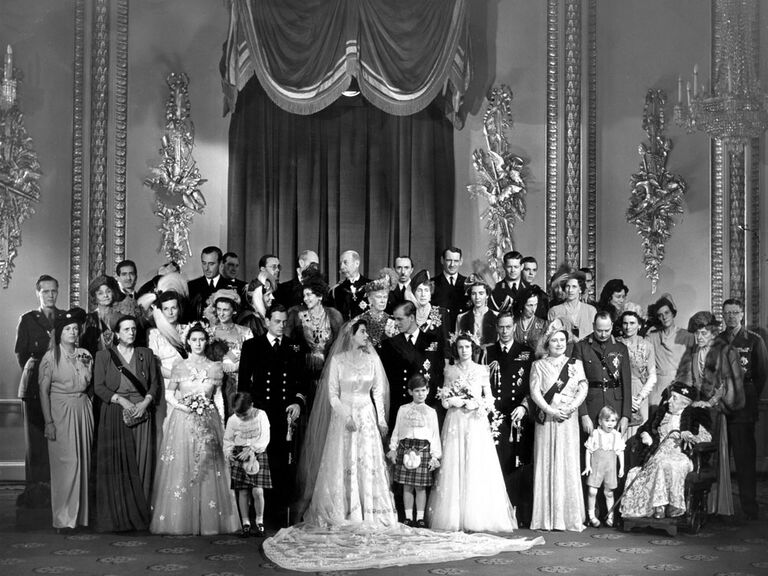 While speeches are common at royal wedding receptions and luncheons, the bride's father, King George VI, expressed his thoughts in a private letter. Transcripts from The Royal Family's website reveal exactly what the father of the bride wrote. "I was so proud of you and thrilled at having you so close to me on our long walk in Westminster Abbey, but when I handed your hand to the Archbishop I felt that I had lost something very precious," he penned. "You were so calm and composed during the Service and said your words with such conviction, that I knew everything was all right ...I have watched you grow up all these years with pride under the skillful direction of Mummy, who, as you know is the most marvelous person in the world in my eyes, and I can, I know, always count on you, and now Philip, to help us in our work. Your leaving us has left a great blank in our lives but do remember that your old home is still yours and do come back to it as much and as often as possible. I can see that you are sublimely happy with Philip which is right but don't forget us is the wish of your ever loving and devoted, Papa."
The Bouquet was Laced with Royal Tradition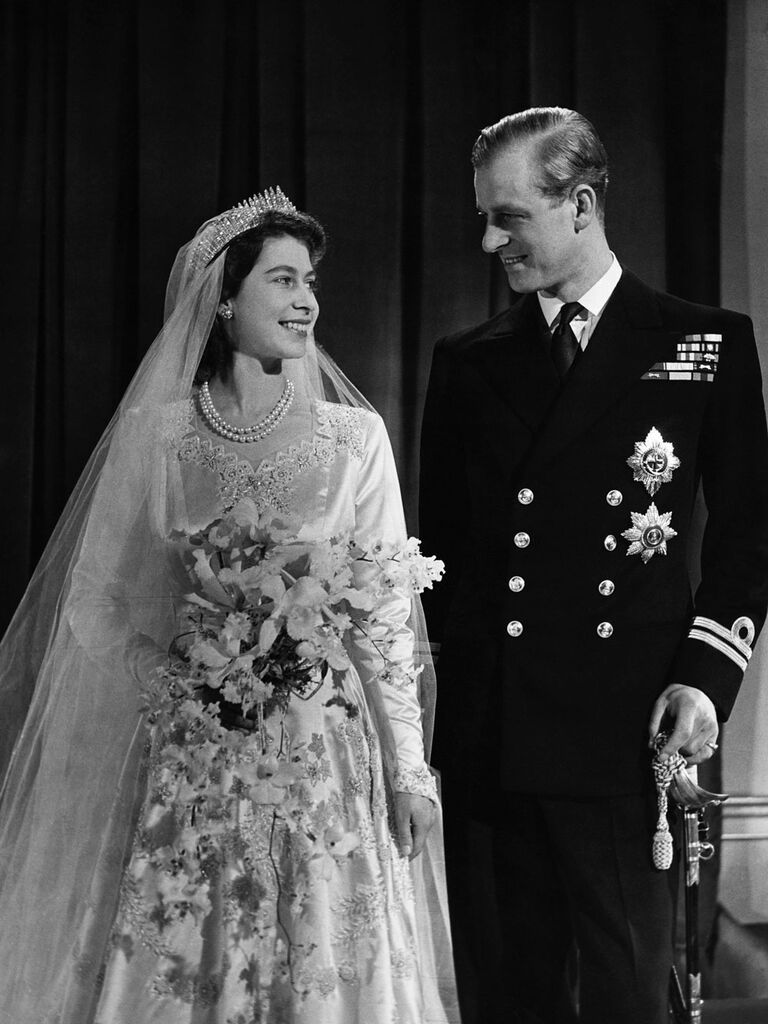 Queen Elizabeth's wedding flowers were heavily influenced by royal history. Her bouquet was made of white orchids and a sprig of myrtle, a tradition started by Queen Victoria. The day after the wedding, the flowers were transported back to Westminster Abbey where they were laid at the Tomb of the Unknown Warrior. This sentimental tradition has been carried out by royal brides like Kate Middleton, Meghan Markle, Princess Beatrice and Princess Eugenie.
The Bride Wore Multiple Wedding Outfits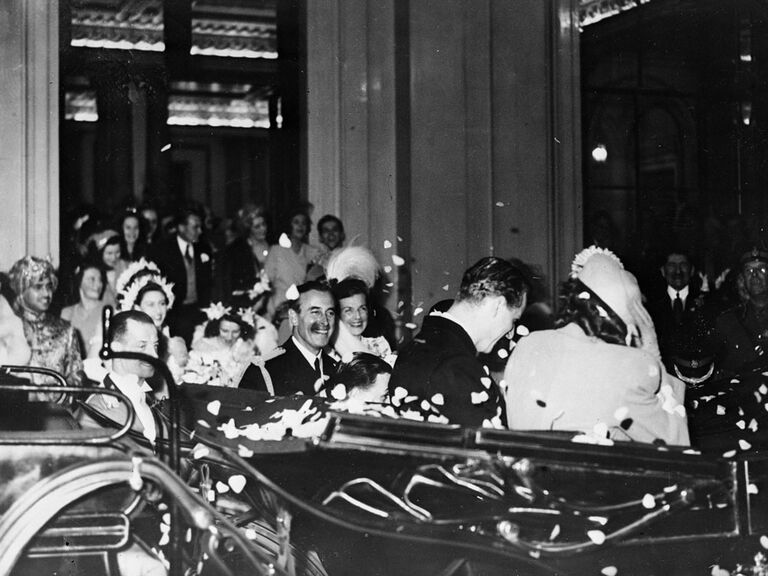 Yes, Queen Elizabeth wore multiple wedding outfits throughout the celebratory weekend. In addition to her wedding dress, the bride donned a "going away" outfit in mist blue as she departed on her honeymoon. The dress-and-coat combo was also designed by Norman Hartnell.
The Newlyweds Received Over 2,500 Wedding Gifts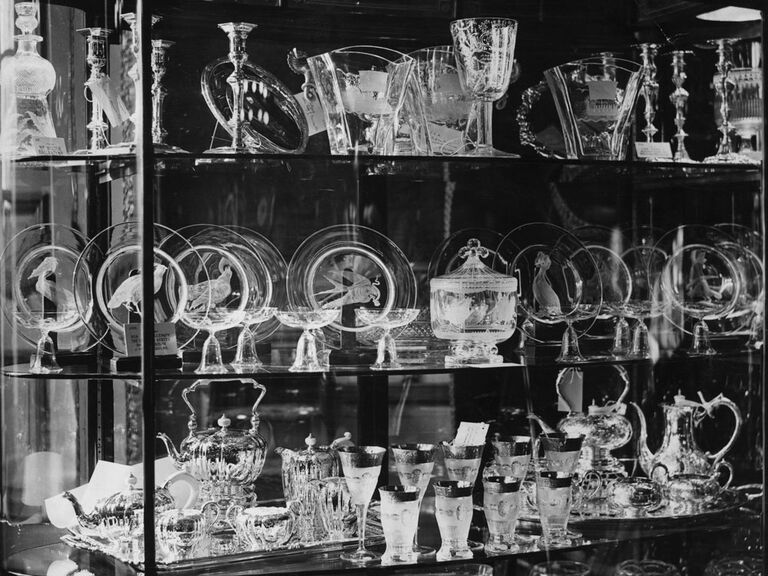 While Queen Elizabeth and Prince Philip didn't create a traditional wedding registry, the newlyweds did receive plenty of gifts from well-wishers around the world. In fact, according to the Royal Family's website, the couple got over 2,500 gifts and 10,000 congratulatory telegrams. Some of the family's presents were revealed as well: Queen Mary gifted them a bookcase, while Princess Margaret gave a picnic basket. Queen Elizabeth and Prince Philip's wedding gifts were later put on public display at St. James's Palace.
Queen Elizabeth's Corgi Joined the Honeymoon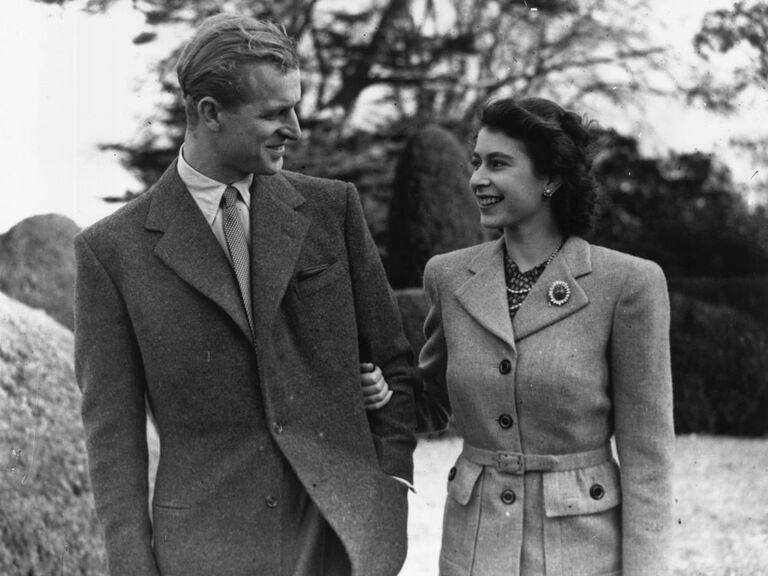 After the wedding day, Queen Elizabeth and Prince Philip departed on their honeymoon—but they weren't alone. The newlyweds, along with Queen Elizabeth's corgi Susan, began their postwedding getaway at Prince Philip's uncle's house in Broadlands, Hampshire. The royal couple notably stayed close to home due to post-war-related constraints. They spent the rest of their honeymoon at Birkhall on the Balmoral Estate, one of the most private residences belonging to the royal family.