Beautiful Royal Engagement Rings Throughout History, Plus Lookalikes You Can Buy Now
These sparklers will make you feel like royalty.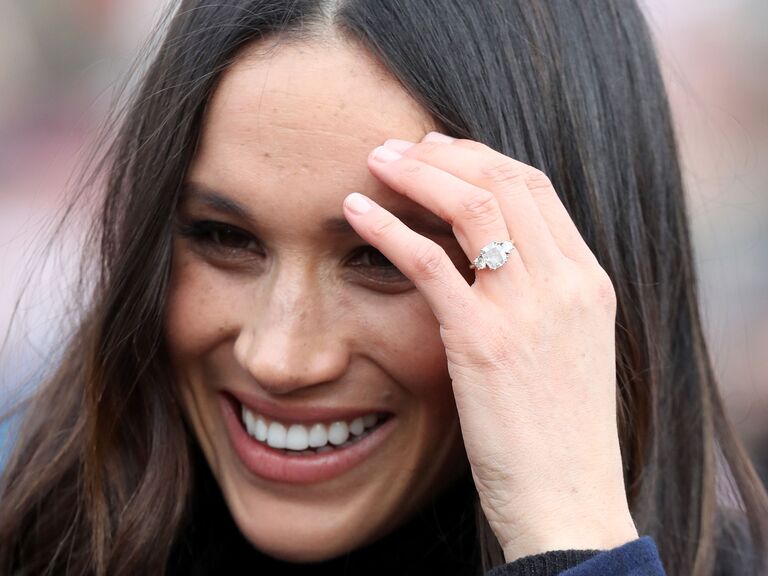 Getty Images
We have included third party products to help you navigate and enjoy life's biggest moments. Purchases made through links on this page may earn us a commission.
From news of Meghan and Harry's new podcast to the premiere of Season 4 of "The Crown" on Netflix, the British royal family is having a moment. And, given they own some of the most spectacular royal engagement rings in the world, we tend to think they're always trending from a jewelry perspective. What's with our royal obsession? While it's no secret the royal family is steeped in time-honored traditions, their selection of sparklers is far from expected and serves as serious ring inspo. (Think: colorful center stones, elaborate vintage settings and sleek modern details). And while not everyone has access to the Queen's jeweler—you have us to guide you. Below, we've rounded up some of the most famous royal engagement rings of all time, plus showstopping lookalikes you can shop right now.
Wallis Simpson, Duchess of Windsor Engagement Ring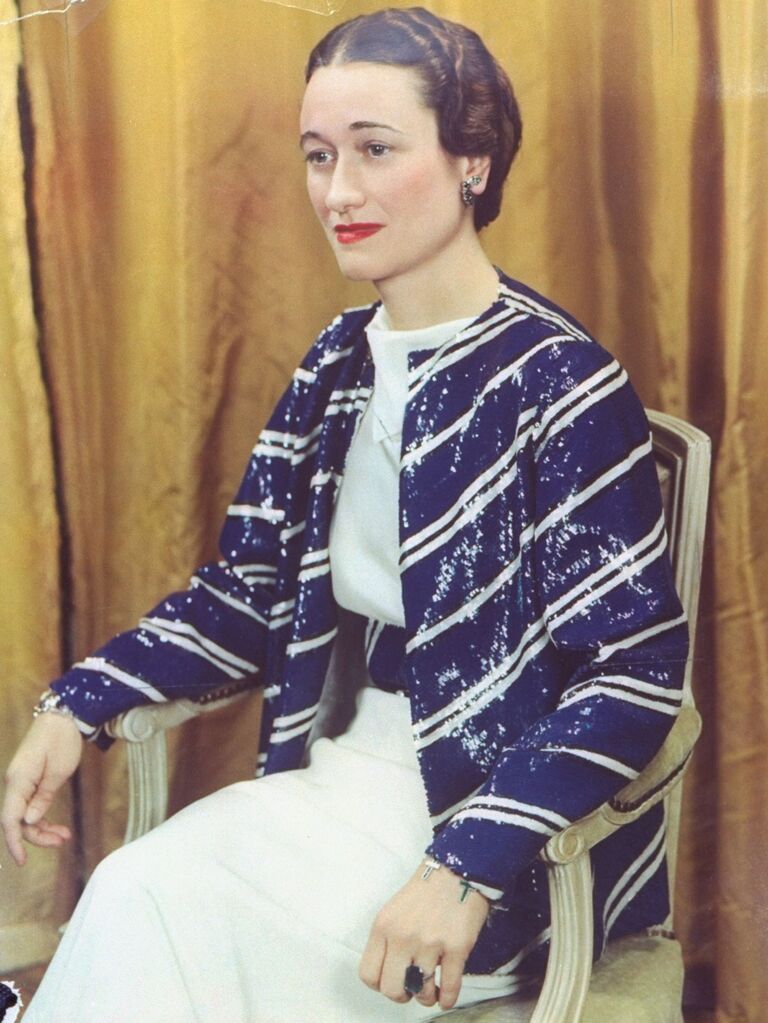 A royal scandal that changed the course of the British royal family forever, King Edward VIII abdicated the throne to marry American Wallis Simpson in 1936, presenting her with a dazzling emerald ring from Cartier just shy of 20 carats. It has since been reset, but the original setting was a yellow gold mount with baguette diamonds details. The inside was engraved "We are ours now" and dated Oct. 27, 1936, the date Edward proposed. If you're into this storied royal engagement ring, you're in luck—it just so happens emeralds are one of the biggest engagement ring trends of 2021. Editor's note: If you do choose one of these gorgeous green gems, proceed with caution. They're less durable than diamonds and not made for everyday wear and tear.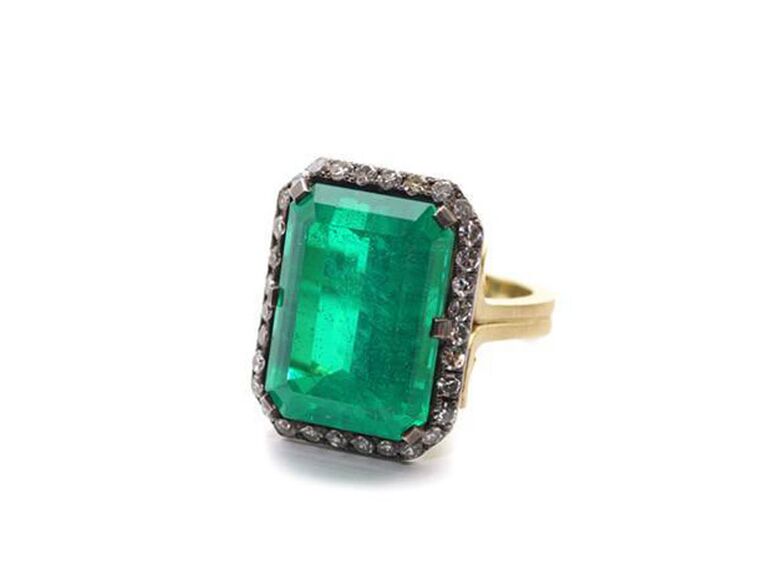 SYLVA & CIE Diamond Berel doublet ring, $18,000, OsterJewelers.com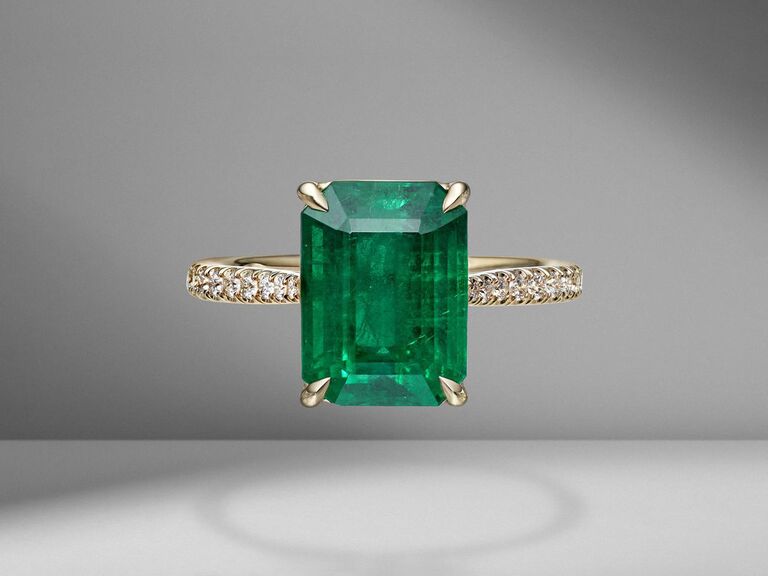 Material Good Emerald Cut Emerald Ring with Diamond Pavé, $37,800, MaterialGood.com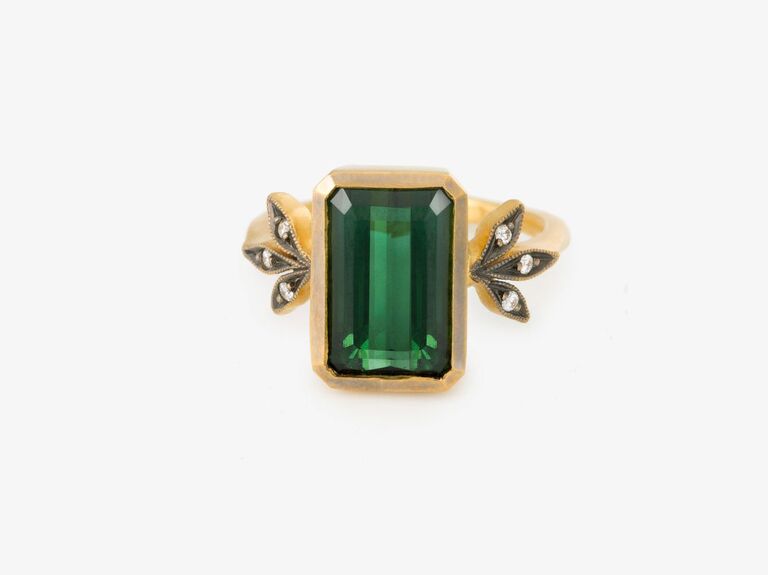 Cathy Waterman Modern green tourmaline ring, Inquire for Details, WhiteBirdJewellery.com
Queen Elizabeth II Engagement Ring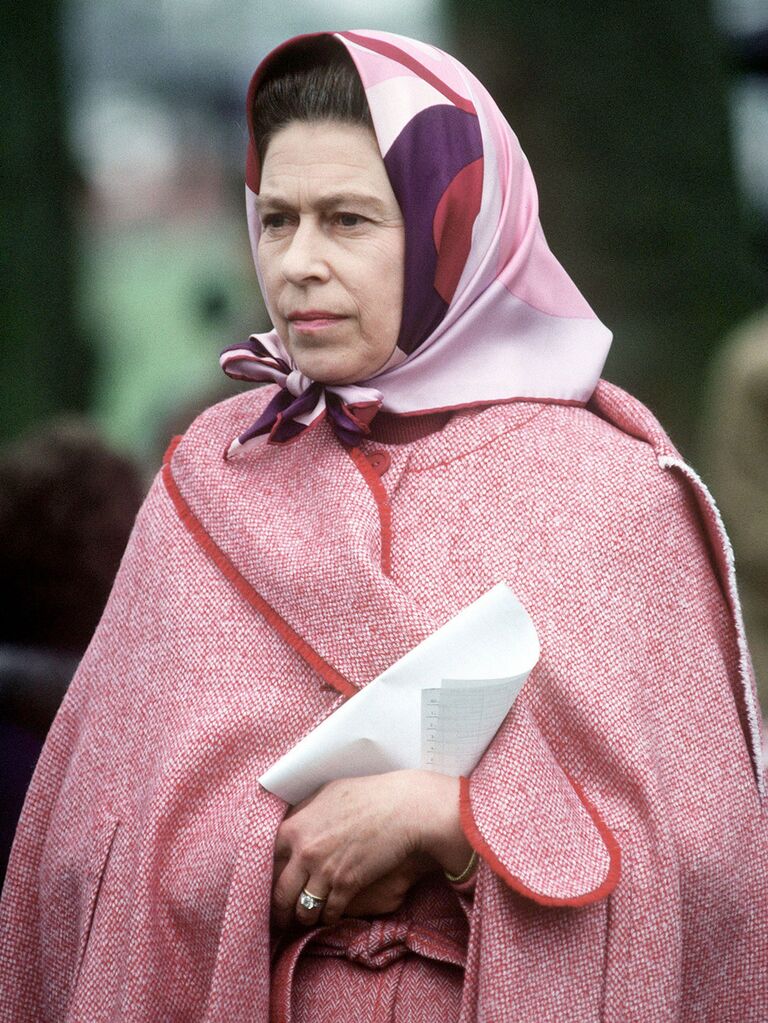 Prince Philip secretly proposed to Queen Elizabeth II in 1946 (the engagement was not publicly announced until a year later) with a ring he designed himself, using diamonds from a tiara belonging to his mother, Princess Andrew of Greece and Denmark. Queen Elizabeth II's engagement ring features a 3-carat round cut diamond center stone set in white metal with 10 smaller diamonds on the band. Ready to get sentimental? A whole 73 years later, the queen still wears this ring every day, always paired with her yellow gold wedding band. To emulate the Queen of England herself, look for a ring with a round cut center stone and several smaller diamonds or diamond clusters on the band.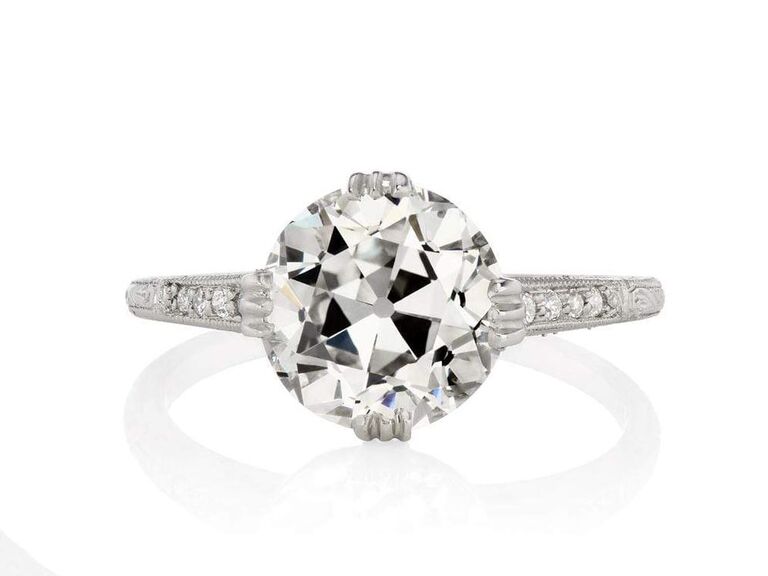 V. Barboné Chelsea 3.02 diamond engagement ring with side stones, $44,000, VictorBarbone.com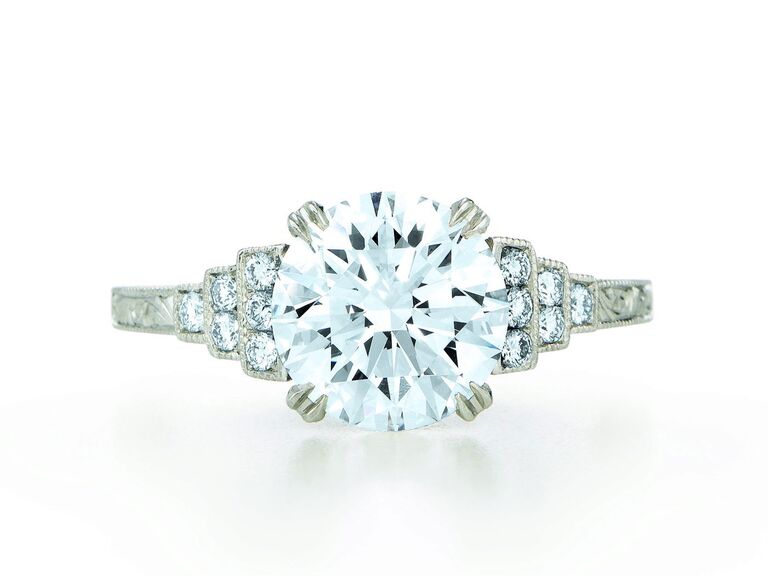 Kwiat Round brilliant diamond engagement ring with three step diamond band, from $4,950, Kwiat.com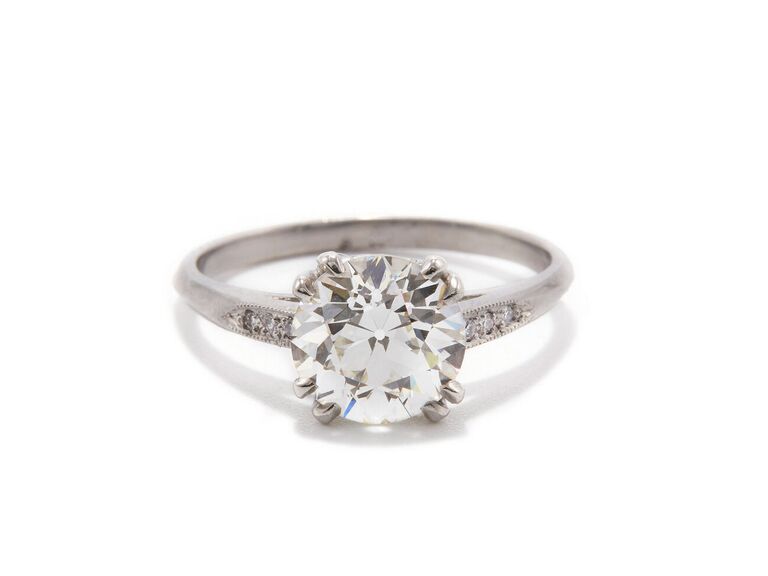 Ashley Zhang Jewelry Classic Old European Diamond Solitaire engagement ring, $20,750, AshleyZhangJewelry.com
Princess Diana and Kate Middleton, Duchess of Cambridge Engagement Ring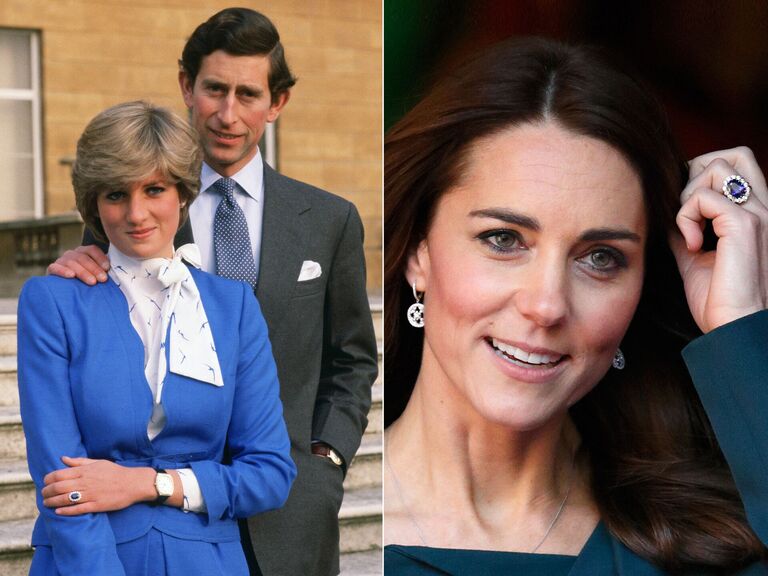 One of the most famous engagement rings in the world, Princess Diana's sapphire engagement ring broke with royal tradition in 1981 when she chose it herself from a selection of royal jewels and other priceless pieces from the crown jeweler to the British royal family at the time, Gerrad. The 12 carat oval sapphire surrounded by 14 round diamonds set in 18 karat white gold was from Gerrard's existing catalogue. At the time, the Queen was reportedly not pleased the engagement ring was a stock piece that was not exclusive to the royal family and could be replicated. The iconic blue sparkler made history again when Prince William proposed to Kate Middleton with it in 2010. Read up on the full history of the ring here. To get the look, go for a blue center stone and an elaborate diamond setting. And don't worry—you don't have to opt for a 12 carat jewel to get the same gorgeous effect.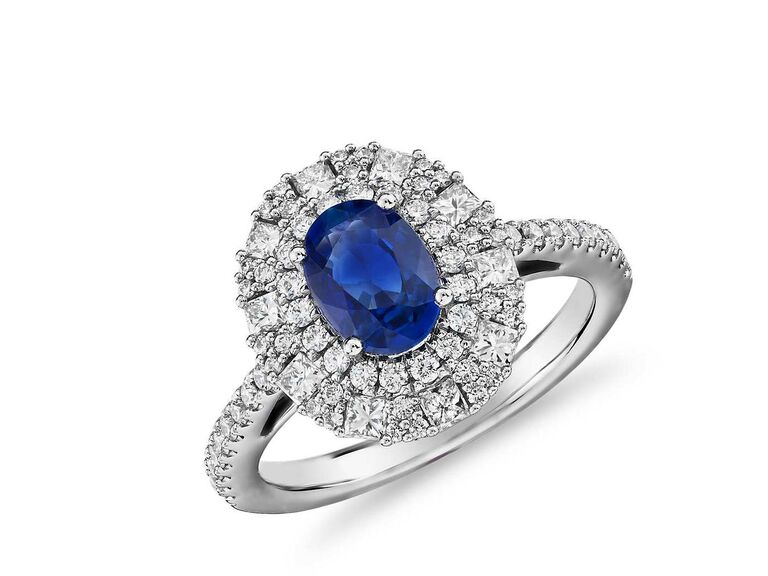 Blue Nile Oval sapphire ring, $3,990, BlueNile.com
Trumpet & Horn Airlie sapphire and diamond ring, $5,800, TrumpetandHorn.com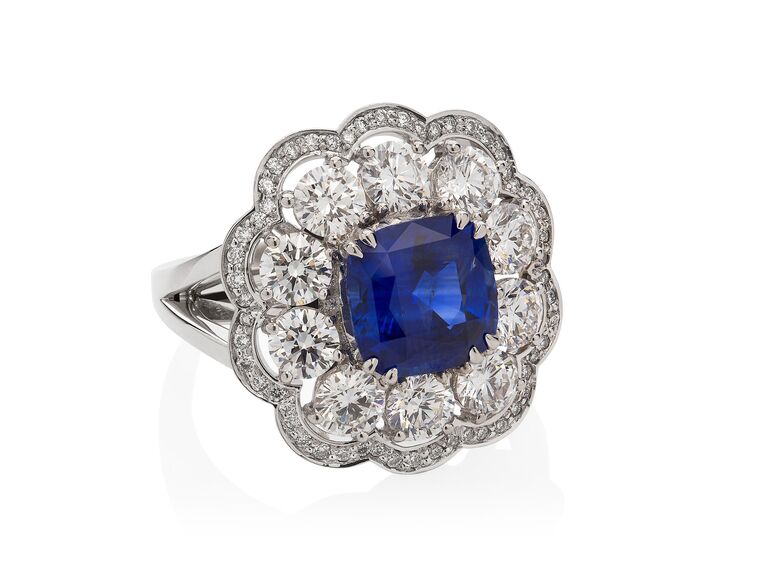 Thelma West Sapphire and diamond ring, Inquire for Details, ThelmaWest.com
Sarah Ferguson, Duchess of York Engagement Ring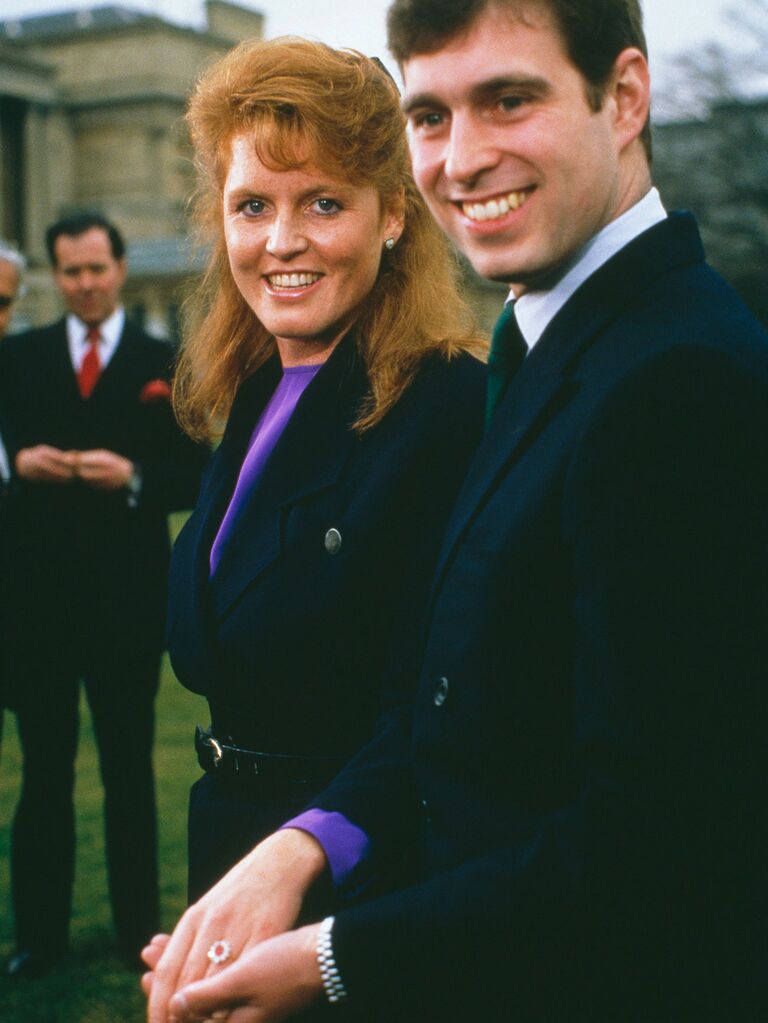 Royal legend has it that Prince Andrew proposed to Sarah Ferguson in 1986 with an oval-cut Burmese ruby from Garrard jewelers because its fiery hue matched her red hair. The crimson center stone was surrounded by an floral-inspired diamond halo and set in yellow gold. While this vibrant piece may have caused ruby engagement rings to surge in popularity in the '80s, they remain a stunning choice for to-be-weds looking for a more unexpected alternative to diamonds (just ask Katy Perry).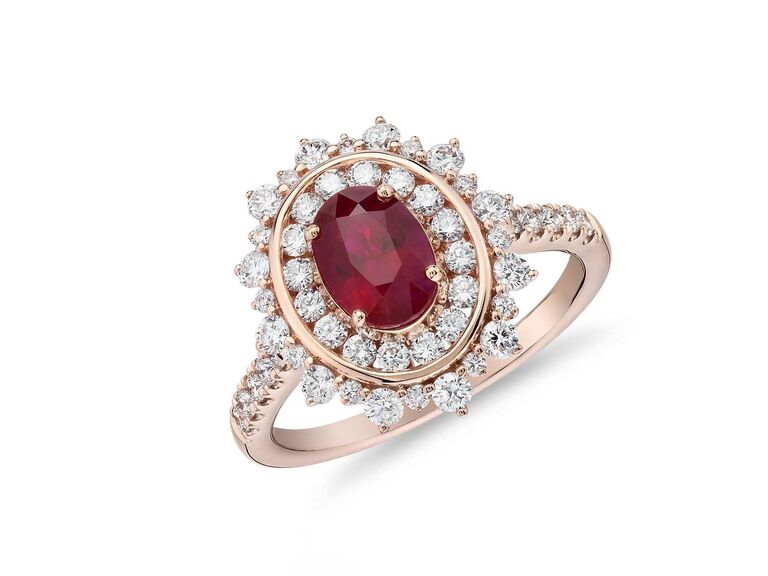 Blue Nile Oval ruby ring with double diamond halo, $3100, BlueNile.com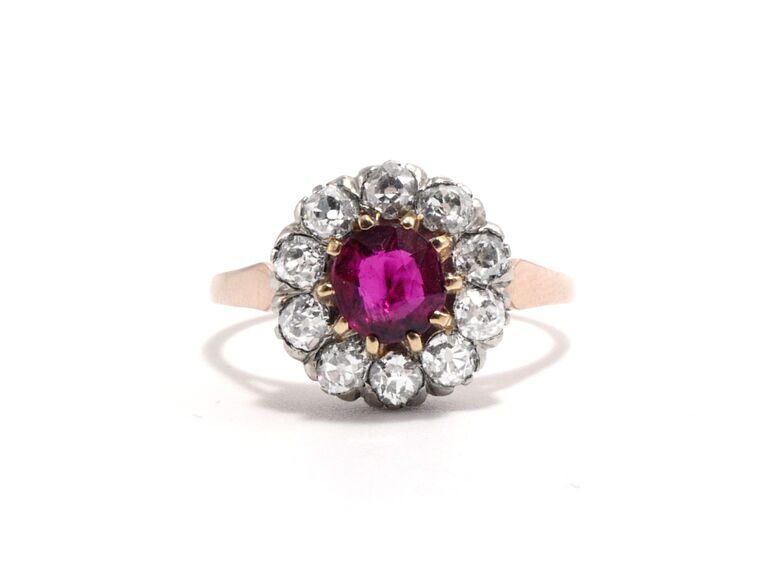 Ashley Zhang Jewelry Ruby and diamond cluster ring, $2,700, AshleyZhangJewelry.com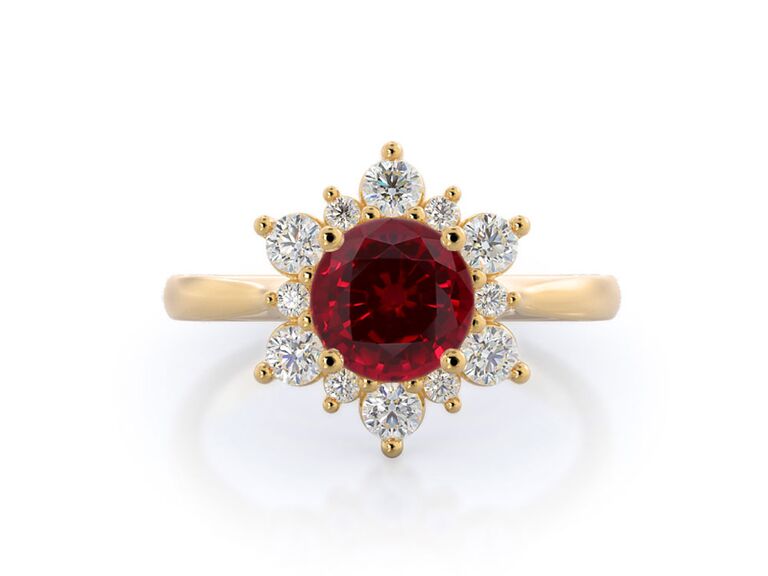 With Clarity Star Halo ruby ring, from $2,255, WithClarity.com
Camilla, Duchess of Cornwall Engagement Ring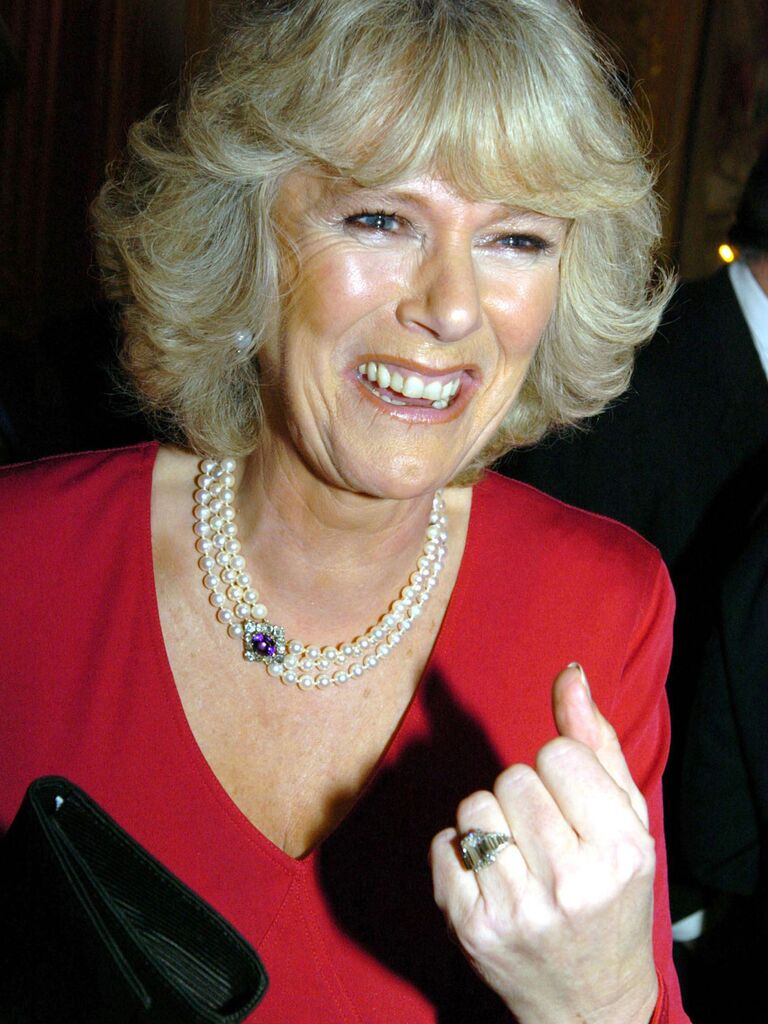 Prince Charles proposed to Camilla Parker Bowles in 2005 with a large, emerald-cut diamond that once belonged to the Queen Mum. One of the most valuable engagement rings in the British royal family, the art deco piece also features larger diamond baguette side stones. To achieve the same megawatt effect as Camilla's ring, go for a geometric center stone (asscher and radiant cut diamonds work in addition to emerald cut ones) flanked by larger vertical side baguettes.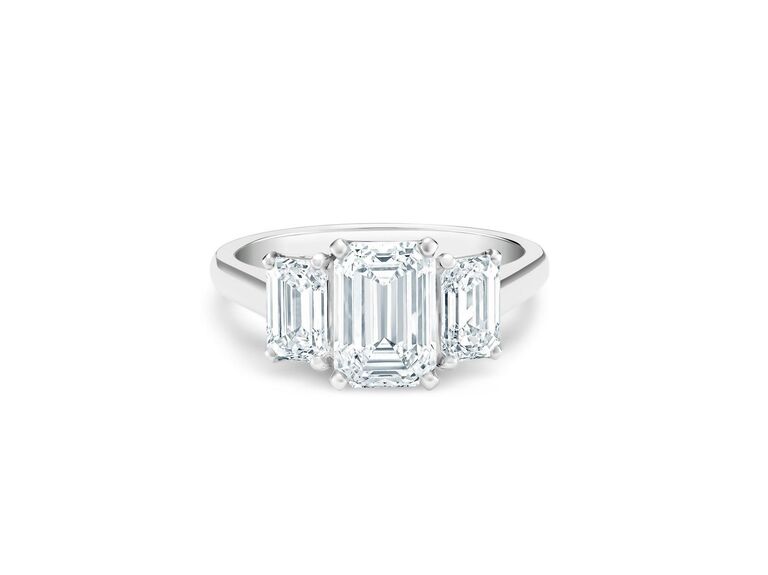 De Beers DB Classic trio emerald-cut diamond ring, from $26,300, DeBeers.com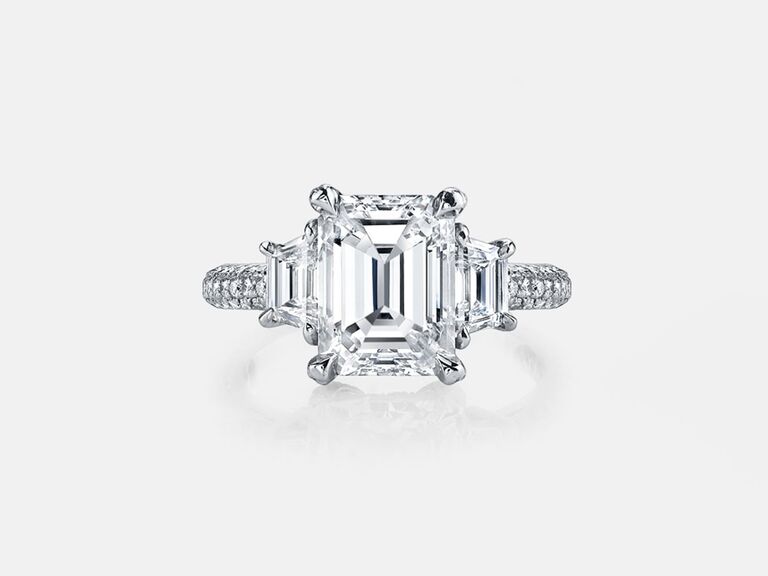 Jean Dousset Hayley Three stone engagement ring with 3 rows of diamond pavé, Inquire for Details, JeanDousset.com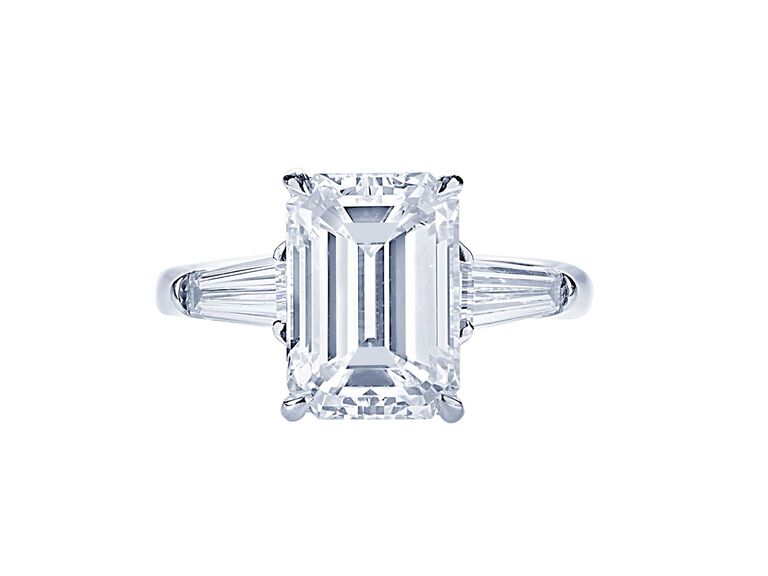 JB Star Platinum emerald diamond engagement ring, Inquire for Details, Mayors.com
Zara Tindall Engagement Ring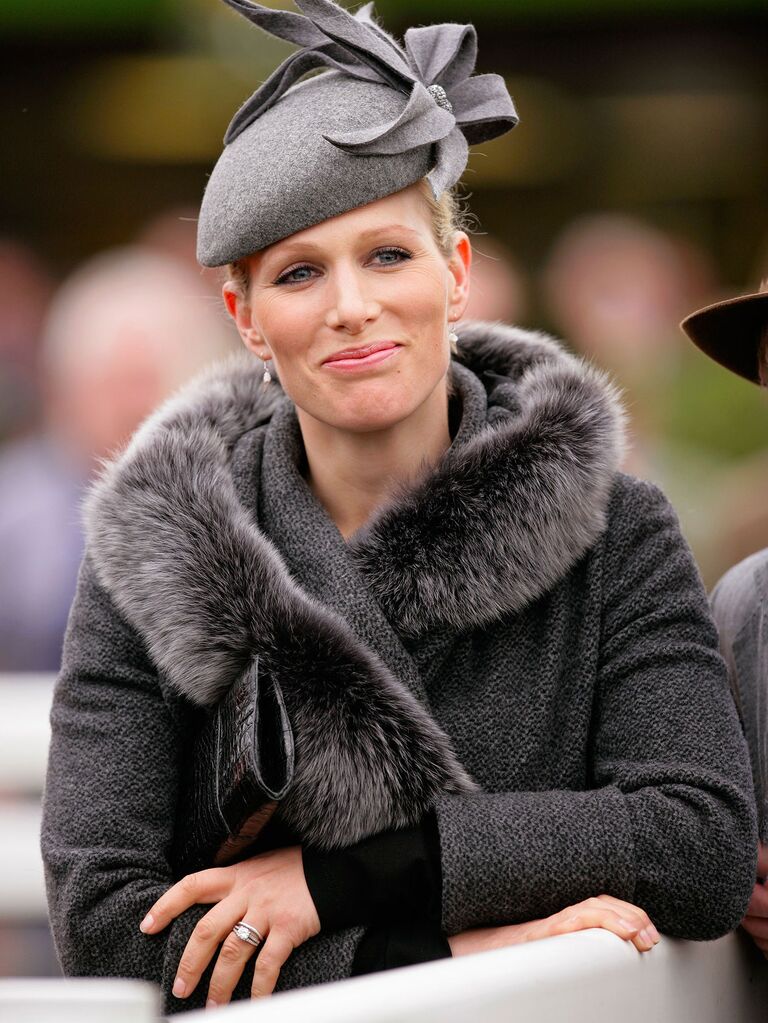 Gloucester rugby player Mike Tindall proposed to Zara Phillips (the only daughter of Princess Anne and the eldest granddaughter of Queen Elizabeth II) in 2010 with a custom-made engagement ring. Zara's ring is made up of a round diamond with a split shank (or divided) diamond-encrusted band set in platinum. To replicate this royal engagement ring, nailing the setting is key. Look for a ring with a split shank or "X" design to get the same ultra-modern feel.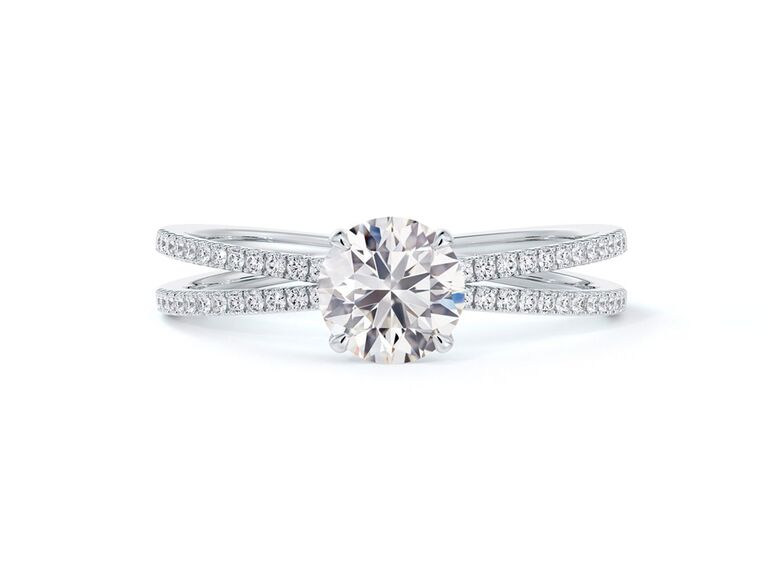 Forevermark Micaela's X engagement ring, from $4,245, Forevermark.com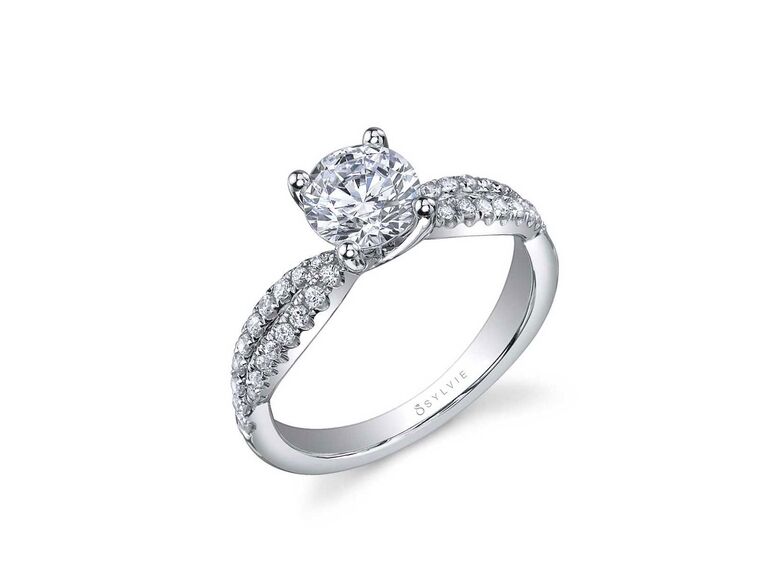 Sylvie Modern split shank engagement ring, from $1,885, SylvieCollection.com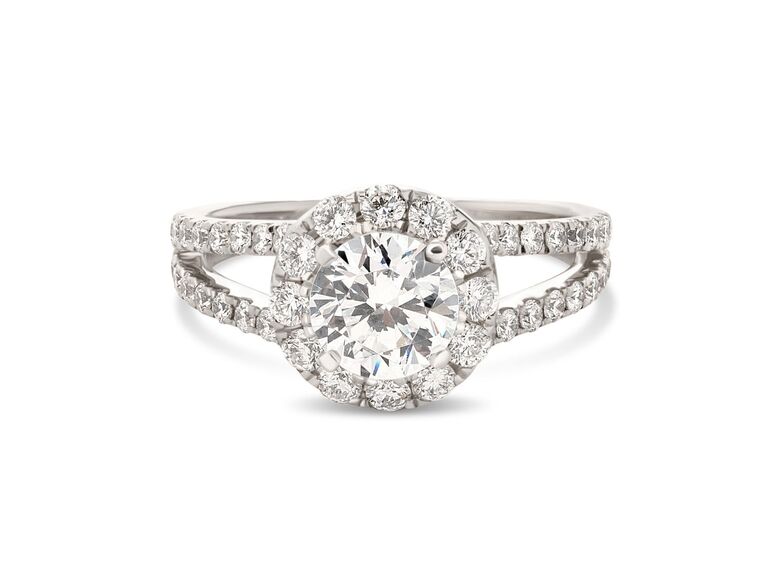 Nicole Rose Pave split shank diamond engagement ring, Inquire for Details, NicoleRoseJewelry.com
Meghan Markle, Duchess of Sussex Engagement Ring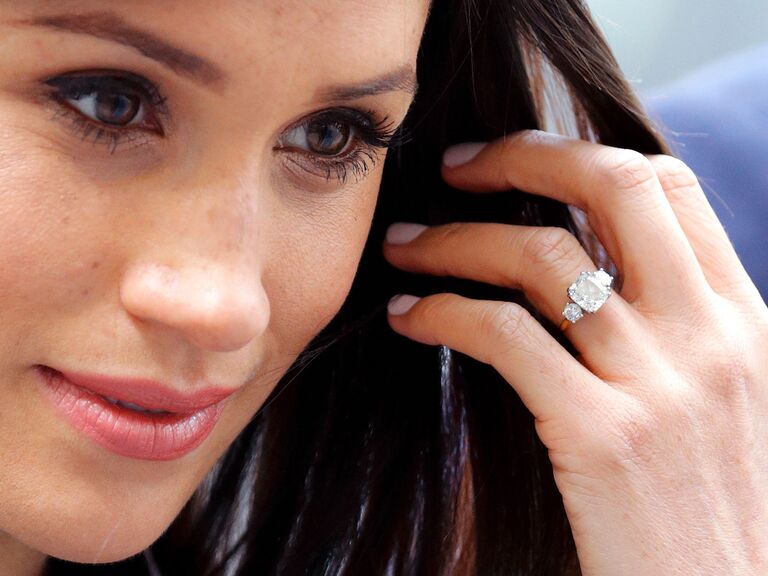 When Prince Harry proposed to actress Meghan Markle in 2017, he presented her with an elegant and meaningful ring. Meghan Markle's engagement ring, a three-stone diamond set in yellow gold includes a center stone sourced from Botswana—a place very close to Prince Harry's heart—nestled between two smaller, round diamonds, pulled from his late mother Princess Diana's personal collection. It's no surprise three-stone settings have been all the rage since this one made its way into the public eye. Check out some of our fave dupes below.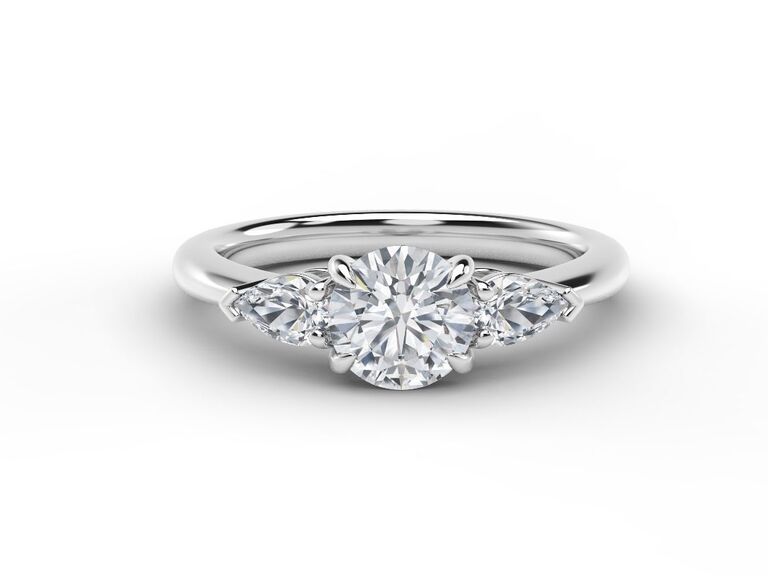 Forevermark Accents™ Engagement ring with pear sides, from $4,995, Forevermark.com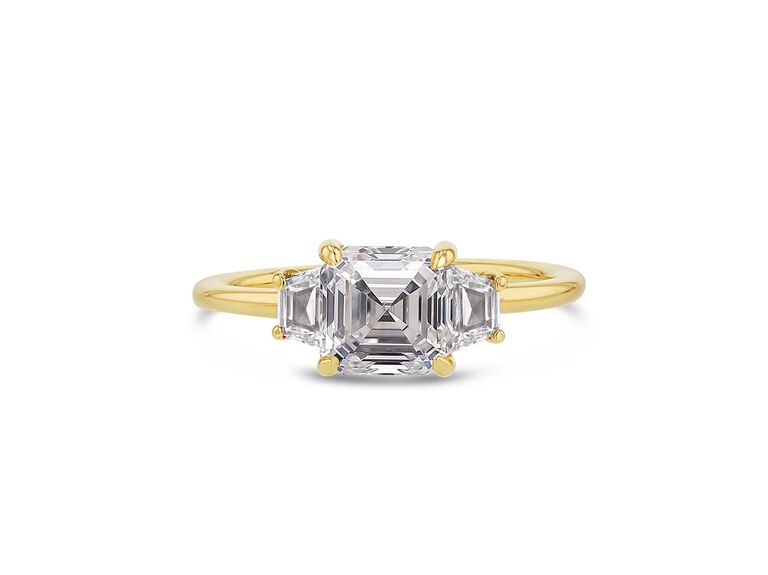 Grace Lee Asscher with trapezoids triple diamond ring, $9,800, GraceLee.com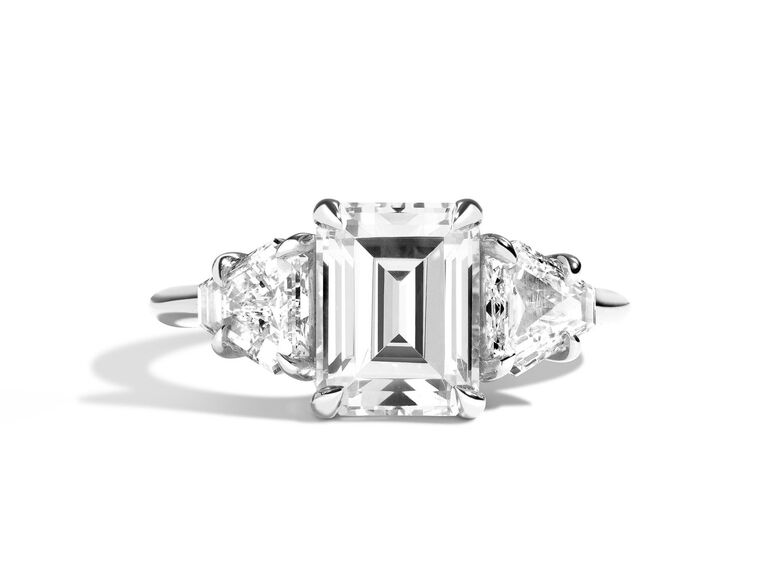 Shahla Karimi 3-stone emerald + cut-corner triangle ring, from $2,990, ShahlaKarimi.com
Princess Eugenie of York Engagement Ring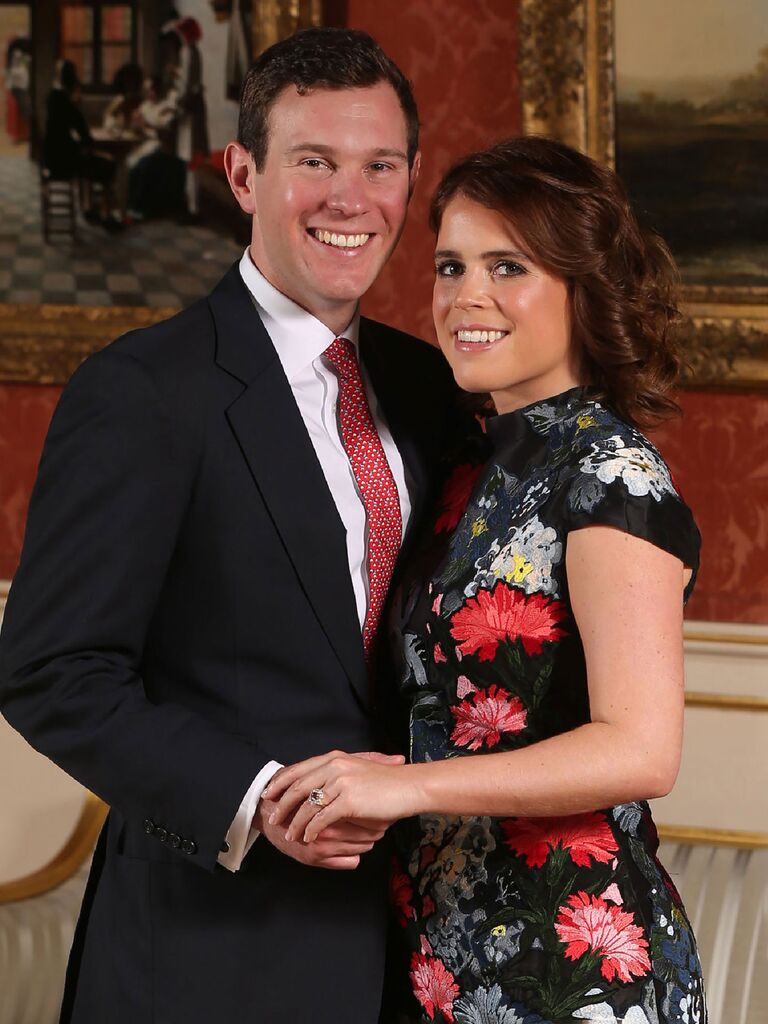 Jack Brooksbank proposed to Princess Eugenie of York in 2018 with a blush-colored padparadscha sapphire ring in an elaborate diamond setting. Known for its vibrant pink-orange hue, the padparadscha sapphire is usually found in Sri Lanka. If this design looks familiar, there's a reason for that: Princess Eugenie's rosy sparkler is similar to the ring that Eugenie's mother, Sarah, Duchess of York, received from Prince Andrew in 1986. To pull off Eugenie's style, go for a ring with a peach-to-pink center stone (morganite or champagne diamonds are a great option if you can't find a padparadscha sapphire) in a vintage-inspired halo setting.
Anna Sheffield Celestine white gold and champagne diamond ring, $11,750, AnnaSheffield.com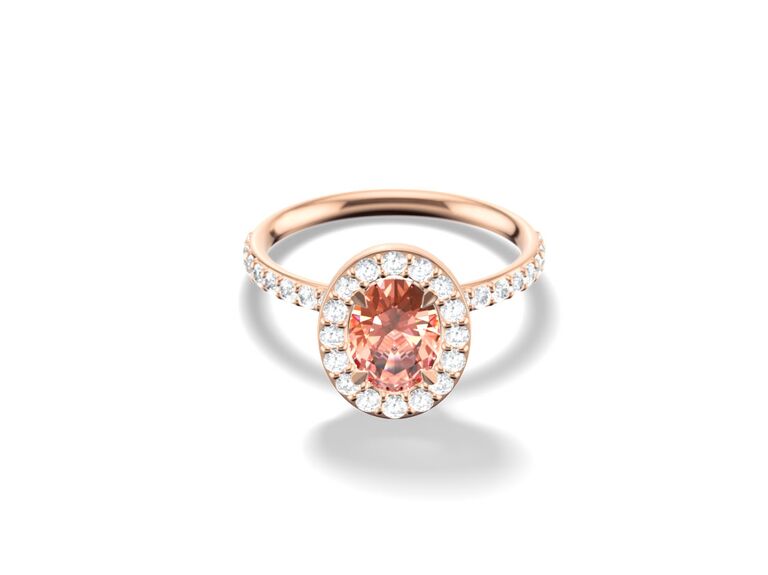 Gemist The Oval pavé halo engagement ring, from $1,950, Gemist.co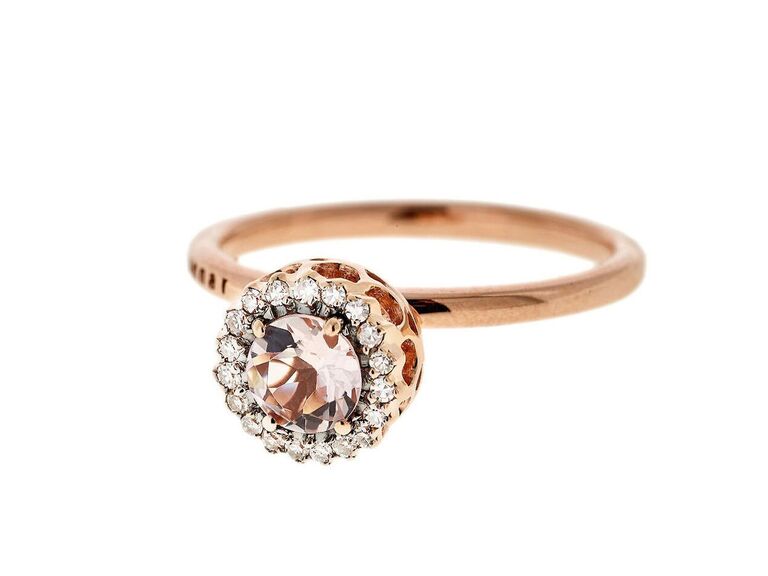 Selim Mouzannar Large Morganite and Diamond Frame ring, $4,000, Ylang23.com
Princess Beatrice of York Engagement Ring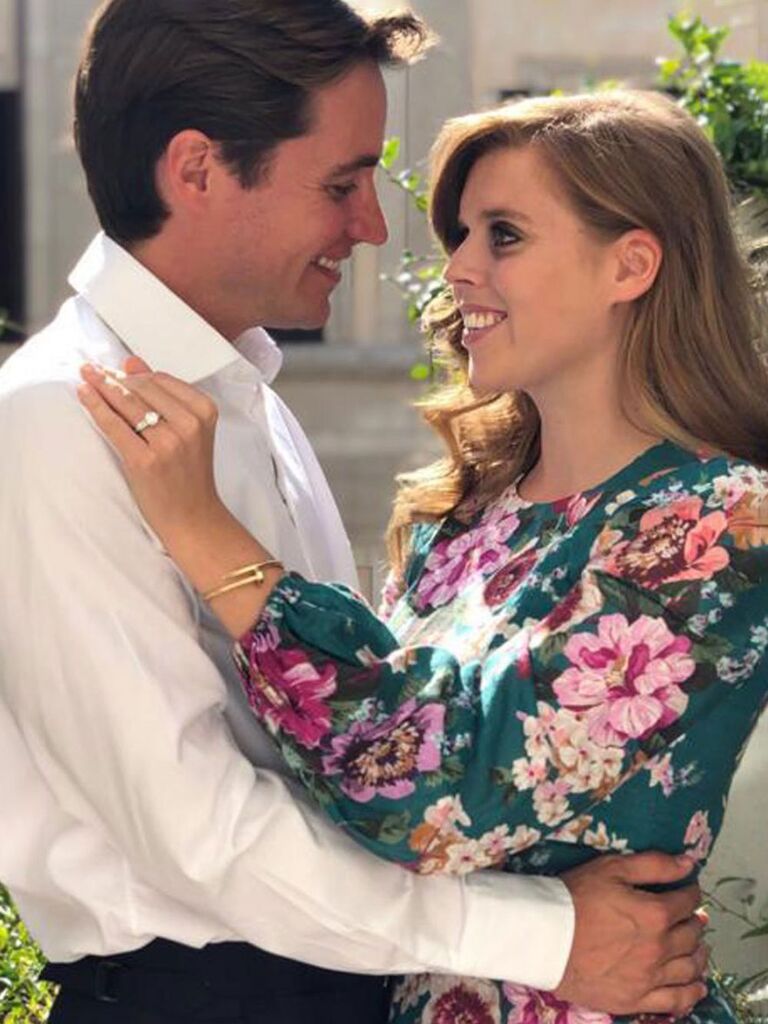 Edoardo Mapelli Mozzi proposed to Princess Beatrice in 2019 with a timeless diamond ring designed by Shaune Leane. A departure from the pink and red sparklers worn by her mother, Sarah, Duchess of York and sister, Princess Eugenie of York, Beatrice's ring features a round cut diamond with side baguette details in a platinum setting. Looking to steal Beatrice's style? Opt for a sleek setting where small, horizontal side baguettes put all the focus on a round center stone.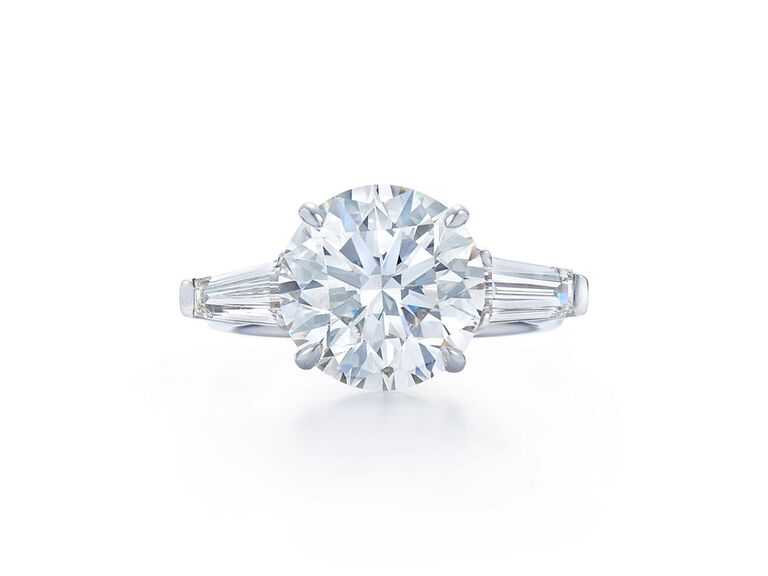 Kwiat Round brilliant diamond engagement ring with two tapered baguette side stones, from $3,900, Kwiat.com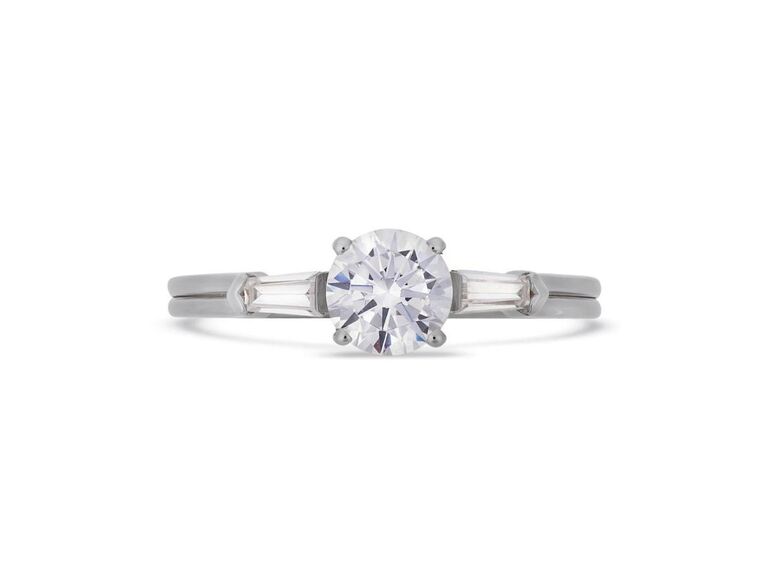 V By Laura Vann Illusion Bullet and Brilliant Cut diamond ring, Inquire for Details, VByLauraVann.com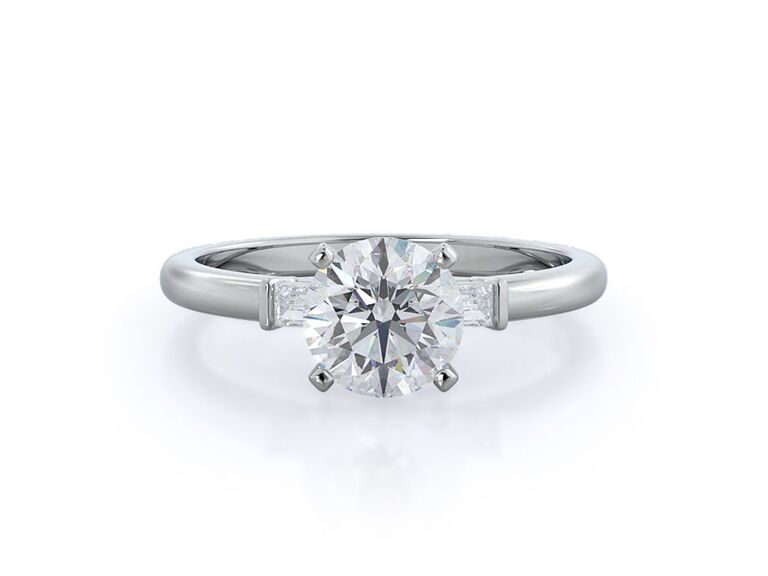 With Clarity Three stone baguette diamond engagement ring, from $740, WithClarity.com