Princess Eugenie Welcomes Her First Child With Jack Brooksbank
The couple married at Windsor Castle in October 2018.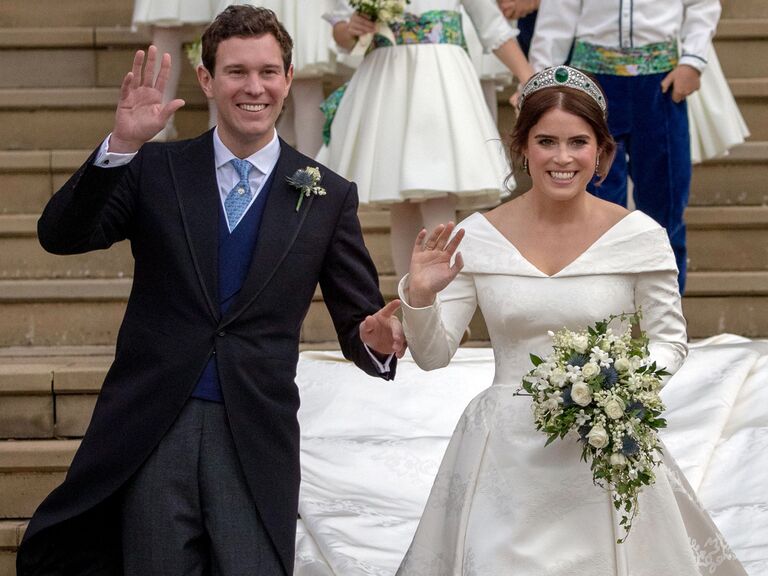 STEVE PARSONS/AFP via Getty Images
Another royal baby has arrived. Princess Eugenie, the granddaughter of Queen Elizabeth II, has welcomed her first child with husband Jack Brooksbank.
"Her Royal Highness Princess Eugenie was safely delivered of a son today, 9th February 2021, at 8: 55 a.m. at The Portland Hospital," the palace announced. "The Queen, The Duke of Edinburgh, The Duke of York, Sarah, Duchess of York, and Mr. and Mrs. George Brooksbank have been informed and are delighted with the news. Her Royal Highness and her child are both doing well."
According to the declaration, the child weighed in a little over 8 pounds. The baby royal is the ninth great-grandchild for the queen, joining the likes of Prince George, Princess Charlotte, Prince Louis and more.
The couple announced in September that they were expecting their first child together. "Jack and I are so excited for early 2021...." Eugenie wrote on Instagram, along with a photo of fuzzy bear baby slippers. The baby arrived a little over two years after the couple's wedding at Windsor Castle on October 12, 2018. In honor of her husband's birthday earlier this year, the princess shared a never-before-seen photo from the special day, sparking a flurry of excitement from royal fans.
"Happy Birthday my love 😍... xx," she captioned the black-and-white photo, which shows Brooksbank smiling widely at the camera as Eugenie grins at something just off-camera. Though it's unclear when in the day the photo was taken, Eugenie is wearing her form-fitting, off-the-shoulder gown by Peter Pilotto and Christopher De Vos, the Greville Emerald Kokoshnik Tiara (on loan from the Queen) nestled onto her head.
Brooksbank, meanwhile, looks dapper in his morning suit. A second photo in the post shows a more intimate moment between the couple, possibly wandering around the Buckingham Palace gardens. In the image, Brooksbank is captured from the back, staring up in awe at two beautifully flowering trees set against a bright blue sky.
Eugenie's mother, Sarah Ferguson, also took to Instagram to wish Brooksbank a happy birthday, sharing a much-circulated photo of the happy couple on their wedding day—though the photo is recognizably from their evening wedding reception.
"Happy Birthday my 'James Bond' son-in-law," Ferguson wrote. "You are such a huge heart of goodness."
Princess Eugenie's Love Story
In 2020, Eugenie, 30, and Brooksbank celebrated another milestone: a whole decade of being together. "Jack and I are celebrating our 10th anniversary today...😍😍 and we are lucky enough to be together at this time," Eugenie captioned a sweet pair of photos of the pair on April 24, referring to the ongoing lockdown due to the coronavirus. "If anyone has an anniversary this week, if you are together or not because of this challenging time, if you are a frontline worker wishing to tell your person you love them, then please do send me a photo and message via DM of how you are celebrating and I will share your messages on my story over the next few days."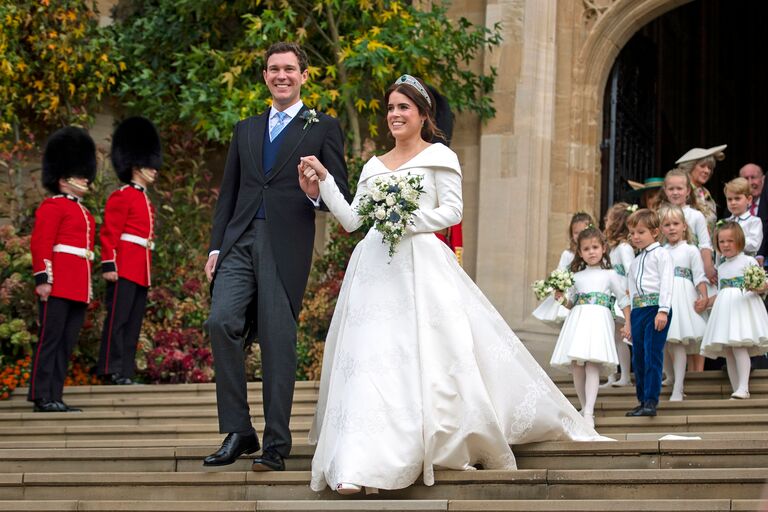 The couple originally met in 2010 in Verbier, Switzerland, where they were both there on ski holiday. They began dating not long after that, and made their first public appearance as a couple in 2011 at the Royal Ascot. After dating long-distance for several years (Eugenie moved to NYC to pursue a career there), the couple reunited in London in 2015, and Brooksbank proposed to Eugenie while the pair was abroad in Nicaragua in January 2018. (Her ring featured a stunning blush-colored center stone surrounded by a floral-inspired halo of diamonds.)
Princess Eugenie's Wedding Gown
Eugenie was adamant that her wedding day be as meaningful as possible; as such, it only made sense that her wedding gown be a true reflection of herself as well. The custom A-line gown she wore for the ceremony was designed by U.K.-based duo Peter Pilotto and Christopher De Vos, and featured a fitted bodice and full pleated skirt; one tiny but significant detail that Eugenie herself suggested was that the plunging back show off a vertical scar that she got from a corrective scoliosis surgery at age 12.
"[It's] a lovely way to honor the people who looked after me and a way of standing up for young people who also go through this," she said at the time. "I think you can change the way beauty is, and you can show people your scars and I think it's really special to stand up for that."
And Eugenie's decision clearly paid off: when she walked down the aisle toward Brooksbank, her husband-to-be put on his spectacles to see her as she made her way toward him and mouthed the words "Oh my heart."
The royal wore the historic Greville Emerald Kokoshnik Tiara, which according to royal tradition was on loan from her grandmother, Queen Elizabeth II.
Princess Eugenie's Wedding Dress Swap
For her second look of the day, Eugenie changed into a head-turning salmon-hued silk gown that hugged her figure and billowed out behind her. "Every now and then you meet somebody who just knocks your socks off," Posen captioned a behind-the-scenes photo of Eugenie trying on the gown, which he shared in honor of her 29th birthday. "This last year I got to know a young lady who possessed natural elegance, a heart of gold and sophisticated humor. My studio and I had the honor (and the best time) collaborating with her on her special gown. Best of all, she is dedicated to using her privilege to help our world and its people with her project @the_anti_slavery_collective. Happy birthday!"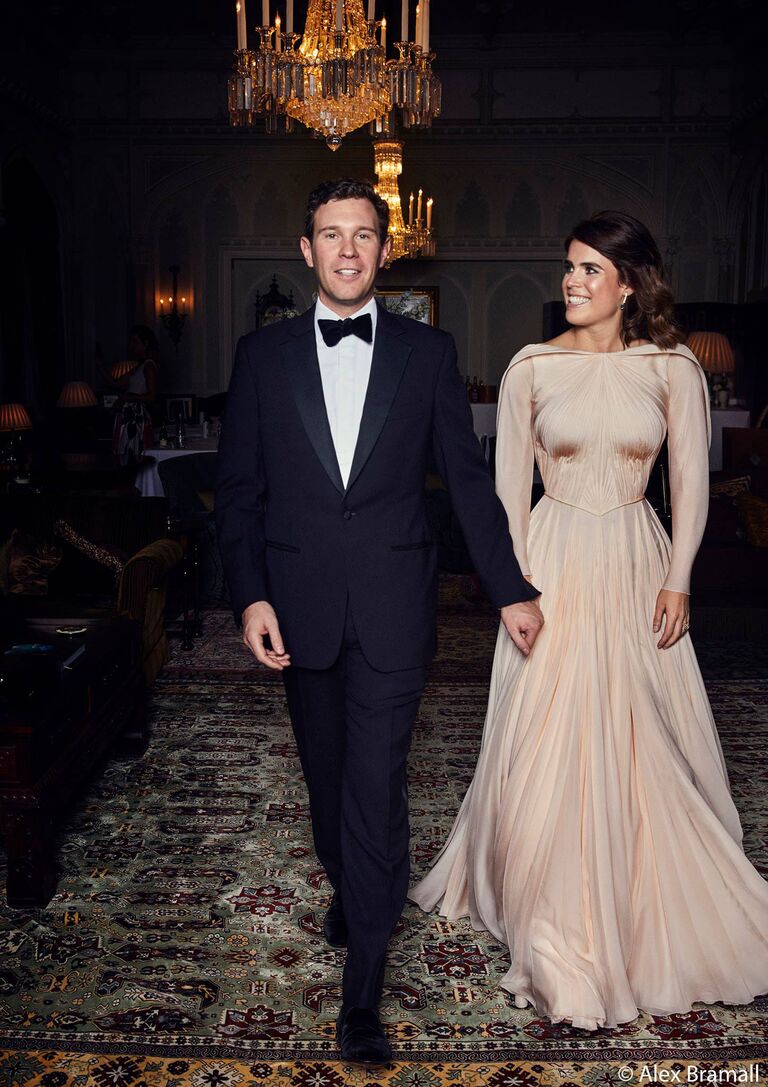 Eugenie had previously spoken out about how a certain Hollywood icon influenced her vision for her second gown. In a voiceover she recorded as part of an exhibit about her wedding, the royal explained that she envisioned "something reminiscent of Grace Kelly in To Catch a Thief." Posen then dreamt up the dress, which took an extenuating amount of care to plan and then create. "Every single draping effect, every single detail, every button, it's all painstakingly done by him and his team," she said.
Princess Eugenie's Wedding Reception Details
Forget the stuffy crudites and plated dinners; Eugenie and Brooksbank opted to go big and go fun with their post-wedding celebrations, with a festival-themed fete that included a trio of receptions: an afternoon lunchtime reception hosted by The Queen; an evening black-tie affair hosted by Eugenie's parents; and a Saturday fairground-style celebration to cap off an eventful weekend.
Guests included some familiar boldfaced names, including Naomi Campbell, Demi Moore, Cara Delevingne, James Blunt, Ellie Goulding, Robbie William, Kate Moss (and her daughter Lila Moss) and more.
Eugenie even donned a third wedding look for the festival festivities: a rose-pink biker jacket emblazoned with the words "Mrs. Brooksbank" on the back. The silk crepe jacket was designed by design house Gainsbourg, and the writing on the back was meant to mimic Eugenie's own handwriting, according to Harper's Bazaar.