6 Experiences to Go Through Together Before Getting Engaged—Straight From The Knot Editors
The Knot editors dish on the best, most telling moments to experience with your significant other—before making it official.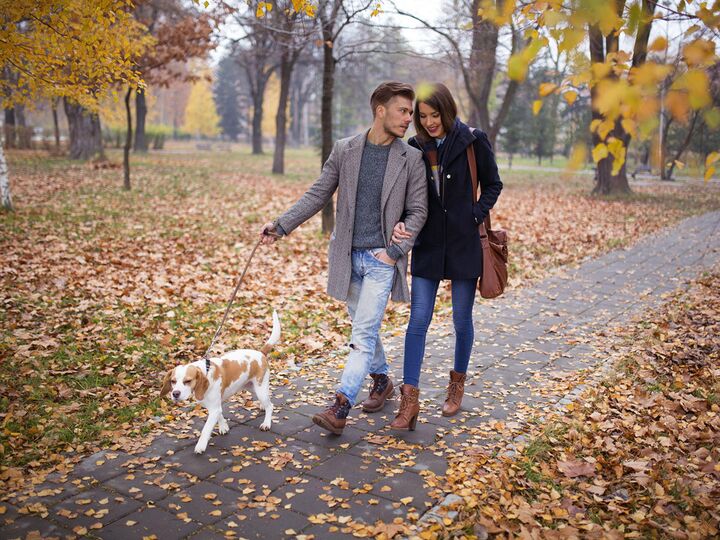 iStock
As editors at The Knot, we love helping couples plan their proposals and wedding days—like, love it. A new survey among married or engaged couples shows that shows 60 percent of couples are planning for marriage before getng engaged, and it got us wondering—what else should couples do before they're engaged, besides start pinning décor ideas? Our editors are here to offer their personal expertise on what all couples should experience together, from traveling to cooking, before getting engaged.

Travel Somewhere (Anywhere)
"Take a trip together, even if it's just a long weekend. You see someone's true colors when the luggage gets lost, the Thai food doesn't sit quite right and it rains for two days straight (just saying)." —Lauren Kay, Deputy Editor
"You learn a lot about a person (and yourself!) while traveling: how you handle difficulties, how well you work together, how you both budget time and money. And if you really want to know if you're a perfect match—get lost! If you can successfully navigate a new place, find your way and not bite each other's heads off, you can make it through anything." —Kate Traverson, Senior Editor
"Traveling with someone can reveal a lot about their personality: how spontaneous they are, how they deal with stress and (perhaps most importantly) how they act around you in close quarters for an extended period of time. My boyfriend and I once took a trip to Maui, where we almost drove our car off the side of a one-way road in the jungle—it was a very enlightening experience. Mainly, our harrowing car ride revealed that he is good at dealing with intense stress and near-death experiences and I am less so." —Shelley Brown, Fashion & Beauty Editor
Take a Drive
"I feel like driving with someone shows how well you communicate, especially when you're navigating some unknown territory. If you can make it in a car for six hours just the two of you and still be laughing together by the end of it, that's a good sign. Long drives also lead to some great, deep conversations you may never have had the chance to talk about during your busy work weeks. Plus, you really find out a lot about a person after seeing if their road trip food choices align with yours." —Maria Bouselli, Senior Copy Editor
"Go on a long drive with your significant other—no music, no phones, no external entertainment, so you have to entertain each other." —Maggie Seaver, Editorial Assistant
Get to Know Each Other's Family
"Spend holidays with each other's families! Nothing like forced family traditions and the stress of getting gifts and planning large events with far-flung people to make you really sure you're meant to be." —Katie Kortebein, Assistant Research Editor
Make Something
"[Cook] together, even if neither of you likes to cook. Can you work together and divide and conquer the task at hand? You'll lean on each other a lot during a marriage, so make sure you know how to be a team." —Lauren Kay, Deputy Editor
"Build a piece of furniture together. If your relationship is still intact after the IKEA dresser is finished, you're going to be just fine." —Maggie Seaver, Editorial Assistant
Experience an Important Milestone
"When I was training for the New York City Marathon, my boyfriend was so supportive. Although he's not a runner, he basically did everything but run with me to help me get through all of my training. He would wake up at 5:30am with me on weekends just to come watch me (and hold all my stuff) while I was in a practice race, and he was the one I'd call after I had a really bad run—and he'd encourage me and tell me how I amazing I was doing and that I was 'going to kick this marathon's ass.' The way he was during that whole training process, and the way he is anytime I accomplish something big, just shows how supportive he is. He always says he's proud of me, and I'm so proud of him in everything he does too. Having that kind of respect for one another is so important." —Maria Bouselli, Senior Copy Editor
Support Each Other Through a Challenge
"Take care of each other when you're sick or injured. You learn a lot about someone when they're at their worst. I, for example, am completely helpless and take all the assistance I can get. Having a partner who cares enough to cater to that (and put up with it) speaks volumes about their character." —Andrea Fowler, Assistant Editor
"Learn and accept how the other processes hurt feelings and anger after a fight or setback. If your partner needs space, or needs to talk it out right away, respect that. And, on another note, you might not figure this out right away, but you'll come to realize who actually needs the last french fry." —Ivy Jacobson, Planning Editor