7 Wedding Cake Style Ideas
Try one of these fresh ideas and see just how bold a style statement your wedding cake can make.
Trend 1: Graphic Sugar Appliques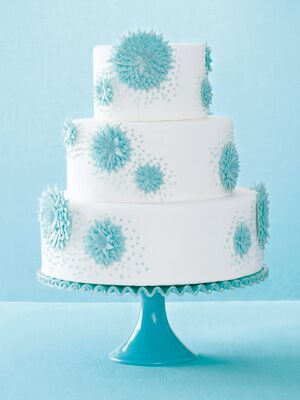 Move over, big sugar flowers -- the latest in wedding cake add-ons isn't your typical garden variety. More abstract sugar-made designs that seem to burst from the cake are the new way to show off your personality. A few pretty appliqué ideas we love: paisley, ruffles, lace cutouts and starbursts.
How to Make It Yours: The fun part about this is that you can find inspiration anywhere, from your invitations to a favorite dress, throw pillow or even pair of patterned shoes.
Trend 2: Creative "Stamped" Patterns
For a unique, one-dimensional look, ask your baker to "stamp"a fun pattern onto your cake using a paintbrush or edible dye and a stamp (yep, you read that right). The bold result is decidedly different. Note: Don't go overboard -- you'll want to limit the designs to just a few tiers to keep it from looking too busy.
How to Make It Yours: For a traditional cake, go for a single custom monogram "stamp" in the corner of the bottom tier. Get creative with bands of plaid- or even houndstooth-patterned fondant, or have your cake baker use a one-of-a-kind design to go with other wedding day elements, like your invites and programs.
Trend 3: Chandelier Motifs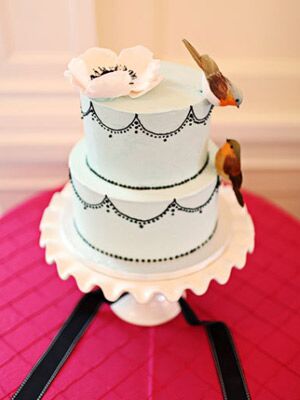 For the ultimate blend of sophistication and elegance, ask your baker to add "hanging" chandeliers from your wedding cake tiers. (Cake bakers work with edible, printable "paper and ink"to ensure a precise design.) The best part is that these chandelier accents aren't just for formal weddings -- they can look fresh and fun for a more casual wedding cake too.
How to Make It Yours: If you're having a laid-back wedding, choose a color combo like white frosting with light pink- or yellow-tinted ink chandeliers crowned with a lovebird cake topper. For a more formal wedding, have the chandeliers look smaller around the top tiers by using navy ink; get a more modern version with a black-and-white combo on square tiers.
Trend 4: Fabric-Inspired Texture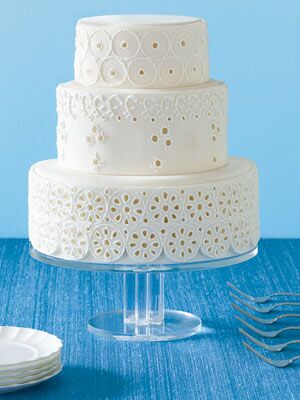 Skip the typical allover buttercream swirls -- the new way of texturizing a wedding cake with fabric-like elements, like all-over white fondant designed to look like eyelet or crocheted lace. You could even take inspiration from your dress. Ask your baker to frost delicate lace-like accents along the tiers or to add a sugar-made "ruffle" to the bottom tier for a flirty finish.
How to Make It Yours: This trend is all about the texture, so limit the add-ons. Top your cake with a small cluster of fresh flowers in your color combo or just leave the top of the cake free of embellishment. Pick a coordinating cake stand and table overlay to finish the look.
Trend 5: Retro Accents and Colors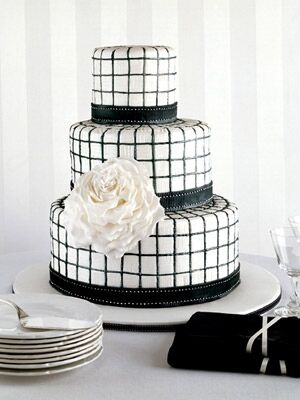 Retro is all the rage, and your cake is a great place to interpret the trend. Go for black-and-white, or even a mint green–frosted cake, softened with a small, black bow on the bottom tier, would make for a funky '50s look. Or, get a classic Grace Kelly–inspired style by asking for a white cake banded with champagne ribbon and accented with a sparkly silver brooch. In the same way, throw back to the 1920s with pink and gold-toned frosting and flapper-esque accents, like edible beads and sugar-painted feathers.
How to Make It Yours: Surround your retro cake with in-the-family artifacts, like a serving set, champagne glasses, milk-glass cake stands and lace table runners. Fill out the rest of the table with antique-framed family photos.
Trend 6: Cake Buffets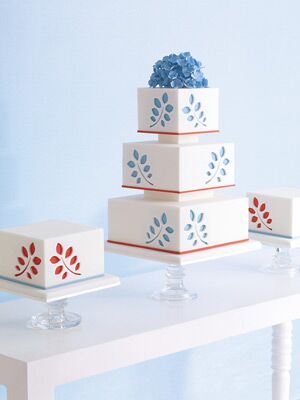 There's no rule that says you can only have one cake: Order a trio of coordinating cakes for your cake table. To get the look, come up with a design, motif or color combo (from your invites, perhaps) and ask your baker to vary the design from cake to cake. It's an eye-catching alternative to the classic, standalone version.
How to Make It Yours: The key is to dress up the cake table. An ultra-sleek table and cake stands work for a modern wedding, while gold cake stands and a couple of fresh flower arrangements complement an elegant affair.
Trend 7: Middle Tier Treatments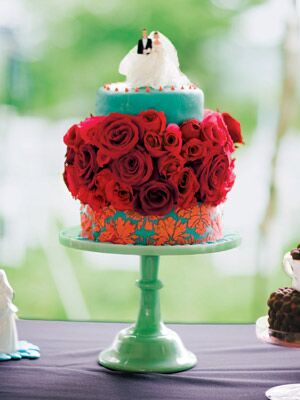 Don't just douse the top of your cake with flowers or use one of those silver cookie-cutter monogram toppers and call it a day -- consider moving the typical cake topper decorations to the middle cake tier for an entirely new look.
How to Make It Yours: Clustered red roses -- sugar-made or fresh -- arranged on the middle tier of a white wedding cake would have quite an effect. For a softer look, have your cake baker dress up the middle tier with vine-like, sugar-made flowers, reminiscent of a romantic garden. If it's a more modern style you're after, order a simple, white cake and have your baker add bright sugar flowers (like yellow anemones or pink peonies) that pop on the middle tier.