How to Safely Fly with Your Wedding Dress, According to Pros
Keep calm and carry-on.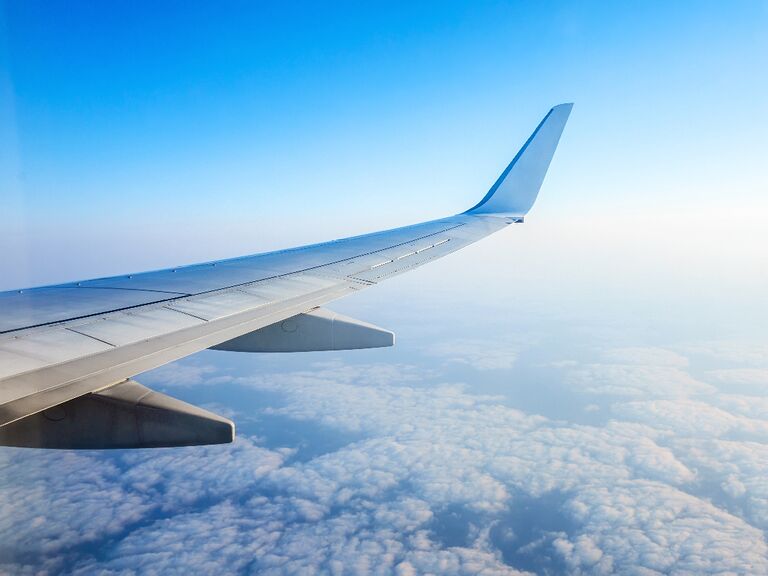 krasky/Shutterstock.com
We have included third party products to help you navigate and enjoy life's biggest moments. Purchases made through links on this page may earn us a commission.
It's no secret that hosting a destination wedding requires plenty of logistical planning. Between booking a dreamy wedding location, helping coordinate travel with loved ones, and designing your dream day with your vendors, transportation logistics for your wedding dress may slip your mind. But as you're planning a far-flung celebration, you'll need to determine how to transport your gown to the place you'll exchange "I dos"—and if you're not sure how to travel with a wedding dress, we're here to help.
Whether your destination wedding venue is a tropical locale or you've selected somewhere domestic, it's completely possible to safely travel with a wedding dress. We tapped two industry experts to share everything you need to know about how to fly with a wedding dress, stress-free.
In this article:
Can You Take Your Wedding Dress on a Plane?
As your destination wedding approaches, you might ask yourself: Can I take a wedding dress on a plane? It's a valid wedding planning question, and the answer is simple: Yes—but specific guidelines will vary among airlines. "It's absolutely possible to fly with a wedding dress, but you'll want to plan ahead," says Natasha Duff-Cole, owner of bridal boutique Ladies of Lineage. She notes that, while your dress designer or tailor can offer advice on how to travel with your specific design, it's up to you to get your wedding gown to the venue. "The designer is only responsible for designing your gown and getting it to the retailer you purchased from," she explains. "After alterations, it's the responsibility of the couple to make arrangements for the dress to get to its destination."
How to Fly With a Wedding Dress
Once final alterations have been made and you're in the process of purchasing your plane ticket, how do you fly with a wedding gown? It's best to take yours as a carry-on, that way it doesn't leave your sight while traveling. "Your gown should never be added to your checked baggage," Duff-Cole warns. "Consider taking it on the plane with you in a garment bag that can't be seen through. And, if it's small enough to pack in your carry-on, make sure to add a bright ribbon or tag so you can easily detect and differentiate it."
If you choose this option, you'll need to confirm that your garment bag fits your airline's carry-on size. "Any carry-on items will need to fit the size requirements as some aircraft do not have extra room for oversized carry-on pieces," says a rep for Delta Airlines, noting that many customers prefer to use the carry-on option instead of checking the gown.
While most carry-on bags are to be stored in overhead compartments, some airplanes may have additional closet space that can be used. "Some aircraft have larger 'coat closets' in the first-class cabin area that can often be used for bridal gown storage," Delta's rep adds. "While close space is not guaranteed, once onboard the aircraft it's best to check with the flight attendants to see if they can accommodate a wedding dress." If you're interested in pursuing this option, call ahead to double-check if your plane will have extra space. You can also chat with customer service reps or flight attendants when you arrive at the airport for extra help.
If you'd rather board your flight knowing you'll have more space, consider purchasing a ticket for an extra seat if it fits your budget. This will allow you to lay out the dress without using a hanger. But, if this isn't a financially feasible option, you can always choose to ship the dress directly to the location. While this won't allow you to keep track of the gown mid-air, it will give you peace of mind knowing that you won't have to look for space on the plane.
But, if you'd rather have your gown with you until you reach the wedding destination, you can always pack your dress carefully. "Keep your dress in the bag that it came in, or purchase a sturdy garment bag to pack it in," suggests Margaret Kane, founder of Margaret Rose Events. "Plus, ensure that whatever the dress is packed in contains a waterproof layer such as plastic, just in case something spills during transit." Not only is this important for airplane storage, it'll help protect your gown during TSA screening too. We recommend covering the dress with colorless, acid-free tissue paper. This will prevent creases from forming during travel. But before pulling out an iron or a portable steamer to remove wrinkles on the wedding day, touch base with your dress designer or a trusted dry-cleaner to learn how to properly treat your wedding dress. "It's important to know what fabric your gown is designed from and whether it is press only or can be steamed," Duff-Cole says. "For example, all silk requires to be pressed, and steaming can shrink a hem or cause discoloration of the fabric." What matters most, though, is that you give your gown ample time to breathe post-travel. "I recommend opening the dress bag and letting the dress breathe for at least 24 hours before putting it on," Kane advises.
Once you know how to treat your wedding dress, you'll be able to remove wrinkles at your destination wedding venue. "If you trust yourself or a family member, a gown can be pressed with a clean iron, or household steamers can steam a gown if the fabric allows," Duff-Cole adds. "If you plan to iron your dress, make sure the iron is filled with clean water, the base is clean and you test the iron on a clean surface before your dress. The ironing board should also be checked and plan to pack a clean cover just in case you need one." Alternatively, she notes that you can always reach out to your planner or coordinator for guidance before the big day arrives: "Ask your wedding planner if they offer a day of service for pressing or steaming, or if they can recommend any local companies."
How to Travel With a Wedding Dress on 5 Major Airlines
Now you're a budding expert on traveling with a wedding dress. But to simplify the process even more, we share how to fly with a wedding dress on five major US airlines.
Delta designates a section on its website to destination wedding travel tips, where it specifies that clients often carry on their gowns. Even if you're flying coach, the crew can sometimes accommodate by hanging the dress in a first-class coat closet. Again, it's important for you to follow baggage size guidelines in case there's no room for your dress in the inflight wardrobe. If you will check your gown, the airline has a convenient app to track your belongings. "If a customer is checking their wedding dress, we recommend using the FlyDelta app to track the status of their checked baggage throughout the entire travel journey," Delta's rep explains. "If a customer needs any assistance with their checked baggage, it's best to report any mishandled items to a Delta Baggage Service Center or file a claim online to receive assistance."
You may also want to take advantage of Delta's Early Valet program. About 45 minutes prior to boarding, a gate agent will preload your dress to the overhead bin directly above your seat, so no more fretting about cramming it in some opening 12 rows back—or not finding any space at all. Oh, and it's free! But it's only available on select routes and vessels, so research ahead of time.
Customers are allowed a soft-sided garment bag in lieu of a carry-on bag (get specific dimensions and details here). But keep in mind, only some American Airlines aircraft feature closets for hanging garments, and those with the space give priority to passengers with other carry-ons that can't be stowed overhead (think: wheelchairs, walkers, bicycles, and surfboards).
JetBlue doesn't have closets or other hanging space, but your wedding attire can definitely be stored in an overhead compartment. It counts as your personal item or your carry-on (most likely the latter, especially if your gown is particularly voluminous), as long as your garment bag is securely packed and meets all JetBlue baggage requirements. Fun fact: If you end up purchasing a separate seat for your dress, it's also entitled to a carry-on (seriously!). Be careful, though: Some carry-on items can be checked at the gate due to weight or size issues.
As with most airlines, you get one carry-on and one personal item on Southwest Airlines. Crew members will typically help accommodate for wedding attire, laying your fragile dress—wrapped in a proper garment bag—carefully in an overhead compartment, either atop other suitcases or in its own space, depending on availability. (Note that Southwest does not have closets to hang your gown.) Of course, this applies as long as you adhere to Southwest's carry-on bag dimensions.
United Airlines recommends you carry on versus check any high-value, fragile or perishable belongings, including "garment bags not designed for travel," and will accept these specialty items (AKA your packed-up wedding dress) as carry-ons. Gate agents and crew members will be as accommodating as possible with your wedding ensemble, space permitting. See United's carry-on size restrictions here.
When in doubt, call your airline to get the exact answers you need based on your circumstances. And one last thing, as we mentioned above: You won't regret bringing a fabric steamer with you or contacting your destination site about steaming options, since you can't always guarantee a totally wrinkle-free dress upon arrival.