​​The Top Destination Wedding Locations of All Time
From the Caribbean to Hawaii, we explored the world for you.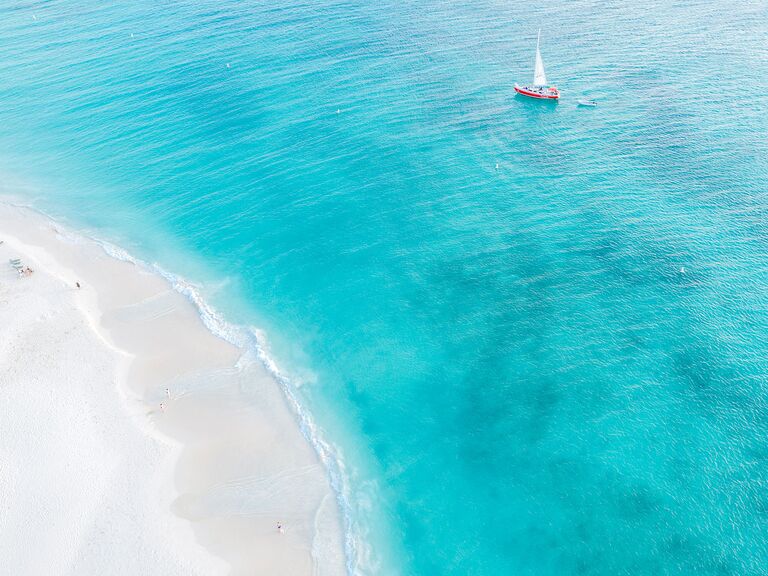 Courtesy
You've dreamt of throwing the best destination wedding for your loved ones–and the trip of a lifetime is now within reach. Finding a location that's equal parts meaningful and conducive to your special day is a challenge for couples who want their guests to feel appreciated, especially after traveling the distance to celebrate. According to The Knot 2021 Real Weddings Study, 19% of couples decided to go the route of a destination wedding among the 15,000-plus couples surveyed last year. Among those who threw a destination wedding in 2021, 57% selected the locale because it was "interesting."
When a couple narrows down their list of places to get married, often the location is tied to sentiment. It could be a repeat vacation destination for a family or a special getaway spot within the relationship. Your chosen destination may also be a bucket list locale or you know photography from your big day will be swoon-worthy. Whatever the reason, the world is large and there's something for every type of couple. We narrowed down our top picks for the best destination wedding locations around the world–from trendy domestic regions like the American West and Central Coast California to the best tropical havens in the world. See our favorite destination wedding locations around the world, organized by vision.
In This Article:
Affordable Destination Wedding Locations
Affordable is a relative word to most, but some destinations are more likely to offer favorable rates or easier travel fares than others. The wedding destinations below offer a range of venues and stays, from more affordable hotels to hyper-luxurious properties.
The Bahamas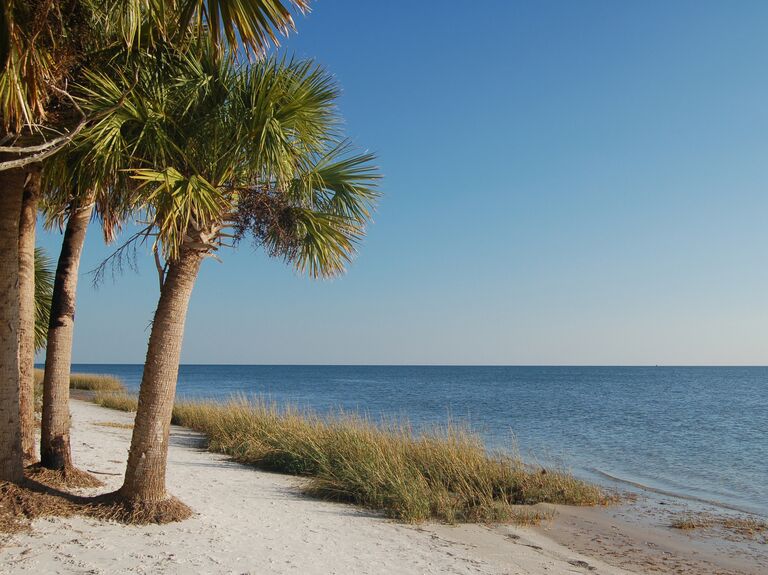 This collection of 700 islands has something for every taste—enjoy complete privacy by renting your own island, or host hundreds of your favorite people at a mega-resort like the acclaimed Baha Mar. Nassau and Paradise Island are two of the most visited and activity-packed destinations, while more remote areas such as Harbor Island and the Exumas tend to feel more laid-back. And since the Bahamas are just a 35-minute plane trip from Florida, it's an easy journey for guests and makes for a great excuse to spend a few extra days vacationing, scuba diving around Andros Island (the third-largest barrier reef in the world), strolling the white-sand beaches, touring the historic homes of Nassau and sipping Goombay Smashes (hint: a great signature cocktail).
When to Wed: The high season lasts from mid-December to mid-April, while summers are sleepier. Although hurricanes are infrequent, they can occur, so it's best to avoid the area from June through November.
Belize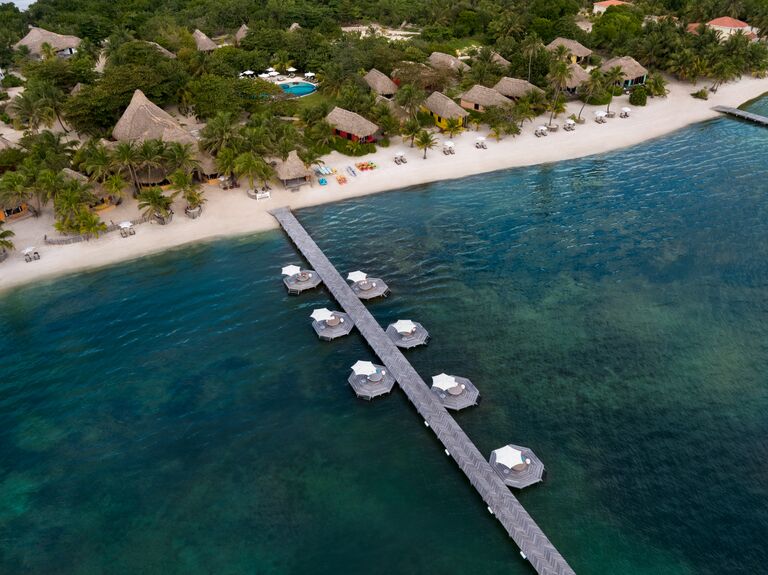 Jungle to the west and pristine Caribbean waters to the east mark the burgeoning eco-friendly wedding destination of Belize. Home to the sizeable Belize Barrier Reef, weddings can go two ways in this Central American country: couples can exchange vows within the lush and dense jungle or enjoy a reception in one of the country's many oceanfront resorts dotting the coastline. In Belize, there's something for every type of to-be-wed and guest.
When to Wed: The optimal time to visit Belize, according to experts, falls between the months of January to May. Late November through mid-April is considered the dry season. The rainy season is marked by intense and intermittent storms.
Cozumel, Mexico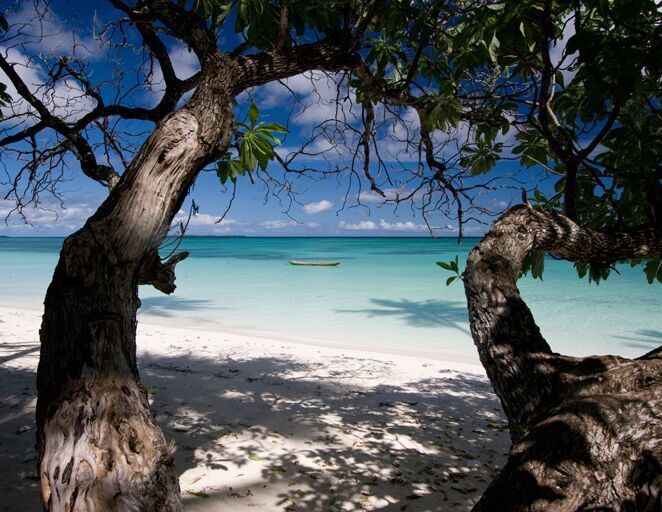 Off the Yucatan Peninsula, this peaceful island in the Caribbean is framed by one of the largest coral reef systems in the world, surrounded by turquoise waters and home to wildlife-filled nature reserves, perfect for outdoorsy couples looking for serenity (read: away from the tourist crowds) to tie the knot. Expect lush grounds and pristine swaths of sand, plus a range of resorts (including many all-inclusive options) with impeccable service and on-site wedding planners and vendors to help you plan your perfect party. Nature-loving couples and their guests will love Cozumel's Chankanaab National Park, where you can check out a lagoon, botanical gardens and a replica of a Mayan village, and find incredible snorkeling. When the more laid-back guests tire of sipping cocktails and sunning themselves on the beach, they can hit up the shops and restaurants of downtown San Miguel.
When to Wed: High season begins in mid-December and typically lasts through Easter, with the rainy season running from May through mid-October. Although temps may only top out at 90 degrees during the summer, the humidity can make it uncomfortably hot. And beware of spring-break crowds in March and April.
Jamaica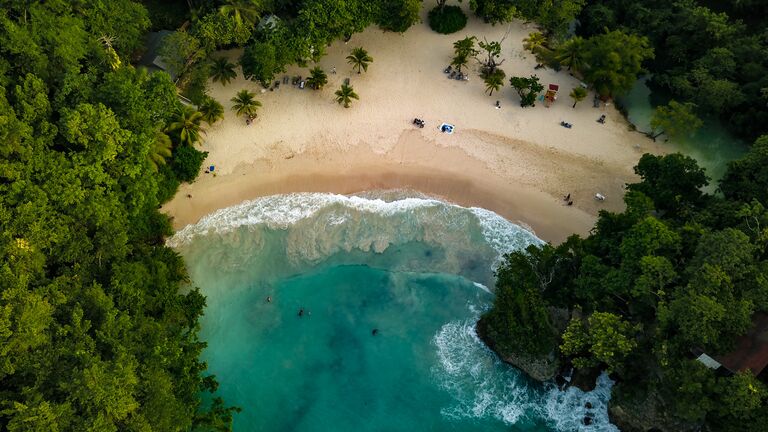 There's a reason glamorous globe-trotters call it home (Ian Fleming wrote the first James Bond book, Casino Royale, from his seaside abode here). Jamaica is an ideal destination wedding location because it offers much more than just beaches and palm trees. It's steeped in culture: reggae, Rastafarianism, indigenous spices and a fun-loving, laid-back atmosphere. The site of many all-inclusive resorts, Jamaica can be one of the most affordable of the Caribbean islands on which to wed, but it has super-luxe options too, including private villas that come with their own chefs, and housekeeping staff and security. The resorts of Montego Bay offer the ultimate in service and convenience; the cliffs and beaches of Negril are great for intimate sunset ceremonies; and the gardens and waterfalls of Ocho Rios provide gorgeous backdrops.
When to Wed: Avoid March, aka spring-break season, as well as the hurricane season from June through November.
St. Thomas and St. John, USVI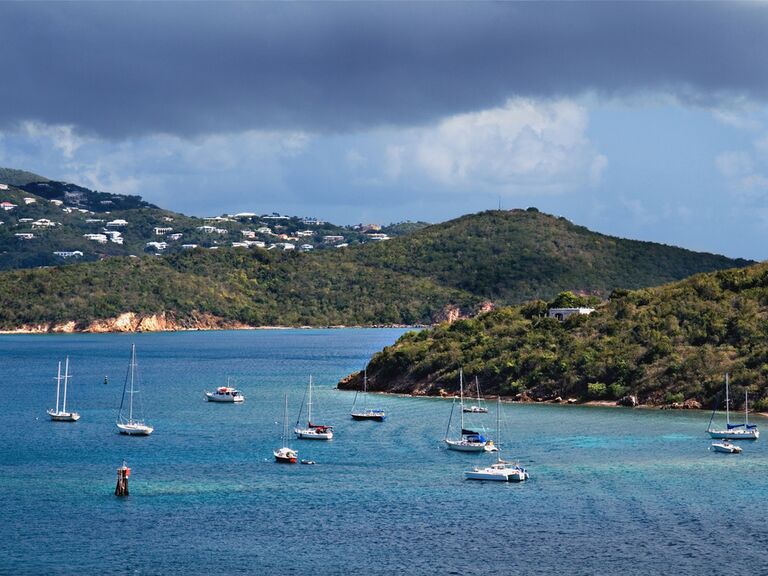 Along with Puerto Rico, the US Virgin Islands is considered one of the most hassle-free places to have a Caribbean destination wedding. Direct flights are frequent to St. Thomas (with St. John a short ferry ride away). Plus, airfare is usually competitive and the US dollar is the official currency. St. Thomas can sometimes feel a bit crowded, since it's a main stop on the itineraries of many cruise lines, and it's quite developed for the Caribbean. But it's nonetheless brimming over with natural beauty. St. John, while a bit harder to reach, is more rugged, unspoiled and higher-end, with fewer big resorts. Active guests will be in heaven: St. John is known for its plentiful and easily accessible snorkeling sites, as well as its national parks. In St. Thomas, suggest that guests visit the capital city of Charlotte Amalie to see historical sites such as Fort Christian and for tons and tons of duty-free shopping.
When to Wed: Tourist season goes mid-December through mid-April, but temperature highs are in the mid-80s and lows are in the 70s year-round if you want to steer clear of the crowds. Just avoid hurricane season, which runs from June through November.
Puerto Rico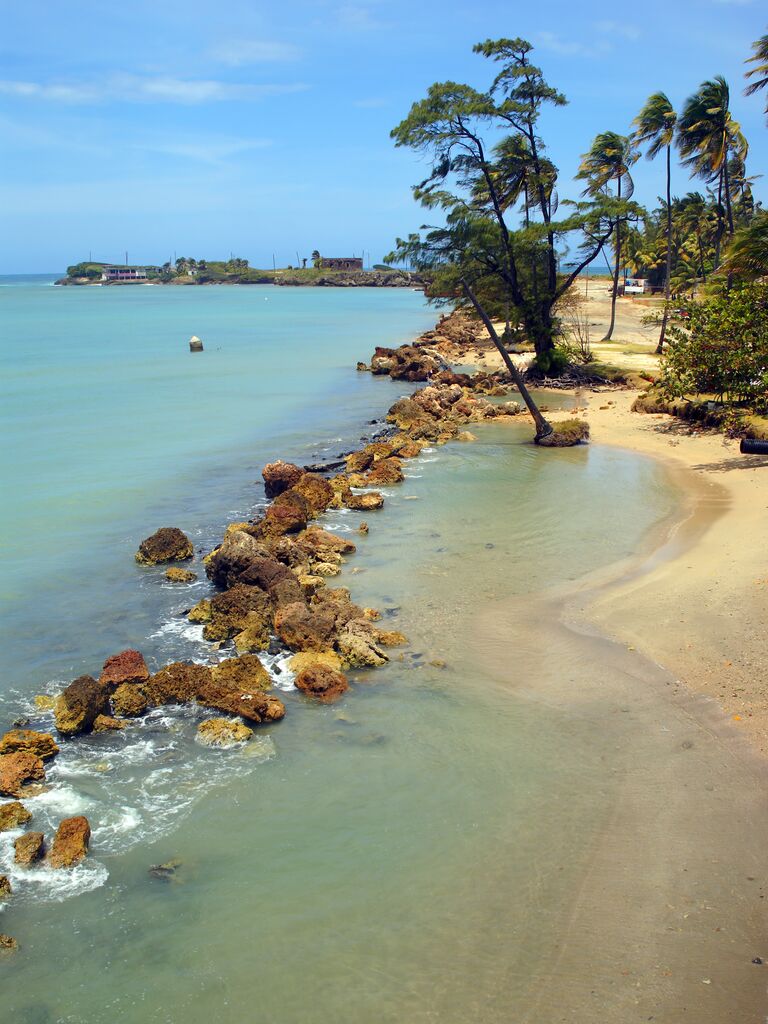 Puerto Rico's got all the assets of the other Caribbean islands—gorgeous beaches, friendly locals, plush resorts—plus one big one that sets it apart: It's a US territory. That means you and your guests will have few, if any, of the hassles associated with travel abroad. You won't need to go through customs, cell phone service is excellent and most people speak English. Puerto Rico offers a blend of both traditional beachy relaxation and unique cultural and historic sights (which non-beachgoing guests will appreciate).
When to Wed: As with the rest of the region, beware of hurricane season, which lasts from June through November.
Riviera Maya, Mexico
This coastal stretch of the Yucatan Peninsula along the Mexican Caribbean mixes ancient Mayan ruins with palm-fringed beaches to give your wedding a real tropical feel. Farther north, seemingly carved out of the jungle, Cancun sits at the tip of the peninsula, twinkling with big resorts and a boisterous nightlife. Choose a property in Cancun's hopping Hotel Zone, book an entire boutique hotel or go for a hacienda-style wedding in a Mayan village near one of the ancient archaeological sites. The ruins of the ancient Mayan empire in seaside Tulum provide a stunning backdrop. For a slower-paced setting, try Playa del Carmen, which displays an authentic rustic charm and is home to some gorgeous beaches. And there's no shortage of natural settings here, either: Say "I do" in a lush, tropical garden, in a beautiful eco-park or among the cenotes, or freshwater pools, the Riviera Maya is famous for. Of course, couples should be mindful of the activity along the coast and consult with their on-site coordinators and guests to highlight safety.
When to Wed: Winter months offer the best weather but are crowded, with sunny, 80-degree days from mid-December through Easter. Avoid spring-break season, late February through March. April and May are traditionally slower months, and the weather's still good. Rain is heaviest in June and October, with hurricanes possible through November. Humidity is uncomfortably high in the summer.
Classic US Wedding Destinations
The word classic, in this case, applies to popular spots for destination weddings in the US (read: top cities and surrounding vicinities).
Atlanta, Georgia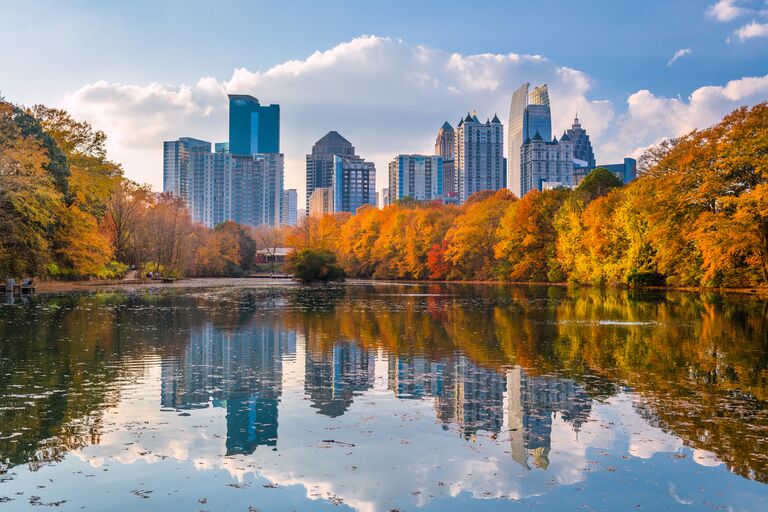 With its delicious Southern fare and large-scale venues, Atlanta rightfully takes its place among the most popular wedding destinations in the country. Easily accessible from all across the country, the city has a fun and vibrant energy that will keep your loved ones easily entertained. Plus, there's much to explore from the dazzling Georgia Aquarium to the poignant experience of walking through the National Center for Civil and Human Rights.
When to Wed: Summers are hot in Atlanta, so couples will either want to host their weddings indoors in air conditioning or be prepared for the humidity.
Charleston, South Carolina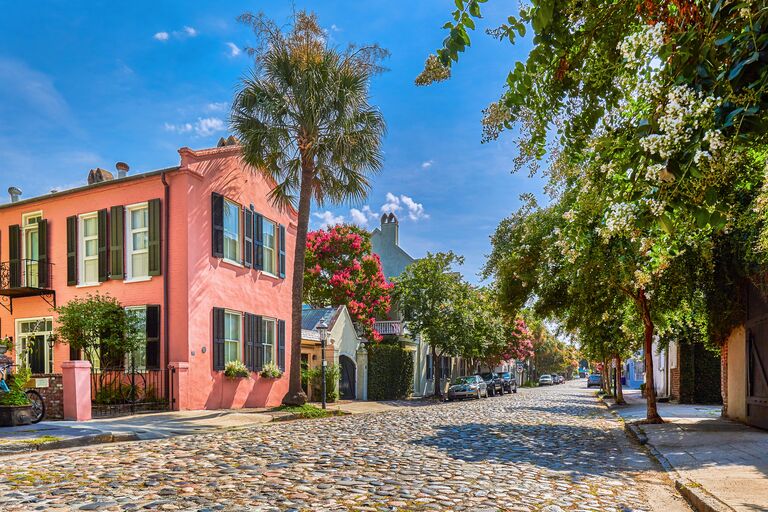 This charming Southern city is especially lively during peak wedding season when it's hard to miss first look sessions in the South of Broad neighborhood nearing the peninsula. Since Charleston is situated on the Atlantic, oceanfront weddings against sandy dunes are as common as ballroom weddings in unique venues. The vendors here are also well-experienced, meaning you and your partner will be in the best care.
When to Wed: Summer in Charleston is hot. In fact, it isn't suggested to throw an outdoor wedding in the city unless you offer cooling remedies for guests. The optimal time to throw a wedding is when the climate is mild and pleasant, from March to May or from September to November.
Las Vegas, Nevada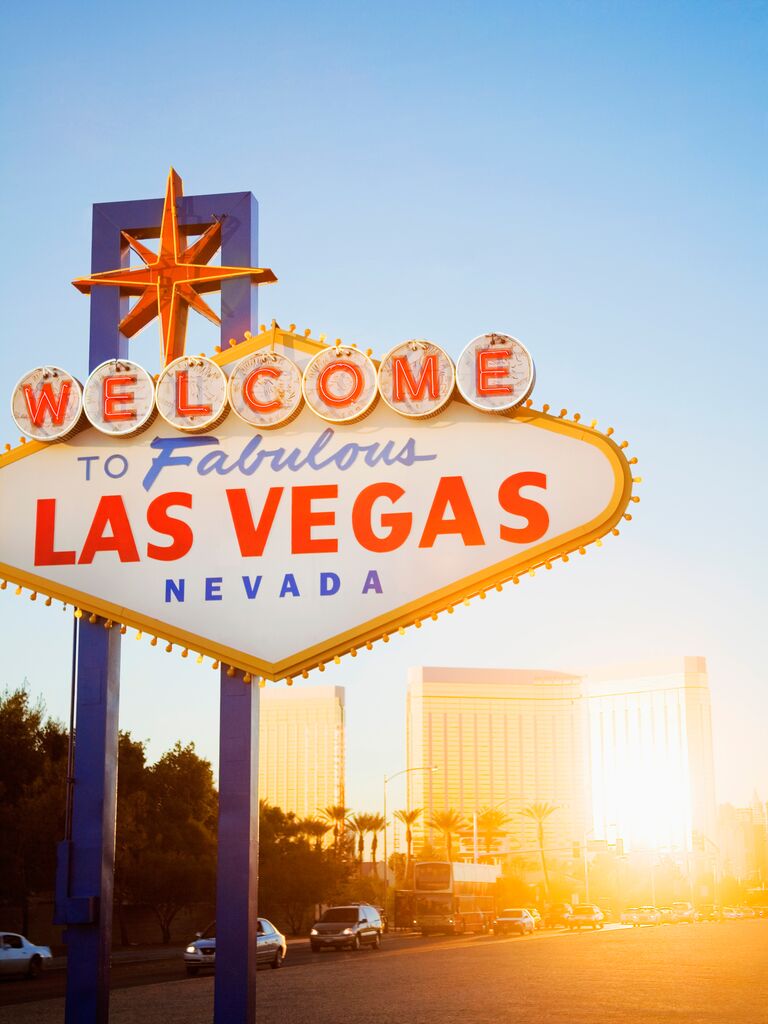 While drive-through chapels, Elvis-impersonator officiants and a blackjack table are still a part of what Las Vegas offers, there's a whole other side to Sin City that's making it one of the hottest Stateside spots to tie the knot. We're talking bold ballrooms, cool restaurants and chic poolside settings, plus hundreds of resorts and hotels that offer wedding packages for every budget. And even nonbetting guests will have plenty to keep them entertained.
When to Wed: Avoid the summer heat—spring offers the most temperate climate, and the summer sizzle cools in September and October. You'll have the most luck with availability and good rates during the first three weeks in December, but prices spike and availability plummet between Christmas and New Year's and on holiday weekends (including Valentine's Day and Cinco de Mayo), as well as during big-deal sports weekends (like the Super Bowl and NCAA Final Four) and times when there are giant conventions or events scheduled.
Miami, Florida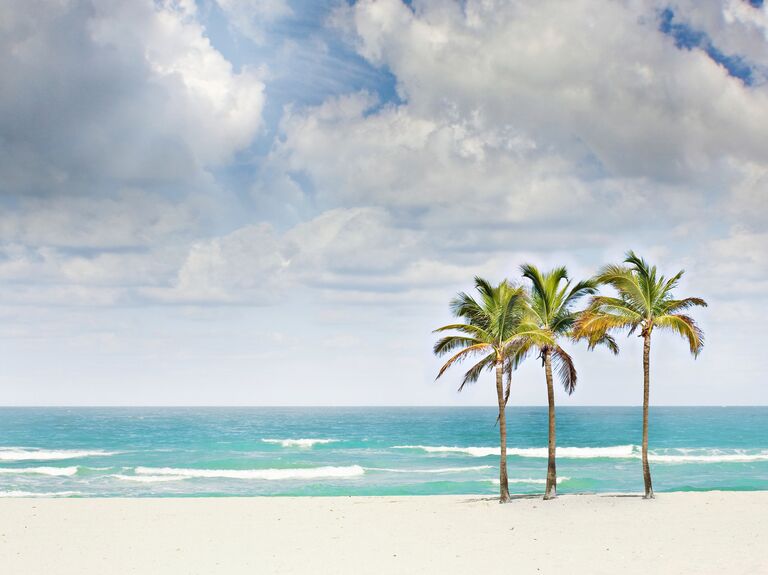 Between the sunny weather and beautiful beaches, Miami is a great alternative to the Caribbean or Mexico, especially if you're looking to stay within the US. Besides its picturesque sands, Miami is known for its vibrant art scene and unique architecture, which will add character to your wedding photos. The city is also an international hub with a thriving nightlife and restaurant scene, meaning wedding caterers cover all taste preferences and your guests will be party-happy.
When to Wed: High season is December through April. The summer months are also beautiful and less expensive (although it can be very hot!). And couples should keep hurricane season in mind (officially June through November). You may also want to steer clear of February and March, when popular venues risk being overrun with partying college kids.
Nashville, Tennessee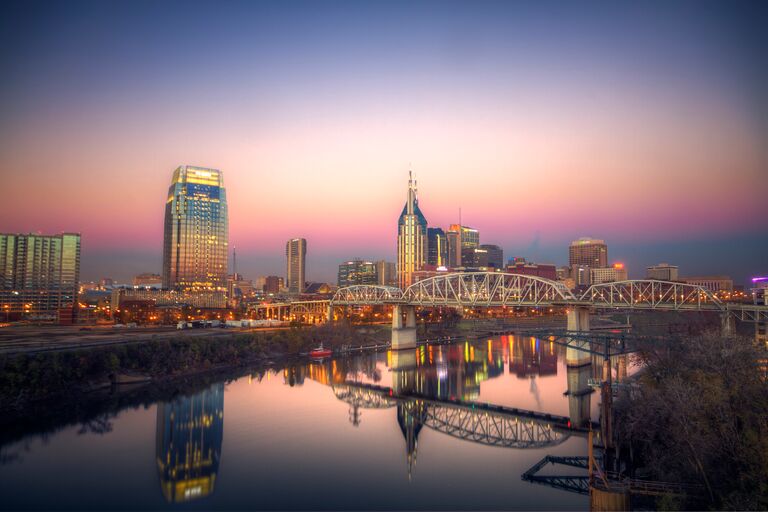 One of the nation's top bachelorette party destinations is also a sought-out hot spot for renovated music hall and barn weddings. Nashville's surrounding area and city center are both teeming with beautiful venues, great restaurants, storied music establishments and more. A Nash bash is ideal, especially for country music-adoring couples and guests.

When to Wed: As is the case with most cities along the East Coast, summers in Nashville are hot. However, most local venues especially in the Nashville vicinity are conducive to indoor-outdoor events, meaning air conditioning is a necessity.
New York, New York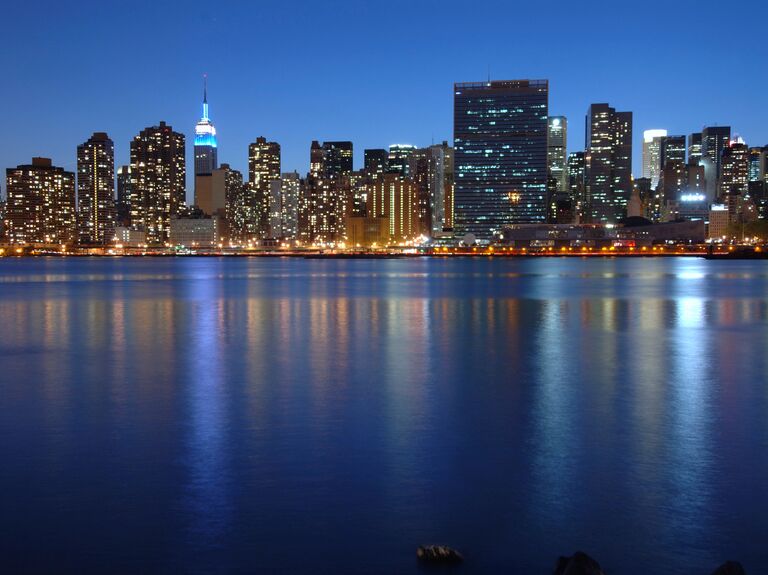 The "city that never sleeps" offers plenty to get your guests excited to make the trip: museums and galleries, four-star restaurants, crazy-fun nightlife, and block after block of shopping, as well as classic tourist attractions, like the Empire State Building, Statue of Liberty and Times Square. And when it comes to wedding planning resources, there's no shortage either; you'll have innumerable caterers, florists, photographers and bands to choose from though wedding costs will correlate when you're hiring top vendors in the world. Another plus? With taxis and Ubers on every block, it's super-easy for guests to get around.
When to Wed: Any month can be a good time for a New York wedding. Most of the city's main attractions are indoors, so it doesn't matter much what the weather is like. That said, summers here, especially during July and August, can be uncomfortably hot and humid. The city gets extremely crowded during the holiday season, but your guests may love the chance to catch the Radio City Music Hall Christmas show, ice skate in Central Park and browse the decked-out department stores.
New Orleans, Louisiana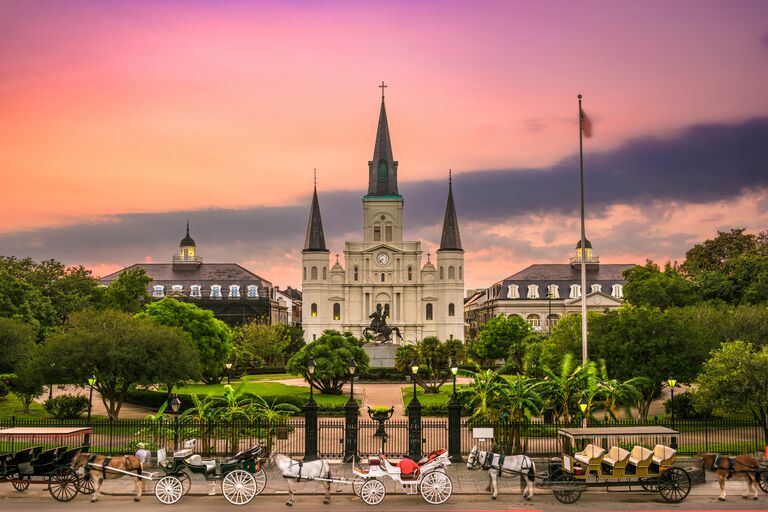 The home of Cafe du Monde also shares an illustrious history of weddings. The architecture, charm, culture and food in New Orleans all influence one of the most in-demand destinations in the country. Couples seeking a beautiful garden reception or grand ballroom wedding should consider this Southern destination–for the fare and the fun.
When to Wed: Summers are hot in New Orleans so expect humidity if you plan to exchange vows at the height of hurricane season. Locals will say the best time to visit the city is between February and May, though couples should be aware of Mardi Gras celebrations and revelry. If you prefer a calm destination wedding, the ideal time to throw your nuptials is between December to January.
Newport, Rhode Island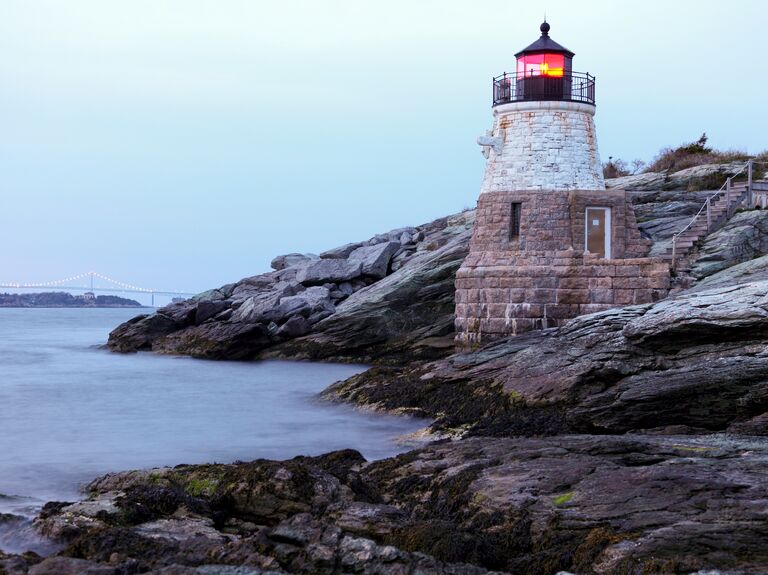 Newport offers the perfect mix of New England charm and old-fashioned glamour. This seaside community was the playground of the fabulously wealthy at the turn of the last century, when captains of industry from Boston and New York built huge mansions on Newport's cliffs (that now make gorgeous venues) meant to rival the castles of Europe. Today, Newport is still a favorite summer destination of the well-heeled, and it offers a plethora of activities—from sailing to high-end shopping—for wedding guests young and old.
When to Wed: Like most of the Atlantic coast, Newport is warmest (and busiest) during the summer months, when the highs average near 80 degrees. But the shoulder seasons (May and September) are beautiful times to visit as well, with temps still in the 60s and 70s. For a few days each August, the Newport Jazz Festival fills the town with musicians and music lovers, which means you and your guests will have lots of great music to listen to, but the town will be more crowded than usual.
Oahu, Hawaii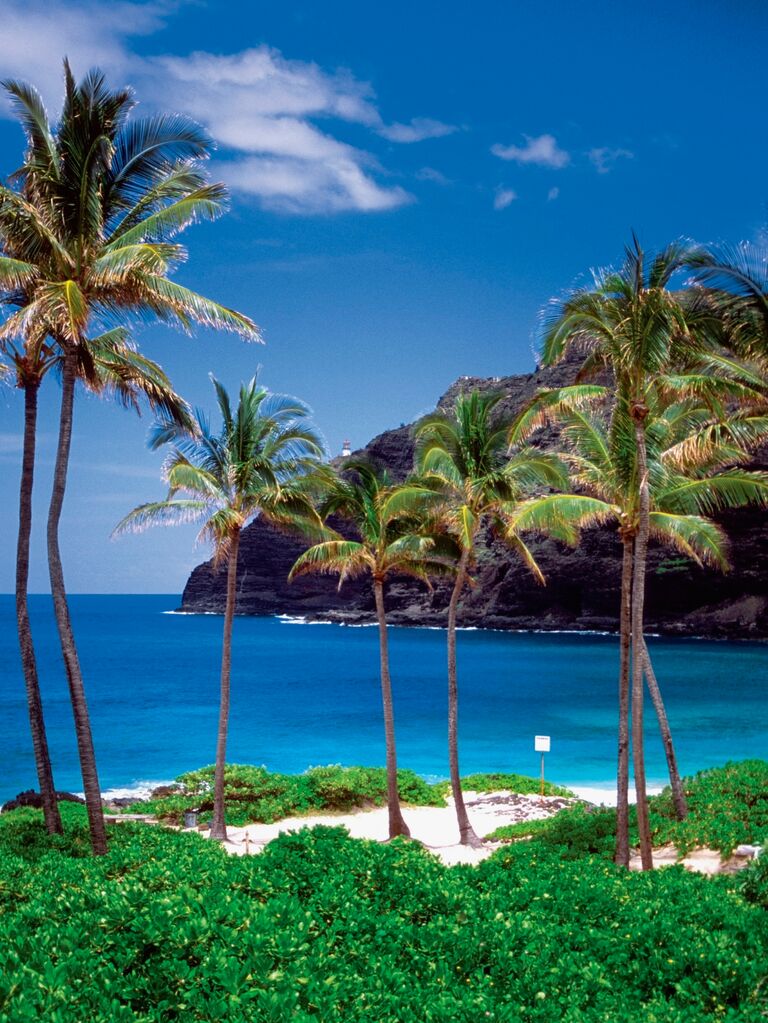 The liveliest of the Hawaiian islands, Oahu is more densely populated than the others, and it's the one tourists often visit. Honolulu, the island's most famous city, is located here, as is Waikiki, home of the main entertainment district and a hopping nightlife scene. But Oahu is still packed with lots of natural beauty and native culture. It's also the most convenient island for a destination wedding because it has the biggest airport and the most frequent direct flights from the mainland.
When to wed: Anytime—year-round, temperatures are in the 70s and 80s during the day. Dry season runs May through October, but even in winter, rain showers are short and mild. If you're looking to catch whale season, book a wedding from mid-December through mid-May.
San Francisco, California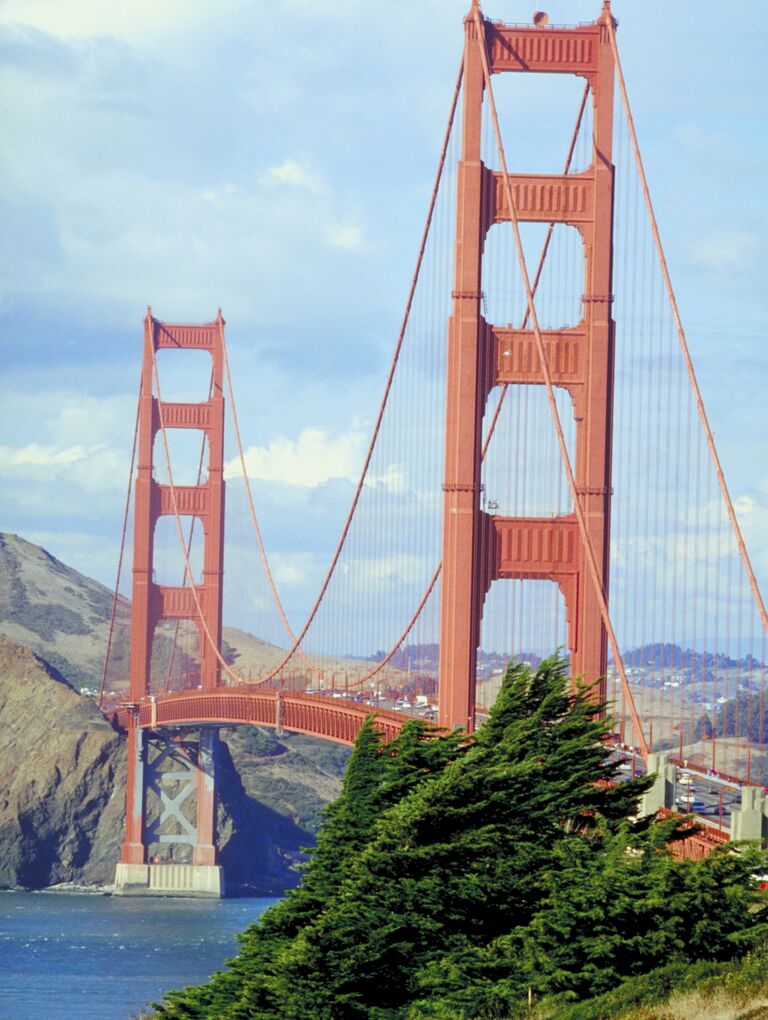 If you're looking for an urban setting that offers more in terms of scenery than just a concrete jungle, head to northern California's big city where you'll discover one of the best places for a destination wedding. The city is urban without being overwhelming, combining big-time sophistication with the laid-back, dressed-down attitude of the rest of the West Coast, making it one of the top US cities to tie the knot in. San Francisco wins the hearts of brides- and grooms-to-be for many reasons: Hills rise and drop everywhere you look; huge parks share space with skyscrapers and ornate, bay-windowed Victorian homes; cable cars rattle over the streets; and stunning views of the Golden Gate Bridge are everywhere from within the city as well as the water, which surrounds San Francisco on three sides. Plus, foodies will love the assortment of fresh, local ingredients and world-class fare that make designing a memorable menu for your reception a breeze.
When to Wed: San Francisco averages about 65 degrees year-round, meaning anytime is the right time, though expect the city's famous fog in the summer. Whenever you go, make sure to tell guests to dress in layers—when the sun sets, they'll need that pashmina or cardigan.
Southern California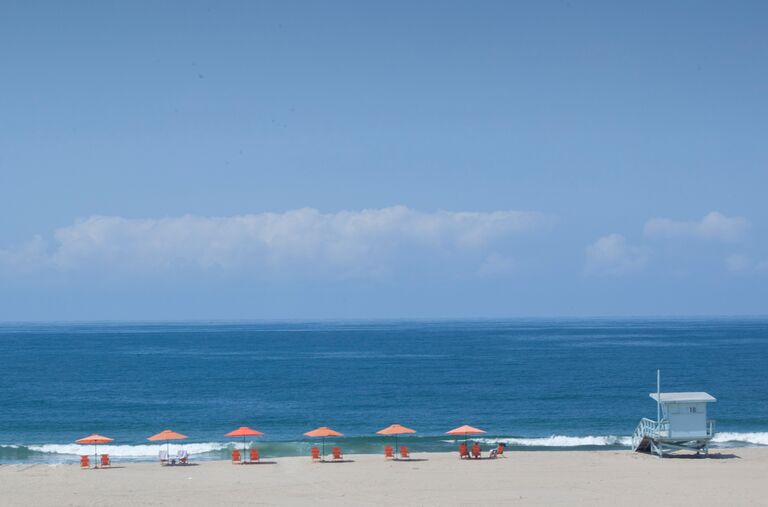 Malibu, Los Angeles and San Diego are all considered part of the lump region of Southern California, and this heavenly strip along the coastline of the state offers a vast wealth of wedding resources (and incredible natural lighting). Home to arguably several of the most iconic properties in the US (and celebrity homes), Southern California events are coveted for many reasons, making it one of the top destination wedding locations in the US.
When to Wed: Sunny Southern California is home to the finest year-round weather in the country. Couples will want to be aware of particularly inclement climate conditions during the summers. Winters are accompanied by dips in temperature in the evenings too. Fall is often the best time of year to marry in the state due to stabilized and moderate weather.
Washington, DC and Virginia Wine Country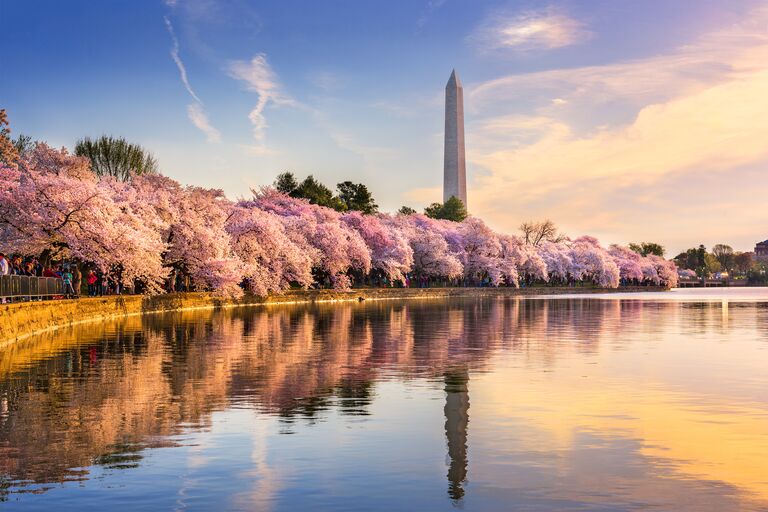 Nestled along the Potomac River, the country's capital is home to dozens of hotels and luxury properties, including massive ballrooms known for hosting foreign dignitaries and charitable events. Just a 2-hour drive from Capitol Hill, however, is Virginia wine country, where couples can host pretty vineyard weddings and sweeping outdoor receptions (with plenty of vino, at that).
When to Wed: Fall is perhaps the most predictable time to exchange vows in this region, though spring is arguably the prettiest due to DC's condensed cluster of cherry blossoms. Summers are typically hot and humid while winters are chilly and snow is expected. Depending on your vision, a DC area destination wedding can take place in any season.
Classic International Wedding Destinations
The most popular destinations in the world are reinterpreted as classic spots for weddings. From a gorgeous, sun-soaked ceremony in Tuscany to a dreamy outdoor reception in Ireland, couples and guests can easily access most of these destinations (plus, make the most of their time celebrating).
London, England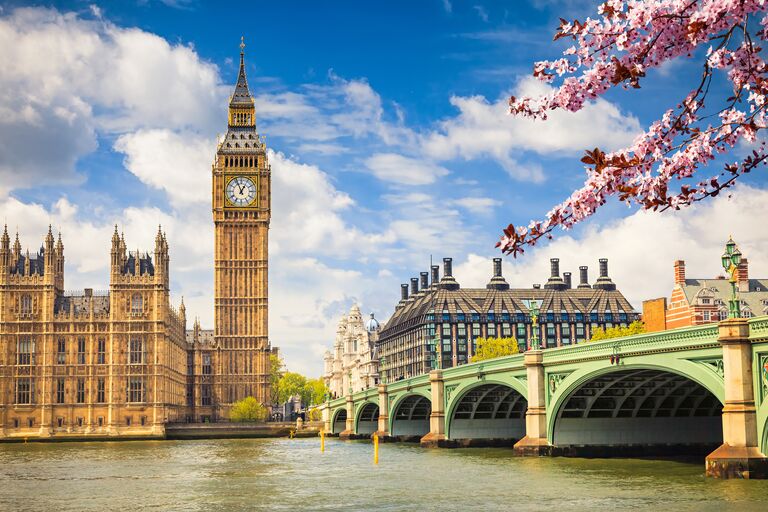 This cosmopolitan global city is a top wedding destination solely for its historic and unique architecture, incredible fine dining scene and modern hotels. What differentiates London, however, is the city is home to some of the world's most innovative and top vendors. Couples know the service will be impeccable from start to finish. It's also easily accessible from the East Coast, where guests and couples can arrive in six hours or less. Some to-be-weds will choose to host their opening festivities in London, like the welcome party, then they'll venture to the picturesque English countryside for the actual wedding ceremony.
When to Wed: The best time of year to marry in London is between April and September. For couples who want to fill their photos with the aromatic beauty of wisteria, the best time to schedule a wedding is between late April to May. Of course, all couples are suggested to have a backup plan for inclement weather.
Paris, France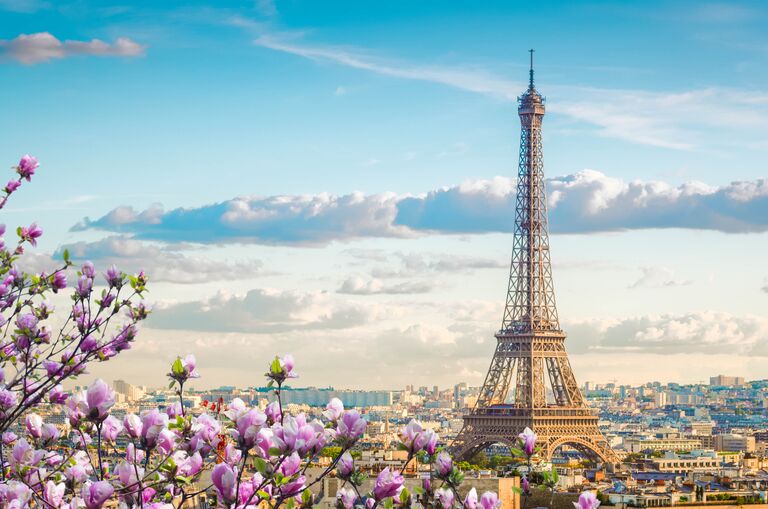 The most romantic city in the world is just the place for a destination wedding. The city is teeming with luxury and boutique hotels conducive to weddings, as well as gardens and museums with storied pasts. Versailles, of course, is a short distance away for those who need an additional dose of opulence. Plus, Parisian wedding photos are guaranteed to be beautiful, especially if the wedding suite has views of the Tour Eiffel in the backdrop. Couples and guests will often start their wedding weekends in the City of Lights and venture to the French Riviera for much-needed rest and relaxation post-nuptials.
When to Wed: The City of Lights is especially pleasant during the spring and fall months when the weather is mild and the air is crisp. Summers can be hot and packed with tourists, while winters are brisk.
Rome, Italy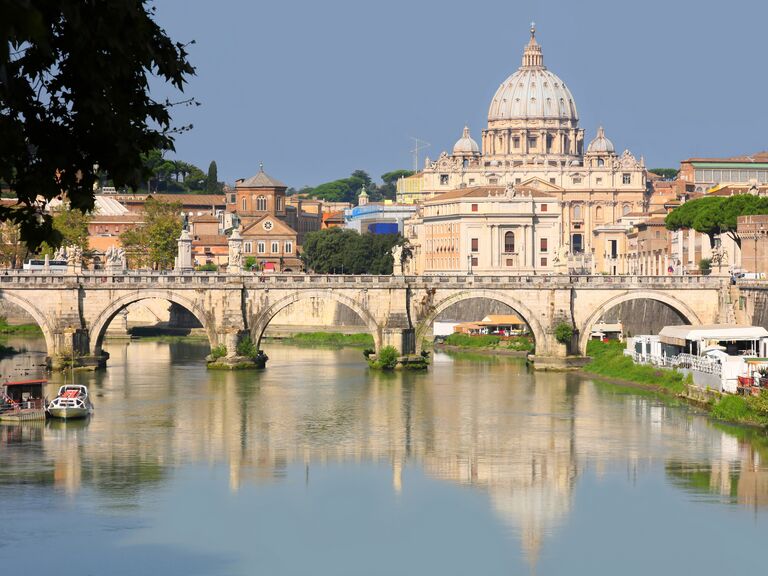 In the Eternal City, old-world culture mixes with a modern, energetic metropolis and historic attractions for a truly unique affair. With more artistic monuments than just about any other city in the world, Rome offers the ultimate wedding photo op. It contains as many perfect backdrops for romance as it does churches and ancient ruins—many, of course, are one and the same—from a centuries-old cobblestoned piazza to a baroque palace or even a rustic castle or villa just outside town. Plus, you'll have access to world-class wine, not to mention a selection of authentic Italian fare to serve your guests.
When to Wed: The best times are April through June, and September and October. In the fall, temperatures are cooler, and the city is lively but still manageable. July and August can be unbearably hot (and expensive), and most Italians go on vacation in August, so many shops, hotels and restaurants may be closed.
Tuscany, Italy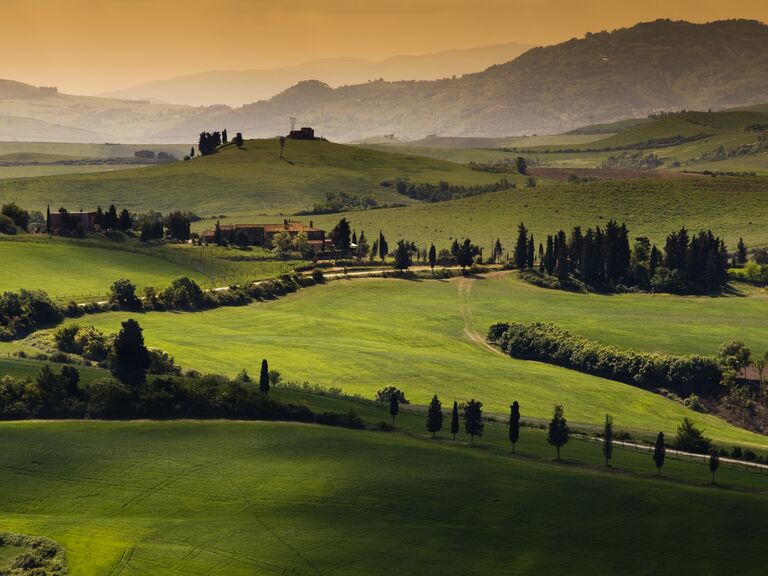 Set along central Italy's west coast, Tuscany's green valleys, rolling hills, vineyards, olive groves and 15th-century art and architecture are what wedding dreams are made of. For a rustic, romantic affair, the wine estates and castles of central Tuscany can't be beaten. And a laid-back vibe will help your guests feel right at ease—this part of Italy is all about il dolce far niente, or "the sweet art of idleness." Indulge your guests with amazing cuisine and wines—you'll find some of Europe's best here. So incorporate these local specialties into your menu: olive oil, mushrooms (such as porcini and truffles), roasted meats and salami, sheep's milk cheeses (such as pecorino and ricotta), and out-of-this-world wines.
When to Wed: May, September and October are the best times weather-wise. July and August are the hottest and most humid times of year, but tourism swells from May through September, so pick your battles.
Ireland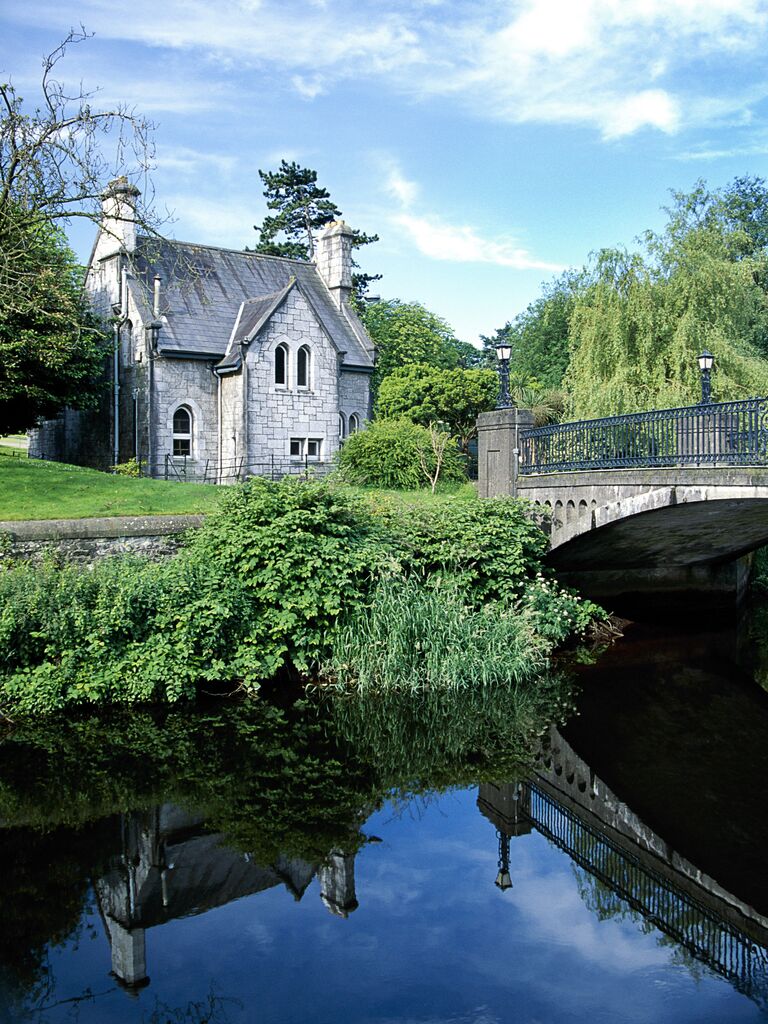 If the words "fairy tale" define your idea of a dream wedding, get thee and thine (sorry, we couldn't help ourselves!) to Ireland. Amid the mist, not only does your chariot await, but so do your rolling hills, oceanside cliffs, quaint seaside villages, lush gardens, grand castles and country manors. The combination of the symbolic traditions, the genuine hospitality of the locals and the natural beauty of this richly romantic country make it an amazingly memorable spot to say your "I dos." And dramatic settings for your walk down the aisle abound, from breathtaking cliffs to Tudor-style churches and the hallowed splendor of a 15th-century castle. Meanwhile, the mix of culture, museums, pubs and golfing will keep guests busy between wedding events.
When to Wed: The best weather is usually from May to September, but short showers are common throughout the year. Some accommodations close from October through March, especially in west and northwest Ireland, though prices and crowds tend to be lower then. And we probably don't need to tell you this, but St. Patrick's Day is kind of a big deal around there, so you may want to avoid that entire week.
Scenic US Wedding Destinations
The US is home to numerous jaw-dropping destinations. Nature lovers flock to the arid conditions and terrain of the West Coast, while mountains, streams and breathtaking landscapes dot the Rockies. There's beauty all across the country and these destinations are particularly conducive to dreamy weddings.
Aspen, Colorado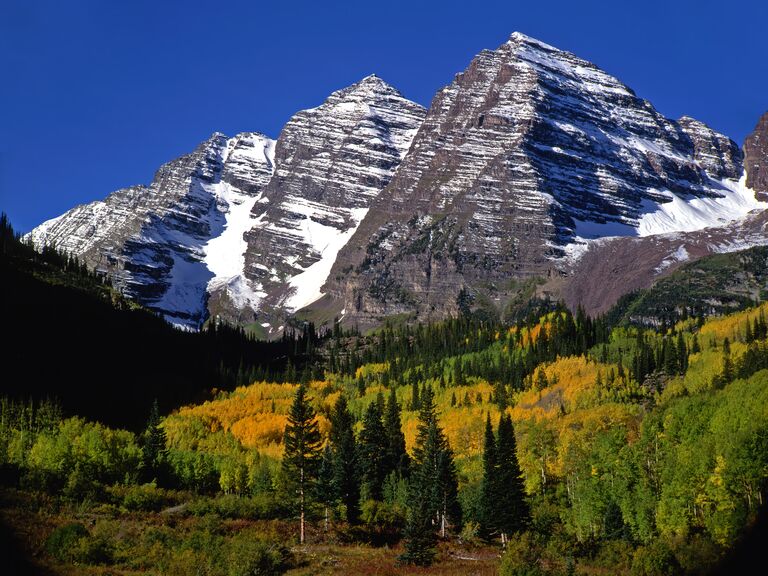 This Rocky Mountain town possesses the perfect mix of natural beauty, local charm and posh amenities. In addition to luxe mountain lodges, you'll find elegant ballrooms and trendy restaurant spaces to host your wedding events. (Numerous East Coast chefs and mixologists do residencies during ski season.) Aspen's gorgeous mountains and valleys will thrill any outdoors enthusiast, while its ample selection of high-end shops and swanky establishments can keep indoorsy types more than entertained. Plus, the Veuve is flowing endlessly, ideal for wedding photography opportunities.
When to Wed: While many couples choose to get married between late November and early March to create a winter-wonderland wedding, keep in mind that summer and fall are also gorgeous (and less crowded) times of year here.
Bar Harbor, Maine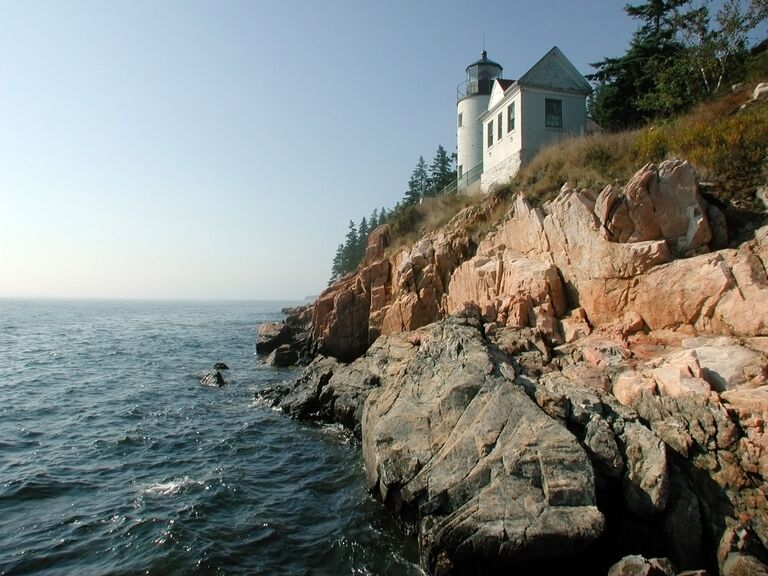 Surrounded by rugged coasts, dark-blue waters and golden-sand beaches (aka the perfect romantic backdrop), Maine's breathtaking waterfront might easily be mistaken for the Mediterranean, were it not for its iconic lighthouses (and more convenient locale). You'll get all the sophistication and style, though. Like Europe's southern coast, Bar Harbor is the epitome of seaside chic, only with a distinct American flair to incorporate into your day (think: fresh lobster, clambakes and blueberry pie). Your guests will have fun checking out Acadia National Park, which surrounds Bar Harbor on the east side of Mount Desert Island, in addition to bike riding, whale watching, kayaking and taking a dip in the ocean.
When to Wed: Summer is when Maine attracts the most visitors, especially in July and August, when the weather is warmest. To avoid peak prices and crowds, consider a September wedding, when the crisp fall weather begins to light up the foliage.
Central Coast, California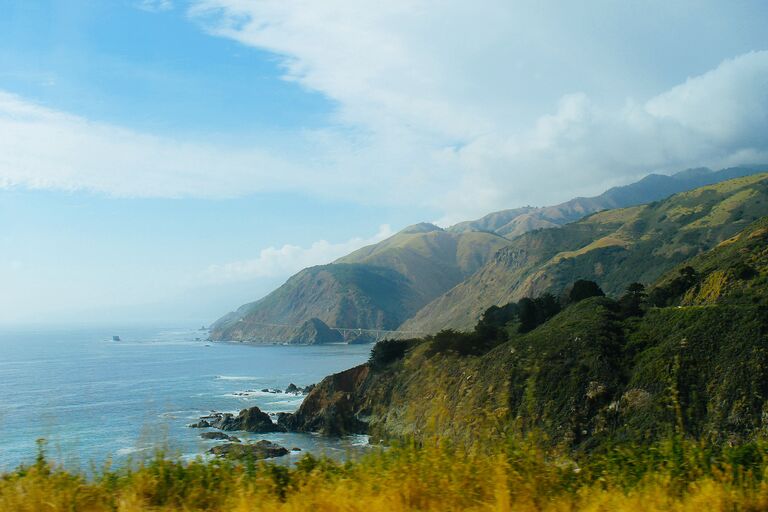 A scenic drive along the Pacific Coast Highway will solidify Central Coast California as an earthy and natural destination wedding option. From Pebble Beach to Jurassic Big Sur, the rugged, lush coastline of the region is arguably among the most beautiful places on the planet. Mornings consist of a fairytale-like fog that settles from the hulking Coastal Redwoods set against the roaring Pacific. The lack of WiFi simply adds a divine element to any nature lover's wedding.
When to Wed: Like most of California, early fall and late spring are the ideal seasons to marry across the region. Availability will be tight during certain months, so consult with your venue of choice on optimal conditions to marry. California is, after all, incredibly geographically diverse between inland and coastal regions.
The Grand Circle, Arizona, Colorado, New Mexico and Utah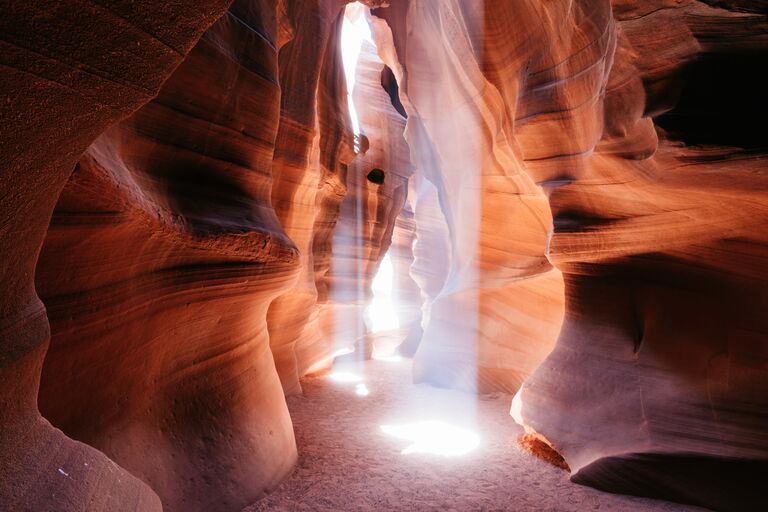 The spirit of the desert awaits against pristine night skies and breathtaking rock formations in the Grand Circle. Named for its concentration of 10 National Parks, the Grand Circle spans the states of Arizona, Colorado, Utah and New Mexico. Characteristically, a destination wedding in this region is for nature lovers. For couples who want to wow-worthy outdoor wedding photos, the buzzed-about Amangiri awaits with pristine stone-and-concrete structure against welcoming fireplaces and open terraces.
When to Wed: The sun beats down in summers, so the best time to wed in the region falls in the spring and fall seasons. Your guests will enjoy the beauty of the region without worrying about stifling conditions.
Hudson Valley and the Catskills, New York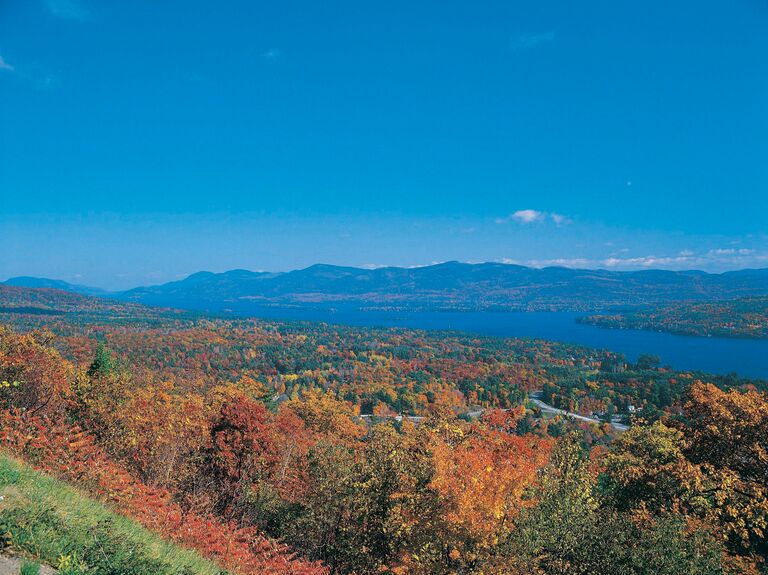 In the heart of upstate New York exist alpine villages with loads of activities and attractions—and snowcapped settings backed with mountain vistas. Leave the glitz at home and choose a venue from among the cozy rustic-chic resorts, chic boutique hotels (on Main Streets in Hudson or New Paltz) and luxe lakeside lodges. Guests will appreciate an outdoor fall ceremony surrounded by some of the country's most stunning foliage—and couples can get an even better view of the changing leaves by saying "I do" in a hot-air balloon. Imagine those wedding photos. During the summer months, the Catskills up to Ithaca boast thousands of lakes (popular choices are Saranac Lake, Mirror Lake and, of course, Lake Placid), plus mountain streams and waterfalls that come to life in the spring.
When to Wed: Naturally, a winter resort area will be busy and more expensive during the winter months, but if you want a "white" wedding, try April when it's less crowded but there's still lots of lingering snow. In fall, the changing foliage usually peaks in early October, so book your wedding date near then, and spring is beautiful, but have a backup plan for rain.
Jackson Hole, Wyoming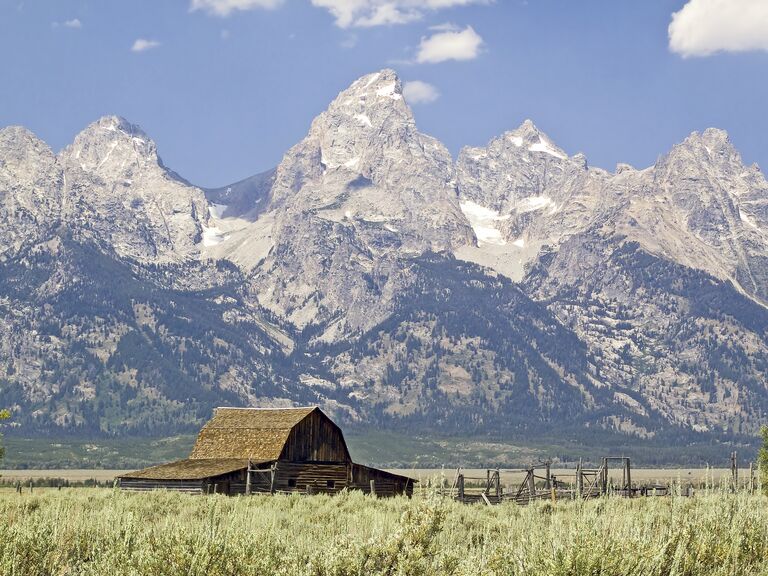 The majestic Tetons offer a breathtaking background for your nuptials (and the sunsets here simply can't be beaten for romantic wedding pics and ceremonies), but you'll also find rustic ranches and a Wild West vibe in Jackson Hole if a Western theme (think: cowboy boots and hay-bale benches) is more your style. Your guests can enjoy a range of outdoor activities, including skiing, hiking, fly-fishing, and checking out the local shops, museums and bars in town. This is one of the best destination weddings for couples who love the outdoors and want to keep costs reasonable.
When to Wed: The summer and early fall are beautiful in Jackson Hole, but late spring and fall can be unpredictable. Winter weddings are gorgeous here, but keep in mind: A big storm could make it difficult, or even impossible, for your guests to get there.
Kauai, Hawaii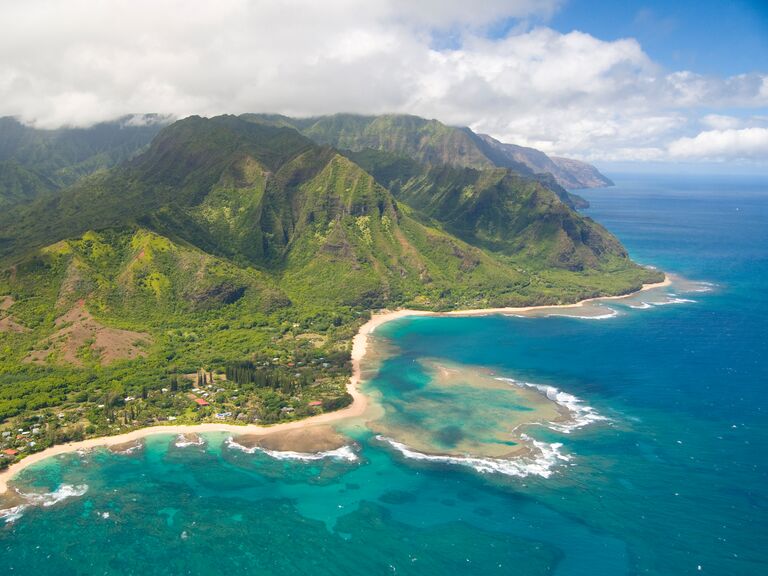 Kauai is known as the "Garden Isle" for its incredibly lush tropical landscape and is perfect for those looking for a more secluded spot to tie the knot. It remains the least developed of the four main islands, and life here tends to move at a slower pace. Although Kauai's Mount Waialeale is considered the wettest spot on earth (it receives an average of more than 400 inches of rainfall per year), the island's southern coast is perpetually sunny, making it ideal for weddings. Guests can surf, hike or take a helicopter tour.
When to Wed: Anytime—temperatures year-round are in the 70s and 80s during the day. Dry season runs May through October, but even in winter, rain showers are short and mild. If you're looking to save a little cash, avoid winter and early spring, when tourist season is in full swing.
Mackinac Island, Michigan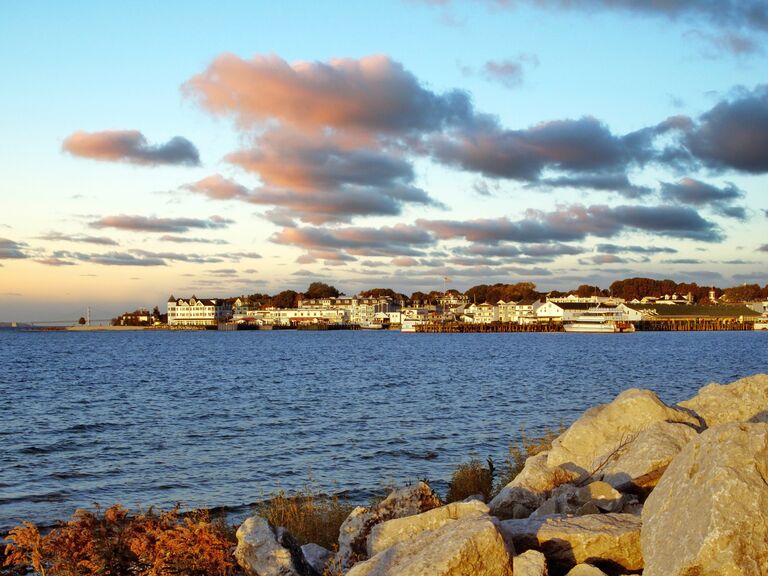 This quaint, car-free island (that's right, no cars!), set between the state's Upper and Lower Peninsulas near where Lakes Michigan and Huron meet, is full of charm, starting with the fact that you'll need to rent a bike or hire a horse and buggy to get around (both great ways to transport you and your guests). Mackinac Island, which itself is a National Historic Landmark, is known for its frozen-in-time Victorian vibe, but the architectural style of its buildings (like the Grand Hotel) actually spans three centuries. Couples have their pick of venue, from a turn-of-the-century Colonial Revival-style waterfront hotel to historic forts and Victorian-era mansions, cottages and churches. In the fall, the changing leaves make an incredible backdrop for an outdoor ceremony (think: a gazebo set in a clearing surrounded by maple, birch and elm trees).
When to Wed: Mackinac Island is packed with families during the summer, and snowy, icy roads and closed hotels complicate the winter low season. May and October are the best bets for deals, so it depends on whether you want your nuptials backed by spring's blooming lilacs or the amazing fall foliage.
Napa Valley and Sonoma Valley, California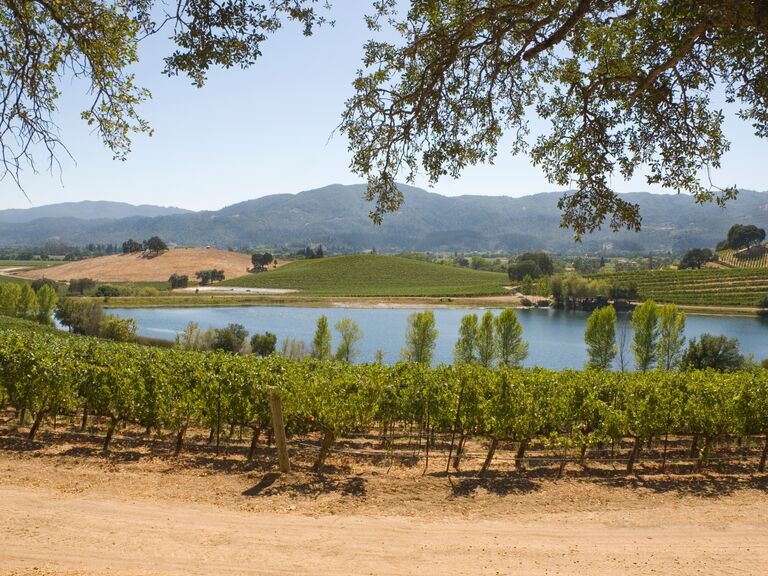 Wine Country USA is filled with stunning landscapes—rolling hills, lush valleys and impeccable vineyards (aka the perfect romantic backdrop for your nuptials). Of course, the abundance of amazing wines produced here, and the world-class restaurants with dishes worthy of accompanying them, will certainly make treating your guests a breeze. And given the sheer number of vineyards and charming inns, resorts and spas surrounding them, you'll also have plenty of options for venues and accommodations.
When to Wed: Summer and October are the best times to visit the region. September can be beautiful, but you may have problems with availability, and rates will be at their peak because it's harvest season. Even though you're in California, temperatures can drop at night (think: mid-50s in the summer), so be sure your guests know to bring sweaters and wraps for the evenings.
Nantucket, Massachusetts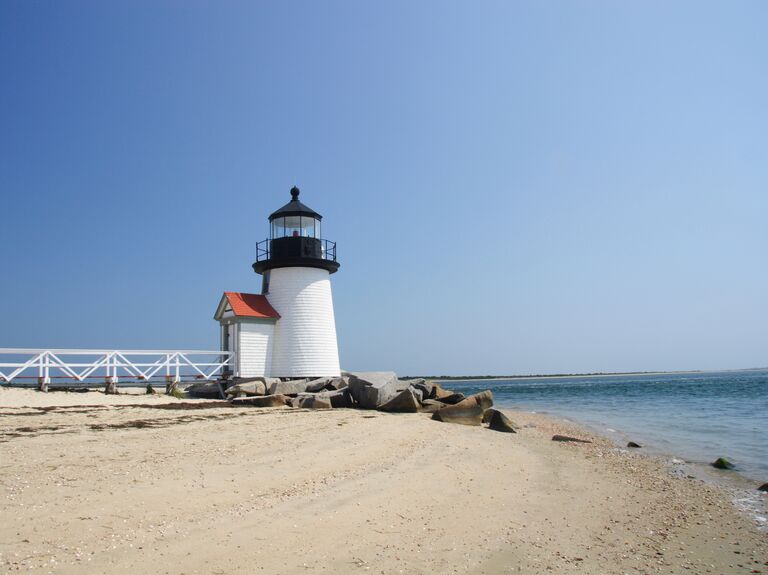 Dubbed the "Gray Lady" because it's often covered in a blanket of fog, Nantucket and its windswept moors, rugged beaches and rose-covered trellises are quintessential New England. You can feel Nantucket's nautical history with every step you take along its cobblestoned streets, and strict building codes keep all houses draped in weathered shingles, so you'll get an authentic feel. It's a destination wedding idea worth considering for couples who want a romantic, low-key wedding full of New England charm. You'll find plenty of inspiration, from the ocean and beaches to the lobsters and clambakes.
When to Wed: Summer is the warmest and busiest—and most popular—time. To avoid crowds, consider the shoulder months (May and September), when temps are still comfortable, the scenery is gorgeous and rates are slightly cheaper. New England winters are notoriously freezing, and storms come quickly, which could cause major transportation problems; plus, much of the island shuts down for the winter months.
Outer Banks, North Carolina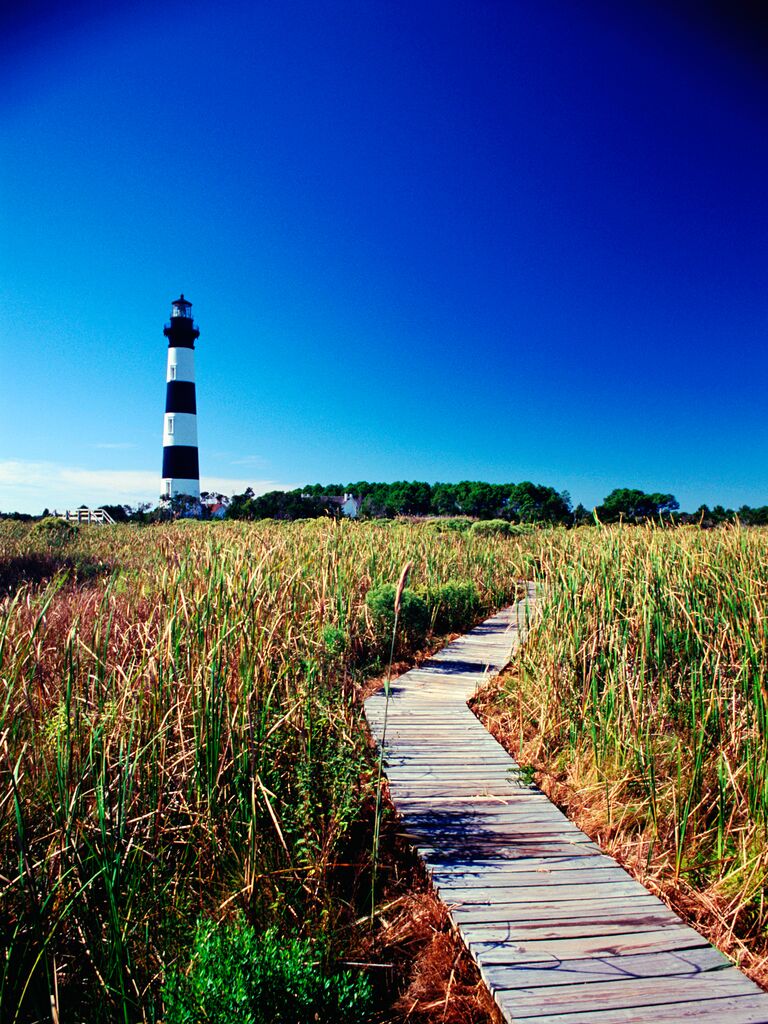 With 130 miles of open, unspoiled beach, the Outer Banks region, a string of barrier islands covering nearly half the North Carolina coast, will make you feel as if you're in your own private retreat for your wedding. (Case in point: It's one of the few places in the US where you can still view wild horses.) Say your vows on the beaches of historic Nags Head, Kitty Hawk or Hatteras Island; in a beautiful garden on picturesque Roanoke Island; or on the grounds of a large oceanfront beach home or a stunning Art Nouveau mansion in Corolla. For a truly iconic setting, opt for a statuesque lighthouse or rustic ocean pier setting.
When to Wed: The weather is best in summer, June especially, but traffic is crazy (there are only two bridges leading onto the islands) and prices are high. In spring, temperatures are unpredictable, but the beach is still pristine. Fall is hurricane season but offers incredible orange-and-red sunsets, and winter, while the most affordable time, takes additional planning because many businesses close for the season.
Park City, Utah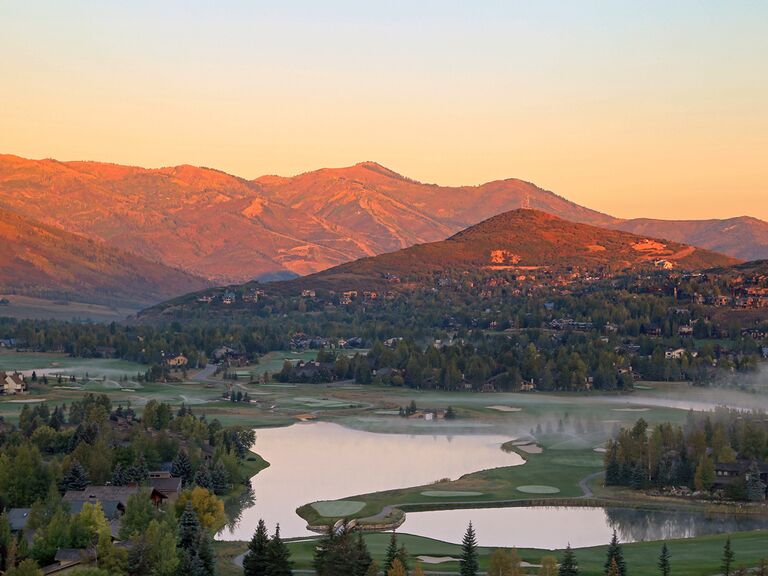 Park City offers the European sophistication and majestic peaks that the Alps are known for—without the passport requirements. Thanks to a new crop of ritzy resorts, the former mining town has turned into a top destination for nuptials. But Park City has something going for it that other mountain destinations don't: It's located just 40 minutes from the Salt Lake City airport, making it a great option for winter weddings. Plus, it's home to three world-class ski resorts, all with dedicated teams to help put together your dream wedding.
When to Wed: Ski season starts in early December and lasts into mid-April, but the summer and fall are gems and provide plenty for guests to do, including hiking, fly-fishing and mountain biking. May can be dreary and rainy as the snow starts to melt, while the weather in late October and November can be dicey—it could be 80 degrees one day and snowing the next.
Scottsdale and Tucson, Arizona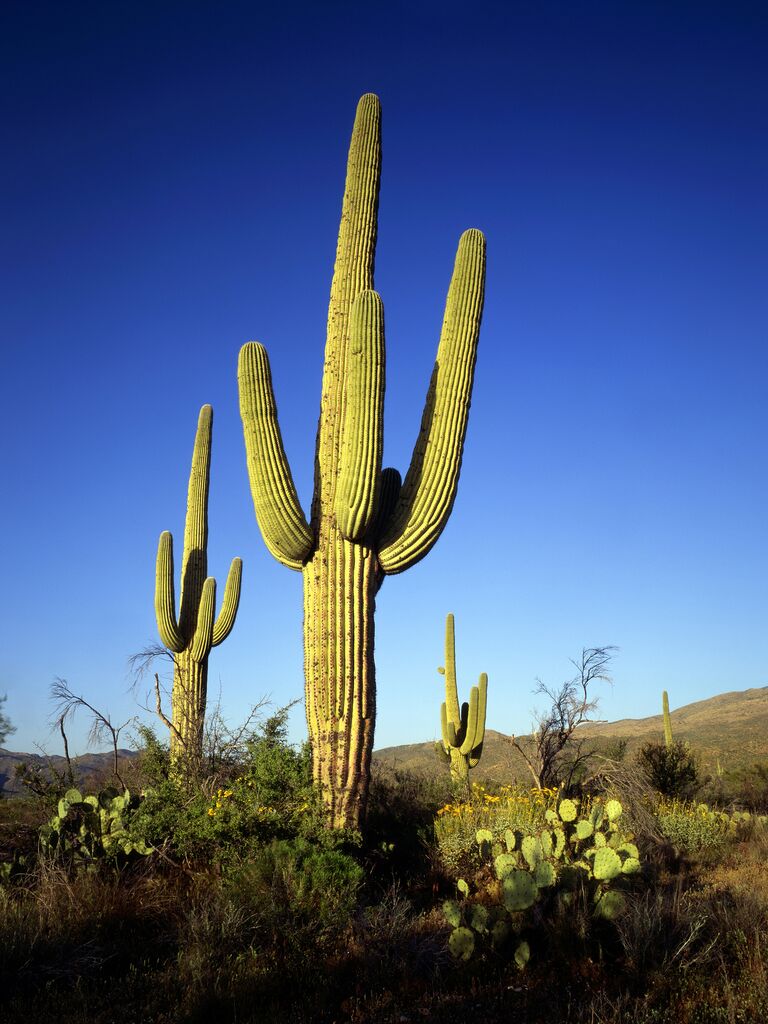 Retreat to the state of arid climate, turquoise jewelry, saguaro cacti and deep-orange sunsets. The southern region of Arizona between Phoenix and the Mexican border offers a natural and rugged rendition of the Southwest landscape for a unique setting for your "I dos." The lowkey luxury of Scottsdale is another option for couples who want their guests to feel as if they're on another planet. On the weekend lineup for your friends and family: catching a glimpse of a roadrunner while hiking through canyons, learning about the wonderful culture, and reveling in all that this awe-inspiring destination wedding location has to offer. It's heaven for active couples and guests who love dramatic landscapes.
When to Wed: Arizona's weather is generally warm year-round, and most days are bright and sunny. Temperatures regularly climb into the 90s (and above) in the summer, with June and July accounting for the largest number of very hot days.
Sea Island, Georgia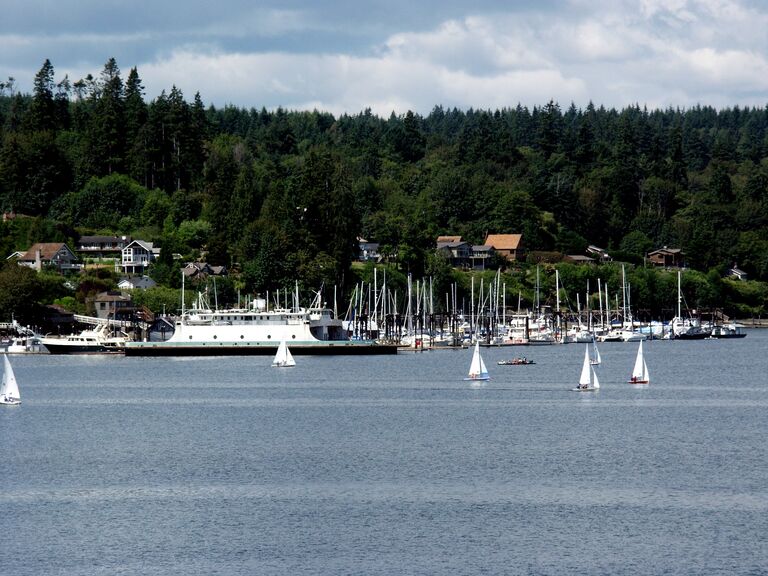 With its turquoise waters and pristine beaches, Sea Island feels like the Caribbean, only without all the tourists cramping your wedding style—the island's only visitors are guests of its two resorts. And the oceanfront setting on five miles of private beach couldn't be a more beautiful spot to exchange vows. In addition to world-class fare and amenities, this tiny Georgian retreat has plenty of activities for your guests to enjoy, including golf, tennis, horseback riding, boating, fishing, spa-going and more.
When to Wed: The best times to go are in the late spring and summer, and in early fall. June, on the other hand, marks the start of the hurricane season.
Luxury and Celebrity Wedding Destinations
There's a reason why so many celebs choose to wed at these destinations. Most offer pristine service against immaculate backdrops, along with the privacy necessary for most luxury-inclined couples.
Amalfi Coast, Italy
When the backdrop for your wedding is a citrus grove that overlooks Italy's jaw-dropping Amalfi Coast, great wedding pictures take care of themselves. The Amalfi Drive is one of the most scenic stretches of the Italian coastline, consisting of a winding cliff-top road offering dramatic views of the sea. Your guests will certainly enjoy the food and surroundings, so there's no need to stress over the menu or decor. And an itinerary filled with one-of-a-kind experiences, like a visit to the ruins of Pompeii, a boat trip through the Blue Grotto off Capri or a walk through the ancient, narrow streets of Naples's Old Spacca Quarter, will make for an unforgettable wedding weekend.
When to Wed: April through June, and September and October are the best times to explore Italy, with mild temperatures and smaller crowds. August can get hot, and it's the month when most Italians go on vacation, so many shops, hotels and restaurants may be closed. Winters stay on the warmer side, with temps averaging around 50 degrees.
Los Cabos, Mexico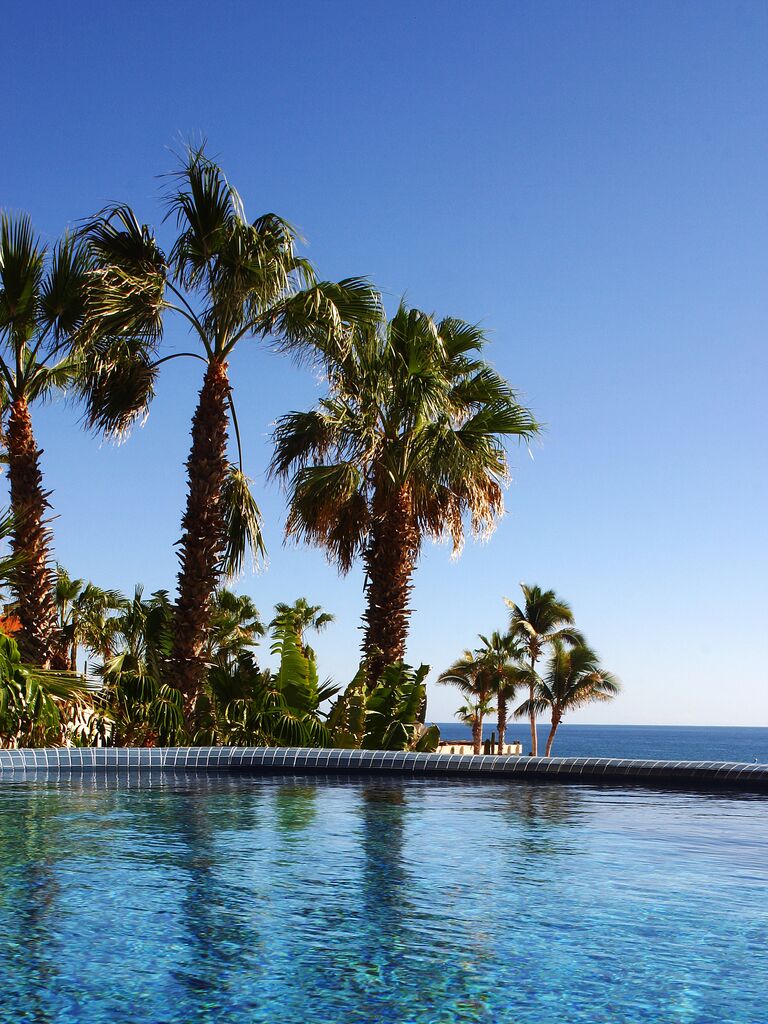 Fun in the surf and sun is what Los Cabos—which stretches from the town of Cabo San Lucas to the west over to San Jose del Cabo to the east, along the southernmost coast of Mexico's Baja California peninsula—is all about. In between the two is the Corridor, a 20-mile string of cozy hotels, championship golf courses, winding horse trails and white-sand beaches. Lively Cabo San Lucas draws plenty of celebrities, meaning there's no shortage of uber-exclusive beach clubs and villas, plus plenty of fuss-free all-inclusive options. Finding a venue and accommodations for your guests will be a breeze. You can also take a boat ride to a private beach or cove to say your vows. If you're looking for something a little different, enter your beach ceremony by horse or make the release of baby sea turtles part of your wedding program. Cabo San Lucas is also home to the region's iconic giant rock arch at Land's End, where the deep-blue waters of the Pacific and the Sea of Cortez meet for some spectacular waves (kind of like your relationship, no?).
When to Wed: Winter months have the best weather, but are crowded, with sunny, 70-degree days from mid-December through Easter. Try April and May, traditionally slower months when the weather's still good. Avoid spring-break season, which runs from late February through March. Though summer offers the best prices, humidity is uncomfortably high then. Rain is heaviest in June and October, with hurricanes possible through November.
Maui, Hawaii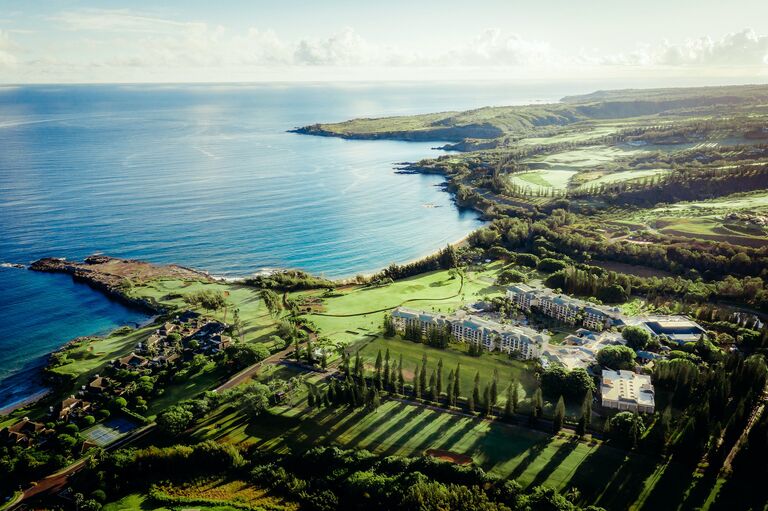 Many visitors think of Maui as the most romantic Hawaiian island, perhaps because it's brimming over with lush vegetation, waterfalls and the guarantee of a rainbow sighting. Guests will enjoy hitting the links along the "Golf Coast," and surfers (or aspiring ones) will find some of the world's most famous waves in the region. Of course, snorkeling, kayaking and all the activities you'd expect from a tropical paradise are here as well. Maui's beaches are considered to be among the best anywhere, so it's home to top resorts and properties. The luxurious rugged coastline of Kapalua and the calm waters of Wailea Beach offer exclusive experiences per venue and property. Resorts along Kaanapali Beach offer full-service packages too, with some of the best whale-and-turtle-watching in all of Maui.
When to Wed: Anytime—year-round, temperatures are in the 70s and 80s during the day. Dry season runs May through October, but even in winter, rain showers are short and mild. If you're looking to save a little cash, avoid winter and early spring, when tourist season is in full swing.
Palm Beach, Florida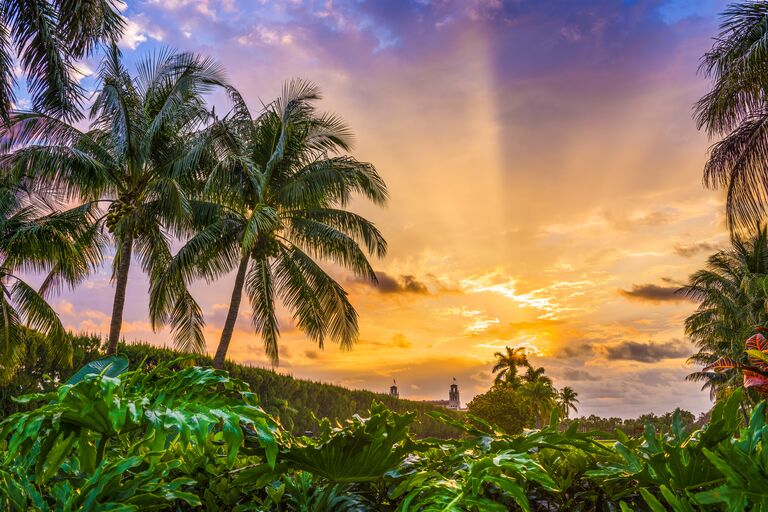 Palm Beach is a destination wedding spot for couples who want a timeless, near-vintage, oceanfront aesthetic, harkening back to the days of socialites sunbathing at Villa Artemis. Renowned for iconic venues like The Breakers and The Colony, Palm Beach has hosted numerous celeb weddings, including Sofia Vergara and Joe Manganiello's 2015 nuptials, as well as Nicola Peltz and Brooklyn Beckham's 2022 wedding. Many to-be-weds have naturally turned to sunny Palm Beach to host their nuptials for the simple sunshine and leisurely culture that permeates the region.
When to Wed: It's no wonder northern dwellers flock down to this South Florida town when the weather becomes unbearably cold. Palm Beach is pleasant year-round, but the best time of year to host a wedding is during the spring and fall.
Tropical and Beach Wedding Destinations
Anguilla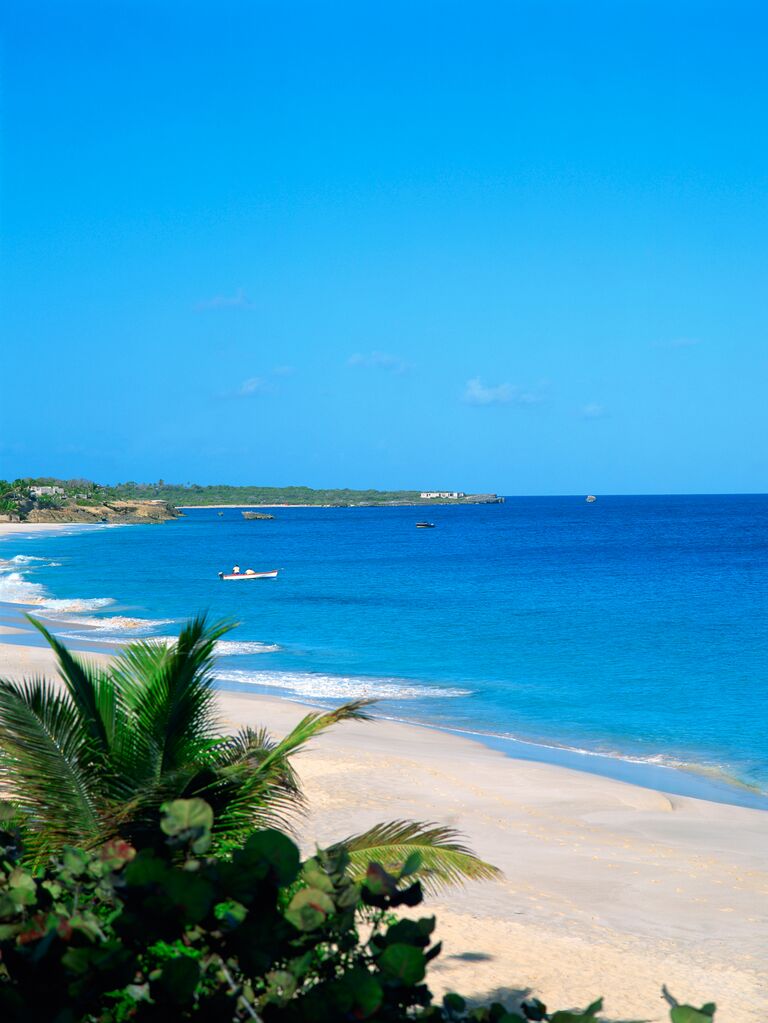 Tiny Anguilla, just 16 miles long and three miles wide, is one of the most exclusive spots in the Caribbean, and it's peppered with upscale resorts, four-star restaurants, unspoiled scenery and pristine white beaches (no cruise ships, high-rises or casinos allowed). You won't get a direct flight from the States (you'll have to take a boat from St. Martin), but we promise you and your guests will consider the destination well worth the extra travel time. As a bonus, native Anguillans are known for their hospitality, and the island is one of the region's safest. It's also known for its delicious food (some of the best in the Caribbean), so you can rest assured your guests will be well fed. Any Anguillan agenda should include swimming, snorkeling and savoring the chance to wear shoes as infrequently as possible (barefoot ceremony, much?), but guests who are less beach-focused will enjoy exploring the island's archaeological and cultural sites.
When to Wed: While you should take note of hurricane season, which runs from June through November, temperatures are perfectly pleasant (highs in the low 80s and lows in the low 70s) year-round.
Antigua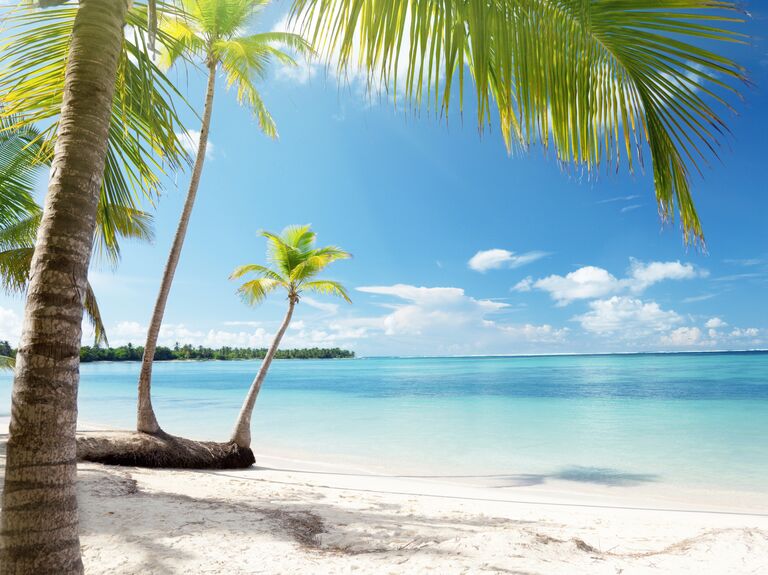 Take your pick from over 300 super-fine sandy beaches for your nuptials. Antigua's most popular beach, Half Moon Bay, was voted one of the world's ultimate beaches and is now a national park. However, Dickenson Bay (a beach on the northwest coast) is also home to hotels, restaurants and water sports facilities. In addition to its long list of all-inclusive resorts offering wedding packages and planners, Antigua's coast is lined with coconut palms and bordered by warm cerulean waters (aka an idyllic ceremony backdrop). For something a little less developed, check out the beaches of the south and southwest coasts. Antigua is also known for its seafood, so you and your guests can enjoy a delicious postwedding dinner.
When to Wed: If you're looking to save some cash, it's best to travel to Antigua during the off-season, which is May to November. The rates are lower, and the weather hovers around 80 degrees (though there is a slight hurricane threat). Looking to avoid rain entirely? Aim for a date between December and April—but prepare for higher costs and more crowds.
Aruba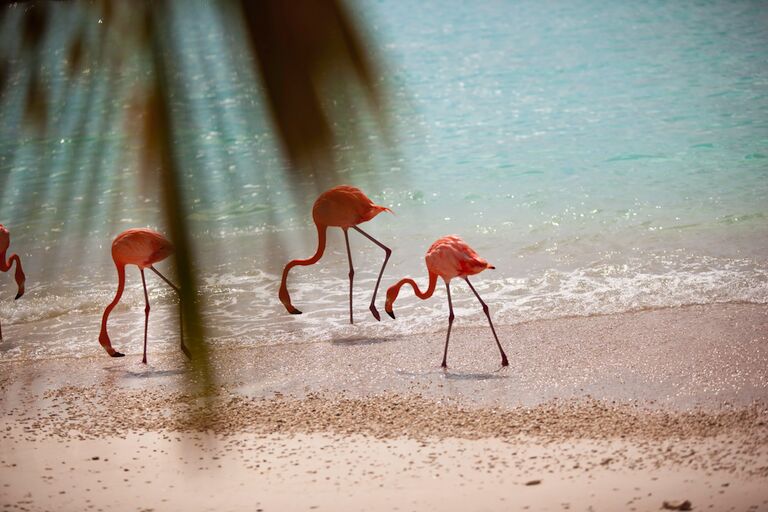 The island of Aruba has earned its stellar reputation as the best weather destination across the Caribbean, thereby making it the safest option for couples who want a destination wedding, year-round. Since the island is located outside of the hurricane belt, to-be-weds and guests won't need to worry about pivoting their plans in the event of an unexpected weather-related disruption. The diverse island is also convenient to US residents as direct flights are available nationwide, US dollars are accepted widely, and English and Dutch are primary languages. Aruba is also home to a Ritz-Carlton, as well as multiple Marriott properties, with each venue boasting its own vendor team and possible upgrades, making planning exceptionally seamless for those prepping from a distance. The restaurant options are fun and unique too–perfect for rehearsal dinners and farewell brunches (or sails for those who want to board luxury boats for day trips on the high seas).
When to Wed: One of the only wedding destinations to boast year-round idyllic weather conditions, Aruba offers year-round dates to couples so there's technically no bad time to marry on the island.
Bermuda
Though geographically removed from the Caribbean, Bermuda shares many of the same traits as those beachy, beautiful islands. So if you love the idea of a Caribbean destination wedding but also want something formal and elegant, consider Bermuda. It's famous for tranquil pink-sand beaches, iconic pastel-hued houses and proper British history. (PS: The island has no standalone casinos and few fast-food restaurants.) But perhaps its biggest selling point is that it takes just a couple of hours to fly there from the East Coast, and flights are often cheaper than those to Caribbean destinations. Guests can spend days teeing off on one of the country's eight golf courses, visiting the botanical garden or scuba diving among reefs and shipwrecks.
When to Wed: Bermuda is only 650 miles off the coast of North Carolina, so its weather resembles that of the coastal US more than it does that of the Caribbean islands to the south. May through early September brings ideal weather, but summer temps typically hover around 85 degrees and stay around 70 in the winter. Although hurricanes are infrequent, they can occur, so be aware of any warnings from June through November.
Cayman Islands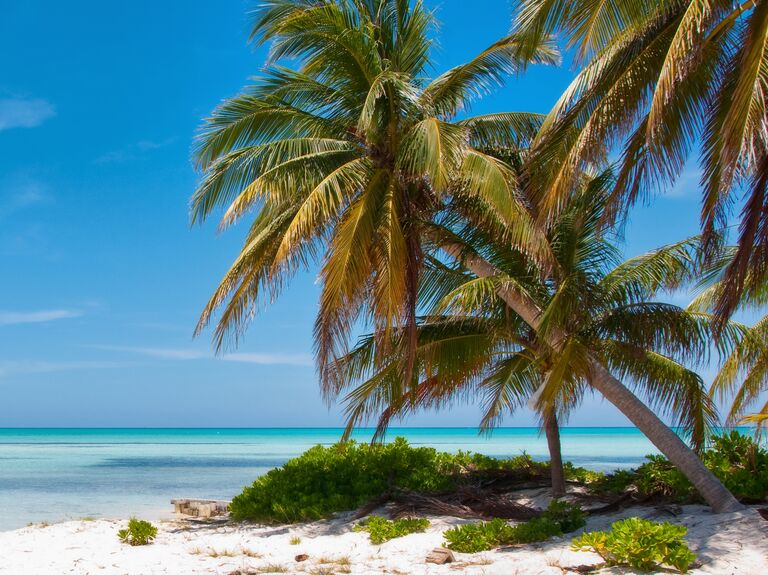 Discerning couples who want more than a destination-wedding-in-a-box head to the Cayman Islands for the ultimate in hospitality and tropical romance. Whether you choose to marry at a smaller resort or a five-star hotel, this destination has the resources to cater to every couple's personal style and guest-list size. Not to mention the backdrop is absolutely gorgeous (think: tranquil turquoise waters and sugary white-sand beaches dotted with palm and pine trees). All three islands are home to a wealth of wedding venues and pros, so there's little need to bring your own pros. And your guests will have plenty of options for how to spend their downtime, including swimming, snorkeling and visiting historic George Town, where sparkling-jewelry retailers abound. Keep in mind: There's no live/outdoor music allowed on the island on Sundays, which means if you're saying "I do" beneath a tent on the beach or poolside on a Saturday, your band or DJ must wrap it up by midnight.
When to Wed: High season begins the week before Christmas and goes through April, so you'll deal with crowds then. Avoid hurricane season, which is May to November.
Costa Rica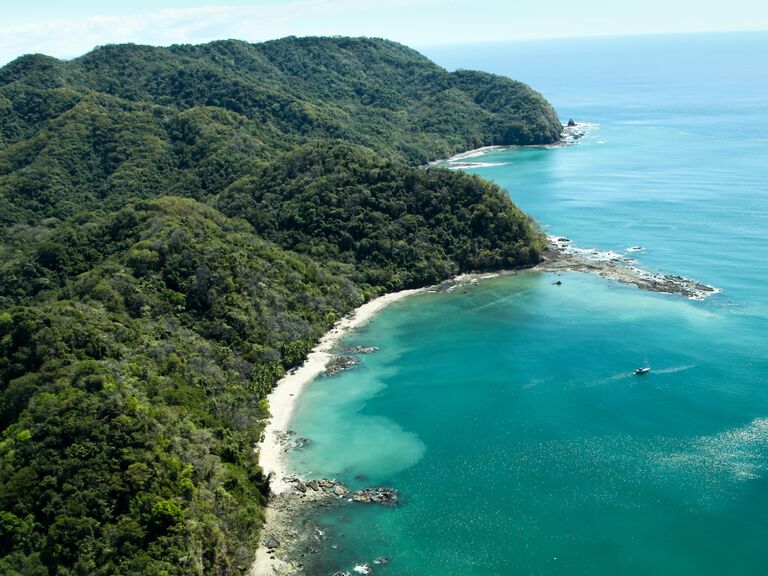 With two breathtaking coasts only a short plane ride away from each other—one on the Pacific, the other on the Caribbean—Costa Rica is the perfect destination for couples who are looking for an unspoiled tropical background for their nuptials but don't want to sacrifice their modern urban tastes. In fact, this small country truly has something for every couple, which is why it makes our list of best places for a destination wedding. Treat your guests to amazing mountaintop views during an outdoor ceremony or reception, or for a truly standout affair, you can even get married on the edge of a volcano! If you're dreaming of a beach bash, how do sun-baked stretches of white sand sound? Though deforestation once threatened the country's dense rain forests, several nature preserves, biological reserves and national parks have been established to protect the landscape, and they're now some of the most naturally stunning places to say "I do" (think: waterfall wedding). Ecotourism is very popular here, making less traditional but equally luxurious eco-lodges and rainforest bungalows another desirable (and romantic) option for couples who want to throw a green wedding.
When to Wed: You'll want to schedule your wedding during the dry season, from late December through April, except on the Caribbean coast, where it rains throughout the year (the Pacific coast is drier). The temperature and humidity vary with altitude but are much higher along the coasts.
The Island of Hawaiʻi, Hawaii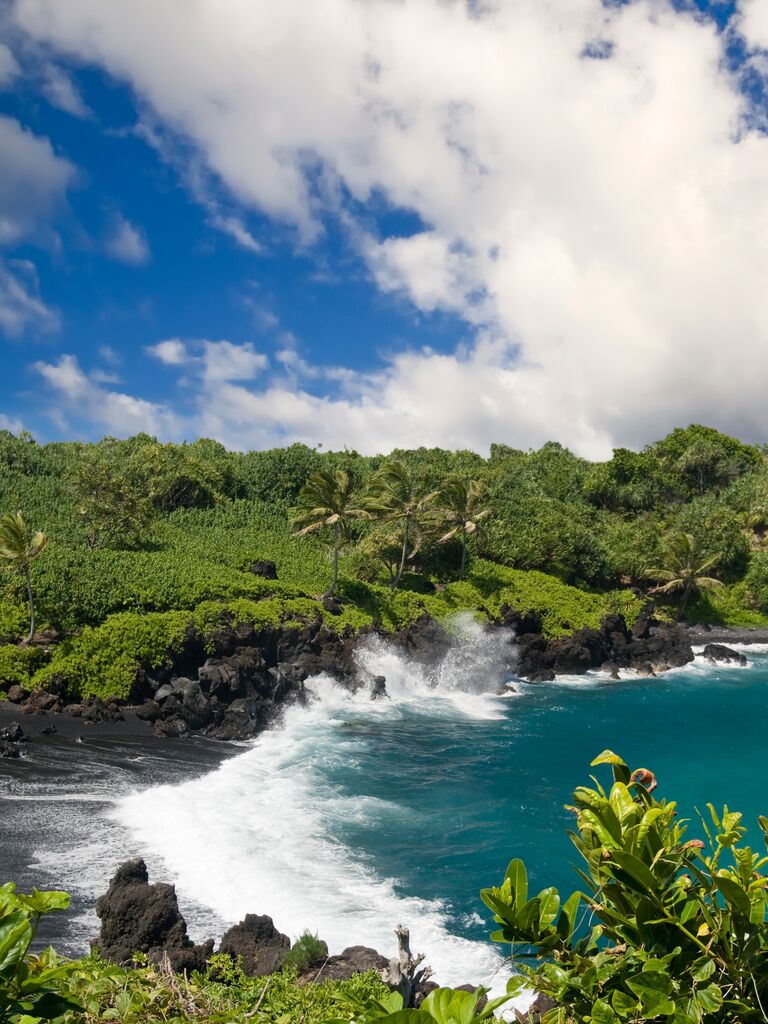 The Island of Hawaiʻi is the largest island in the chain and offers incredibly diverse topography. In fact, 11 of the world's 13 climatic zones can be found on the island (there's even snow on top of the highest mountains!). The landscape varies dramatically as you travel around the perimeter, so you'll have your choice of backdrops: The Kona coast to the west has a lunar-like landscape, while the north and east coasts are wet and super-lush. There's plenty for guests to do too, from exploring the rainforest region to going horseback riding, snorkeling or just lazing on the beach. You won't have to go anywhere for a dream honeymoon. These are just some of the reasons we consider this spot on our list of best destination wedding locations.

When to Wed: Anytime—year-round, temperatures are in the 70s and 80s during the day. Dry season runs May through October, but even in winter, rain showers are short and mild. If you're looking to save a little cash, avoid winter through early spring, when tourist season is in full swing.
The Florida Keys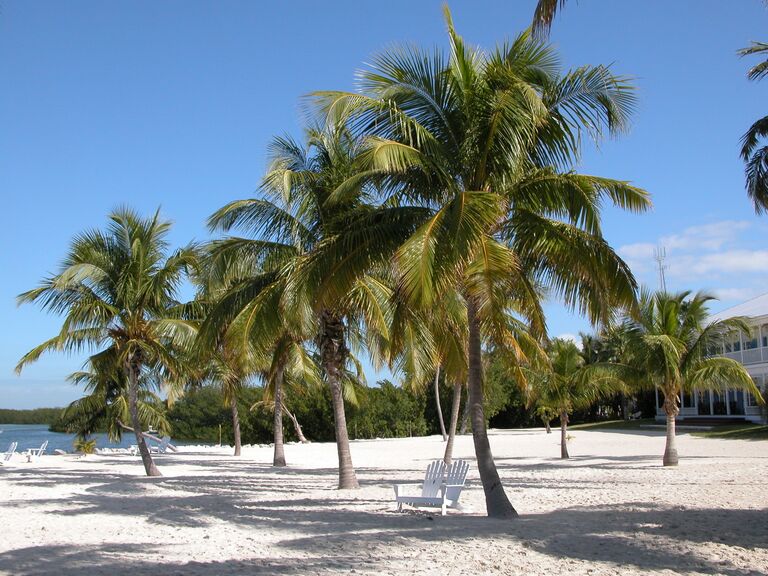 This 110-mile chain of islands offers a laid-back tropical island setting with all the allure of the Caribbean at a domestic price -- and a more convenient location for guests. The Keys have a distinct old-Florida vibe, meaning wildlife and nature abound (you may even spot an indigenous deer swimming from key to key as you exchange vows), and since the islands are surrounded by the clear blue waters of the Atlantic and the Gulf of Mexico, there's no shortage of white-sand beaches. Try Key Largo for an underwater ceremony, a low-key beach bungalow or dolphin-assisted "I dos" on Islamorada, or one of the historic homes and gardens on Key West, one of the southernmost points in the US. Or go for a luxe offshore private island resort accessible only by boat; you can also just get married on the vessel (choose from sailboats, tall ships, glass-bottom boats and yachts).
When to Wed: High season is December to April, so you may want to try summer when things are more affordable (and less crowded)—but it will be hot. Though hurricane season runs from June to November, you should be okay if you avoid the more risky fall months.
Nevis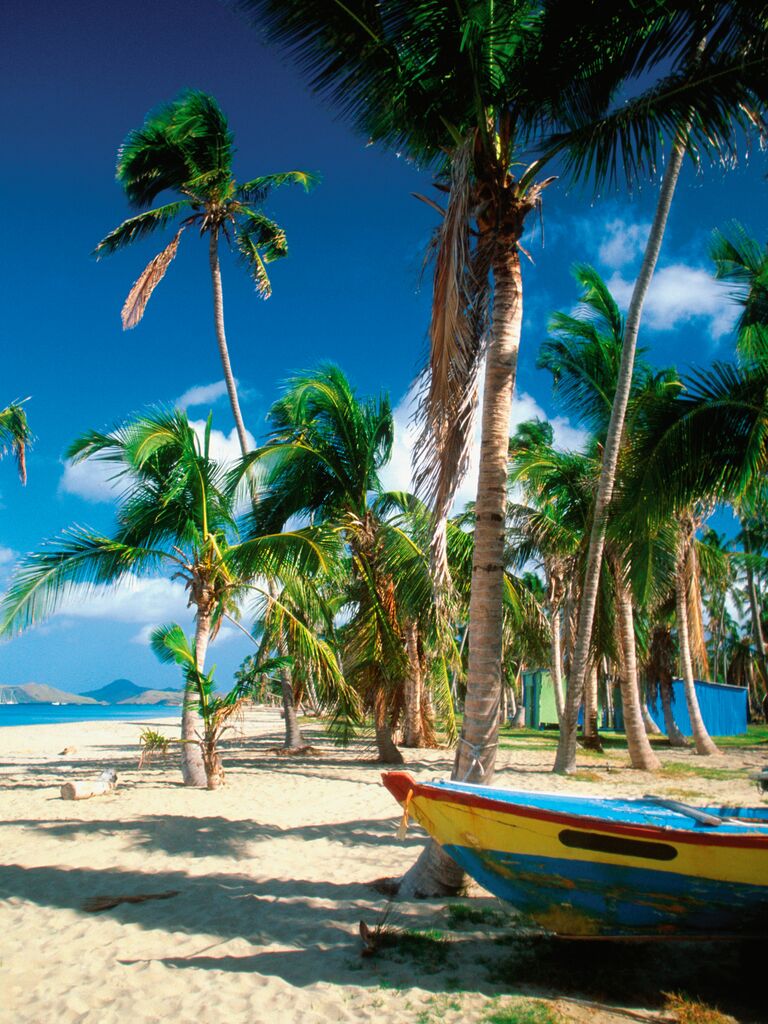 Nature lovers, this is your island. Known as the "Queen of the Caribbees," Nevis has a high-end, posh pedigree and is home to some of the Caribbean's best-preserved beaches, rain forests and reefs. You'll also find world-class resorts and a more private atmosphere for your wedding. And you won't have to worry about your guests having fun—from exploring the rain forest and climbing to the top of Nevis Peak (3,232 feet tall) to horseback riding and chilling on the pristine sand, they'll have plenty of activities to choose from.
When to Wed: Nevis maintains temperatures averaging between 72 and 87 degrees year-round. Be aware of hurricane season, though, which lasts from June through November.
Turks and Caicos
Less developed and more upscale than much of the Caribbean, this collection of 40 islands, eight of which are inhabited, has an intimate feel. Many of the islands are surrounded by a natural reef, making the turquoise waters just offshore clean, calm and full of sea life, and the perfect backdrop for a beach ceremony. And sunsets over Grace Bay are unforgettable (sunset ceremony, hint, hint). The islands are also relatively easy to reach, since you can fly direct from a number of US cities to Providenciales, the main island—a plus for guests. Snorkeling and scuba diving are great options to suggest, since Turks and Caicos has some of the best underwater sightseeing around. Historic Cockburn Town on Grand Turk is also worth a visit for history buffs, and whale and bird watching are two other popular activities.
When to Wed: The climate is sunny and dry, with highs between 80 and 84 degrees from November to May. But during the summer and early fall, daytime highs range from 85 to 90 degrees, sometimes reaching the mid-90s in late summer, and hurricane season also runs from June through November, so that's not prime wedding time.
Unique Wedding Destinations
Though common wedding destinations for the international population, the locales listed below are unique choices for US-based couples. Most luxury wedding vendors are familiar with these spots, however, considering well-traveled to-be-weds tend to venture to such parts of the world.
Australia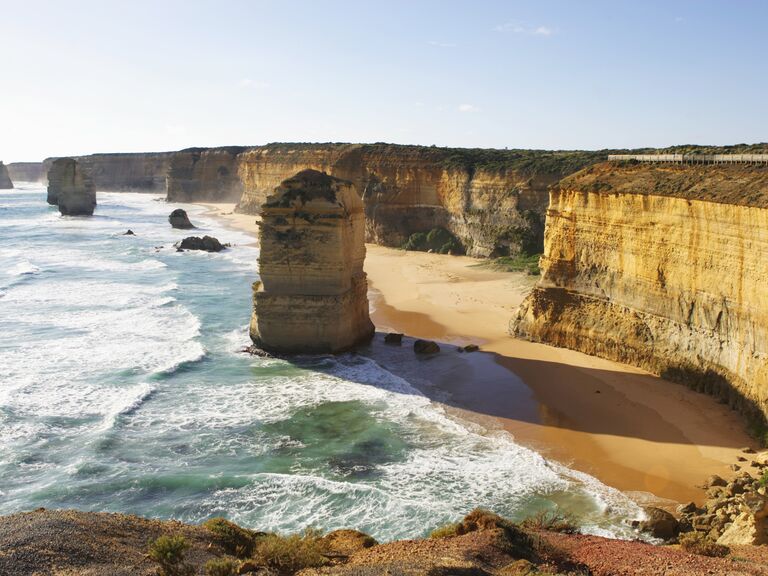 Besides it being full of unbelievably friendly (and active) folks, there are a host of reasons to consider staging your nuptials in Australia. The land down under features gorgeous landscapes, from urban cities to the rugged outback and the unforgettable Great Barrier Reef, as well as upscale eateries influenced by Europe, Asia and homegrown spicing. And the local wines are world-class, so wow your guests by serving an Australian Shiraz or chardonnay (or both!). There's plenty for adventurous guests all over the continent, from scuba diving, snorkeling and white-water rafting to trekking through the outback and checking out the Great Barrier Reef. For guests who prefer their adventures a bit more contained (read: Grandma and your five-year-old niece), Australia boasts several amazing zoos, plus Kangaroo Island for wildlife viewing.
When to Wed: The climate tends to be balmy and without extremes year-round, since most cities are on oceans, but during Australia's summer (December to March), some areas can be very hot. Be sure to remind guests to pack sunscreen, sunglasses and rain protection no matter when you plan to wed.
Dubai, UAE
A futuristic, luxury-centric city situated along the Persian Gulf, Dubai is one of seven kingdoms located in the United Arab Emirates, and arguably the most modern. Renowned for world-class shopping, bucket-list experiences and its breathtaking skyscrapers (with views to match), the "City of Gold" offers equally luxe events. Given the city and surrounding desert's geographical diversity, couples can take their pick from outdoor festivities in the desert under the Arabian sky to large-scale gatherings within the high-end resorts of Jumeirah Beach. For those who want to fully embrace the theme of the city, a wedding in the gilded ballroom of the iconic Burj-Al-Arab (coined one of the few seven-star properties in the world) is the perfect fit.
When to Wed: The months of September to April are ideal for a Dubai wedding since the weather isn't as extreme as experienced in the summer months. Keep in mind that May through August are peak heat seasons, but the cost of resorts will drop–as will the crowds.
Fiji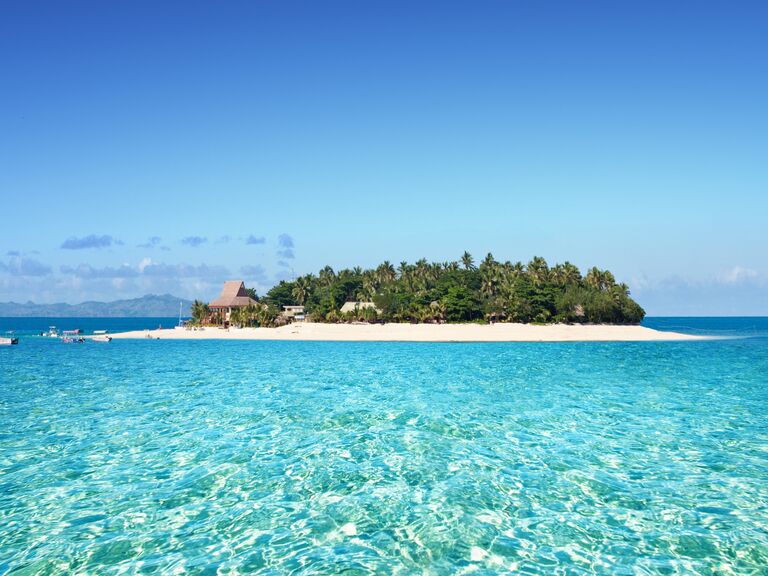 About 300 islands in the South Pacific make up this alluring tropical paradise. Known for its friendly people, lush foliage and rich sea life, Fiji is the ideal destination for couples seeking castaway tranquility, exotic culture and unspoiled beaches for their nuptials. Called the "Soft Coral Capital of the World" by Jean-Michel Cousteau, Fiji is the perfect spot for your nature-loving guests, who can feed sharks and explore sunken ships and a World War II aircraft. But there's also terrain to suit every adventurer: Guests can trek the Sigatoka sand dunes, scale the vertical face of Joske's Thumb, hike the Mount Korobaba Range, tee off on palm-studded golf courses by the sea or go white-water rafting down the Wainikoroiluva River.
When to Wed: The best weather is during Fiji's dry season (called "Fiji Winter"), from May to October. Yearly festivals (including the Hindu Holi, or Festival of Colors, in February/March and Diwali, or the Festival of Lights, in October/November) could mean exciting celebrations for your guests to experience...but also crowds of tourists to compete with.
Loire Valley, France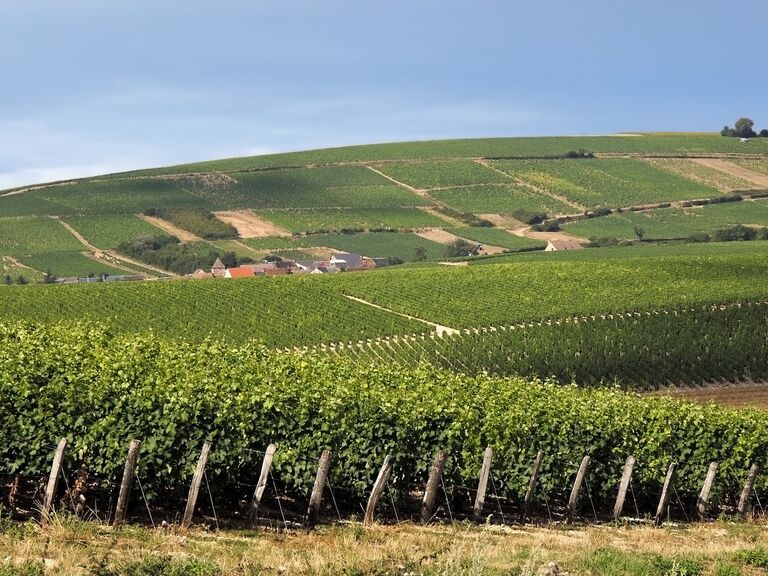 Just two hours outside the world's most romantic city (yep, we're talking about Paris) and its international airport (that would be Charles de Gaulle) is the chateau-rich and rolling Loire Valley, cherished for its castles, historic villages, charming people, wines and food. So basically, you've got everything you need for a dream destination wedding. You and your guests can also enjoy the country life: Go for a wine-tasting tour, pay a visit to the Chateau d'Ussé,—said to be the setting of the French fairy tale "Sleeping Beauty" in the village of Rigny-Ussé—or take a taste (or two) of the beloved tarte tatin (upside-down apple tart), which also makes a great dessert alternative.
When to Wed: Your best bets are April through June, and September through early November. While the weather is mild year-round, the rainy season varies by region and runs from mid-November through February. Don't book your nuptials for July and August unless you want to deal with huge crowds.
Marrakesh, Morocco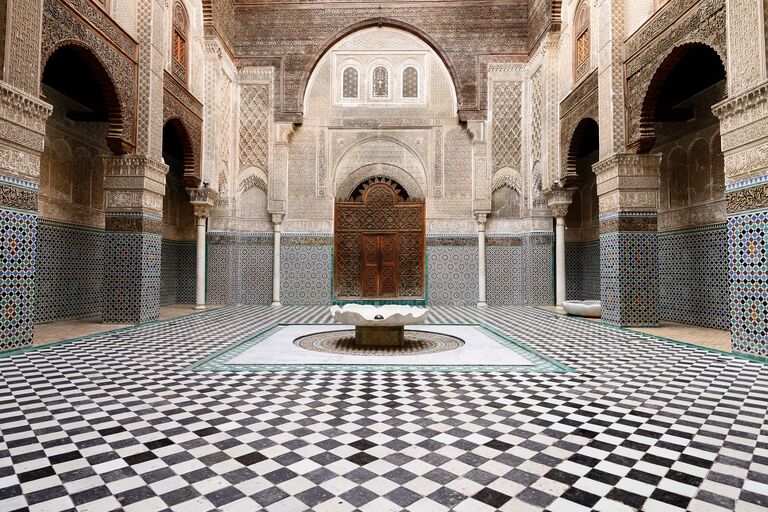 When considering far-flung wedding destinations, one of the top contenders is none other than the medieval and imperial City of Marrakesh. Even the most well-traveled of guests will be fascinated by the magic of Marrakesh, which is home to numerous luxury properties including an Aman resort and the illustrious five-star Royal Mansour. The architecture alone is an incredible storytelling opportunity for couples and wedding designers. Photographers will be pleased with the natural photography options, scouting everywhere from sun-soaked stone alcoves to beautiful deserts.
When to Wed: Summer in Marrakesh, much like Dubai, is unbearably and insufferably hot. To avoid having to be indoors at all times, couples should consider spring and fall weddings when the chances of rain are low and the weather is moderate to Western standards.
New Zealand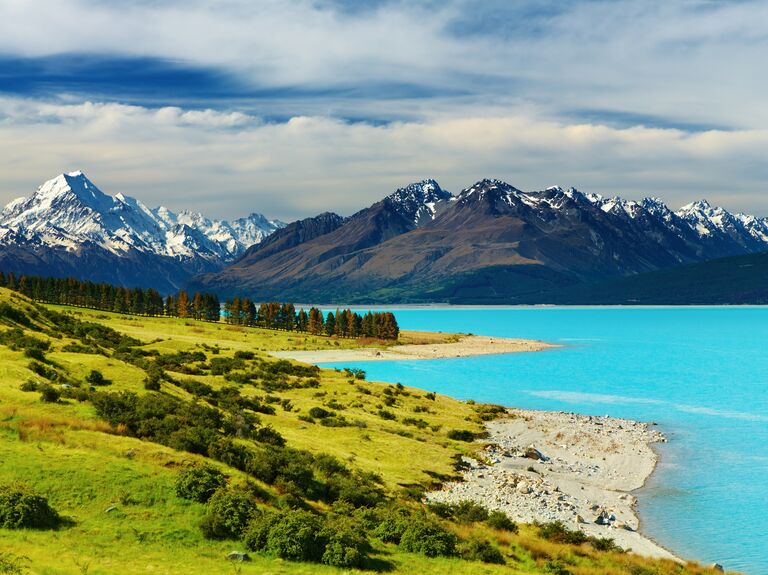 Leave behind bustling crowds that flock to closer beach destinations for the more remote landscapes of New Zealand. Water lovers will appreciate the miles of golden beaches, while landlubbers can admire the country's pristine forests—and both make for a memorable backdrop for your wedding. Our pick for special spots to get hitched: Great Barrier Island, with its more rugged landscape, frequent wildlife sightings and secluded hot springs; the snowcapped Southern Alps for stunning views, including waterside canyons; and one of the many offshore islands, such as Waiheke Island, known for their vineyards and olive groves.
When to Wed: Most areas of the country have generally mild temperatures and many hours of sunshine, with daily average temps ranging from the low 50s to upper 60s. Like Australia, New Zealand's seasons are the opposite of those in the US, so the warmest months are December, January and February, and the coldest are June, July and August.
San Miguel de Allende, Mexico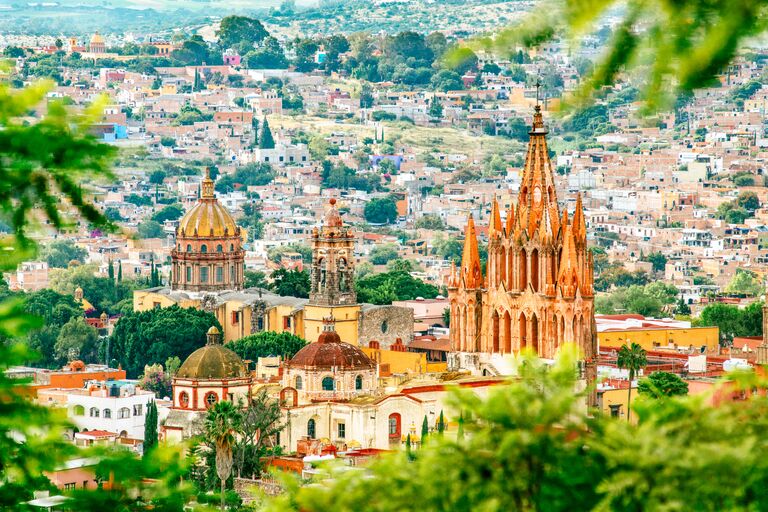 For old-world charm and romance (think: narrow cobblestone streets, red stucco walls and Spanish Colonial–style architecture) with a mountaintop backdrop and year-round sunny temps, you won't have to ask your guests to travel very far. Located outside Mexico City, San Miguel de Allende is Mexico's newest hot spot, but this historic town dating back to the 1500s, is far from new. In fact, you'll find more historic buildings and monuments than modern mega-resorts in this provincial town brimming with culture. With its gardens, centuries-old chapels and churches, and Spanish-style courtyards, plus an array of boutique hotels that define understated elegance, charming ceremony and reception spots abound in this nearly 500-year-old town. And you won't have to worry about entertaining your guests between events—the local galleries, restaurants, shopping, spas and numerous festivals that take place throughout the year will keep them plenty busy.
When to Wed: The spring is one of the best times of year, because the temperatures are moderate, the flowers (azaleas and dogwood trees) are in full bloom, and the colors of the foliage make for a picture-perfect setting.
South Africa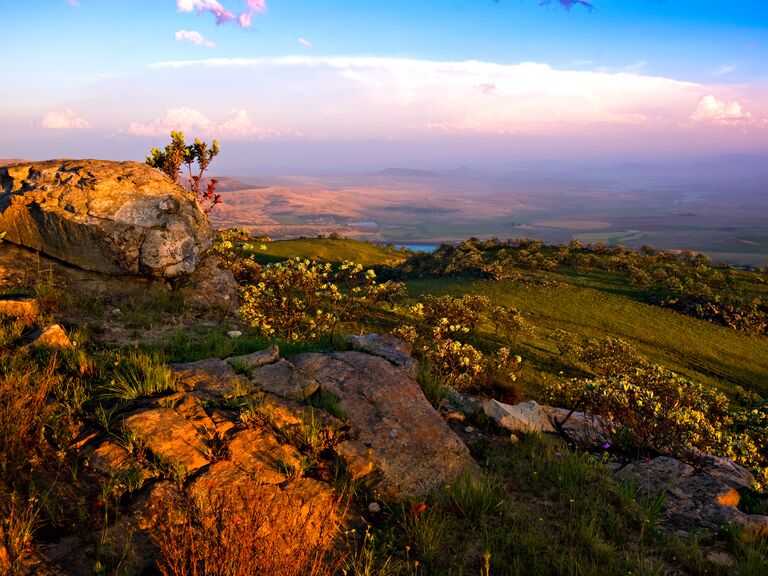 South Africa has been called "a world in one country," and it's easy to see why: Towering mountains rise over a vibrant and trendy Cape Town; ostrich-dotted grasslands stretch to connect quaint villages; monkey-filled forests line the deserted beaches of Natal; and the Stellenbosch wine route tucks vast vineyards into lush, fertile valleys. Then, of course, there are the lions (and giraffes and crocodiles...). South Africa's stunning landscapes, wildlife preserves and pristine beaches along the 2,174 miles of coast and rolling vineyards have made it an ideal vacation—and exotic destination wedding— spot. So it's the perfect locale for adventurous couples to throw a unique wedding for guests willing to make the trek.
When to Wed: Summer (December to February) is ideal for beach bashes, while winter (June to August) is best for game viewing if you want to give guests a wild treat. Average temperatures in Cape Town range from 64 degrees in winter to 80 in summer, so you're pretty safe year-round, but other regions can reach as high as 95 in the summer months.
Tahiti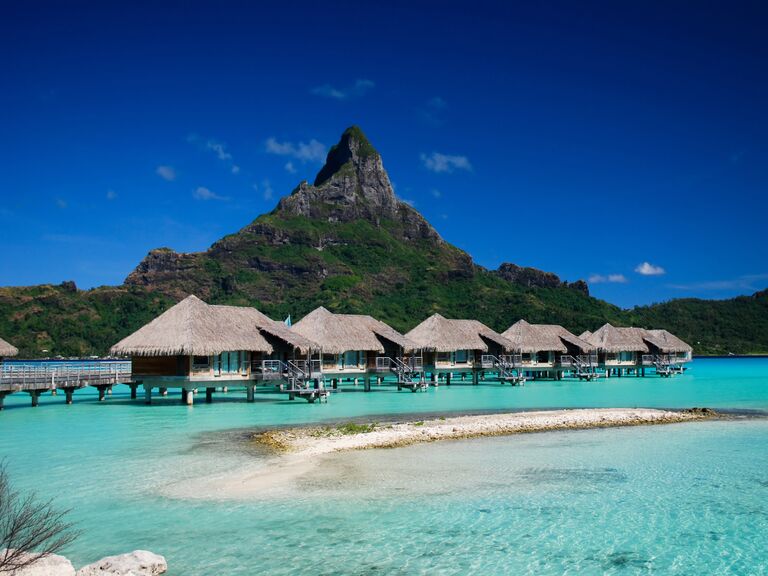 There's a reason why French painter Paul Gauguin set his most famous works in Tahiti -- the island is known worldwide for its picturesque landscape packed with palms, fragrant vanilla farms, vivid blooms and postcard-worthy rain forests. And there's an even better reason why it makes the far-flung list: It gets relatively few tourists (more people visit Hawaii in 10 days than visit Tahiti in a year!). So you and your guests will enjoy great service and crowd-free beaches. Guests should tour the capital city of Papeete and hit the Marche du Papeete (central market) for black pearls, carvings, shells, vanilla, coffee and perfumes, or make their way to popular spots like Papenoo, Punaauia and Paea for surfing. And for a fun welcome activity, treat guests to a Polynesian show with traditional music and twirling flaming torches.
When to Wed: The dry season runs from May to October, but evenings can be cool, so remind your guests to pack wraps and sweaters for the evening.
Thailand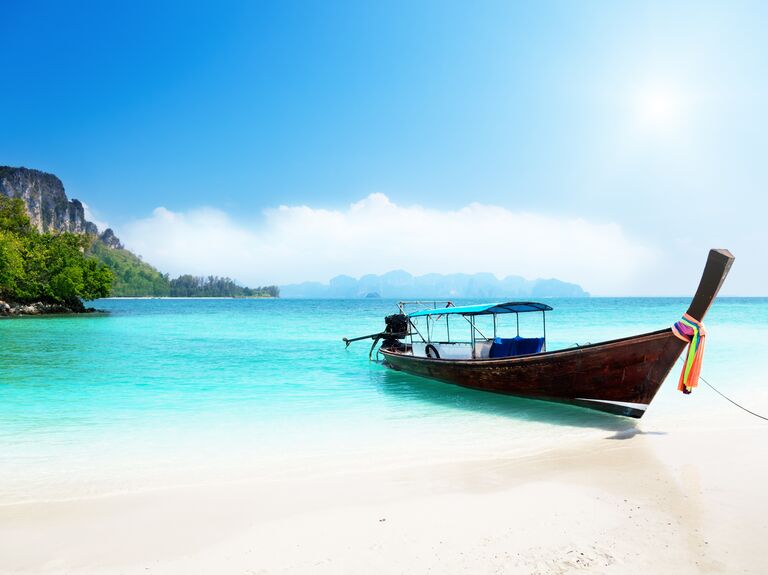 There's a reason why locals commonly describe this Southeast Asian kingdom as sanuk, or "fun." From the ornate palaces to the rich coral reefs and other wildlife—not to mention the tasty cuisine—guests will be thrilled to have an excuse to visit this exotic gem. For an exciting urban experience rivaling the pace of New York City, suggest that guests stop in Bangkok en route to your chosen wedding locale. The huge metropolis consists of kitschy souvenir shops, dance clubs, the must-see Grand Palace and the notorious red-light district. For nature lovers, northwestern Thailand is where it's at, but the beautiful beaches, crystal-clear waters and luxe resorts of destinations like Phuket (the largest and poshest island) and Koh Samui are why couples make the long trek to Thailand to get hitched.
When to Wed: November to January is the official "dry and cool" season, but heat and humidity are always present. Summer (from February to May) is the warmest, while the rainy season lasts from June to September, and you'll get cooler temps from November to February.
Udaipur, India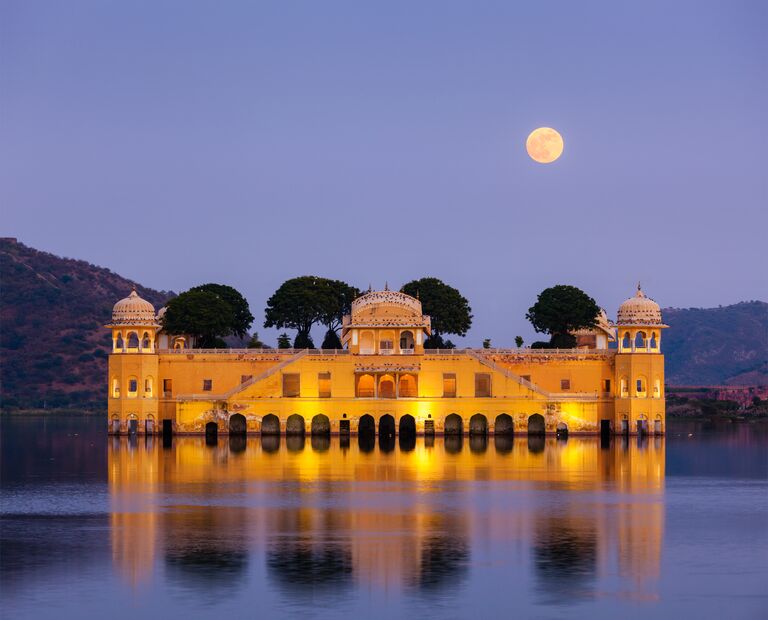 The romantic "City of Lakes" doubles as one of the most coveted wedding destinations in Rajasthan. In fact, the city's colorful architecture, vibrant culture and wellness-oriented atmosphere are ideal for couples who want a unique wedding experience. With its palaces, five-star hotels (including the Taj Lake Palace) and the purple hills of the Aravalli Range, Udaipur makes for incredibly romantic experiences for couples.
When to Wed: Some will argue the best months to host a destination wedding in Udaipur fall between September to March, but to be extra mindful about conditions, couples will want to book between November to February. How's that for proposal season?
Where to Start Planning Your Destination Wedding
Now that we've given you our best destination wedding ideas, it's time to start planning your destination wedding. That begins with sitting down with your partner and determining your wedding budget. Those numbers will help you decide which of our best destination wedding locations are affordable. Next, create your guest list. Traveling to a destination wedding is a big ask, so consider carefully who will make the cut. Also, the size of your guest list will affect the costs of your wedding. Keeping it just friends and family is a good way to save.
Finally, begin searching for vendors at your wedding location, starting with a wedding planner. Since you don't live near the location, your wedding planner is going to be a crucial asset in helping you choose the right wedding venue and the other vendors you'll need to make your wedding day perfect.