These 34 Garter Toss Songs Are the Best, Trust Us
Sexy, sweet, and everything in between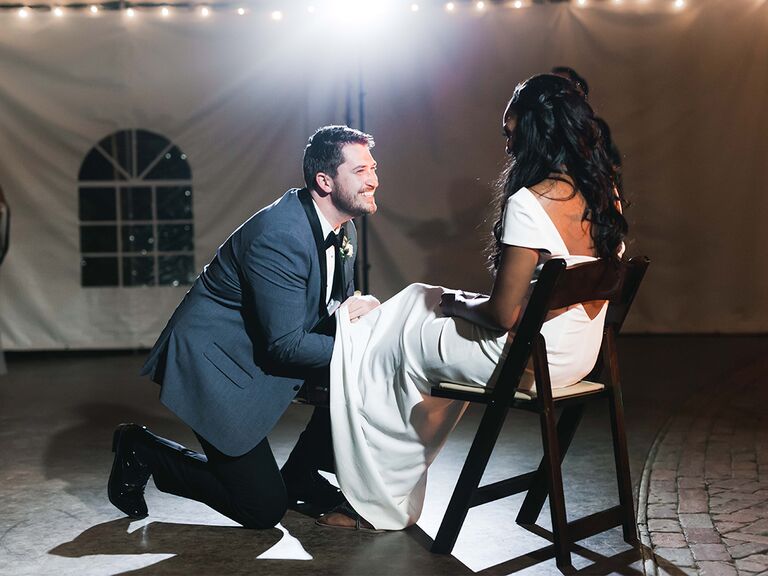 Hannah Wade Photography
If you'll incorporate a traditional garter toss into your wedding reception, you'll want to browse a list of the best garter toss songs to find the one that sets the mood you're going for. While not all couples choose to do a garter toss anymore, it can be a fun, light-hearted addition to your event.
Wondering how this tradition got started? Legend has it that couples in medieval Europe would have their wedding clothes tattered and torn by over-eager attendants hoping to obtain a piece of their clothing. They believed this would bring the good fortune of being the next to marry. In order to avoid leaving their wedding bedraggled, brides began tossing their garter to the eager waiting crowd, and the tradition stuck.
When it comes to the garter toss, you can really pick any song you'd like for your wedding reception. For something steamy, have your partner remove your garter with their teeth and play a suggestive song like Cherry Pie. Or keep it classy with a jazz or classical tune like the Mission Impossible theme song or Elvis Presley's "A Little Less Conversation" as you hand your spouse the garter. And a garter toss with an affable partner who wants to put on a show to a funny song like "I'm Too Sexy" always makes for a hilarious, snap-worthy moment.
Here, we've listed some of our favorite garter removal songs to choose from, no matter how you want yours to go. Remember to inform your wedding DJ about your plans so they can include your garter toss song in your reception wedding songs playlist.
Funny Garter Toss Songs
Use your garter toss as a way to lighten up your reception—and maybe to get a bit rowdy—when you opt for one of these humorous tunes.
1. "Pink Panther Theme," Henry Mancini
2. "Here Comes the Hotstepper," Ini Kamoze
Lyrics you'll love: "Extraordinary, juice like a strawberry/Money to burn baby, all of the time/Cut to fade is me, fade to cut is she/Come juggle with me, I say every time."
3. "I'm Too Sexy," Right Said Fred
Lyrics you'll love: "I'm too sexy for my love/Too sexy for my love/Love's going to leave me."
4. "Whip It," Devo
Lyrics you'll love: "When a good time turns around/You must whip it/You will never live it down/Unless you whip it."
5. "Cops Theme" by Inner Circle
Lyrics you'll love: "Bad boys, bad boys/Whatcha gonna do, whatcha gonna do/When they come for you."
6. "James Bond Theme" by Monty Norman
7. "Theme from Mission: Impossible," by Lalo Schifrin
Sexy Garter Toss Songs
These sexy garter toss songs will help your toss be totally steamy. Is it getting hot in here, or is it just us?
1. "Let's Get It On," Marvin Gaye
Lyrics you'll love: "Let's get it on/Ah, baby, let's get it on/Let's love, babyLet's get it on, sugar."
2. "SexyBack," Justin Timberlake featuring Timbaland
Find your kind of venue
From barns to ballrooms, discover reception venues that feel like you.
Lyrics you'll love: "I'm bringin' sexy back (yeah)/Them other boys don't know how to act (yeah)/I think it's special, what's behind your back (yeah)."
3. "Dirrty," Christina Aguilera
Lyrics you'll love: "If you ain't dirty/You ain't here to party (whoo!)/Ladies, move, gentlemen, move/Somebody ring the alarm, a fire on the roof."
4. "Hot in Herre," Nelly
Lyrics you'll love: "Give that man what he askin' for/'Cause I feel like bustin' loose/And I feel like touchin' you, uh uh."
5. "Promiscuous," Nelly Furtado featuring Timbaland
Lyrics you'll love: "Promiscuous girl, you're teasin' me/You know what I want, and I got what you need."
6. "Whatta Man," Salt n Pepa
Lyrics you'll love: "Yes, my man says he loves me, never says he loves me not/Tryin' to rush me good and touch me in the right spot."
7. "You Sexy Thing," Hot Chocolate
Lyrics you'll love: "How did ya' know that I'd be the one/Been a long time coming only just begun/Doing all the things that makes my heart sing/Keep doing what you're doing you sexy thing"
Classic Garter Toss Songs
There's a good chance everyone in the crowd will recognize—and love—these classic garter toss songs. Choose one if you're hoping for a crowdpleaser that will draw guests to the dance floor!
1. "Another One Bites the Dust," Queen
Lyrics you'll love: "Another one bites the dust/And another one gone, and another one gone/Another one bites the dust/Hey, I'm gonna get you, too/Another one bites the dust."
2. "Pour Some Sugar on Me," Def Leppard
Lyrics you'll love: "So c'mon, take a bottle, shake it up/Break the bubble, break it up/Pour some sugar on me/Ooh, in the name of love."
3. "Pretty Woman," Roy Orbison
Lyrics you'll love: "Pretty woman, walking down the street/Pretty woman, the kind I like to meet/Pretty woman, I don't believe you, you're not the truth/No one could look as good as you."
4. "She's a Lady," Tom Jones
Lyrics you'll love: "She's got style, she's got grace, she's a winner/She's a lady/Talkin' about that little lady/And the lady is mine."
5. "Legs," ZZ Top
Lyrics you'll love: "She's got legs, she knows how to use them/She never begs, she knows how to choose them."
6. "Hit Me With Your Best Shot," Pat Benatar
Lyrics you'll love: "Well, you're a real tough cookie with a long history/Of breaking little hearts like the one in me/That's okay, let's see how you do it/Hit me with your best shot/Why don't you hit me with your best shot/Fire away!"
7. "Wild Thing," The Troggs
Lyrics you'll love: "Wild thing, you make my heart sing/You make everything groovy, wild thing"
8. "Bad to the Bone," George Thorogood and the Destroyers
Lyrics you'll love: "I wanna be yours pretty baby/Yours and yours alone/I'm here to tell ya honeyThat I'm bad to the bone."
9. "You Shook Me All Night Long," AC/DC
Lyrics you'll love: "She told me to come but I was already there/'Cause the walls start shaking/The earth was quaking/My mind was aching/And we were making it and you/Shook me all night long."
10. "Foxy Lady," Jimi Hendrix
Lyrics you'll love: "Foxy, foxy/You know you're a cute little heart breaker, ha/Foxy, yeah/And you know you're a sweet little love maker, ha."
11. "Danger Zone," Kenny Loggins
Lyrics you'll love: "Highway to the danger zone/I'll take you/Ridin' into the danger zone."
12. "U Can't Touch This," MC Hammer
Lyrics you'll love: "Fresh new kicks and pants/You got it like that now you know you wanna dance/So move out of your seat/And get a fly girl and catch this beat."
R&B Garter Toss Songs
The perfect mix of steamy and wedding-ready, these R&B tunes all make perfect garter toss songs.
1. "Drunk in Love," Beyoncé featuring Jay-Z
Lyrics you'll love: "I've been thinking, I've been thinking/Why can't I keep my fingers off you, baby?/I want you, na na/Why can't I keep my fingers off you, baby?"
2. "Let's Get Married (Remix)," Jagged Edge featuring Reverend Run
Lyrics you'll love: "Meet me at the altar in your white dress/We ain't getting no younger, we might as well do it."
3. "Hey Ya," OutKast
Lyrics you'll love: "Shake it like a Polaroid picture!/Now all the Beyonce's, and Lucy Liu's, and baby dolls/Get on tha floor, get on tha floor!/Shake it like a Polaroid picture!"
Country Garter Toss Songs
If you're a country girl at heart, you'll love these Southern rock and country garter toss songs. And the good news is, your crowd will too!
1. "Real Good Man," Tim McGraw
Lyrics you'll love: "I've got velvet hands/I'll show you how a real bad boy can be a real good man/I'll take all the good times I can get/I may be a real bad boy/But baby I'm a real good man."
2. "Country Girl (Shake it For Me)," Luke Bryan
Lyrics you'll love: "Shake it for the young bucks sittin' in the honky-tonks/For the rednecks rockin' 'til the break of dawn/The DJ spinnin' that country song/Aw, country girl, shake it for me/Girl, shake it for me."
3. "Honky Tonk Badonkadonk," Trace Adkins
Lyrics you'll love: "Alright boys, this is her favorite song, you know that, right?/So if we play it good and loud she might get up and dance again/Aw she's pretty good now."
4. "I'm Still a Guy," Brad Paisley
Lyrics you'll love: "I'll pour out my heart/Hold your hand in the car/Write a love song that makes you cry/Then turn right around knock some jerk to the ground."
5. "Keep Your Hands to Yourself," Georgia Satellites
Lyrics you'll love: "And I said, honey I'll live with you for the rest of my life/She said no hug-ee no kiss-ee until you make me your wife-a/My honey my baby, don't put my love upon no shelf/She said don't hand me no lines and keep your hands to yourself"