How to Invite the President and Other Celebrities to Your Wedding
Create a star-studded guest list.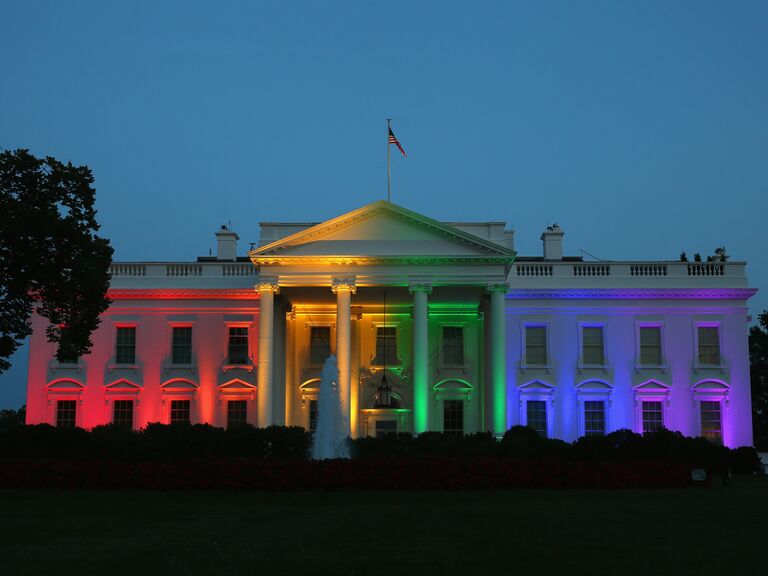 Mark Wilson / Staff/ Getty.com
So you've selected your wedding stationery, addressed the envelopes, and sent your invites, but you have a few extras left. Put them to use by inviting high-profile guests, like the president or your favorite celebs. To help make that happen, we found the address to send a wedding invitation to the White House, as well as instructions on how to send invites to your favorite A-listers. (Psst: You can order envelope addressing along with your stationery order over on The Knot Invitations.)
Of course, these famous individuals likely won't attend your nuptials, but they often send replies you and your partner can keep as a memento. Perhaps the celebrity is part of your love story (they're the voice behind your first dance song, for example) or you're simply fans. Either way, we collected all the information you need so you can send out a wedding invitation to your favorite celeb.
White House Mailing Address
As you begin addressing your wedding invitations, you may be wondering what the correct address to send your wedding invitation to the White House. Below is the proper White House mailing address:
The President & First Lady
The White House
Greetings Office, Room 39
1600 Pennsylvania Avenue NW
Washington, DC 20502
You'll receive a pre-printed card back signed by the serving president and first lady, which you can add to your wedding scrapbook. When the Obamas were in the White House, their correspondence office opened to over 10,000 letters daily—many of which were wedding invitations. They sent back a lovely message to couples getting married which read:
"Congratulations on your wedding. We hope that your marriage is blessed with love, laughter, and happiness and that your bond grows stronger with each passing year. This occasion marks the beginning of a lifelong partnership, and as you embark on this journey, know you have our very best for the many joys and adventures that lie ahead."
While they're no longer in office, the Obamas still send replies to people celebrating big life moments (such as weddings, births, graduations and more). If you'd like a message from the famous couple, input your wedding information here and wait to receive a printed, signed card.
How to Invite a Celebrity to Your Wedding
You can invite other celebrities to your nuptials too. Reach out to your favorite singer, actor, sports professional, network personality or writer and send them a wedding invitation. You might just get a response. Who knows, you might even score a star appearance at your nuptials! Celebrities like Ed Sheeran, Bon Jovi and Taylor Swift have all crashed real couples' weddings (and wedding-related events).
If you want to try your luck at getting a response, mail an invitation to your favorite celeb. Check out FanMail.Biz to see stars' contact information, and peruse our favorite examples below.
Taylor Swift
c/o Taylor Swift Entertainment
242 West Main Street
PMB 412
Hendersonville, TN 37075
Oprah Winfrey
Harpo Productions
PO Box 909715
Chicago, IL 60690
Beyonce Knowles
Parkwood Entertainment, LLC
1412 Broadway
24th Floor
New York, NY 10018-9235
USA
Mickey and Minnie Mouse
The Walt Disney Company
500 South Buena Vista Street
Burbank, CA 91521
Trevor Noah
The Daily Show
733 11th Ave
New York, NY
100198
You can also try your luck at contacting the celebrities over social media (though they get so many messages they might not see it). If you're extremely serious about getting a celebrity to attend your nuptials, you can hire a professional to make it happen. For example, some legal experts specialize in booking A-list celebrities for weddings and other events.
However, organizing a celebrity appearance does come at a price, so review your budget before committing to anything. If you're able to make it work and want to guarantee a star performance, we encourage you to explore this option. After all, it'd be much more romantic to slow dance to "Perfect" while Ed Sheeran sings it live, wouldn't it?