Wedding Thank You Note Wording & Etiquette in 2020
We know, writing thank-you notes is slightly less fun than opening wedding gifts—but these foolproof tips and templates are about to save the day.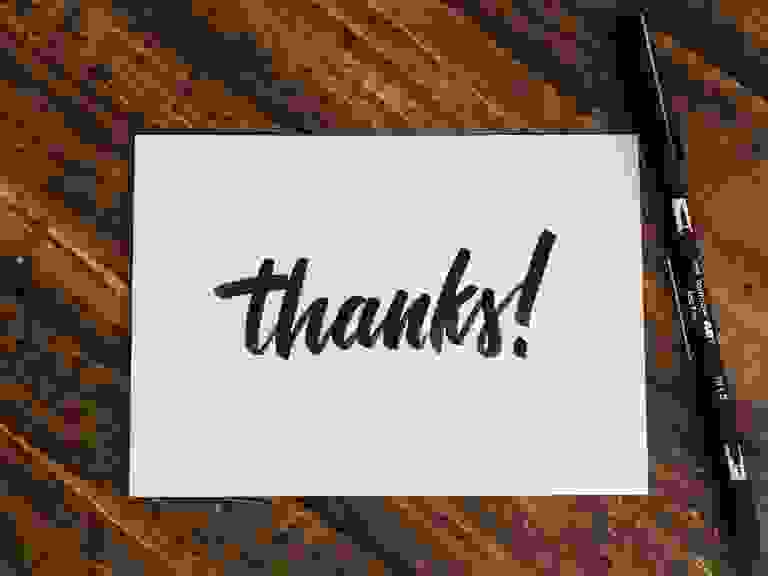 Kelly Sikkema/Unsplash

We have included third party products to help you navigate and enjoy life's biggest moments. Purchases made through links on this page may earn us a commission.
You've finished the last slice of cake and unpacked your honeymoon suitcases—that's when you know those wedding thank-you notes can't wait any longer. The task of coming up with personalized wedding thank-you cards for 100-plus different guests is daunting, but it's both necessary and doable. Consider this your complete thank-you card survival guide, including wedding thank-you card wording, etiquette, prep and more. In other words, if you don't know where to start, start here.
When to Send Wedding Thank-You Cards
When do you send wedding thank you cards? While your guests have up to a year to send you a wedding gift, you, sadly, don't have that kind of time. Follow these timing guidelines to avoid leaving your guests hanging:
For all gifts received before the wedding (which you can easily track in our Guest List Manager, by the way), send thank-you notes within two weeks of their arrival. 
For all gifts received on or after your wedding, send thank-you cards within (or up to) three months of their arrival.
Now that you have a better idea around the timing of sending out thank yous, we'll go into more detail about wedding gift thank you notes so that you're not overwhelmed when it comes to writing each and every one. What's more, you will want to make sure you're following correct wedding etiquette and expectations. We've answered a few of the most commonly asked questions we hear about wedding gift thank you cards. 

Check out our convenient wedding thank you notes FAQs and then follow our handy guide to writing thank you notes to make the process as easy and stress-free as possible.

What do you write in wedding thank you cards? 
When in doubt, keep your wedding gift thank you notes short and sweet. Express your appreciation for the specific gift or suggest how you might spend the money if they gifted you with cash. Even if they didn't send you a gift, thank them for attending your wedding and making your day special. Below, you'll find some simple samples you can use as a template. 
Should wedding thank you notes be handwritten? 
Traditionally, thank you notes should always be handwritten. It shows that you took the time to personally write a thoughtful message. Typing or emailing your thank you note can be seen as impersonal, and in some cases, recipients may even find it rude.  
How long should your wedding thank you notes be? 
There are no specific rules around the length of your wedding gift thank you note. However long it takes you to express your gratitude is sufficient, but don't feel like you have to fill up pages upon pages just to express your gratitude. A short and simple message can go a long way.  
Who receives a thank you card?
Ideally, you will want to send a wedding thank you card to everyone who attended your wedding, regardless of whether they gave you a gift or not. Also, don't forget to thank them for all the gifts they gave you, including those from the engagement party, wedding shower, and bachelor and bachelorette party, too. You may also want to consider writing a thank you note to anyone who made your day extra special, whether it was your amazing wedding coordinator or your creative florist. Now that you have some of your questions answered, follow our tips for knocking out your thank you cards in a timely manner. 
Start Writing Them ASAP
Wedding thank-you card prep starts months before you unwrap that first gift (yes, really). Remember that handy guest list your entire family weighed in on? Do yourself a favor and make a copy of it. Add a column for gifts and wedding thank-you notes. This allows you to keep a record of which registry gifts you've received (and from whom) and log your thank-you card progress as you go. Who doesn't love checking things off a list? (It's easy to think you've already sent a thank-you note for a gift when you have so many to remember.) Best of all, your guest list manager can store all your guests' contact information, so you won't have to hunt for everyone's mailing address.
Stock Up on Stationery, Pens and Stamps
This is the fun part of thank-you card writing. Invest in some stationery that represents you as a couple, or pick up some simple white or ecru note cards. Thank-you notes never go out of style (and there will definitely be more than one gift-giving occasion thrown in your honor), so stock up shortly after you get engaged. If you decide to personalize your stationery, opt for first names only—wait until after the wedding to order new stationery with your married monogram or shared last initial. If you've chosen a wedding motif, like a maple leaf or geometric crest, consider using it in your social stationery too. A good roller ball pen will do wonders for penmanship. Stick with blue or black ink and make sure it won't smear or bleed through your note cards. Lastly, buy a roll of Forever stamps, so you're not hunting down postage every time you lick an envelope.
Set Up a Designated Work Space
Designate a thank-you note writing station in your home—you'll be more likely to pen those cards if you have a clean, comfortable place to get things done. If you don't have a desk, keep your note cards near a table or another hard surface. Don't hesitate to make yourself comfortable: A glass of wine and some Spotify can really sweeten the deal.
Get Down to Business
Etiquette rules dictate that every wedding gift deserves a thank-you note—and we agree. (In this case it's not about adhering to stuffy old rules—it's about showing gratitude to those you love). That means, between saying "yes" and "I do," you'll be doing a lot of thank-you card writing. Wedding planning takes a lot of time—we get it—but we recommend penning notes as soon as gifts start to arrive. This may mean before the wedding (think shower and engagement party gifts)—and long after.
Write Them in Batches
Don't try to get all your thank-you notes done in one sitting. Instead, set aside 30 minutes or so every night to tackle your wedding thank-you card list. And remember, the wedding gifts you've gotten were intended for you both. Regardless of who's penning them, sign both of your names—unless, of course, you're thanking your bestie for a lacy number received at your bachelorette party or for the unforgettable bachelor party. The best way to get it done and share the burden? Divide and conquer. Some couples divide the list down the middle, while others prefer to write thank-you cards to their extended family who may not know their future spouse as well. Do whatever works best for you two.
Wedding Thank-You Card Wording Samples
You don't need to write a novel, but do personalize each thank-you note to reflect your individual relationship with the addressee and their gift. Use specifics: "the Waterford Lismore vase from our registry." If you've been gifted money for your wedding, explain how you plan to use it, like "we're saving for our first house" or "we can't wait to indulge at the spa on our honeymoon." And don't forget, their presence was a present too—thank your guest for attending the wedding, helping celebrate your love and thinking of you at this special time.
Not sure where to start in terms of wedding thank-you card wording? Jumpstart the writing process with these wording samples and you'll be popping those notes in the mail in no time.
Thank-You Card Wording for a Wedding Gift From the Registry
Mention the wedding gift received and how you plan to use it.
Dear Brittany and John,
Thank you so much for the crystal wine goblets. We now have a complete set—and you know how we love our wine! Adam and I are looking forward to your next visit, when we can enjoy a drink together. Thank you again for thinking of us!
All the best,
Lauren and Adam
Thank-You Card Wording for a Cash Wedding Gift
Avoid mentioning the amount of money given (a word like "generous" will do the trick), but do share how you plan to use it.
Dear Aunt Edna and Uncle Tom,
Adam and I are so grateful for your generous gift. We're one step closer to the bathroom remodel we've been dreaming of and plan to start this spring. It was so wonderful to have you celebrate alongside us at the wedding—thanks for making the trip. Looking forward to seeing you in Florida for Thanksgiving.
Much love,
Lauren and Adam
Thank-You Card Wording for a Group Wedding Gift
Send each person who contributed to the gift their own, individual thank-you note.
Dear Charlie,
Thank you for the awesome backyard fire pit. We were counting down the days until our wedding, now we can count down until summer! We're so lucky to have such thoughtful friends. S'mores soon? Thank you again for thinking of us and helping us celebrate this happy time in our lives.
Much love,
Lauren and Adam
Thank-You Card Wording for a Wedding Gift From Someone You Don't Know (Yet)
Whether it's a close friend of your parents invited to the wedding or an aunt on your partner's side you'll be meeting at the shower, it's okay to acknowledge that you're strangers. But do mention you look forward to meeting them soon. Bonus points if you can connect them to a relative or friend.
Dear Mr. Brown,
Thank you for the absolutely beautiful crystal vase. It's perfect for our entryway—I will nudge Adam to keep it filled with flowers. My dad has spoken so fondly of you over the years, and Adam and I look forward to meeting you at the wedding in a few weeks. Thank you for your kindness and for sharing in this exciting time in our lives.
Sincerely,
Lauren and Adam
Thank-You Card Wording for a Wedding Gift You Don't Love
Not an ideal situation, obviously, but it happens. Try to focus this wedding thank-you card wording around your overall appreciation, rather than the gift itself.
Dear Susan and Tom,
Thank you for the colorful fluorescent lava lamps—so retro and fun! Every time we look at them we will think of you and remember this special time in our lives. Many thanks for sharing in our joy on our wedding day.
Fondly,
Lauren and Adam

Don't forget to keep your wedding registry up to date as gifts start rolling in.
Not sure where to begin with your wedding planning? Take our Style Quiz and we'll pull together a custom wedding vision and vendors to match, just for you. After that, create a free, personalized wedding website to keep your guests informed (and excited!) about your plans, and a time-saving Guest List Manager to organize your attendees. Even better? You can sync your Guest List Manager and wedding website to update everything at once.