These Should Be Your Top 5 Priorities When You Start Wedding Planning
Answers to wedding planning's very own the-chicken-or-the-egg dilemma.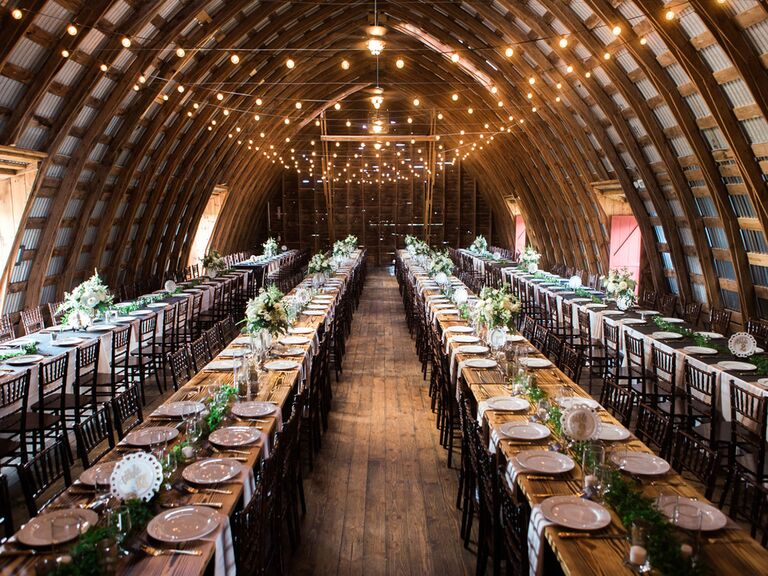 Sarah Murray Photography
When you finally start planning your wedding, you should have five main things on your preliminary to do list: budget, style, venue, date and guest list. One of the hardest things is knowing how to prioritize them. Should you immediately lock in a great venue, then factor in your budget and guest list? Should you make a rough guest list, then search for venues with the appropriate capacity? Should you pick the perfect date then see what venues are available, or the other way around? So. Many. Questions.
Everyone's circumstances will be a little different, but when in doubt, nail down these core planning tasks in this order. And to make the planning experience a breeze, head to The Knot All-In-One Wedding Planner where you can find and book your venue and manage your budget and guest list in one convenient place.
1. Set a Budget
First and foremost, set your budget. What you (and your families, if they're chipping in) are willing and able to spend on the wedding should pretty much dictate everything else.
2. Find Your Style
Okay, so you could technically start looking for style inspiration before you even get engaged (wink, wink)—but once you've settled on a reasonable budget, the fun can start. Are you dreaming of an intimate destination wedding on an island? A black tie ballroom wedding? No clue? Take our Style Quiz to define your ideal wedding vision and make the next three steps easier (and more fun).
3. Draft the Guest List
Think carefully about the potential number of guests you want to invite. Once you have a rough count between the two of you, don't forget to include your parents' friends, possible plus-ones and account for any other less obvious people (there needs to be enough room for all your pros too—some catering staffs may need to bring in 20 people for your specific event, for example). You don't have to end up inviting all of them of course, but you'd much rather overestimate than underestimate the head count, trust us—especially when it comes to the venue. You and your partner could decide on 85 guests and book a venue fit for 100, thinking your parents will have a few names to add. But your parents could come back to you with 20 additional must-have friends, which means your current venue would feel way too cramped.
4. Choose the Venue
Once you have an accurate sense of the guest list, it's time to start considering venues. Remember, signing a venue contract and putting down a deposit is binding, so make sure it's absolutely the right one for you and the celebration you're envisioning (see above guest list scenario).
5. Pick a Date
It's not as if you're not allowed to start thinking about dates until you've found a venue you love. You should absolutely start considering a range of dates or preferable seasons right from the start of the planning process. But if you pigeonhole yourself into one date before anything else, you'll have a much harder time time finding available venues and other vendors along the way. That said, if you've always had a date in mind (maybe it's your grandparents' wedding anniversary, a holiday you love or another meaningful day), you can definitely make it work. You'll just have to be more flexible when it comes to which sites are available.
Start your search for the the perfect reception venue here.