Everything You Need to Know About Requesting Wedding RSVPs Online
Here's why asking guests to RSVP on your wedding website is a great idea.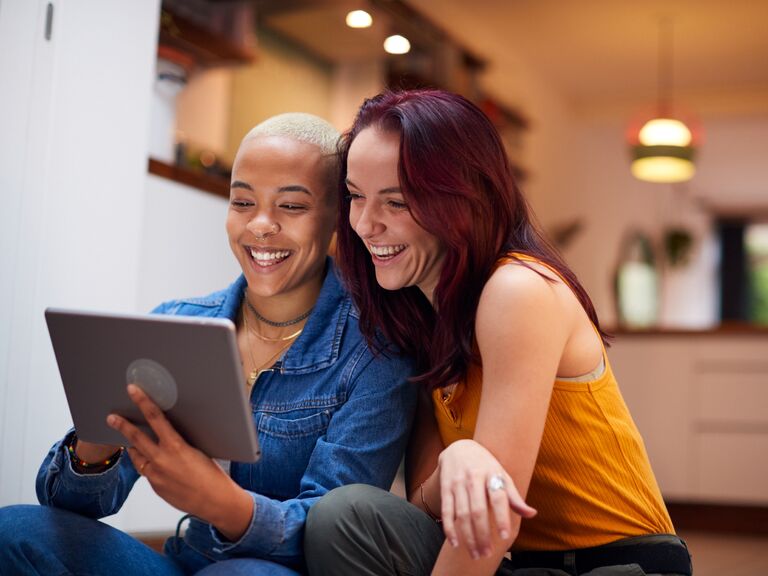 Monkey Business Images / Shutterstock
There are lots of reasons you might be thinking about asking guests to RSVP directly through your wedding website instead of using traditional response cards. For starters, you won't have to worry about anything getting lost in the mail (or being misplaced before it even reaches the mailbox). Another great pro? You don't have to manually keep track of responses, leaving one less thing on your wedding checklist. Couples planning an eco-friendly wedding might also request RSVPs online, but it's worth noting that going paperless isn't the only way to make your celebration more environmentally friendly. The Knot Invitations offers tons of gorgeous invites and response cards printed on recycled paper.
While online wedding RSVPs are a great solution for some guests, it's important to keep in mind that less tech-savvy loved ones might find it confusing. That said, there's no rule against having the best of both worlds! Feel free to give your guests multiple RSVP options so they can choose whichever they're most comfortable with. It may take a little more admin on your end, but you should hopefully receive everyone's responses a lot sooner.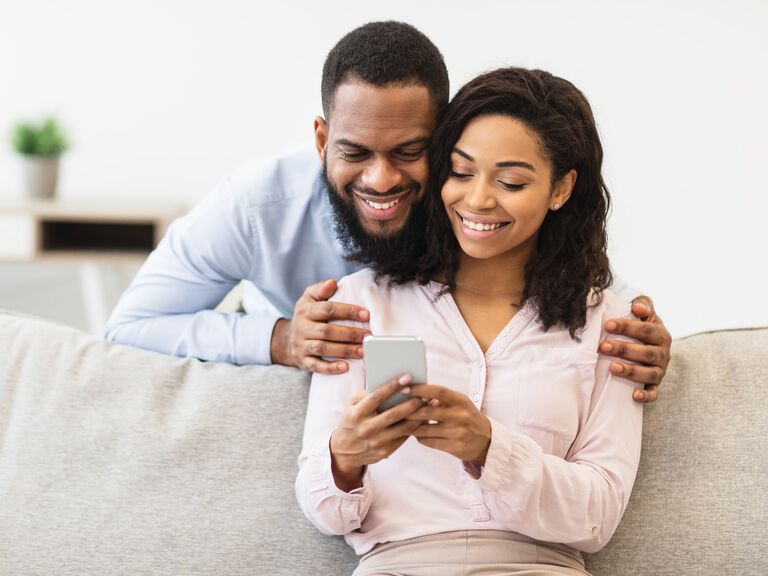 Is it okay to ask wedding guests to RSVP digitally?
Yes! While we definitely recommend sticking with paper invitations for your wedding, it's okay to go paperless for some of your other stationery—RSVP cards included. Although traditional etiquette dictates that guests should receive a physical response card, more and more couples are ditching this rule in favor of digital RSVPs. Allowing loved ones to submit their responses online isn't just super convenient (and cost effective) for you, it's likely a lot easier and faster for most of your guests, too. Again, just keep in mind that older loved ones may not feel comfortable using your wedding website to RSVP. In this case, offering both digital and paper options is a great middle ground.
How can guests RSVP to your wedding online?
There are a few different ways to request digital wedding RSVPs from loved ones. The most popular option is to use your wedding website. If you use The Knot's wedding website builder, guests can take advantage of an easy-to-use online RSVP feature that instantly collects responses. But if you don't want to create a full-blown wedding website, there are other sites specifically designed for collecting RSVPs. A quick Google search will bring up your options. It's also acceptable to request email RSVPs from your loved ones—just beware of replies getting lost in your spam folder. Our tip: Create a separate email folder specifically for your wedding RSVPs so they're all in one place (and not clogging your inbox) if you need to double-check something.
How do you request digital RSVPs on your wedding invitations?
Wondering how to tell guests to RSVP online? When it comes to the etiquette and wording for requesting RSVPs through your wedding website, templates can be extremely helpful—and we've got you covered. You should be able to fit all the relevant details in one short sentence. Just make sure to include the full URL of your wedding website and the date you want guests to RSVP by. It's a good idea to request responses early (think: at least two weeks before your wedding date) so you've got time to confirm the final guest count with your caterer and venue. Ready to get started? Check out these wedding website RSVP wording examples:
Kindly respond by May 15th at www.theknot.com/ourweddingwebsite
RSVP online at www.theknot.com/ourweddingwebsite by May 15th
Please visit www.theknot.com/ourweddingwebsite to respond by May 15th
Once you've got the wording down for your wedding website RSVPs, you need to figure out where to put that information. RSVP details typically go at the bottom of your invitations, but if your wedding invites are on the formal side, it might look a little out of place. If that's the case, use a separate enclosure or response card to point guests in the right direction. If you are including paper RSVP cards but want to give guests the option of using your wedding website, you can still include online RSVP details on the invitation or enclosure card in addition to including a mailable response card.
Should you still include physical reply cards?
It's totally up to you whether or not you want to include physical response cards as well as a digital RSVP option. If you're certain that all of your guests will be comfortable using an online wedding RSVP site, by all means forgo the paper. Another idea is to include a phone number as an alternative option. That way, your less tech-savvy loved ones can call or text to submit their reply. Since you and your partner will be very busy in the leadup to your wedding day, we suggest appointing a member of the wedding party to handle phone RSVPs.
The Best Wedding RSVP Website
If you need a wedding website with an RSVP function, look no further than The Knot. While we might be just a little partial to our own service, it's for a good reason. The Knot's free wedding websites are super easy to use. Not only that, but you can customize it to suit your wedding style with a variety of gorgeous website templates. And creating a personalized look is easier (and more budget-friendly) than you might think—you can purchase a custom domain for $20 or match your website to your wedding invitations for free.
The Knot's wedding website RSVP feature is one of our favorite planning tools. Gather loved ones' attendance responses in real time and add custom questions for anything else you'd like to know. This is a great place to find out guests' meal preferences and song requests. You can provide multiple choice answers or leave it open to loved ones.
Another feature we love about The Knot's wedding websites is that you have the ability to make your RSVPs public or private. If it's public, anyone with the link to your website can RSVP for events. Once they respond, their names are added to the guest list, saving you and your S.O. from having to type out everyone's names beforehand. If it's private, guests with the link to your wedding website will be prompted to enter their names to RSVP. Only those who have already been added to the guest list by you or your S.O. will be able to respond. Either way, the website will keep track of who has accepted or declined the invite.
There's also an opportunity for guests to ask questions on The Knot's online RSVP form, eliminating the need for any extra correspondence. That said, since your wedding website will house pretty much all the important details about your big day anyway, you can (hopefully) expect much fewer queries. Include information about your wedding registry, the dress code and nearby accommodations to make prepping for the wedding day as easy as possible for you and your loved ones.
What to Expect When Guests RSVP on Your Wedding Website
Compliments! Requesting RSVPs online gives your loved ones a nudge to view your wedding website (if they haven't already). They'll adore getting to read your love story, flicking through cute photos of you and your partner together and checking out those all-important wedding party bios.
Compliments aside, you can probably expect responses from guests a whole lot quicker than through the mail. And if you create your wedding RSVP website on The Knot, you'll get a handy notification straight to your inbox whenever someone submits their reply—or receive push notifications instead by downloading our all-in-one wedding planning app. You might have to follow up with a few loved ones who don't respond on time, which tends to be unavoidable, even with paper RSVPs. All in all, collecting RSVPs online will help streamline the process when keeping track of your wedding guest list.