How to Find Your Wedding Officiant
Start your search for the right officiant with these helpful tips.
by The Knot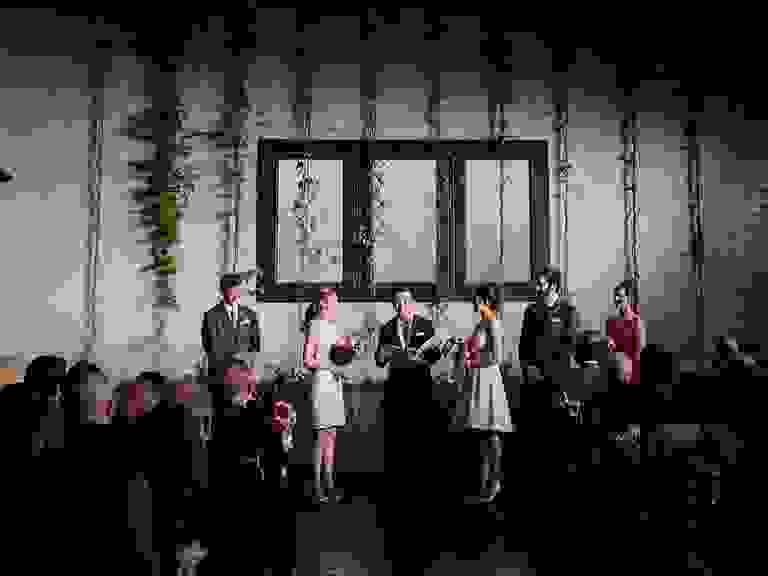 Justine Bursoni Photography
The person who marries you has a very important job. Not only must they be qualified—or ordained—they should be someone you and your partner feel comfortable with (if not close to) who can make your ceremony special and keep your wedding guests engaged. Here's how and where to get started researching different types of wedding officiants. (Not sure who should lead your vows? Find inspiration from these eight special people you could consider having officiate your wedding.)
Types of Wedding Officiants
The type of ceremony you want will largely determine what type of officiant you have. For example, if you're hoping to have a modern, nontraditional ceremony where you break mid-vows to perform a Beyoncé solo, a religious officiant in a house of worship could be off the table (although, not always).
Celebrant
A celebrant, in general, is someone who performs either religious or secular ceremonies for marriage (and other rites). A celebrant can be an ordained clergy member, professional secular officiant or legal official, such as a judge.
Religious
A priest, rabbi, minister or other religious officiant is the perfect option if you both belong to a particular church group or religious organization or would like to be married in a house of worship. A member of the clergy is a great option for couples seeking a more traditional ceremony, as most mainstream religious celebrants won't deviate from traditional ceremonies.
However, it's absolutely possible to find a clergy member who will perform more customized wedding ceremonies. A great resource for finding pastors, priests and rabbis who are open to performing interfaith ceremonies is your local college or university. Those studying to become clergy members often serve a diverse community and are used to working with clergy from various faiths. Another option is an officiant who's retired and may be willing to perform a more lenient, flexible ceremony.
Secular
A certified, nonreligious celebrant has training and certification from an organization like the Celebrant USA Foundation & Institute or other secular humanist organizations such as the American Humanist Association or the American Ethical Union. They're often unaffiliated with any religion and perform secular, same-sex and interfaith ceremonies. The more secular the officiant, the more creative license you'll likely have over what is said, read, sung or played during the ceremony.
Interfaith Ministers
An interfaith minister brings people of different religions together, and also works with same-sex and nonreligious couples. Many interfaith ministers define their work as being outside church walls by working in community service and spiritual counseling, and they're all about creating a special and personalized wedding service for their clients. Find tons more on interfaith officiants here.

Civil
A civil wedding officiant or civil servant's primary role is to legalize the marriage—they are responsible for witnessing and validating the consent of marriage between you and your partner for the wedding license, and are legally registered with the local city clerk's office. Hiring a civil officiant is most similar to hiring any of your other pros. They'll give a price or quote that's standard for their services, and they may even have prices listed on their website.
Friend or Family Member
You may not have considered it, but it's relatively easy and inexpensive to get ordained online (lots of celebrities have done it!). If you'd love to be married by a close friend or family member, ask if they'll undergo the official process and perform your ceremony. Having a loved one lead your vows is a wonderful way to personalize your nuptials. Just remember that ordination requirements differ from state to state, so do your research first to make sure you're following local state or district rules. Read everything you need to know about having a loved one officiate your wedding here.

How to Find a Wedding Officiant
Ask recently married friends for referrals.
Scroll through The Knot Marketplace for professional officiants and couples' reviews in your wedding location.
Contact your house of worship.
If your ceremony site is not a house of worship, contact city, town or village halls and ask about judges or justices of the peace available for weddings.
Your other vendors, like your photographer or wedding planner, may know of reputable individuals whom they've heard of or worked with in the past.
Ask a loved one to get ordained and officiate your wedding.
Tips for Choosing a Wedding Officiant
Like any other wedding vendor, chemistry is key—meet with several potential officiants before making a final decision to make sure you like them (and that the feeling's mutual).
Ask if they have any sample wording, ceremonies or readings to share with you to get a sense of what your ceremony might be like.
Find out what ideas they'd want to incorporate into your ceremony and why they think it would be a good fit for you.
Make sure your officiant is open to what you want, whether that's complete creative control or a ceremony they create just for you.
Frequently Asked Questions About Wedding Officiants
Can a wedding officiant marry you anywhere?
As long as the officiant is legally approved to officiate a marriage by the state in which they perform the ceremony, all should be well. However, each state has different requirements, so double check what's required in your state so that you're sure that everything will be legal.
Do you need a wedding officiant to get married?
If you live in Pennsylvania, Colorado, Wisconsin or the District of Columbia, couples can marry sans officiant in front of witnesses, if they turn in the necessary legal paperwork. However, all other states require an officiant for a legal and recognized marriage. An officiant only needs to meet your state's legal qualifications for performing your marriage ceremony. 
What is the difference between an ordained minister and a wedding officiant?
An ordained minister is ordained and fulfills specific duties unique to their denomination. They can perform legal marriages and other functions of the church, including church rites, sacraments and funerals. Ordained ministers may be restricted in what they can and can't do, depending on the church they are affiliated with. A wedding officiant, on the other hand, refers to anyone who can legally officiate a marriage.
What does an officiant say at a wedding?
That is entirely up to you, as the couple getting married, and your wedding officiant. We're all familiar with the traditional vows, but you can choose to incorporate anything you want into the ceremony. Get creative and use any text that speaks to you as a couple. Need tips on writing your own vows? Find some inspiration here.
How can I find a wedding officiant near me?
See "How to Find a Wedding Officiant" above. Or search civil servants or ceremony officiants in your area here.
Read everything you need to know about officiant fees and donations here.