Everything to Know About Working With a Wedding Officiant
Start your search with these helpful tips.
The person who marries you has a big job. Not only must they be qualified—or ordained—they should be someone you and your partner feel comfortable with who can make your ceremony special and keep your wedding guests engaged. To help you find the perfect person, we rounded up everything to know about wedding officiants. From how to hire them to what they say during the ceremony, we answered all of your FAQs regarding marriage officiants. Not sure who should lead your vows? Find inspiration from these eight special people you could consider having officiate your wedding.
"Wedding officiants are love warriors who celebrate other love warriors," says Karla VillaRamos, love storyteller at Once Upon a Vow in Brooklyn, New York. "We work in a space—in a business—that revolves around the source energy of love, so we use it to create ambience and resonate with others." But how do you find the best love warrior to tell your story? Read up on everything you need to know about wedding officiants below (then head over to The Knot to book one).
In this article:
What is a wedding officiant?
A wedding officiant is anyone who can legally officiate a marriage ceremony. "Wedding officiants are love storytellers who hold sacred space for couples as they begin a new chapter of their lives together," says Dani VillaRamos, love storyteller at Once Upon a Vow. "We are love ambassadors spreading joy, love, and appreciation of this great privilege in bearing witness to the deep connections shared in partnerships and among their community of loved ones."
This term includes religious leaders who officiate weddings. But typically a wedding officiant refers to a non-religious official who marries couples at the nuptials. This is especially helpful for couples who aren't affiliated with a religion or who come from different religious backgrounds and want to incorporate different aspects of each into the ceremony.
What does a wedding officiant do?
"Officiating weddings is a lot more than writing ceremonies," the VillaRamos sisters explain. "It's an energy exchange between us, as officiants, our couples, and their invited loved ones." Officiants are also huge support systems for the couple, as they lead the actual marriage.
Additionally, wedding officiants can be an extra-important source of support for couples who may not have the support of their families. An internal study by The Knot, which surveyed 18- to 29-year-olds in serious relationships, found that nearly 80% of individuals who identify as LGBTQ+ have experienced questioning or criticism in their relationship. The same study found this lack of support is largely tied to relatives.
"As a queer person, I know what it's like first-hand to fear rejection from your family, from the people that you love, and from your community," Karla says. "But we also need to highlight another truth: That is that there is a growing number of people in our communities that either identify as LGBTQIA+ and/or are comrades and truly LGBTQIA-loving and embracing."
And growing that community in order to push the wedding industry forward is at the center of what the VillaRomas sisters are doing. "We are a part of a network of wedding pros that are invested in doing things better and disrupting stale and limited concepts about weddings, relationships, and celebrations," Karla says. "There are people of all races and ethnicities and backgrounds that seek us out for our stances and values. Since I'm in a largely white cis-het industry as an immigrant and genderqueer person, I'm here to resonate with and hold space for all the stories that are not often told. We want all of our communities to know we're here for them."
Types of Wedding Officiants
The type of ceremony you want will largely determine what type of officiant you have. For example, if you're hoping to have a modern, nontraditional ceremony where you break mid-vows to perform a Beyoncé solo, a religious officiant in a house of worship might be off the table (although, not necessarily!).
Celebrant
A celebrant, in general, is someone who performs either religious or secular ceremonies for marriage (and other rites). A celebrant can be an ordained clergy member, professional secular officiant or legal official, such as a judge.
Religious Officiant
A priest, rabbi, minister or other religious officiant is the perfect option if you both belong to a particular church group or religious organization or would like to be married in a house of worship. A member of the clergy is a great option for couples seeking a more traditional ceremony, as most mainstream religious celebrants won't deviate from traditional ceremonies.
However, it's absolutely possible to find a clergy member who will perform more customized wedding ceremonies. A great resource for finding pastors, priests and rabbis who are open to performing interfaith ceremonies is your local college or university. Those studying to become clergy members often serve a diverse community and are used to working with clergy from various faiths. Another option is an officiant who's retired and may be willing to perform a more lenient, flexible ceremony.
Secular Officiant
A certified, nonreligious celebrant has training and certification from an organization like the Celebrant USA Foundation & Institute or other secular humanist organizations such as the American Humanist Association or the American Ethical Union. They're often unaffiliated with any religion and perform secular, same-sex and interfaith ceremonies. The more secular the officiant, the more creative license you'll likely have over what is said, read, sung or played during the ceremony.
Interfaith Ministers
An interfaith minister brings people of different religions together, and also works with same-sex and nonreligious couples. Many interfaith ministers define their work as being outside church walls by working in community service and spiritual counseling, and they're all about creating a special and personalized wedding service for their clients. Find tons more on interfaith officiants here.
Civil Officiant
A civil wedding officiant or civil servant's primary role is to legalize the marriage—they are responsible for witnessing and validating the consent of marriage between you and your partner for the wedding license, and are legally registered with the local city clerk's office. Hiring a civil officiant is most similar to hiring any of your other pros. They'll give a price or quote that's standard for their services, and they may even have prices listed on their website.
Friend or Family Member
You may not have considered it, but it's relatively easy and inexpensive to get ordained online (lots of celebrities have done it!). If you'd love to be married by a close friend or family member, ask if they'll undergo the official process and perform your ceremony. Having a loved one lead your vows is a wonderful way to personalize your nuptials. Just remember that ordination requirements differ from state to state, so do your research first to make sure you're following local state or district rules. Read everything you need to know about having a loved one officiate your wedding here.
How to Find a Wedding Officiant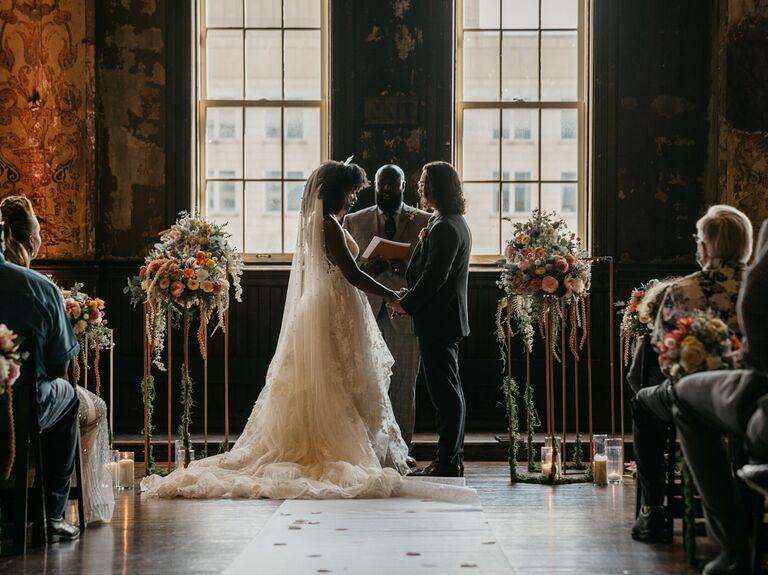 Wondering how to find a wedding officiant? Here are a few effective ways to find the right person:
Scroll through The Knot Marketplace for professional wedding officiants and couples' reviews in your wedding location.
Ask recently married friends for referrals.
Ask your other wedding vendors. Your photographer or wedding planner may know of reputable individuals whom they've heard of or worked with in the past.
Contact your house of worship.
If your ceremony site is not a house of worship, contact city, town or village halls and ask about judges or justices of the peace available for weddings.
Ask a loved one to get ordained and officiate your wedding.
At The Knot, we highly encourage couples to spend their wedding budget thoughtfully. Hire small businesses owned by people whose worldviews align with your own. Live out your values as a couple by working with BIPOC-owned, LGBTQIA+-owned, AAPI-owned or women-owned businesses in your area. Pro tip: Use the diversity filters on The Knot to find vendors you truly believe in—and who believe in you too.

You can also seek out someone who is closer to you, or who you feel more connected to. The VillaRomas sisters agree: The wedding officiant space needs more people who reflect the broad spectrum of our lived experiences. By asking someone in your circle to officiate a wedding, you may inspire them to continue to do so, which could push the industry forward. "I encourage all of my non-binary and trans siblings out there who are romantics, who enjoy participating and/or planning celebrations, and/or have talents that fit into the wedding space to consider where and how you might find your niche," Karla says. "We need more of us in these spaces to share our stories, our perspectives, and our vision for a more just and loving world."
How much does a wedding officiant cost?
It's difficult to nail down an exact number, as wedding officiant rates differ so much. The cost of a wedding officiant will vary based on the location, the length of the ceremony and the level of personalization. A good starting point is to allot two percent of your overall wedding budget for your wedding officiant. Plan on using more if you'd like a personalized ceremony or if you have any special requests.
Understand that the services officiants offer are time-intensive and require a lot of energy, so it may cost more to bring on your chosen individual. However, investing your budget in an amazing wedding officiant is well worth it if you ask us.
Can anyone officiate a wedding?
Only people who are authorized by the state can perform a legal marriage. The requirements for each state vary, so you'll need to make sure you've met all the requirements listed for the location of the wedding. Check online or call your county clerk to get all the information you need ahead of time. If you'd like to be able to officiate weddings anywhere in the U.S., we recommend finding an organization that's recognized in all 50 states. Just make sure they're officially ordained in time for the big day.
Can you officiate your own wedding?
If you live in Pennsylvania, Colorado, Wisconsin or the District of Columbia, couples can marry sans officiant in front of witnesses, if they turn in the necessary legal paperwork. However, all other states require an officiant for a legal and recognized marriage. An officiant only needs to meet your state's legal qualifications for performing your marriage ceremony.
How to Ask Someone to Officiate Your Wedding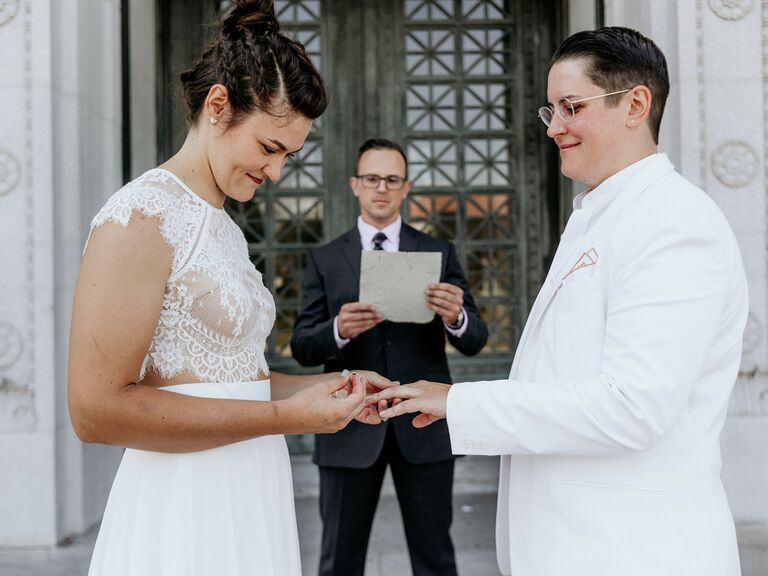 Asking someone to officiate your wedding is a big deal. After all, they're going to be leading your union. As such, you'll want to ask them in a sweet and thoughtful way. Send them a note or a gift—or take them out for a meal. Unable to meet in person? Schedule a FaceTime or phone call instead. If you're booking a pro on The Knot, make sure you meet with them at least once or twice so they become familiar with who you are and your love story.
What does the officiant say at your wedding?
That is entirely up to you, as the couple getting married, and your ceremony officiant. We're all familiar with the traditional vows, but you can choose to incorporate anything you want into the ceremony. Get creative and use any text that speaks to you as a couple, or incorporate stories from your time together. Need tips on writing your own vows? Find some inspiration here.
If you want a personalized ceremony, it's important to spend time getting to know your officiant. Most pros will ask you to fill out a questionnaire so they have a general idea about your relationship. However, if you want to go the extra mile, schedule a meeting or two so your officiant can fully understand the bond you two share.
To the VillaRamos sisters, getting to know the couples is their favorite part of the job. "Who they are individually and together, how they interact with each other, the details of their lives that seem inconsequential but are, in fact, incredibly meaningful," they say. "Many times, we can relate to our couples and the challenges they've faced, the dreams they share, the future they're working towards, the values they've built their lives around. It's a profound experience and one we're super grateful for."
Gift Ideas for Your Wedding Officiant
No matter if you're working with a professional officiant or a loved one, it's best practice to get them a gift to express gratitude. Officiating a wedding is usually a big commitment—they'll have to create a ceremony script and spend time getting to know you both. Additionally, they typically come for the rehearsal dinner and, of course, lead the ceremony. Thank them for their time and effort with a thoughtful gift. It doesn't have to be huge—just something simple to say "thank you." Our favorite idea? Find a sweet keepsake from a small, local store for your officiant to remember the occasion. Psst: Don't forget to write a heartfelt thank you note too!