Everything You Need to Know About Navigating Preferred Vendor Lists
Plus, how to build the best team of pros possible.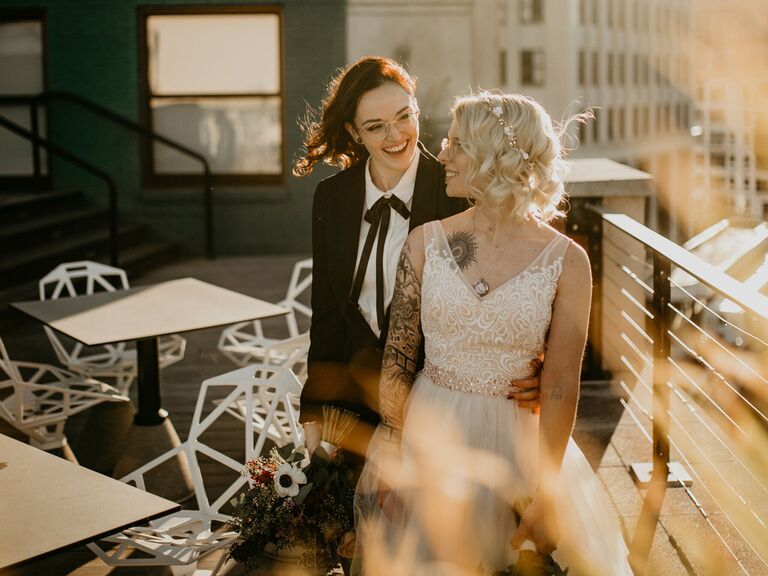 MARISSA DILLON PHOTOGRAPHY
Everything about your wedding should reflect who you are as a couple, down to your decor and attire. But most importantly, your team of wedding vendors should represent your values. Finding the right pros, however, isn't always simple without the guidance of a planner, which is why approved vendor lists can be a helpful tool. Such lists are typically based on experience, meaning the vendors included have proven they're reliable and they deliver great results. "Preferred vendor lists help couples know who they count on and trust in the big wide world of weddings," explains Jennifer Price, owner of Event Shoppe Chicago.
"Preferred vendor lists can be super helpful for couples who are planning their wedding on their own without a professional wedding planner," adds Jove Meyer, owner and creative director at Jove Meyer Events. "They're a helpful place to start, but I never encourage couples to feel committed to the list." That's because approved vendor lists aren't as simple as they might appear. There are different ways they are made, which is something couples should be aware of as they begin the hiring process. Preferred vendor lists occasionally miss the mark when it comes to diversity and inclusion—a concern for many to-be-weds planning their nuptials.
Being thoughtful about who you give your business to is a powerful way for your wedding to support a good cause. "In hiring people, we empower them," Meyer says. "Your wedding can be a big party and celebration of love, or it can also make an impact on the lives of others by hiring companies who champion equality, social justice and prioritize diversity." If you're hoping to hire a wedding team that reflects your relationship and your values, navigating approved vendor lists can be tricky. To help, we put together a guide for how to navigate these lists as you begin your planning process.
What is an approved vendor list?
An approved vendor list is a collection of vendors that a venue or planner recommends. These lists are often crafted organically, based on experience. "They can be super helpful, as these vendors are typically tried-and-true and great to work with," Meyer explains. However, instances arise where some lists are pay-to-play, which Meyer says can be problematic because then they're not based on the vendors' talent or experience. A pay-to-play model can also end up excluding talented professionals in the area because of financial reasons.
If your venue or planner has an approved vendor list, ask them how they source their lists and confirm it's simply a preferred vendor list. Some venues offer required vendor lists, which means you can only work with the companies listed (or you could potentially pay a fee to bring on a different vendor). Before you sign any contracts, carefully inspect the vendor lists and ask questions. If you don't see a company that you feel represents you and your partner, you might want to hire outside of the list.
Approved Vendor Lists Can Be Helpful For Planning
Approved vendor lists can be a valuable tool for couples planning a wedding. After all, they typically highlight trustworthy pros who are guaranteed to do good work. Still, it's important to remember that while these lists are useful as a starting point, you should eventually do your own research.
"Just because the vendor is on a preferred list, it's still your obligation to conduct your own investigation and research of the vendor before going into contract," says Desireé Dent, owner of Dejanae Events. "Make sure to have an in-person or virtual meeting with them to understand their business dynamics."
Approved Vendor Lists Give Companies More Exposure
When they're inclusive, preferred vendor lists are a great tool for both couples and vendors. "Vendors love being on a preferred list, as it is a great way to get new clients by connecting with couples they may not have met otherwise," Meyer says. A diverse, well-rounded contact sheet gives talented pros in the area more exposure, and potentially more business. However, this isn't always the case when it comes to approved vendor lists. They can end up sticking to the same few vendors and only promote a small section of the local talent pool.
Pros are Pre-Vetted
If a vendor has landed on an approved vendor list, they've had to undergo some kind of verification and vetting. "Preferred vendor lists consist of specific vendors or creative partners that a vendor or venue enjoys working with," Dent says. "[The venue or vendor] has vetted them via an interviewing process and has checked out their professional credentials." That means the preliminary research is already done for you, so you can focus on interviews.
Vendors Already Have Experience Working With the Venue or Planner
Generally, if a venue or planner is recommending a wedding vendor, it's because trust has been established. Pros are often added to preferred vendor lists after a venue or planner has a positive experience working together. This can be advantageous because that means the vendors have experience collaborating on events within the space. Read: they know their way around, which could mean less stress on the wedding day.
Approved Vendor Lists Could Benefit From Being More Inclusive
While there are many positive aspects of approved vendor lists, remember that the list of people you're looking at may not be the most inclusive roundup. Here are some things to keep in mind as you navigate preferred vendor lists.
Preferred Vendor Lists Can Leave Out Talented Pros in the Area
As with any industry, the wedding industry suffers from a lack of diversity and representation—and preferred vendor lists are an example of that. "Oftentimes preferred vendor lists don't provide vendors from an array of different backgrounds and cultures, but I hope to see this change in the future," Price says.
Meyer says because they can lack diversity, preferred vendor lists are a great place to start your vendor search. However, he encourages couples to look beyond the list to find pros who embody their values. "Do not limit your exploration and research only to that list," he says. "You need to make sure your wedding vendors align with your style, personality, budget and values."
Representation is Important For Pros and For Couples
This lack of diversity can end up impacting couples' planning experience. Every couple is different—they have different backgrounds, traditions and interests—which means they require different vendors. "Our glam couples need glam makeup, not natural," Price explains. "Our city couples need a photographer who is very familiar with all the street murals in town and who can recommend the best one. The vendors you choose help to carve and create the perfect wedding day, and you shouldn't be limited to a list that never changes."
As Price says, the vendors you hire are responsible for bringing your vision to life. If you want a traditional dinner dish served or a certain type of music played, it helps to see someone on a preferred vendor list who has experience with your preferred cuisine, cultural traditions or musical style.
Pay-to-Play Situations Can Exclude Certain Businesses
Pros can also be left off approved vendor lists if it's a pay-to-play situation. "This simply means the vendor paid money to be on the list versus going through an interviewing process and showing their credentials," Dent explains.
This is something to be cautious of because the pros aren't being recommended based on their performance—and this financial requirement can exclude talented local vendors. Be aware of this as you look over preferred vendor lists, and ask your venue or planner how they craft their lists. That way, you have full transparency before signing anything.
How to Find Diverse Pros In Your Area
If you have the flexibility, we recommend crafting your own vendor list. Seek out companies whose values reflect your own. Hire and support small, minority-owned businesses if inclusivity is important to you, the couple. It's a big way your wedding can make a real impact on the industry. After your wedding, leave your vendors glowing reviews (on The Knot and elsewhere) and recommend them to your venue or planner. That way, you can help make preferred vendor lists more inclusive. Read on to see how you can find talented pros in your area.
Look for Vendor Pledges
One of the most effective ways to find an inclusive team of vendors is to look for allyship pledges on planners' sites (similar to the one on Jove Meyer's site). "I wanted to put a pledge into the world that shows our work is not just beautiful and magical, but that it can change the world," Meyer says of his pledge. "By hiring and working with allies, you empower them and the communities they come from."
Despite the happy nature of weddings, couples can face discrimination thorughout the planning process. Meyer wants to change that with his pledge—and he hopes other pros will follow suit so couples will feel safe and represented throughout their planning process. "If we are truly in the business of love, then there is no room for hate," he says. "Rather than assuming my vendors and partners stand for what's right, I want them to make it clear to me and my couples so everyone is proud of who they hire and what those people represent."
As you begin your search, look to see if your vendors have this kind of pledge. It's a concrete way to ensure you and your partner will be welcomed and respected as you conduct vendor outreach. It's an especially effective way to vet people who are on a preferred vendor list. "I hope couples see this and ask the vendors they are considering to sign it," he says. "I hope they see the wedding industry is changing to be a more inclusive one for all couples."
Consult The Knot Vendor Directory
We recommend also searching on The Knot, where you can find vendors in your area and filter based on a number of different factors: availability, price, expertise and more. On The Knot, you're able to contact the pros directly so that you can get an interview scheduled ASAP. You can also read reviews from real couples and explore the vendors' work quality.
Explore Social Media
Dent says another great place to search for wedding vendors is social media. Instagram, for example, allows you to search for local wedding vendors based on hashtags. Follow local wedding accounts to check out popular venues, florists, caterers and more. (Pro tip: If you click on a certain venue's location, you can see all the pictures that have been taken there, which makes it easy to find local pros. The Knot also posts loads of inspirational content on their Instagram page daily—give it a follow if you haven't already!)
Use Specific Google Searches
Price says one effective way to find diverse pros in your area is by specifically searching for them online. "Don't be afraid to add qualifiers when doing your google searches," she says. "Google just added filters for Black-owned businesses, LGBTQ-friendly businesses and more. This is a great way to find diverse wedding businesses with the stroke of a keyboard."
Ask Someone You Trust
Ultimately, one of the best ways to source a diverse team of pros is to start with your wedding planner. "Wedding planners' careers are centered around our relationship with our creative partner," he says. "We get to know your style, personality and vibe and match you accordingly."
Price agrees, saying that she doesn't use preferred vendor lists at Event Shoppe Chicago. Instead she focuses on growing a diverse network of local pros. Then, when she meets the couple, she's able to recommend a few different vendors whom she thinks would be a good fit for the couple. "We pride ourselves on connecting with a wide range of vendors so that we can find the perfect vendors for all our couples."
If having a diverse team of pros is important to you, let your planner know. "If having an all-female or all-LGBTQ+ or all-BIPOC team is important to you, then let your planner know so they can help make that happen."
If you don't have a wedding planner, Dent recommends asking friends and family for recommendations. "But make sure to check their reviews and credentials before hiring them," she says. "You want to choose your vendor team wisely." Hiring your team is an opportunity to live out your values—give that responsibility the time and care it deserves.