22 of the Most Romantic Poems to Read at Your Wedding Ceremony
They just might tell your love story even better than you can!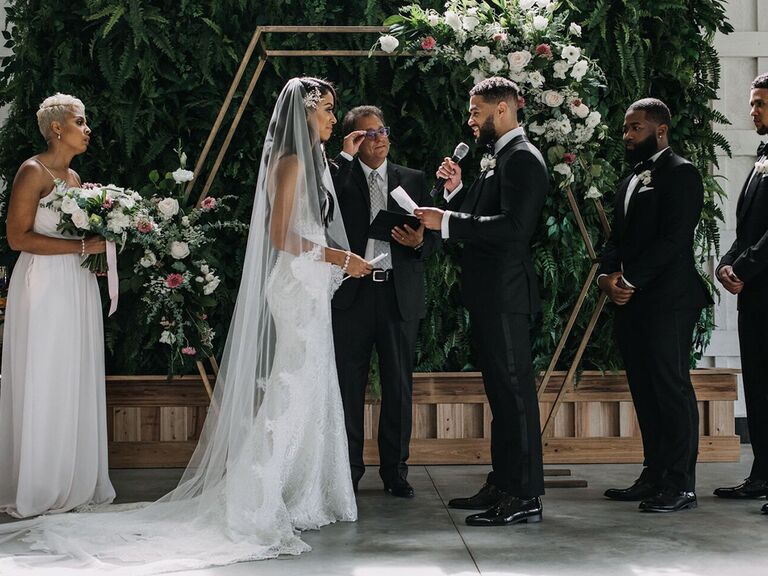 Denise Ko Photography
Looking to dial up the romance at the altar? We rounded up the most beautiful love poems and wedding poems ever written, because when it comes to causing all the true love #feels during your wedding vows, just your average wedding reading simply won't do. From classic poems to contemporary, silly to serious, think of these sweet stanzas as the cherry on top of your perfect wedding day.
"The Sun Never Says" by Hafiz
Lines You'll Love: "Look / what happens / with a love like that / it lights the whole sky"
"On Marriage" by Kahlil Gibran
Lines You'll Love: "Love one another, but make not a bond of love: / Let it rather be a moving sea between the shores of your souls. / Fill each other's cup but drink not from one cup. / Give one another of your bread but eat not from the same loaf. / Sing and dance together and be joyous"
"[i carry your heart with me (i carry it in]" by e.e. Cummings
Lines You'll Love: "i carry your heart with me(i carry it in / my heart)i am never without it(anywhere / i go you go,my dear;and whatever is done / by only me is your doing,my darling)"
"The Wine of Love" by James Thomson
Lines You'll Love: "The wine of Love is music, / And the feast of Love is song: / And when Love sits down to the banquet, / Love sits long"
"Fate" by Carolyn Wells
Lines You'll Love: "They meet. And ere they've seen each other's face / They fall into each other's arms, upon / The Broadway cable car – and this is Fate!"
"Love Song" by Henry Dumas
Lines You'll Love: "Beloved, / I have to adore the earth: / The wind must have heard / your voice once. / It echoes and sings like you."
"To You" by Kenneth Koch
Lines You'll Love: "I love you as a / Kid searches for a goat; I am crazier than shirttails / In the wind, when you're near, a wind that blows from / The big blue sea, so shiny so deep and so unlike us; / I think I am bicycling across an Africa of green and white fields / Always, to be near you"
"I Love You Without Knowing How" by Pablo Neruda
Lines You'll Love: "I love you without knowing how, / or when, / or from where. / I love you straightforwardly, / without complexities or pride; / so I love you because I know no other way"
Find your kind of venue
From barns to ballrooms, discover reception venues that feel like you.
"My Undeniable Miracle" by John Mark Green
Lines You'll Love: "In you, / the love I have always / desired to give now has a / place to call home. I have / been a skeptic but you are my undeniable miracle."
"To my Dear and Loving Husband" by Anne Bradstreet
Lines You'll Love: "If ever two were one, then surely we. / If ever man were loved by wife, then thee. / If ever wife was happy in a man, / Compare with me, ye women, if you can."
"Atlas" by U.A. Fanthorpe
Lines You'll Love: "And maintenance is the sensible side of love, / Which knows what time and weather are doing / To my brickwork; insulates my faulty wiring; / Laughs at my dryrotten jokes; remembers / My need for gloss and grouting; which keeps / My suspect edifice upright in air, / As Atlas did the sky."
"It is Here" by Harold Pinter
Lines You'll Love: "What did we hear? / It was the breath we took when we first met. / Listen. It is here."
"A Love Song for Lucinda" by Langston Hughes
Lines You'll Love: "Love / Is a ripe plum / Growing on a purple tree. / Taste it once / And the spell of its enchantment / Will never let you be."
"Defeated by Love" by Rumi
Lines You'll Love: "I am ready to forsake / this worldly life / and surrender / to the magnificence / of your Being"
"Married Love" by Kuan Tao-Sheng
Lines You'll Love: "I am in your clay. / You are in my clay. / In life we share a single quilt. / In death we will share one bed."
"Love's Language" by Ella Wheeler Wilcox
Lines You'll Love: "How does Love speak? / By the uneven heart-throbs, and the freak / Of bounding pulses that stand still and ache / While new emotions, like strange barges, make / Along vein-channels their disturbing course; / Still as the dawn, and with the dawn's swift force-- / Thus doth Love speak."
"Don't Go Far Off, Not Even For a Day" by Pablo Neruda
Lines You'll Love: "Don't go far off, not even for a day, because -- / because -- I don't know how to say it: a day is long / and I will be waiting for you, as in an empty station / when the trains are parked off somewhere else, asleep."
"Before You Came" by Faiz Ahmed Faiz
Lines You'll Love: "Don't leave now that you're here— / Stay. So the world may become like itself again: / so the sky may be the sky, / the road a road, / and the glass of wine not a mirror, just a glass of wine."
"How Do I Love Thee? (Sonnet 43)" by Elizabeth Barrett Browning
Lines You'll Love: "I love thee to the level of every day's / Most quiet need, by sun and candle-light. / I love thee freely, as men strive for right. / I love thee purely, as they turn from praise."
"Sonnet 116" by William Shakespeare
Lines You'll Love: "Let me not to the marriage of true minds / Admit impediments. Love is not love / Which alters when it alteration finds, / Or bends with the remover to remove. / O no, it is an ever-fixèd mark / That looks on tempests and is never shaken"
"Touched by an Angel" by Maya Angelou
Lines You'll Love: "Love arrives / and in its train come ecstasies / old memories of pleasure / ancient histories of pain. / Yet if we are bold / love strikes away the chains of fear / from our souls."
"What Fields are as Fragrant as Your Hands?" by Rainer Maria Rilke
Lines You'll Love: "What fields are as fragrant as your hands? / You feel how external fragrance stands / upon your stronger resistance. / Stars stand in images above. / Give me your mouth to soften, love; / ah, your hair is all in idleness."