9 Ways to Keep Your Wedding Guests Entertained at the Reception Table
Because there's nothing more awkward than a table full of strangers.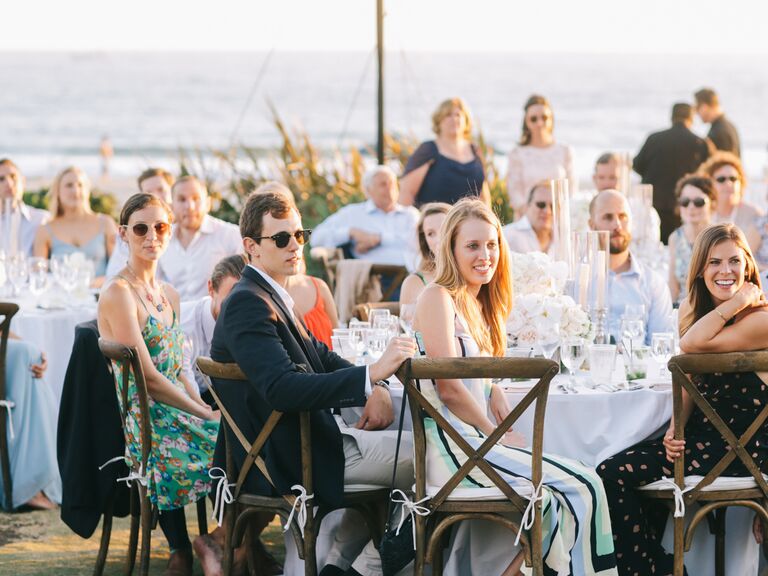 Brandon Kidd
Arranging a top-notch seating chart is only the first step to keeping your wedding guests happy at the reception table. Even if you've deliberately seated your friends and family near others with similar interests and compatible personalities, consider providing them with fun table entertainment too. It's an unexpected, but appreciated addition that'll be worth the small extra effort. We went to two pros—wedding planner Michael Russo and Guesterly cofounder Rachel Hofstetter—for fun ways to keep your guests entertained at the table.
Conversation Starters
When in doubt, simplicity never goes out of style. "Don't underestimate the power of an ice breaker—even the cheesy ones get people talking and bonding!" says Hofstetter. There are so many little variations you can go with here. Think of easy, fun questions (like, "What's the last Netflix show you binge watched?" or "How do you know the couple?") and write them directly on your table number card.
Put a guest-centric twist on interactive games too and only offer questions that aren't about the newlyweds. "With everyone so into social media and their cell phones, why not embrace it?" says Russo, who recommends placing cards on the table with amusing questions, like:
What was the last text you sent?
Who's the last person you called?
Who was the last person you FaceTimed?
Who's number one in your contact favorites?
You could also give each guest a set of questions or topics at their seat and prompt them to ask the person sitting to their right or left, or even sitting directly across from them to open the conversation to everyone's ears.
Drink Tickets
Add some flair to a classic ice breaker by creating conversation prompting drink tickets. "Hand guests a ticket when they enter the reception that says something like, 'Find someone wearing red and ask them about their best vacation,'" Hofstetter says. Once they've mingled, they can take their ticket and new acquaintance to the bar to redeem it for a drink (a cocktail is usually good incentive!).
Fabulous Food
Nothing gets people "ooh-ing" and "ahh-ing" like unique food and drinks. Make a statement with your catering choices and opt for exotic flavors, signature dishes and unexpected packaging on edible favors.
Hands-On Hobbies
We love the idea of favors you can unwrap and toy with at the table, like Rubik's Cubes, cube mazes, peg board games, mini checkers or tic-tac-toe. These are the perfect way to spark lighthearted competition between table mates for instant laughs and easy bonding. And don't underestimate the value of hands-on activities if you have kids at the reception. Keep them occupied, smiling, and even bonding with the other guests—both kids and adults.
Guest Guide
Use Guesterly to create a completely customized photo guide of all your guests. Your Guesterly face books (either in print or digital format) are the ultimate who's who party roster, like a yearbook for your wedding! Each includes a photo, bio and any other fun details for every person there, so everyone feels welcomed and instantly involved. It's also a beautiful wedding day keepsake.
Photo Sharing
Invite your guests to download Veri, the private photo-sharing app that automatically aggregates everyone's iPhone and Android snaps in real time—it's kind of like a hashtag, only 10 times better (think: no uploading, tagging and no separate camera apps). Once everyone's gotten to know each other, taking photos together and sharing group snaps will be even more fun.
Word Games
Give each table a Mad Libs story booklet (either about the newlyweds or other fun subjects) and let your guests complete the stories together. You also can't go wrong with wedding-themed crossword puzzles, riddles, word searches and trivia—have guests complete them as a group or in pairs.
Friendly Friends
Get your most lively, outgoing friends to act as, what Hofstetter calls, "table ambassadors." We love this idea. Their task will be to ensure that everyone at the table is introduced, included and having a ball. "Your friend will feel like they have a VIP job and table conversation will flow," Hofstetter says.
Table Art
For a less formal affair, take your attendees back to simpler times with various drawing utensils and paper table covers. Let them talk, scribble and draw while they're sipping cocktails before the meal starts. Or, even better, provide paper placemats and collect them at the end of the evening (if they're clean enough!) and save everyone's doodles in one place as wedding day memorabilia.