How to Create an Instagram-Worthy Charcuterie Board, According to Experts
Use these tips at your wedding (or your next dinner party).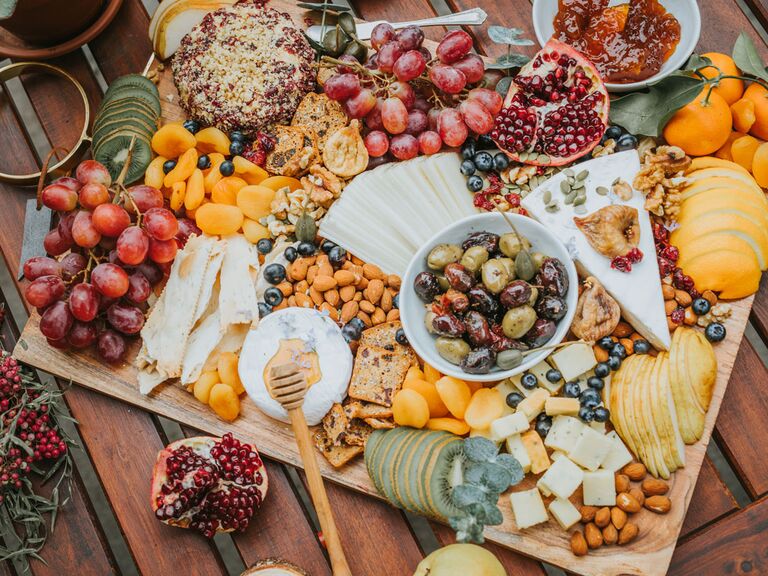 hkalkan/Shutterstock.com
We have included third party products to help you navigate and enjoy life's biggest moments. Purchases made through links on this page may earn us a commission.
With appetizers, there's something special about an aesthetically pleasing charcuterie board. Whether you're planning a holiday dinner party or your reception catering (because, yes, wedding charcuterie boards are a thing), don't underestimate the power of a well-arranged meat and cheese board. A grazing table allows guests to eat and mingle at the same time, and it can also serve as an edible piece of décor. Plenty of catering professionals can create a charcuterie board for your wedding, but it's also easy to create one yourself for a dinner party or a casual reception at home. Even amid the coronavirus pandemic, there are a number of ways to create individual charcuterie plates and separated spreads that limit contact on the board.
To help you create an unforgettable charcuterie board for any event, we've tapped industry professionals to learn their best tips and tricks. Here, we break down everything you need to know about creating an Instagram-worthy spread, from crowd-pleasing food pairings to math tips that'll ensure there's enough to go around. We also share what tools you need to buy to make a wedding cheese board. Find our top tips here, as well as plenty of charcuterie photos to inspire your next spread.
Do The Math
The number of guests you're serving will determine how much food to purchase. A wedding charcuterie board will require more provisions than a board for a holiday party, but it all comes down to the size of the guest list. "Typically you should shop for about 3 to 4 ounces of cheese per person, and about 2 ounces of meat per person," says Marissa Mullen, author and founder of That Cheese Plate. "However, I've noticed guests can eat more than that." Mullen suggests using the size of your cheese board or platter to guide purchases. "If you're serving a cheese plate as an appetizer at a wedding, a 15-inch plate could feed about 12 people. If you're working with a six-foot table, you could feed about 80 to 90 people."
Another approach is to divide your guest list in half and buy that amount of cheese or meat. "For a 12 person group, I would purchase about six cheeses, plus crackers, bread and extras to go with it," says Chungah Rhee, author and founder of Damn Delicious, noting that it's always better to overestimate. "If you're on the fence, more is better."
If you're going to serve courses after the appetizer, be cautious as to not overfeed guests too early. "The goal is to hit a sweet spot where you display enough cheese to allow for snacking but not ruin your guests' appetites for the dinner to follow," suggest Sarah Simms Hendrix and Boo Simms, co-owners of Lady & Larder. "Work with odd numbers. For example, three cheeses and two meats create five options, which is visually appealing."
Plan Your Pairings
Once you've determined how much food to buy, plan the contents of your board. Charcuterie platters often include varieties of meat, cheese, jam or honey spreads, crackers, fruits and nuts, as well as garnishes to complete the board. Mullen's signature "Cheese By the Numbers" method breaks down every step of planning charcuterie contents:
Cheese: "Depending on the amount of guests, use three to five different varieties of cheese with different milk types, textures and flavors," she says.
Meat: "Add some charcuterie to the plate, such as salami or prosciutto. If your guests don't eat pork, you can add beef or poultry based items like bresaola or turkey."
Produce: "Pair cheeses with fresh fruits, veggies, dried fruits and items in a brine like olives or cornichons. I love pairing goat cheese with fresh berries and gruyere with dried apricots," she suggests.
Crunch: "Add in texture and vehicles for your cheese with crackers, bread and mixed nuts."
Dip: "Fill in bowls with a dip to pair with cheeses. I like using fig jam, honey, or a grainy mustard for something more savory."
Garnish: "Add fresh herbs to the plate for a pop of color to tie everything together," she concludes. "Edible flowers are a fun addition as well."
Using a variety of textures will make your board look and taste like it was professionally curated. "I prefer a balanced mix between soft and hard cheeses paired with some non-cheesy side snacks like almonds, olives, and fruit," Rhee advises. "Grapes are always a good option no matter the season, as are crusty bread pieces and crackers." She also suggests pairing cheeses of various textures, advising charcuterie creators to include at least one type of cheese from each category below:
Soft: burrata, mozzarella, brie, Humboldt Fog
Semi-soft: Stilton, Roquefort, gorgonzola, fontina
Semi-hard: Manchego, Swiss, provolone, comte
Hard: cheddar, parmesan, pecorino, Asiago
As for cheese ands meats, Hendrix and Simms outline several fool-proof pairings, along with complementary accents, below:
Figs, aged gouda, prosciutto, almonds
Apples, cheddar, dry salami, grainy mustard
Dates, blue cheese, honey, walnuts
Wagyu beef bresaola, bloomy rind goat cheese, duja, Alpine-style cheese
Work with your S.O. to determine what pairings you want to serve on your wedding charcuterie board. Once you've decided on the base, you'll be ready to bring your wedding cheese platter to fruition.
Purchase Serving Tools
The tools used to present and serve a charcuterie board are key components. To ease your shopping process, we've rounded up everything you'll need to purchase for a wedding charcuterie board.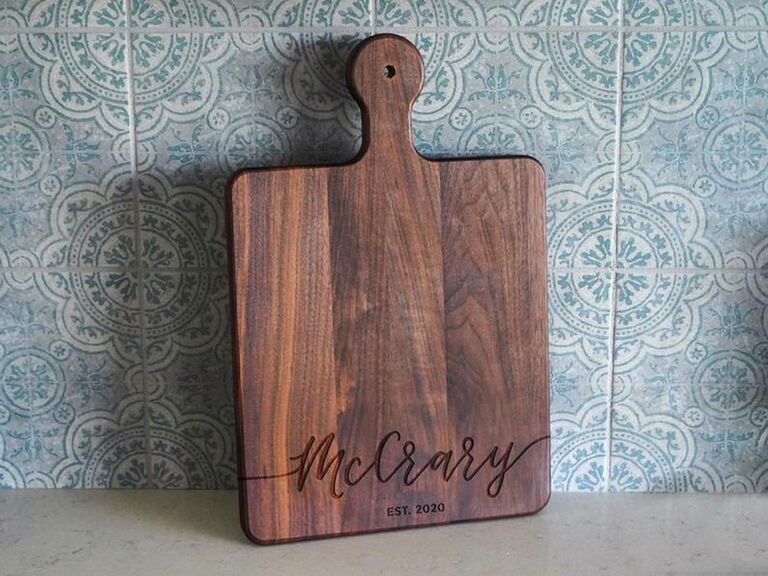 Consider getting a personalized cheese board, especially if you plan to use it at your wedding. This dark wood design from Etsy can be customized with your last name and wedding year to make your spreads extra special.
Copper Fox Company personalized charcuterie board, from $22, Etsy.com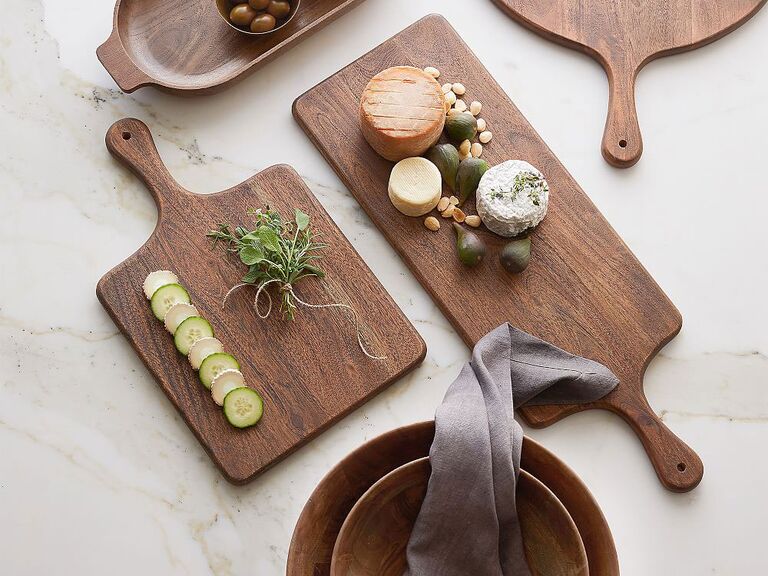 If you'd rather let your charcuterie steal the show, invest in a simple wood board. This classic board comes in three colors that highlight the wood's natural grain, making it a great statement piece to add to your kitchen.
Pottery Barn Chateau Acacia large cheese board in Brown, $59, PotteryBarn.com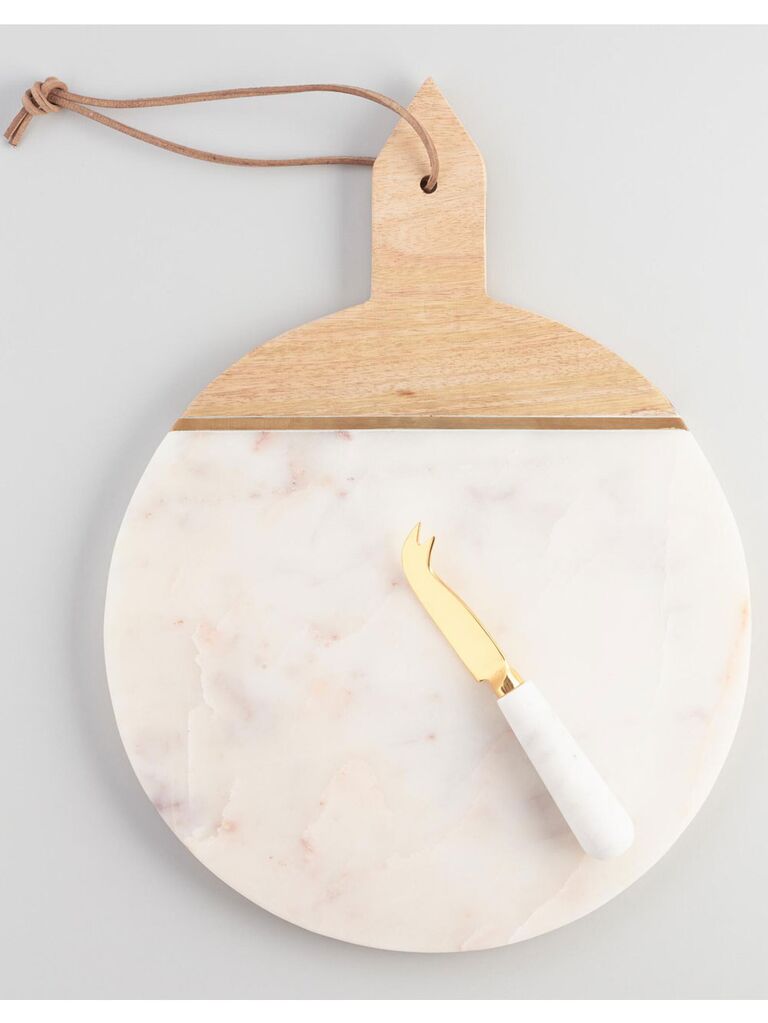 Fans of chic farmhouse home decor will love this mixed material cheese board. When paired together, sleek white marble and rustic wood make this a Joanna Gaines-worthy kitchen purchase. As an added bonus, this board comes with a matching knife.
World Market cheese board and knife set in White Marble and Wood, $25, WorldMarket.com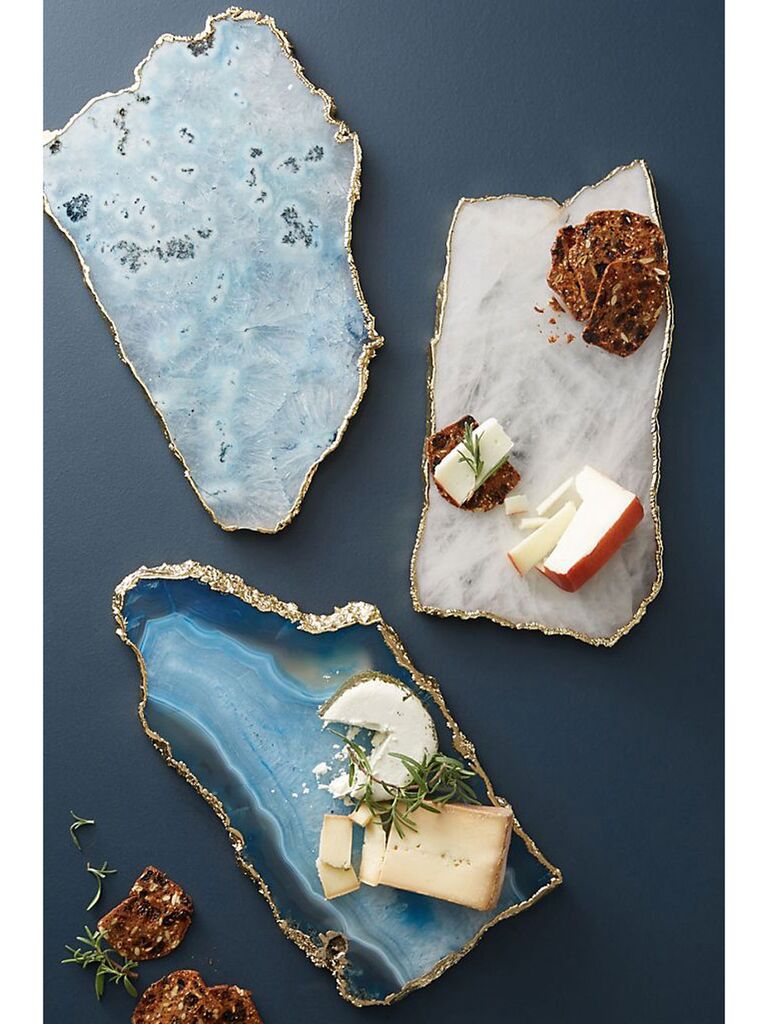 Presentation is a major component of making an Instagram-worthy charcuterie platter for a wedding or dinner party. This chic gem-inspired board looks like a piece of art when not in use, and it'll make any spread look professional and polished.
Anthropologie Agate cheese board, $78, Anthropologie.com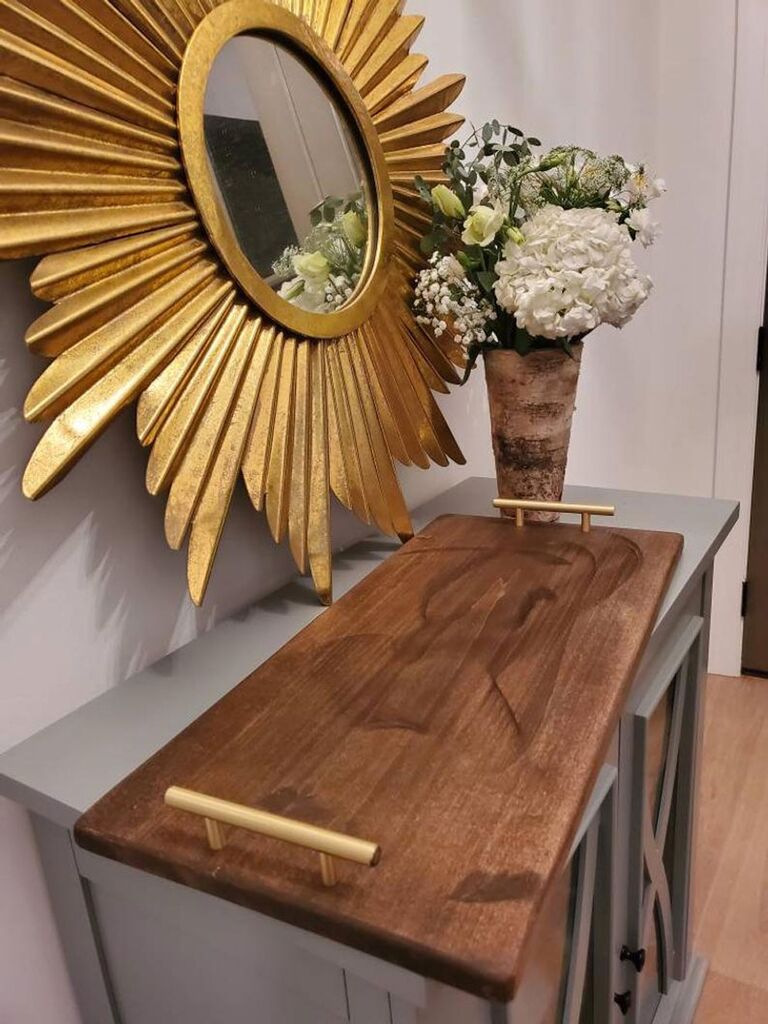 Large guest lists require sizable food spreads. This oversized rustic board will ensure plenty of space to arrange meats and cheeses to satisfy all of your loved ones.
Poplar Place Creations large rustic charcuterie board, $68, Etsy.com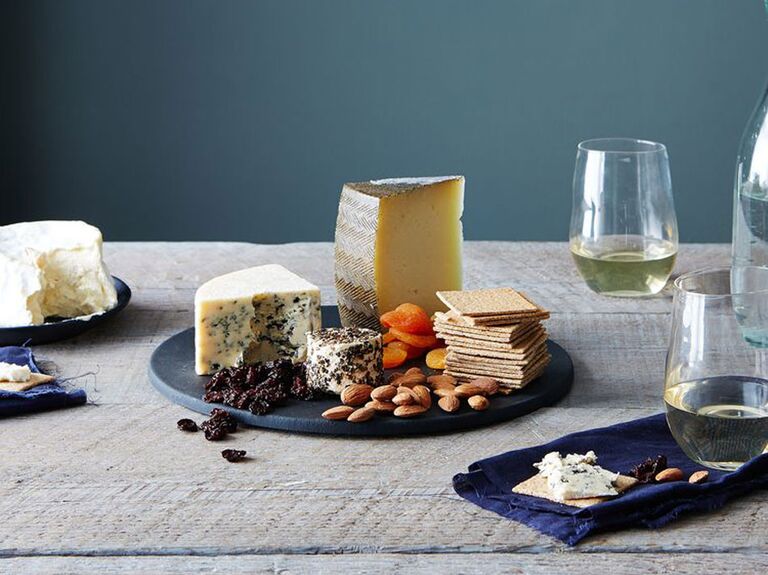 Creative cheese curators will appreciate having the ability to label pairings directly on this slate board.
Brooklyn Slate round slate cheese board, $48, Food52.com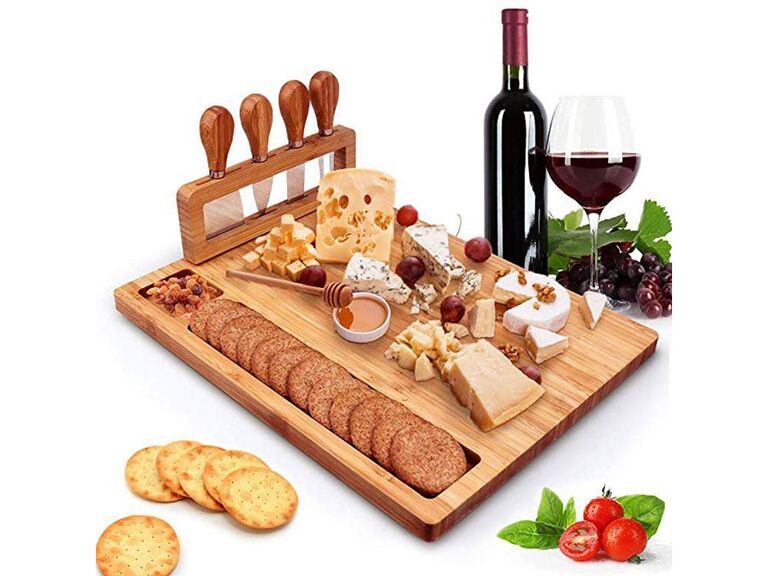 Charcuterie novices might prefer the ease of a set that has everything they need. Don't stress about stocking up on a variety of tools—this customizable set includes a board and four knives, as well as cutouts in the wood to take the guesswork out of arranging.
Austin Gift Store custom cheese board, from $50, Etsy.com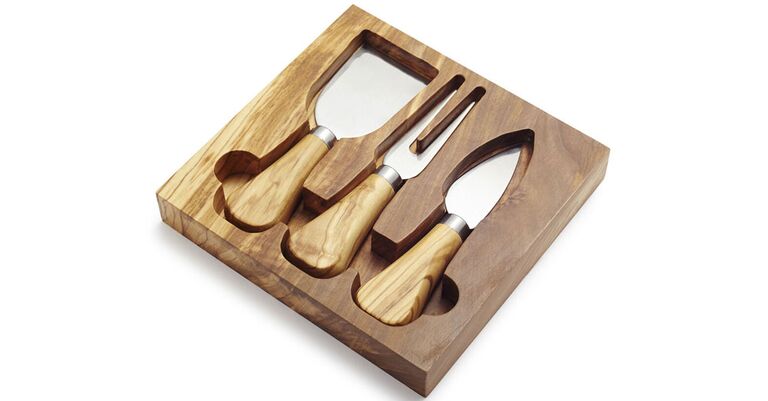 You'll need plenty of knives to use for each variety of cheese. "Four or five cheese knives are essential to avoid flavor-mingling," Rhee advises. This classic set has sleek stainless steel blades and rustic wood handles.
Sur la Table olivewood cheese knife set, $35, SurlaTable.com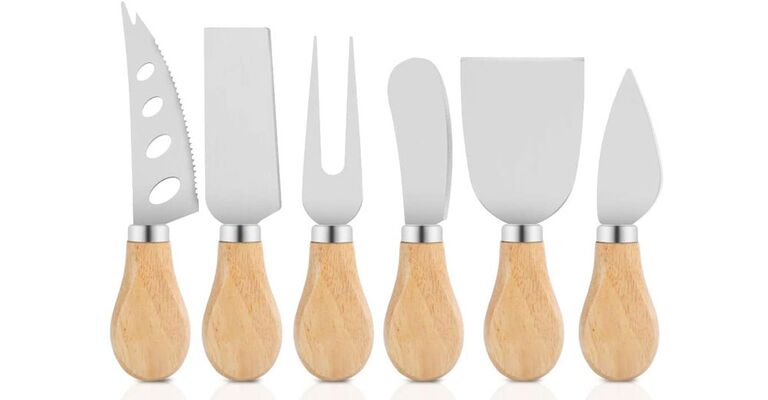 Whether you're serving a large group or you're planning a copious spread, make sure there are enough knives to go around. You might want to have extras on hand, and this affordable set of six will ensure that guests don't have to mix knives and cheeses.
Freehawk 6-piece cheese knives with wood handle, $16, Amazon.com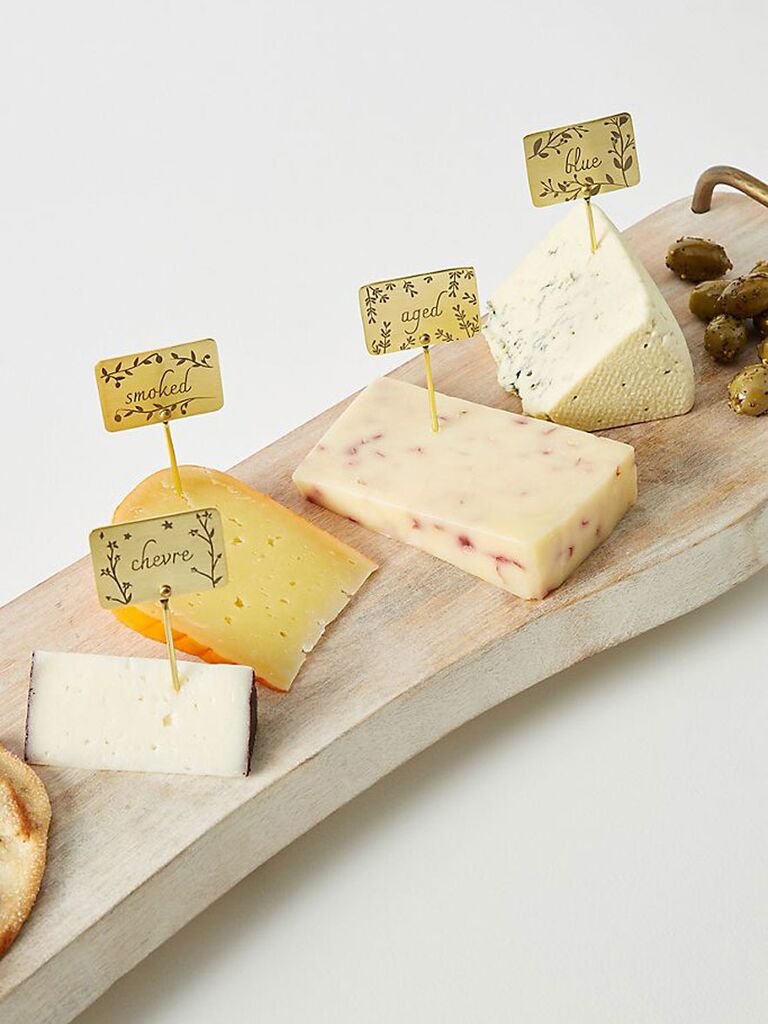 Labeling your charcuterie is an important aspect of creating a board. These markers will serve as pretty accents on your spread.
Anthropologie Herbiflora set of 6 cheese markers, $28, Anthropologie.com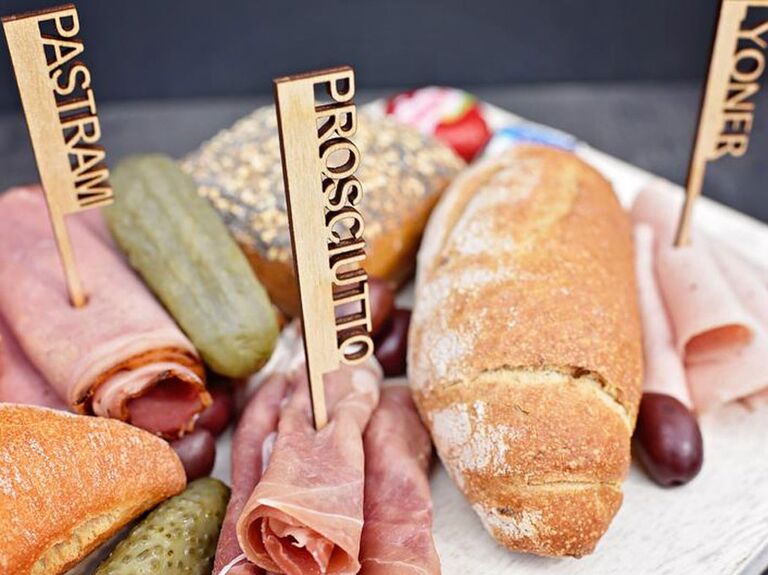 Don't forget to label the meats too. This set of 12 markers includes labels for things other than cheese, like meats, peppers, olives and temperatures.
Rare Ordinare set of 12 charcuterie labels, from $12, Etsy.com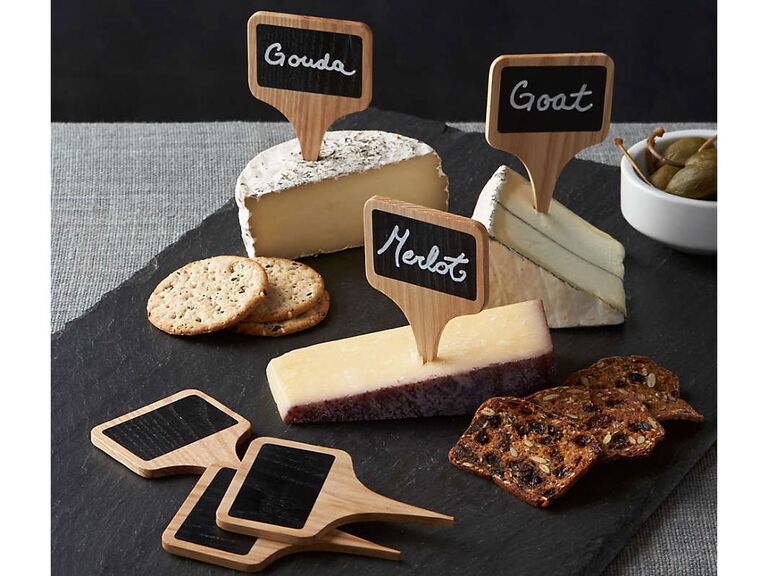 To let your creativity run free, get markers that you can customize yourself. These chalk labels will allow you to take personalization to a new level.
Crate & Barrel set of 6 chalkboard cheese markers, $13, CrateandBarrel.com
Dips and jams are an essential component of a charcuterie spread. These simple white dishes will match any cheese platter, and the simple white color lets the contents stand out.
Williams Sonoma dip bowl, $13 for 4 or $4 each, Williams-Sonoma.com
Arrange the Base
On the day of your event, set aside time to arrange your meat and cheese platter. Focus on adding texture to the board to make it visually appealing. Some of the best ways to do so are through cheese stacks and piled meats."I coined a term called the 'Salami River' to refer to salami flowing down the center of a cheese plate," Mullen says. "By folding your meat one by one, it creates a beautiful texture on the board as well as an easy way to serve."
Rhee offers the same advice for cheeses. "Pre-cutting some cheeses into wedges, cubes, or triangles always looks good," she advises. "If you're working with a harder cheese like parmesan, break it up into smaller pieces—it will look beautifully rustic."
It's also encouraged to add height levels too. Simms and Hendrix suggest adding dimension by waving prosciutto, crumbling cheddar cheese and piling almonds. Trial and error is common when making a wedding cheese platter. Experiment with shapes and pile sizes until you find a method that makes your charcuterie spread look just right. "There are some general rules to follow, but you can't go wrong," says Rhee. "Pack the board with things you like, and make sure all items are visible and not too crowded."
Garnish With Accents
Accenting a wedding cheese board is an important final step to make it Instagram-worthy. "Garnishing the board helps tie everything together and provides a polished finish," Hendrix and Simms say. Adds Mullen: "The garnish puts the finishing touches on the board to give it an elevated look. I prefer to use fresh herbs such as rosemary, thyme and sage."
Rhee notes that seasonality can help determine the best garnishes. "For the holidays, figs or persimmons can add a nice finishing touch, as do almonds, walnuts, pistachios or cornichon pickles. I also suggest adding a spread like apricot jam or honey." For a summer wedding or dinner party, Mullen suggests adding fresh vases of wildflowers. Mini gourds and pumpkins can serve as seasonal accents in the fall.
To arrange an expert-level charcuterie board, unexpected accents off the board can take your arrangement to the next level. "I love using eucalyptus and greenery to add texture to the table around the plate," says Mullen. "Plus, adding candles and baskets for crackers creates a curated look."

Whether you're planning a wedding charcuterie board or a grazing spread for a holiday party, it's important to choose pairings and accents that you like. It's hard to go wrong when arranging crowd-pleasing snacks. By adding a few thoughtful garnishes and investing in sleek serving tools, you'll create an Instagram-worthy charcuterie board that's simply irresistible.