From Your First Date to Your Wedding Day, This Personal Love Story Captures it All
Here's how the Wedding Story Writer captures important memories of your wedding in storybook form.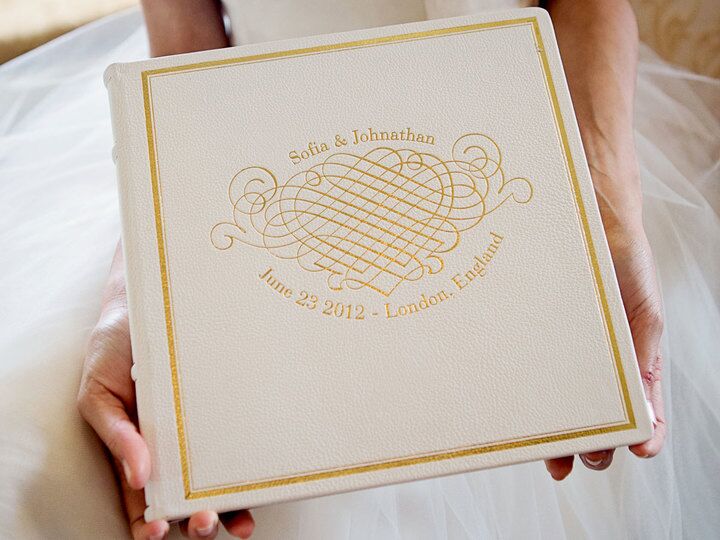 Wedding Story Writer
They say a picture is worth a thousand words, but when it comes to your wedding day, the stories that go with those pictures might be worth a whole lot more. That's what Michelle McMurray de Luces, founder and creative director of Wedding Story Writer, banked on when she launched her business of creating heirloom love stories in the summer of 2011.
"We have beautiful photography that tells a visual story, and I would never suggest foregoing wedding photos, but the entire wedding industry was missing a crucial piece of history that isn't told in picture form," says McMurray de Luces. "How did this couple meet? Where did they like to go on dates? How did they fall in love? What was their wedding like? Were they sweethearts in high school? In other words, what are their grandkids going to want to know? What kind of legacy do they want to leave to their future family?"
All of these questions and more are answered in a custom keepsake book that tells the couple's story and is illustrated with drawings or paintings of the clients, and usually includes a calligraphy element. In addition to the origin of the love story, special attention is paid to the wedding itself. "All of our senses are at work during this time," says McMurray de Luces, who often brings a second writer to the event so that no moment is missed. "I'm writing everything down that I see, hear, touch, taste or smell. We record conversations that may seem trivial at the time but provide great depth to the story in the end."
Capturing Memories
If no one has warned you yet, your wedding day will fly by, making it difficult to remember (or even witness) all of the special moments that took place.
"Many people tell me they wish I was writing stories when they got married because they remember nothing from their weddings," says McMurray de Luces. "They have their photos, but they don't remember what Grandma said right before the wedding, or how their sister cried when she saw the bride in her dress."
These are just a few of the details that McMurray de Luces and her team will capture. But gathering information to write this one-of-a-kind story starts long before the wedding day. "I begin with an interview process," she says. "We sit down in person or via Skype and discuss their past, how they met and fell in love and ultimately became engaged. I ask about their family stories during these interviews. I become pretty close to my couples, oftentimes knowing details their best friends may not necessarily know about them."
On the day of the wedding, McMurray de Luces and her team become like flies on the wall, paying attention to all of the details and writing the couple's story as it unfolds from the beginning of their day to the very end.
Following the wedding, patience is key for the couples as it generally takes a year to create an entire wedding story in total, sometimes longer depending on the couple's schedule. "Once we go through the editing process, the content is ready to be made into book form, which, depending on the style and ornate qualities of their book, can take another six months," says McMurray de Luces, who's currently working on a 100-plus page project that includes an autograph section with some of their guest's signatures and comments.
Happily Ever After
The wait is definitely worth it, with couples receiving a revered heirloom that future generations will continue to treasure. "Time dilutes memories quicker than what you may think," says McMurray de Luces. "Reading about one's own love story is an amazing experience for my couples. Most of them cry while reading it because their story truly evokes the emotions from their beautiful wedding day. It's extremely sentimental."
The Wedding Story Writer is currently booking for 2017 weddings and travels to wedding destinations near and far.