5 Things To Look For in Your Wedding Vendor Contracts
While each vendor's contract may look a little different, here are our five top takeaways for what they should all include.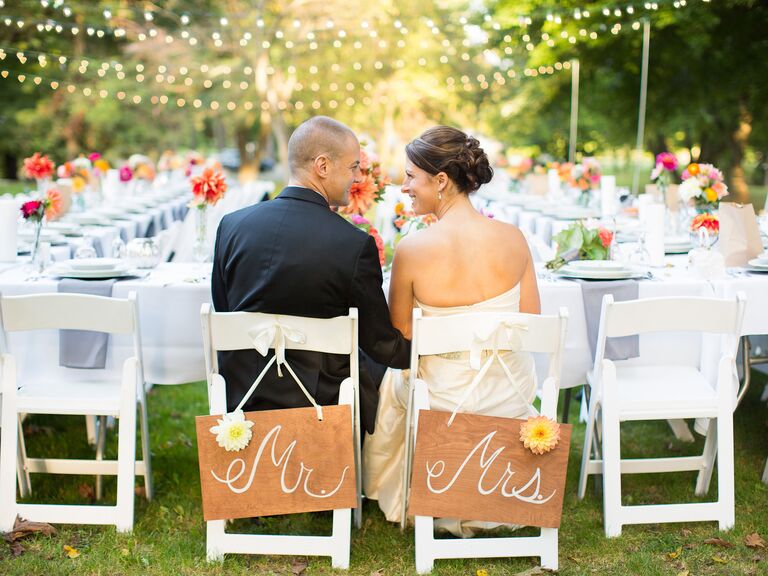 Julina Marie
Let's get something straight: Every time you hire a photographer, caterer, videographer, musician, florist or hairdresser; book a chapel, park or hotel ballroom; or order something from a dress shop, dressmaker or formalwear store, you must get your agreement in writing — enter the wedding vendor contract. Until you sign a contract and put down a deposit, you have no guarantees that vendors will hold the date of your wedding. Read everything in your wedding contracts and receipts, and be sure to document every single wedding arrangement you make.
So, what should you look for in a wedding contract, exactly? Here, the top five things your wedding vendor contracts must include.
1. Flexibility
You might not want to think about an April snowstorm's effect on your lovely garden ceremony, but if you want to ensure that the catering hall's ballroom will be available, write that into the wedding contract. Don't be afraid to alter the stock wedding vendor contract that the vendor or manager offers. If your request is reasonable — for example, you want the supplier to be liable for potential negligence or willful misconduct — and the vendor won't agree, look elsewhere.
2. Details Forthcoming
What should you do if you've made some decisions but haven't finalized details? (For example, you know you want lots of roses, but you don't know the exact cost of the centerpieces). You can make a contract when you book the service and include a general amount or maximum cost for services, but add a sentence that says details will be confirmed in writing by a certain date. But even with that, it's good to be clear with your visions and ideas from the beginning to ensure that your vendor is the best match.
"For example, if you're at the point where you're ready to book your florist, you should make sure that you and the florist are on the same page with expectations," says attorney and wedding lawyer Christie M. Asselin, Esq. "If you put down a deposit, but haven't figured out what the centerpieces will look like, there may be some problems down the line. It's important to communicate your expectations before agreeing to hire a vendor."
3. The Necessary Info
On every wedding contract, write:
Dates and times of all services (including the time the vendor should arrive)
Date of the wedding
Names of all parties involved in the agreement
The deposit and final payment amounts (plus the payment schedule)
Contingency plans and substitutions (if white peonies aren't available, white garden roses will be used instead)
Detailed description of services
Some venues might also require a wedding insurance clause for liability insurance
Note: When dealing with vendors that are providing a service on the wedding day itself, make sure the contract includes the name and number of the person the vendor should call if anything goes wrong or gets delayed.
4. Refunds
Along with the basics, every wedding contract should include a cancellation and refund policy on both ends that discusses what refund you will receive if you cancel and what penalty the vendor will pay if they cancel. With a refund clause, you should be able to get back a certain percentage of any deposits you made if the party is canceled by a certain date. But the closer it is to the actual wedding date, the less likely you are to get your money back — establishments and other wedding professionals are simply protecting their own business.
"Usually a refund policy will be for failing to perform entirely, or for a major issue," says Asselin. "Make absolutely sure that you completely understand the refund policy."
5. Receipts
When you order something, such as a dress, a tuxedo, invitations or favors, the contract can be as brief as a store receipt. That said, it should still include:
Wedding date

Style (a number, a detailed description, or the full invitation text, for example)

Date item will be picked up

Price and payment schedule

Outline of what the price includes (such as alterations, accessories, delivery, and envelopes)
And remember — don't sign any of your wedding contracts unless you're 100 percent comfortable with them, and both you and the vendor should sign and date two copies so you can each have one.